Summertime is an awesome time to go outside and enjoy the warm weather. But it can also affect our skin, especially sensitive skin people. Sun releases ultraviolet rays, UVA, and UVB, which can cause sunburns, premature aging, and even skin cancer.
Fortunately, you can still enjoy the sun and protect your skin with spray sunscreen. But there are many spray sunscreens available, and choosing the best one that suits your needs can be hard. Worried about your skin this summer? Don't worry; we have got you covered.
We've put together a list of the top 3 best spray sunscreens for all skin types. No matter what type of skin you have, we have spray sunscreen that will protect you from the sun. All of these spray sunscreens do not contain any harmful ingredients.
Click this link to learn more about our top 3 best spray sunscreens!
We have searched for the best, so you don't have to live with the rest. In order to serve you to the best of our ability and to keep our blog going, GarnesGuide may collect a share of sales or other compensation from the links on this page if you decide to buy. Each product was independently researched by our editors, and the reviews may have been edited for length and clarity.
How We Choose The Best Spray Sunscreen:
The sun can damage your skin, and it's important to protect yourself from its harmful rays. Spray sunscreen is an important part of any summertime routine, but with so many options on the market, it can be hard to know which one to choose.
We've researched for you. After testing over 50 different sunscreens, we've found the top 3 best spray sunscreens for every need. Whether you're looking for a sunscreen that's water resistant, reef safe, or paraben free, we've got you covered.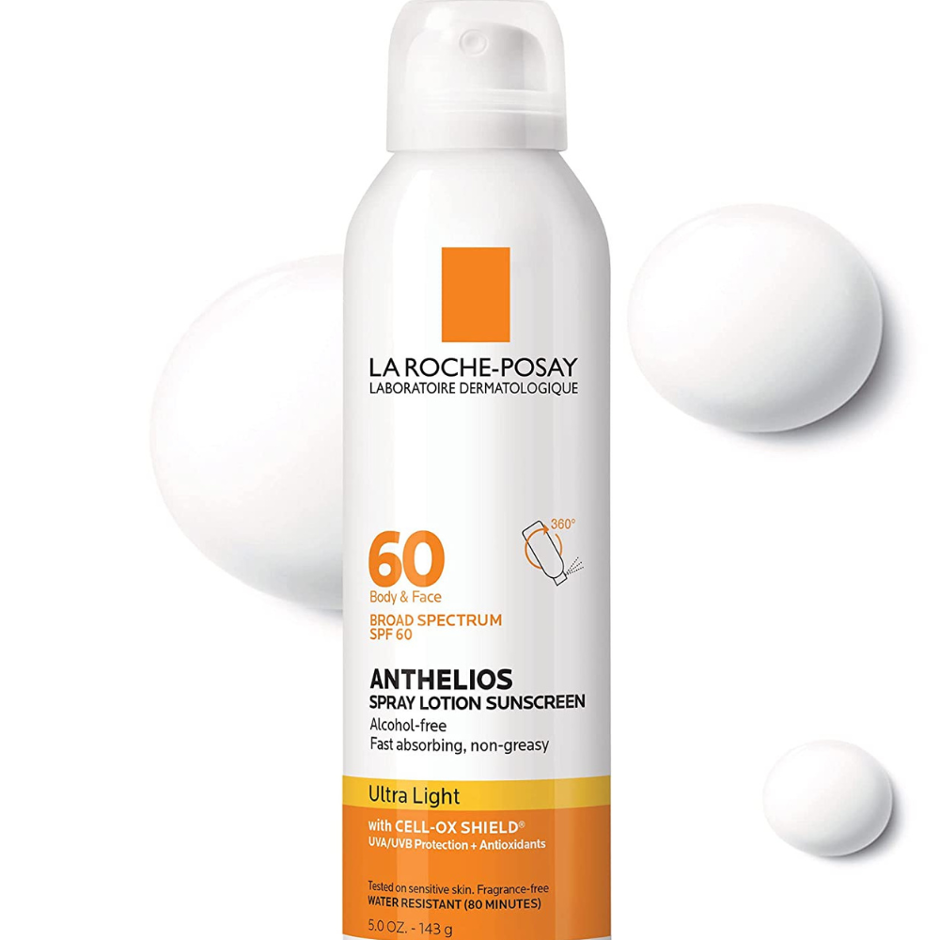 Best Spray Sunscreen For Combination, Normal and Sensitive Skin
La Roche-Posay Anthelios Ultra-Light Body and Face Sunscreen
Check Price on Amazon
Why GG Loves It
If you are looking for a spray sunscreen that provides you optimal sun protection, then La Roche-Posay Anthelios Ultra-Light Body and Face Sunscreen Spray SPF 60 is the best option for you to choose from to achieve silky and soother skin.
This mineral sunscreen spray offers a broad spectrum SPF 60 protection from UVA/ UVB rays and is free of fragrance, alcohol, and parabens, making it ideal for various skin types. This broad-spectrum spray doesn't contain non-nano zinc oxide, coconut oil, or carrot seed oils, but it is an effective and ultimate sun protection spray.
What You Should Know
The anthelios ultra light sunscreen lotion spray's key ingredients are Cell-Ox Shield Technology, a combination of powerful antioxidants and broad-spectrum sunscreen actives that protect your skin from sun damage.
It also has a patented Mexoryl XL, which helps filter out harmful UV rays associated with the acceleration of premature aging. This mineral sunscreen's non-greasy formula provides water-resistant, broad-spectrum protection like shiseido ultimate sun protection.
If you want to achieve the most compelling look and get the most out of your outdoor activities, then this mineral spray is a must for you. This sunscreen lotion spray SPF 60 is also perfect for all skin tones and easily prevents free radical damage.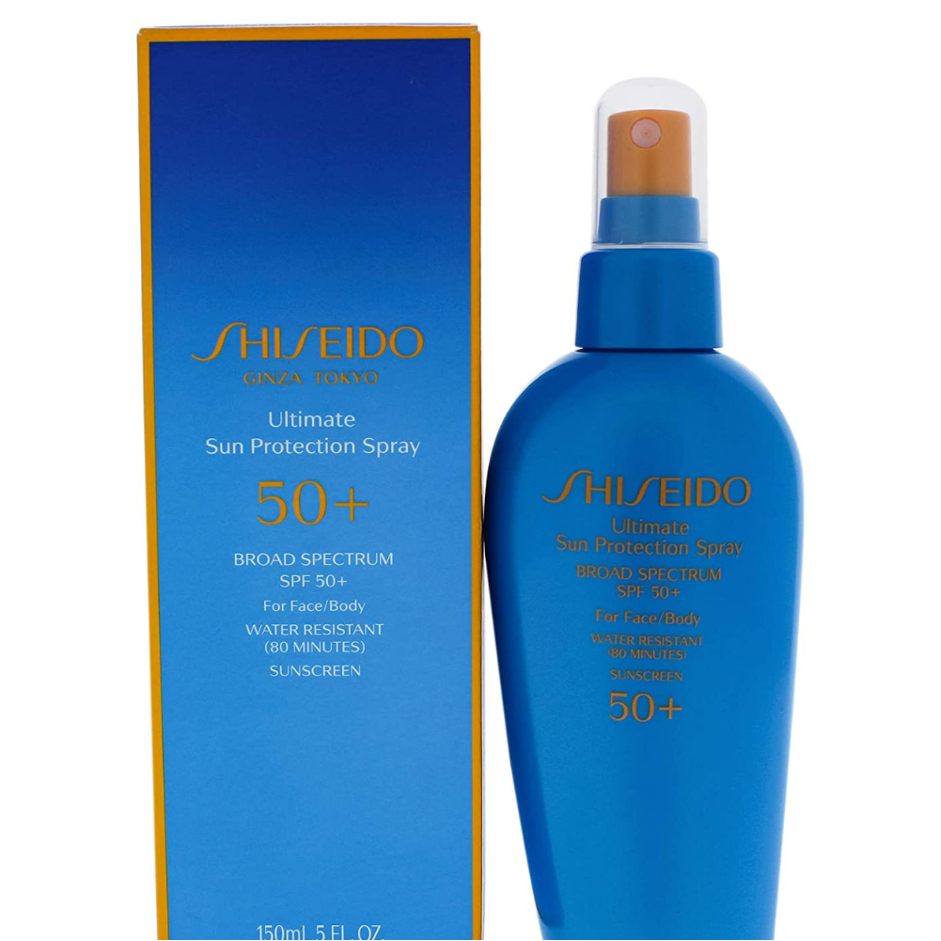 Best Sunscreen Spray For Hard-To-Reach Areas
Shiseido ULTIMATE SUN PROTECTION SPRAY SPF 50+
Check Price on Amazon
Why GG Loves It
If you are searching for a water-resistant and hydrating antioxidant-containing sunscreen spray that is easy to apply and provides superior sun protection, look no further than Shiseido ULTIMATE SUN PROTECTION SPRAY SPF 50+.
This sunscreen is designed to protect against the most powerful rays of the sun and provide ultimate hydration with its active moisturizing ingredient.
Plus, it's in a spray form, making it easy to reach those hard-to-reach areas like the back of your neck or your ears. It's also sheer, weightless, and non-sticky, so you won't feel greasy and heavy during Summer days.
What You Should Know
If you want a sunscreen spray that you can use on both the face and body, then this is the best choice. This spray broad spectrum SPF 50+ offers superior protection from the sun.
If you use light sunscreen lotion spray for outdoor activities, then you need to switch to this because it is water and sweat-resistant. The unique spray technology allows you to cover large surfaces easily with just one application.
Plus, it's a board-certified dermatologist spray and free of fragrances, parabens, phthalates, sulfates, and drying alcohols, so your skin will stay safe from any harmful ingredients.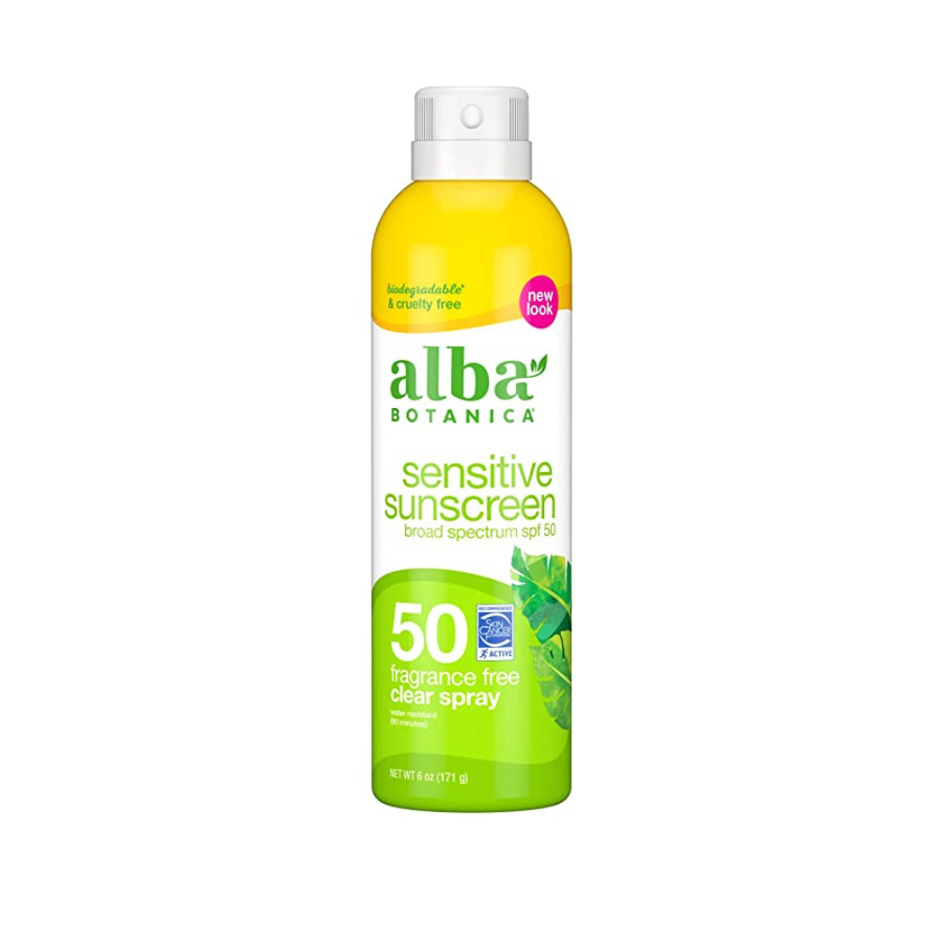 Best Spray Sunscreen For Sensitive Skin
Alba Botanica Sensitive Sunscreen Spray
Check Price on Amazon
Why GG Loves It
If you are looking for the most reliable sun protection for sensitive skin, look no further than the Alba Botanica Fragrance-Free Sensitive SPF 50 Sunscreen Spray. It comes in aerosol cans, which are also safe for the environment.
This one-of-a-kind product offers aero broad spectrum SPF protection with a weightless feel, making it ideal for everyday wear. It is oil-free and easily protects you from the sun's rays like a sun bun. This spray sunscreen leaves all the red flag additives and protects you from both uva and uv light.
With 80 minutes of water and sweat resistance, you can ensure that your family is protected from sun exposure, even in the hottest environments. Compared to other mineral sunscreens that soothe skin, it also nourishes and moisturizes skin.
What You Should Know
Like other sunscreen sprays that help to fight free radicals, this spray sunscreen is made with a plant-based blend of botanical ingredients like green tea, vitamin e, vitamin c, aloe vera, hyaluronic acid, and zinc oxide that provide complete broad-spectrum protection against uv rays.
The Skin Cancer Foundation recommends this mineral spray sunscreen, and also board-certified dermatologist tested. It doesn't offer uv aero broad spectrum, but it's perfect for adequate protection. It is also good for dry skin and better than non-aerosol spray.
Here are Some FAQs to Help Guide you on Your Way!
It can be hard to know how to properly protect your skin from the sun. Spray sunscreens are an important part of a healthy skincare routine, but it's also important to use the right kind of sunscreen spray and apply it correctly.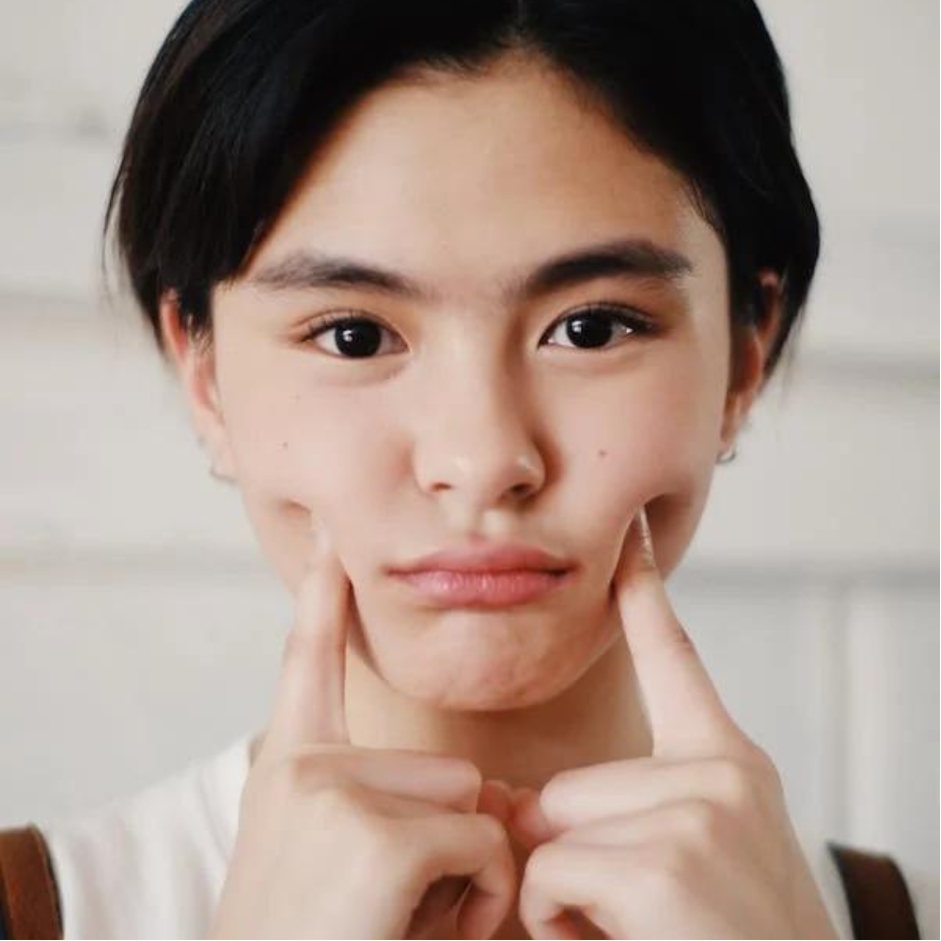 Here are the most common frequently asked questions about spray sunscreen that will help you make sure you're doing your best to protect your skin.
Can you bring spray sunscreen on a plane?
Yes, you can bring sunscreen spray on a plane. However, the TSA restricts the size of containers that are allowed in carry-on luggage, which may vary depending on the airport.
Is spray sunscreen bad?
There's a lot of conflicting information about spray sunscreen, and it can be tough to know what's true and what's not. But the truth is spray sunscreen is more reliable than ultra-light sunscreen lotion or cream because it reaches every corner of the body. Choose a spray sunscreen that offers high broad-spectrum SPF protection and contains ingredients like shea butter, zinc oxide, silicone powder, avocado oil, or shea oil. It's important that you research the safest spray sunscreen for your needs.
Will spray sunscreen explode on a plane?
There have been a few cases of sunscreen spray exploding in checked luggage, but it's very rare. The reason is that the ingredients in sunscreen spray usually aren't flammable, but the fuel used in spray sunscreens can be. Another could be due to the compressed air that mineral sunscreen spray has. The safest sunscreen spray is not widely advertised, but there are steps to minimise the risk that can be taken.
Is spray sunscreen effective?
Yes, sunscreen spray is effective. However, it's important to be careful when using it because it can be easy to miss spots. It's also important to make sure that you choose mineral sunscreens that are water-resistant. Also, ensure you are using the sunscreen spray SPF 40 or broad spectrum SPF 45 because, for sensitive skin, you need at least SPF 30.
Does sunscreen prevent tanning?
Sunscreen does not prevent tanning. It blocks UV radiation from reaching the skin, preventing sunburn and reducing skin cancer risk. But if you're looking to get a tan, you'll need to expose your skin to UV radiation (either from the sun or a tanning bed). Sunscreen will protect you from sunburn and help reduce the risk of skin cancer. But make sure to use a uv aero broad spectrum or sun bum sunscreen that is also reef safe.
Can you tan with sunscreen?
You can definitely tan with sunscreen. In fact, using sunscreen with SPF 30 or higher is the best way to protect your skin from the sun's harmful UV rays. Sunscreen filters out UVA and UVB rays, which can both cause skin cancer and premature aging.
Does sunscreen block vitamin D?
Yes, it's true that sunscreen can block vitamin D. For most people, it's best to get sun exposure every day without sunscreen to maintain healthy vitamin D levels.
Can you put sunscreen on a new tattoo?
Yes, you can put sunscreen on a new tattoo. It's important to keep your new tattoo protected from the sun. Sunscreen will help protect your tattoo from sunburn and fading. Make sure to use mineral sunscreen that offers broad-spectrum SPF 50 and is best for all skin tones.
Can you get a tan with SPF 50?
Yes, you can get a tan with SPF 50. Sunscreen with an SPF of 50 will block 98% of the sun's UVB rays, which are the rays that cause sunburns. You even use broad spectrum SPF 45 to tan but make sure it's fragrance-free and a board-certified dermatologist product.
Top 3 Best Spray Sunscreen For All Types Of Skin
Finding the perfect spray sunscreen can be difficult, especially with all the different types of skin. Hopefully, this list will help make your decision a little easier. All of these spray sunscreens are great for any type of skin and provide broad-spectrum protection from both UVA and UVB rays.
They are also water resistant, so you don't have to worry about them coming off when you get wet. If you are looking for a good quality, affordable sunscreen that will work well for your skin type, any of these three would be a great choice.
Read our article about best sunscreen for tattoo here!
Read our article about best sunscreen for acne prone skin here!
Read our article about best spray sunscreen here!