tWhen protecting your skin from the sun, tanning oil is an important factor to consider. Tanning oils are designed to not only help you achieve a beautiful tan but also protect your skin from harmful UV rays because they contain natural or moisturizing ingredients that provide a barrier between the skin and the sun.
But with so many options, choosing the right tanning oil that suits your needs is hard. Are you worried about getting a good tan this summer? Don worry; we have got you covered. We've compiled a list of the four best tanning oils on the market so that you can choose the perfect one that meets your needs.
All of these best tanning oils are made with natural ingredients and are enriched with vitamins and minerals to nourish your skin while you tan. Plus, they all have a light, refreshing scent that will make you feel like you're on vacation every time you use them.
Click this link to learn more about our top 4 best tanning oil picks!
We have searched for the best, so you don't have to live with the rest. In order to serve you to the best of our ability and to keep our blog going, GarnesGuide may collect a share of sales or other compensation from the links on this page if you decide to buy. Each product was independently researched by our editors, and the reviews may have been edited for length and clarity.
How We Choose The Best Tanning Oil:
Tanning oils are a great way to get an all-over, even, and beautiful tan but with countless choices & brands, it can be tough to find the best one, and choosing the wrong tan oil can lead to other skin problems.
To help you, we've researched for you and chosen the top best cheap tanning oil on the market. Whether you're looking for a tanning oil that will give you a deep, dark natural looking tan or one that hydrates your dry skin, this list has covered you.
Best Tanning Oil For Moisturizing Skin
Absolutely Natural - Platinum Tanning Oil
Check Price on Amazon
Why GG Loves It
Are you searching for an outdoor tanning oil? Worried about the sun's harsh rays that may damage your skin this summer? If so, don't worry; Absolutely Natural's Platinum Tanning Oil has covered you.
This oil is a luxuriously rich blend of natural oils, vitamins, and antioxidants that nourish the skin while helping achieve the perfect tan. It features a non-greasy formula that absorbs quickly into the skin and helps protect against harmful UVA/UVB rays.
The oil helps maintain the skin's natural moisture balance and provides excellent sun protection. It can also be used as a daily moisturizer to keep your skin looking healthy, soft, and smooth. Plus, it smells delightful and is safe for sensitive skin.
If you're an avid tanner who needs a bit of extra help in achieving that perfect bronze glow, Absolutely Natural's Platinum Tanning Oil is the product for you!
Get ready to show off your gorgeous tan with this top-notch outdoor carrot-intensive tanning oil. Enjoy your summer days in style and confidence!
What You Should Know
Many tanning oils are made to help darken and protect your skin, but not all of them are created the same. Platinum Tanning Oil is made with exotic oils such as Kukui Nut, Macadamia, Rose Hip, and Olive Squalane to moisturize and protect your skin while accelerating the tanning process.
The kukui nut oil is native to Hawaii and is known for its high concentration of vitamins A, C, and E, as well as natural antioxidants. In addition, the macadamia nut oil helps maintain the balance of your skin's humidity levels while providing UV protection like carroten intensive tanning oil.
The rose hip oil provides additional hydration with its fatty acid content, and olive squalane helps to prevent dryness, flakiness, and skin irritation. This tanning body oil is also enriched with natural oils for a refreshing and non-sticky application.
It doesn't contain aloe vera, argan, or avocado oils, but it works perfectly like bali body natural tanning oil. With all of these beneficial ingredients, you can expect to see an even tanning result with just one application.
Like other sun tanning oils, it is also free from parabens and other harsh chemicals, so you don't have to worry about potential irritations or skin damage.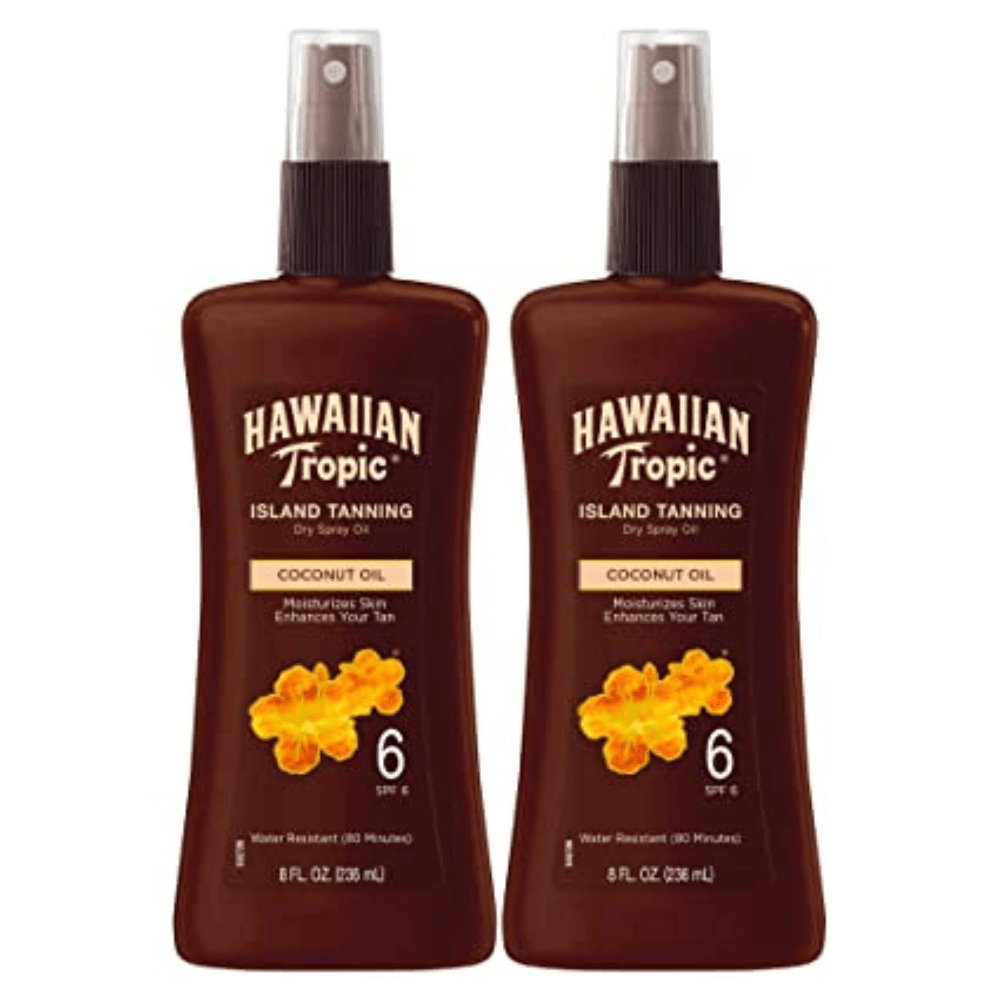 Best Tanning Oil For Beautiful Radiant Skin
Hawaiian Tropic Dark Tanning Oil
Check Price on Amazon
Why GG Loves It
Are tanning oils safe? If you are thinking of that concern, then introduce you to the Hawaiian tropic dark tanning oil. This oil comes in a spray form, so you don't need to worry about the risk of over-application.
It provides a safe and balanced way to get a beautiful, radiant tan on all skin types. This innovative tanning oil spray is enriched with natural antioxidants that nourish skin for a deeper, longer-lasting color.
It's also water-resistant and has an SPF protection of 6, so you can stay out in the sun longer without worrying about sunburn-like mercola natural tanning oil. This sun-bum tanning oil makes your skin feel hydrated and radiant without any complications or side effects.
This self-tanner oil doesn't include argan oil, hemp seed oil, or fruit and nut extracts, but it's effective for your fair skin or pale skin. Not to mention, the deep tan oil has a light coconut scent that will make you feel like you're on a tropical vacation!
So what are you waiting for? Get out in the sun and get that perfect tan with Hawaiian Tropic Dark Tanning Oil! It's the best way to get that golden glow without compromising your skin's health.
What You Should Know
Many top tanning oils are made of powerful ingredients that guarantee a sun-kissed glow. Hawaiian Tropic Dark Tanning Oil is packed with exotic island botanicals and a rare blend of nature's rich oils to nourish your skin while providing all-day moisture lock protection.
The oil offers broad-spectrum UVA/UVB protection that helps protect your skin from the sun's harmful rays while at the same time helping to enhance your tanning results.
It is also enriched with nourishing antioxidants and natural oils that help to keep skin soft, hydrated and radiant. This self-tanner is like tanning dry oil that perfect for removing the greasy feeling from oily skin.
With this, you can achieve perfectly tanned skin. The oil has a lightweight feel that won't leave you feeling greasy or weighed down, making it perfect for use in outdoor activities such as pool parties, beach days, or simply lounging around.
It's also cruelty-free and is the perfect way to indulge, pamper and nourish your skin for a beautiful, radiant glow. To get complete sun protection, opt for this one.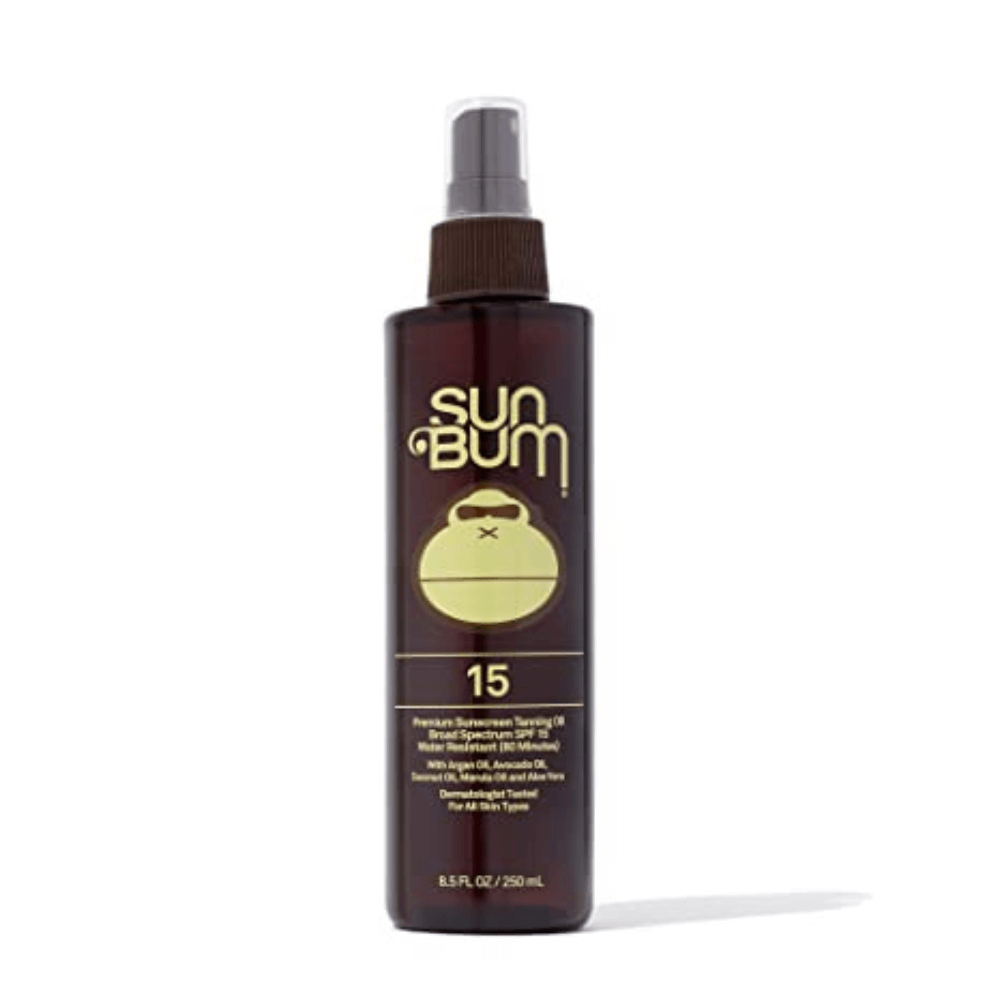 Best Tanning Oil For Dark Golden Tan
Sun Bum SPF 15 Moisturizing Tanning Oil
Check Price on Amazon
Why GG Loves It
Are you searching for a dark tanning oil for darker golden tans? Do you also want something that will keep your skin moisturized and protected? Sun Bum's SPF 15 Moisturizing Tanning Oil is a perfect choice.
This broad spectrum UVA/UVB protection will help you achieve a darker golden tan while keeping your skin nourished, silky smooth, and protected from sun damage. Whether you're spending time at the beach or out and about in the sun, this tanning oil will help you get your desired look safely.
Plus, its water-resistant formula means you can stay outside for longer without worrying about reapplying. The sun bum tanning oil is also safe for sensitive skin like other best tanning oils.
Sun Bum's SPF 15 Moisturizing Tanning Oil is made with natural ingredients like Aloe Vera, Green Tea Butter, Marula, Argan Oil, Coconut, and Avocado Oil. All of which will help to keep your skin properly hydrated and nourished while also giving off a summery scent.
What You Should Know
We all know that the key to achieving a sun-kissed glow is protecting and moisturizing your skin because the sun's UV rays can cause damage. But this oil provides nourishing moisture to help keep your skin hydrated while protecting you from the sun's harmful UVA/UVB rays.
It's also enriched with vitamin E and coconut Oil for added moisture and antioxidant protection. It doesn't contain cocoa butter or sunflower seed oil, but it can protect your fair skin from damage effectively, like tan dark bronzing mousse.
Sun Bum's SPF 15 Tanning Oil is Hypoallergenic, Oxybenzone and Octinoxate Free, Gluten-Free, Cruelty-Free, and Paraben-Free to ensure a fun day in the sun. This tanning dry oil can also prevent skin cancer like mercola tanning oil. This body oil suits all skin types, so you can use it without any worry.
So put some on and get out there! Apply generously before sun exposure, and reapply at least every 2 hours when outdoors or after swimming, sweating heavily, or towel drying. Sonny's Tip: Pair with an SPF 30+ sunscreen to ensure full sun protection.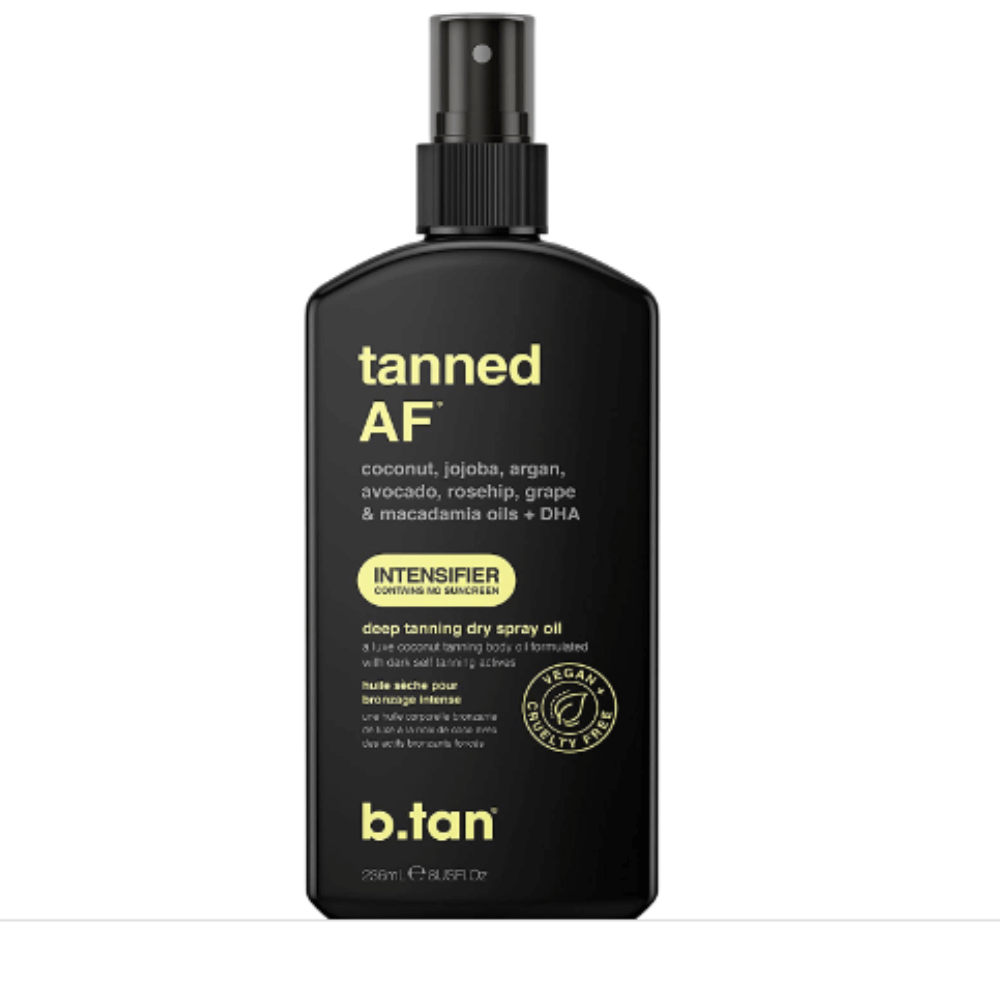 Best Tanning Oil For a Faster, Darker Tan
b.tan Intensifier Deep Dry Spray Tanning Oil
Check Price on Amazon
Why GG Loves It
When achieving the desired deep golden tan but with a faster, darker result, then not all tanning oils are up to the task because many don't contain the tan accelerating actives that are only found in b.tan Intensifier Deep Dry Spray Tanning Oil.
It's perfect for all skin types, whether it's sensitive skin or darker skin. This tanning oil SPF is formulated with advanced actives such as Melanin, tyrosine, and dihydroxyacetone that help to stimulate the skin's natural production of Melanin while providing intense hydration.
Plus, these activities speed up the tanning process and allow you to achieve a deep, dark tan without spending hours in the sun. This oil contains antioxidants like green tea and vitamin E, just like banana boat tanning oil.
This oil will also keep your skin looking healthy and nourished all summer. It can be used for a gradual tan or layered with sunscreens for added protection.
It doesn't have carrot and coconut oils, but this tanning oil SPF protection will provide you with an extra layer of protection. Also, this is one of the best tanning oils for tanning beds. This water-resistant body oil will tan skin faster than other self-tanning oils.
What You Should Know
Tanning oils are a great way to protect your skin from the sun's rays and get that golden glow you're looking for, but they also contain ingredients & artificial fragrances that can damage your skin or cause irritation.
If you want a safe and secure way to tan this summer, then sun bun tanning oil may be just the thing for you! This oil spray is made with organic ingredients that are 100% vegan and free of parabens, meaning that you're not exposing your skin to any harsh chemicals.
The b.tan Intensive Deep Dry Spray Tanning Oil also contains ultra-moisturizing oils to keep your skin hydrated and happy when you're out in the sun, thanks to its combination of coconut and jojoba oil.
Compared to other tanning oils, this product is also particularly lightweight, which makes it easy to apply and ensures that you're not left feeling greasy or weighed down after application.
It also contains macadamia oil, rosehip oil, argan oil, avocado oil & grapes oil, which means your skin will feel nourished & moisturized all day long!
Here are Some FAQs to Help Guide you on Your Way!
The sun can be a great way to get some Vitamin D, but it's important to protect your skin from harmful UV rays. Too much sun exposure can lead to skin cancer, premature aging, and other health problems.
Sun tanning oil is a great way to protect your skin while getting some color. But choosing the wrong one or when you apply tanning oils the wrong way could put you at risk for skin damage. Here are some FAQs to help guide you on your way:
What is the best tanning oil?
There isn't one specific "best" tanning oil, but there are some general things to look for when choosing one. For starters, you want to find an oil high in vitamin E since this will help keep your skin healthy and looking young.
You should also choose an oil that is light and non-greasy, so it won't clog your pores or make you feel oily. Look for an oil that contains coconut oil, carrot oil, tea tree oil, cocoa butter, aloe vera, and jojoba oil.
What is the best tanning oil to get dark fast?
No one tanning oil is better than all the others for getting dark fast. However, some oils are definitely better than others.
For example, coconut oil is a great choice because it has a high level of antioxidants that protect your skin from damage. Additionally, olive oil is another good option because it helps to moisturize your skin and keep it hydrated.
If you want to get dark quickly, you should look for an oil that is high in carotenoids (like avocado oils) or melanin-boosting compounds (such as walnut oil).
Does baby oil help you tan?
Yes, baby oil can help you tan. It's a good idea to use baby oil if you're trying to get a deeper tan because it will help to moisturize your skin and make it less likely to burn.
However, apply sunscreen before going outside because baby oil doesn't offer sun protection.
What does tanning oil do?
Sun tanning oil is designed to help the skin absorb more ultraviolet radiation from the sun. Increasing the amount of radiation that reaches the skin makes it possible to achieve a deeper tan in a shorter period.
Sun tanning oil also has moisturizing properties, which can help keep the skin hydrated and looking healthy.
However, sunscreen is still important even when using tanning oil, as the oil alone does not offer enough protection from the sun's harmful rays. If you want to use the oil, pick one that is water-resistant and contains organic oils like cocoa butter.
There's no definitive answer to this question because it depends on a lot of factors, such as the type of tanning oil, the brand, your skin type, etc.
However, in general, most tanning oils work poorly. Just make sure to use one that's made with natural ingredients, and that doesn't contain any harmful chemicals. You can also use tanning oil spray if you are a self-tanner.
How does tanning oil work?
Tanning oils coat the skin with a thin layer of oil that helps deflect UV rays. The oil also helps to trap moisture in the skin, which can help to increase the tanning process.
Most tanning oils are made with essential oils, which are natural ingredients that have been shown to be effective in helping the skin to absorb UV radiation.
Some of the most common essential oils used in tanning oils include coconut oil, olive oil, and sunflower oil. So choose the one that works perfectly.
Does coconut oil help you tan?
Some people believe using coconut oil as a tanning lotion will help you get a darker tan. However, there is no scientific evidence to support this claim.
Coconut oil is a natural moisturizer that may help keep your skin hydrated and healthy. But it won't make you any darker than you would be with another type of lotion.
Is tanning oil bad for you?
It can be. Most tanning oils contain chemicals that can be harmful to your skin. For example, retinol (vitamin A) is a common ingredient in tanning oils and can cause skin irritation and sunburn.
Sunscreen is a much better option than tanning oil because it protects your skin from the sun's harmful rays. Sunscreen also contains chemicals that can harm your skin, but the risks are much lower than with tanning oils.
There are a few different ways to use tanning oil.
One is to apply it directly to your skin before going into the sun. This will help protect your skin from the sun's UV rays and will also help you get a nicer, deeper tan.
Another way to use tanning oil is to add it to your regular sunscreen. This will make your sunscreen more effective at blocking UV rays and will also help you get a deeper tan.
Finally, you can also add tanning oil to your body lotion. This will help moisturize your skin and will also give you a nice, deep tan.
Best Indoor Tanning Bed Lotion vs. The Best Tanning Oil for Bed
Tanning bed lotions are available in formulations suitable for various skin types, including sensitive skin. Many products are hypoallergenic and designed to minimize any potential irritation or allergic reactions.
Tanning oils may not be ideal for individuals with sensitive or acne-prone skin. Some oils can clog pores or cause skin irritation, making it crucial to choose an oil that suits your skin type and preferences.
The choice between the best indoor tanning bed lotion and best rated tanning oil for beds ultimately depends on your skin type, desired tanning results, and personal preferences. Indoor tanning bed lotions offer a gradual, moisturizing tan with added bronzing elements, while tanning oils can accelerate the tanning process, providing a quicker and potentially darker tan. Whichever you choose, always prioritize your skin's health and opt for products that suit your unique needs.
Can you use tanning oil in a tanning bed?
Before using tanning oil in a tanning bed, there are a few things to consider. First, it's important to make sure that the tanning oil is specifically designed for use in a tanning bed.
Some oils are not meant for use in a tanning bed and can actually cause damage to the equipment. Second, it's important to know how long to wait after applying the tanning oil before getting into bed.
Most oils recommend waiting at least 30 minutes before sun exposure; however, it's always best to follow the specific instructions on the bottle.
Top 4 Best Tanning Oil
Tanning oils are a summer essential, giving you a healthy, golden tan that will last all season long. They also protect you from harmful rays & moisturize your skin.
In this guide, we have explored four of the best tanning oil for darkest tan available. They are all made with natural, organic ingredients and promise a smooth, streak-free tan.
Whether you're looking for an oil to give you an instant bronzed glow or something that will nourish your skin while developing a deeper tan over time, these options should have something that works for you - and your pocket.
Click any of the links to grab a bottle of your popular tanning oil and prepare for summer! Hope you have found this article helpful and it helps you to make your decision.
Read our article about best natural shampoo for men here!
Read our article about best clear lip gloss here!
Read our article about best lip primer here!