One of the worst things that can happen to your hair is damage, but you don't have to live with it or suffer in silence! Taking care of damaged hair is essential because it can help to strengthen your strands and reduce the chance of further damage.
A great starting point for this is by finding the best shampoo for damaged hair that works with your specific needs, but with so many options, finding the one that's right for you is challenging.
Are you struggling with damaged hair? Dont worry. We've got you covered. We have picked the top 5 best shampoos for damaged hair to help get your locks back to their former glory.
Not only do these shampoos help strengthen and nourish your strands, but they also repair any existing damage so that your hair can look and feel healthier than ever. Plus, they are sulfate-free, so you can rest easy knowing that they won't further damage your locks.
Click this link to learn more about our top 5 best shampoos for damaged hair!
We have searched for the best, so you don't have to live with the rest. In order to serve you to the best of our ability and to keep our blog going, GarnesGuide may collect a share of sales or other compensation from the links on this page if you decide to buy. Each product was independently researched by our editors, and the reviews may have been edited for length and clarity.
How We Choose The Best Shampoo For Damage Hair:
Damaged hair is a common problem, and it can be tough to find the right shampoo that repairs the damage. Most shampoos are designed to clean your hair, but they don't do much to repair damaged hair.
To help you, we've done deep research and gathered the top 5 best shampoos for damaged hair. All of these are safe for all hair types and are free from harmful ingredients, so you can trust that your hair is in good hands.
Best Shampoo For Damaged & Color-Treated Hair
Pureology Strength Cure Shampoo
Check Price on Amazon
Why GG Loves It
Looking for the best shampoo to nourish, repair and protect damaged and color-treated hair? Look no further than Pureology Strength Cure Shampoo. This professional formula is designed to improve hair health without sacrificing color vibrancy, bringing out its natural beauty while restoring strength and shine.
With a concentration of fortifying ingredients, this moisturizing shampoo reverses two years of damage in just one use and protects from future damage. Enriched with Asta Repair, which allows for faster rebuilding of bonds thanks to a powerful combination of fortifying ingredients, including Astaxanthin, a powerful antioxidant, Keravis, Ceramide, and Arginine.
Plus, it features an exclusive AntiFade Complex that seals in color intensity – ensuring your salon treatment always looks vibrant and healthy. Experience hydrated hair with increased suppleness as Pureology Strength Cure Shampoo purifies and deeply restores optimal balance from within.
Trust Pureology's haircare expertise to help heal damage and defend against future stressors, taking your locks to an iconic level of strength! It makes hair fiber strong whether you have thick hair or dry hair. Overall this shampoo is best for your fine hair growth.
What You Should Know
To make your hair shiny and healthy, you only need to use a quarter-sized amount of Pureology Strength Cure Shampoo. This is all it takes to create a powerful lather that instantly restores hair strength, elasticity, and shine! You can also use it on colored hair, thinning hair, or bleached hair.
Apply the pureology hydrating shampoo onto wet hair and massage thoroughly. Rinse off any remaining product until your hair is clean. If you have oily hair, you can repeat the process for an extra luxurious experience. It can also repair severely dry hair or bleached hair.
After using pureology hydrate shampoo, you can follow up with Pureology Strength Cure Conditioner for ultimate conditioning and protection. Together, they form the perfect duo to keep your hair looking healthy and strong!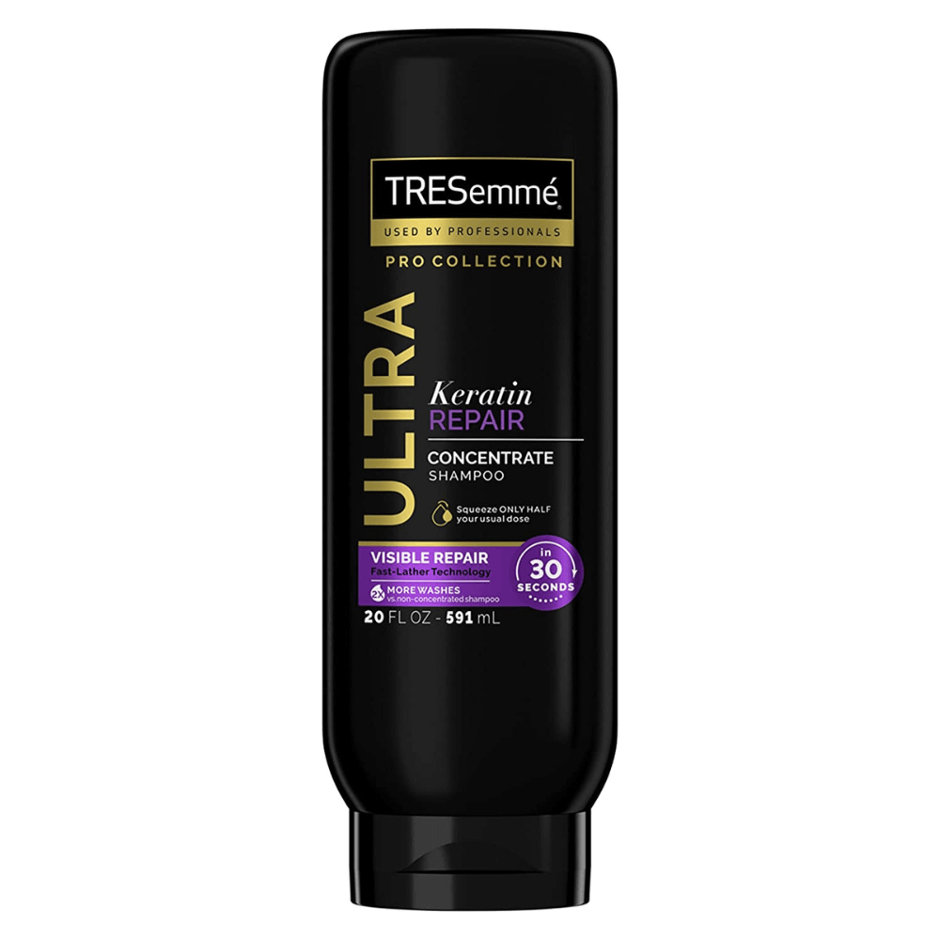 Best Shampoo For Restoring & Shielding Heat Damage Hair
TRESemmé Ultra Keratin Repair Concentrate Shampoo for Damaged Hair
Check Price on Amazon
Why GG Loves It
Introducing TRESemmé Ultra Keratin Repair Concentrate Shampoo for damaged hair. This moisturizing shampoo is the best way to restore and shield styling or heat-damaged hair. It is best for all hair types, including curly or wavy hair.
This sulfate-free shampoo ultra-concentrated formula infused with keratin proteins combines the power of advanced technology, salon expertise, and nourishing ingredients to nourish hair and help repair the damage.
This keratin-enriched shampoo is designed to help protect your strands from breakage, instantly nourishing damaged hair while shielding it from future heat damage like coconut shampoo. It is expertly crafted to reveal shiny, softer, healthier-looking locks after just one use.
It is also perfect for color-treated hair, fragile hair, or chemically-treated hair and is PETA-approved. With this shampoo for damaged hair, you can easily protect hair with no worries because it doesn't contain DMDM hydantoin, mineral oil, paraben, and dyes.
What You Should Know
This powerful moisturizing shampoo is made with lather-fast technology designed to rapidly cleanse and repair damaged or dry hair. The advanced formula contains a high concentration of keratin, which helps restore your hair's strength, elasticity, and shine.
It also has a natural blend of ingredients that help protect against split ends and breakage while promoting healthy-looking strands. To get the most out of this soft shampoo, you should use it on wet hair and massage in a generous amount of product, concentrating on the ends.
Follow with TRESemmé Keratin Repair Concentrate Conditioner to soothe and protect your newly repaired locks. With regular use, this hydrating shampoo can help restore even the most damaged hair to its former glory. You can easily get back your natural hair back, whether it's split ends or coarse hair.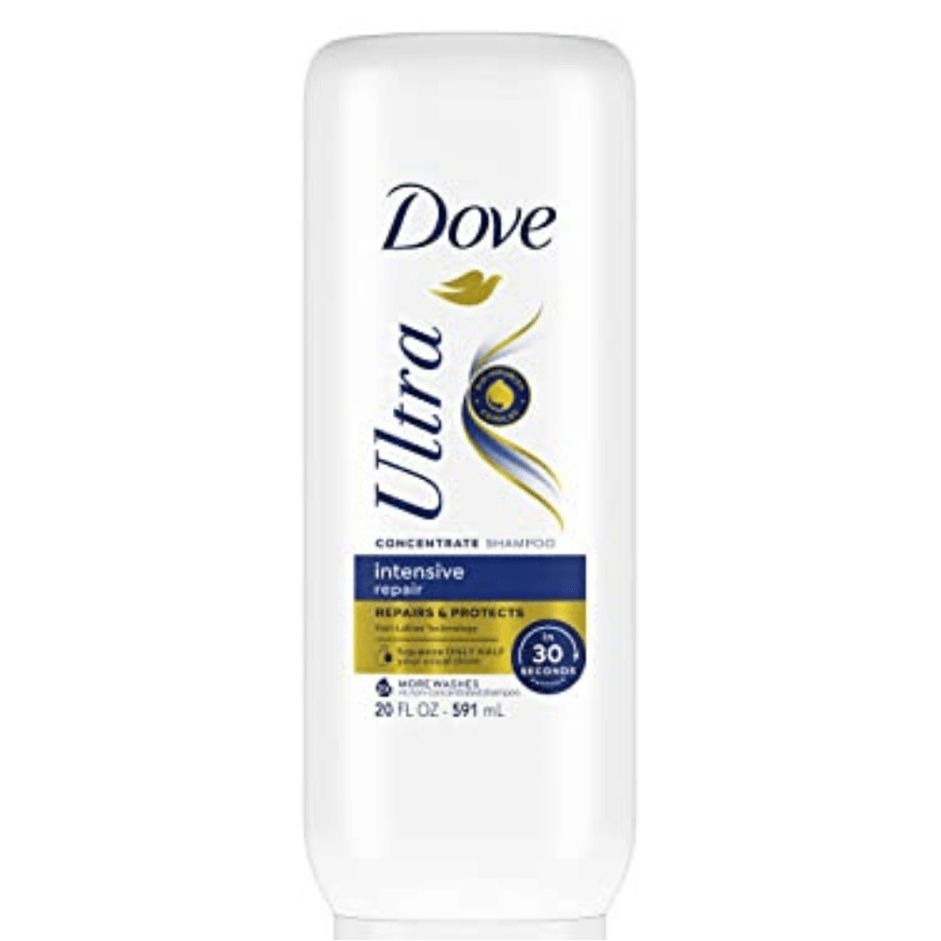 Best Shampoo For Transforming Damaged Hair
Dove Ultra Intensive Repair Concentrate Shampoo for Damaged Hair
Check Price on Amazon
Why GG Loves It
Dove Ultra Intensive Repair Concentrate Shampoo for Damaged Hair offers a transformative experience for hair that has suffered from damage. This hydrating shampoo concentrated formula can deliver results in just a single use, making it the perfect solution to restore strength and vitality to your hair.
Dove Ultra Intensive Repair Concentrate Shampoo is made with an expert blend of moisturizing ingredients and essential nutrients that help repair the brittle or split ends and hair breakage that environmental stressors can cause.
Compared to other shampoos like kérastase nutritive shampoo or coconut oil shampoo damaged hair, it is also perfect for brittle hair, chemically treated hair, or color-treated hair. To get your desired result, use Dove Intensive Repair Conditioner on your fine hair.
What You Should Know
If you are looking for a shampoo designed for severely dry hair or styling chemical treatments, then Dove Ultra Intensive Repair Concentrate Shampoo is perfect. It is packed with powerfully nourishing ingredients which make your hair soft.
This safe and soft shampoo helps to repair damaged or dry hair and restore its natural luster and shine. Enriched with a Pro-Moisture Complex, it penetrates into hair strands and helps replace lost moisture for soft, manageable, healthy-looking hair.
The formula is ultra-fast lathering to help get rid of dirt and product buildup quickly while maintaining its natural pH balance, so it doesn't strip away the essential oils from your hair.
With regular use, you can expect softer and smoother hair that looks visibly healthier than before, like pureology hydrate shampoo courtesy. Plus, this smooth shampoo is hypoallergenic and also suitable for blonde hair or thin hair. So use it to protect hair and treat split ends.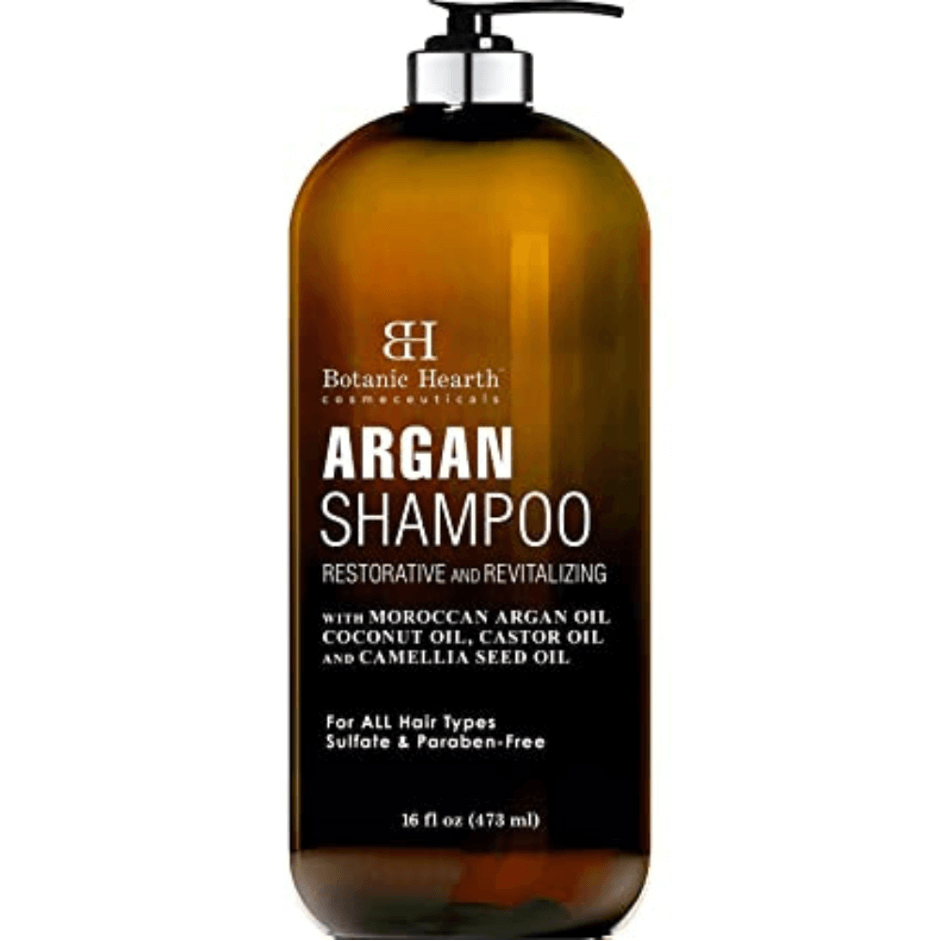 Best Shampoo For All Hair Types
Botanic Hearth Argan Shampoo
Check Price on Amazon
Why GG Loves It
If you are searching for a shampoo that works on all hair types and provides nourishment, then this sulfate-free and paraben-free product from Botanic Hearth is a perfect choice. Not only is it gentle enough to use on colored and delicate strands, but it also helps to strengthen locks while adding volume.
The main hydrating ingredients of this shampoo are Moroccan Argan Oil, Keratin, and Shea Butter. The Argan oil in this shampoo helps to nourish hair follicles, adding shine and softness to the strands. Not only does it hydrate your scalp, but it also repairs split ends while enhancing natural highlights.
The keratin in this product is excellent for repairing weak and damaged hair by helping to reduce frizz. The addition of Shea Butter adds moisture which helps to improve the overall manageability and strength of your fine hair. It doesn't contain jojoba oil or aloe vera, but it is best for your hair's health.
Overall, this shampoo is gentle enough for everyday use and provides great results for all hair types! Give it a try today and see how it can transform your locks into healthy, strong, and voluminous strands.
What You Should Know
Many types of shampoo, like oribe gold lust repair or kérastase nutritive shampoo, work perfectly for some hair types but not all because not all hair types are the same. But Botanic Heart Argan Oil Hair Shampoo is specially designed to be gentle enough for all types of hair without compromising on results.
This shampoo helps to keep your scalp healthy and nourished while promoting the growth of stronger and healthier strands. It also contains fatty acids, antioxidants, and Vitamin E, which helps to protect your hair from environmental toxins; thus, it can prevent your hair from drying out.
Additionally, this product is also color safe, so you don't have to worry about fading away the color of your colored treated hair after using it. This shampoo is also cruelty-free and not tested on animals, so that you can use it guilt-free! Plus, the luscious scent will leave your hair smelling amazing all day long.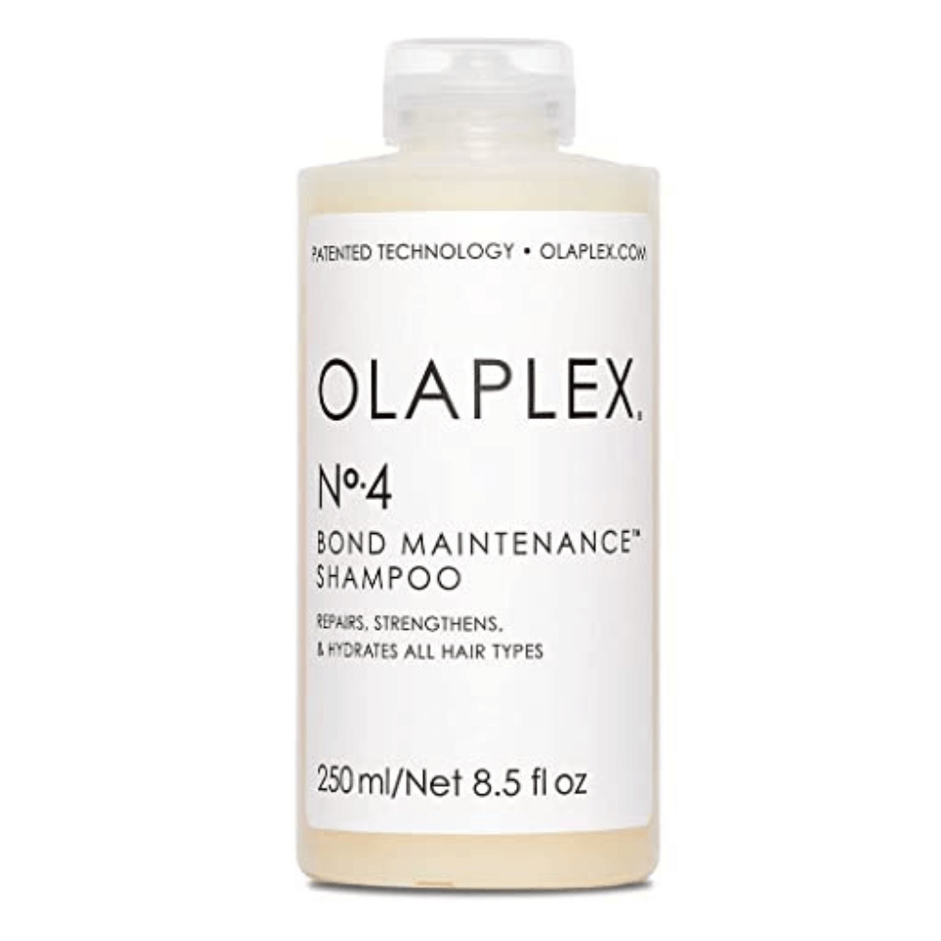 Best Shampoo for Strengthening & Softening Damaged Hair
Olaplex No.4 Bond Maintenance Shampoo
Check Price on Amazon
Why GG Loves It
Olaplex No.4 Bond Maintenance Shampoo is the perfect solution for damaged hair. This intensive nourishing shampoo moisturizes and repairs for an easy-to-manage and healthier look. The gentle cleanser is specially formulated to strengthen and soften hair, creating a vibrant and beautiful mane.
The innovative ingredients work to bring even the most damaged tresses back to life, making your fine hair look stronger, softer, and more luscious over time. You can feel the difference with each use as the nutrients go deep into your scalp to nourish and revitalize your locks.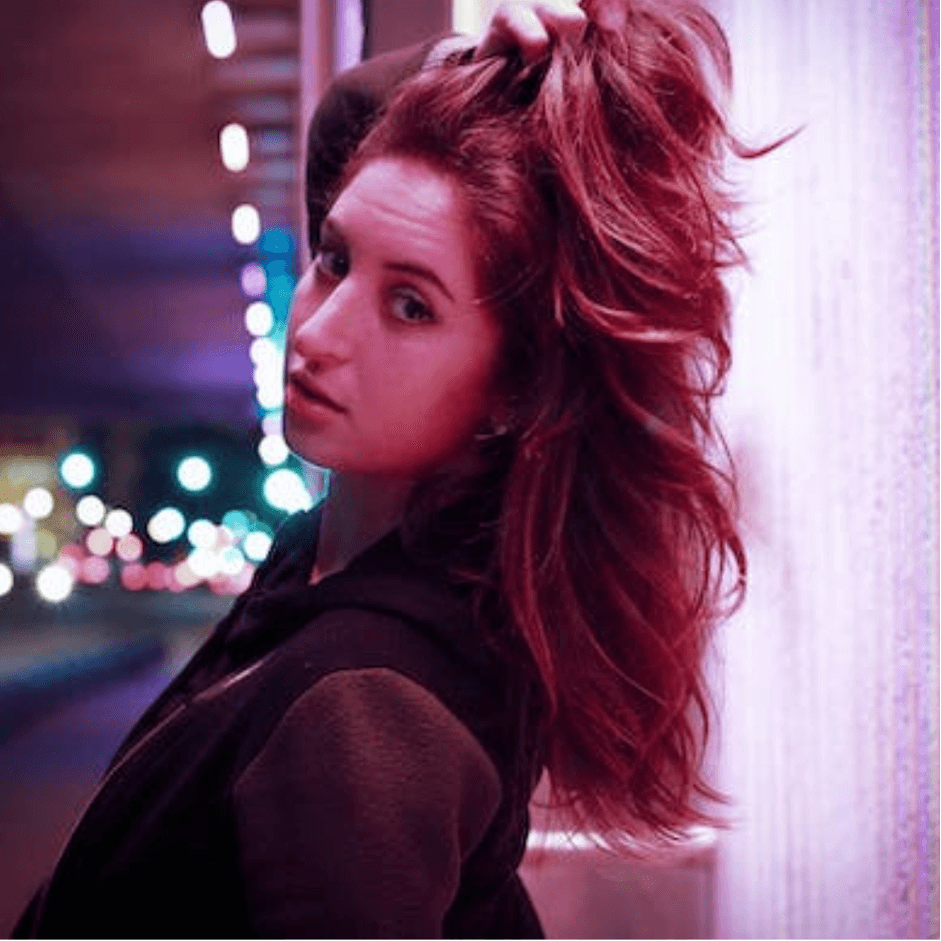 It helps to protect against split ends, breakage, and other damage caused by heat styling or coloring products so that you can maintain beautiful fine hair day after day. It is also perfect for thinning hair dye job hair. Experience softer, shinier hair strands with this must-have product from Olaplex!
What You Should Know
This 4-bond maintenance shampoo strengthens and protects all broken hair types, whether it's curly, wavy, or stick straight. It helps rebuild broken bonds within the hair's internal structure and prevents further breakage while keeping your hair healthy and hydrated.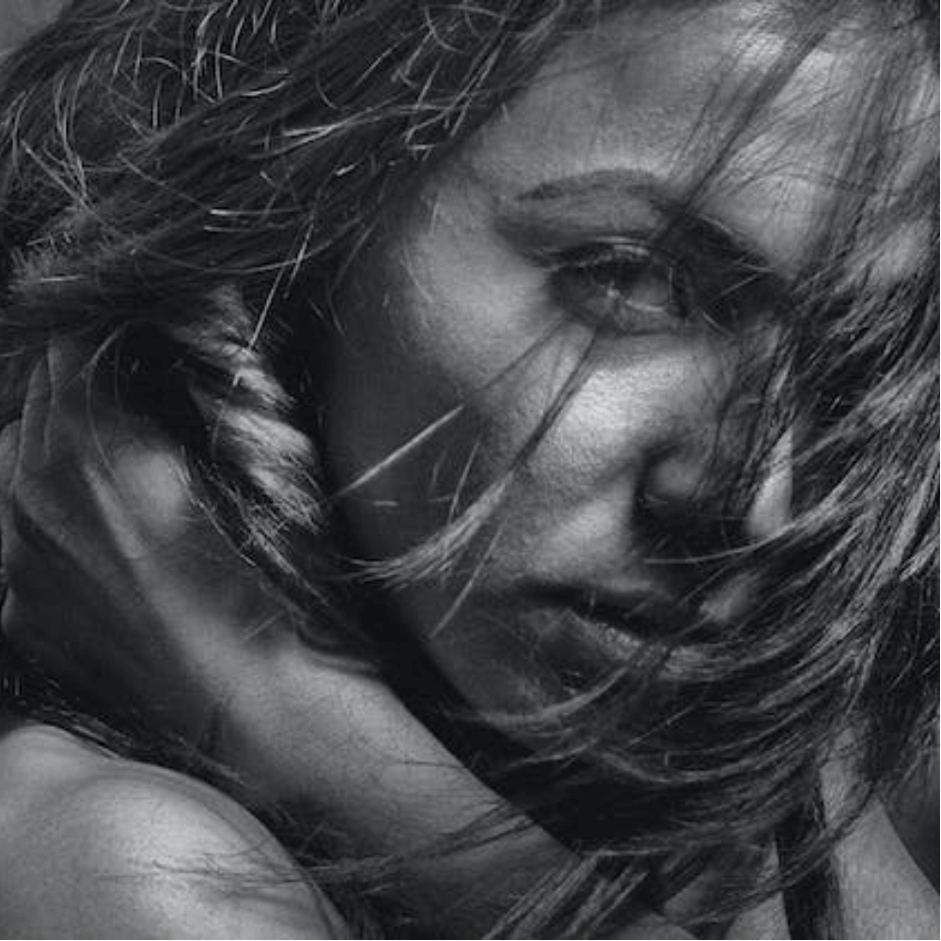 It helps restore compromised bonds in the hair while increasing brilliance and softness. Olaplex No.4 Bond Maintenance Shampoo is free from sulfates, parabens, and phthalates for a gentle cleaning experience that won't strip your hair of its natural oils.
This shampoo works like oribe gold lust repair and restoration, but the only difference is that it works wonders on all hair types. If you use this holy grail shampoo regularly, you will notice a significant decrease in frizz and damage, leaving your hair feeling soft and healthy.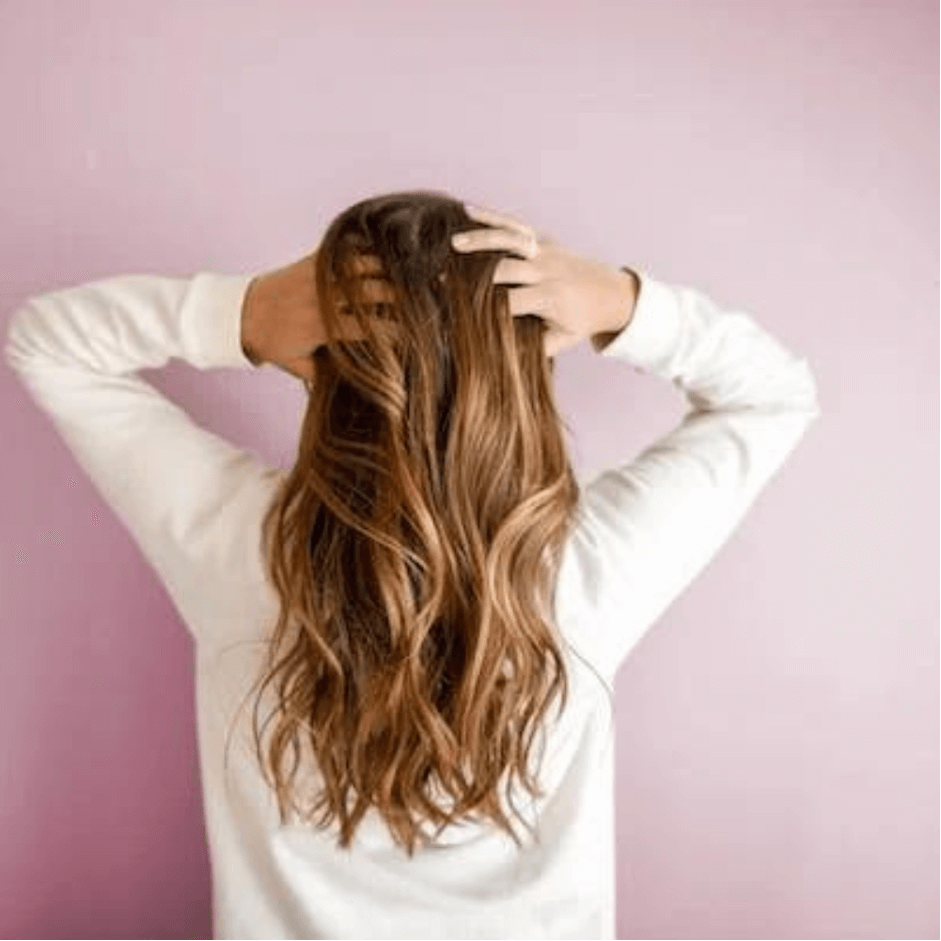 If you want to get smooth and stronger hair, then use this sulfate-free shampoo to hydrate your dry strands. By adding it to your daily caring routine, you will get the desired result that you want.
Here are Some FAQs to Help Guide you on Your Way!
Damage to your hair can be caused by various things like the sun, styling tools, and even shampoo. It's hard to know what's causing your damage and how to fix it, especially when there are so many products on the market that all assert to be the best.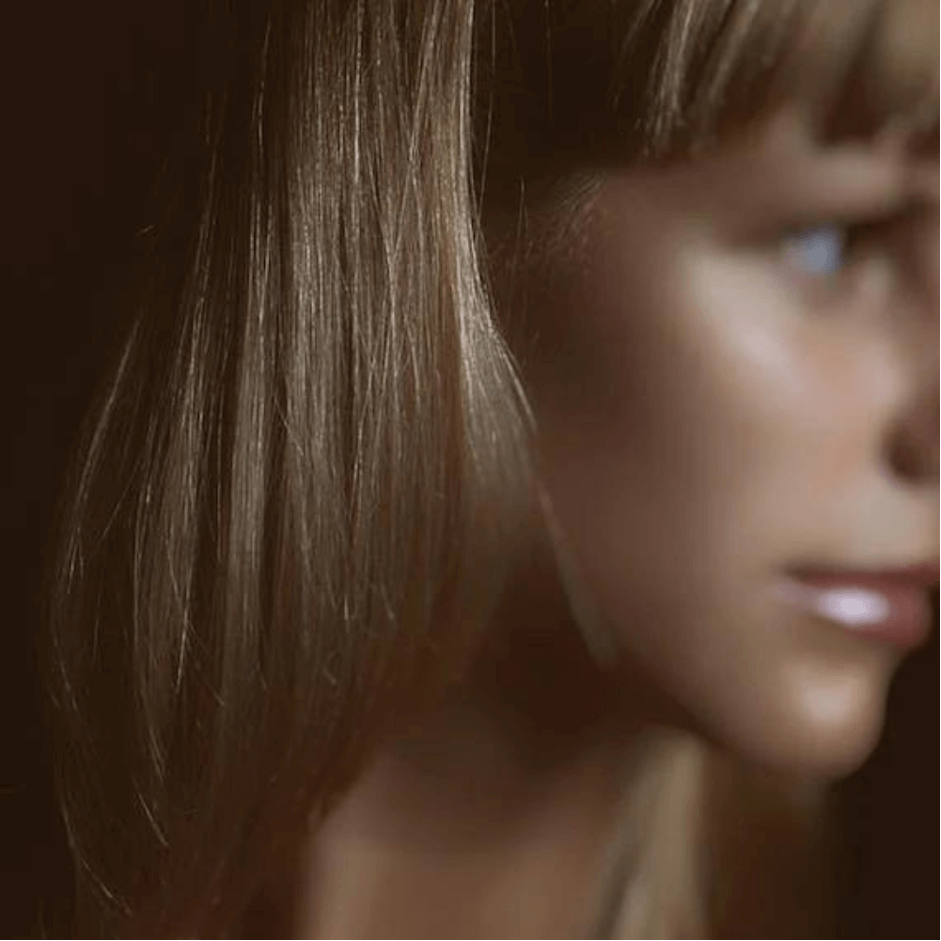 To help you, we've put together this list of Frequently Asked Questions (FAQs) related t damaged hair and shampoo that will help guide you on your way to repairing damaged hair so you can have the strong, healthy hair you've always wanted.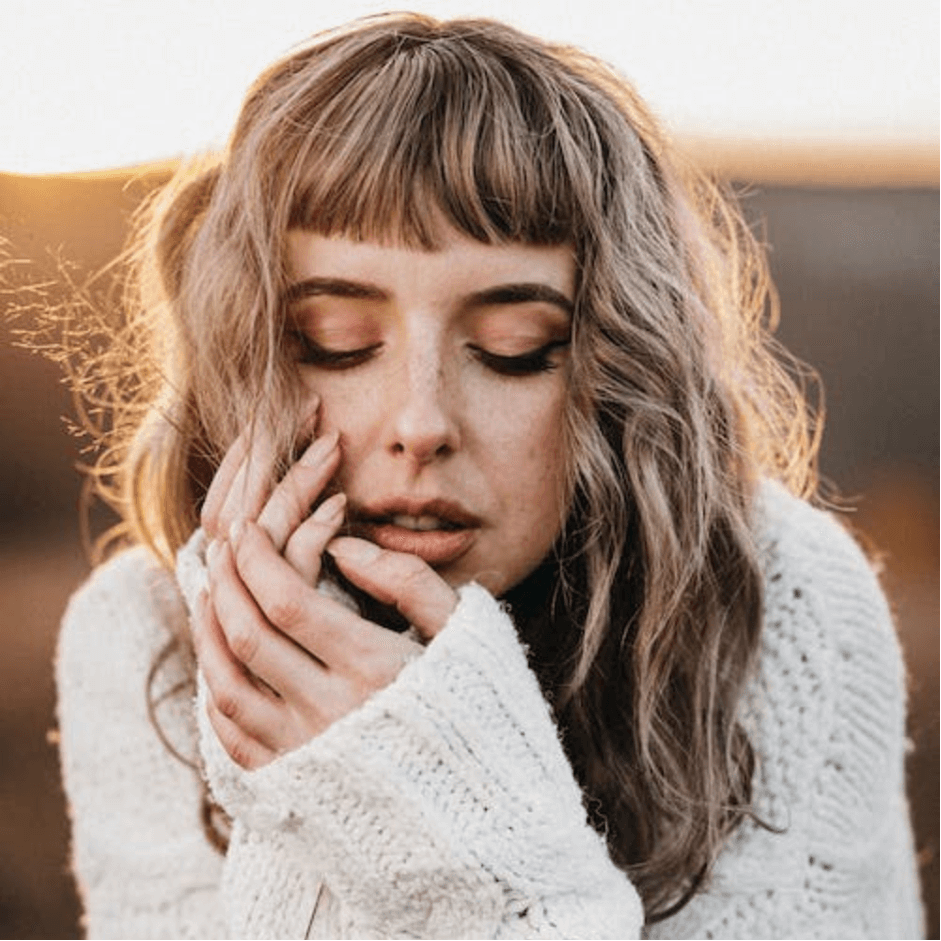 Does toner damage hair?
There's a lot of conflicting information out there about whether or not toner damages hair. Some say it does, while others claim it's perfectly safe to use. The truth is that toner can damage hair if it's not used correctly.
For example, if you use too much toner or you apply it to your scalp, it can cause your hair to become dry and brittle. It also depends on your hair type, so it is better to use a virtue recovery shampoo.
How to fix heat-damaged hair?
There are a few things you can do to help repair heat-damaged hair:
Cut off the damaged ends.
Use a deep conditioner or hair mask to help nourish and repair the hair shaft.
Try using a lower heat setting on your styling tools.
Avoid using hot tools altogether as much as possible because it can cause hair loss.
If you must use them, try a heat protectant spray to help minimize damage to keep your healthy hair safe and fine.
Is semi-permanent hair dye damaging?
Yes, it can be. Permanent hair dye contains ammonia, which alters the protein structure of your hair, and semi-permanent dyes don't contain ammonia, but they still contain harsh chemicals that can damage your hair.
That said, if you're careful about how often you dye your hair type and use quality products, it's possible to keep your hair healthy despite using semi-permanent dyes.
Do extensions damage your hair?
It really depends on the type of extensions you get and how careful you are with them. If you get extensions that are made of synthetic materials, they can definitely damage your hair. However, if you get extensions that are made of human hair, they should be fine as long as you take care of them properly.
Is dry shampoo bad for your hair?
It can be, depending on the ingredients and hair type. Dry shampoo usually contains talc, which can be bad for your hair if used regularly. Talc absorbs the natural oils from your scalp and hair, which can cause dry hair, brittle and prone to breakage.
Some dry shampoos also contain aluminum starch, octenyl succinate, or other aluminum-based chemicals, which can cause buildup on your scalp over time and lead to irritation and flakiness.
If you're looking for a dry shampoo that won't damage your hair, try one that is sulfate free contain contains coconut oil, algae extract, jojoba oil, keratin protein, aloe vera, and amino acids and is safe for your hair type.
Does shampoo expire?
It depends on the shampoo. Generally, most shampoos have a shelf life of about two years. However, it's best to check the expiration date on the bottle to be sure.
The shampoo is generally considered safe to use after the expiration date stamped on the bottle, but it may not produce optimal results. If you've got an old bottle of shampoo lying around, it might be time to buy a new one that fortifies, nourish, and strengthens hair.
How does dry shampoo work?
Dry shampoo is a powder that is sprinkled on the scalp to absorb oils and sweat. The powder then rubs off on hair, taking the oils and sweat with it.
The active ingredients in dry shampoo are usually talc, starch, or clay. These ingredients work to absorb oil and sweat by binding to the oils and dirt on your scalp.
When you brush your hair, the powder will come off of your scalp and onto your hair. This will help to remove any excess oil or sweat and give your natural hair a fresh look. Make sure to use a sulfate-free shampoo that contains amino acids and is safe for your hair type.
Can you use shampoo as body wash?
Sure, you can use shampoo as a body wash. In fact, shampoo is often recommended for people with oily skin because it's more cleansing than soap. But if you have dry skin, using shampoo may strip away your skin's natural oils and leave it feeling dry and irritated.
Soap is a better choice for people with dry skin because it's gentler and doesn't contain harsh detergents that can strip away moisture.
How do you know if your hair is damaged?
The best way to determine if your hair is damaged is to look at the ends of your hair. If they are dry, split, or otherwise broken, then your hair is likely damaged. You can also try a strand test. Take a small section of hair and pull it taut.
If it breaks easily, then your hair is likely damaged. The easiest way to prevent damage is to use a good conditioner after shampooing and avoid using harsh chemicals on your hair, like bleach or colorants.
Can damaged hair be repaired?
There are many damaged hair types, like distressed hair, over-processed hair, color-treated hair, brittle hair, coarse hair, and many more, but they can be repaired.
Choose a strengthening shampoo that contains moisturizing ingredients like amino acids, green tea, or shea butter because it's a must for keeping your damaged hair healthy.
Another way to repair damaged or broken hair is to use a deep conditioning treatment. Deep conditioning treatments are great for restoring moisture and nourishment to damaged hair, making it look more hydrated and vibrant.
Make sure it's sulfate free and contains hydrating ingredients like argan oil or coconut oil. You can also eat some fruits that are effective for repairing damaged hair.
Top 5 Best Shampoo For Damaged Hair
While all of the shampoos on our list are great for damaged hair, we think that the best shampoo for damaged hair is the one that fits your individual needs. If you have dry, brittle hair, try a moisturizing shampoo. If your hair is often greasy, look for a clarifying shampoo.
Whichever shampoo you choose, make sure to follow up with a good conditioner and deep conditioning treatment once or twice a week.
Read our article about best hypoallergenic eyeliner here!
Read our article about best shampoo for bleached hair here!
Read our article about best cruelty free lipstick here!