Sunglasses are not just a fashion statement; they also protect you from harmful sun rays that can damage your eyes. But sometimes, choosing the perfect style can be daunting and overwhelming. Especially if you have a round face shape, finding a suitable style can be challenging. In this blog post, we will provide the ultimate guide on choosing the right sunglasses for a round face.
Choose Angular Frames
Angular frames, especially those with sharp edges, will contrast and complement your round face shape. Generally, angular frames that have a rectangular or square silhouette will balance out the curves in your face shape and provide you with a sharper look.
Look for Oversized Sunglasses
Oversized sunglasses are excellent in making your round face shape look more defined. They help draw attention to the upper part of your face, providing a more balanced look. However, it's crucial to pick the right size. Sunglasses that are too large can overwhelm your face, ultimately making you look odd.
Avoid Round Shapes
Since round faces are already rounded, it's essential to stay away from round-shaped sunglasses as they will only emphasize your roundness. Instead, opt for sharp rectangular or square frames to balance your features and add more definition to your looks.
Go for Bright Colors
Bright and bold colored frames can add color and highlight your best features. Frames in vibrant and bold colors can give you a youthful and fun look. Moreover, brighter colors can create more contrast, ultimately making your face look sharper and defined.
Consider the Lens
When it comes to choosing the right sunglasses for a round face, the lens shape is as essential as the frame. If you have a round face shape, avoid choosing round lenses. Instead, go for square or rectangular-shaped lenses that can complement the shape of your face.
Sunglasses play a significant role in fashion, especially for those fashion lovers who have a round face shape. Angular frames, oversized sunglasses, avoiding round shapes, choosing bright colors, and considering the lens shape are some of the critical points to consider when choosing sunglasses for a round face. With these tips, you can rest assured that you will find the perfect and suitable sunglasses to enhance your looks and improve your style game.
Finding the perfect pair of sunglasses can be a daunting task, especially when you have a round face. But fear not, because we have done the research for you and have discovered the best sunglasses for round faces! Whether you're looking for a classic cat-eye or a trendy oversized pair, we've got you covered. Don't waste more time squinting in the sun or trying on endless pairs of ill-fitting shades. Follow the link to discover your new favorite sunglasses and be ready to step out in style this summer!
What types of sunglasses complement a round face?
Sunglasses that truly complement round face shapes feature angular or geometric frames. These frame styles serve the purpose of creating a striking contrast with the soft, rounded contours of the face. Consider options like square, rectangular, or cat-eye frames to achieve this effect. Besides, oversized sunglasses and frames with intricate patterns, embellishments, or decorative elements can be beautiful as they not only add contrast but also visually elongate the face, offering a blend of style and structural definition.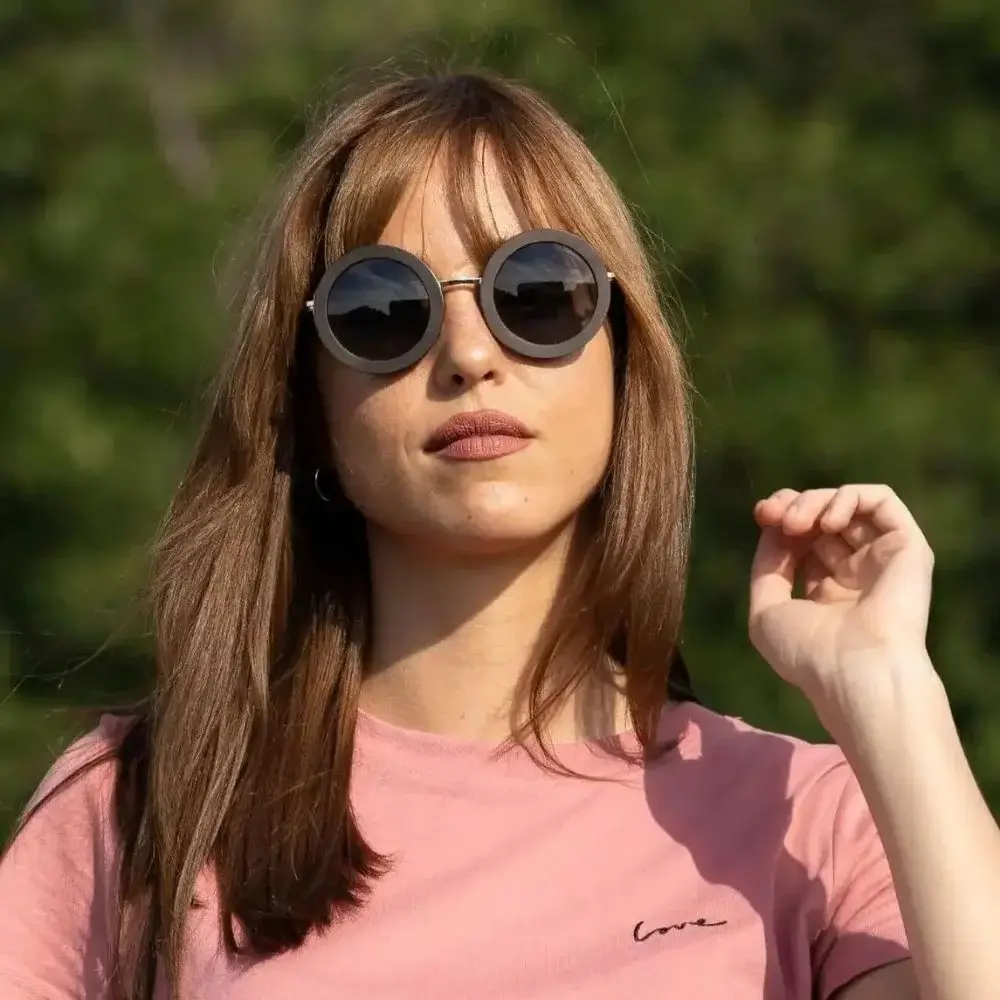 What are the best sunglass frame materials for round faces?
The choice of frame materials for sunglasses plays a vital role in ensuring both comfort and style. For round-faced individuals, lightweight materials such as acetate and titanium are highly recommended. These materials offer an ideal combination of strength and lightweight comfort. Many of these frames come with adjustable nose pads, allowing for a personalized fit, which not only prevents slippage but ensures a snug, secure feel. This blend of practicality and style ensures that your sunglasses reflect comfort and fashion, making them the perfect accessory.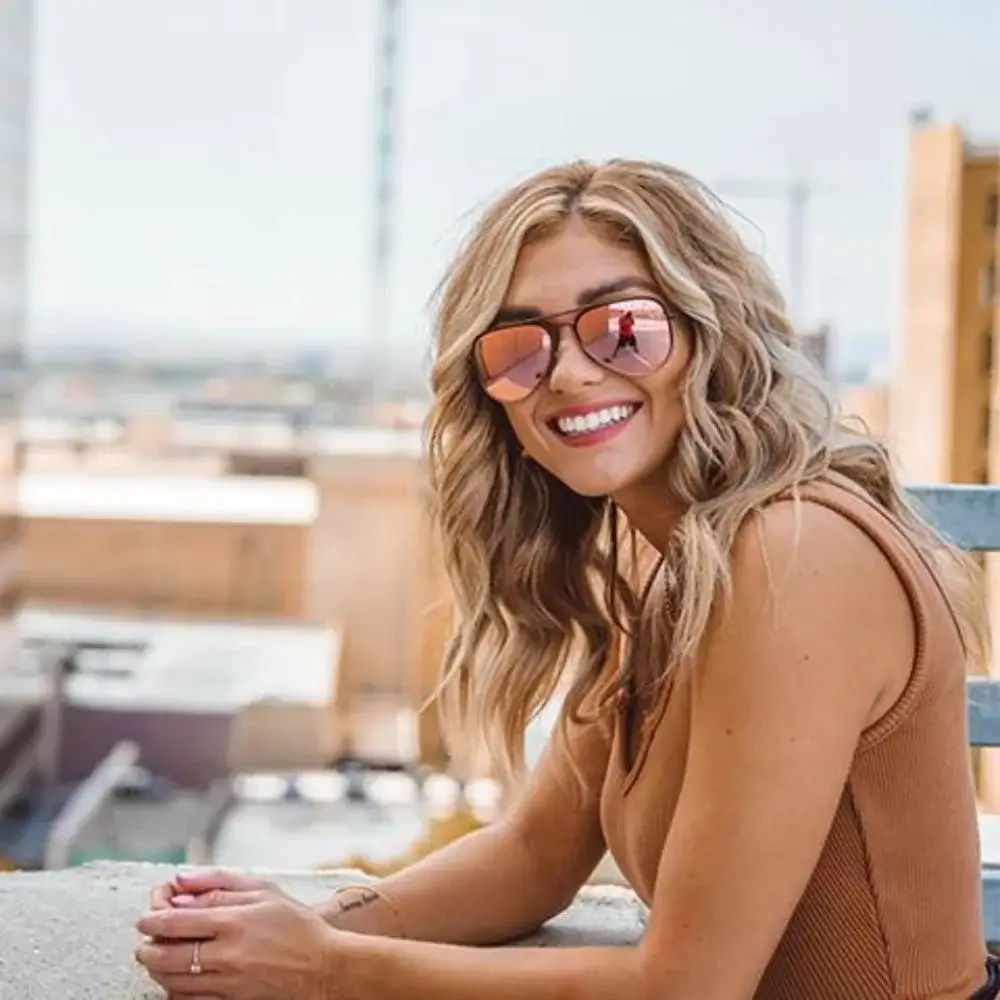 What frame colors work best for round face shapes?
Selecting the appropriate frame colors significantly impacts how sunglasses complement round face shapes. Opt for dark or bold frame colors, including classic black, rich tortoiseshell, deep blues, or earthy tones. These shades create a captivating contrast, adding depth and structure to the gentle curves of round faces. The result is a more flattering and aesthetically pleasing appearance that not only enhances your facial contours but also aligns seamlessly with your style, ensuring your sunglasses are not just eyewear but also a fashion statement in themselves.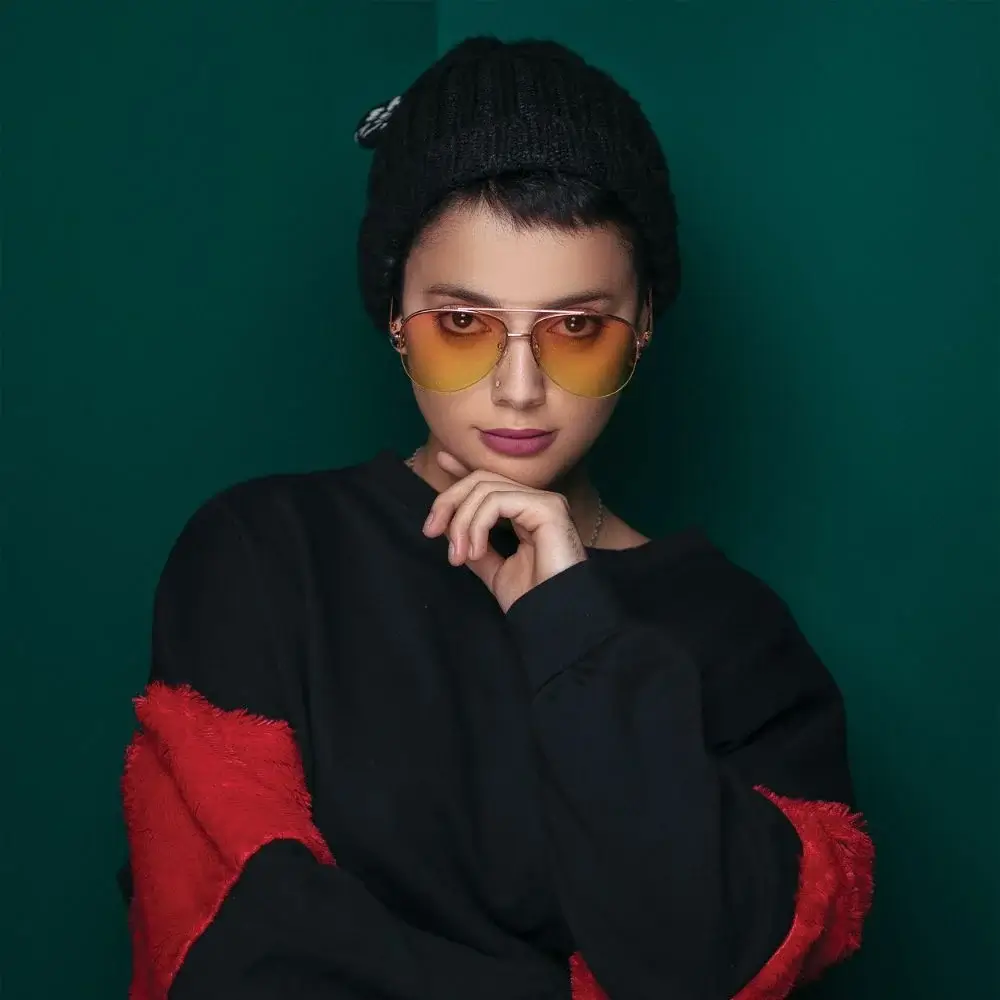 How do you measure your face shape to determine if it's round?
Identifying your face shape is a multifaceted process that combines precise measurements with visual assessment. Begin by measuring the width of your forehead, cheekbones, and jawline. If these measurements are closely approximated, it suggests a round face shape. Furthermore, round faces are characterized by the absence of sharp angles and prominent bone structures featuring soft, gentle curves. This combination of meticulous measurements and astute visual cues empowers you to confidently ascertain your face shape, enabling better-informed decisions regarding your choice of sunglasses.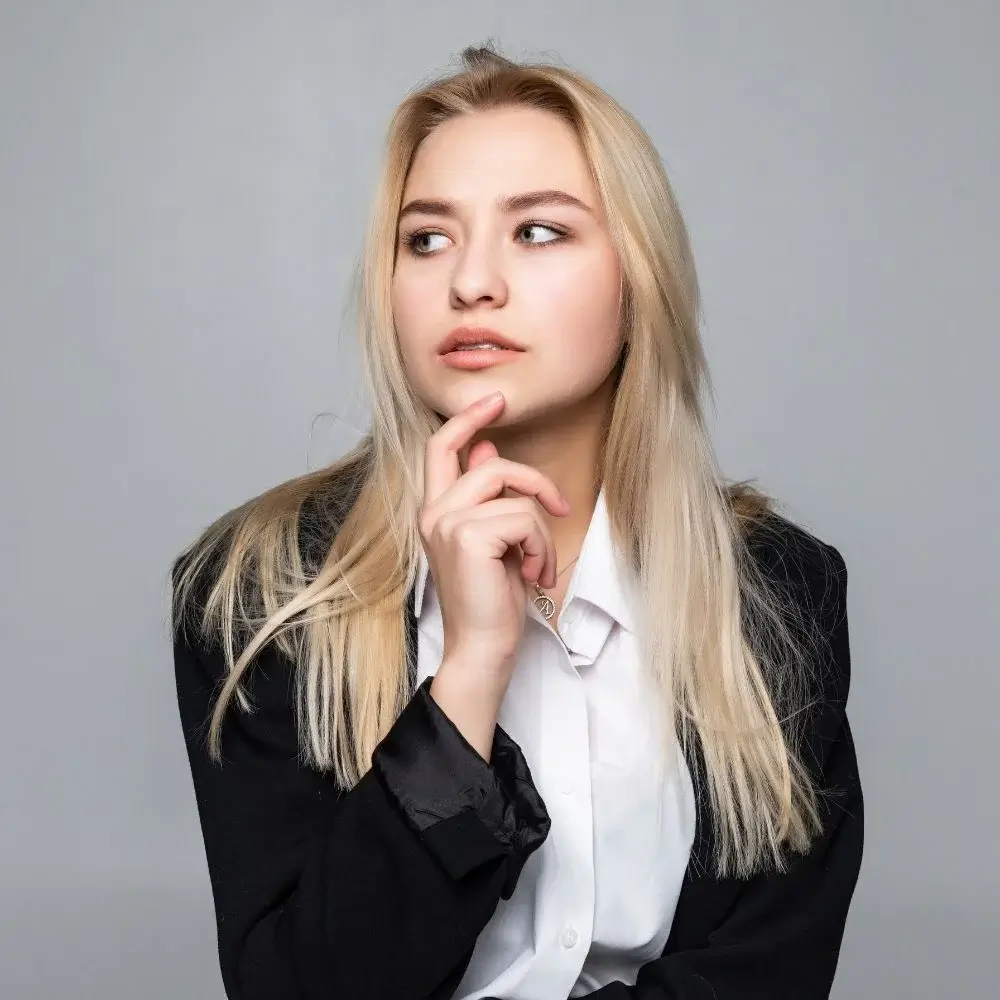 How should sunglasses fit on a round face for optimal comfort?
A comfortable fit for sunglasses on a round face is paramount for an enjoyable and hassle-free experience. The frames should rest securely on your nose bridge, providing stability and preventing unwelcome slippage. They must conform to the natural curvature of your brow line without extending excessively beyond the width of your face. The temples of the sunglasses should snugly fit behind your ears without causing pressure points or discomfort, ensuring that you can wear them for extended periods without the slightest inconvenience.
Should round-faced individuals prioritize comfort or style when choosing sunglasses?
When choosing sunglasses for a round face, it's essential to strike a harmonious balance between comfort and style. Prioritizing comfort involves meticulously selecting frames that fit impeccably, safeguarding against any potential discomfort, such as nose-pinching or temple pressure. Comfort is paramount as it ensures that you can wear your sunglasses for prolonged periods without any form of discomfort. Simultaneously, style should be preserved. Look for frame designs and colors that not only accentuate your facial features but also infuse a fashionable element into your overall appearance. By discovering sunglasses that seamlessly merge comfort and style, you can make a perfect choice that not only complements your round face but also eloquently represents your unique fashion sensibilities.