Sunglasses are one of the most iconic and transformative accessories in the world of fashion. They hold the power to not only elevate an outfit but also add a touch of mystery and allure to one's look. From traditional aviators to trendy cat-eye frames, there are hundreds of styles and designs to choose from.
However, if you are one of those who are blessed with a round face shape, then it's important to select sunglasses that complement your features. While there are various options available, not every style will flatter a round face. Are you looking for the most stylish sunglasses that will frame your face perfectly?
Don't worry; we've got you covered! We know that choosing the right pair of sunglasses can be tough, especially if you're unsure about which frames would suit your face; that's why we've put together this list of the top 3 best sunglasses for round faces to help you make the right & bright choice for yourself!
All these sunglasses listed on our list are crafted from high-quality materials and are designed to add a touch of glamour and sophistication to your look. Whether you're heading to the beach or just running errands, these glasses will not only protect your eyes from UV rays but also make a fashion statement.
Keep reading to learn more about our list of the top 3 best sunglasses for round faces!
We have searched for the best, so you don't have to live with the rest. In order to serve you to the best of our ability and to keep our blog going, GarnesGuide may collect a share of sales or other compensation from the links on this page if you decide to buy. Each product was independently researched by our editors, and the reviews may have been edited for length and clarity.
How We Choose the Best Sunglasses For Round Face:
Round face shape has its own charm and distinct beauty, characterized by soft, curved features that radiate approachability and warmth. But when it comes to accessorizing, especially with sunglasses, finding the perfect pair can be a process that is filled with confusion, uncertainty, and even anxiety.
The market is flooded with countless styles and designs, ranging from rectangular frames to oversized sunglasses, making it even more challenging for those with a round face shape to find an immaculate fit.
To help you in this quest, we have done a deep dive research and selected the top 3 best sunglasses that will enhance your stunning round face shape and make you stand out from the crowd. Each pair has been picked based on style, shape, & functionality to ensure you get the best value for your money.
Best Sunglasses For Any Climate and Weather Conditions
SOJOS Classic Square Oversized Sunglasses
check price on amazon
Why GG Loves It
There is no "best" sunglasses shape that exists for round faces; the options are endless. However, we can't deny that oversized sunglasses are the latest trend and have been for quite some time. They're bold, daring, and stylish, making them a popular choice for many who value something edgy and unique.
The perfect example of this is SOJOS Classic Square Oversized Sunglasses. They feature an oversized frame design, which is ideal for round faces as they help to add angles and definition to the face. This creates a more balanced look and helps to elongate the face, making it appear slimmer & more angular.
But aside from their fashionable appearance, these sunglasses also offer practical benefits. The lenses are UV400-rated, which means they can protect your eyes from both UVA and UVB radiation. This is essential for protecting your eyes against long-term UV damage when you go out to soak up some sun.
They are suitable for any kind of climate and weather, making them a versatile option for everyday wear. If you want to rock a round face like a true fashionista, then these amazing sunglasses are definitely worth considering, as they provide 100% UVA/UVB protection and are designed to fit any face shape.
What You Should Know
These square sunglasses are made of high-quality plastic frames, which are light & comfortable to wear. The soft silicone nose pads offer a snug fit without causing any discomfort or pressure on the bridge of your nose. The solid metal hinges ensure durability and flexibility, making them resistant to breakage.
The SOJOS Classic Square Oversized Sunglasses are like a breath of fresh air for those with round faces. The size (Lens Width: 59mm | Height: 50mm) is perfect for covering the entire eye area to provide maximum protection from the sun's harmful rays. The temple length of 145mm and nose bridge of 14mm also add to the overall fit, ensuring they stay securely in place without any slipping or sliding.
The most significant advantage of these square sunglasses is that they are suitable for both men and women. They come in a variety of colors to choose from, including black, silver, pink, gold, and brown. The classic design with a modern twist makes them suitable for any occasion, be it casual or formal.
With beautiful gift packaging that includes a microfiber pouch, cleaning cloth, and glasses box, these sunglasses also make for an excellent gift idea. Whether it's for a friend or a family member, these oversized square sunglasses are sure to impress anyone with their stylish design and practicality.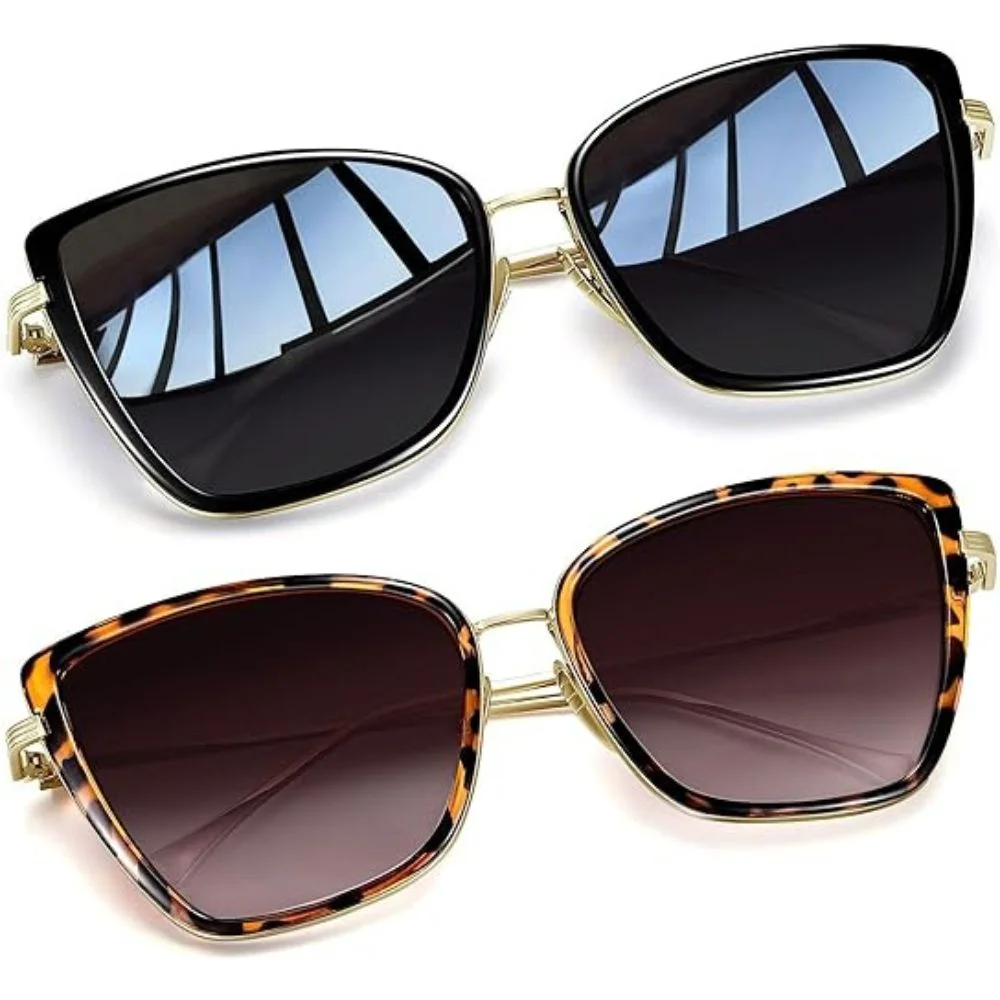 Best Sunglasses For Trendy Women
Joopin Oversized Cateye Sunglasses
check price on amazon
Why GG Loves It
Cat eye sunglasses are one of the most dazzled and trendy sunglasses of all time. These glasses have been in existence for a long time, yet they never fail to give the stylistic statement that everyone loves.
For round-faced people, cat-eye sunglasses are a perfect choice as they instantly add angularity and sharpness to the soft features of their face shape. The signature corners near the temple arms & brow lines of these glasses work like magic in flattering a round face shape. But if you need something that is not too traditional yet has a touch of modernity, then the Joopin Oversized Cateye Sunglasses are best.
These retro cat-eye sunglasses are designed for confident and wild women who love to flaunt their unique personal style. The large frames of these glasses add drama to your overall look and make you stand out in the crowd. Plus, their elegant metal frame design is a perfect blend of durability and style.
Not only are they comfortable to wear, but they also remain in perfect shape even after multiple uses. Plus, they come in packs of two, perfect for mixing and matching with different outfits. From formal events to casual outings, these cat eyeglasses are a versatile accessory that can elevate any look.
What You Should Know
Choosing sunglasses for round face shapes can be quite tricky, but with the Joopin Oversized Cateye Sunglasses, it's a no-brainer. The oversized frames of these glasses are not just made to highlight your facial features but also to fully cover and protect your eyes so you can stay both stylish and protected.
The lenses are made with UV 400 protection, which means they block 99%-100% of both UVA and UVB radiation, keeping your eyes safe from long-term damage. No matter if you are spending a day at the beach, attending an outdoor event, or simply running errands in the sun, these shades will protect you.
This women's cat eye sun shade comes in 6 different trendy colors that can match your unique style. From classic black to bold pink, there is a shade for every mood and event. Plus, the price is unbeatable for such a high-quality & stylish product; anyone can afford to add these sunglasses to their collection.
Besides the beautiful sunglasses, this package also contains an exquisite bag and specialized lens cloth to keep your sunglasses clean and scratch-free so you can use them for years to come without damage.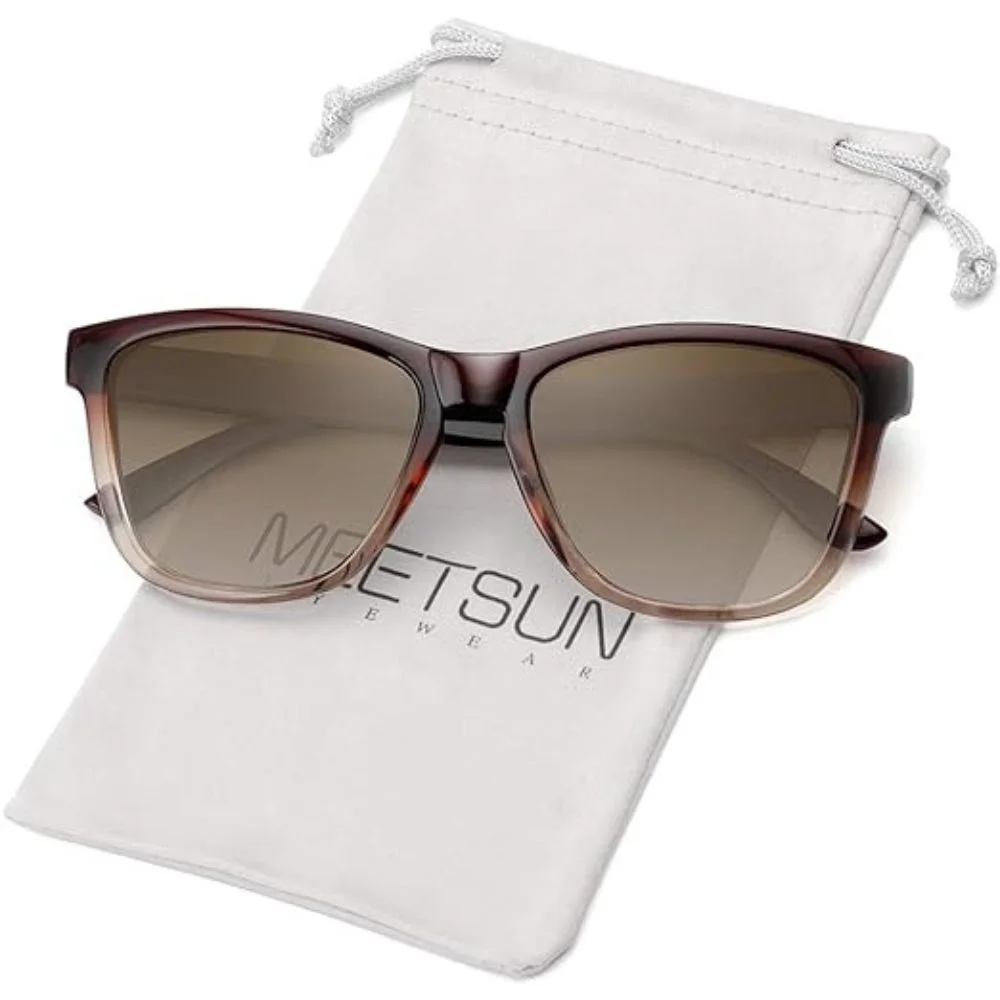 Best Sunglasses For Anyone With Any Face Shape
MEETSUN Polarized Sunglasses
check price on amazon
Why GG Loves It
Do you have a round face? Are you tired of trying on different sunglasses but can't find the perfect fit? Well, look no further! We have the perfect solution for you – MEETSUN polarized sunglasses. These super sensational sunglasses are designed to suit any face shape, especially those with a round face.
Whether you have a round, square, heart-shaped, or oval face, these sunglasses will complement your look and make you stand out from the crowd. Plus, they are so versatile that they can be worn by both gentlemen and women, as well as young teenage boys and girls. Talk about being unisex and inclusive!
The retro-inspired design of these sunglasses is what makes them truly stand out. They have a chic and trendy look that will give you an instant style boost. The frames are made of high-quality plastic, making them lightweight and comfortable to wear for long periods without causing any strain on your face.
What You Should Know
But what's even more impressive about these sunglasses is their functionality. They come with 100% UV (UVA and UVB) protection, which means that the lenses block all harmful rays and blue light up to 400 nm. This unique feature alone makes them a must-have for anyone who loves spending time outdoors.
The lenses are TAC polarized, which reduces glare reflected off of roads, water bodies, snow, and other horizontal surfaces. This not only improves your vision but also protects your eyes from strain & fatigue. Plus, polarized lenses are known to enhance color perception, making everything appear more vibrant and true to life. Compared to oversized round sunglasses, the price of these glasses is also reasonable.
The best thing about these glasses is that they come in a variety of lens colors. You can opt for classic black or brown lenses, which are perfect for everyday wear and go well with any outfit. Or you can add a pop of color with blue or green lenses, great for making a statement and adding some fun to your look.
So what are you waiting for? Grab these perfect sunglasses today and hit the road or beach in style! With their trendy and timeless design, you can't go wrong with these sunglasses for round face shapes.
Here are Some FAQs to Help Guide you on Your Way!
Sunglasses are, without question, more than just a simple accessory. They are the charismatic sidekick to your daily adventures, the stylish guardian of your gaze, and the ultimate expression of your personal style. But, as any fashion aficionado or savvy consumer will tell you, not all sunglasses are created equal.
If you are one of the many people with a round face shape, then you may have noticed that certain sunglasses just don't seem to suit your features as well as others. Here are some frequently asked questions to help guide you on your way to finding the perfect pair of sunglasses for your round face.
How do I know if my face is considered round?
If you are curious whether your face shape is round or not, there are a few ways to determine it. Below are some common characteristics of a round face shape:
1. Your face is about the same length and width, giving you a circular appearance.
2. You have fuller cheeks and a softer jawline, making your features less angular.
3. Your forehead and chin are usually shorter in comparison to the width of your face.
However, it's important to note that everyone's facial structure is unique and may not fit perfectly into one category. If you are unsure, the best way to determine your face shape is to consult with an expert.
Can I wear any style of sunglasses with a round face?
Generally speaking, there is no right or wrong style of glasses for a round face. It ultimately depends on your personal preferences and what you feel comfortable wearing. However, there are some sunglasses that can complement and accentuate the natural features of those with a round-shaped face better.
Round-shaped faces are characterized by fuller cheeks, a wider forehead, and a rounded chin. If you have a round face shape, the goal is to find glasses that help balance out your prominent features while adding some definition to your face. Some of the best styles for round faces include angular frames, cat-eye frames, oversized frames, rectangular frames, square frames, oval frames, and even aviator frames.
Do square-shaped frames suit round faces?
Yes, square-shaped frames are an excellent choice for round faces. The sharp angles of square or rectangular frames create a striking contrast to the curved facial features. These styles not only add definition but also turn heads and draw attention compared to round frames for oval face shapes.
Plus, cat-eyes and rectangular sunglasses are also great options for round faces, providing angular lines that complement the shape perfectly. Round faces tend to have curvy features with equal proportions, which may appear softer than other face shapes, so angular frames can make their faces look slimmer.
Best Sunglasses For Round Face Shapes:
Sunglasses that are devised to suit round faces are nothing short of a fashion revelation. They are the secret sauce that takes your style from "nice" to "nailing it!" These frames are contrived to complement your features, enhancing your natural beauty and giving you that irresistible, confident, and chic look.
The top three best sunglasses that we have listed above are eye-popping, jaw-dropping, and head-turning sunglasses that are tailor-made for round faces. Each one has its own unique style, design, and features that make them stand out from the rest and make them a must-have for the upcoming season.
They are not only fashionable but also highly functional, providing ample protection for your eyes from the harmful UV rays of the sun. Whether you are lounging by the pool, strolling on the beach, or simply running errands around town, these shades will be your go-to accessory that elevates your entire outfit.