Fishing is not just an activity of trying to catch fish; it's a profound journey that bridges the gap between nature and humanity. It's an adventure that brings peace, joy, and relaxation to its participants. With the right equipment and knowledge, fishing can be an incredibly rewarding experience for anglers of all ages.
One of the most predominant pieces of equipment for fishing is sunglasses. By wearing fishing sunglasses, anglers can block out harmful UV rays and see into the depths of the water without any kind of distractions.
However, with an endless array of options in the market, choosing the right pair of fishing sunglasses can be as challenging as reeling in the big catch because not every pair of sunglasses is created equal. Are you looking for the best fishing sunglasses that will bring out the absolute best in your inspiring fishing journey?
Don't worry; we have got you covered! We understand that finding the best sunglasses that will fit your needs and lifestyle isn't always easy. That's why, to help you out, we have compiled this list of the top five best fishing glasses that will not only protect your eyes but also enhance your startling fishing experience.
All these best sunglasses for fishing are made with highly durable materials, designed to be lightweight yet sturdy enough to withstand the toughest of conditions. Whether you're facing harsh sunlight, sudden rain showers, or the occasional splash from the water, these best of the best fishing sunglasses are built to last.
Keep reading to learn more about our list of the top 5 best fishing sunglasses!
We have searched for the best, so you don't have to live with the rest. In order to serve you to the best of our ability and to keep our blog going, GarnesGuide may collect a share of sales or other compensation from the links on this page if you decide to buy. Each product was independently researched by our editors, and the reviews may have been edited for length and clarity.
How We Choose the Best Fishing Sunglasses:
Fishing sunglasses are a vital piece of gear for any angler who wants to improve their experience. Not only do they protect your eyes from the sun's harsh rays, but they also reduce glare so that you can clearly see underwater. With the right pair of glasses, you can spot fish faster and more accurately than ever before.
Unluckily, with so many different brands and options that fill the whole market just like a vast fishing lake, finding the best fishing sunglasses can feel like looking for a Bluefin Tuna in the Pacific because not all sunglasses can deliver the performance you need on your thrilling and sometimes treacherous fishing trips.
To help you in this mission of finding the ultimate fishing eyewear, we have done deep dive research and have picked the top 5 best fishing sunglasses that for sure won't leave you feeling like a fish out of water.
Each pair of sunglasses we've chosen is like a seasoned angler's trusted rod that will never let them down. With features like polarized lenses, 100% UV protection, & scratch-resistant coatings, you can rest assured that your eyes will be safe, & your vision will be crystal clear no matter the condition of the water/weather.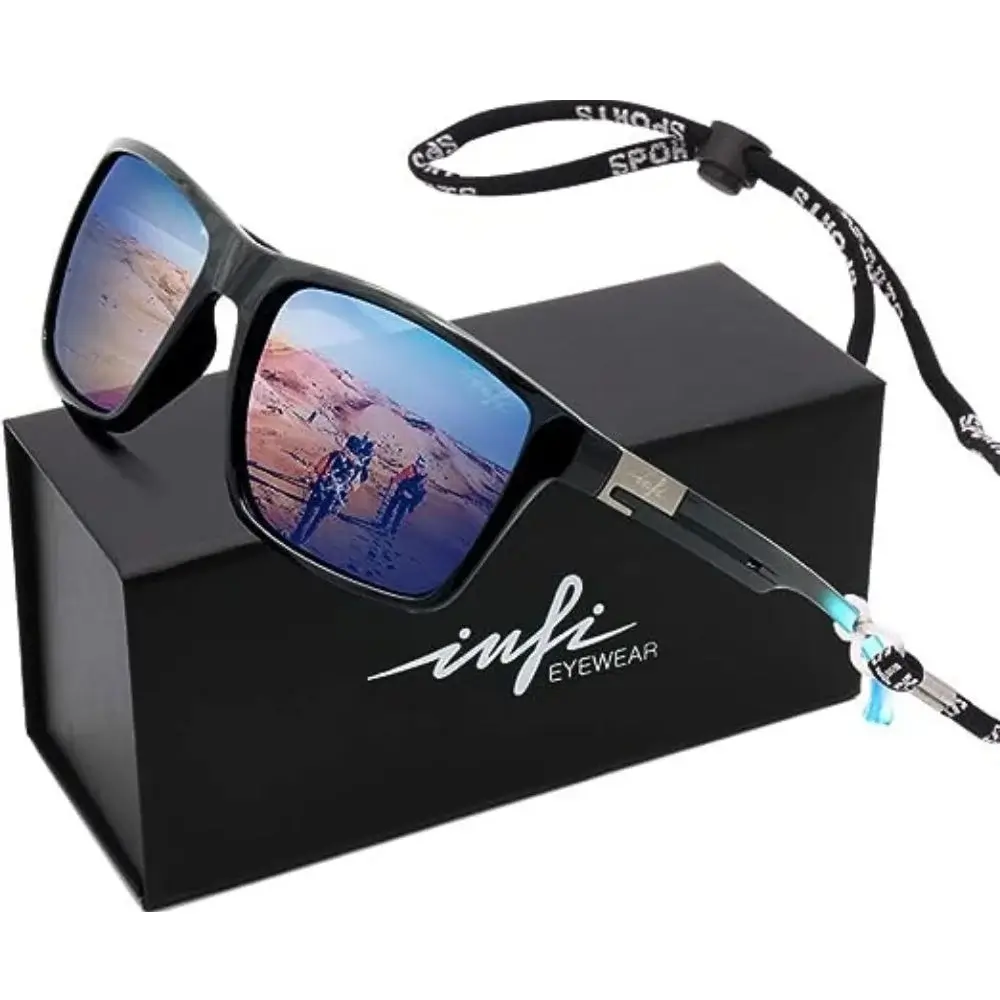 Best Polarized Sunglasses For Fishing, Hiking, and Running
INFI Fishing Polarized Sunglasses
Check Price on Amazon
Why GG Loves It
Do you always lose out on that big catch because you can't see the fish in the water clearly? Have you ever hoped for a pair of fishing glasses that could help you spot those hidden creatures beneath the surface? If so, then Infi polarized sunglasses are like a dream come true that will give you an edge when sight fishing.
These sunglasses are made with lenses that are polarized and mirror-coated to give you the most optimum view of what is happening below the water. With a high polarization rate of 99.5%, they can provide you with incredibly crystal clear and detailed views of your target, so you'll never miss out on any fish again!
The Tri-Acetate Cellulose lens used in these polarized glasses is imported from Germany to give you the added benefit of a directional sense that helps you spot fish and other objects with greater accuracy. The high-definition lenses also provide the most exhilarating visual effects for a truly unique fishing experience.
These best-polarized fishing glasses are specially designed with men in mind so they can keep up with the action while fishing and outdoors. With Infi polarized sunglasses, you can experience a whole new level of clarity & accuracy in your sight-fishing adventures without any sort of glares, reflections, or color distortion.
Whether you are going for a deep sea fishing trip with your buddies or just taking a leisurely stroll around the lake, Infi polarized glasses are sure to give you the best view of what lies beneath. So don't wait any longer, gentlemen, and upgrade your fishing experience with these high-performance fishing glasses today!
What You Should Know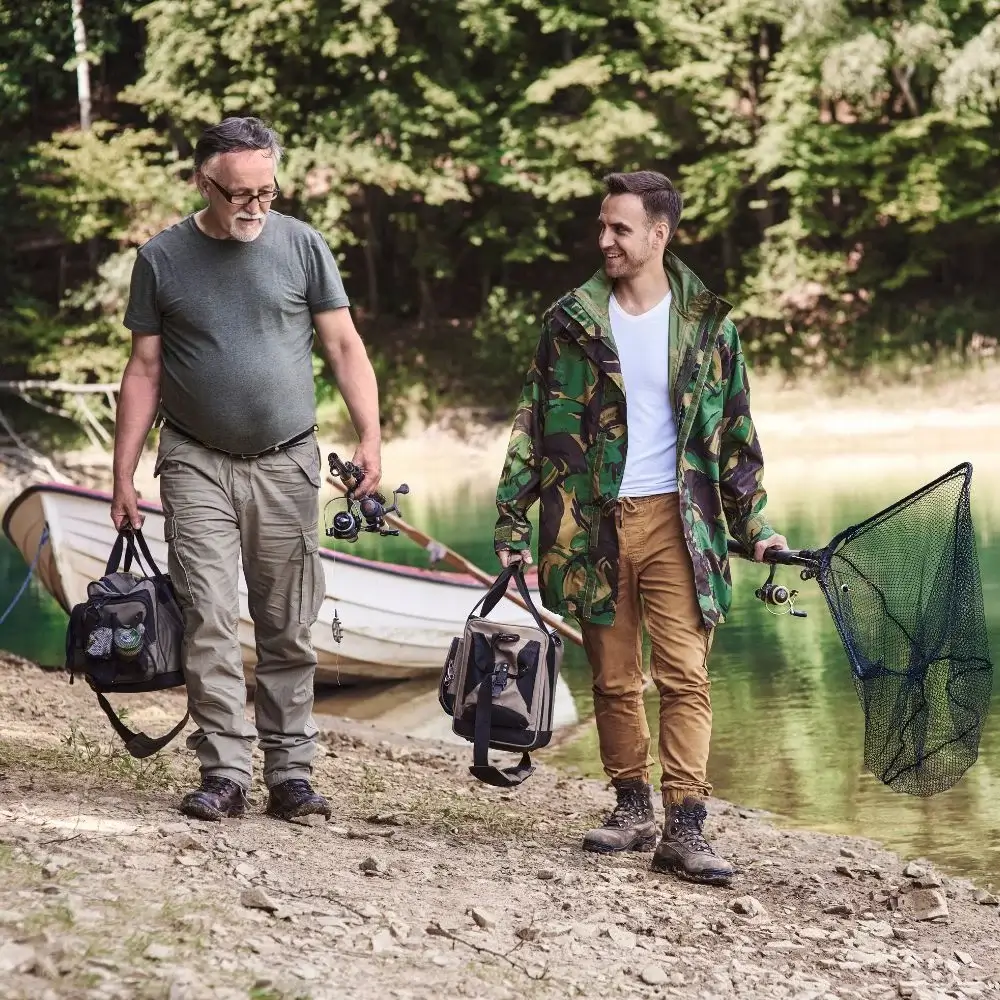 INFI Fishing Polarized Sunglasses are not just made with state-of-the-art polarized technology to provide you with crystal-sharp vision. They're also designed to keep your eyes safe from UVA and UVB rays. With a 100% UV400 protection rating, INFI Polarized Sunglasses are the best choice for any outdoor adventure.
For all fishing enthusiasts who value nothing but the absolute best, INFI Fishing Polarized Sunglasses are designed to give you an edge. The anti-glare polarized lenses reduce eye strain and fatigue while providing excellent UV protection, so you can see clearly even in bright conditions without any kind of complications.
Plus, their durable construction ensures long-lasting performance that will take you through your most challenging fishing expeditions. The plastic frame is lightweight, and the lens width of 57 mm, lens height of 43 mm, bridge width of 18 mm, and arm length of 132 millimeters, make it easy to fit any face shape.
On top of that, these polarized fishing sunglasses come in multiple lens options like yellow, smoke, ice blue, and brown lenses, but the best one is shiny black/blue. This indicates that no matter what your personal style or the conditions you fish in, there's an option that will fit your needs and, most notably, your budget.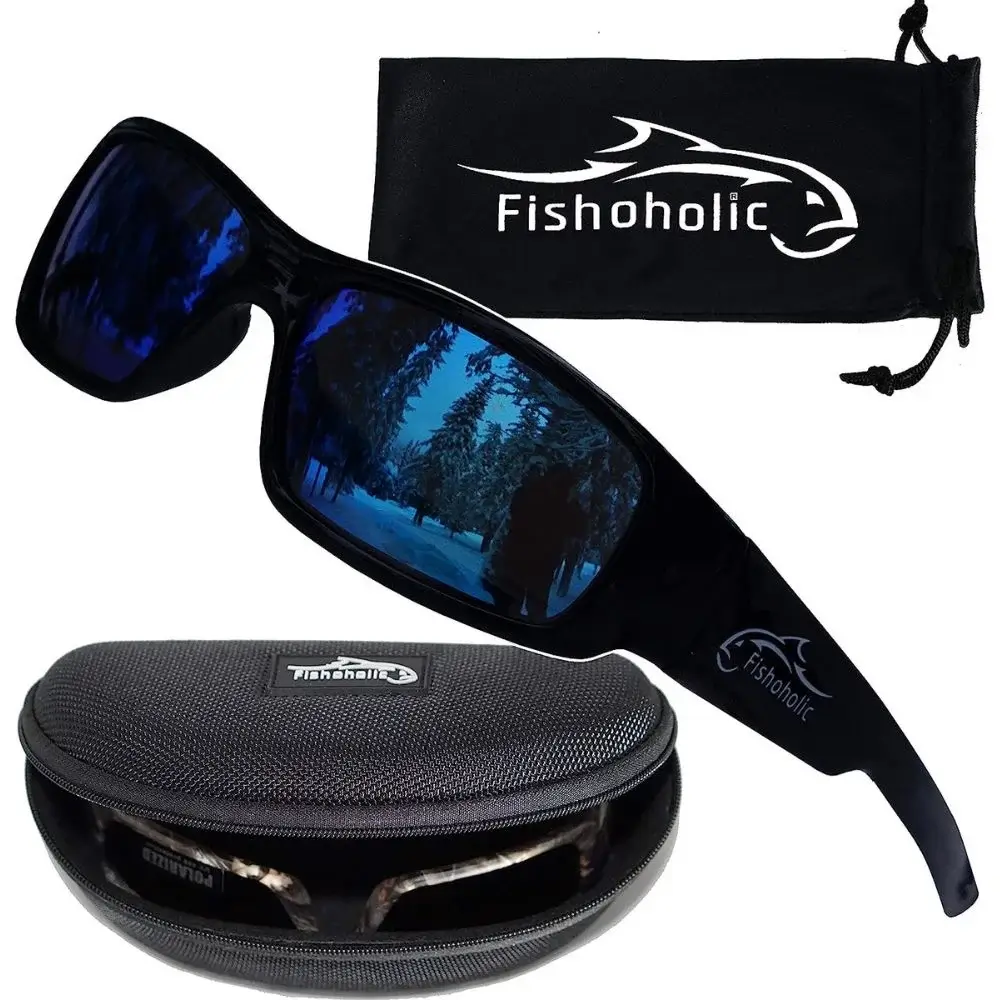 Best Polarized Sunglasses For Fishermen & Women
Fishoholic Polarized Fishing Sunglasses
Check Price on Amazon
Why GG Loves It
We all know that fishing is a great way to get outdoors, relax, and have a great time with precious friends and family. However, it is crucial to acknowledge the potential risks involved. Engaging in fishing without proper eye protection under the sun can result in eye strain &, in severe cases, even permanent vision loss.
It is imperative to prioritize safety and ensure proper eyewear is worn to safeguard against such hazards. The Fishoholic Polarized Fishing Sunglasses are expertly designed with a Polarized lens that provides 100% UVA/UVB protection to ensure your safety and maximum comfort during fishing excursions under the sun.
These stylish sunglasses feature lightweight frames made from durable materials, ensuring comfortable wear for extended periods without causing any discomfort. Additionally, the wide sides of the sunglasses are designed to effectively reduce side glare, providing optimal vision even in bright fishing environments.
Not only that, but these sunglasses also enhance your ability to see through the reflected light on water surfaces, allowing for a heightened level of clarity & visual acuity. With these remarkable features, this pair of sunglasses surpasses the performance of any other $100 pair of polarized sunglasses on the market.
These polarized sunglasses for fishing are suitable for both men and women, making them versatile for anglers of all genders and ages. Whether you're casting your line into a tranquil lake or challenging the waves in the open sea, Fishoholic Polarized Fishing Sunglasses have got you (and your eyes) covered.
What You Should Know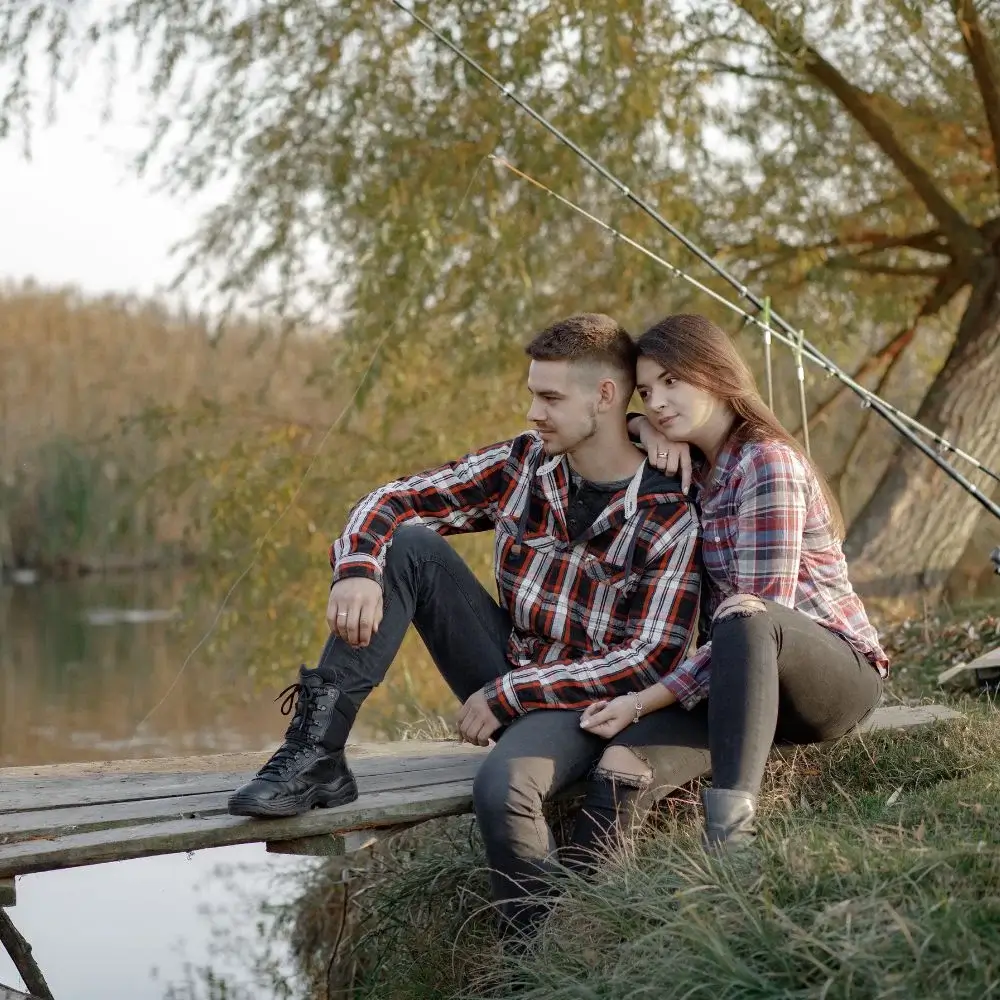 Lens color plays a critical role in the performance of any pair of polarized fishing sunglasses. Fishoholic's Polarized Fishing Sunglasses come with a blue mirror lens coating that provides great glare protection and enhances your vision under the sunlight while you're out on your boat, on the beach, or anywhere else.
The super stunning blue mirror finish not only looks great but also adds a touch of elegance, making you effortlessly stand out from the crowd. Its sleek and reflective surface catches the light in mesmerizing ways, creating a captivating visual appeal that is truly bound to turn heads and spark conversations.
The Fishoholic Logo represents all the fish and fishing lovers out there who cherish the sport with full enthusiasm. Whether you're a beginner or an expert angler, these polarized sunglasses will help you spot the best spots for your catch and make sure you have all the confidence to be on top of your game.
They also come with a free hard case and lens cleaning pouch, which make it easy to store and carry your sunglasses with you wherever you go. But the most heart-melting thing about these fishing glasses is that they can be a great gift for your friends, fishermen & women, grandpa, uncle, brother, niece, or nephew.
Whether it be fresh or saltwater fishing, ocean shore fishing under ice fishing in warm weather, or top kayaking at sea – they will help you see better & give you the best chance to bring home a delicious dinner. So grab your rod and tackle and hit the beach with pride, knowing that you have the best tool for success.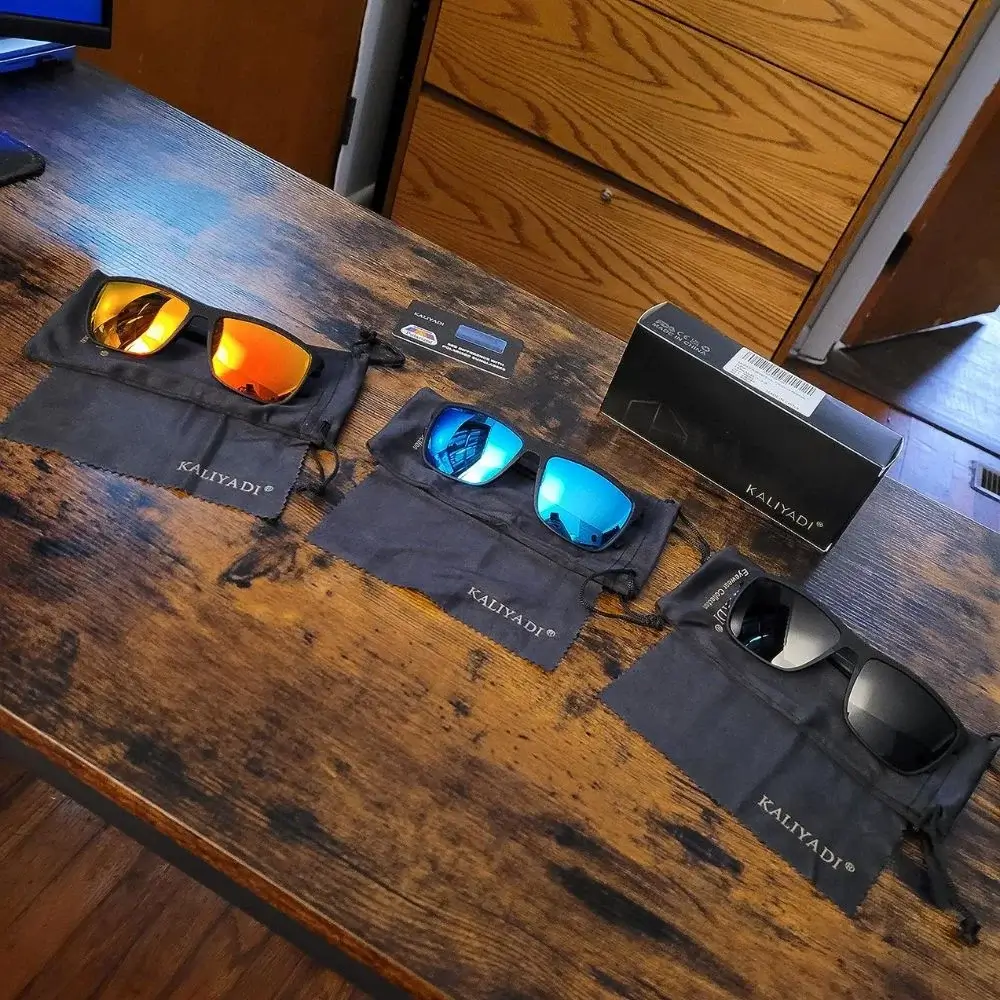 Best Polarized Sunglasses For Fishing and Driving
KALIYADI Polarized Sunglasses
Check Price on Amazon
Why GG Loves It
Have you been searching for the best fishing sunglasses that restore the true colors of the world so that you can enjoy your thrilling fishing experience? Do you need something that also looks amazing on any outfit? If that's what you are looking for, then the KALIYADI Polarized Sunglasses are the perfect option.
KALIYADI Polarized Sunglasses are designed with high-definition (HD) polarized lenses that provide exceptional eye protection from harmful UVA/UVB rays. These lenses not only provide defense against harsh UVA/UVB rays but also effectively eliminate glare, allowing you to enjoy the sun without any worries.
With their UV400 protection, you can confidently indulge in outdoor activities while safeguarding your eyes from potential damage caused by the sun's rays and glare. These sunglasses are engineered to restore the true colors of the world so that your fishing experience becomes more vivid, enjoyable, and memorable.
The timeless rectangular frame design of KALIYADI sunglasses is versatile and stylish. Whether you're heading out for a fishing trip or a drive, these sunglasses complement any outfit effortlessly. They are suitable for both men and women, so you can enjoy their fashion-forward design no matter your gender.
With KALIYADI Polarized Sunglasses, you're not just investing in eye protection; you're also making a statement in style. So what are you waiting for, people? Pick these awesome polarized sunglasses today and elevate your fishing adventures and outdoor activities with crystal-clear vision and a touch of fashion.
What You Should Know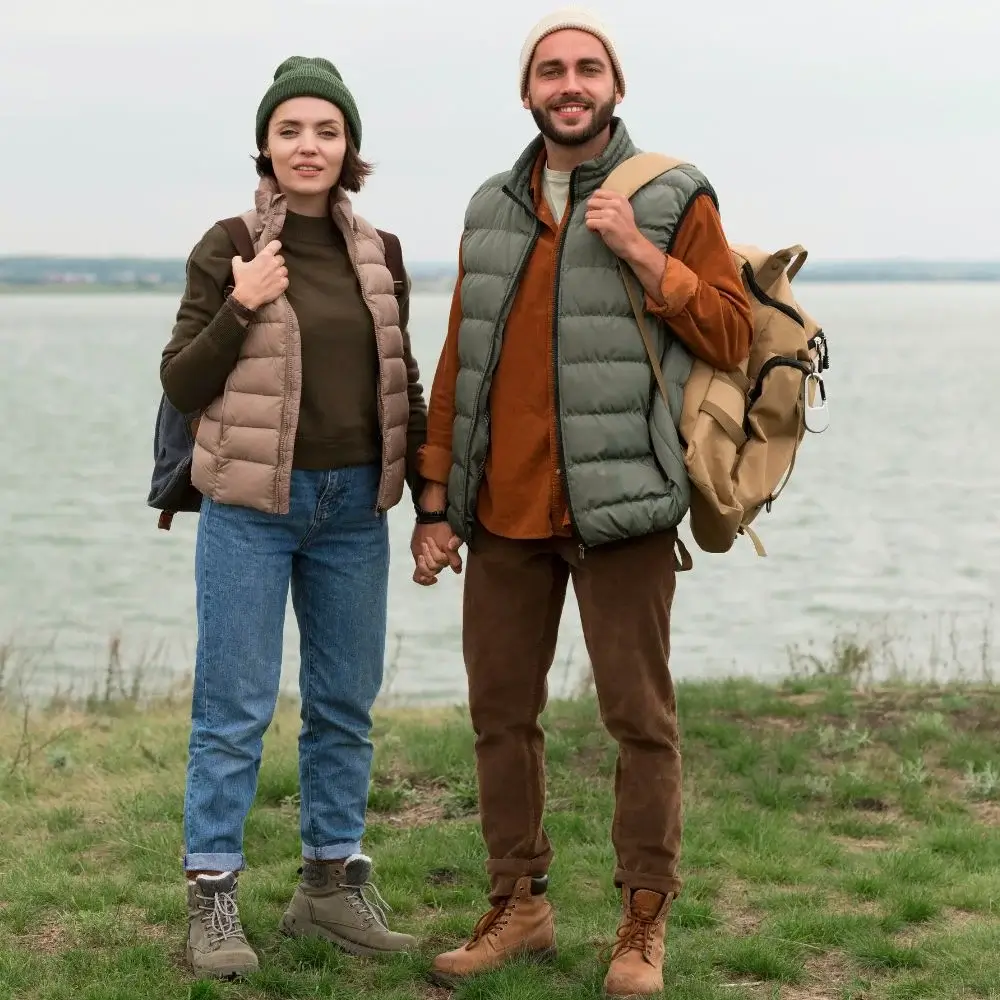 These best-polarized sunglasses by KALIYADI are made with premium quality materials to ensure long-term durability and comfort. The anti-scratch polarized lens is free of distortion & provides UV protection, while the adjustable metal spring hinges allow you to adjust the fit according to individual head size.
The integrated nose pad provides additional support and stability when wearing the sunglasses. These polarized sunglasses from KALIYADI are versatile and perfect for various outdoor sports and activities.
Whether you're walking, cycling, driving, fishing, traveling, or hiking, their lightweight and classic design makes them an excellent choice. But the real thing that makes these best sunglasses stand out is that you will not get just one but three sunglasses in one pack. This 3-pack includes black, ice blue, & red color.
Plus, they also come with a microfiber pouch, glasses cleaning cloth, and a gift box, so if you are seeking a gift that will not just please hearts but eyes, too, they can be your ideal pick. And if you have any doubts regarding the quality, KALIYADI is always ready to provide brand customer service and lifetime support.
Compared to other best fishing sunglasses brands like Oakley Split Shot 3, Costa Del Mar Costa Del Mar, and Maui Jim Maui Jim's, the price of these sunglasses is so reasonable that they won't break the bank to get them. With them, you can't go wrong - they check all the boxes in terms of affordability, style/durability.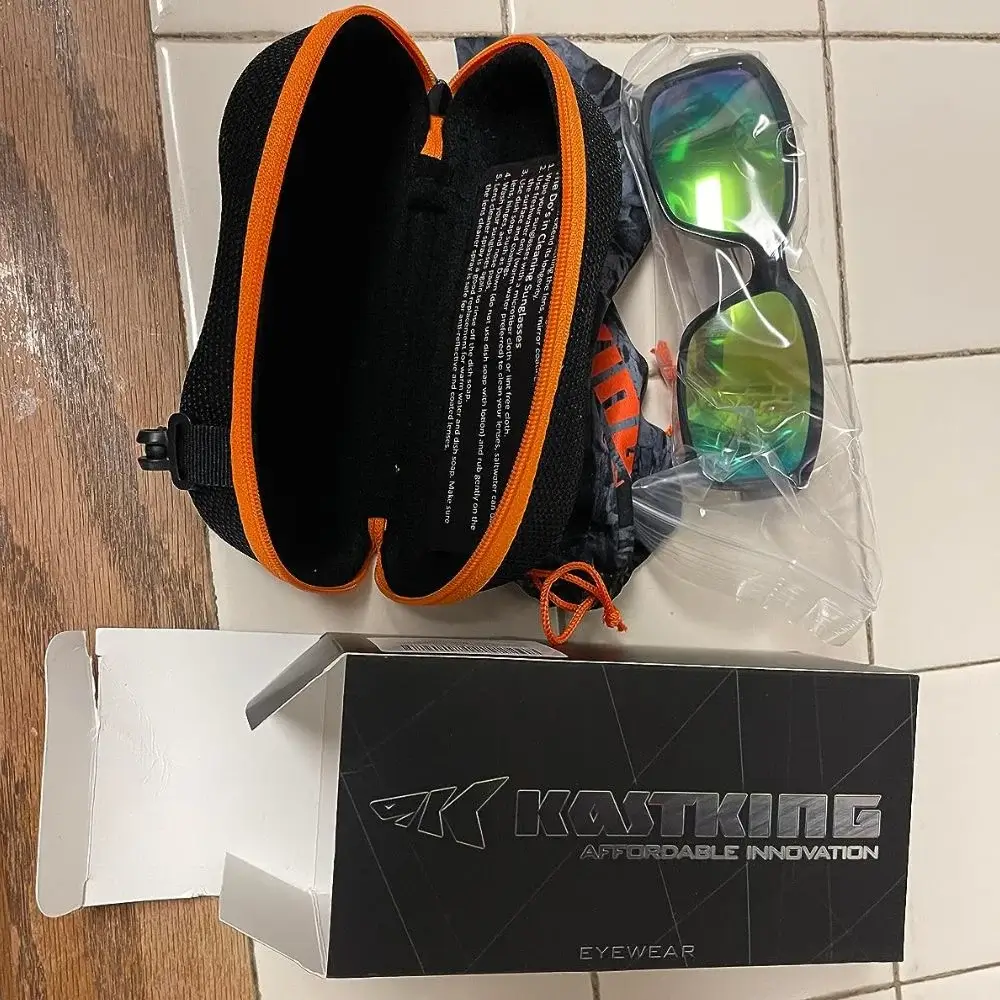 Best Polarized Sunglasses For Partly Cloudy To Sunny Conditions
KastKing Skidaway Polarized Sport Sunglasses
Check Price on Amazon
Why GG Loves It
There are multiple types of sunglasses that you can wear to make sure your eyes are protected while fishing. Some come with polycarbonate lenses, and others with mineral glass lenses to provide 100% UVA and UVB protection. But if you're looking for something that does a great job of reducing glare without sacrificing clarity, KastKing Skidaway Polarized Sport Sunglasses are the most effective choice for you.
These sunglasses come with 1.0mm polarized lenses that reduce glare and provide superior optical clarity, making them ideal for partly cloudy to sunny conditions. The lenses are also outfitted with a brown base and chartreuse mirror, allowing you to see colors more accurately in both bright and low-light environments.
In addition to their exceptional performance, the KastKing Skidaway Polarized Sport Sunglasses feature TAC (Triacetate) lenses. This innovative lens technology ensures there is no optical distortion, preventing eye fatigue and headaches that inferior lenses can cause due to their poor quality and construction.
The best part? They are not just limited to fishing, though. These versatile sunglasses are suitable for a wide range of outdoor activities, whether you're hiking, biking, driving, or simply enjoying a sunny day.
Plus, they are also affordable and deliver excellent value for the quality they provide. So, you can protect your eyes, reduce glare, and enjoy clarity without putting too much strain on your wallet. Simply put, if you need sunglasses that excel in every aspect, KastKing Skidaway Polarized Sunglasses are the ideal choice.
What You Should Know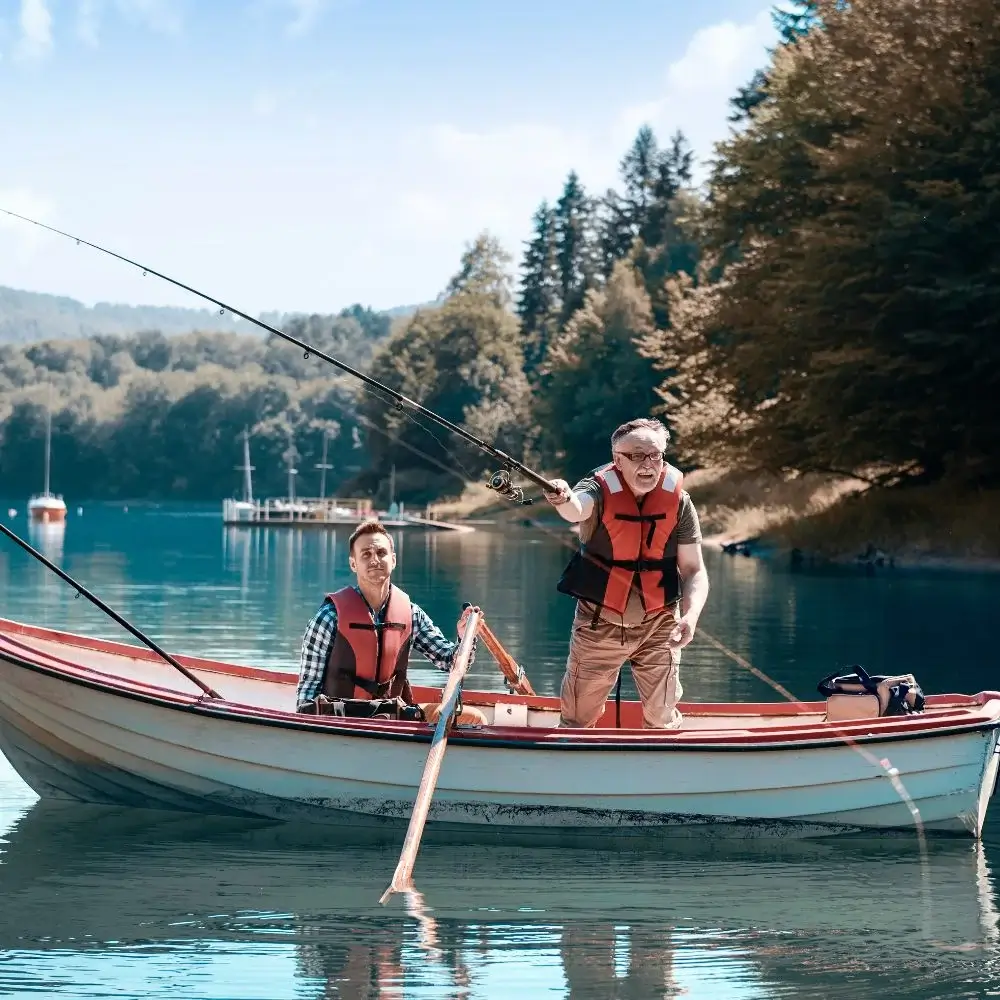 These high-performance polarized sunglasses for fishing not only provide the ultimate protection you need from direct and indirect reflected sunlight from the water's surface, but they also keep your delicate eyes safe from flying objects (like hooks and bait) that might come your way during your exciting day at the lake.
The stylish frame of these glasses is constructed with the same Grilamid material that is often used in medical and military applications. This material is only known for its strength, lightweight comfort, shape integrity, and impact resistance because it is a very malleable material that's totally UV and heat-resistant.
With the Grilamid frame construction, you'll be sure to look good while also having the assurance that your fishing sunglasses will survive any accidental drops or bumps without shattering or cracking too easily.
At KastKing, they have only one mission: keep fishing fun. And with a fusion of style, comfort, & protection, these glasses can make sure you have a great day out on the lake without any worries or second thoughts!
They also come with a molded hard case that provides maximum protection and doubles as a lens cleaner. So, no matter if you are doing freshwater fishing with your grandpa or deep sea fishing with your most experienced buddies, the KastKing polarized fishing sunglasses will keep you safe and stylish all day long!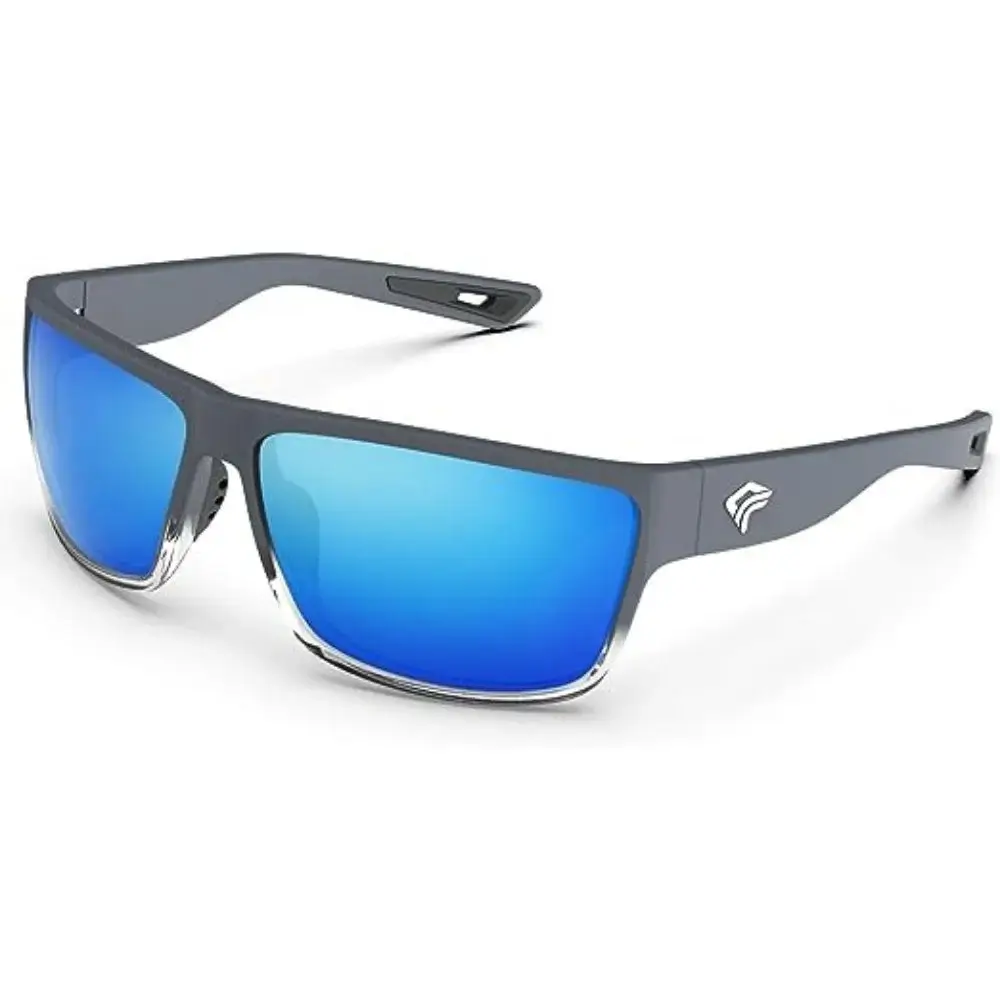 Best Polarized Sunglasses For Every Man and Woman
TOREGE Polarized Sports Sunglasses
Check Price on Amazon
Why GG Loves It
Saltwater fishing is not like other types of fishing. With saltwater fishing, you must always be aware of unpredictable currents, deep waters, and ever-present glare from the sun. That's why TOREGE polarized sports sunglasses are a must for any serious angler who is looking to take his or her fishing game seriously.
TOREGE fishing sunglasses are expertly crafted with cutting-edge hydrophobic and oleophobic coating technology. This innovative feature shields your lenses from the corrosive effects of seawater, ensuring they remain in pristine condition even after multiple water adventures. With TOREGE sunglasses, you can dive into the water without any concerns, as there's no need to constantly switch out your lenses.
When you find yourself fishing in harsh and oppressive sunlight, the TOREGE glasses are here to save your eyes from any type of harmful glare. With their 100% polarization, these sunglasses effectively eliminate reflected glare and reduce eye strain, ensuring optimal visual comfort throughout your fishing adventure.
Not only that, but the vibrant and colorful coating of these sunglasses enhances your vision and contrast, making them perfect for fishing inshore and on flats. They come with an ice-blue lens that blocks blue light wavelengths while maintaining true color perception so that you can spot those fish before anyone else.
These versatile sunglasses are designed to fit many face shapes comfortably and for all sporty events. Plus, their lightweight frame ensures a no-slip grip, even when there is a lot of sweat or water around. So go ahead and pick up your TOREGE Sunglasses and get ready to take your fishing trip to the next level.
What You Should Know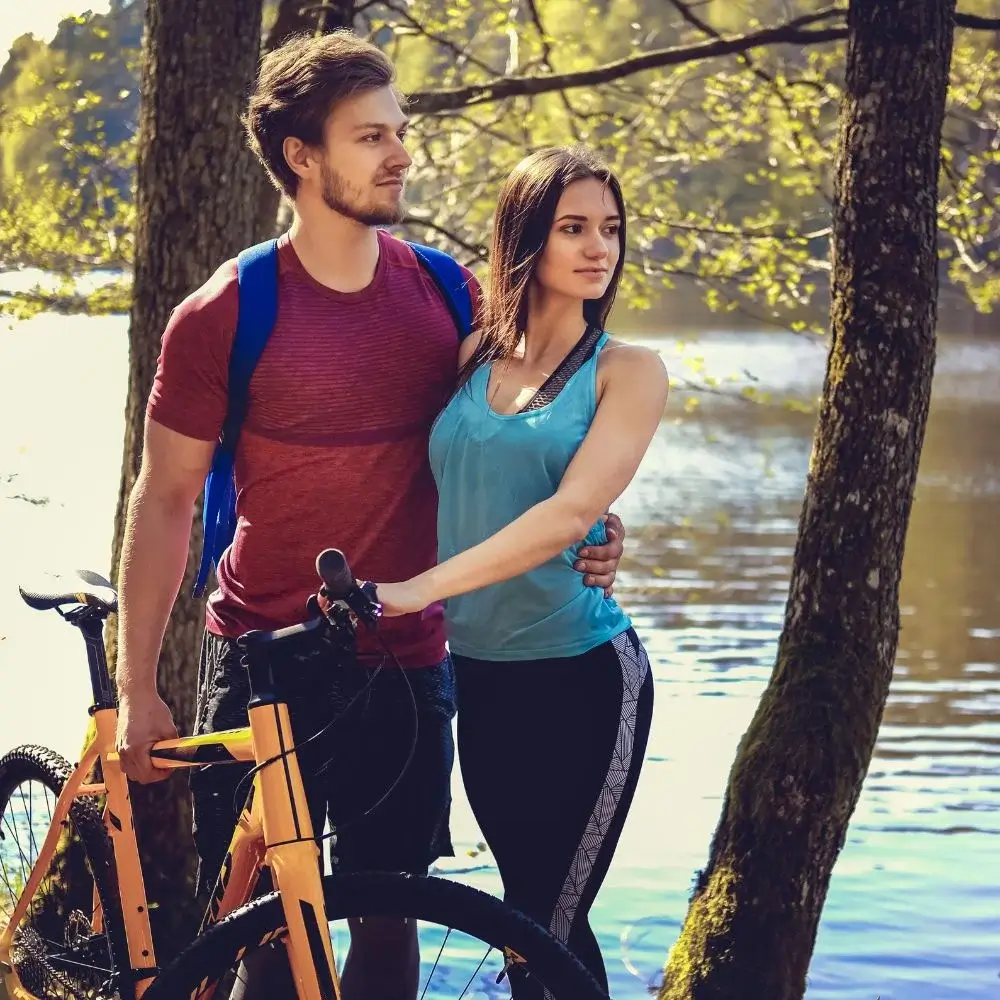 Whether you are a man who enjoys fishing, a lady who loves outdoor adventures, or someone who simply appreciates high-quality eyewear, the TOREGE Polarized Sports Sunglasses have something to offer. They come with ultra-grip rubber nose pads that make them comfortable to wear for extended periods of time.
These sunglasses by TOREGE are not only breathtakingly beautiful, but they also offer ideal functionality that will make you the absolute focal point of your next outdoor activity. With their sleek design and superior craftsmanship, these sunglasses are perfect for every kind of outdoor sport and adventure.
Whether you're fishing by the serene lakeside, boating along the sparkling waves, sailing through the open seas, jet skiing on thrilling waters, running through scenic trails, cycling through picturesque landscapes, or conquering tough heights while climbing, they will provide you with the perfect blend of style and comfort.
One of the best things about them is that they come in a wide range of stylish colors, allowing you to find the perfect match for any occasion. Whether you're looking for a bold and vibrant look or a subtle and sophisticated style, there's a color option that will suit your taste and complement your outfit effortlessly.
On top of all these features, these sunglasses are also backed by TOREGE's lifetime warranty. If you ever have any issues with your eyewear, the TOREGE experts will be there to offer assistance and make things right until you're completely satisfied because this eyewear brand stands behind its products 100%.
Here are Some FAQs to Help Guide you on Your Way!
In today's world, where the hustle and bustle of daily life often leave us yearning for moments of serenity and connection with the great outdoors, fishing stands as a beacon of tranquility in the midst of it all, and wearing the right fishing sunglasses can take that experience to a whole new level of comfort & enjoyment.
But why are these glasses a must for fishing? What lens options should one look for when purchasing fishing sunglasses? Is a polarized lens good for fishing sunglasses? However, without knowing these kinds of details, choosing the perfect pair of sunglasses can be as challenging as navigating uncharted waters.
To shed light on these rudimentary questions and help you make an informed choice, here are some of the most frequently asked questions (FAQs) that will help you find the best sunglasses for your next fishing trip:
Why are fishing sunglasses important?
Fishing sunglasses are important because they help to protect your eyes from the sun's harmful UVA and UVB rays, as well as from the glare of light reflected off the water while you're out on a fishing expedition.
They come in a variety of styles and colors, so it's important to choose lenses that provide maximum protection for your eyes and fit comfortably on your face. Fishing sunglasses should also be lightweight and designed to stay securely on your face, even when you're casting or fighting a massive giant fish.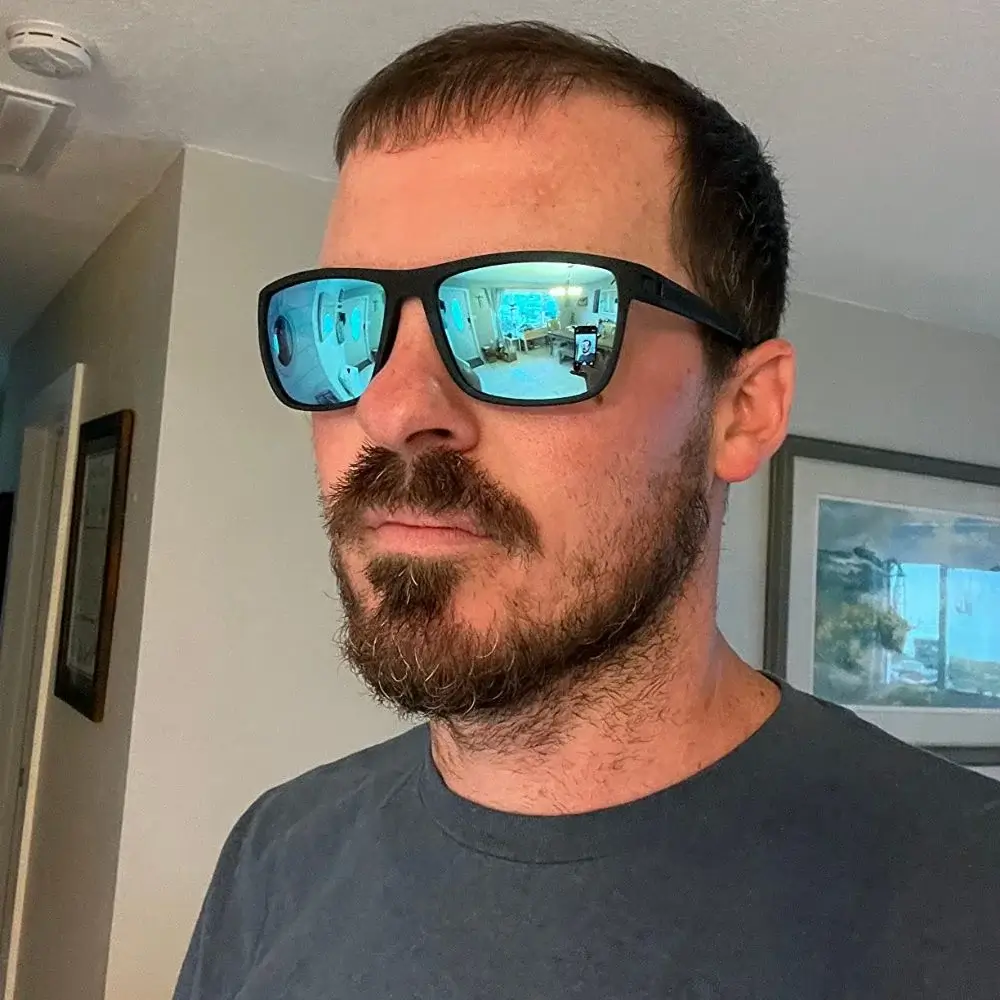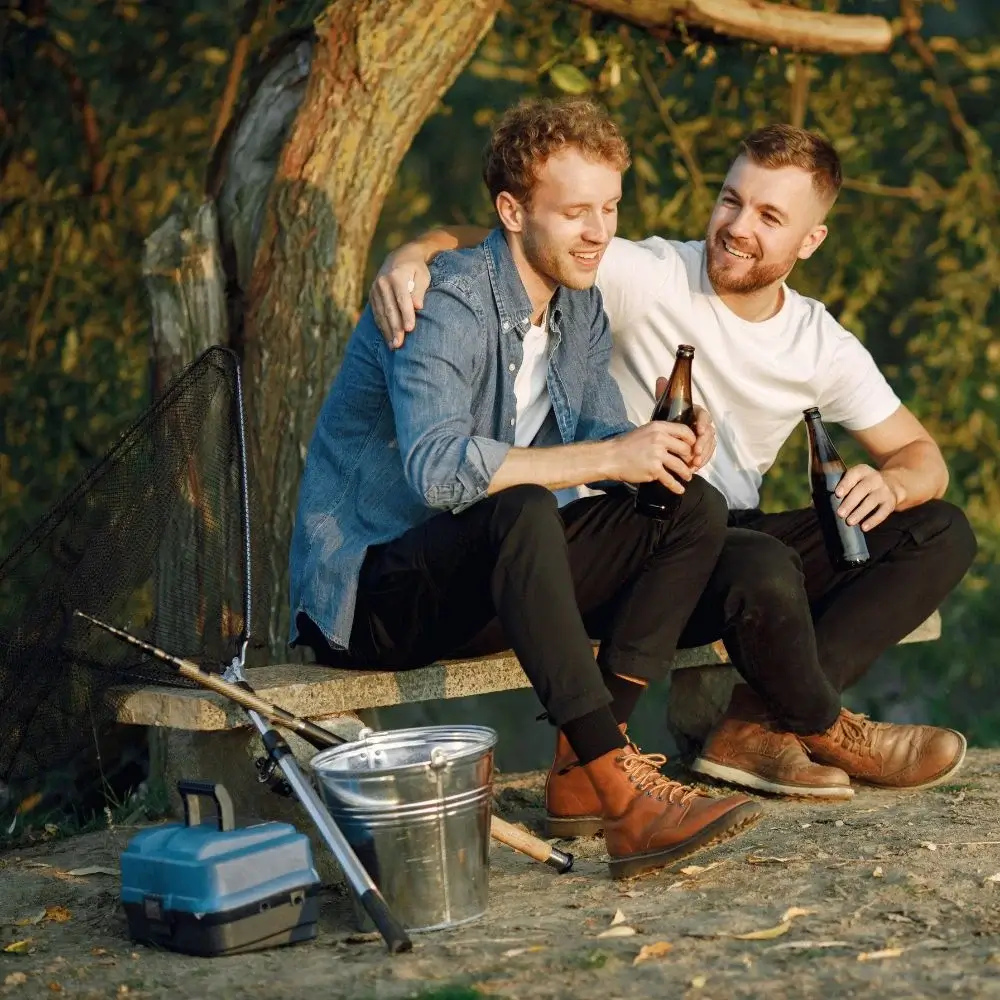 What lens colors are best for fishing sunglasses?
There are multiple types of lens colors, such as gray lens, green mirror lens, brown lens, yellow lens, and polarized lens. All of these have their own benefits for fishing sunglasses. Gray lenses are usually the best for outdoor activities because they reduce glare from bright lights or sunlight with minimal color distortion.
Green mirror lenses are great for those who fish in bright conditions and need a lens that will cut the glare. Brown lenses provide good contrast between colors, so it is helpful when you are trying to differentiate your targets from the background. Yellow lenses are perfect for low light conditions, improving visual acuity.
Polarized lenses are great for eliminating the glare of the sun off the water's surface. According to experts, a good polarized lens should have a 99-100% polarization rate and block out all of the sun's harsh UV rays.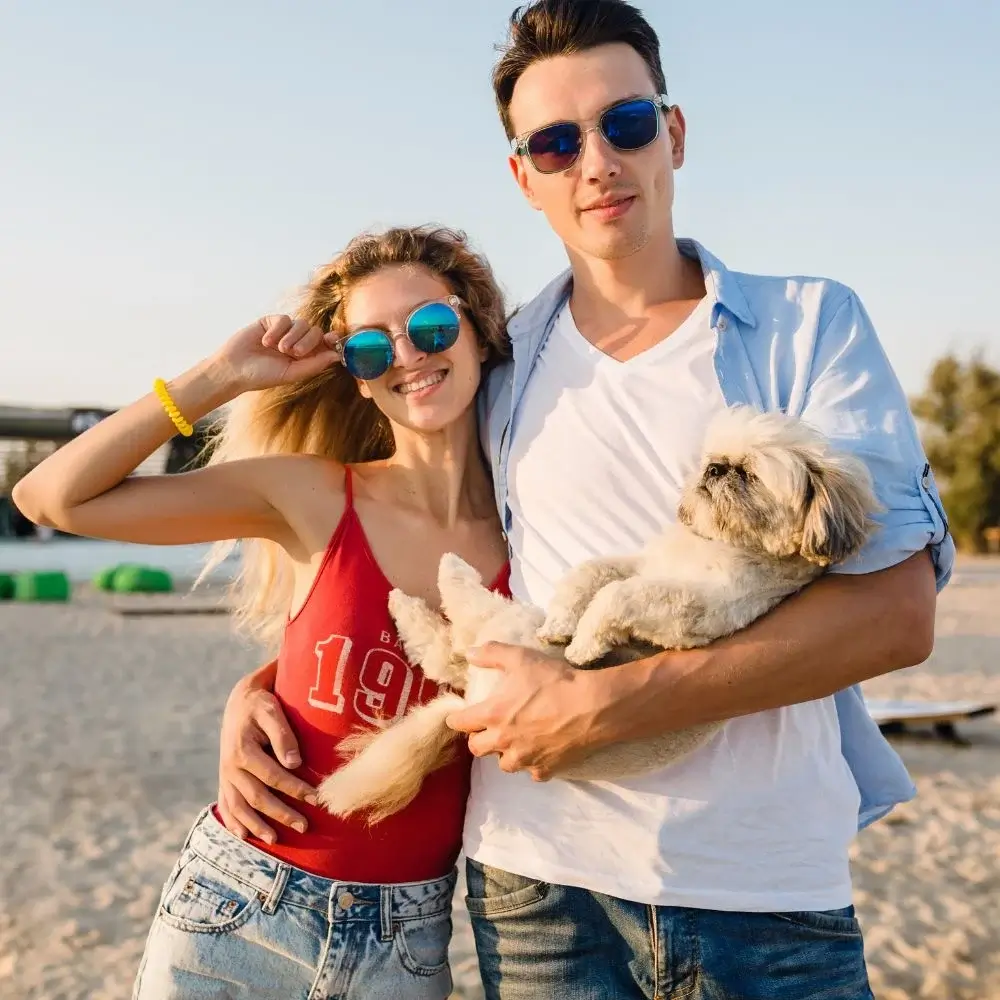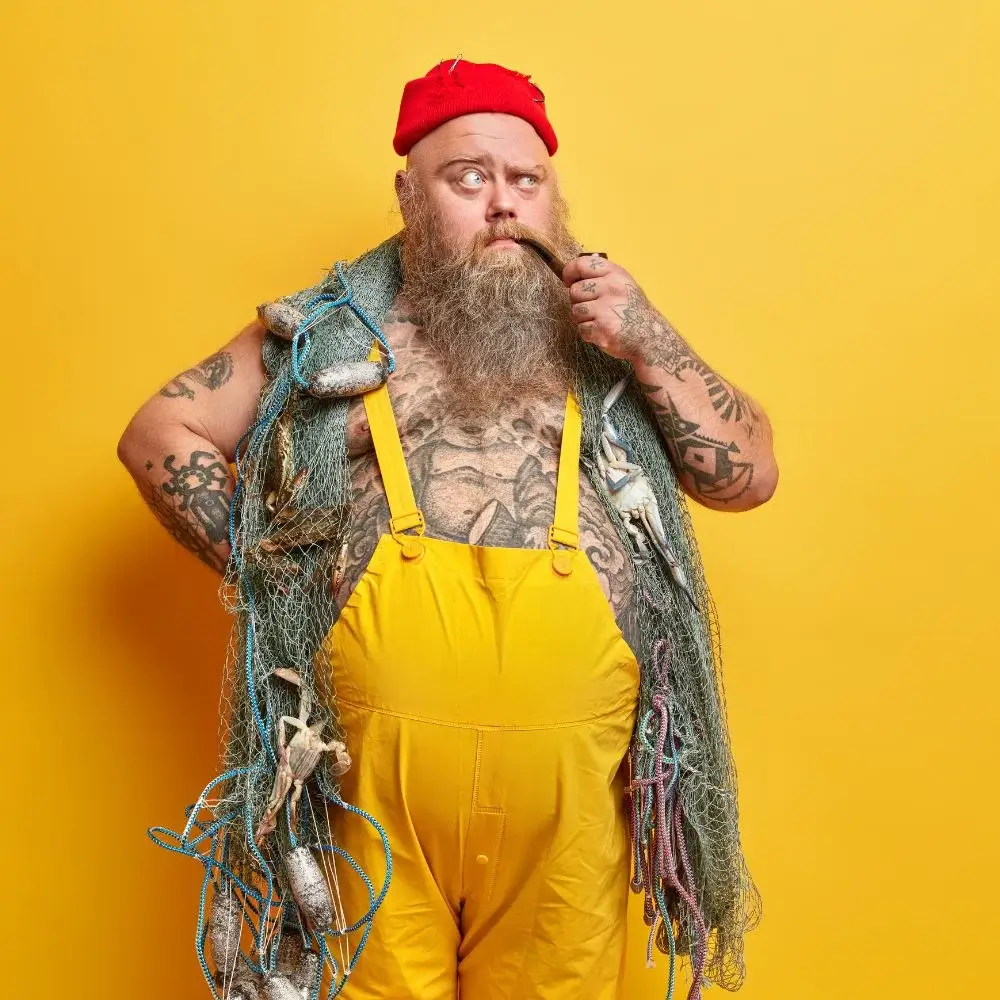 Are polarized lenses necessary for fishing sunglasses?
How do polarized sunglasses work? Are you crucial for fishing glasses? Wondering these confusing questions is quite normal. Polarized lenses are beneficial for people who go fishing in bright light and glare-prone environments since they block more than 95% of reflected UV rays and other harmful sun rays.
Moreover, polarized sunglass lenses come with interchangeable lenses so that you can switch them according to your vision needs. Also, the lens quality depends on how much money you spend, as the higher the cost, the better quality. Therefore, in order to make your fishing trips more comfortable, safer, and enjoyable, it is recommended to invest in a pair of polarized sunglasses with high-quality lenses.
With these lenses, you can also use prescription lenses or photochromic lenses for extra protection from the sun. These lenses will fit your specific fishing environment, no matter if it is outshore or inshore fishing.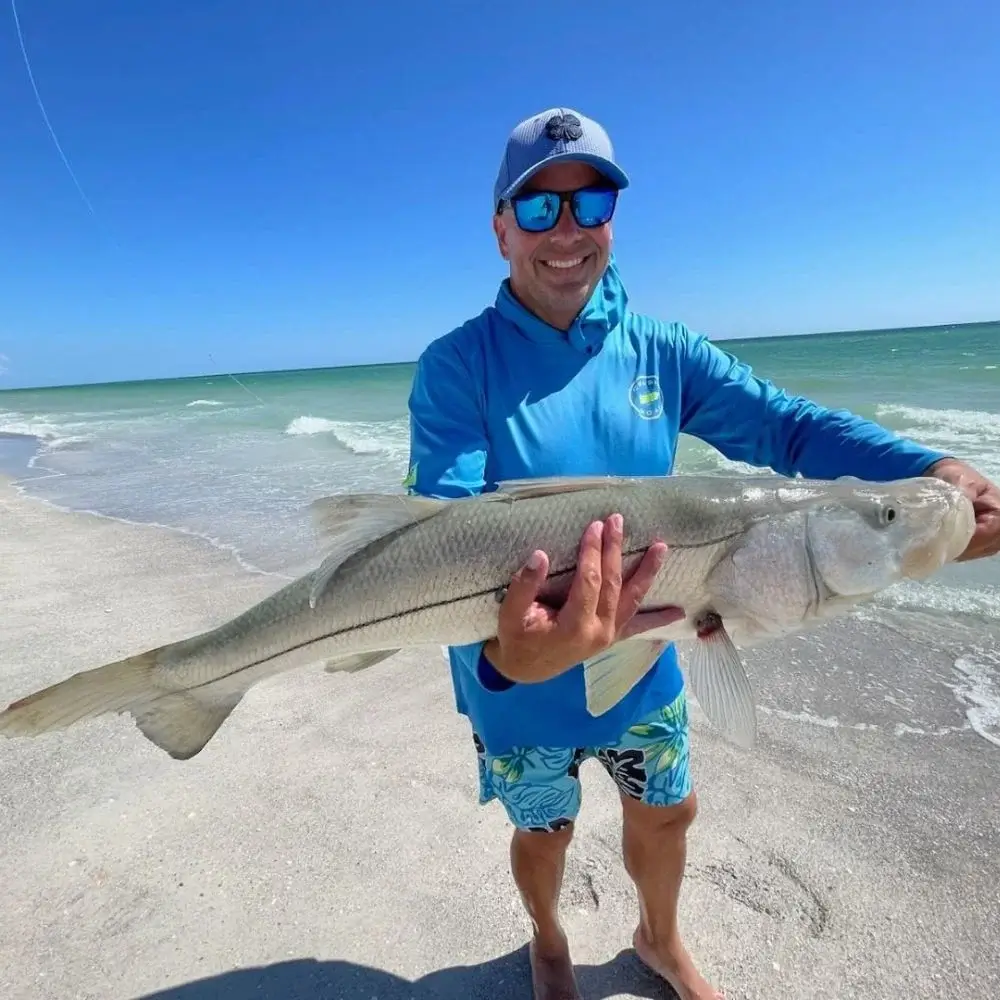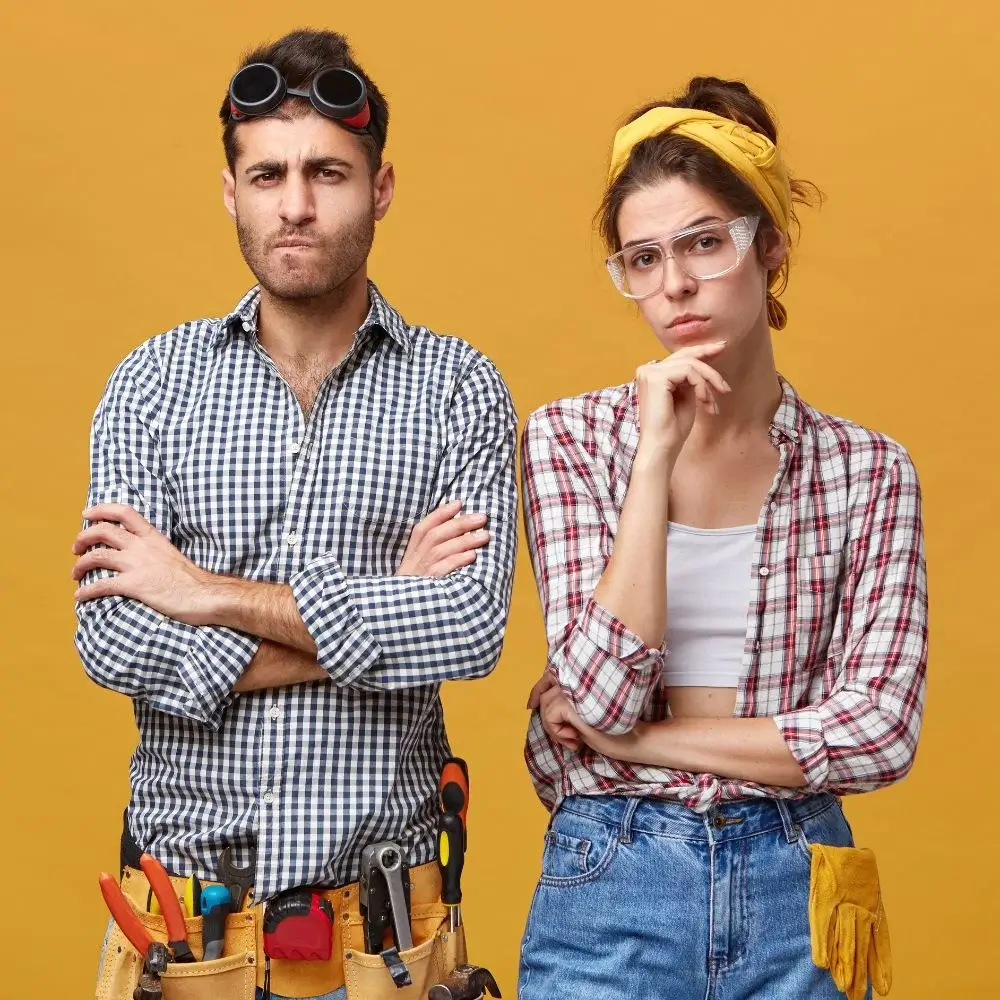 Can I wear regular sunglasses for fishing?
Yes, you can wear regular sunglasses for fishing. However, they will not provide the same protection as specialized polarized sunglasses. Here are some disadvantages of wearing regular sunglasses for fishing:
1. They have less protection from the sun's UV rays, which can be dangerous for your eyes.
2. They may not fit well over a hat or baseball cap, making them difficult to keep on your face when casting or reeling in a fish.
3. Regular sunglasses don't reduce glare on the water, as well as polarized lenses, which can make it difficult to see into the water and spot fish.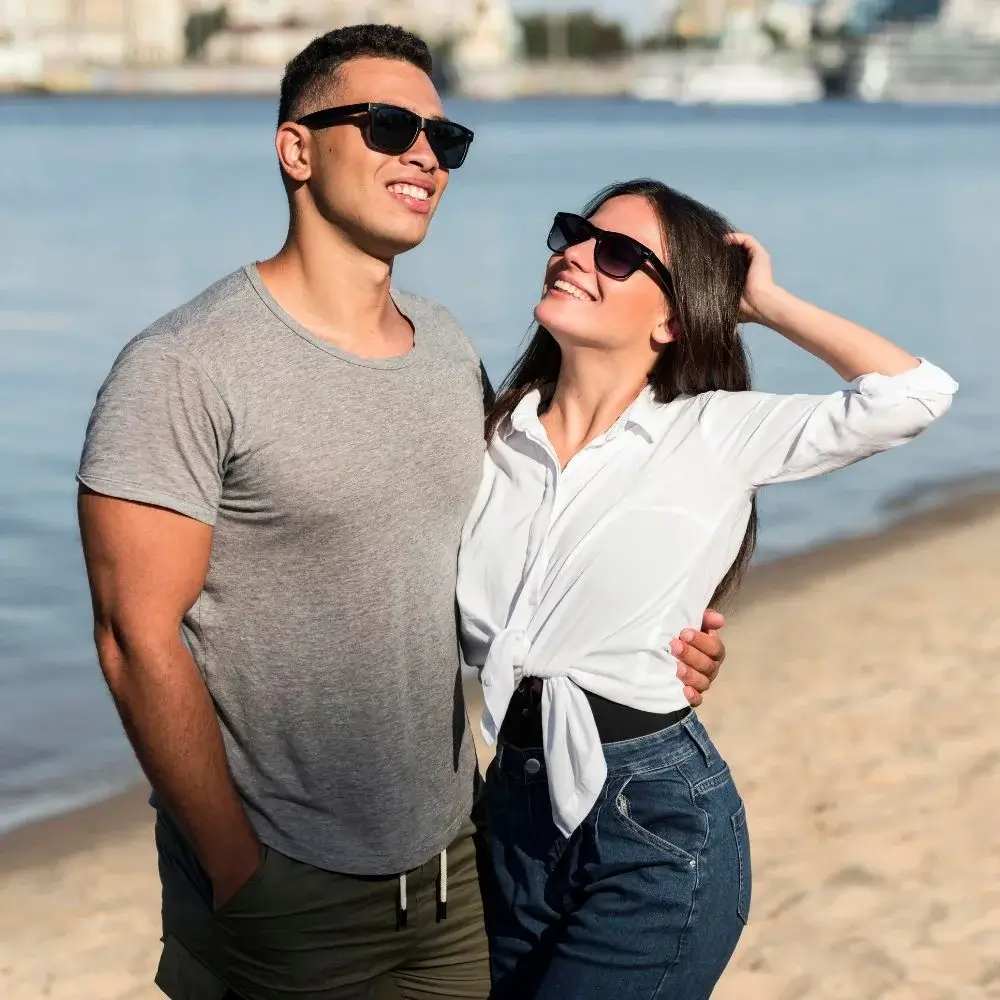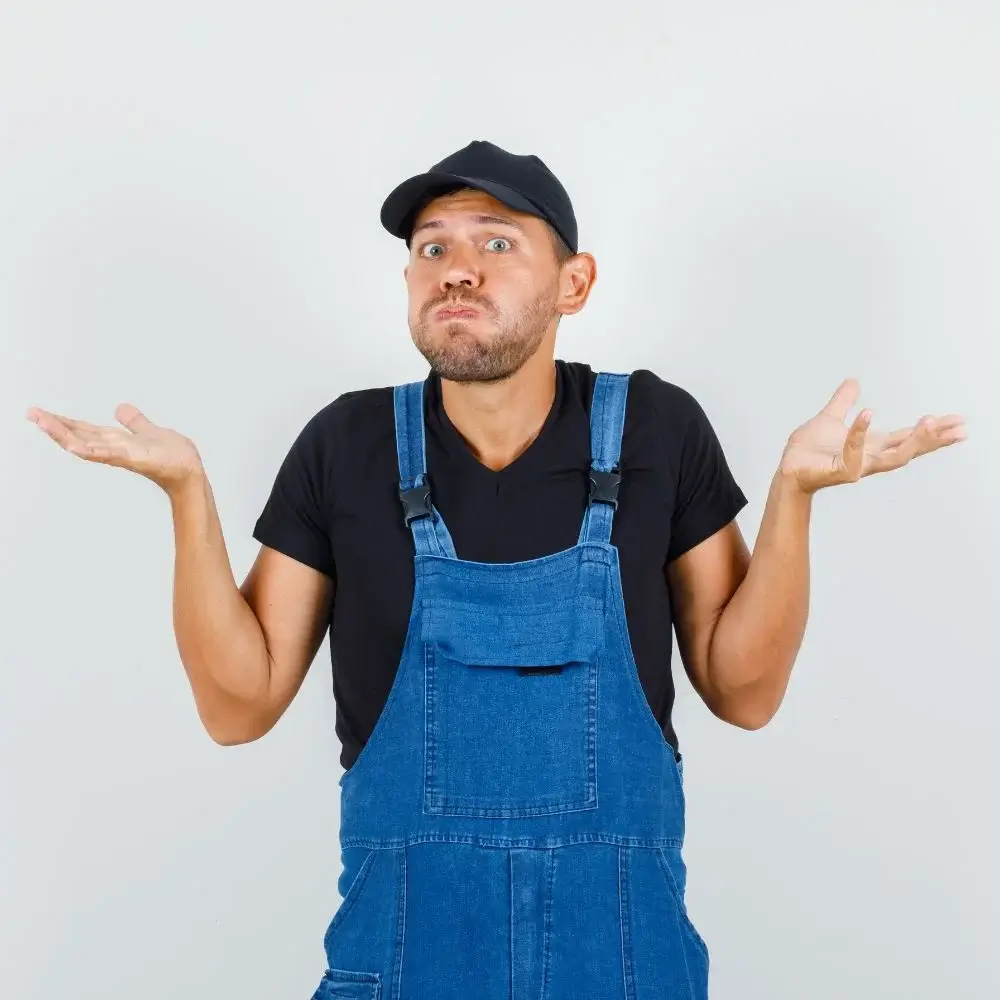 How should I clean my fishing sunglasses?
Fishing glasses can take some wear and tear due to the outdoor environment, but they need to be properly cared for to maintain their performance. Here are a few helpful tips for cleaning your fishing sunglasses:
1. Rinse off with fresh water: Before you begin cleaning your glasses, use clean water to rinse off any dirt or debris that may have accumulated on the lenses.
2. Use mild soap: Apply a small amount of mild soap or detergent to both sides of the lenses, then gently rub with your fingertips to create suds.
3. Rinse off thoroughly: Make sure you rinse off the cleaning solution completely by running cold tap water over both sides of the lenses and frame until all soap residue is removed.
4. Dry with a soft cloth: To avoid leaving behind any cleaning residue, gently dry the lenses and frame with a soft cotton cloth or lint-free microfiber towel.
5. Refrain from using household cleaners: It's best to avoid using common household cleaners as these can damage the lens coating and fog your vision when you're out on the water.
6. Store in a protective case: When you're not using your fishing sunglasses, store them in their protective case to help protect against dust or dirt accumulation.
7. Regularly clean lenses: Finally, remember to regularly clean your lenses and frames with mild soap and water to keep them looking and performing at their best.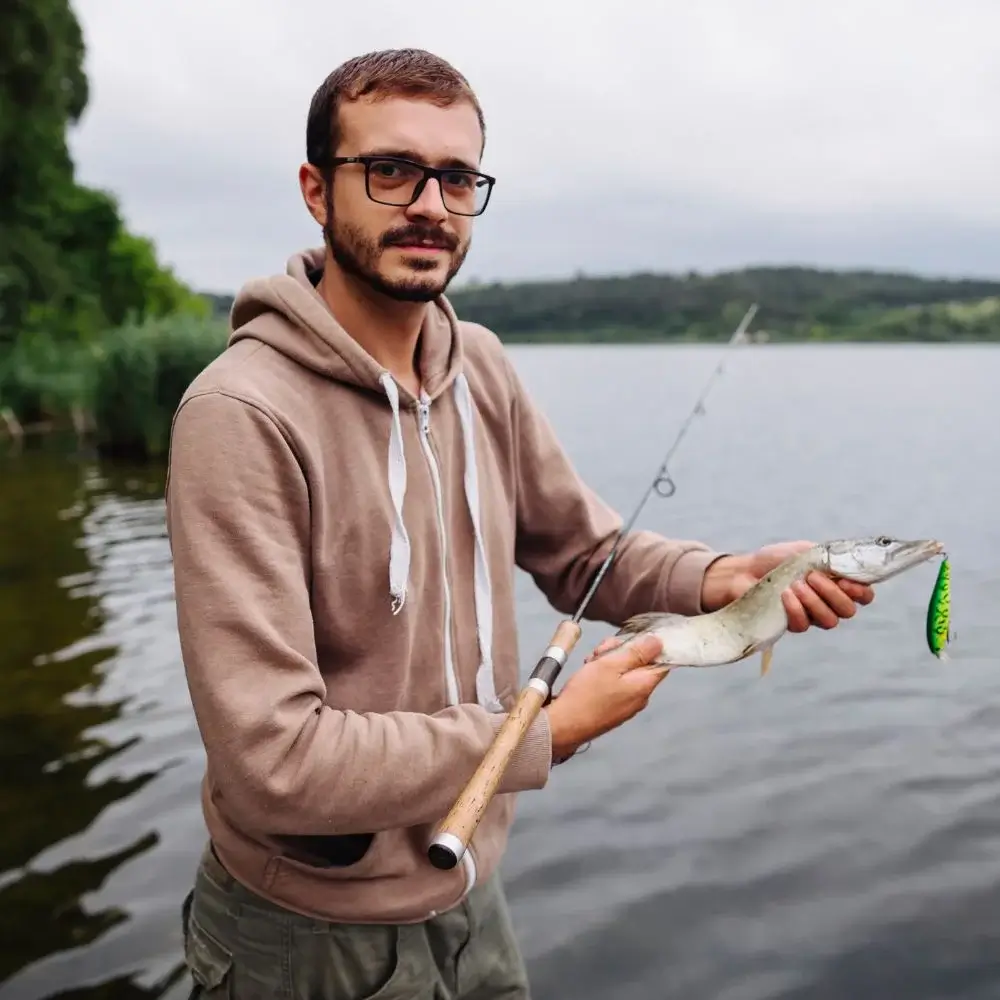 Best Fishing Sunglasses In 2023: [Bringing up rear...]
Fishing, with its serene ambiance and the thrill of anticipation, is undeniably one of the most beloved hobbies people of all ages can enjoy. Whether casting a line into a calm lake or standing on the edge of a roaring river, the connection with nature & the sense of adventure make fishing a truly captivating pastime.
However, this super sensational experience can quickly turn sour if your vision becomes distorted or blurred by the glaring sunlight. Therefore, it is crucial for anglers to be equipped with the right pair of fishing sunglasses in order to enjoy their outdoor trips without any visual complications or discomfort.
The top 5 best-polarized fishing sunglasses brands that we have listed above are all breathtaking options for those who want to enhance their fishing escapades. From their ability to reduce glare & provide crystal clear vision to their exceptional durability and style, they are here to revolutionize your angling experience.
These best fishing glasses will not just block 100% UVA and UVB rays to safeguard your eyes from harmful radiation but also offer a range of features that are vital for any angler seeking both comfort & performance.
They are lightweight, built with superior quality materials, and feature anti-fog and scratch-resistant lenses that have been designed to withstand the harshest of conditions. Most notably, they come with a variety of lens colors and tints, which can be chosen based on your preference or the type of fishing being done.
If you truly want to elevate your fishing game and fully immerse yourself in the joy of angling, then these best-polarized sunglasses are like your angler's buddy, enhancing every moment of your fishing expedition. So pick anyone from our list today & get ready to explore the great outdoors without any visual hindrances!