Introduction
Do you suffer from dry skin? Do you find it difficult to achieve a flawless makeup look because of dry patches and lines? If so, you're not alone. Dry skin can be a nuisance, especially when it comes to applying makeup. That's where a concealer comes in to save the day.
A concealer is a cosmetic product that is typically used to cover up blemishes, dark circles, and discolorations on the face. However, it can also be an essential tool for those with dry skin. By using a concealer, you can even out your skin tone, cover up dry patches, and create a smooth canvas for the rest of your makeup.
In this article, we'll be discussing the importance of using a concealer for dry skin, how it works, and the best tips and tricks for application. So, whether you're a makeup pro or a beginner, keep reading to learn more about how a concealer can transform your dry skin.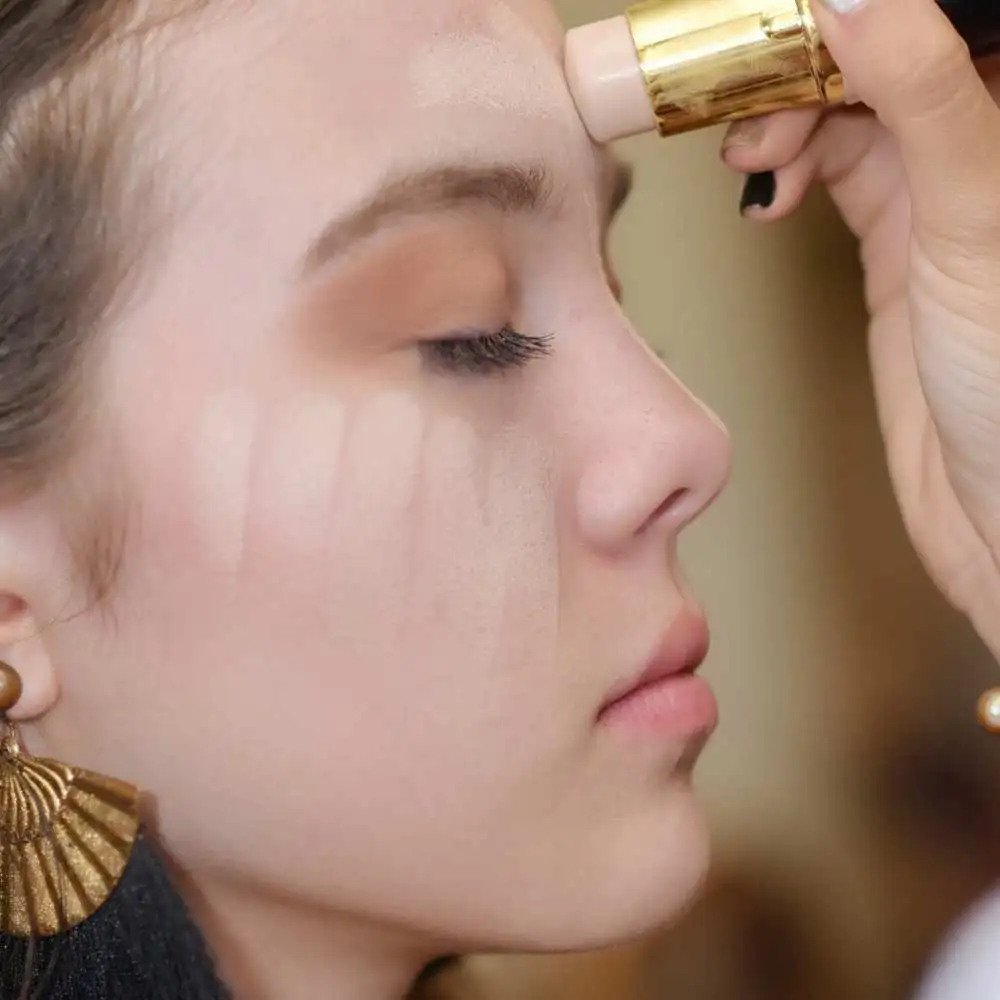 Understanding Dry Skin
Before we dive into why a concealer is essential for dry skin, it's important to understand what dry skin is and what causes it. Dry skin is a skin type or condition that is characterized by a lack of moisture in the skin. It can be caused by various factors such as the environment, genetics, aging, skincare routine, and lifestyle habits.
Individuals with dry skin may experience symptoms like tightness, flakiness, itching, and dullness. Unlike oily or combination skin, dry skin produces less sebum, an oil that helps keep the skin moisturized. This lack of moisture can result in the skin feeling tight or uncomfortable, especially during colder months.
To care for dry skin, it's important to use a gentle, hydrating skincare routine. This means avoiding harsh chemicals, exfoliants, and hot water. Instead, choose a gentle cleanser and use lukewarm water during cleansing and showering. Moisturizing is also key in keeping dry skin nourished and hydrated. Choose a moisturizer that is specifically designed for dry skin and apply it both morning and night to replenish and lock in moisture.
In addition to skincare, lifestyle habits such as staying hydrated, avoiding smoking, and managing stress can improve the appearance and health of dry skin. By understanding the characteristics and underlying causes of dry skin, you can choose the right products and habits to care for it effectively.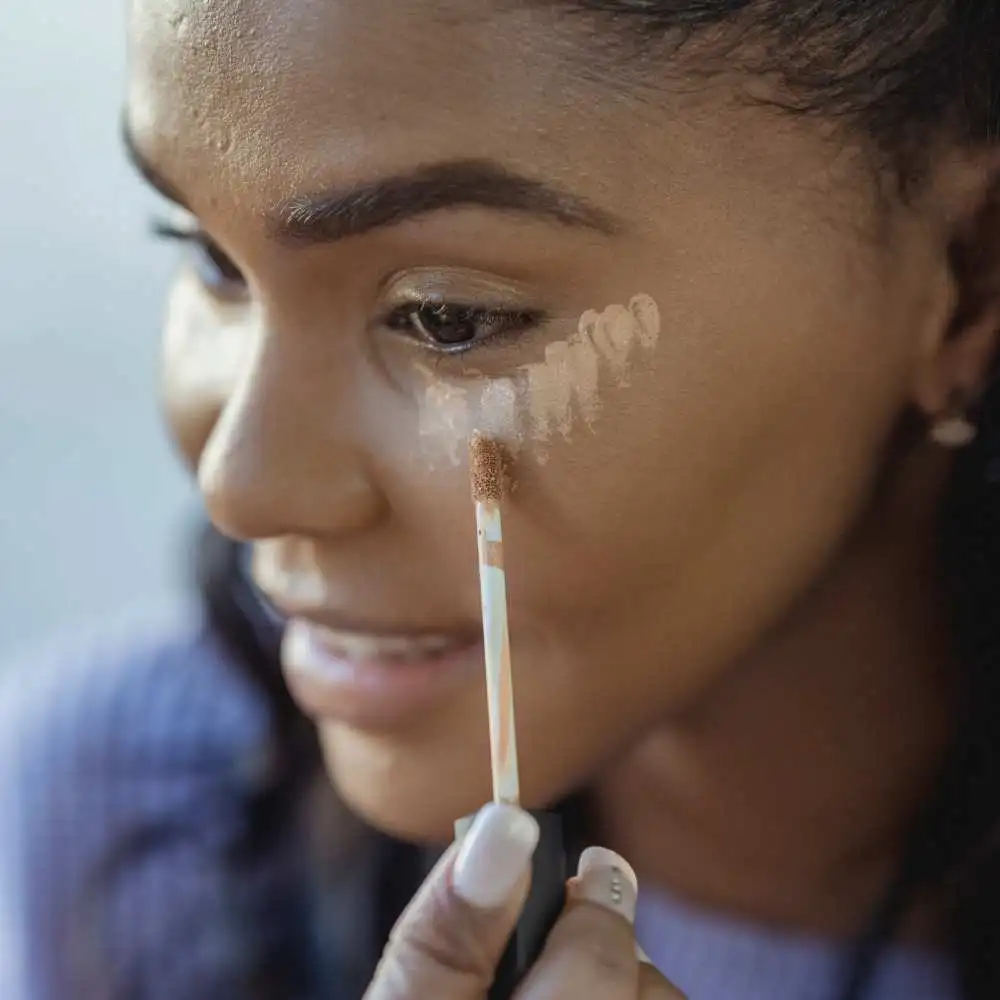 Choosing the Right Concealer for Dry Skin
When it comes to choosing a concealer for dry skin, there are a few key factors to consider. These include the formula of the concealer, the shade, and the finish.
First, let's discuss the different types of concealers available. There are three main types: cream, liquid, and stick. Cream concealers are thick and provide high coverage, making them ideal for covering up pimples and scars. Liquid concealers are lightweight and blendable, making them good for under-eye circles. Stick concealers are firmer than creams and can be used to cover larger areas of the face.
When choosing a concealer for dry skin, it's important to pick a formula that is hydrating and won't dry out your skin further. Cream concealers tend to be the most hydrating, while liquid and stick concealers may be too drying for dry skin. Opt for a cream concealer that contains ingredients like hyaluronic acid, which can help plump and moisturize the skin. (Find the best Moisturizer Under Makeup here!)
Next, let's talk about shade selection. When choosing a concealer, it's important to select a shade that matches your skin tone. This can be tricky, especially when it comes to under-eye concealing. To avoid a cakey or unnatural finish, go for a shade that is slightly lighter than your skin tone. This will help brighten up the under-eye area and create a more natural, radiant look.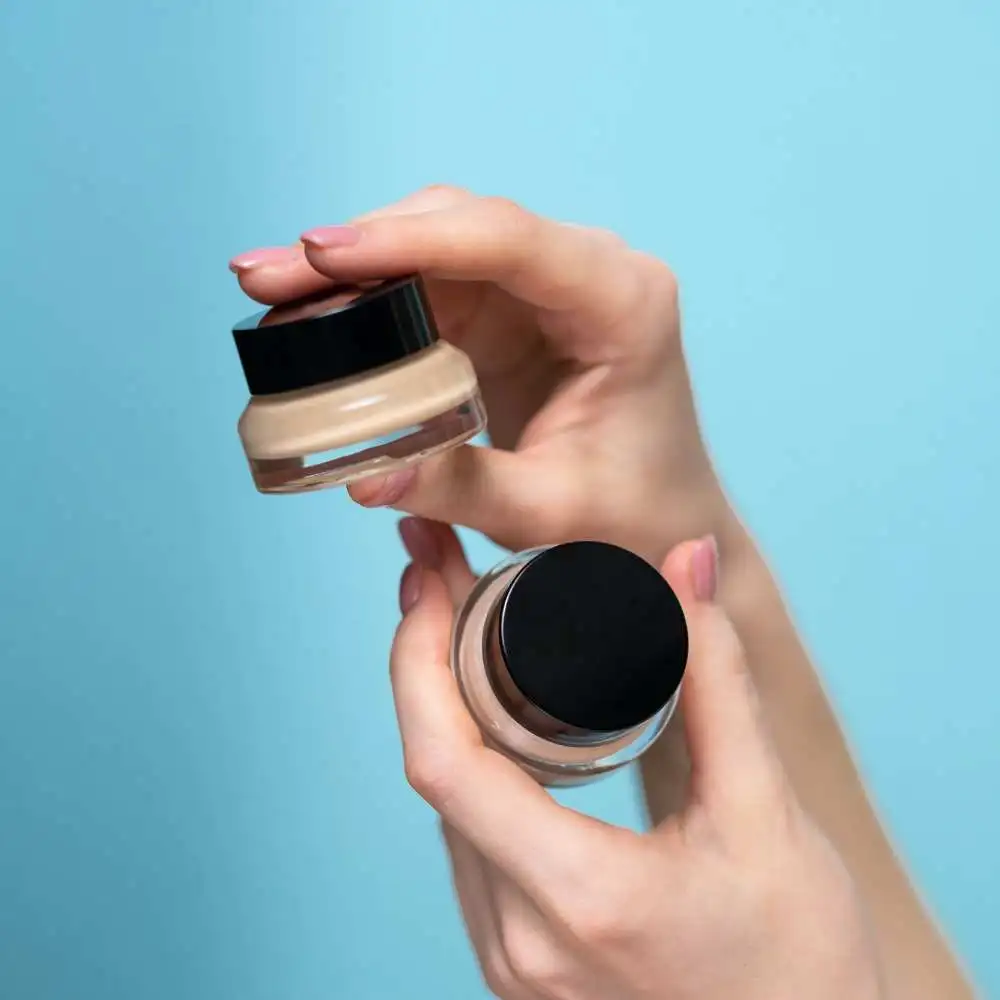 Lastly, consider the finish of the concealer. A matte finish may be too drying for dry skin, so look for concealers with a dewy or satin finish. These finishes can help create a more luminous and hydrated look, perfect for those with dry skin.
By considering the formula, shade, and finish of your concealer, you can find the perfect product to brighten up your skin and keep dryness at bay.
Tips for Applying Concealer to Dry Skin
Now that you know how to choose the perfect concealer for your dry skin, it's time to learn how to apply it like a pro. Proper application is key to achieving a flawless and natural-looking finish. Here are some tips to help you apply concealer to dry skin:
Prepping Your Skin
The first step in applying concealer to dry skin is to prep your skin properly. Start by gently exfoliating your face to remove any dead skin cells that can contribute to flakiness. Next, apply a hydrating moisturizer to your face to nourish and prime the skin. Allow the moisturizer to absorb into the skin before applying any makeup.
Step-by-Step Application
Start by applying your foundation (find the best foundation for acne scars here!) to even out your skin tone, if desired.
Dab a small amount of concealer onto any areas of dryness or redness on your skin and blend it out using your fingers or a damp beauty sponge.(find the best makeup sponges here!) Be sure to use gentle tapping motions and avoid rubbing to prevent further irritation of your dry skin.
Use a smaller brush to apply concealer to any blemishes or spots that need extra coverage.
If you have dark circles under your eyes, apply a small amount of concealer to the inner corners of your eyes and blend it outwards.
Apply a little more concealer to the outer corners of your eyes to create a more lifted effect.
Blending and Setting
To help the concealer blend seamlessly with your skin and prevent creasing or flaking, follow these tips:
After applying the concealer, use your fingers or a damp beauty makeup sponge to gently blend it in.
Set the concealer with a light dusting of translucent powder. This will help prevent creasing and help your concealer last longer.
Avoid using too much powder, as this can contribute to dryness and flakiness.
By following these tips, you can apply concealer to your dry skin easily and achieve a flawless, natural-looking finish.

Our List of the Top Products in This Category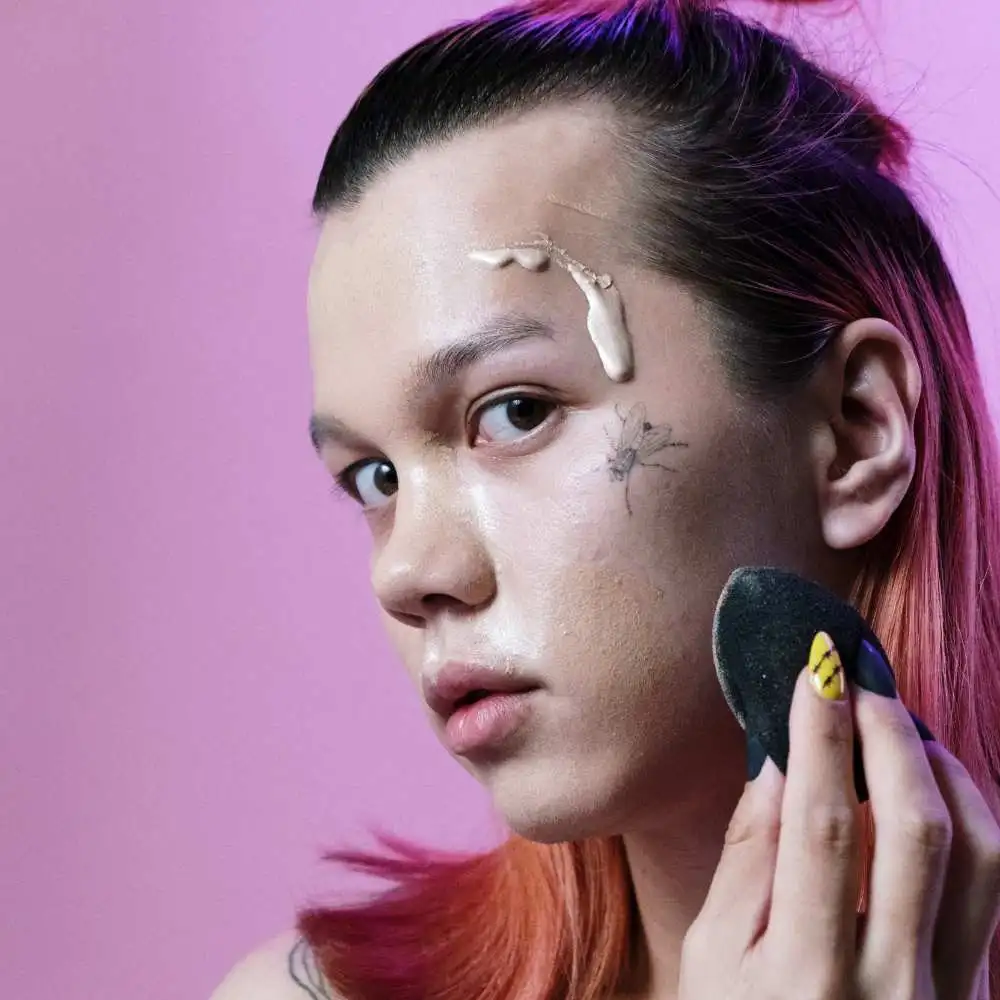 Conclusion
In summary, applying concealer is an essential tool for those with dry skin who want a flawless and radiant makeup look. Dry skin can be challenging to manage, but with the right concealer and application techniques, you can create a smooth and even complexion.
Remember to choose a formula that is hydrating, such as a cream concealer with added moisturizing ingredients like hyaluronic acid. Select a shade that matches your skin tone and consider the finish of the concealer, opting for a dewy or satin finish to add moisture and luminosity.
Before applying concealer, be sure to properly prep your skin with gentle exfoliation and hydrating moisturizer. Use gentle tapping motions to apply concealer, focusing on any areas of dryness or blemishes that require extra coverage. Don't forget to set your concealer with a light dusting of translucent powder to prevent creasing and help it last longer.
Have you tried applying concealer to dry skin?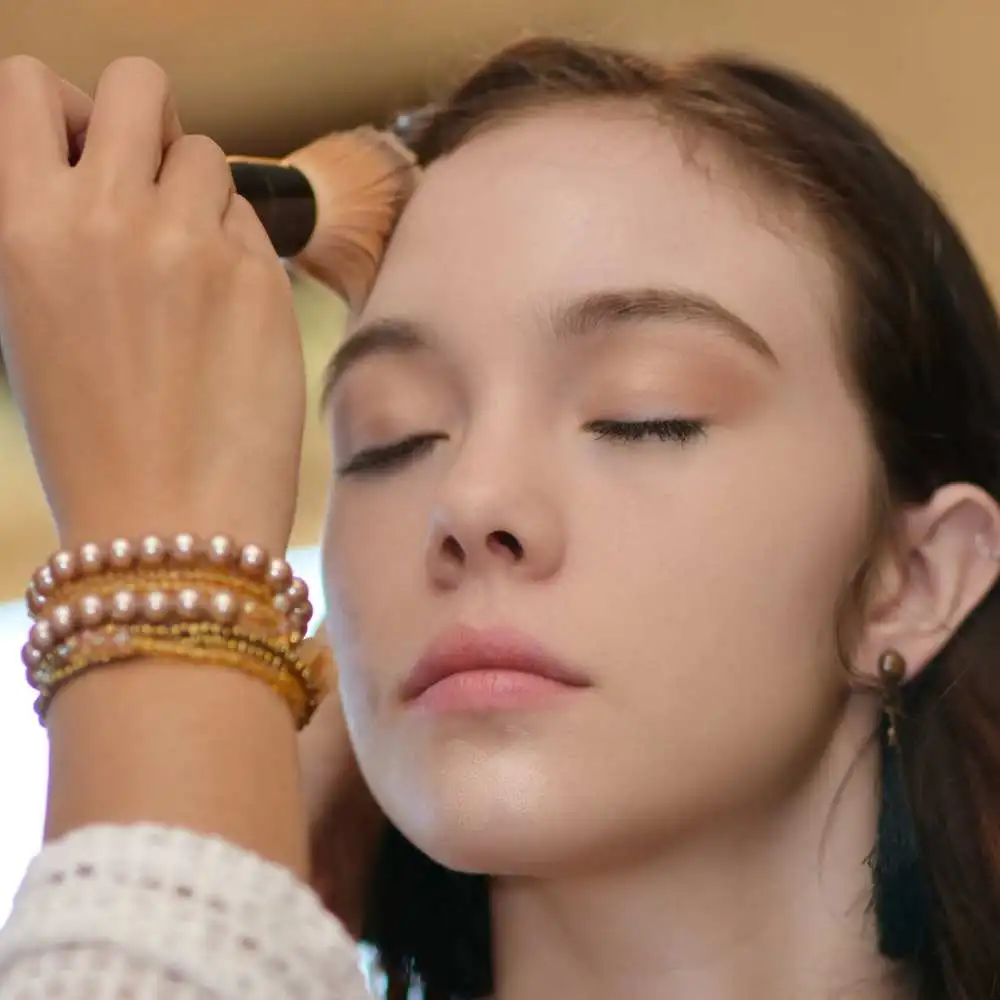 FAQs to Help You Nail Your Flawless Look!
What Goes First Concealer or Moisturizer
For flawless makeup, remember: always apply concealer before moisturizer! This will create a smooth base that won't clump or crease throughout the day. And don't forget to moisturize after - it'll keep your skin hydrated and prevent caked-on makeup.
Why Do The Foundation and Concealer Look Dry?
Dry-looking makeup?
Here's why:
1) consider your skin type.
2) pay attention to your climate and use long-wearing products.
3) prep your skin well, and use light strokes when blending.
4) use moisturizing primers to smooth fine lines and pores.
How Do You Prepare Dry Skin Before Makeup?
Flawless makeup starts with dry skin prep: cleanse, exfoliate, moisturize, and prime! Use gentle products, and add extra hydration with a primer. Wait 5 mins before applying makeup. Stay hydrated!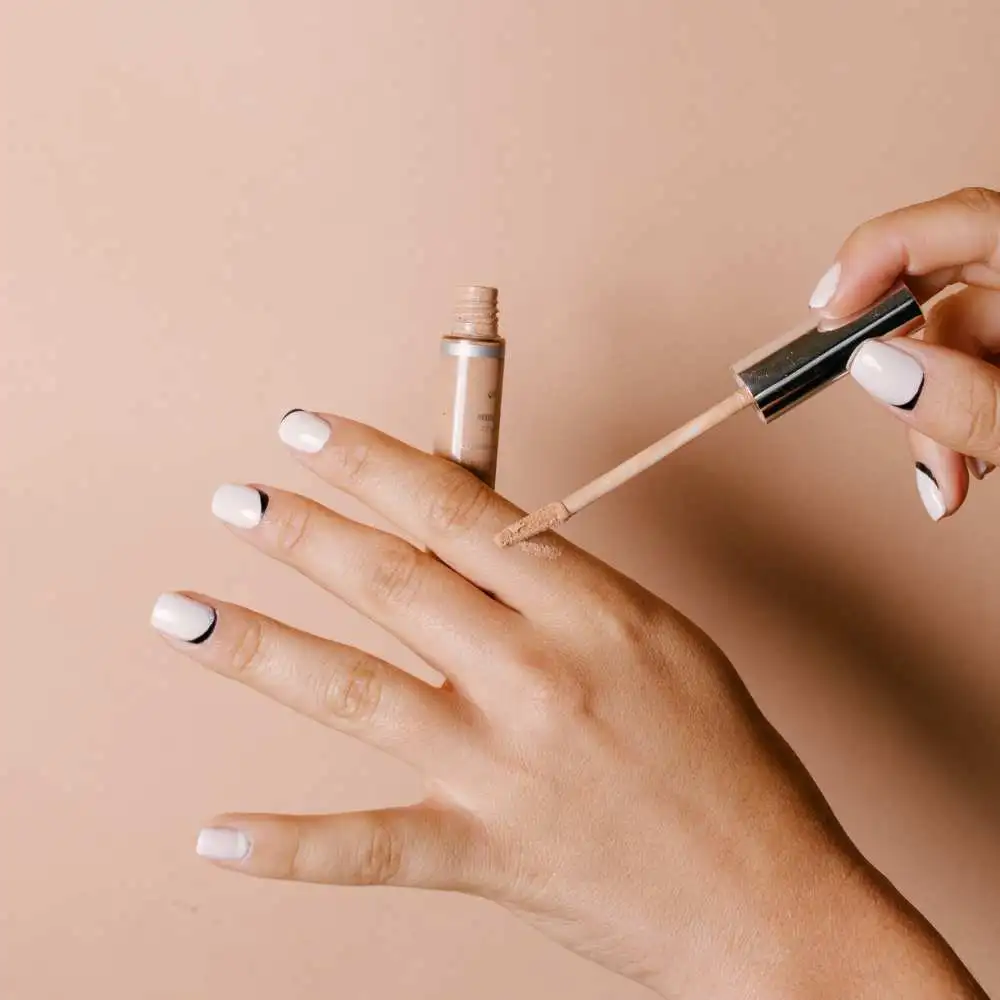 Is Concealer Good For Skin
Concealers offer more than coverage! They provide an extra layer of protection, reduce inflammation, and contain beneficial ingredients such as hyaluronic acid and SPF. Choose wisely and enjoy its many benefits for flawless and healthy-looking skin!
Which Concealer Is Best Dry or Liquid
Choosing between liquid and dry concealers depends on personal needs and preferences. Liquid concealers are great for full coverage, easy blending, and a smoother finish. Dry options, like powdery or creamy formulas, are better for dry or sensitive skin, (find the Best Eye Cream for Sensitive Skin here) offer buildable coverage, and blur imperfections without being cakey or flaky. Consider your desired coverage and skincare needs when choosing between the two.