Swimsuits are one of the most essential pieces in our summer wardrobe. They are not just about utility but also about style, comfort, and expression. From the crowded beaches of Miami to the serene lakes of Scandinavia, swimsuits have been a timeless fashion statement that represents the spirit of summer.
But, when it comes to couples, the search for the perfect matching swimwear can feel like searching for pearls on a vast beach because not all swimwear brands have matching options for men and women, or the styles may not be complementary. Do you need the most dazzling matching swimsuits for couples?
Don't worry; we've got you covered. We know that every couple wants to look their best when they are out having fun and making memories. That's why we have compiled a list of the top matching swimsuits for power couples that will make you stand out from the crowd and elevate your summer fashion game.
All these swimsuits are designed to be comfortable, stylish, and versatile so that you can wear them on the beach or by the pool and even for some outdoor activities. They are not just for show; they are made with high-quality materials that provide the perfect balance between functionality and fashion.
Keep reading to learn more about our list of the top 3 best matching swimsuits for couples!
We have searched for the best, so you don't have to live with the rest. In order to serve you to the best of our ability and to keep our blog going, GarnesGuide may collect a share of sales or other compensation from the links on this page if you decide to buy. Each product was independently researched by our editors, and the reviews may have been edited for length and clarity.
How We Choose the Best Matching Swimsuits For Couples:
Matching swimsuits is the most enchanting way for couples to make a fashion statement and express their shared love and connection. In a world where identity often takes the spotlight, these coordinated swimwear sets break through the norm, celebrating togetherness and unity most charmingly & stylishly.
However, from the vast array of swimwear styles, patterns, and fabrics available in the market, it can be overwhelming to choose the perfect swimsuit pair that perfectly matches your unique style as a couple.
To aid you in this dilemma, we have done deep-dive research and chosen the top 3 matching swimsuits that will make you and your partner look & feel great. So whether you prefer modest one-pieces, daring bikinis, or versatile tankinis, you're sure to find matching swimsuits that reflect your shared aesthetic.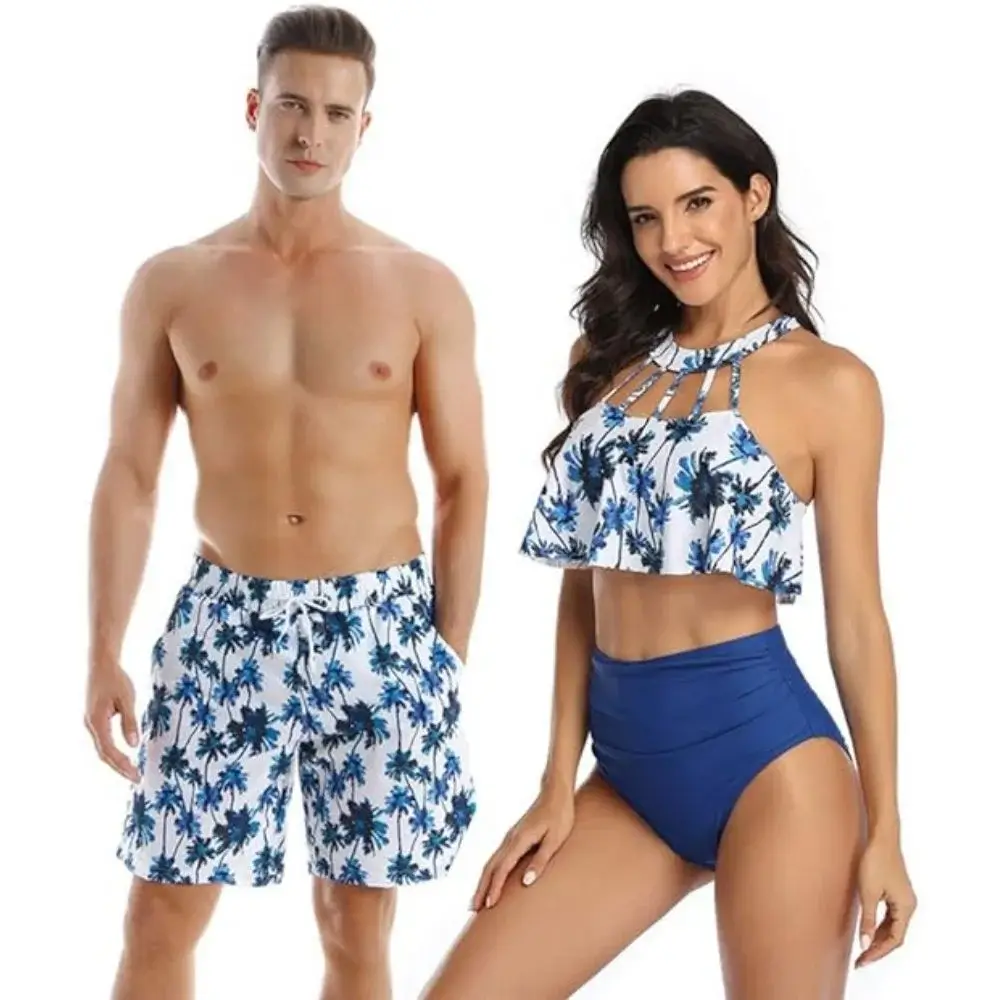 Best Matching Swimsuit For Summer Season
Ulikeey Couples Matching Swimsuit
check price on amazon
Why GG Loves It
If you have been looking for the perfect swimwear that will make you and your partner stand out this summer, then look no further than Ulikeey Couples Matching Swimsuit. Whether you are planning a beach vacation or simply want to make a statement at the pool, this swimsuit set is sure to turn heads.
The fabric used for these swimsuits is incredibly soft and luxurious, providing unparalleled comfort for all-day wear. It boasts a premium blend of materials that feel amazing against the skin and offer ideal durability and longevity. This ensures that the couple's swimsuit will maintain its shape & vibrant colors.
The elastic waistband is thoughtfully designed to deliver a secure and comfortable fit for both men and women. It effortlessly adapts to your body shape, providing the perfect amount of support without compromising on comfort. So you can enjoy your time in the water without any worries or distractions.
What You Should Know
The thing that we love most about these swimsuits is the stunning tropical plant and coconut tree pattern printed on a white fabric. It's stylish, fun, and exudes a sense of summer like no other print. From tropical vacations to pool parties and beach strolls, this bathing suit is perfect for any occasion.
The men's swimsuit features a pocket at the back, making it practical for storing small essentials like keys or cash. The women's set includes a halter bikini top with a cross-back design that adds an extra touch of style to the overall look. It is also perfect for photography and swimming in the ocean or pool.
Just one thing that you should keep in mind is that the swimsuits are sold separately, so you will need to purchase two sets for a complete couple's look. There are multiple sizes, colors, and patterns to choose from, ensuring that you both find the perfect fit and design that suits your individual styles and tastes.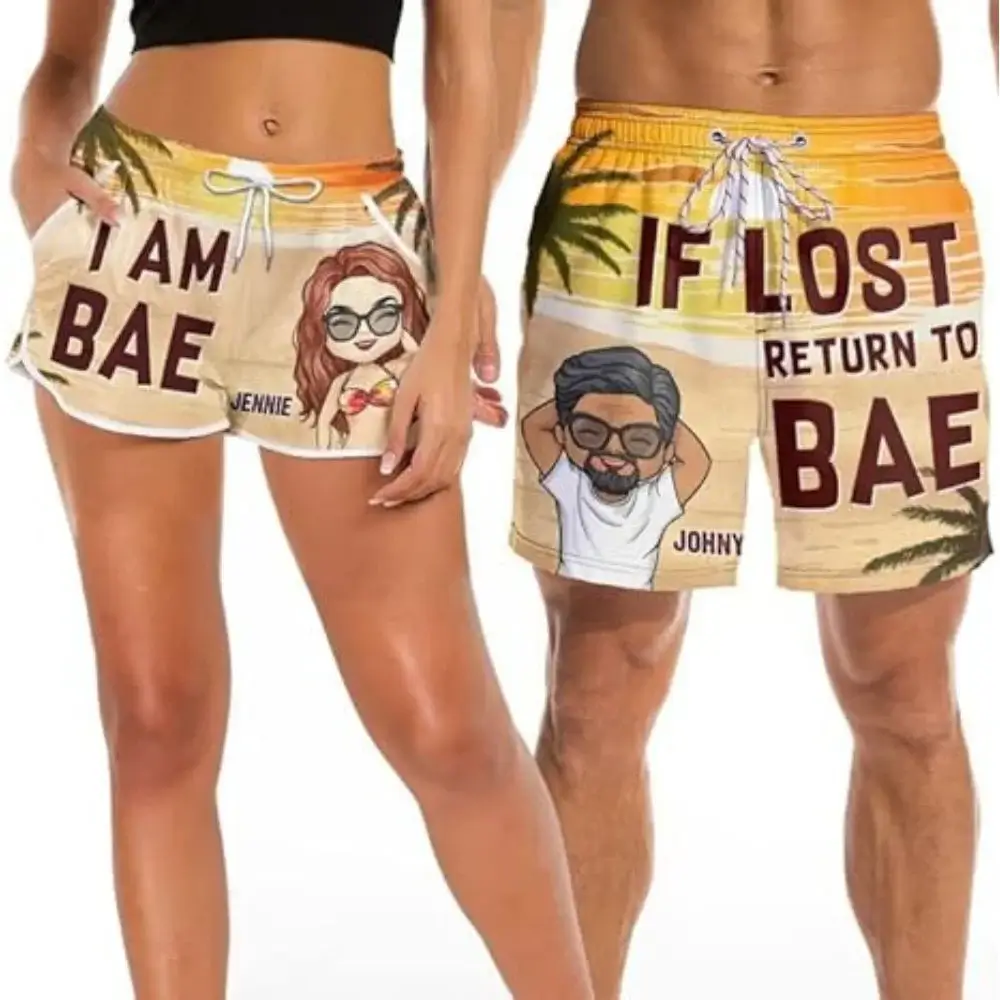 Best Matching Swimsuit For Husband and Wife
Pawfect House Personalized Couple Beach Shorts
check price on amazon
Why GG Loves It
Do you want to make your beach trips special with your significant other? Have you been tired of boring and plain beach looks? If so, don't worry; we've just the perfect swimsuit for you and your partner. The Pawfect House Personalized Couple Beach Shorts- a perfect blend of comfort, style, & personalization.
These broad shorts are made with 100% polyester to keep you comfortable and cool all day long. The waistband and pocket add a functional touch, making it perfect for everyday wear at the beach, pool, home, or gym. Say goodbye to plain trunks and hello to stylish comfort with these matching swimsuits!
But what sets them apart is the personalization option. You can get your name/initials embroidered on the shorts, making it a thoughtful gift for your loved one. It's not just a swimsuit; it's a creative way to show off your relationship status and bond with your significant other that will turn heads on the beach.
What You Should Know
You can pair these shorts with your favorite tops or wear them as standalone pieces. The versatile style makes mixing and matching with different outfits easy, giving you endless options for your beach looks. The quick-dry fabric ensures you can enjoy your time at the beach without worrying about getting wet.
The most important feature of these shorts is their water-repellent nature. They are not waterproof but designed to keep you cozy throughout the day. The material is light and breathable and allows for easy movement, making it perfect for any water activity like swimming, surfing, or playing beach volleyball.
These couple beach shorts are also super easy to clean and maintain. Simply machine wash them on a delicate cycle, and they will be as good as new. You don't need to use harsh detergent, bleach, or fabric softener. They will never peel or fade, ensuring you can enjoy wearing them for many seasons to come.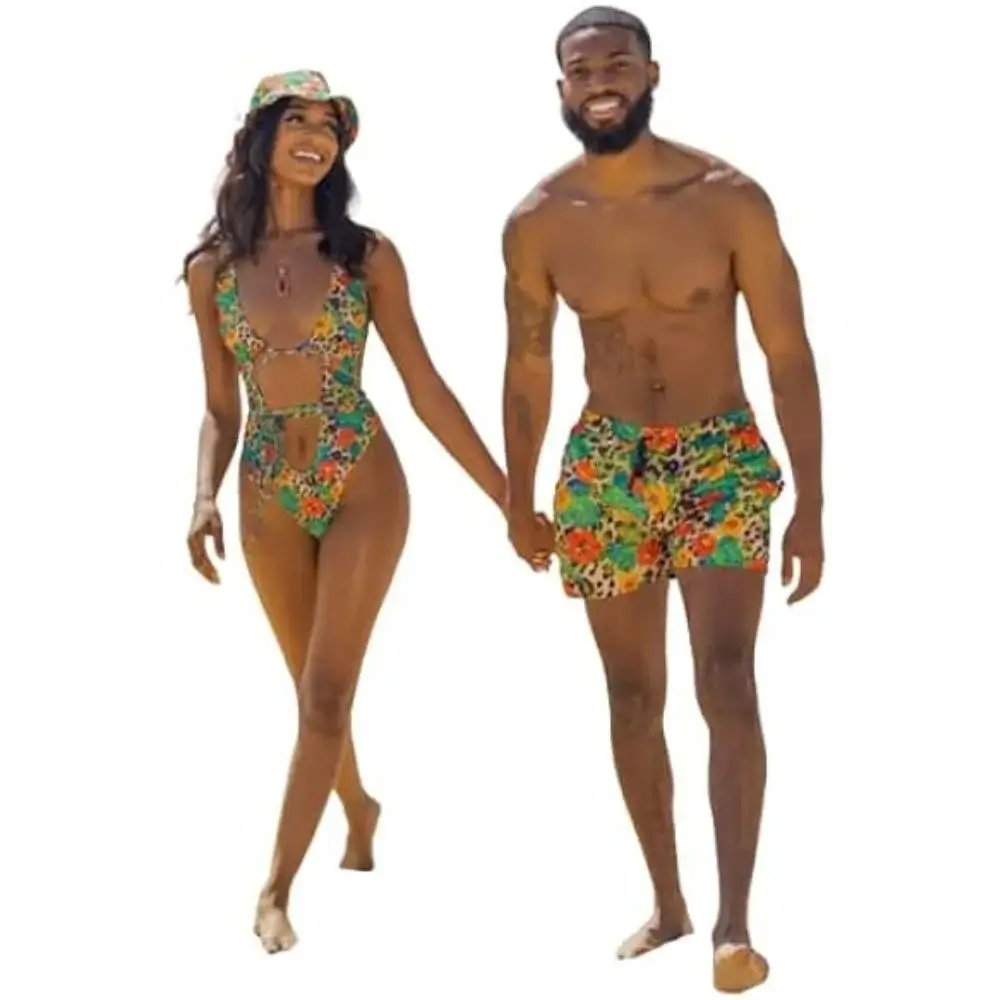 Best Matching Swimsuit For His and Hers
Baecation Couples Matching Swimsuits
check price on amazon
Why GG Loves It
There is nothing quite like the joy of hitting the beach or poolside with your significant other, especially when you're donning matching swimsuits. From romantic vacations to honeymoon getaways, there's no doubt that couples love the idea of twinning in swimwear. Sadly, not all of them can be a perfect match.
Some can make you cringe, while others make you swoon. But when it comes to couples swimsuits, there's one brand that stands out: Baecation. It is a fashion-forward swimwear brand that specializes in swimsuits. And this matching swimsuit set is a perfect example of their remarkable and stylish designs.
This matching swimsuit set from Baecation features a tropical fabric type and drawstring closure. The fabric is lightweight, breathable, and perfect for hot weather. Its bright and vibrant colors add a fun and playful touch to the suits, while the drawstring closure allows for a cozy, comfortable, and adjustable fit.
What You Should Know
But what truly sets this swimsuit set apart from others is its versatility. No matter where you and your partner are headed, whether it's a tropical beach vacation, a resort getaway, or a relaxing poolside day at your favorite spa, this set is the epitome of style and comfort, making it perfect for any destination.
With its flattering design and high-quality materials, you can confidently showcase your unique fashion sense while enjoying all the fun & sun that your getaway has to offer. Plus, it is available in various sizes so you and your partner can find the perfect fit that suits your body type without compromising on style.
Note: this power couple swimsuit set is hand wash only. To keep your swimsuits in their best condition, avoid machine washing or ironing them. Overall, this ideal matching swimsuit set is one of the most heartwarming and trendy sets in the market, so make it a part of your next vacation must-haves.
Here are Some FAQs to Help Guide you on Your Way!
If you are a couple who cherishes making bold & unifying fashion statements, then matching swimsuits are your ticket to standing out this summer. This trend is not just about clothing; it's a reflection of the shared bond, the mutual tastes, and the harmonious spirit that exists b/w two people who live in love.
But do they fit all body types? Can one customize them? Here are some frequently asked questions about matching couple swimsuits that will help you on your way so you can make the most out of this trend:
Do matching swimsuits come in all sizes?
Matching swimsuits typically come in a wide range of sizes to cater to diverse body types. Before making a purchase, it's best to read the item descriptions & sizing charts provided on the site. Ensure that you agree with the sizing guide, as it will help you select the right fit for you and your bae or boo.
The selection results are diverse, with different styles, colors, and cuts. Keep in mind that every brand may have its own unique sizing chart and full-page privacy, so be sure to check each one carefully. Also, check the stock availability, sign-up bonus, and price of the product, and then shop accordingly.
Are matching swimsuits comfortable?
Just like any swimsuit, the comfort level depends on the fit and material. Always check the product description for details about the fabric and care instructions, not just the beauty and style of the suit.
Generally, matching swimsuits are made with high-quality materials that provide both comfort and durability. So both girls and boys can match without feeling restricted or uncomfortable. If you order from the app, update the email preferences to stay in the loop on new arrivals and promotions.
Can I customize my couple's matching swimsuits?
Yes, some brands and independent designers on platforms like Amazon or Etsy offer customization options where you can choose colors and patterns and even add names or initials. Whether you shop for a bikini with kenny flowers or swim trunks with a matching print, there are options for personalizing.
Best Matching Swimsuits For Couples:
Summer has always been the perfect time to go on vacation and spend quality time with your family & significant other. What better way to celebrate your love than by matching swimsuits? Not only does it make for a cute and fun photo op, but it also symbolizes unity and compatibility in your true relationship.
The top three hottest swimsuits that we have listed above are all perfect for couples who want to show off their love and look stylish at the same time. They are made with high-quality materials and designed to flatter your precious body, making you feel confident and beautiful while on the beach or by the pool.
Each matching swimwear design has its unique touch, from playful patterns and bold colors to more subtle and romantic designs. Whether you are going on a honeymoon at a tropical island, surfing the waves with your partner, or simply lounging by the pool in your backyard, they are just spectacular.
So what are you waiting for? Pick any one of these swimsuits, make unforgettable memories, and flaunt your love for each other in style. If you find the best one, then click on any link here to purchase it now!