Summer is the season of fun and adventure, where you can hit the beach, go on a hike, or have a pool party with friends. But all this outdoor activity can wreak havoc on your makeup, especially your lipstick. A good waterproof lipstick is an essential beauty tool for anyone who wants to enjoy the summer without worrying about their makeup melting or smudging.
It is a lifesaver for those who love to swim, surf, or sweat it out in the sun. However, with the plethora of options available in the market, choosing the right lipstick that provides the desired result can be challenging. Are you looking for the best lipstick that is waterproof?
Dont worry; we have got you covered! We know that finding the right lipstick that will stay put all day, even when you're swimming or sweating, is crucial. That's why we've put together a list of the top three best lipsticks that will keep your pout looking flawless no matter what.
All these waterproof lipsticks offer smooth application, long-lasting wear, and intense pigmentation that won't smudge or fade, making them perfect for hot summer days or any occasion where you need your lipstick to last so you can look and feel your best all day long.
Click this link to learn more about our list of the top 3 best waterproof lipsticks!
We have searched for the best, so you don't have to live with the rest. In order to serve you to the best of our ability and to keep our blog going, GarnesGuide may collect a share of sales or other compensation from the links on this page if you decide to buy. Each product was independently researched by our editors, and the reviews may have been edited for length and clarity.
How We Choose the Best Waterproof Lipstick:
Lipstick is a timeless cosmetic that has been used for centuries to enhance the beauty and expressions of lips. But for outdoor activities such as swimming, jumping into a pool, or going to the beach, it is important to use water-resistant lipstick that won't smudge or fade away.
The waterproof lipstick formula is highly resistant to moisture, water, and oil, which helps them last longer. But with so many options in the market, selecting the best one can be quite a difficult task because you want something that is both long-lasting and comfortable to wear.
To help you, we have done deep research and gathered the top 3 best waterproof lipsticks that will stay put no matter what. These lipsticks are crafetd with high-performance, long-lasting formulas that won't break down in the water to keep your lips looking gorgeous for hours.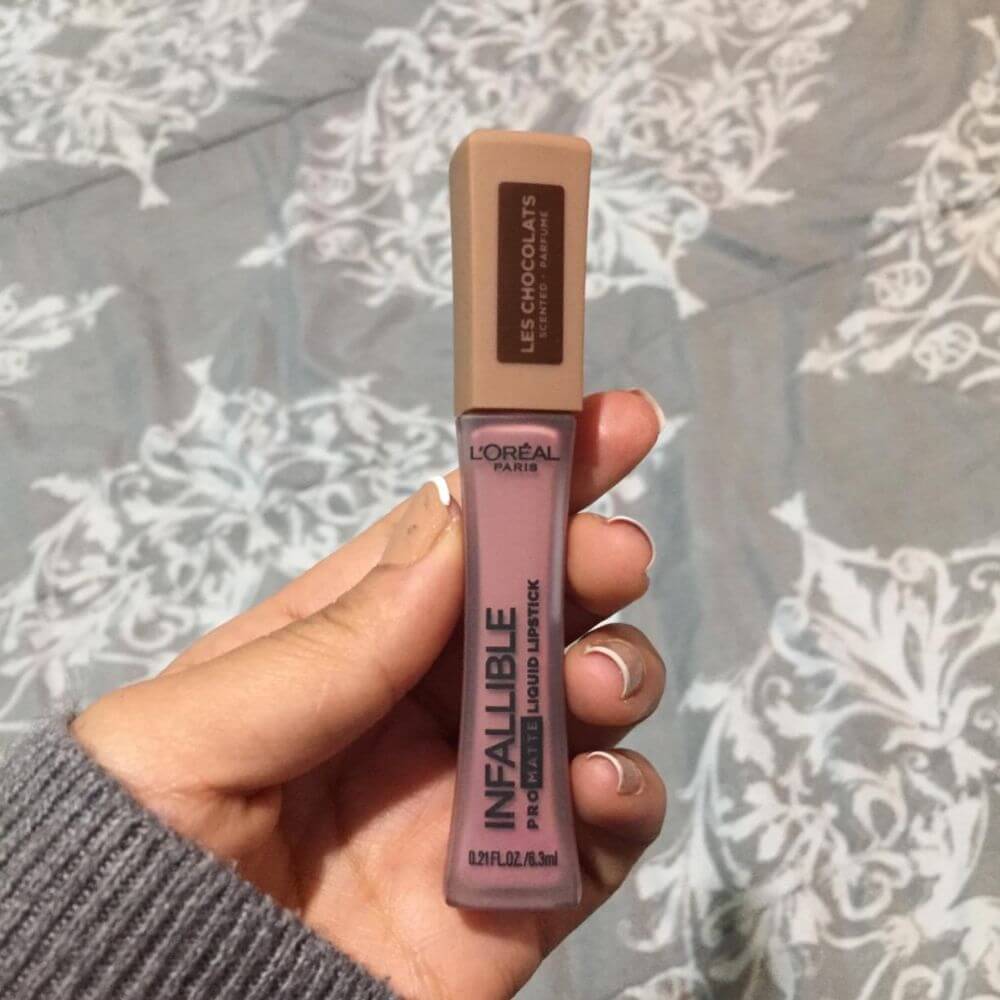 Best Waterproof Liquid Lipstick For All Skin Tones
L'Oreal Paris Makeup Infallible Pro Matte Les Macarons Scented Matte Liquid Lipstick
Check Price on Amazon
Why GG Loves It
Are you tired of worrying about touch-ups and smudges on your lipstick throughout the day? If so, try L'Oreal Paris Makeup Infallible Pro Matte Les Macarons Scented Liquid Lipstick!
This waterproof lipstick is ideal for anyone who wants a bold and beautiful look that lasts all day long. No matter what your skin tone is, it offers full coverage matte wear that's life-proof.
The smooth and even coverage provides a flawless finish that will keep you confident throughout the day. Plus, it lasts up to 16 hours without transferring or bleeding, so you can go about your day worry-free. Not only is this long-lasting lipstick long-lasting, but it's also non-sticky and comfortable to wear, keeping your lips feeling hydrated and smooth.
Whether you're heading to work, a night out, or just want to add a pop of color to your day, L'Oreal Paris Makeup Infallible Pro Matte Les Scented Liquid Lipstick is a perfect choice. So why wait? Try it today and experience the confidence-boosting power of this amazing lipstick!
What You Should Know
This full matte finish lipstick by L'Oreal Paris is the perfect option for anyone who wants to indulge in a delightful macaron aroma. With notes of almond, vanilla, and cream, this scented matte liquid lipstick is an on-trend, vibrant option that is sure to satisfy every craving.
One of the standout features of this waterproof matte lipstick is its intense, pigment-loaded shades that are never sheer. This means that you can achieve full, even coverage in just one stroke, and the colors will stay vibrant, compelling, and rich throughout the day.
Thanks to the pro-tip applicator, shaping and defining your lips has never been easier. The applicator helps to line your lips for a full definition, and its precise design makes it easy to apply the lipstick with precision. To get the most out of this liquid form lipstick, start by applying it in the center of your upper lip and working outwards towards the edges.
Then, glide the applicator across your entire bottom lip, following the natural contour of your mouth; that's it. If you need one of the best liquid lipsticks, then you should opt for this!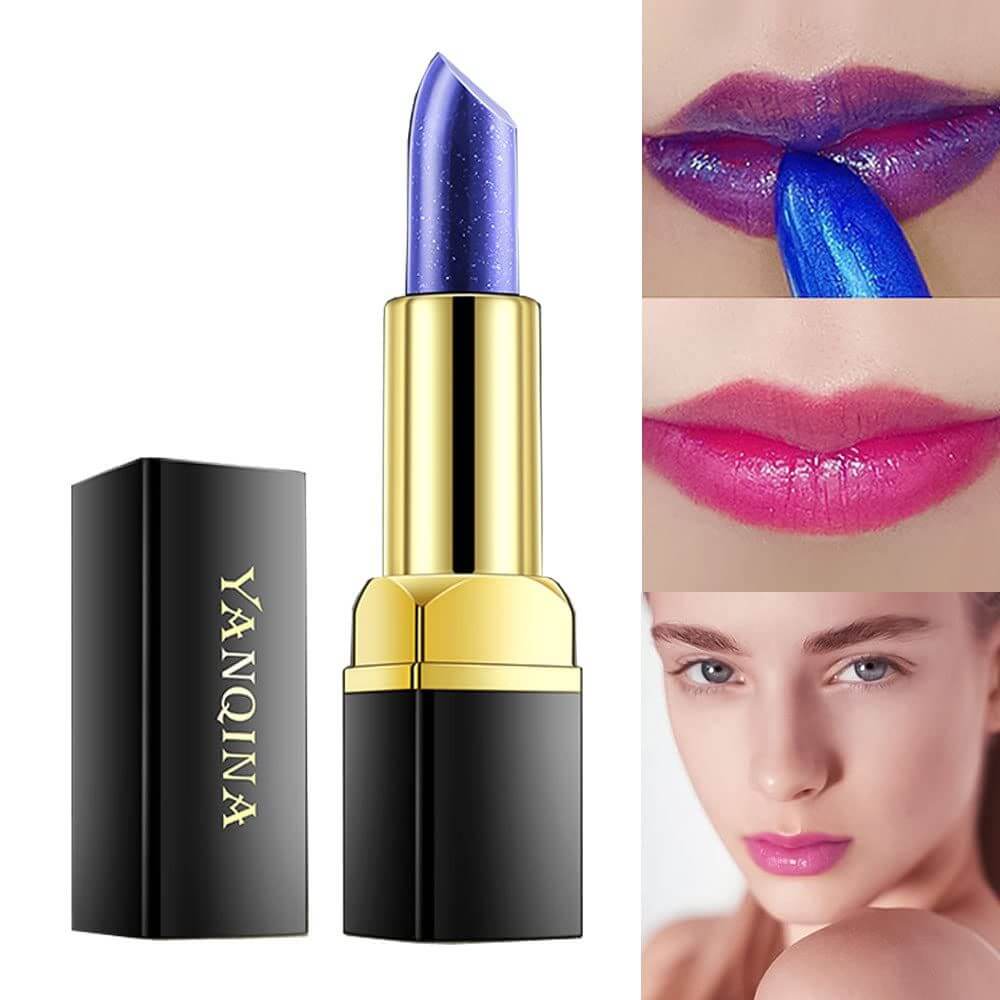 Best Waterproof Lipstick For Multiple Occasions
Check Price on Amazon
Why GG Loves It
Do you love wearing lipstick that looks not only amazing but also feels comfortable on your lips? Need a day liquid lipstick that can stay put for up to 16 hours? If so, then you'll definitely want to try the latest design color-changing lipstick that's taking the beauty world by storm!
With its supremely comfortable formula, this lipstick adapts to your body temperature and changes from blue to pink, leaving your lips with a gorgeous, shining luster that lasts for hours.
But that's not all - this lipstick is also long-lasting, waterproof, and won't easily stick to your cup, making it perfect for any occasion and event. Plus, this lip balm nourishes your lips and improves lip lines, creating a natural and three-dimensional look that's sure to turn heads.
Whether you're heading out for a night on the town or just want to add some pizzazz to your everyday look, this color-changing lipstick is a perfect choice. And with its versatile formula and easy application, it makes an excellent gift for your mother, friends, or lover - especially during the colder months when a pop of color is just what you need to brighten up your day.
So why not try REVERIE DIARY Lipstick today & discover why it's quickly becoming the go-to choice for anyone looking for the ideal lipstick for multiple occasions? Your lips will thank you!
What You Should Know
There are many long-wear lipsticks that can bless your pout, but few can compare to the REVERIE DIARY Lipstick. This waterproof lipstick is an outstanding beauty product for anyone looking for a lipstick that moisturizes, lasts long, and provides a perfect tint.
The highly pigmented formula ensures that your lips look vibrant and beautiful all day long. It minimizes transfer, so you can enjoy your lipstick without worrying about it smudging. It's best for any celebrity makeup artist who loves to experiment with bold lip shades!
One of the best things about this lipstick is that it's made with healthy ingredients that are safe and non-toxic. The natural plant extracts nourish your lips and improve lip lines while repairing dryness, dullness, peeling, cracks, and fine lines. The light and moist texture of the lipstick glides on smoothly, leaving your upper lip smooth, nourished, and hydrated.
If you're looking for long-lasting lipstick that fades evenly, you won't be disappointed with the REVERIE DIARY Lipstick. The brand's concept revolves around combining nature and skin to maintain the most natural beauty of women. With this, you can enjoy healthy ingredients that provide nourishment and hydration for your lips while looking beautiful all day long.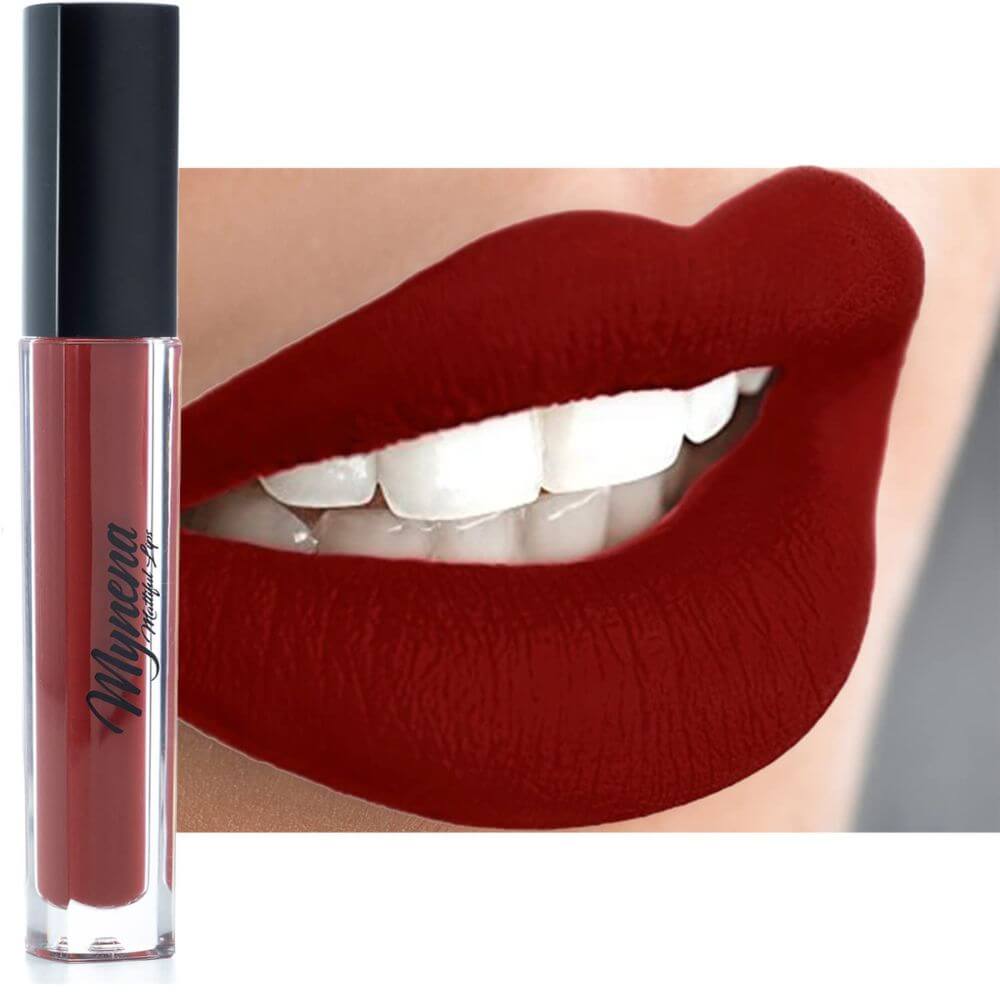 Best Waterproof Lipstick For a Flattering Finish
Check Price on Amazon
Why GG Loves It
Do you want to add some glam and sophistication to your everyday look? Check out Mynena Red Lipstick, the ultimate choice for a bold and beautiful pout that will make heads turn.
This lipstick is not only highly pigmented but also waterproof, kiss-proof, and smudge-proof. No need to worry about your lipstick fading, smudging, or transferring onto your clothes.
With the Mynena Red Lipstick, you can confidently go about your day, knowing your lips will look flawless. What's more, this lipstick has a non-sticky, lightweight formula that won't dry out your lips. Its quick-drying velvety matte finish adds a touch of high-fashion glamour to your look, giving you the perfect finish for any occasion, just like any lip gloss  (find the best drugstore lip gloss here!)or lip stains!
With its comfortable wear and wide range of trendy colors from nudes to black, red, brown, and pink, you'll be spoilt for choice. From daily use to work, parties, weddings, festivals, cosplay, and evening glamour, the Mynena Red Lipstick Primer has got you covered.
Whether you're a beginner or a makeup pro, you'll love the easy application and long-lasting formula of this lipstick. It stays put for hours, even after eating, with minimal re-touching needed. You can trust the Mynena Red Lipstick to keep you looking your best all day long.
What You Should Know
This matte lipstick is best for anyone who values quality, comfort, and sustainability. Made from high-quality mineral ingredients, this lipstick offers long-lasting wear that is both comfortable & durable. With a sweet vanilla scent, it is sure to delight your senses all day long.
True beauty is guilt-free, and this matte liquid lipstick is no exception. It is vegan, gluten-free, paraben-free, and cruelty-free (find the best cruelty free lipstick here) with no sulfates, making it a safe choice for all skin types.
Application is a breeze with this matte liquid lipstick. Simply massage a lip scrub onto your lips and rinse it off. Then, apply a thin layer of lip balm to hydrate your lips before using the pointed edge of the applicator to outline your lips. Fill in your lips with short strokes, and allow the lipstick to dry completely before closing your mouth to prevent smudging.
When it's time to remove the lipstick, you can use your favorite oil, like coconut oil, or makeup remover. This waterproof lipstick is designed to stay put all day long, so you can feel confident and beautiful no matter what your day brings. Try this Mynena Red Lipstick today and experience the difference that quality and sustainability can make in your beauty routine!
Here are Some FAQs to Help Guide you on Your Way!
Picture yourself lounging on a pristine beach, the sun on your skin, and the salty breeze in your hair. You're sipping a refreshing drink, looking out at the ocean, and feeling perfectly content. But wait, what's that? Your lipstick is smudged and faded, ruining the flawless look you created before leaving your beachside cabana. Don't let this scenario become your reality!
Enter the best waterproof lipstick. The right waterproof lipstick can make all the difference between carefree beach days and constant touch-ups. But how can you make lipstick waterproof? Here are some most frequently asked questions that will help you on your way:
How do you make lipstick waterproof?
To make lipstick waterproof, add a thin layer of waterproofing lip balm or primer before applying the lipstick. After applying the lipstick, blot with a tissue, and then lightly dust with translucent powder to set the color. You can also apply a layer of lip gloss or clear balm that contains avocado oil and vitamin e over the top to make it more water-resistant!
How do you remove waterproof lipstick?
Waterproof lipstick can be removed using oil-based makeup remover, micellar water, or petroleum jelly. Apply the product onto a cotton pad and gently wipe over the lips. You may need to repeat this process a few times until all traces of the product are removed.
How long does waterproof lipstick last?
Waterproof lipstick typically lasts 4-8 hours, depending on the brand and how well it is applied and maintained throughout the day. However, some of them last for up to 16 hours!
Top 3 Best Waterproof Lipsticks:
Indulging in a bold, beautiful lip color is a surefire way to elevate any makeup look. However, if you're someone who leads an active lifestyle, loves spending time in the water, or just hates the hassle of reapplying lipstick every hour, then using the right waterproof lipstick is a must.
Whether you're splashing around in the ocean, shedding happy tears at a wedding, or simply want to enjoy a drink without leaving lipstick marks on the glass, a high-quality waterproof lipstick can provide the staying power and smudge-proof coverage that you crave.
The top 3 best waterproof lipsticks listed above are all amazing options for those who want to keep their lip hydrated, soft, supple, and look in place, no matter what life throws at them.
From long-lasting, ultra-hydrating formulas to vivid hues that won't budge, these top best lipsticks provide unbeatable coverage and color that will stay in place all day. So why not try one of these amazing waterproof lipsticks today and never worry about reapplying again?