Are you done dealing with smudgy eyeliner and raccoon eyes?
Lash extensions make your look more glamorous, but they can also be incredibly hard to maintain. That's where our recommendations with special formulas of long-lasting eyeliners come in – for a bold, intense eye look that won't budge all day!
Get a glamorous, professional style any time of the day with just one flick from our recommended unique eyeliners – no need to keep reapplying or worrying about fading throughout the course of your busy day. With these great quality assurances and colorful shades available, you won't have to settle for any less than extraordinary.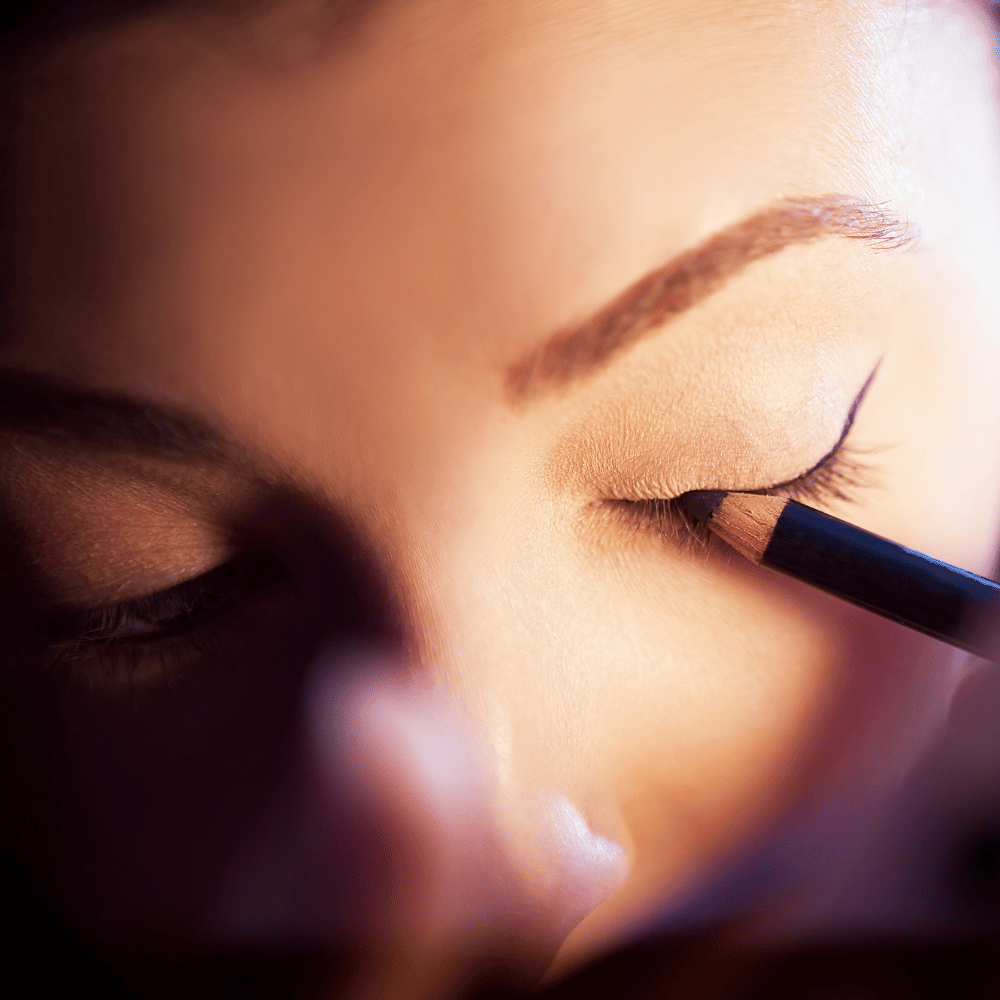 Try one of our recommended beautiful gel-formula eyeliners today and see what everyone is raving about!
We have searched for the best so you don't have to live with the rest. In order to serve you to the best of our ability and to keep our blog going, GarnesGuide may collect a share of sales or other compensation from the links on this page if you decide to buy. Each product was independently researched by our editors and the reviews may have been edited for length and clarity.
How We Choose The Best Eyeliner for Extensions
Applying eyeliner with lash extensions can be tricky. You don't want to tug on your extensions or damage them by using the wrong eyeliner.
It's hard enough finding the right eyeliner when you don't have lash extensions, but it's even harder when you do. So many products promise so much, but they all seem to fall short in one way or another.
We've reviewed them all and we think we've found the top eyeliner for lash extensions. Our best pick is this smudge-proof liner that lasts all day and comes in a variety of colors.
Best Highly Pigmented Formula For Eyelash Extensions
Lash Affair Black Liquid Eyeliner
Check Price On Amazon
Why GG Loves It
Step up your makeup game with Lash Affair's Black Liquid Eyeliner Fine Felt Tip Liner Pen, Eyelashes, and Lash Ex. This highly pigmented formula will last all day so you don't have to worry about touch-ups mid-day. Plus, it's safe for eyelash extensions so you can keep those lashes looking fly!
That's not the only thing this eyeliner is great for. The ultra-fine tip allows for a precise application with an easy smooth gliding finish. So you can create looks ranging from classic cat eyes to big bold wings and everything in between – the possibilities are as endless as your imagination!
What You Ought To Know
Have you ever struggled to find the best eyeliner that would accentuate your look AND keep your eye extensions in place? We've got the answer: Lash Affair Black Liquid Eyeliner! With its wax-free and oil-free formula, this eyeliner is specifically formulated to make sure extensions are kept intact.
No more worrying about smudging or harsh makeup removers damaging them.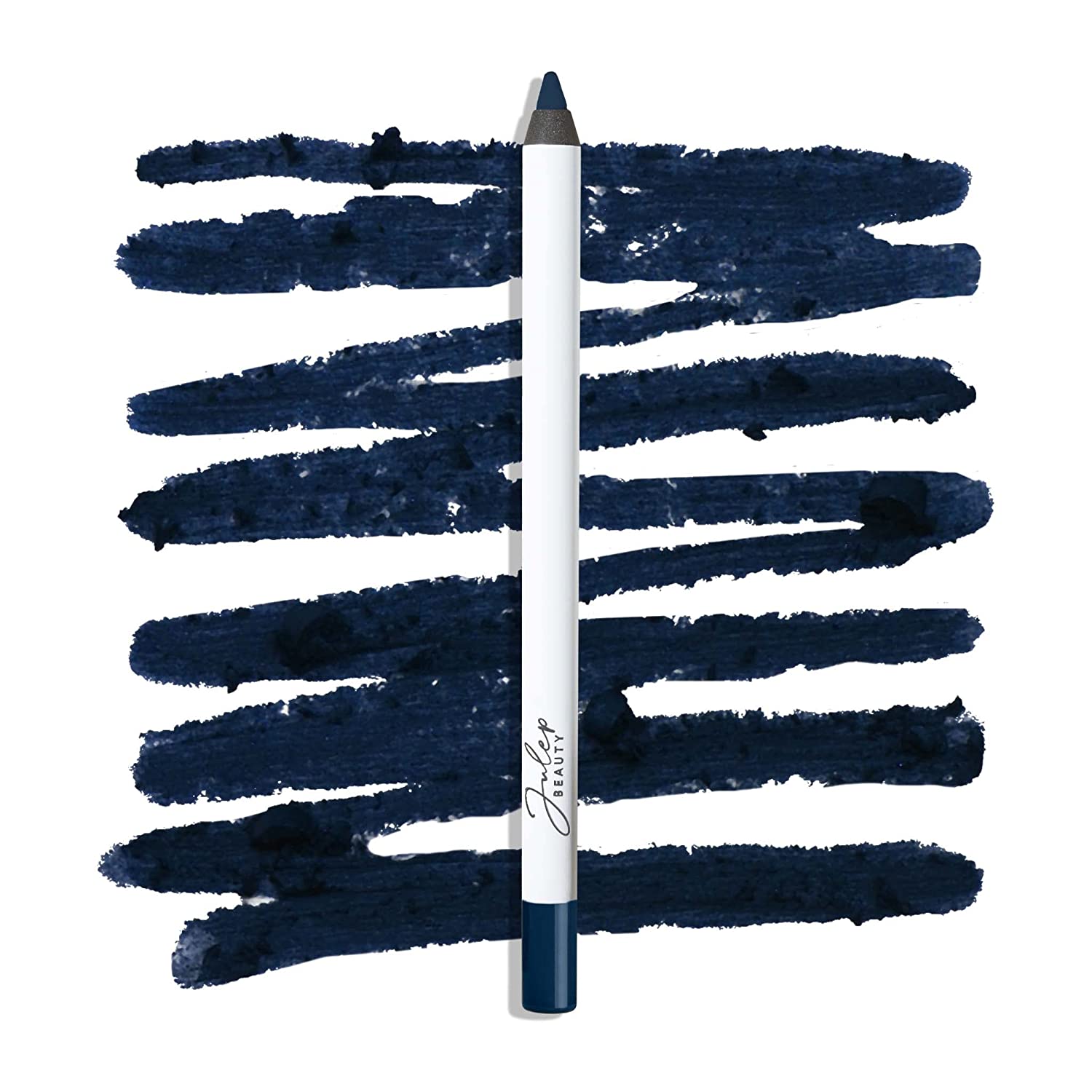 Best Gel Eyeliner for Eyelash Extensions
Julep When Pencil Met Gel Sharpenable Multi-Use Longwear Eyeliner Pencil
Check Price On Amazon
Why GG Loves It
Ready to take your look to the next level? With Julep's When Pencil Met Gel Sharpenable Multi-Use Longwear Eyeliner Pencil, you can add a bold colour payoff that will last all day or night.
This unique formula combines the ease of a regular eyeliner pencil with the creamy texture and smoothness of a gel — no tugging or skipping here! Packed with extra finely milled pigments for intense, saturated colour, this versatile pencil eyeliner is perfect for any look — from natural or intense to classic or sultry.
Beyond that, it works well for both top lashes and your inner waterline without disturbing your natural lash or eyelash extensions for an eye-catching effect you'll love. Choose from their array of dreamy shades, available in both shimmer and matte finishes.
What You Ought To Know
If you've been looking for that perfect eye look, the search is over! With over 20+ matte and shimmer shades to choose from, you'll be able to create gorgeous looks with a range of bold black tones, classic neutrals, and more.
Conveniently, they come best paired with a smooth application — just glide it gently along your top or bottom lash line. If you're wanting something smokier though, no need for a breakup; all you need is a brush or your fingertips to blend it out before setting it in place. Now we see why it's so popular!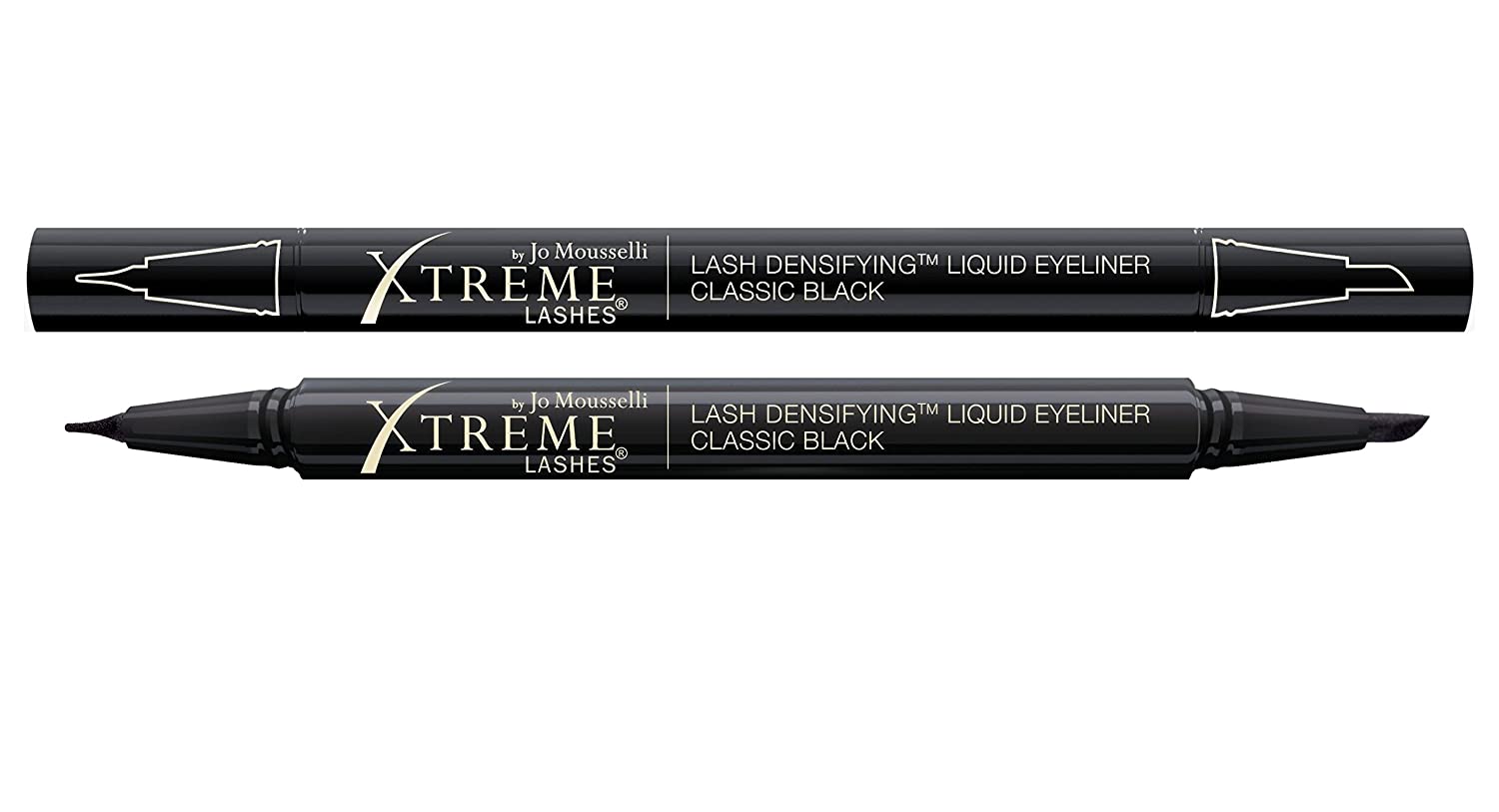 Best Lash Nourishing Liquid Eyeliner For Eyelash Extensions
Xtreme Lashes Lash Densifying Liquid Eyeliner
Check Price On Amazon
Why GG Loves It
Make a bold statement–literally! Xtreme Lashes Lash Densifying Liquid Eyeliner is here to take your look to the next level. With this hypoallergenic and dermatologist-tested formula, you don't have to worry about irritation or potential allergy issues.
This liquid liner is not just easy to wear eyeliner and remove, but it also has an added peptide-rich formula that makes it compatible with your existing eyelash extensions if applicable.
What You Ought To Know
Looking for a dense, glamorous style for your lash look? Then look no further than this innovative double-sided, felt-tip liquid eyeliner! Formulated with a nourishing peptide complex, it gives you the fullness and depth you're looking for.
Whether using the precision tip to fill in gaps along the lash line or the style edge tip for increased drama, you can always rest assured that this best hypoallergenic eyeliner is dermatologist-tested and cosmetics artist-approved. So grab yours today and get ready to bat those gorgeous lashes!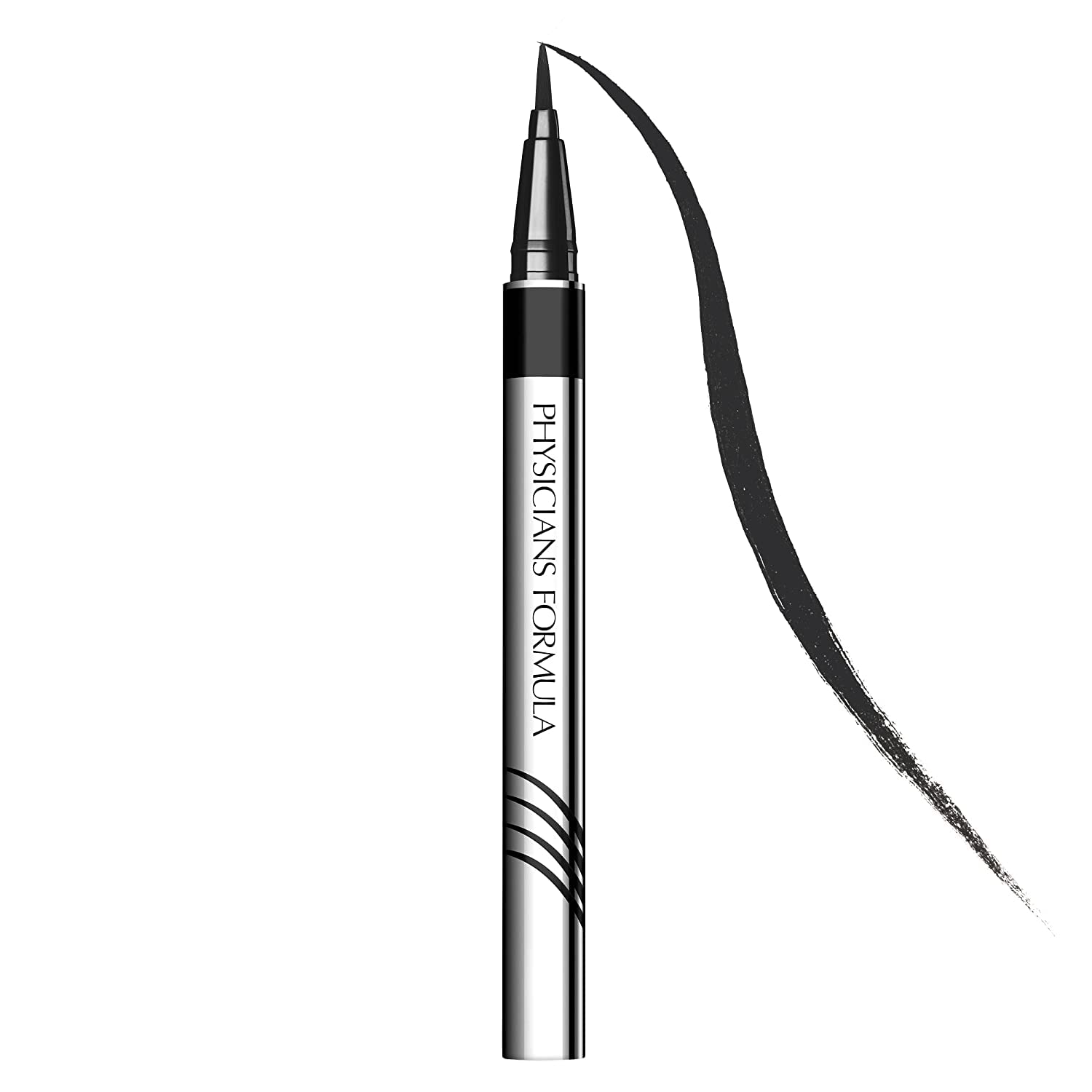 Best Sensitive Skin Eyeliner For Eyelash Extensions
Physicians Formula Eye Booster 2-in-1 Lash Boosting Eyeliner + Serum
Check Price On Amazon
Why GG Loves It
Perfect eyelashes start with Physicians Formula Eye Booster 2-in-1 Lash Boosting Eyeliner + Serum! This high-tech eyeliner and serum deliver bold, precise definitions while nourishing and conditioning lashes, giving you an extra dose of glamour.
Its Lash Boosting complex targets the base of your lashes to enhance their natural appearance and are perfect for creating classic or bold looks – it's totally up to you!
Plus, the added bonus of its hypoallergenic formula makes this product ideal for those with delicate skin. So don't wait – give your lashes the boost they deserve with Physicians Formula Eye Booster 2-in-1 Lash Boosting Eyeliner + Serum!
What You Ought To Know
If you're looking for a high-tech way to enhance the appearance of your lashes, then this eyeliner's innovative formula for lash extensions is a perfect choice. With one easy step, you can create the definition of liquid eyeliner and enjoy the added bonus of Lash Boosting benefits.
Unlike other products which are simply placed on top of your lashes, this formula targets the base, where it's most effective. Thanks to its user-friendly eye-lining tool, even beginners can easily get a natural defined look with effortless results.
Plus, with regular use, you can get lasting Lash Boosting effects - after two weeks nearly 75% of women experienced longer, fuller, and more enhanced lashes and over 91% saw improvements after four weeks! All this without needing to wear mascara - amazing!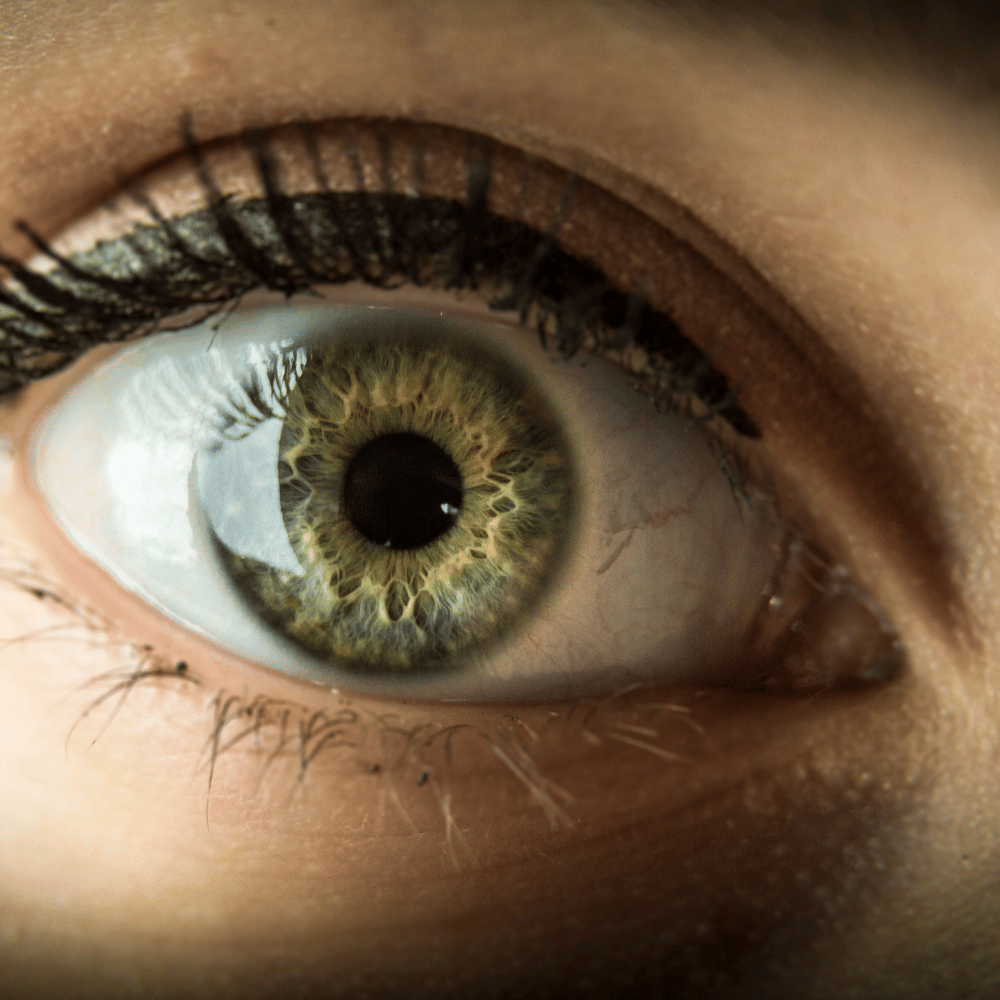 FAQs About The Best Eyeliner for Lash Extensions
Applying eyeliner with lash extensions can be intimidating! It can be difficult to know exactly which type of eyeliner is going to work best on your extended lashes. There are many factors to consider when searching for the best eyeliner, such as long-lasting power, smudge-proof and water-resistant formulas, and ease of application.
With so much information out there, sorting through all the details can feel like an overwhelming task - but don't worry, we have the solution for you. Our selection of top-rated eyeliners has been designed especially for those wearing lash extensions, so take a look at our FAQs today and find the perfect formula for your extended look!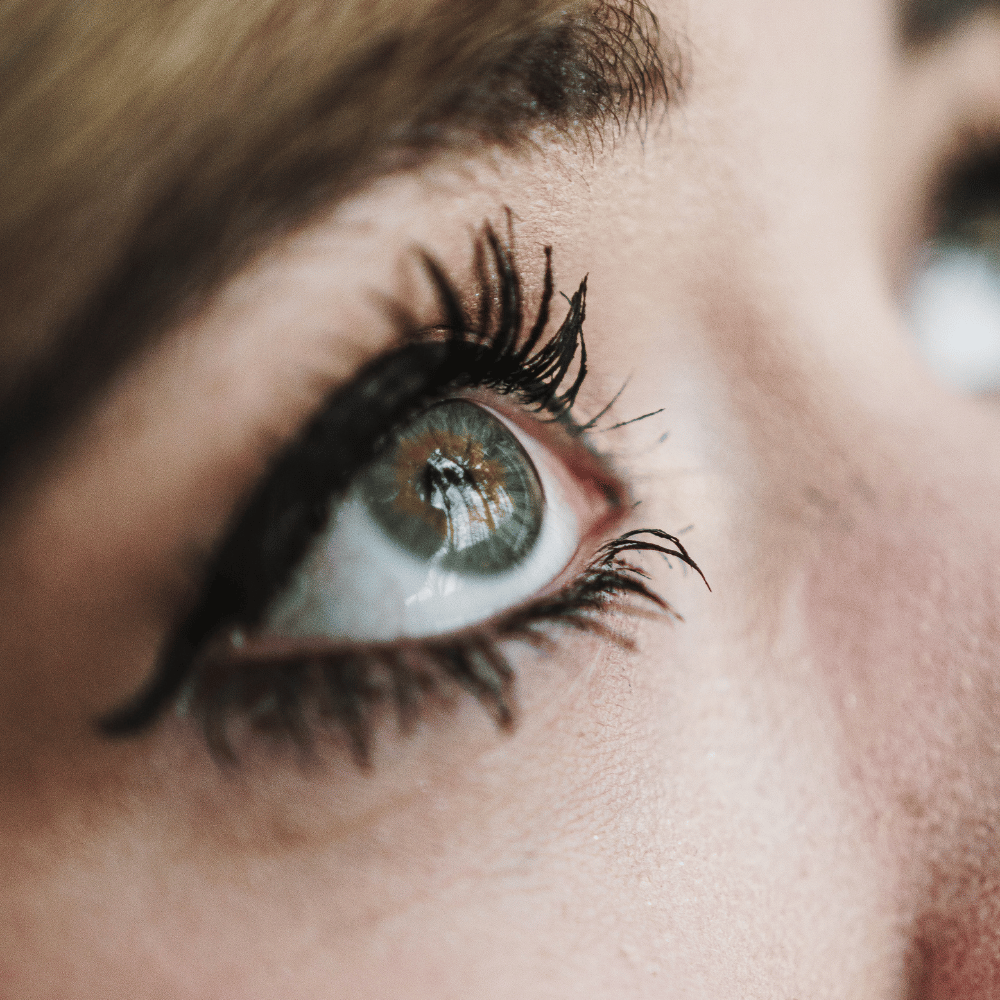 What Eyeliner Formulas Are Best For Lash Extensions?
When it comes to finding the best eyeliner for lash extensions, there are a few key factors to consider. First and foremost, you want to make sure that it's an oil-free eyeliner. Oils can break down the bonds of the lash adhesive used in extensions and cause them to prematurely shed or fall out. So be sure that your product is clearly labeled "oil-free" or "noncomedogenic."
In addition, it's important to choose a smudge-proof pencil eyeliner or liquid liner with a cream-like texture. Creamier formulas glide onto the lids easier and provide superior coverage along your lash line than dryer formulas do – which can create gaps as you wear eyeliner. Once applied, these creamier formulations tend to set up more quickly on the lashes and help keep your liner in place all day long!
When selecting a color preference for your eyeliner look, there's no need to stick within one shade range – feel free to explore your options within black shades ranging from charcoal grey up to dark browns! Depending on how dramatic you want your looks to be will determine which hue of black works best for you - so again don't hesitate to experiment with different intensities until you find one that truly complements your lashes beautifully!
In conclusion, when selecting an eyeliner formula for use with lash extensions ensure its oil-free/non-comedogenic nature; pick something creamy rather than dry; and test out different hues of black liners until finding what works for the look!
How Do You Wear Eyeliner If You Have Eyelash Extensions?
Applying eyeliner when you have lash extensions can be tricky, but it is possible. First and foremost, you should always use an eye pencil that is specifically designed for sensitive eyes. Make sure to sharpen the pencil before each use so that a precise line can be made.
When applying the eyeliner, hold your delicate extensions away from your lash line with a finger and then apply the liner in the exact same direction as your natural lashes. Be sure to stay close to your lash line for more precise control when making short strokes all the way across—this will help create a neat and clean look as opposed to one continuous dash!
Also, keep in mind that an angled brush may be helpful; this will allow you to draw thin lines between every single extension easily with no lumps or bumps on either side. Finally, mascara should not be used because it could damage your precious new lashes, instead opt for clear mascaras or even a few coats of fibers if wanting them darker without compromising their quality!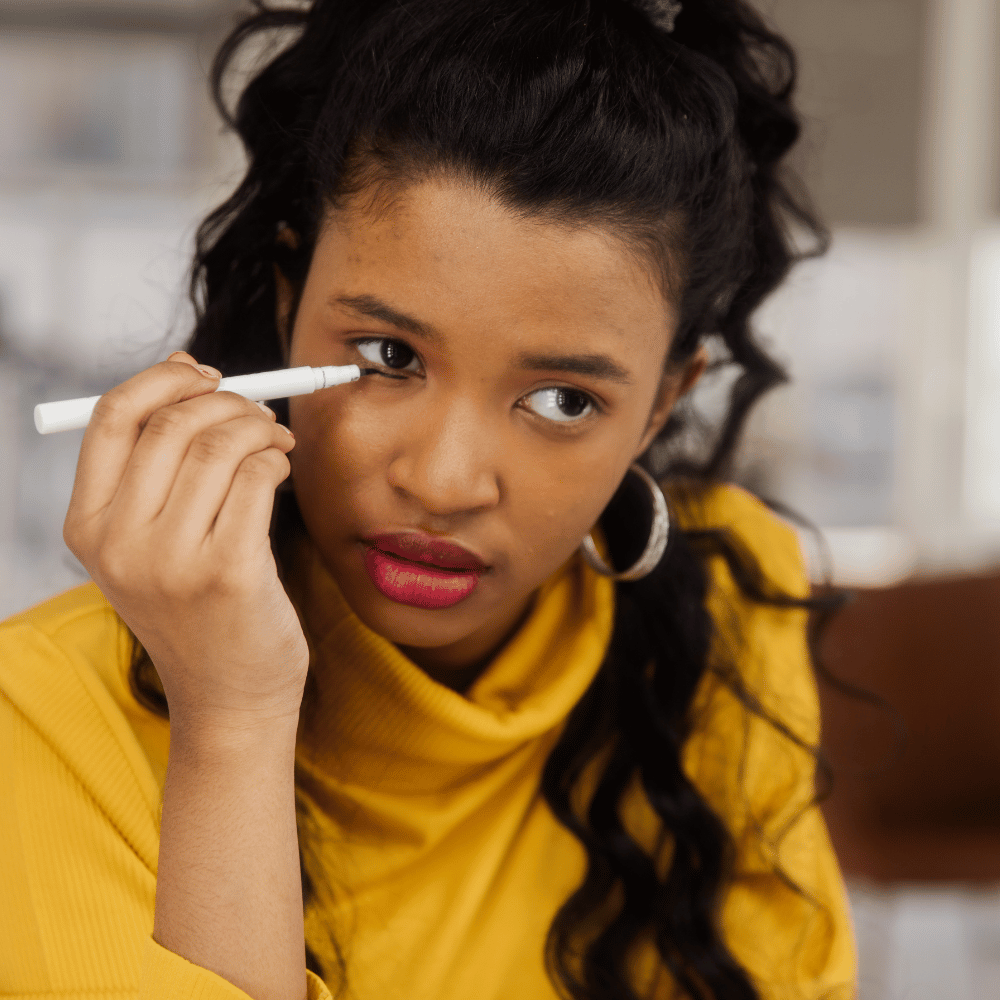 Is Oil-Free Eyeliner Good To Use For Lash Extensions
It can definitely be beneficial to use an oil-free eyeliner when you have lash extensions applied. Lash extensions are made from synthetic fibers that are applied to existing lashes using adhesive glue - and as such, will be more prone to breakage if exposed to oils that could weaken the bond between your natural lashes and the extension. Furthermore, it's important to remove eye makeup carefully with an oil-based makeup remover, as rubbing off heavy makeup without proper cleansing may cause premature loosening of the lash adhesive, leading to the falling out of your newly applied lash extensions.
Using an oil-free eyeliner ensures that the adhesive used for application is not compromised in any way by oil-based ingredients. Additionally, many professionals recommend avoiding any liquid or wax-based products around the eye area altogether while wearing lash extensions so they last longer and stay intact – so choosing a product specifically designed for sensitive eyes and free of oils is a great way to ensure this doesn't happen.
Lastly, you must cleanse your face properly at night with an oil-free cleanser; this helps clear away any dirt or bacteria buildup which could lead to infection if left unchecked - something especially concerning when your eyes are exposed due to wearing false eyelashes! Using an oil-free beauty product ensures you're taking care of both removing makeup and cleaning appropriately without damaging your new false lashes.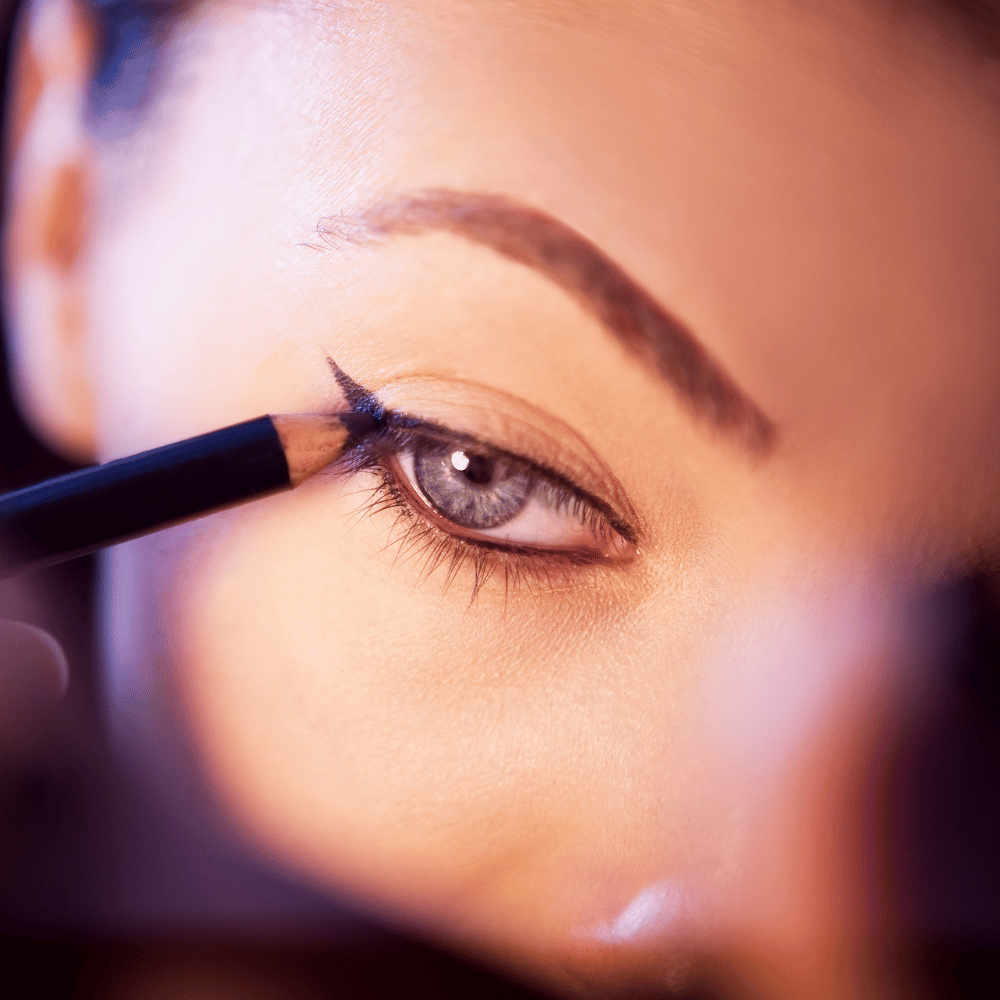 What should you not use with wearing eyelash extensions?
Eyelash extensions are great for those looking to give their eyes a boost of length and volume without having to go through the hassle of applying fake lashes or mascara every day. While eyelash extensions can look gorgeous, it's important to make sure you're taking proper care of your false lashes in order to prevent them from becoming damaged.
When it comes to taking care of your eyelash extensions, there are certain products that you should avoid using at all costs. Oil-based makeup remover is one such product that should be avoided when dealing with lash extensions. The components in these types of cleansers will break down the adhesive that holds your lashes together, causing them to fall out prematurely and leaving you with an uneven look.
Not only is it bad for your lash extensions, but it can also cause irritation and sensitivity around your eyes due to its oil content. Additionally, excessive use can lead to clogged pores around the eye area resulting in unnecessary blemishes forming in this sensitive region as well as dryness and dehydration over time due to its drying effects on skin cells.
To preserve the life of your original set-up lush beauties please opt for a gentle oil-free cleanser that has been specially formulated for lash extension users specifically - ensuring not only safe removal but optimum hydration levels too!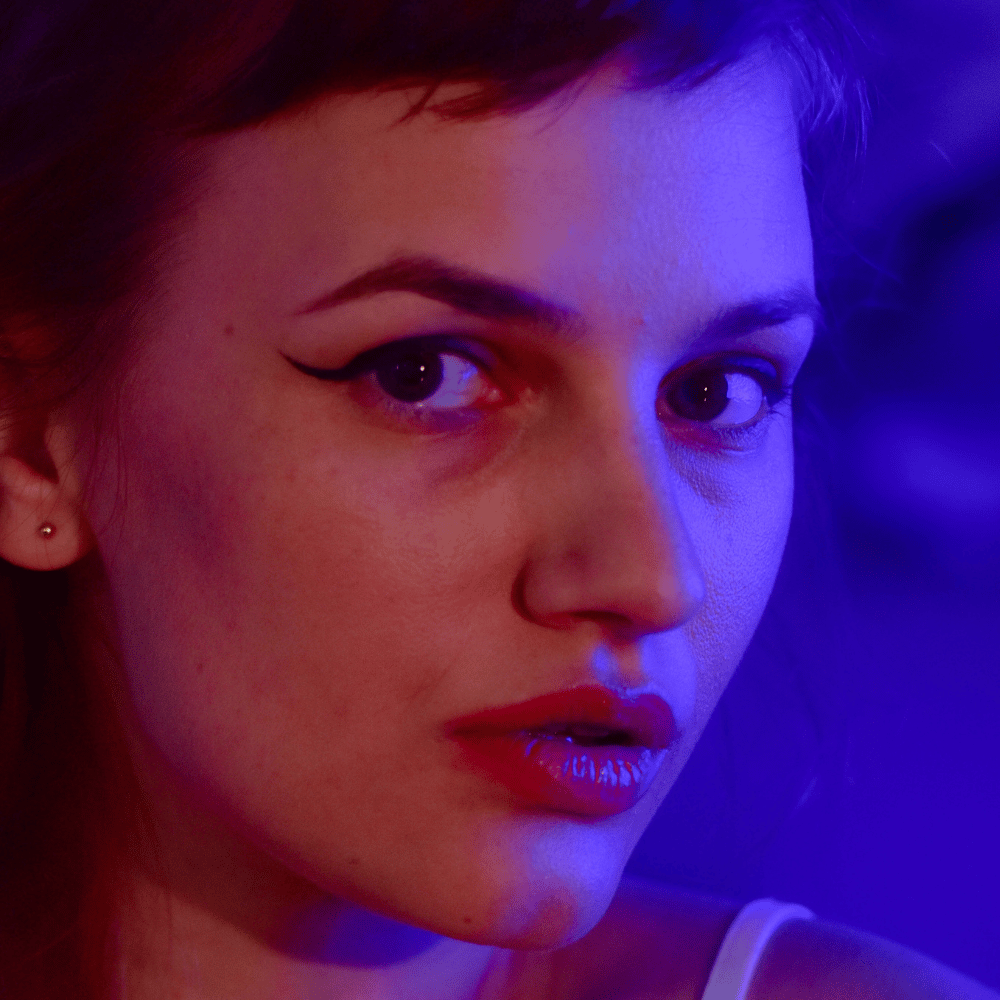 Our Top 4 Eyeliners For Eyelash Extensions
To wrap it up, there's no denying that creating the perfect eyeliner look to go along with your wearing eyelash extensions can seem daunting. But don't be scared! We've scoured the beauty market and found four of the best eyeliners for lash extensions.
Each liner has its unique benefits, from smudge-proof longevity to easy removal. Whether you prefer a bright and bold liquid line or an intricate precision pencil, these are some of the best products to make the application process easier and longer lasting.
Now you can enjoy your desired look worry-free knowing that we have done the research and found you the top eyeliners for eyelash extensions. So choose wisely and go forth embracing your beautiful look with confidence!