Eyeshadow palettes are essential in every makeup enthusiast's beauty kit. However, finding the right palette that perfectly suits your skin tone can sometimes be a struggle. With so many colors, finishes, and shades available in the market, choosing the perfect one that complements your complexion can be overwhelming. This blog post will explore whether these eyeshadow palettes suit individuals with different skin tones.
Anastasia Beverly Hills Modern Renaissance Palette
The Anastasia Beverly Hills Modern Renaissance palette has been one of the top favorites among makeup enthusiasts. It suits all skin tones, especially olive, tan, and darker complexion. The palette has a range of warm shades that are pigmented and easily blendable, making it perfect for creating bold and beautiful looks. However, people with fair skin may find it challenging to make the palette work as some shades can look too harsh on their skin.
Huda Beauty New Nude Eyeshadow Palette
The Huda Beauty New Nude Eyeshadow Palette, on the other hand, is suitable for all skin tones, including those with fair complexions. The palette offers a range of warm and cool shades with a buildable color payoff. The shimmery shades in the palette are perfect for creating a beautiful, luminous look for any skin tone. The palette also has a good mix of matte and shimmer shades that are easily blendable.
Morphe The Jaclyn Hill Eyeshadow Palette
The Morphe Jaclyn Hill Eyeshadow Palette features 35 shades catering to individuals with different skin tones. The palette has a range of pink, brown, and golden hues suitable for every skin tone. People with a fair complexion often choose the mattes from this palette to make it work for them. The shimmery shades are also perfect for people with medium and darker complexions to create a beautiful and luminous look.
Kylie Cosmetics Holiday Eyeshadow Palette
The Kylie Cosmetics Holiday Eyeshadow Palette has a range of bold and bright colors suitable for all skin tones. The palette has a range of warm tones that create a beautiful look for warm skin tones. The range of shimmery shades in the palette makes it the perfect fit for every skin tone. The palette is perfect for people who love experimenting with different looks.
Fenty Beauty Snap Shadows Mix & Match Eyeshadow Palette
The Fenty Beauty Snap Shadows Mix & Match Eyeshadow Palette features six colors catering to every skin tone. The matte and shimmer shades included in the palette are easily blendable and provide a fantastic color payoff. The Fenty Beauty palette is a perfect fit for people with any skin tone, as it has a range of shades that beautifully complement each tone.
Choosing the perfect eyeshadow palette can be daunting, as endless options are available in the market. However, we hope this blog post has given insight into which eyeshadow palettes are suitable for different skin tones. It's important to note that while these palettes work well for various complexions, it's ultimately up to personal preference. Remember to always experiment with different colors and finishes to find the palette that best suits you.
We have the solution if you're tired of trying countless eyeshadow palettes and still not finding the perfect one for your brown eyes! Our team of experts has done extensive research and handpicked the best eyeshadow palettes for brown eyes that are bound to leave you feeling confident and beautiful. From warm neutrals to bold pops of color, these palettes are perfect for any occasion and will enhance the natural beauty of your brown eyes. To make things even easier for you, we've provided a link to find your next favorite brown-eyed eyeshadow palette. So what are you waiting for? Click the link and get ready to elevate your eyeshadow game!
What are the essential matte shades in an eyeshadow palette for brown eyes?
When considering an eyeshadow palette for brown eyes, it's essential to include a carefully curated selection of matte shades that harmonize with their warm and inviting depth. Incorporating versatile tones such as caramel, taupe, and deep brown is pivotal. These shades play distinct roles in creating a multidimensional effect. While caramel and taupe work harmoniously to provide seamless transitioning and subtle crease definition, deep brown lends itself to intense depth and precise contouring. Adding to the palette's richness are muted purples and burgundies, which introduce captivating tonal variations, amplifying the inherent warmth of brown eyes.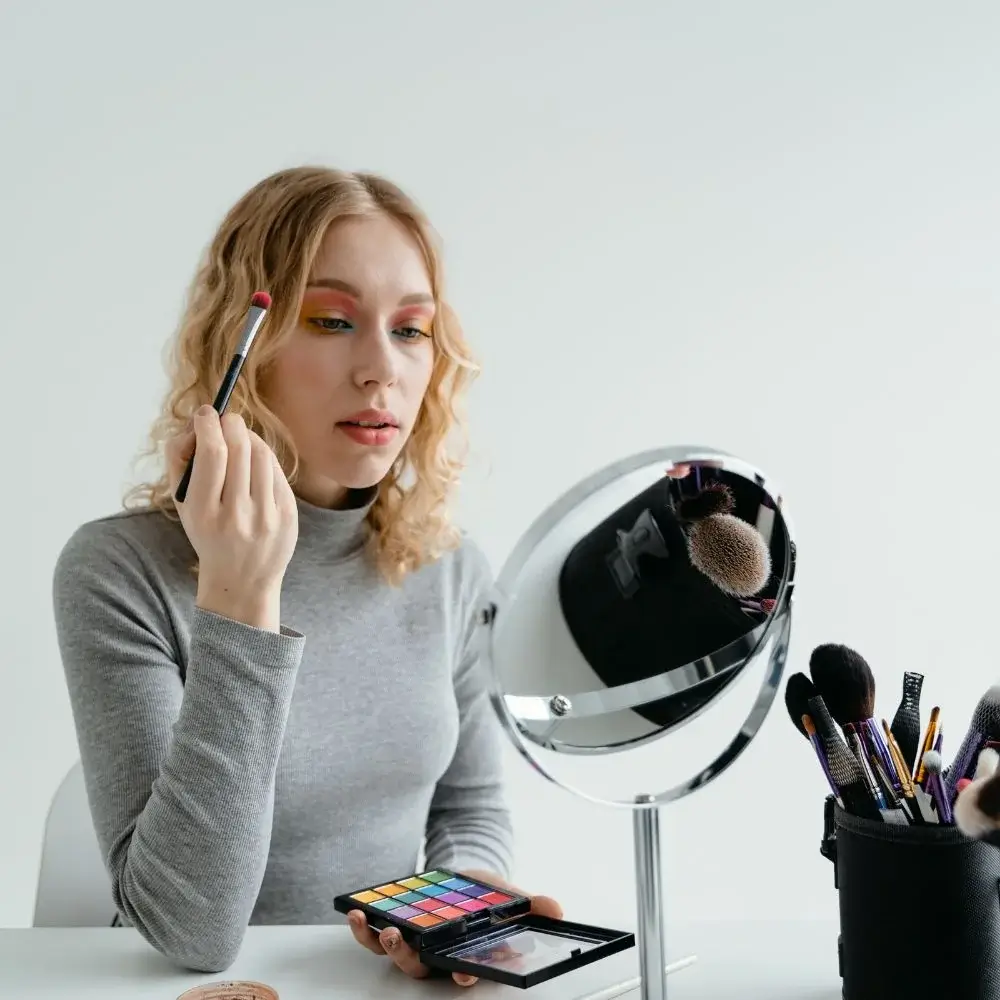 What are some eyeshadow palette combinations that make brown eyes pop?
Unlocking the potential of brown eyes requires expertly curated eyeshadow palette combinations that infuse vibrancy and allure. A dynamic pairing involves the synergy of luminous bronze and gold shades punctuated with a bold pop of teal or deep plum. This combination creates a play of contrasting colors that invigorates the eyes. Alternatively, the fusion of warm neutrals with vivid cranberry or aubergine intensifies the gaze, lending it depth and complexity. To add an element of intrigue, consider incorporating metallic tones that catch the light, further enhancing the captivating allure of brown eyes.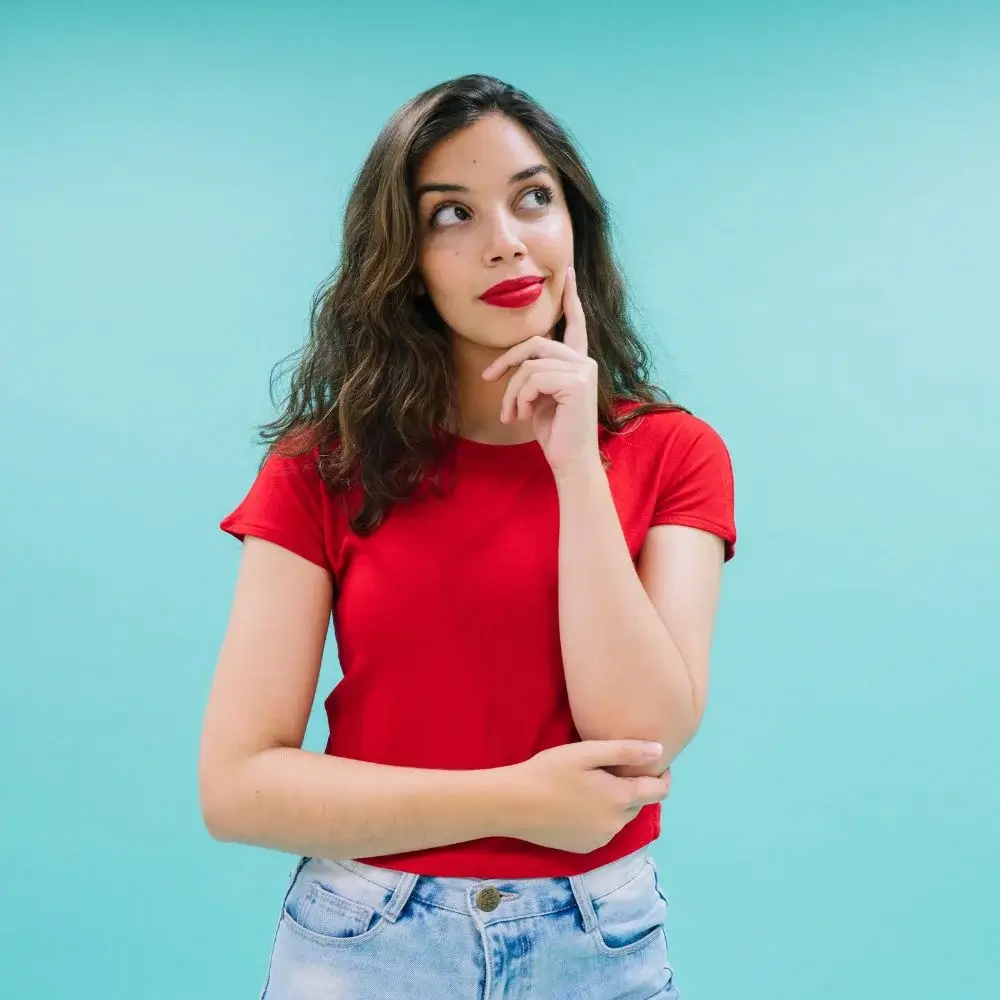 What are monochromatic eyeshadow looks that are ideal for brown eyes?
Monochromatic eyeshadow looks, thoughtfully tailored for brown eyes, celebrate their inherent warmth through a nuanced palette of tones. Warm earthy shades such as terracotta or rust create a cohesive and impactful canvas. A mesmerizing depth is achieved by seamlessly blending in deeper shades within the same color family, adding complexity to the gaze. Elevating the effect entails introducing a touch of shimmer to the center of the lid, which infuses a captivating radiance.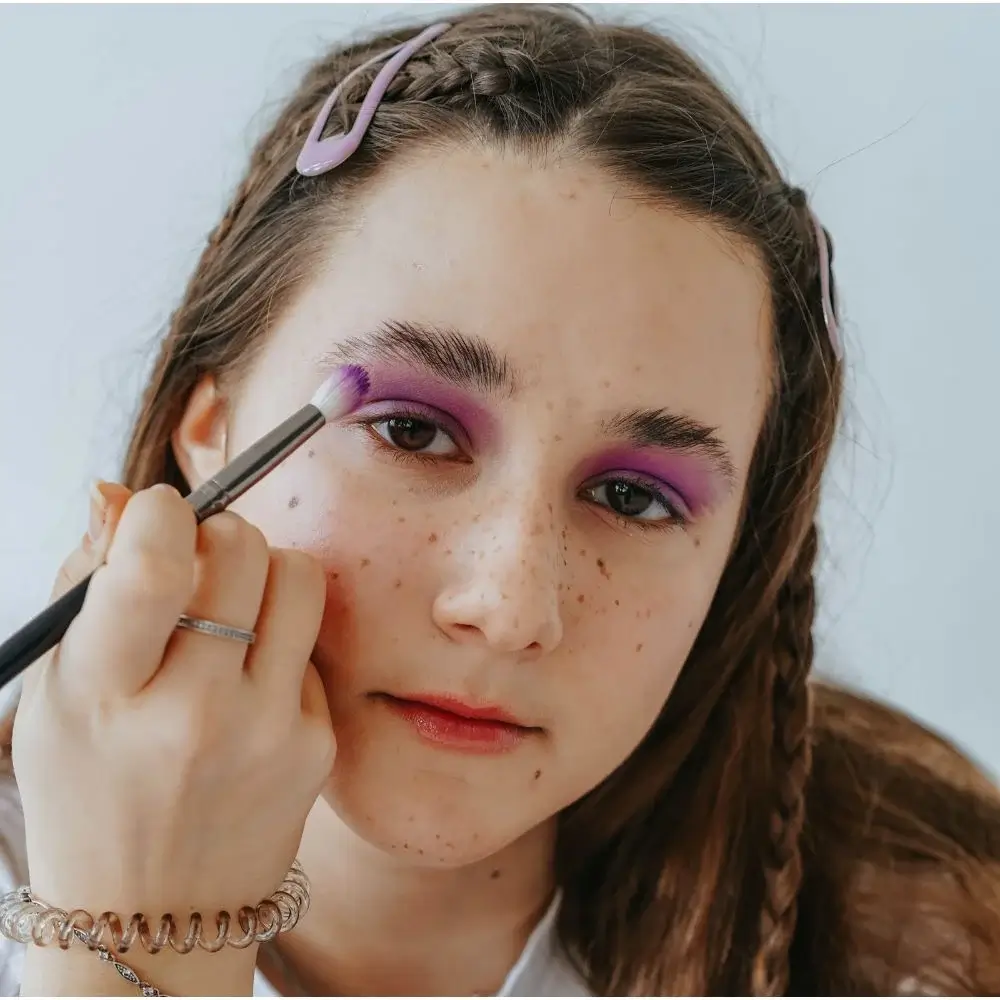 How do I apply eyeshadow to hooded eyelids to enhance brown eyes?
Applying eyeshadow to hooded eyelids demands a tailored technique that accentuates the allure of brown eyes while considering the unique eye structure. Begin by focusing on the outer corner, using a darker shade to create the illusion of lifted eyes. Employ a medium-toned shade in the crease, blending upwards for a seamless transition. Enhance the gaze by applying a shimmering shade to the mobile lid's center, drawing attention to the eyes. For equilibrium, delicately define the lower lash line, framing the gaze and complementing the captivating charm of brown eyes.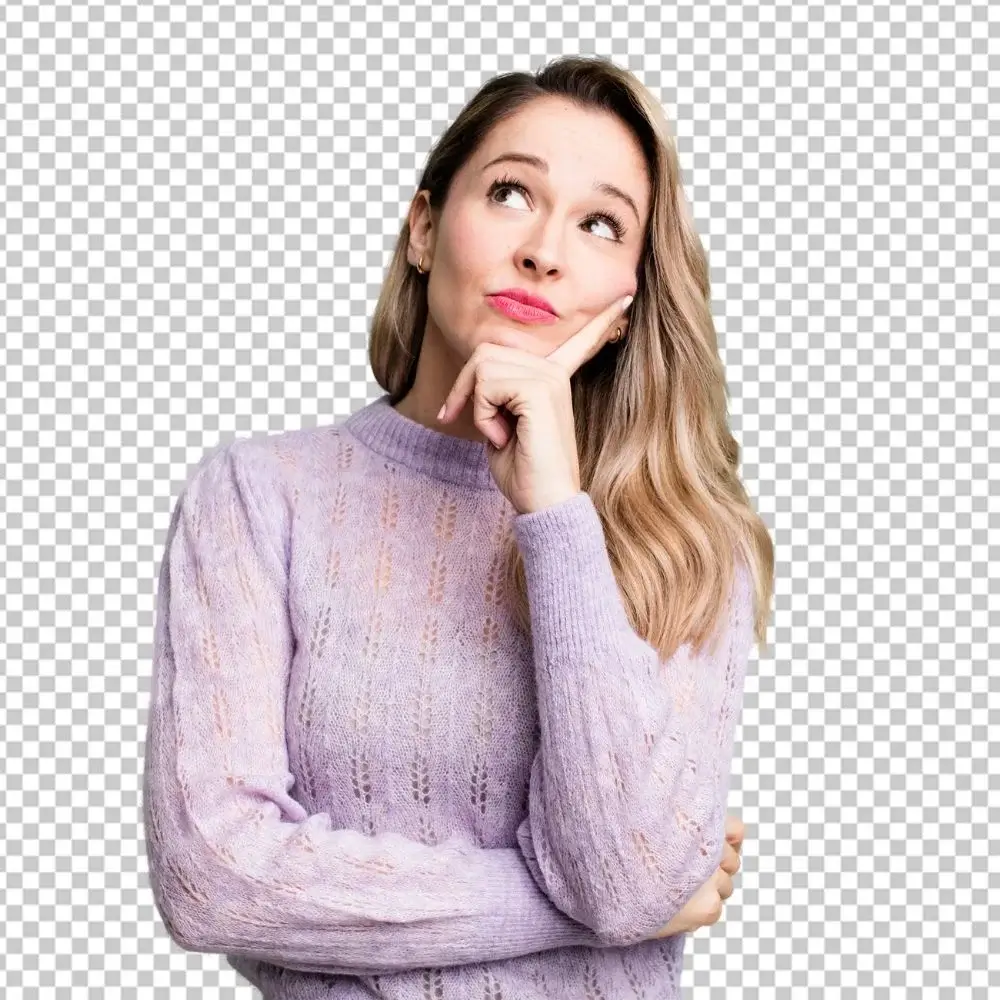 How can I prevent eyeshadow fallout from affecting my makeup under my brown eyes?
Mitigating the impact of eyeshadow fallout on the makeup beneath the eyes requires a proactive and comprehensive approach. Before application, ensure to tap off any excess shadow from the brush. For added protection, consider placing a tissue beneath the eyes to catch potential fallout, safeguarding the flawless look. Another effective measure involves applying a thin layer of translucent powder beneath the eyes before commencing the eyeshadow application. This acts as a buffer against fallout. Post-application, gently sweep away any fallout with a clean brush, ensuring an immaculate finish that showcases the enchantment of brown eyes.
Should I focus on a defined crease or a more diffused eyeshadow look for my brown eyes?
Navigating between a defined crease and a diffused eyeshadow look offers creative possibilities for enhancing brown eyes. A well-defined crease contributes depth and structure, accentuating the eye's natural contours while creating a captivating interplay of light and shadow. On the other hand, a diffused look, where colors seamlessly meld, imparts a softer and more ethereal effect that exudes understated elegance. The choice between these techniques hinges on personal style and eye shape.