Outfits- for anyone, they are the most essential form of self-expression. They can speak volumes about a person's personality, tastes, and mood on any given day. If you are someone who loves to experiment with fashion and enjoys making a statement with what you wear, then the Y2K trend is perfect for you.
However, with hundreds of styles, colors, & trends to choose from, it can be hard to navigate the world of Y2K outfits because not every outfit captures the true essence of this iconic era. Are you looking for the most fashionable, trendy, and authentic Y2K outfits that will transport you back to the early 2000s?
Don't worry; we have got you covered! We know that not everyone has the time to scour through thrift stores and online shops to find the perfect Y2K outfit, so we have compiled a list of the top 3 must-have Y2K outfits that will have you channeling your inner Britney Spears or Paris Hilton in a matter of minutes.
All these outfits are made from high-quality materials and are designed to give you that classic Y2K vibe while still being modern and versatile. Whether you need baggy pants that ooze street style or a Y2K grunge hoody for a more edgy look, this will be your go-to guide to embracing Y2K fashion with ease.
Keep reading to learn more about our list of the top 3 best Y2K outfits!
We have searched for the best, so you don't have to live with the rest. In order to serve you to the best of our ability and to keep our blog going, GarnesGuide may collect a share of sales or other compensation from the links on this page if you decide to buy. Each product was independently researched by our editors, and the reviews may have been edited for length and clarity.
How We Choose the Best Y2K Outfits:
Y2K outfits are not just a blast from the past; they're a dazzling revival of an era that brought forth an unprecedented wave of fashion innovation and self-expression. From post-apocalyptic dystopias to the realm of high fashion runways, these outfits are still making waves, & the logic is simple: they're timeless.
Whether you're a die-hard fan of the 90s or just stepping into the world of Y2K fashion, the process of picking the most captivating outfit can feel like searching for an old needle in a new (digital) haystack.
To help you out, we've done deep-dive research and have chosen the top three outfit styles that will not just make you look like a fashion icon but also make you feel like one! They are all versatile, easy to pull off, and packed with a sprinkle of nostalgia, so you can rock them anytime and anywhere you want.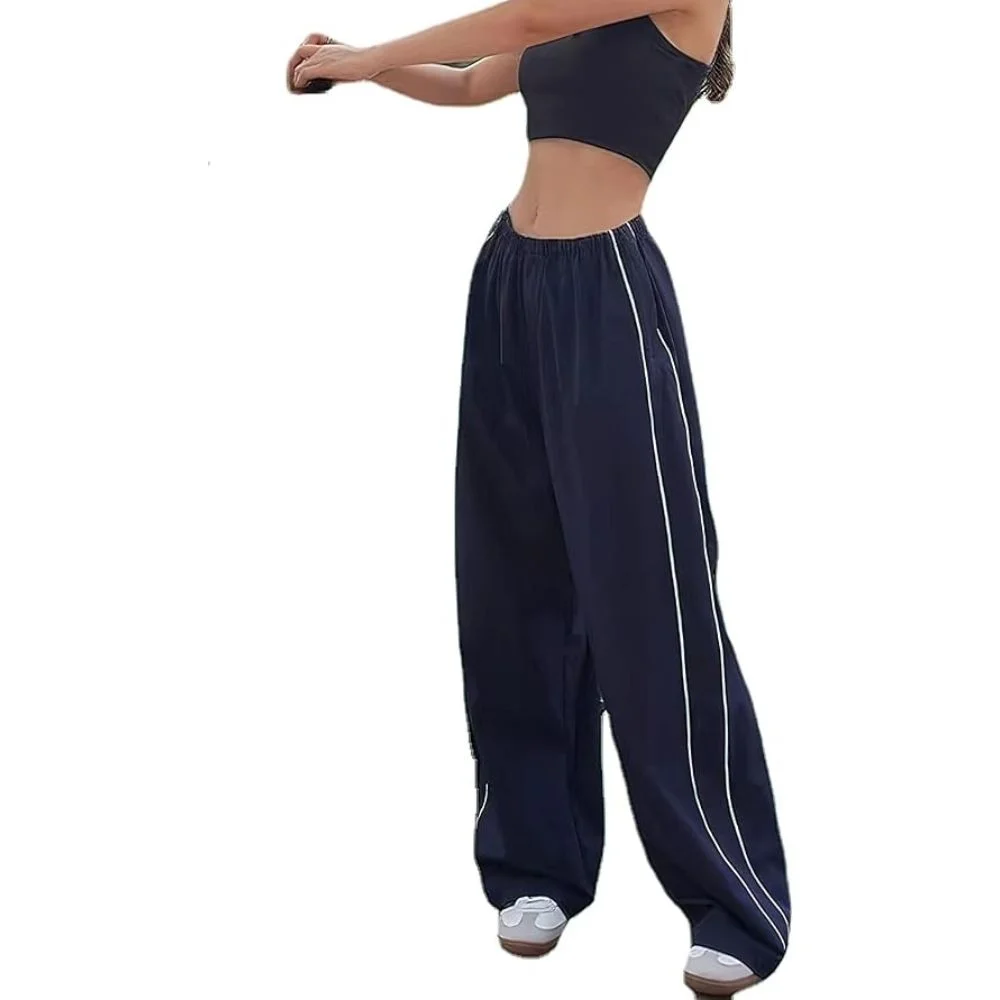 Best Y2K Baggy Pants For Gym, Yoga, and Casual Wear
XPONNI Track Pants Women Baggy Pants Y2k Pants
check price on amazon
Why GG Loves It
Baggy pants are the backbone of Y2K fashion, and it's easy to see why. These loose-fitting yet stylish pants are incredibly comfortable & versatile, making them a must-have in any fashion-forward woman's wardrobe. But with so many options out there, it can be tough to find the perfect pair of baggy pants.
If you are a woman who loves to stay on top of the latest trends, then you must check out XPONNI Track Pants Women Baggy Y2K Pants. These pants not only tick all the right boxes in terms of style, but they also offer a high level of comfort and functionality to ensure you look and feel your best at all times.
One of the show-stopping features of these baggy pants is the stretchy waistband. This allows you to easily adjust the waistband for a perfect fit, whether you prefer a looser or tighter style. This feature makes these pants ideal for all body types, as they can adapt to your unique shape and size. From dancing on the floor to running errands, these pants will stay in place and keep you looking stylish.
What You Should Know
The XPONNI Track Pants Women Baggy Pants Y2K Pants also feature a convenient slip-on closure type. No more fiddling with zippers or buttons; these pants simply slide on in one easy motion. This makes them perfect for those early morning gym sessions when you want to save time but still look stylish.
They are made from 100% polyester, a lightweight and durable fabric that is perfect for active wear. The material is also quick-drying, making these pants ideal for rainy or humid days when you still want to get your workout in. These pants are designed with utility pockets, adding both style and functionality.
You can easily store your keys, phone, or other essentials without having to carry an extra bag or purse. They are also available in multiple colors and sizes, so it doesn't matter what type of body or taste you have; there is something for everyone. Get your today & level up your athleisure game to new heights.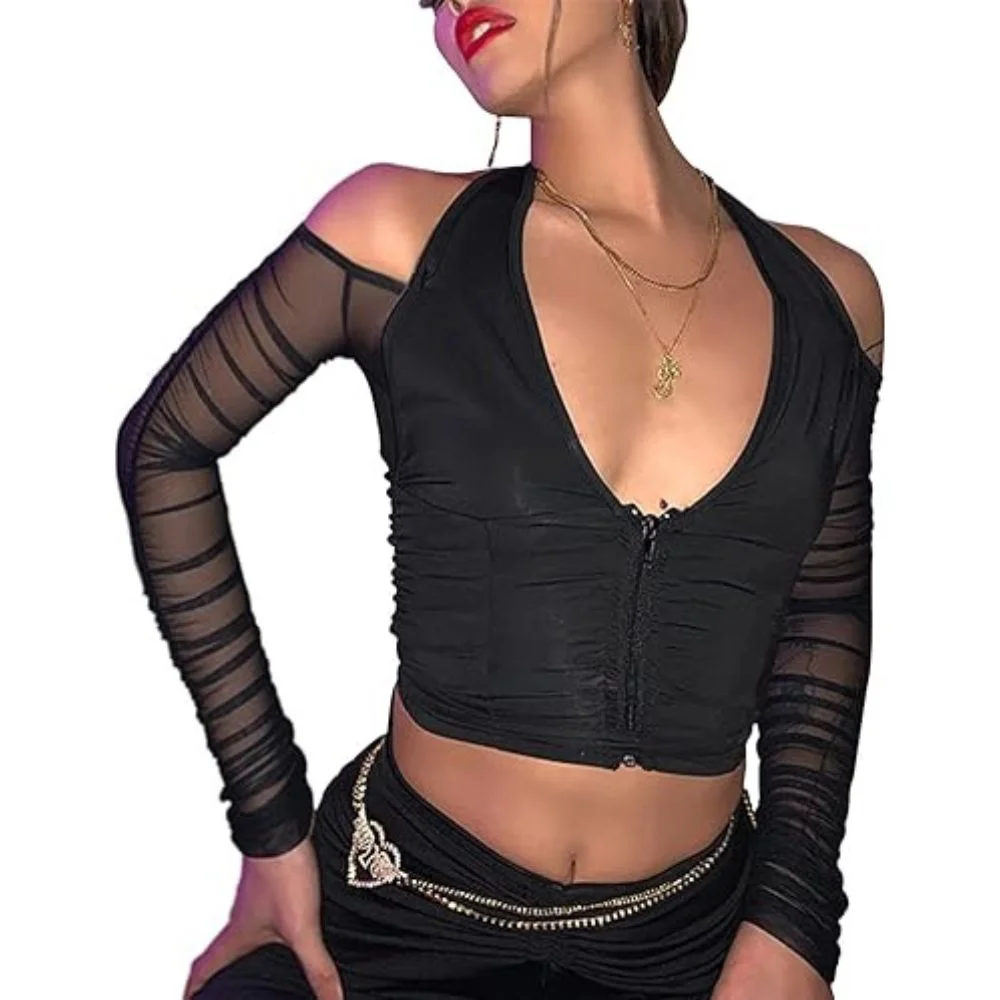 Best Y2K Top For a Trendy yet Timeless Look
Lancifolium Women's Halter Long Sleeve Crop Top Y2k Deep V Neck T-Shirt
check price on amazon
Why GG Loves It
You will absolutely love how flattering this shirt is, not because it's super sexy and stylish but because it's made with quality materials that will last. The Lancifolium Women's Halter Long Sleeve Crop Top Y2k T-Shirt features a deep neckline and long mesh sleeves, giving it a unique twist on the classic halter top.
The ruched detailing on the front adds texture and dimension to the top, making it stand out from other crop tops in your wardrobe. It's made from stretchy fabric that allows a custom fit, making it perfect for any cup size. So, whether petite or curvy, this top will flatter your figure and highlight all the right curves.
It helps you to define your waistline and create an hourglass shape, making it a must-have for any Y2K outfit. The crop top length is perfect for pairing with high-waisted bottoms, whether it's a skirt or jeans. If you want to make a statement, pair it with a mini skirt and chunky boots for a chic Y2K-inspired look.
What You Should Know
The most eye-catching aspect of this top is the deep V-neckline, which can be a little revealing. But don't worry, it's still wearable without feeling too exposed. It has a zipper closure at the back, ensuring a secure fit. This closure makes it easier to put on and take off the top without ruining your hairstyle.
But the plus point of this top is its versatility. With this, you can look resort-ready, no matter if you're chilling at the beach, hitting up a party, or just taking a stroll in the city. It's also suitable for different occasions, such as festivals, concerts, or even a casual day out where you want to turn everyone's head.
Simply put, this top is adorable, comfy, sexy, and extremely well-made so that you can keep it as a go-to staple in your wardrobe. It's also machine washable, so you don't have to go through the hassle of handwashing it every time. With three colors to choose from - black, white, and brown- you can mix and match it with different styles of bottoms for a new look each time that suits your mood and personality.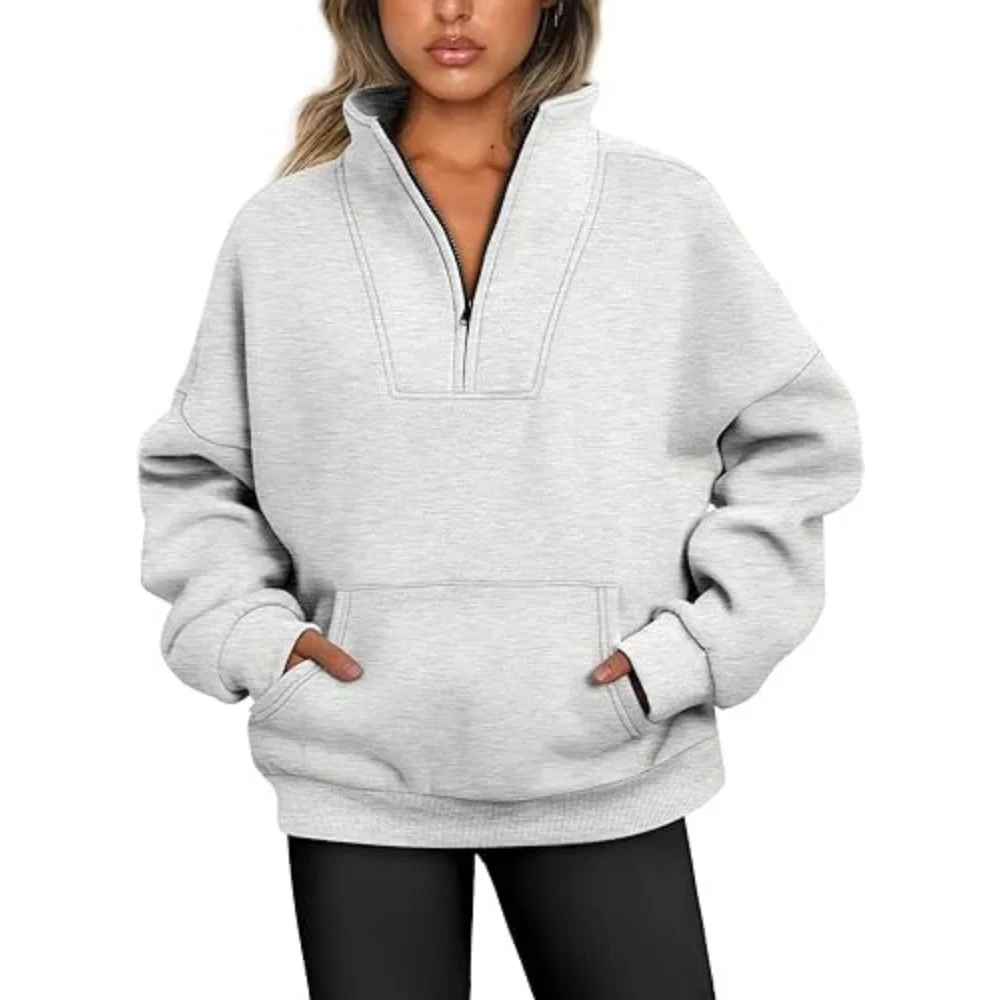 Best Y2K Oversized Hoodie For Various Activities and Events
Trendy Queen Sweatshirts Half Zip Pullover Quarter Zip Oversized Hoodie
check price on amazon
Why GG Loves It
This fall fashion oversized fleece hoodie from Trendy Queen is one of the most spiced-up and trending designs that brings back the retro vibe of yesteryears. Hoodies are undoubtedly the most popular choice when it comes to Y2K outfits, and this one will surely make you the fashion queen of your squad.
With its unique half-zip design and loose fit, this pullover can be worn as an oversized hoodie, making it the perfect choice for daily wear. The drop shoulder collar gives this sweatshirt a relaxed yet stylish look that exudes comfort and elegance at the same time. It's an ideal choice for those looking to keep up with the latest trends while still being comfortable in their clothes to conquer their daily tasks.
Unlike many other Y2K fashion pieces that are only suitable for certain occasions or seasons, this half-zip pullover is versatile enough to be worn all year round. No matter if it's for a casual day out, office wear, or even a party, it will be your perfect go-to outfit. It's also suitable for various outdoor activities like running, hiking, and biking; it's an all-in-one hoodie that you can wear at any time and place.
What You Should Know
Apart from its trendy design & versatility, this pullover also stands out with its high-quality construction and comfortable fit. Made from premium quality fabric, it offers warmth without being too bulky/heavy. The oversized fit adds to the comfort factor while giving you enough room to layer up on colder days.
The fusion of 55% Rayon and 45% Polyester gives this pullover the desired softness and durability and adds to its wrinkle-resistant properties. It's also easy to care for; just throw it in the machine, and you are good to go! And with its wide range of sizes from S to XXL and colors, it's easy to find the best fits.
It can also be paired with jeans, sweatpants, or joggers, making it a versatile addition to your wardrobe. So why wait, ladies? Pick this cool Y2K oversized fleece hoodie and nail the perfect fall and winter look!
Here are Some FAQs to Help Guide you on Your Way!
In this world, where clothes reflect your personality, it's common to get bored with the same mundane outfits. Sometimes, all you need is a push to shake things up and add some excitement to your closet. That's where Y2K fashion comes in - bringing back the funky and eclectic style of the 90s & early 2000s.
But what types of outfits are considered Y2K? How can one make them more chic? Here are some of the most frequently asked questions (FAQs) about Y2K outfits that will help you elevate your style game:
What types of clothing items are considered Y2K?
There are a variety of clothing items that can be considered Y2K, and many of them have a sexy and vibrant appeal. Some examples include crop tops, low-rise jeans, mini shirts, and tube tops. These garments were popular in the late 1990s and early 2000s and have made a comeback in recent years.
Other signature Y2K items include baguette bags, baby tees, butterfly clips, jackets, and chunky shoes. Many of these pieces are complete with details like rhinestones, lace, and bold patterns. They are ideal for a summer look and can be paired together for a fun and trendy outfit that Gen Z loves to wear.
How can I add a modern twist to Y2K fashion?
The popularity of Y2K fashion has exploded in recent years, bringing back the early 2000s trends that once dominated pop culture. If you want to embrace this nostalgic style but also add a modern touch to it, then opt for vibrant colors, bold prints, and oversized silhouettes to elevate your playful Y2K look.
One way to incorporate modern elements into your Y2K outfit is by mixing & matching different textures. For example, pair a fuzzy crop top with your favorite vinyl mini skirt and choker, or style a sheer mesh top with cargo pants. When you shop for these accessories, pick from popular brands. Also, explore the business details like sale offers, price, and color options, as not everyone wore Y2K outfit combinations.
Are Y2K fashion and vintage clothing the same thing?
No, exactly not. Y2K fashion, also known as "millennium fashion," refers to the trendsetting clothing styles of the early 2000s. This era was characterized by bold colors, low-rise jeans, and crop tops.
In contrast, vintage clothing is defined as clothing that is at least 20-100 years old and represents the styles of that specific time period. Simply put, vintage clothing is a term used to describe second-hand or pre-owned clothing from the previous decade, while Y2K fashion refers to styles from the 2000s. From a baguette bag to cargo party pants, wearing Y2K outfits is the best way to achieve a great look.
Best Y2K Outfits:
The turn of the millennium may seem like old history, but the fashion trends from that era are making a comeback in a big way. Whether you were a teenager or young adult during the 2000s, you may feel a sense of nostalgia as you see some of these iconic styles making a resurgence in today's fashion world.
The top 3 Y2K clothing pieces that we have shared above are some of the most popular Y2K fashion trends that are being revived today. These outfits are crafted in a way that brings back the effortless coolness of the 2000s while adding a contemporary flair that fits right into the modern fashion scene.
Whether you want to channel your inner Paris Hilton or simply add a touch of Y2K style to your everyday wardrobe, these outfits are ideal for any occasion. From casual hangouts with friends to music festivals or even a night out on the town, these chic Y2K pieces will have you looking and feeling your very best.