Shoes are one of the most indispensable accessories that we use on a daily basis, not because they are fashionable, but because they protect our feet from various external factors. However, some of us often encounter distress & pain while wearing standard shoes, especially if we have bigger toes or wider feet.
Luckily, over time, shoe manufacturers have started to prioritize comfort and foot health by designing shoes with a wider toe box. These wide-toe box shoes are specifically designed to provide enough room for your toes to spread out naturally, allowing for better balance, stability, and overall foot health.
However, with rising demand for these types of shoes, the market is now flooded with various options that make the selection process overwhelming because not all of them will live up to your expectations. Do you need the most breathable and light pair of wide-toe box shoes that's suitable for all-day wear?
Don't worry; We have got you covered. We know that finding the perfect pair of wide-toe box shoes can be challenging. That's why we have carefully curated a list of the best top-rated wide-toe box shoes for both men and women so you can easily choose one that suits your taste, budget, and foot demands.
All these wide-toe boxes are crafted with high-quality materials that provide superior comfort, support, and durability. Whether you're an athlete lady who needs flexibility and protection for long runs or a man looking for casual wide-toe box shoes that offer style and comfort, this list has something for everyone.
Keep reading to learn more about our list of the top 3 best wide-toe box shoes!
We have searched for the best, so you don't have to live with the rest. In order to serve you to the best of our ability and to keep our blog going, GarnesGuide may collect a share of sales or other compensation from the links on this page if you decide to buy. Each product was independently researched by our editors, and the reviews may have been edited for length and clarity.
How We Choose the Best Wide-Toe Box Shoes:
Wide-toe box shoes are not just a footwear choice; they represent a paradigm shift in prioritizing the well-being of our feet. They are designed to give our toes the freedom they deserve, enabling them to spread naturally. This not only enhances comfort but also promotes proper foot alignment and function.
But with hundreds of designs, styles, and brands available in the market, finding the best pair is not as easy as it sounds. As not every foot has the same shape, not all wide-toe box shoes are created equal.
To help you in this quest for the best, we have done a deep dive research and have selected the top 3 wide-toe box shoes that embody the essence of comfort, support, and style so you can walk with ease.
Whether you are going on a walk with your precious pup, running errands, or simply want to be on-trend without sacrificing comfort, these stunning shoes deliver the perfect blend of functionality & fashion so you can tread confidently through your day, knowing that your feet and style both are well taken care of.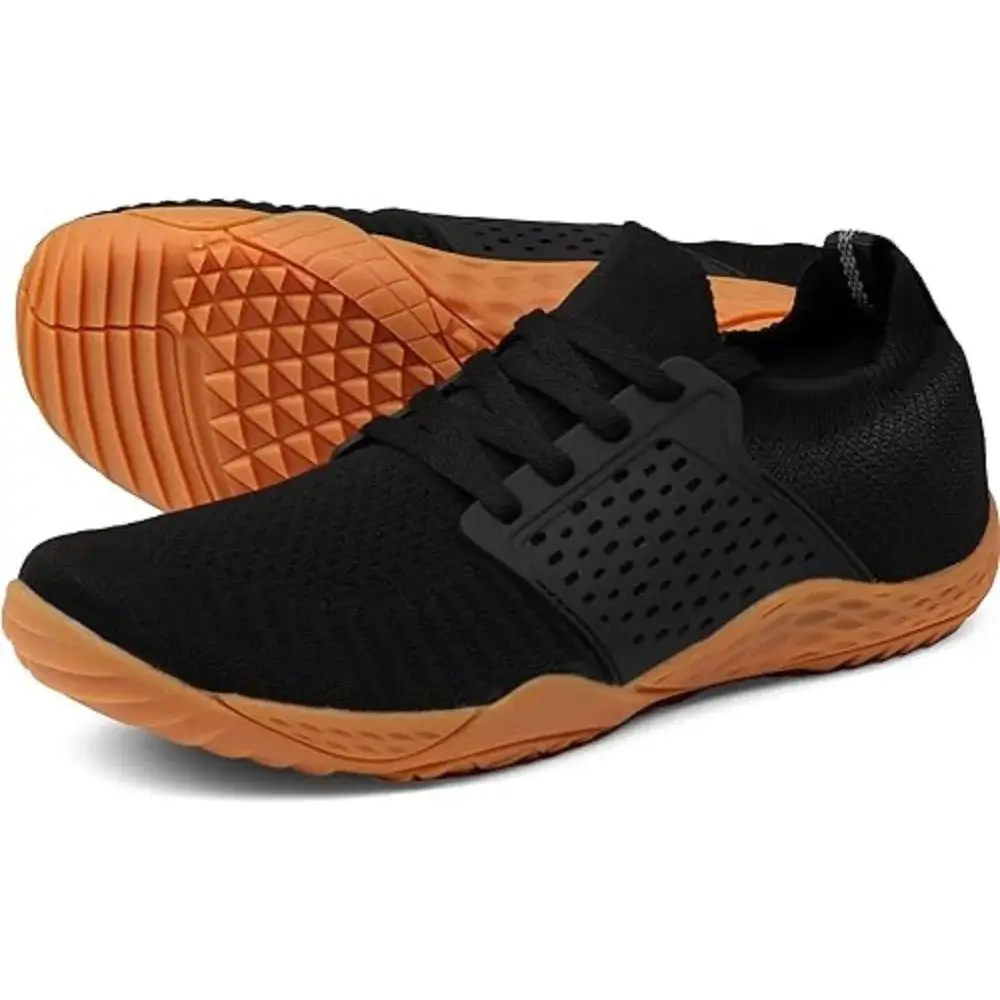 Best Wide Toe Box Shoes For Mens
WHITIN Men's Cross-Trainer | Barefoot & Minimalist Shoe
Check Price on Amazon
Why GG Loves It
Have you been on the lookout for shoes that could help your toes breathe? Do you have tried out plenty of options before but found them too constrictive for your liking? If so, then don't worry because the WHITIN Men's Cross-Trainer is one of the most remarkable options out there for men with wider feet.
The unique design of these shoes caters to individuals seeking both comfort and freedom of movement. The WHITIN Men's Cross-Trainer boasts a wide anatomical toe box, ensuring that your toes are not uncomfortably compressed but have the space they need to spread naturally without any constraints.
This feature is more than just about comfort; it promotes better balance and stability as you navigate through your daily activities or workouts. Plus, these minimalist shoes come with a thin, flexible rubber sole. This sole design enhances proprioception, allowing your feet to receive valuable sensory feedback from the ground. It's almost as if you're walking barefoot but with the protective benefit of a shoe.
In a world filled with shoes that prioritize style over function, these barefoot and minimalist shoes stand out as a testament to comfort, practicality, and foot health. With these super amazing wider-toe shoes, you can say goodbye to cramped toes and hello to a shoe that truly honors the anatomy of your feet.
What You Should Know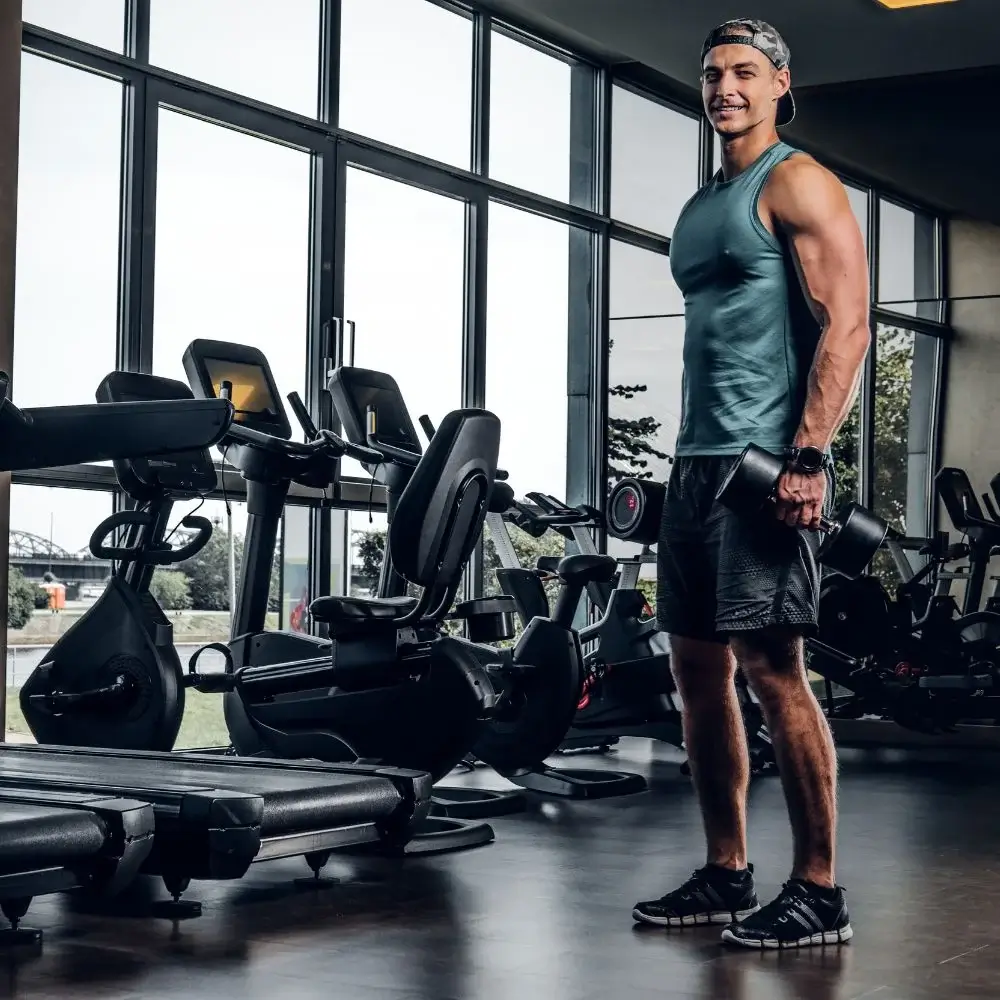 One of the most ideal features of these shoes is the zero-drop sole, which means there's no difference in height between the heel and toe areas. This innovative design not only encourages a natural stride but also supports a healthy posture, reduces stress on your joints, and enhances overall foot comfort.
Whether you're an avid runner looking to improve your performance, a dedicated fitness enthusiast seeking optimal support during workouts, or simply someone who values comfortable footwear for everyday activities, the WHITIN Men's Cross-Trainer is like a dream come true for you to try out.
But what truly makes these wide-toe box shoes exceptional is not just their impressive design but also the fact that they are completely vegan-friendly. This means no animal products were used in making these shoes, making them an ethical choice for those who don't want to compromise their beliefs.
The best part? These wide-toe box shoes are available in 16 different colors and sizes, so whether you opt for black, blue, white gum, or any other vibrant shade, you can find the perfect fit for your style and personality. So pick the size & color that speaks to you and start taking your fitness goals to new levels.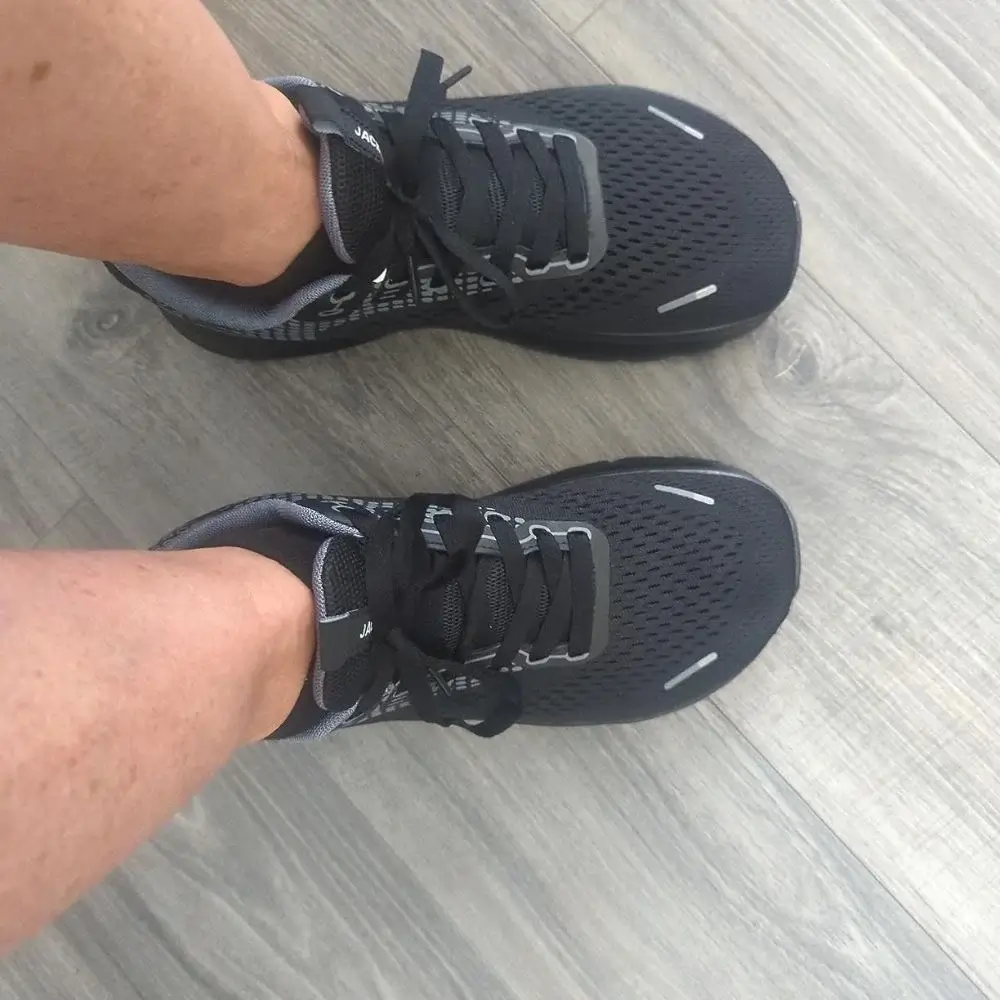 Best Wide Toe Box Shoes For Both Men & Women
JACKSHIBO Wide Toe Box Shoes
Check Price on Amazon
Why GG Loves It
This unisex pair of wide-toe box shoes by JACKSHIBO is one of the best options for those who are looking for comfortable and supportive shoes without compromising on style. They are available in multiple sizes and five amazing colors like black, green, and more that will suit your fashion preferences.
One of the biggest highlights of these super wide shoes is their cushiony comfort, which provides great support and protection to your feet while being gentle on them at the same time. The wide-toe box design allows for natural toe splay and prevents any discomfort or pain caused by tight-fitting shoes.
These spacious toe box shoes are made with high-quality, breathable fabric that ensures proper airflow and keeps your feet cool & dry throughout the day. This is especially fruitful for those who have to walk or stand for long periods of time, as it helps to prevent any sweat or odor that can cause discomfort.
These wide-toe box shoes also have a unique sole design that provides excellent shock absorption and energy return, giving you a bouncy feel with every step. In addition to their practical benefits, these JACKSHIBO wide-toe shoes also have a super sleek and trendy design that can easily match any outfit.
Whether you are a man who has wide feet or a woman who prefers more room in the toe area, these shoes are a great fit for anyone looking for comfort and style. So why wait? Get your pair of JACKSHIBO wide-toe box shoes today and experience the difference they can make in your daily thrilling activities!
What You Should Know
These wider-toe shoes are not just for those with wide feet; they are also great for anyone looking to make a statement that seizes the day to walk comfortably and confidently. With their unique design and comfortable fit, they are ideal for a variety of activities like walking, running, or even just daily wear.
This feature that makes these shoes a must-have for anyone looking for both fashion and comfort is their low heel drop and flexible design. With a 6-8mm slant from the heel to the toe area, these running shoes offer a rolling, balanced design that enhances your foot strength while providing a natural gait.
Made with TPR & EVA material, the sole of JACKSHIBO wide-toe shoes offers excellent flexibility and traction, allowing you to move freely without any restriction. This is especially beneficial for activities that require quick movements or changes in direction, as the sole provides a stable yet flexible base for your feet.
JACKSHIBO is one of the most trusted and popular footwear brands globally, known for its commitment to providing high-quality shoes that are versatile, durable, and functional. With over a decade of experience in the industry, JACKSHIBO has become the go-to choice for customers around the world.
When you purchase a pair of JACKSHIBO wide-toe shoes, you are not just getting a stylish addition to your wardrobe but also a reliable and long-lasting shoe that will accompany you on all your adventures.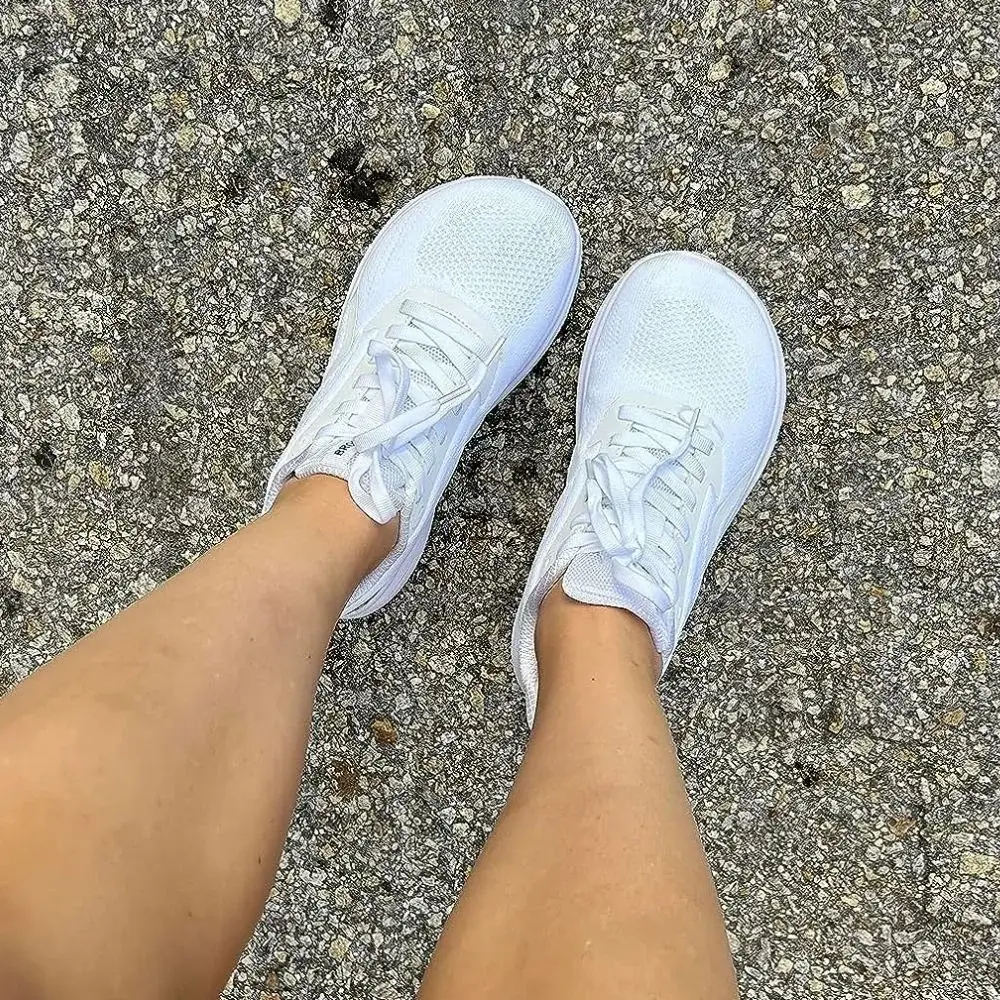 Best Wide Toe Box Shoes For Women
BRONAX Women's Wide Toe Box Road Running Shoes
Check Price on Amazon
Why GG Loves It
Do you need the most comfortable shoes that can handle your wide feet? Have you spent thousands of dollars looking for shoes that won't leave you in pain after standing for hours? If that's what you're truly looking for, then you should look no further than the BRONAX Women's Wide Toe Box Running Shoes.
These shoes have been designed only for women with wide feet, making sure that you no longer have to suffer wearing ill-fitting or uncomfortable shoes. The wide toe box allows your toes to spread out and relax, reducing the risk of developing foot conditions such as bunions, hammertoes, and metatarsalgia.
Not only are these shoes ultra-comfortable, but they are also trendy & stylish! With a sleek and modern design, you can wear them for any type of occasion and still look chic. Whether it's a day at work, running errands, or going for a jog, you can count on these shoes to provide both comfort and style.
These running shoes also eliminate snags and pressure points that cause discomfort. They come in 9 colors and various sizes, leaving you spoilt for choice. So, ladies, if you really desire to take your fitness routine to a whole new level, the BRONAX Wide Toe Box Running Shoes are the perfect choice for you.
What You Should Know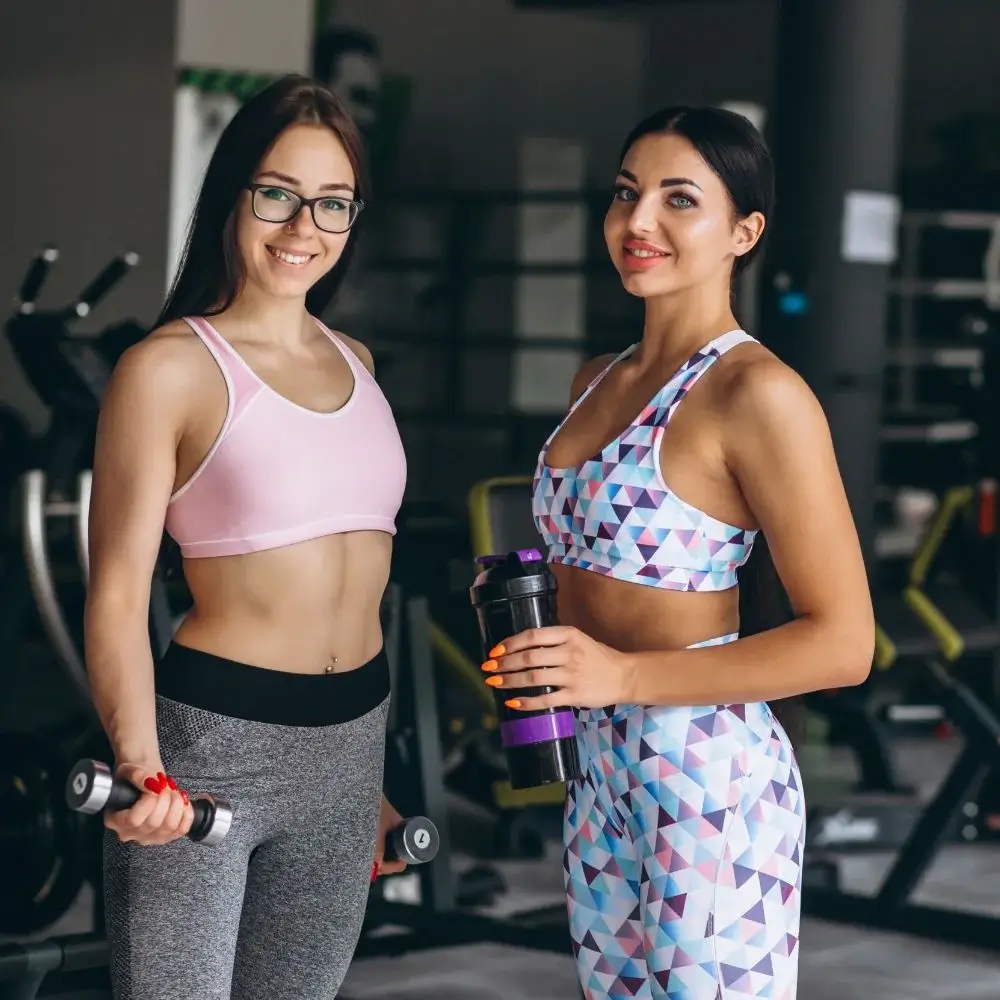 The material used to make these super wide & comfy toe box shoes is not just a regular rubber sole. It is a specially designed rubber outsole with grooves for spectacular flexibility and traction. This makes them perfect for all types of surfaces, whether you're running on the road, track, treadmill, or hiking.
These exceptional shoes boast a foam collar designed to offer an impeccable blend of security and comfort, embracing your ankle with a snug fit. Not only does this innovative feature reduce the risk of bothersome blisters and chafing, but it also provides invaluable support throughout your stride.
Plus, the high-rebound EVA midsole elevates the overall comfort and shock absorption, guaranteeing that every step you take is met with unrivaled protection and sublime cushioning for your precious feet. But that's not all; they are also highly breathable thanks to the printed overlays on the upper material.
This helps keep your feet cool & dry even during intense workouts. The added ventilation also ensures that your feet remain secure over the platform and prevents any slippage, making these shoes perfect for high-intensity activities. They are affordable, so you won't have to break the bank to get this pair.
So, whether you're a fitness enthusiast, an athlete, or just looking for comfortable and stylish shoes for everyday wear, the BRONAX Wide Toe Box Running Shoes are an ideal option. Don't let uncomfortable shoes hold you back from reaching your goals. Invest in a pair & take your fitness path to new heights!
Here are a Few FAQs to Assist You on Your Journey:
Whether you are a woman who adores both style and comfort, a gentleman seeking the flawless fusion of functionality and fashion, or anyone who simply values ease of wear in footwear, wide-toe box shoes are like a breath of fresh air that can make your feet feel free so that you can conquer the day with spirit.
They are not just running shoes but a delightful mixture of form and function, ideal for outdoor activities like trekking, hiking, or gardening. But why they are so beneficial? Do they come in specific foot lengths?
Unfortunately, without knowing their value, some people may never get to experience the comfort and satisfaction of wearing one. So, to help you on your way, here are some frequently asked questions related to these wide-toe box shoes that will help you better understand and appreciate their worth:
Why are wide-toe box shoes beneficial?
There are many reasons why wide-toe box shoes have become so popular in recent years. For one, they offer a more natural fit for our feet, allowing them to move and splay as they naturally would. This can help prevent serious foot problems like bunions often arising from wearing narrow or ill-fitting shoes.
Moreover, wide-toe box shoes also provide more room for the toes to spread out, which can improve overall balance and stability. This is especially beneficial for physical activities such as running or hiking, as it allows for a more natural and efficient stride. Most wide running shoes are often made with more breathable materials and have better ventilation, reducing the risk of foot odor, heel pain, & infections.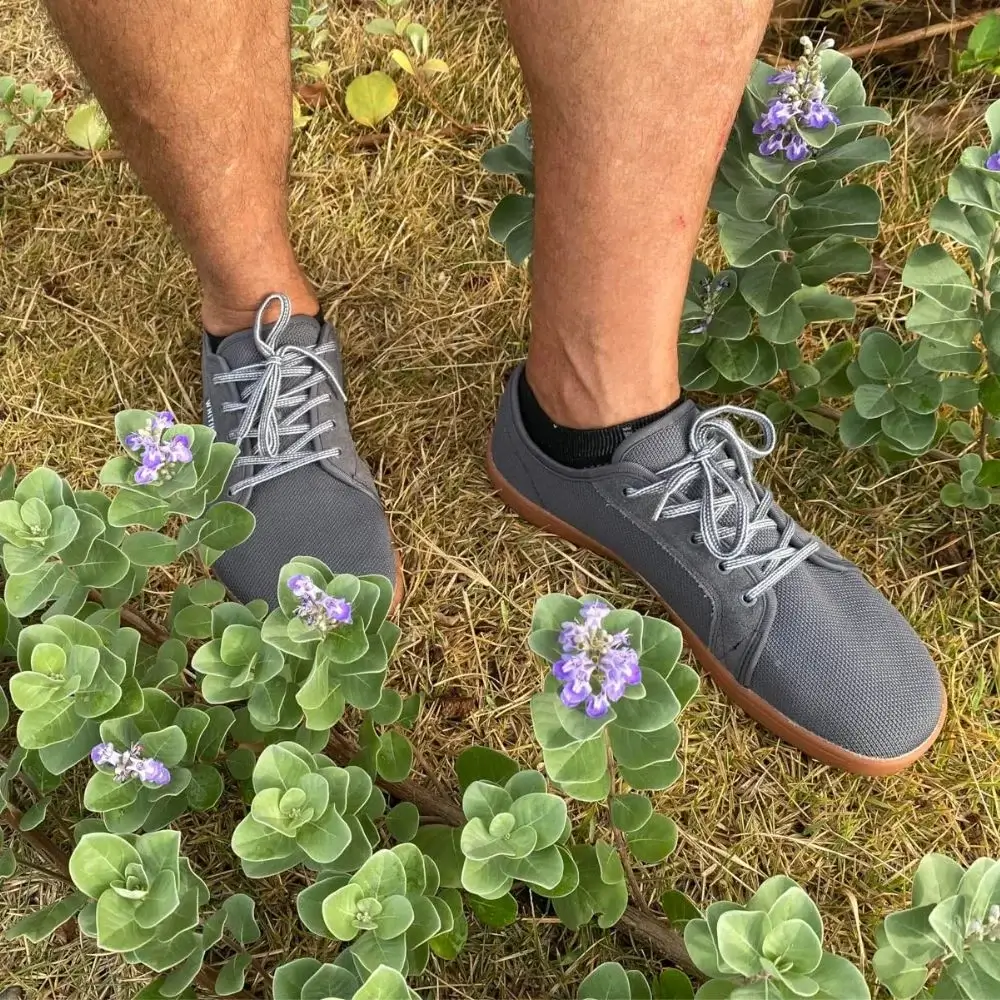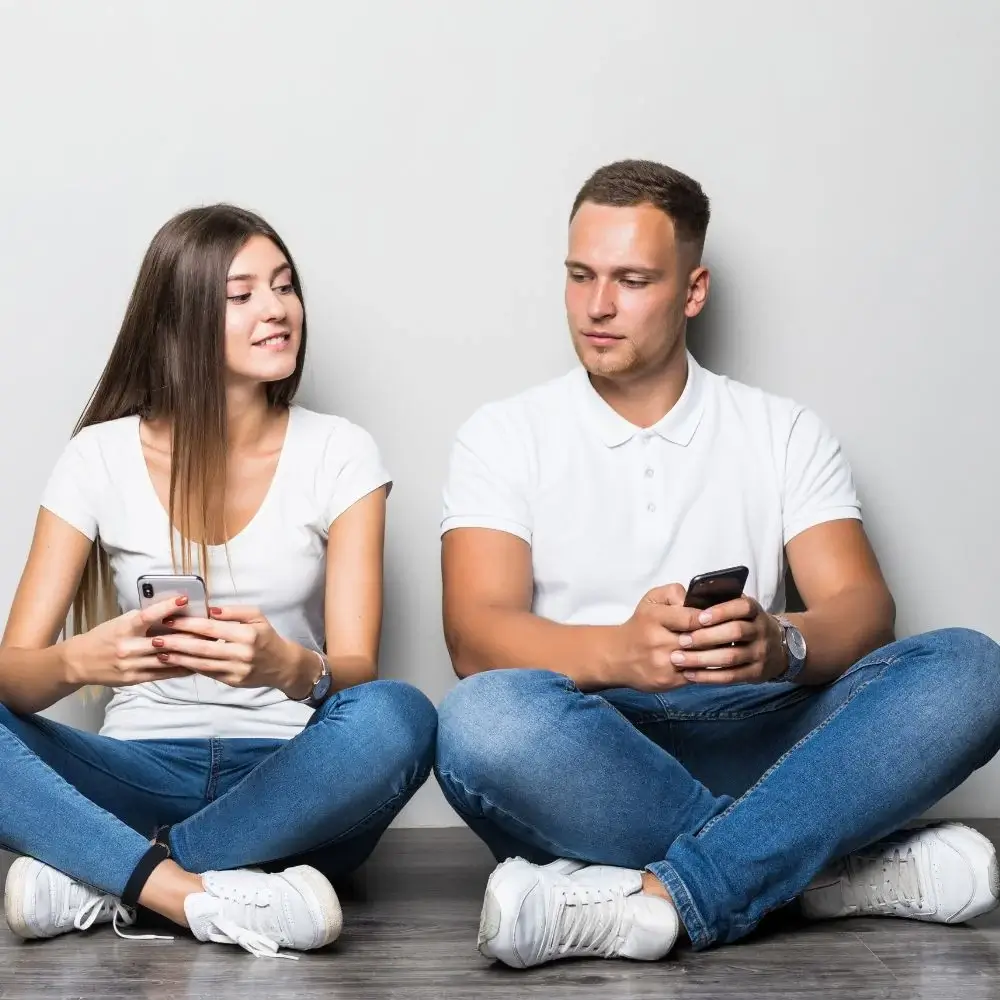 Who can benefit from wearing wide-toe box shoes?
Anyone with problems with their feet, especially those with foot deformities and conditions such as bunions, hammertoes, and plantar fasciitis, can benefit from wearing wide-toe box shoes. Aside from those with specific foot conditions, people with wider-than-average feet can also benefit from them.
Others may also find wide-toe box shoes beneficial, as they provide more space for toe movement and decrease the chances of foot pain or injury. Simply put, people who can benefit from these shoes are:
1. Athletes and runners
2. People who stand for long periods
3. Individuals with diabetes
4. Pregnant women
5. Aging individuals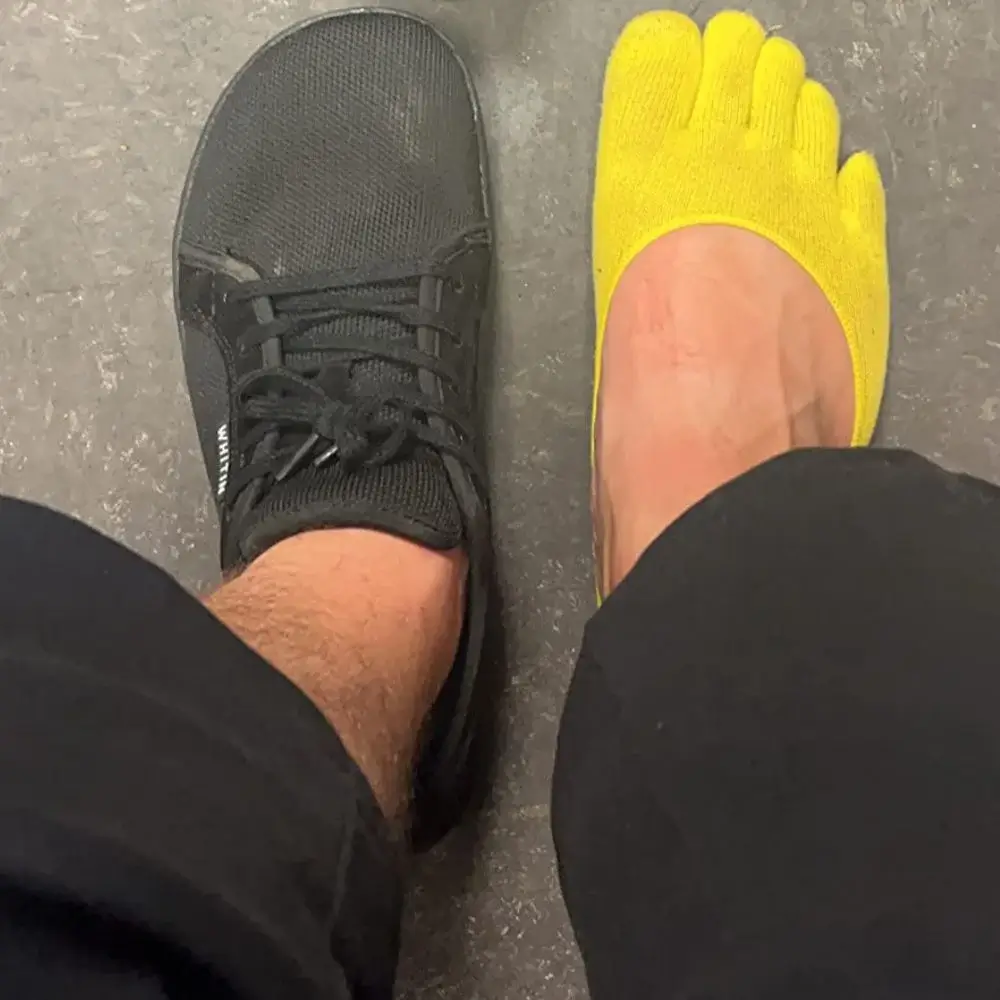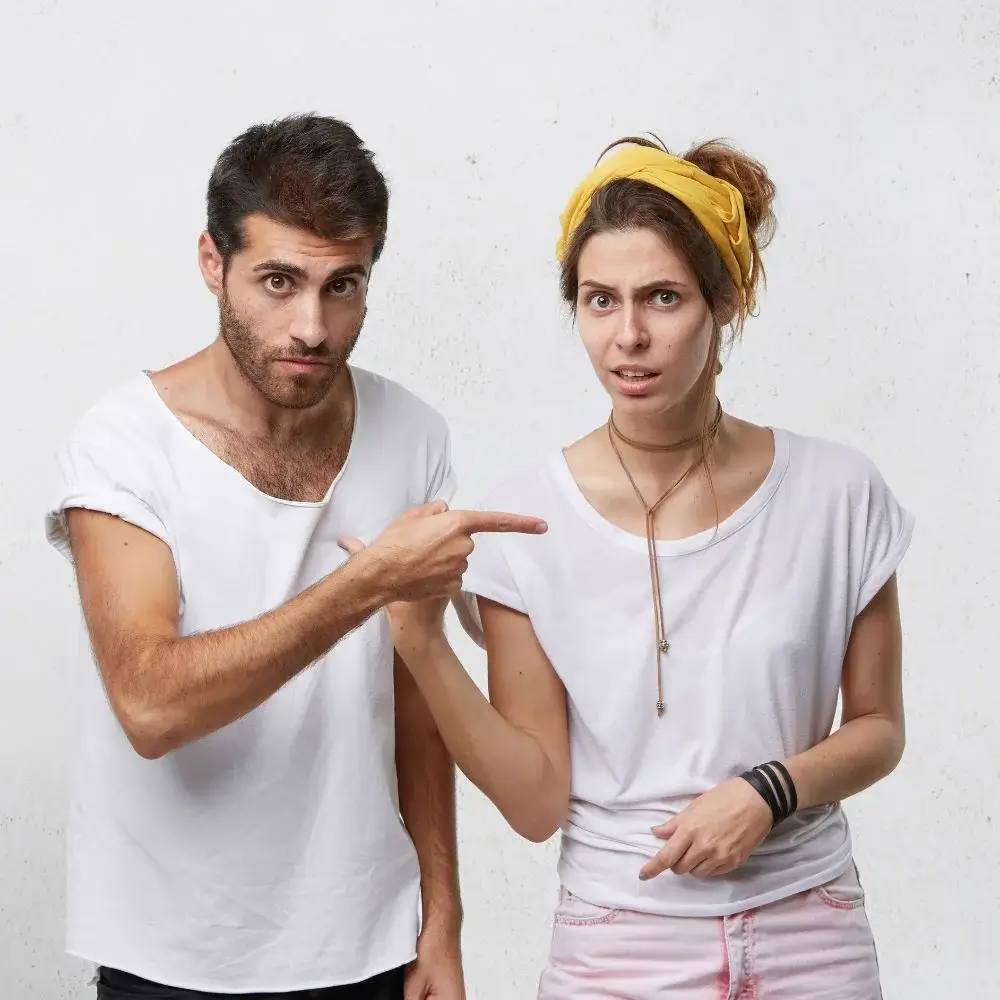 How do I know if I need wide-toe box shoes?
A wide-toe box refers to the area around the toes in a shoe. For those with wide feet, this type of shoe can be a game changer, offering much-needed wiggle room and allowing for proper toe alignment. But how do you know that you need wide-toe box shoes? Worry not; here are a few signs to look out for:
1. If you frequently experience discomfort in your toes, it could be a sign that your shoes are too narrow.
2. If your feet feel cramped or squeezed in your shoes, you may need a wider toe box.
3. If you notice redness, blisters, or calluses on your toes after wearing shoes for an extended period.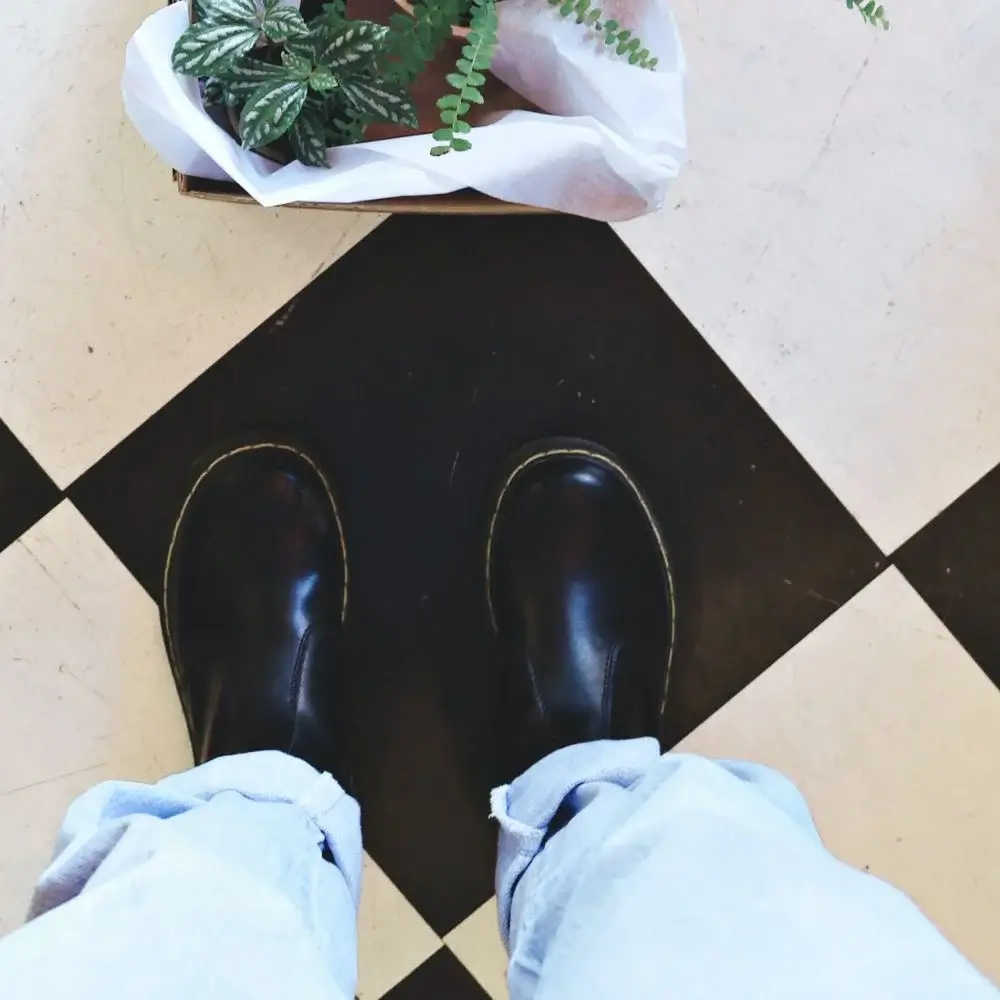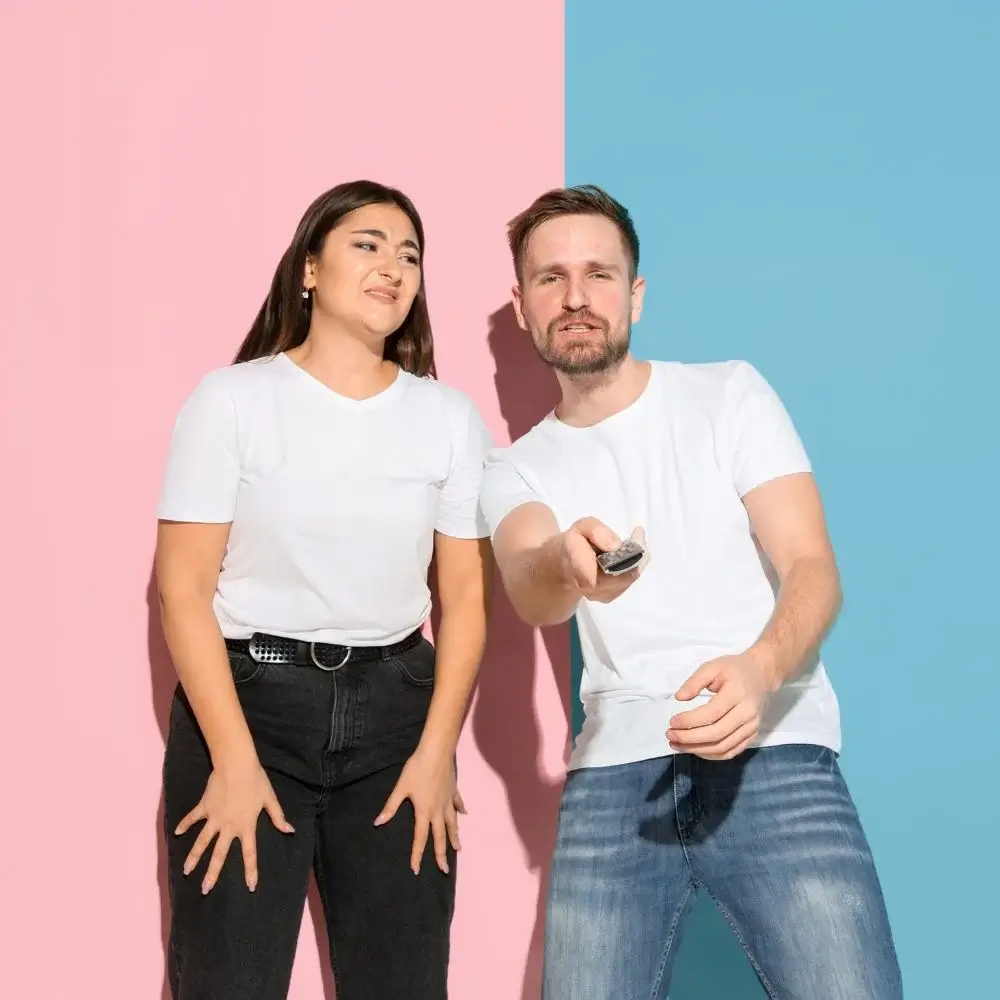 Are wide-toe box shoes only available in specific sizes?
Wide-toe box shoes come in a variety of sizes to accommodate diverse foot shapes and needs. Unlike shoes with a narrow-toe box, wide-toe box shoes offer ample space for those with flat feet or those seeking roomy-toe box shoes. They often feature a breathable mesh upper, an improved padded collar, and enhanced arch support to ensure a comfortable fit tailored to your specific foot shape.
The heel counter and the shoe's toe box design play a crucial role in providing extra room for your big toe. Whether you're buying a running shoe or everyday footwear, you can find wide-toe box options in various sizes, including extra wide, to cater to your unique requirements and natural shape easily.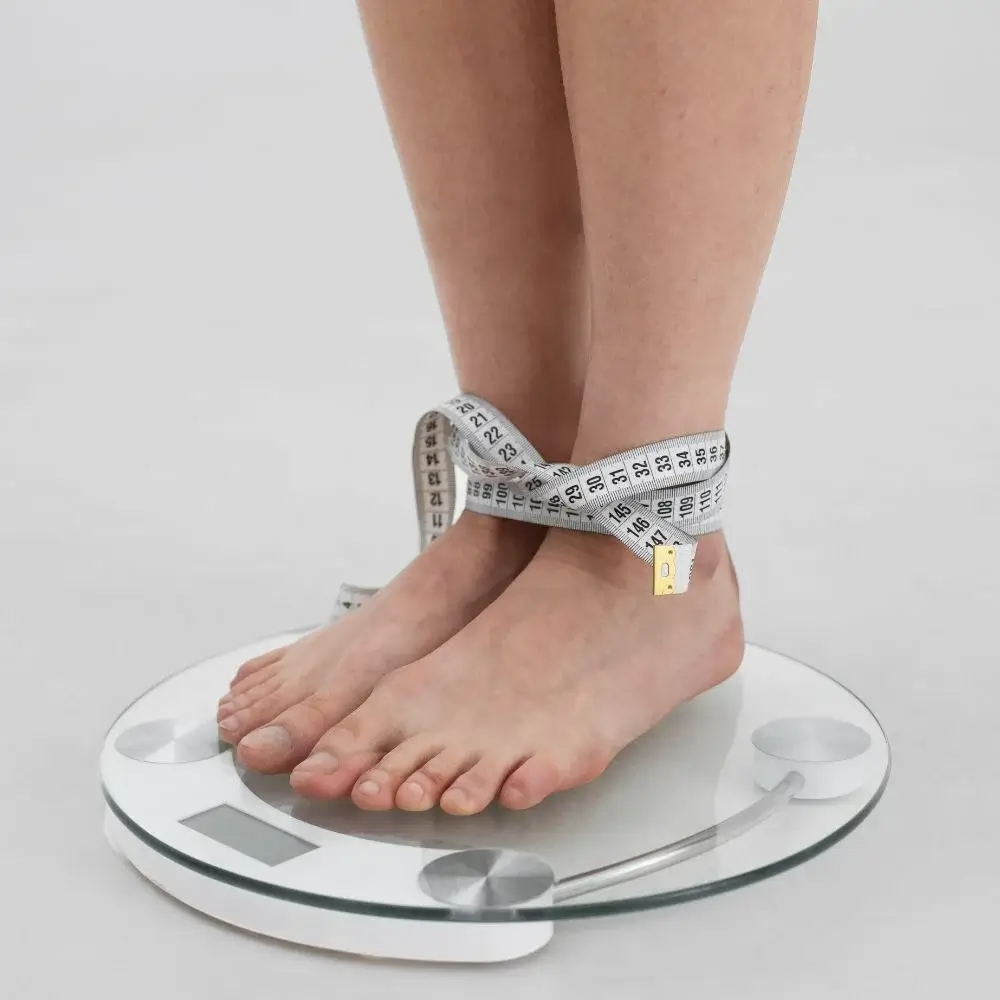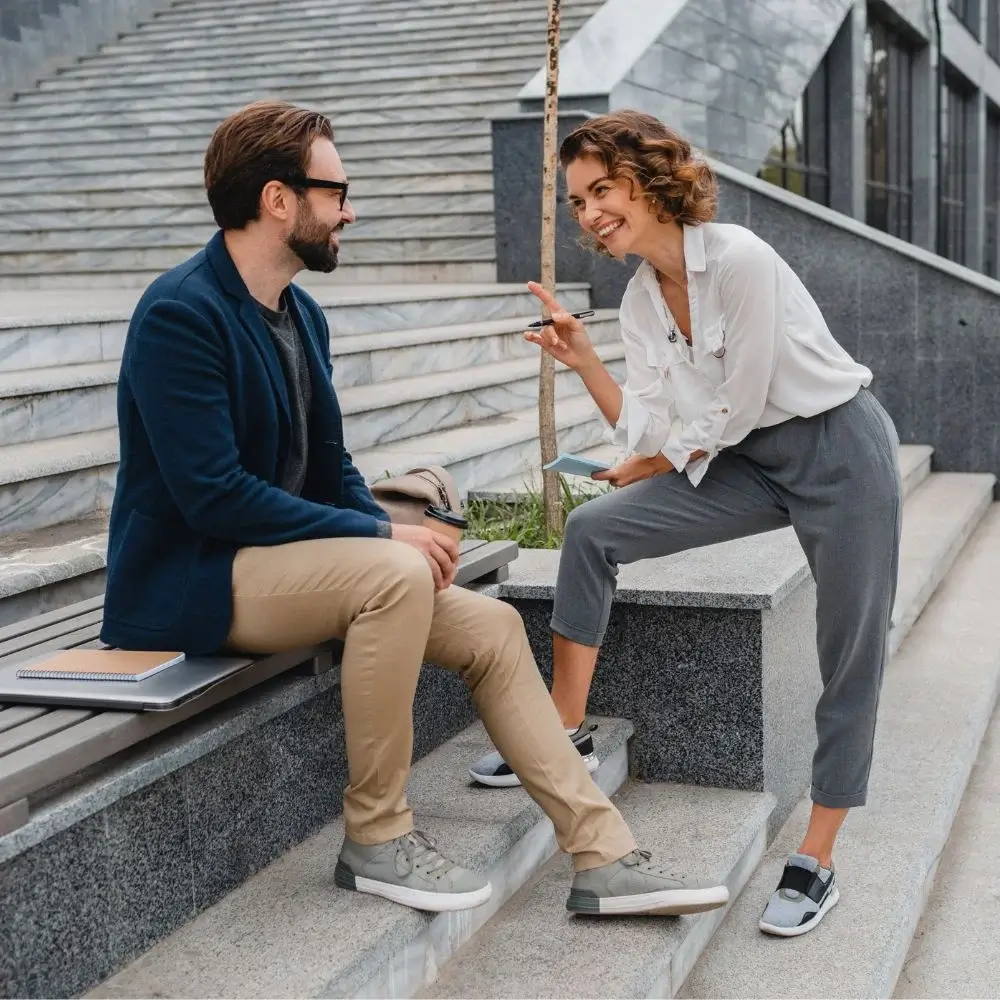 Best Wide Toe Box Shoes:
Feet are not just a part of our body that connects us to the ground; they are the foundation on which our entire physical, emotional, and psychological well-being stands. From the moment we take our first step until our last, our feet support us through a lifetime of learning, growth, and exploration to discover the world around us. But more often than not, we take our feet for granted and neglect their health/care.
While there are many factors that contribute to healthy feet, one crucial aspect is wearing the right footwear. Wearing shoes that fit well and provide adequate support can help prevent foot problems such as corns, calluses, ingrown toenails, blisters, and plantar fasciitis that can make walking painful.
One type of shoe that has gained popularity in recent years for its foot-friendly design is wide-toe box shoes. The top 3 pairs that we have listed above are all excellent examples of such shoes that prioritize comfort and foot health. They offer plenty of room for your toes to slay comfortably with no restrictions.
Some of them are so comfortable that they feel like socks with added traction. You can wear these shoes for all your activities, be it hiking, running, or even just daily use. They provide a fantastic grip that works perfectly even on wet ground, making them ideal for all kinds of indoor/outdoor adventures.
If you have been struggling with foot pain or discomfort while wearing traditional shoes, then it might be time to consider switching to one of these top-rated wide-toe box shoes. Not only will they provide relief for your existing foot problems, but they will also prevent any future issues from developing.
Plus, with their stylish designs and comfortable fit, you won't have to compromise on fashion for the sake of foot health. Whether you are a man who wants to look sharp in the office or a woman who loves to hit the gym in style, one of these shoes will surely meet your needs and keep your feet & toes happy.