The Middle East is known for its rich culture and history, and one of the most popular aspects of this region is its traditional fragrance - Oud. This luxurious scent is not just a fragrance; it's a voyage through time and tradition, a sensory bridge between the past and the present that brings people together.
However, with an overflowing number of perfume brands and different variations of Oud, it can be hard and overwhelming for people to choose the best one. Do you need the most mysterious Oud perfume?
Don't worry; we've got you covered! We know that it's not just about the scent but about the quality and authenticity of the Oud used in the perfume. That's why we have curated this list of the top three Oud perfumes that are truly rich in heritage, culture, & tradition to help you make an informed decision.
All these perfumes listed on our list are made with natural Oud, ensuring that the fragrance not only smells fantastic but also gives you a sense of connection to the roots and heritage of the Middle East.
Keep reading to learn more about our list of the top 3 best oud perfumes!
We have searched for the best, so you don't have to live with the rest. In order to serve you to the best of our ability and to keep our blog going, GarnesGuide may collect a share of sales or other compensation from the links on this page if you decide to buy. Each product was independently researched by our editors, and the reviews may have been edited for length and clarity.
How We Choose the Best Oud Perfume:
Oud-based perfumes are one of the most revered olfactory experiences that the world of fragrance has to offer. Originating from the resinous heartwood of Agarwood trees, Oud, also known as "liquid gold," has held a place of prestige in perfumery for centuries. Its rich, woody aroma, often accompanied by sweet and smoky notes, weaves a narrative of opulence and allure that transcends time and borders.
Sadly, with so many oud fragrances out there, picking the most exquisite one can be an overwhelming task because not every bottle of Oud can deliver the same level of quality, satisfaction, & sophistication.
To help you in this journey, we have done a deep dive research and have picked the top three best oud perfumes that will undoubtedly impress even the most discerning noses. Whether you are a novice oud enthusiast or a seasoned connoisseur, these recommendations are sure to elevate your fragrance game.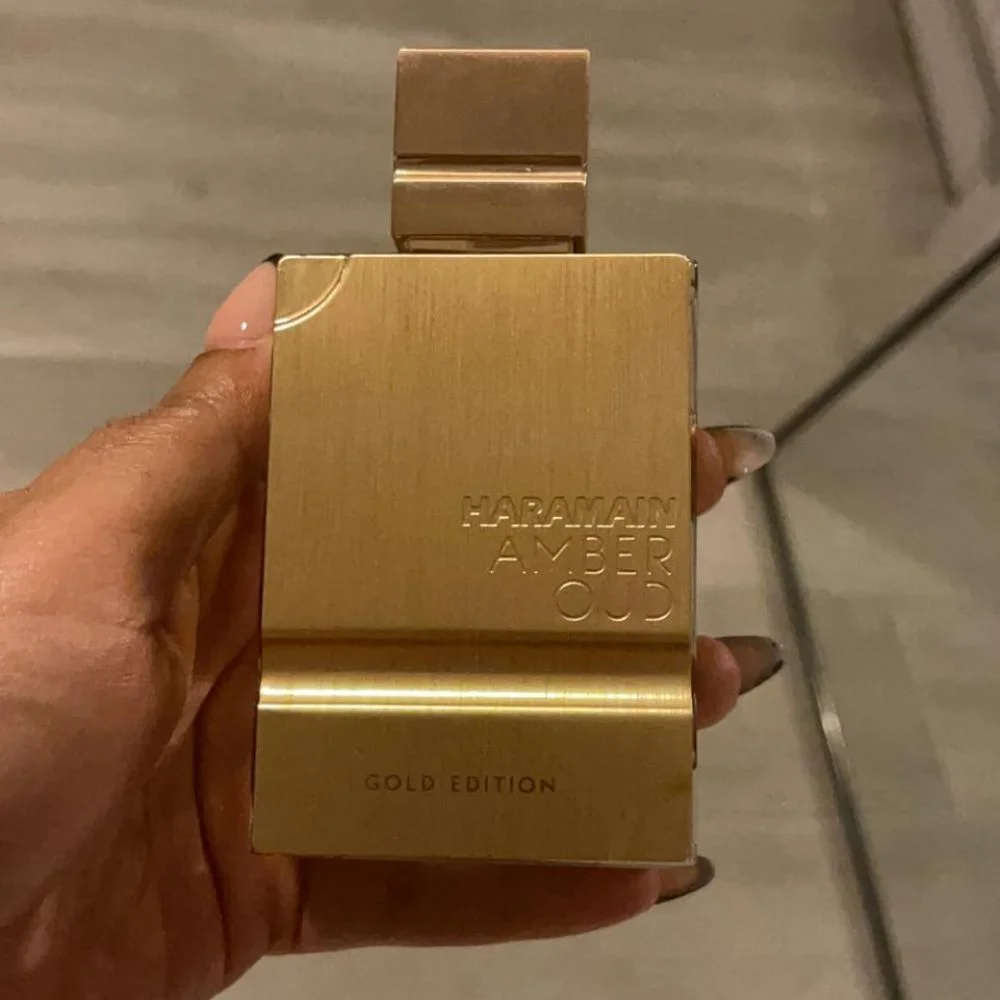 Best Oud Perfume For Spring/Summer Months
Al Haramain Amber Oud Gold Edition Eau de Parfum
Check Price on Amazon
Why GG Loves It
There is no doubt that summertime is one of the favorite seasons for many people. The sun is shining, the flowers are blooming, and everything just feels fresh and alive. It's the perfect time to wear a fragrance that captures the essence of this hot season - something light, fresh, and long-lasting.
That's where Al Haramain Amber Oud Gold Edition comes in. This stunning fragrance has a refreshing blend of bergamot and green notes as its top notes, giving off a bright and super invigorating aroma.
Its middle notes of melon, pineapple, sweet notes, and amber add a touch of sweetness to the overall scent, making it perfect for those warm summer days. Finally, its base notes of woody notes, vanilla, and musk bring balance and depth to this fragrance that will make you feel like walking in the sunshine.
What You Should Know
What truly makes the Amber Oudh Gold Edition perfect for spring and summer months is its longevity. With a few spritzes, you can smell great all day long without having to reapply. It's also versatile enough to be worn during the day or at night, making it a must-have in your modern perfumery collection.
The best part? This slightly sweet signature scent by Al Haramain is suitable for both men and women, so no matter your gender, you can rock this fragrance with confidence. This perfume comes in a royal gold bottle with a gold cap that's perfect for displaying on your vanity or dressing table.
On top of that, from its look, this bottle feels like a two to five-thousand-dollar cologne, but it's highly affordable. Unlike other high-end fragrances, the Amber Oudh Gold Edition doesn't come with a hefty price tag, making it accessible to all perfume lovers around the world, no matter their budget.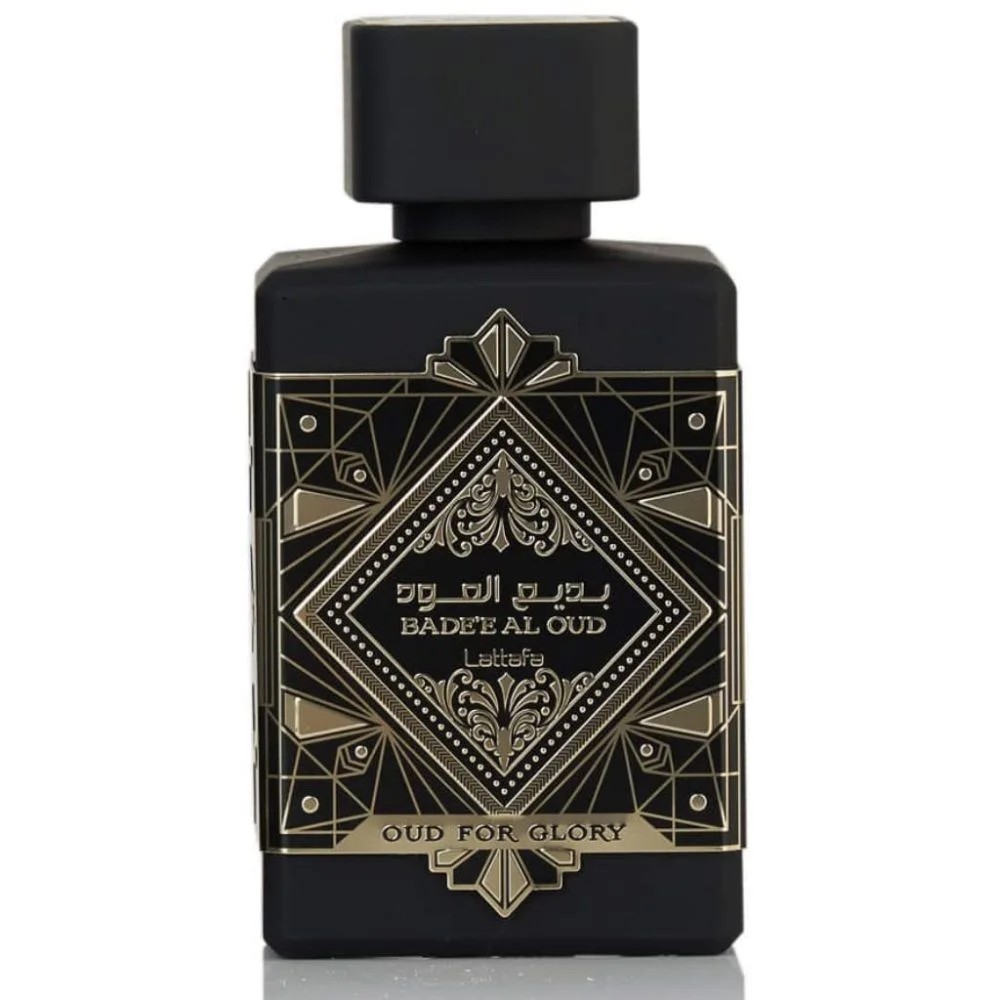 Best Oud Perfume For Exceptional Tastes
Check Price on Amazon
Why GG Loves It
Do you love the intoxicating and rich aroma of Oud? Then, you will absolutely fall in love with Lattafa Bade'e Al Oud, also known as Oud for Glory. This oriental fragrance is a masterpiece created by renowned perfumers at Lattafa Perfumes. It will transport you to a world of luxury and exotic scents.
With its warm and woody notes, Bade'e Al Oud is designed to appeal to both men and women. It offers a unique blend of sweet saffron, lavender, and nutmeg in its top notes, followed by the deep and earthy notes of Agarwood & patchouli in its heart. The base notes of musk and additional Agarwood complete the fragrance, leaving a lasting impression that will surely turn heads and make you stand out.
One thing that sets Bade'e Al Oud apart from other oud fragrances is its exceptional sillage. It has the ability to linger on your skin for hours, making it ideal for special occasions or even daily wear. With a volume of 3.4 Fluid Ounces, it is designed to last you a long time and make sure you always smell your best.
What You Should Know
This beast mode oud fragrance is not just about its unique blend of notes. It also boasts a long-lasting fragrance, making it an excellent choice for anyone looking for a signature scent. Whether you are wearing it to work, a night out with pals, or a date, Bade'e Al Oud will stay with you throughout the day.
Apart from its fantastic fragrance and longevity, Lattafa Bade'e Al Oud is also highly affordable. You don't have to break the bank to smell amazing and feel luxurious. With this, you can indulge in the opulence of Oud without spending a fortune as it is priced competitively for its quality and performance.
If you are a fan of oriental fragrances or looking to add a unique touch to your perfume collection, then Bade'e Al Oud is a must-have. With this luxurious fragrance, you can elevate your scent game and make a statement wherever you go. It's a unisex fragrance that will surely make any man or lady feel alluring.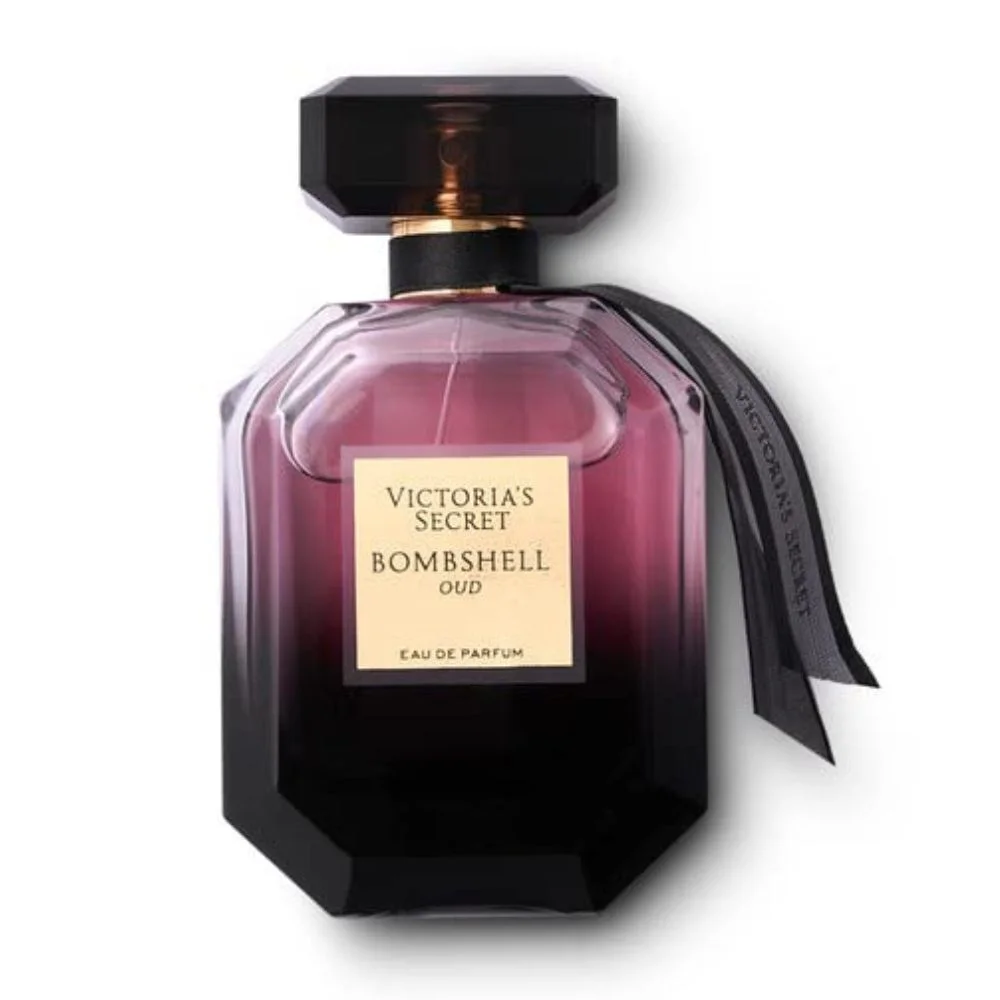 Best Oud Perfume For Ladies
Victoria's Secret Bombshell Oud 3.4oz. Eau de Parfum
Check Price on Amazon
Why GG Loves It
If you have been looking for an alluring scent that will make you feel sensual and confident, then you should look no further than Victoria's Secret Bombshell Oud Eau de Parfum. This fragrance is the perfect fusion of luxury, glamour, and exoticism that will leave you feeling empowered and seductive.
One of the most unique aspects of this perfume is its use of Pink Saffron, a rare and precious spice that adds a vibrant touch to the top notes. This spicy opening quickly gives way to the heart of the fragrance, where you will find a dark variation of Sueded Peony, the signature flower of the Bombshell Collection. The result is a rich and alluring floral scent that will captivate your senses.
But what truly sets Victoria's Secret Bombshell Oud apart is the incorporation of Oud, a complex and smoky wood that adds a deep and mysterious element to the fragrance. This mystical ingredient lingers on the skin with warm magnetism, making it the perfect choice for a night out or a special occasion.
What You Should Know
The reason why this perfume is one of the most breathtaking oud fragrances out there is because it is an Eau de Parfum. This means that it contains a higher concentration of fragrance oils compared to other types of perfumes like Royal Princess Oud, so you can enjoy the scent for a longer period of time.
You can trust that the captivating aroma of Bombshell Oud will stay with you throughout the day and into the night, making you feel confident and sexy all day long without the need for constant touch-ups. Plus, the sleek and elegant 3.4oz bottle is perfect for displaying on your vanity or carrying in your purse for quick touch-ups throughout the day.
So what are you waiting for? Get Victoria's Secret Bombshell Oud today and experience the ultimate seduction with its long-lasting, concentrated fragrance that will make you feel like a true bombshell.
Here are a Few FAQs to Assist You on Your Journey:
Whether you are a man who wants to smell good or a woman who needs an extra boost of confidence, perfumes are the answer. They are stunning for any occasion, from a casual day to a very special date.
But what is Oud? What does Oud smell like? Can one find multiple variations of oud fragrances? Here are some frequently asked questions that will answer all of your concerns related to this ideal perfume:
What is Oud, and where does it come from?
Oud, also known as Agarwood, is a fragrant resinous wood that comes from the Aquilaria tree. This tree is native to Southeast Asia and can be found in countries such as India, Cambodia, Vietnam, & Malaysia.
Not all trees produce Oud, but only those that have been infected by a specific type of mold. Today, agarwood chips are commonly used to extract oud oil, which is renowned for its rich & complex aroma.
What does oud perfume smell like?
Oud perfume, derived from the fragrant resin of the agar tree, exudes a captivating and earthy scent reminiscent of wood, spices, and a touch of sweetness. Its aroma often combines earthy patchouli notes with the depth of essential oils, creating a pound scent that's both natural and alluring, unlike synthetic oud perfumes. Just make sure that it does not contain any kind of essential oil or alcohol.
Can I find different variations of oud perfume?
Yes, you can! The oud perfume market is constantly growing and evolving, offering a wide range of options for perfume enthusiasts. From pure oud oils to oud-infused fragrances, there are countless variations of oud perfume available.
Best Oud Perfumes:
Perfumes are the world's most enchanting alchemy, capturing the essence of nature and artistry within a delicate glass vial. Amongst these olfactory wonders, none exudes an air of mystique and luxury quite like Oud. The oud fragrance can leave one in pure ecstasy that lasts all day long with just a single spritz.
The top three oud perfumes that we have listed above are all heart-stopping, attention-grabbing, and simply unforgettable. They will transport you to a world of sophistication, luxury, and elegance with just one spritz. Plus, they are inexpensive, so you don't have to break the bank to smell like a million bucks.
If you truly want to indulge in the majestic aroma of Oud and make a bold statement, then these are the perfumes for you. They are best for both men & women, making it a versatile choice for any fragrance lover. So why wait? Pick one of these perfumes & let your senses be captivated by their alluring scents.