Imagine giving your skin a drink of the most potent, nourishing cocktail it's ever tasted. That's what serums are all about - these powerful elixirs are packed with a high concentration of active ingredients designed to target specific skin concerns. From boosting hydration, fighting acne, and reducing wrinkles to brightening your complexion, serums can perform magic on your skin.
However, navigating the world of skin care serums can feel like being lost in a labyrinth. Each bottle promises a radiant glow, vanished wrinkles, and banished acne - but finding the one that truly delivers for your unique skin can be a daunting task. It's like searching for a needle in a haystack; only the haystack is filled with glossy packaging. Are you looking for the best hyaluronic acid serum?
Don't worry! We have you covered. We have delved deep into the world of skin care serums, sifted through countless products, and emerged with a curated list of the top 3 serums that are nothing short of skin elixirs. These 'holy grail' potions are a means to target your specific skin concerns, transforming your skincare routine into a ritual of beauty and wellness.
Keep reading to learn more about our list of the top 3 best hyaluronic acid serums!
We have searched for the best, so you don't have to live with the rest. In order to serve you to the best of our ability and to keep our blog going, GarnesGuide may collect a share of sales or other compensation from the links on this page if you decide to buy. Each product was independently researched by our editors, and the reviews may have been edited for length and clarity.
How We Choose the Best Hyaluronic Acid Serums
Meet Hyaluronic Acid serums - the unsung heroes of skin care. This naturally occurring substance is far from harsh or stripping. Instead, it's like a big drink of water for your skin, quenching its thirst and helping it retain moisture. But that's not all. From smoothing fine lines to giving you a plump, dewy complexion, the benefits of hyaluronic acid serums are profound.
As we age, our body produces less and less hyaluronic acid, leading to dehydrated and dull-looking skin. This is where hyaluronic acid serum comes into play - by helping replenish your skin's moisture levels and restoring its radiant glow. The hyaluronic acid serum isn't your average skincare product; it's a powerhouse of hydration, a literal moisture magnet that can hold up to 1000 times its weight in water.
However, embarking on the quest for the perfect hyaluronic acid serum can be overwhelming, like standing at the foot of a mountain, unsure where to begin your climb. But fret not, for we have blazed the trail for you. To assist you on this quest, we've conducted extensive research and selected the top 3 hyaluronic acid serums.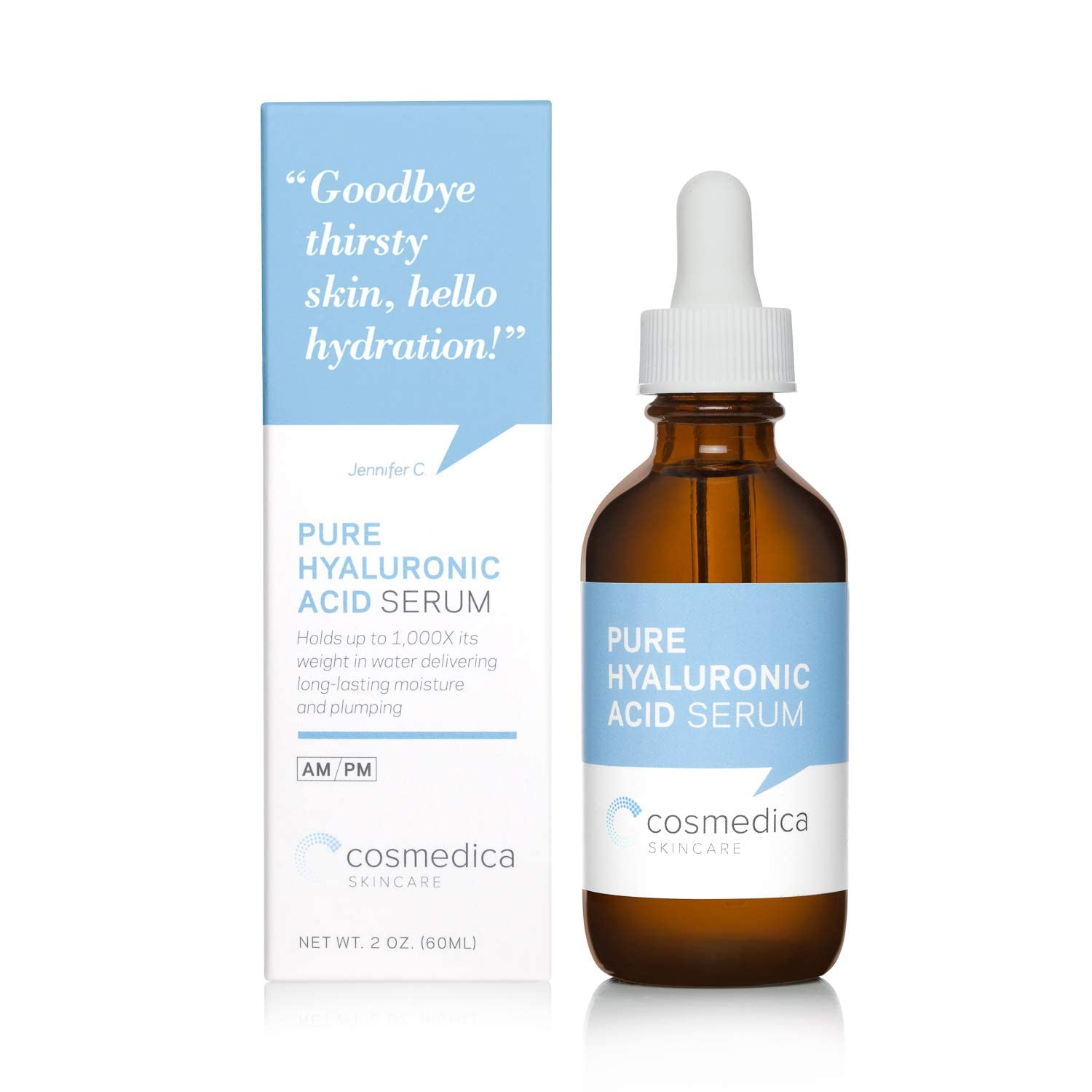 Best Anti-Aging Pure Hyaluronic Acid Serum
Cosmedica Skincare Hyaluronic Acid Serum for Skin
Check Price on Amazon
Why GG Loves it
Ideal for all skin types, this highly effective serum works wonders on your face, delivering a deeply hydrating experience that transcends ordinary skincare. Dry patches and uneven skin tones are no match for its potent formula, revealing a naturally radiant glow that speaks of skin health from within. As you continue to use this serum, you'll notice a remarkable improvement in your skin's texture and tone.
What sets this serum apart is its remarkable firming properties, which effortlessly reduce the appearance of wrinkles, leaving your skin not only moisturized but also visibly youthful and rejuvenated. Deep wrinkles fade into memory, replaced by skin that is noticeably softer, smoother, and plumper. Its effectiveness extends to the delicate eye area, tirelessly reducing signs of fatigue and aging.
This pure hyaluronic acid serum isn't just another product; it's a powerhouse that redefines anti-aging skincare. Holding an incredible 1,000 times its weight in water, it delivers unparalleled hydration, creating a unique plumping effect that combats the visible signs of aging. Persistent forehead lines find their match in this dynamic serum, infusing your skin with essential moisture.
What You Should Know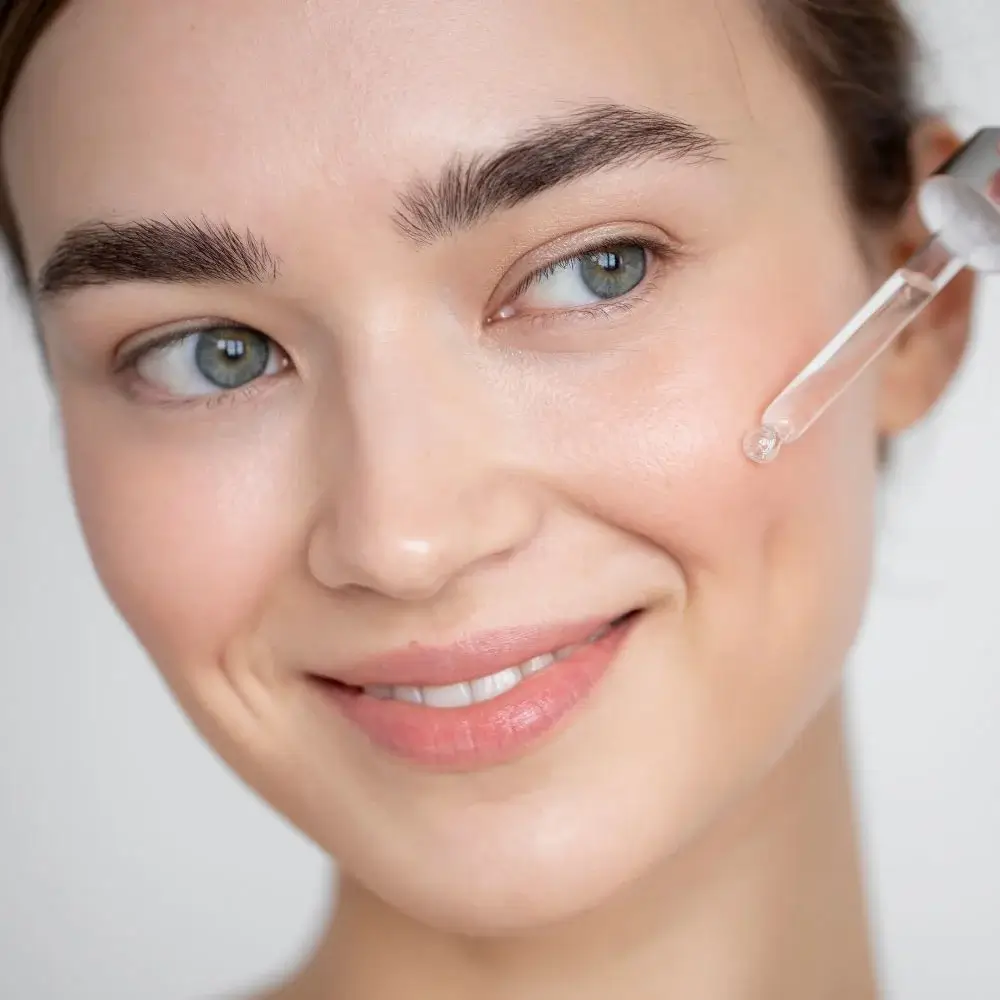 Beyond its hydrating prowess, this serum boasts superior brightening properties, bidding farewell to dull, tired skin and welcoming a vibrant, radiant complexion each morning. The inclusion of sodium hyaluronate, a key ingredient in this pure hyaluronic acid serum, plays a significant role in this transformative process.
What makes this serum truly exceptional is its gentle nature. Meticulously formulated for maximum effectiveness without compromising skin health, it is safe for use both morning and night. Diminishing age spots and delivering a brighter, healthier appearance, this serum caters to the skincare needs of both men and women.
With just three all-natural ingredients, distilled water, sodium hyaluronate, and benzyalcohol, it works tirelessly to hydrate and plump the deep layers of your skin, providing long-lasting results that exceed the capabilities of traditional anti-aging facial moisturizers or creams. These ingredients work synergistically to provide deep hydration, maintain skin health, and ensure the serum's stability.
Benzyl Alcohol is a naturally occurring compound found in various plants and essential oils. In skincare products, it serves multiple purposes. First and foremost, it acts as a preservative, preventing the growth of bacteria and fungi in the product. This ensures the serum remains safe to use over time. Additionally, it has mild astringent properties, helping to cleanse the skin and remove impurities.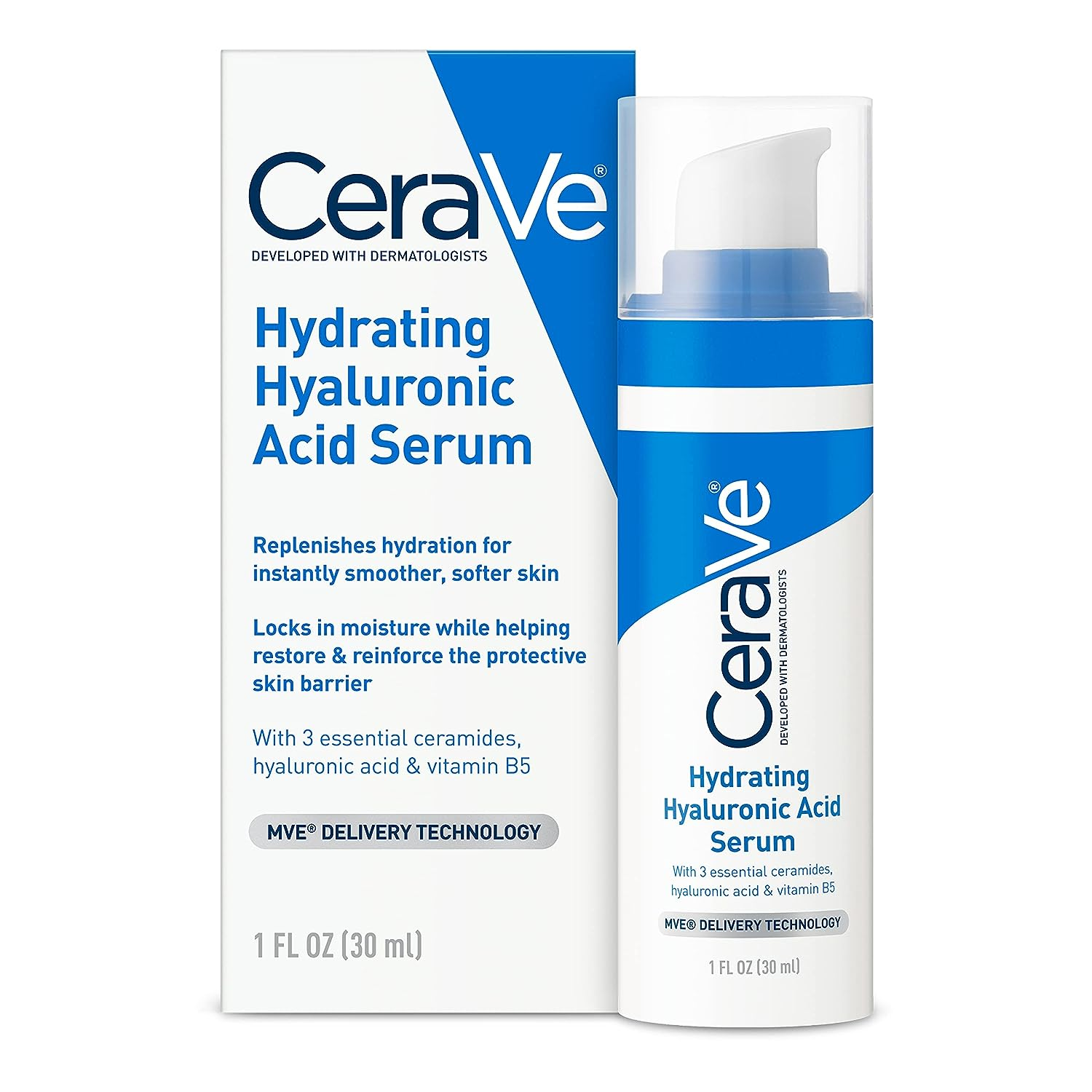 Best Hyaluronic Acid Serum for Dry Skin
CeraVe Hyaluronic Acid Serum
Check Price on Amazon
Why GG Loves it
At its core, hyaluronic acid is a moisture-binding marvel. It acts as a magnet, attracting and retaining the skin's vital hydration, resulting in a complexion that appears visibly plumped, supple, and radiant. By infusing the skin with this essential moisture, the Hyaluronic Acid Serum helps in creating a beautifully hydrated and smoother skin texture.
The texture of this serum is another marvel in itself. Lightweight and gel-like, it glides onto the skin effortlessly, sinking in quickly without any greasy residue. This smooth texture makes it an ideal base for layering with other skincare products. For optimal results, it is recommended to apply the serum to slightly damp skin, allowing it to fully absorb.
What sets CeraVe Hydrating Hyaluronic Acid Serum apart is its incorporation of Vitamin B5, renowned for its soothing properties. This addition not only amplifies the serum's hydrating effects but also nurtures the skin, providing a calming sensation that feels like a spa experience at home. Vitamin B5 is a powerhouse ingredient in this skin serum due to its exceptional hydrating properties.
What You Should Know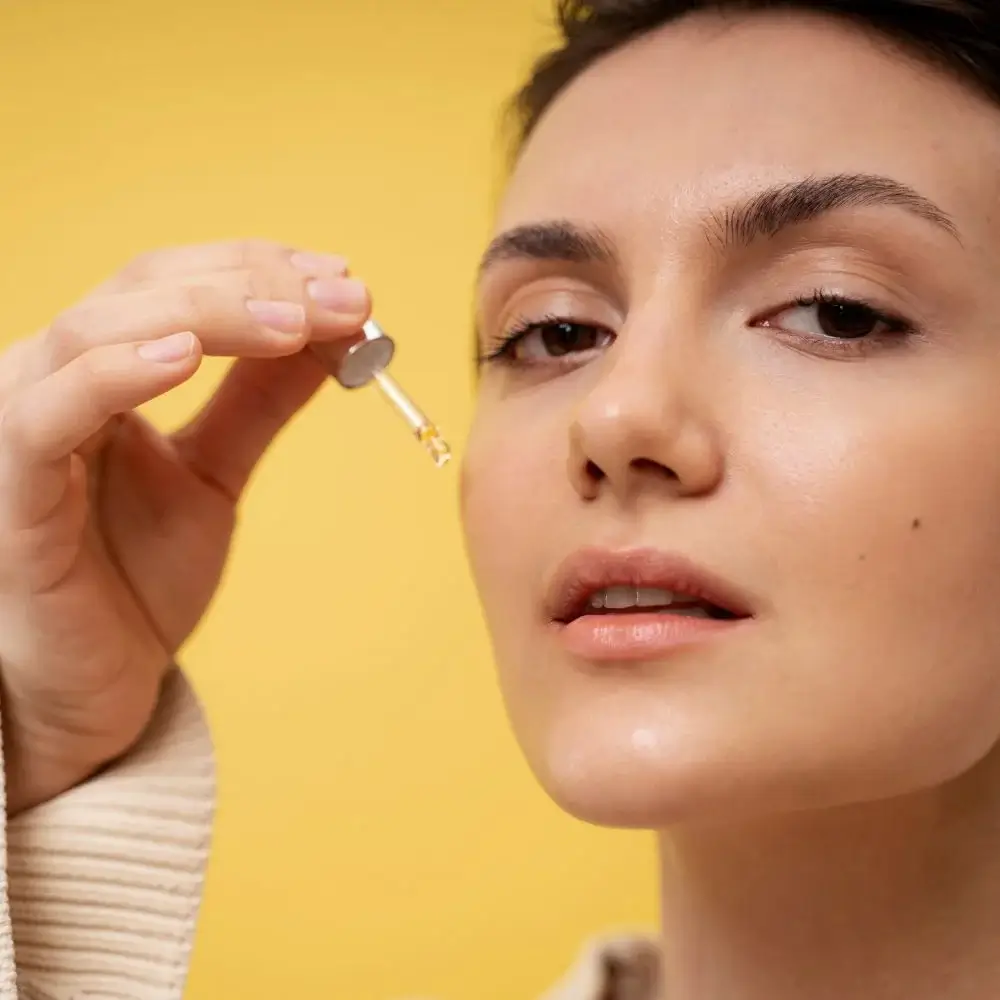 Moreover, CeraVe's patented MVE ingredient-delivery technology ensures that the moisturizing ingredients are continually released, providing round-the-clock hydration. Additionally, the serum incorporates three essential ceramides (1, 3, 6-II) naturally found in the skin, fortifying the skin's natural barrier. This unique blend of ingredients not only hydrates but also restores the skin's resilience.
Ceramides are vital components of the skin's lipid barrier, essential for maintaining moisture and protecting against external aggressors. By replenishing these ceramides, Hyaluronic Acid Serum ensures that your skin's defense mechanisms are reinforced. Whether you have acne-prone skin or sensitive skin, this Hyaluronic Acid Serum is crafted to cater to your skincare requirements.
The inclusion of niacinamide, a form of vitamin B3, is renowned for its anti-inflammatory properties. When applied topically, it helps reduce redness, irritation, and blotchiness, making it especially effective for sensitive or irritated skin. By calming the skin, niacinamide promotes a more even complexion, diminishes the appearance of red spots, and enhances overall skin texture.
The serum, being paraben-free, means it avoids potentially harmful preservatives, offering a natural and gentle approach to skincare. The absence of fragrances eliminates the risk of skin sensitivities, making it ideal for even the most delicate skin types. Additionally, its Non-Comedogenic nature signifies that it won't clog pores, reducing the likelihood of acne or breakouts.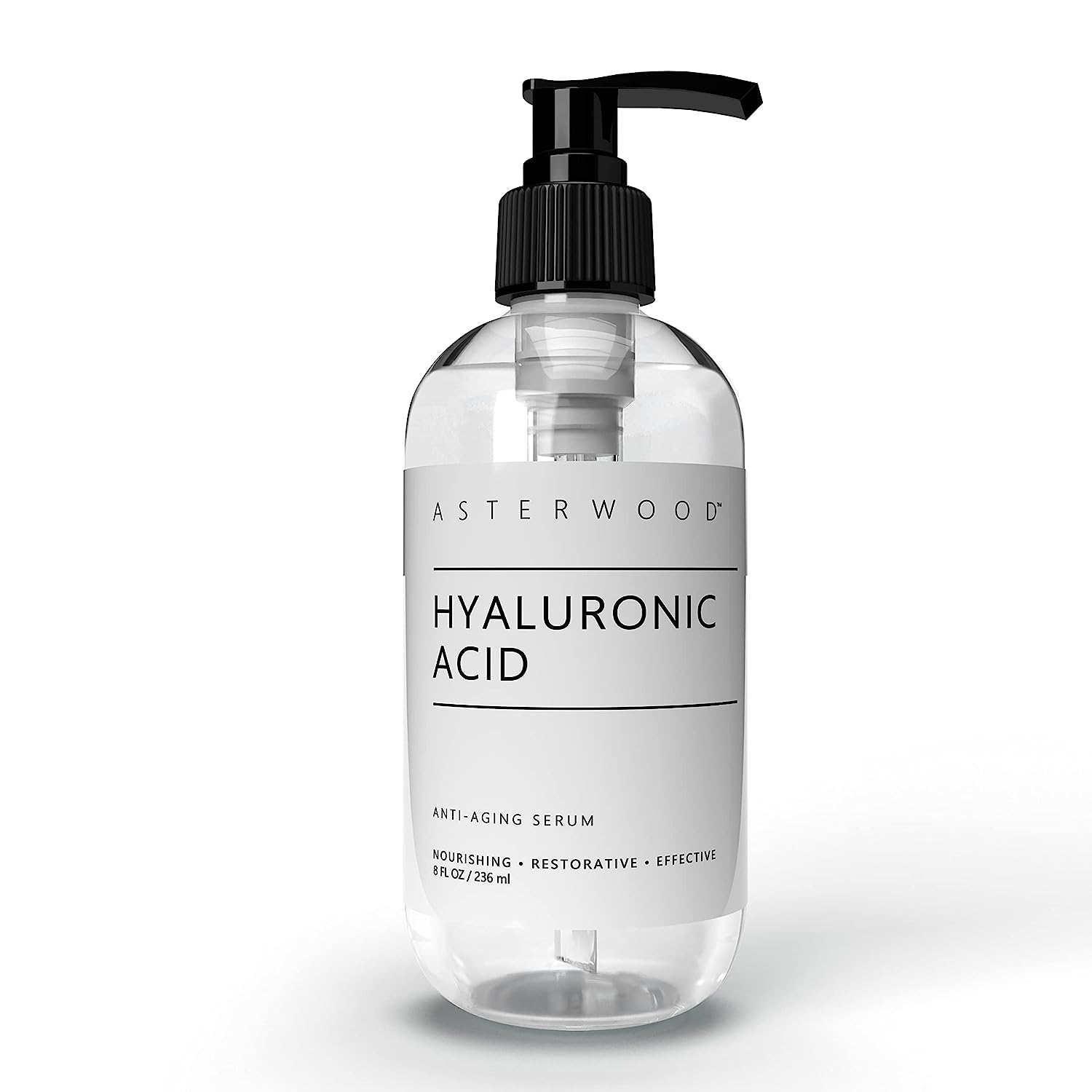 Best Hyaluronic Acid Face Serum for Plumping Skin
Asterwood Pure Hyaluronic Acid Serum for Face
Check Price on Amazon
Why GG Loves it
This serum is far from ordinary; it's a hydration powerhouse that revolutionizes your skincare routine, offering a plumper, juicier, and calmer complexion that radiates with natural vitality. The magic lies in the concept of a hydration "sandwich" this serum creates for your skin. Filling the gaps between skin cells it prevents moisture loss and allows your skin to seal in the hydration it needs.
Consistent use of this serum acts as a shield, guarding your skin against the harsh elements of the environment. At the heart of this serum is pure hyaluronic acid, a potent ointment that draws in moisture like a magnet. Applied daily on cleansed, damp facial skin, it works tirelessly to reduce fine lines, wrinkles and restore elasticity, turning back the clock without compromising the skin's integrity.
Deeper hydration is the key to resilient skin, and this serum excels at penetrating multiple skin layers, ensuring thorough hydration. By preventing inflammation, a common issue caused by environmental stressors, it fortifies your skin against pollution, sun damage, cold, and wind. This deep hydration not only rejuvenates your skin but also enhances its natural resilience, promoting a healthier complexion.
What You Should Know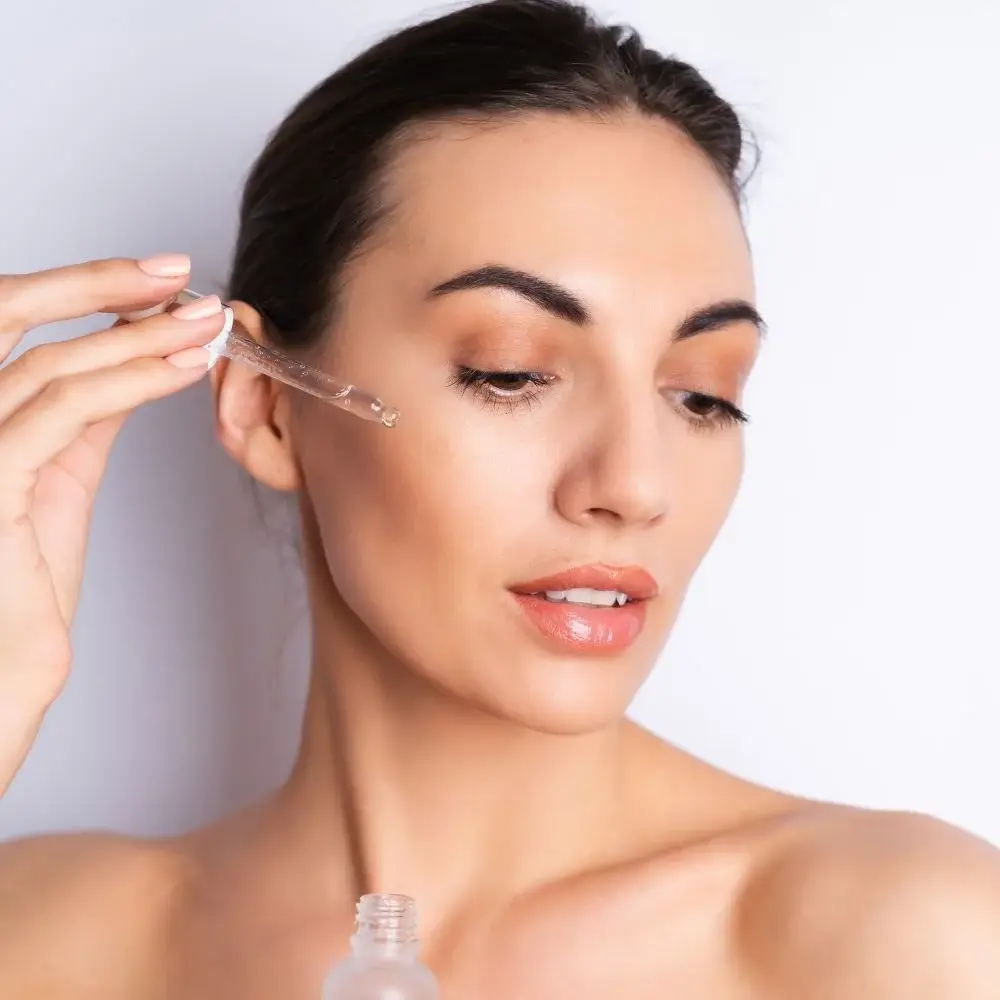 Whether incorporated into your daytime or nighttime skincare routine, it seamlessly integrates with other products. Pair it with Vitamin C serum, retinol, alpha hydroxy acids (AHAs), or beta hydroxy acids (BHAs); its compatibility enhances the efficacy of your entire skincare regimen. The versatility of the serum extends to its ability to complement skincare products without compromising its effectiveness.
When combined with Vitamin C serum, this hyaluronic acid formulation not only hydrates but also aids in brightening your complexion. Vitamin C, renowned for its antioxidant properties, protects your skin from free radicals, promoting a more even skin tone and youthful radiance. Together, they create a potent duo, fighting the signs of aging and environmental damage.
Incorporating the serum with retinol serum, a derivative of Vitamin A, enhances its anti-aging effects. Retinol stimulates collagen production, promoting skin renewal and reducing the appearance of wrinkles. Paired with this Hyaluronic Acid Serum, it ensures your skin remains deeply hydrated during this transformative process, minimizing any potential dryness or irritation.
Rest easy knowing this formula excludes harmful ingredients such as parabens, fragrances, sulfates, and oils. It's a pure, vegan delight, crafted with care and cruelty-free. Applying 2-4 drops onto your palm and gently massaging it onto your face and neck, especially on damp skin, will unlock the secret to a luminous, youthful complexion. Follow it with your favorite moisturizer to lock in the hydration.
Here are a Few FAQs to Assist You on Your Journey:
Embarking on the journey to find the perfect hyaluronic acid serum can be an exciting yet bewildering quest. With a multitude of options available, each claiming to be the best, it's natural to have questions. Explore the intricacies of hyaluronic acid serums and empower yourself with the knowledge to make informed choices that will leave your skin looking and feeling its best.
Here are some of the most frequently asked questions(FAQs) about the best hyaluronic acid serums that will help you on your way so you can find the best product for your skin:
What are the benefits of using hyaluronic acid serum?
Using a hyaluronic acid serum is like giving your skin a refreshing drink of water! It deeply hydrates, making your skin look plump and youthful. Plus, it's a secret weapon against dark circles and dark spots, leaving your complexion bright and even-toned. It's like a magic potion for a radiant, hydrated, and flawless skin!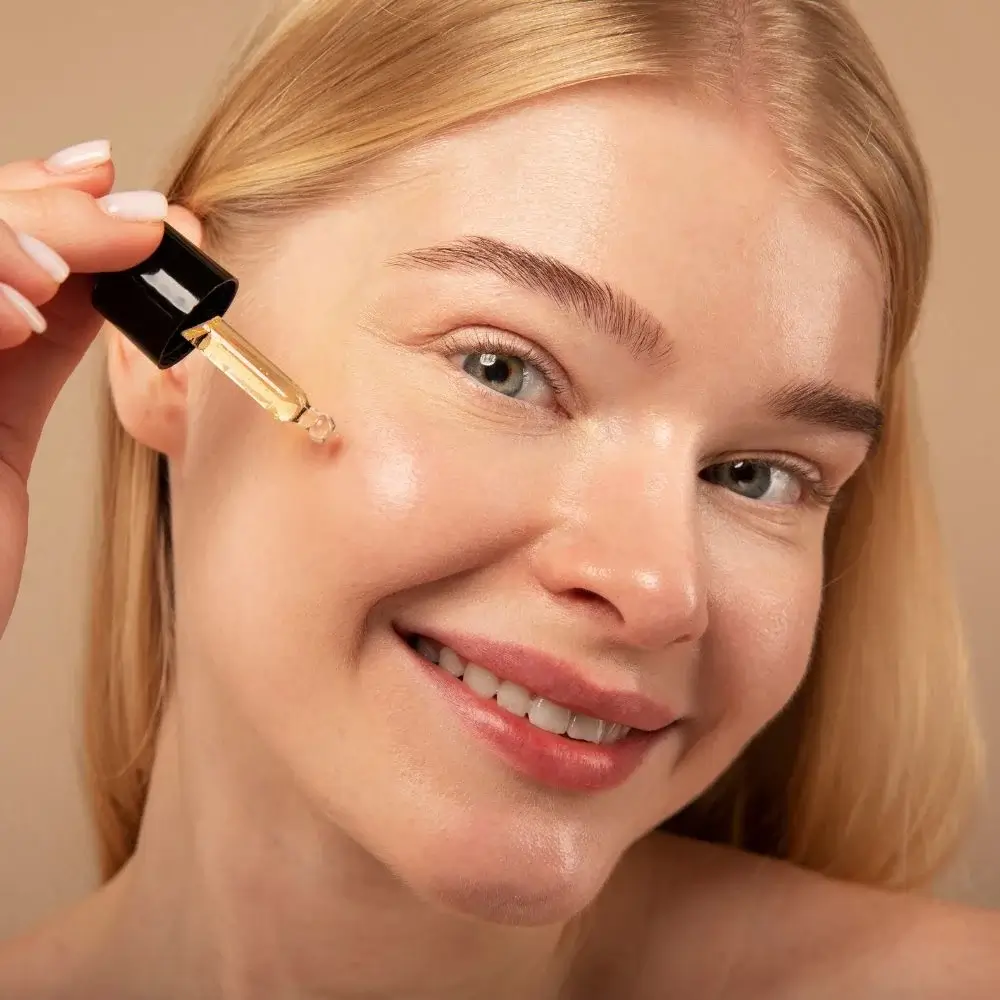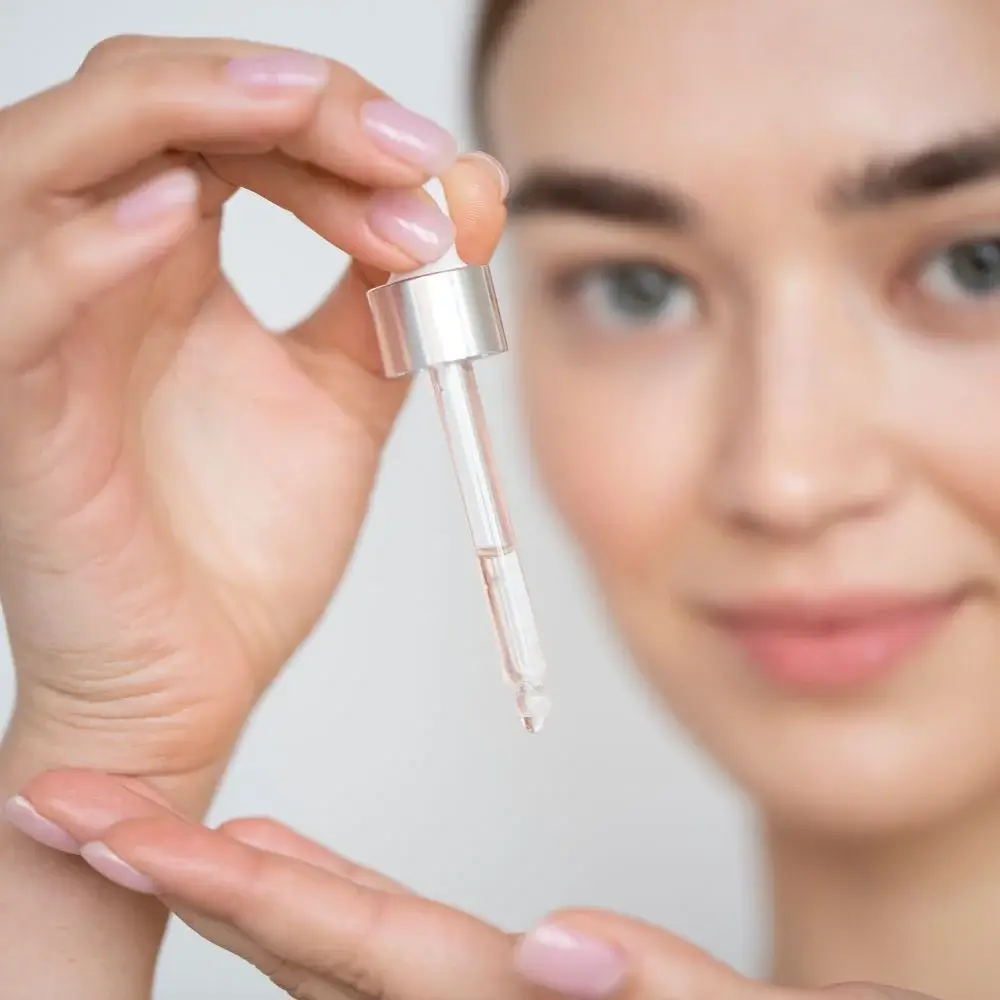 Can hyaluronic acid serum be used on all skin types?
Absolutely! The hyaluronic acid serum is a skincare superhero suitable for all skin types. Whether you battle pigmentation issues or dehydration or just want a natural glow, it's your go-to. Plus, some hyaluronic serums, like those with aloe vera, green tea, rosacea, vitamin E, witch hazel, or ferulic acid, are extra soothing, making them perfect for sensitive skin too. Everyone can enjoy the hydration boost!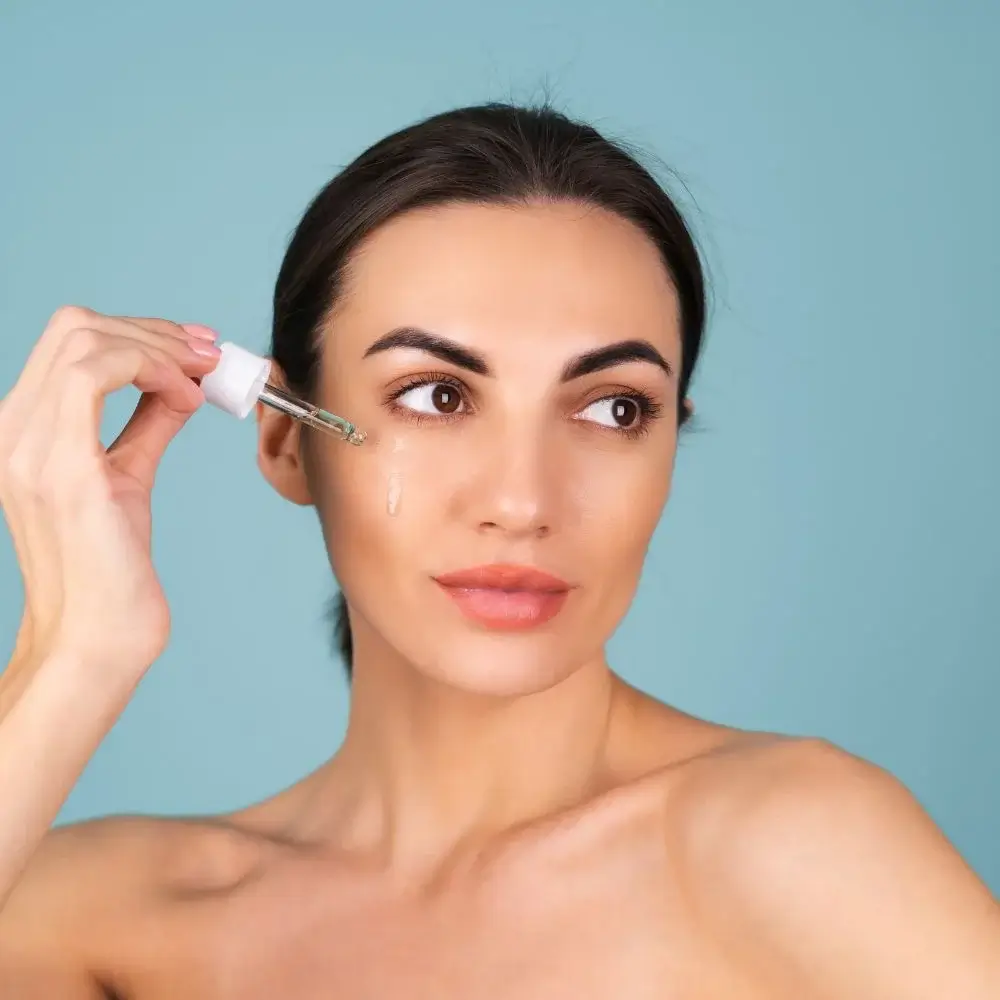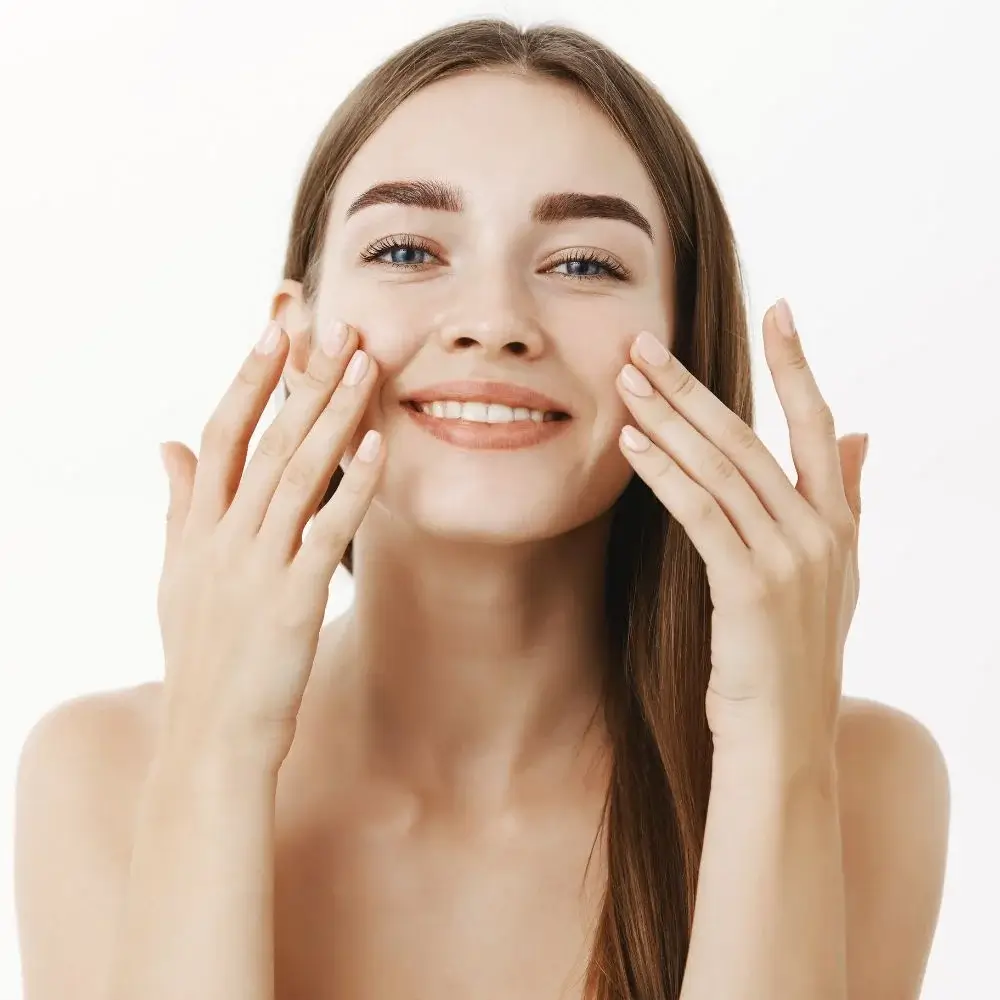 How does hyaluronic acid serum work?
The hyaluronic acid serum works like a hydration miracle! It's super lightweight and absorbs quickly, sinking deep into your skin. Unlike a heavy cream, it won't clog pores. Plus, most are fragrance-free, perfect for sensitive noses. These formulas act like moisture magnets, pulling in hydration and leaving your skin plump, smooth, and wonderfully refreshed!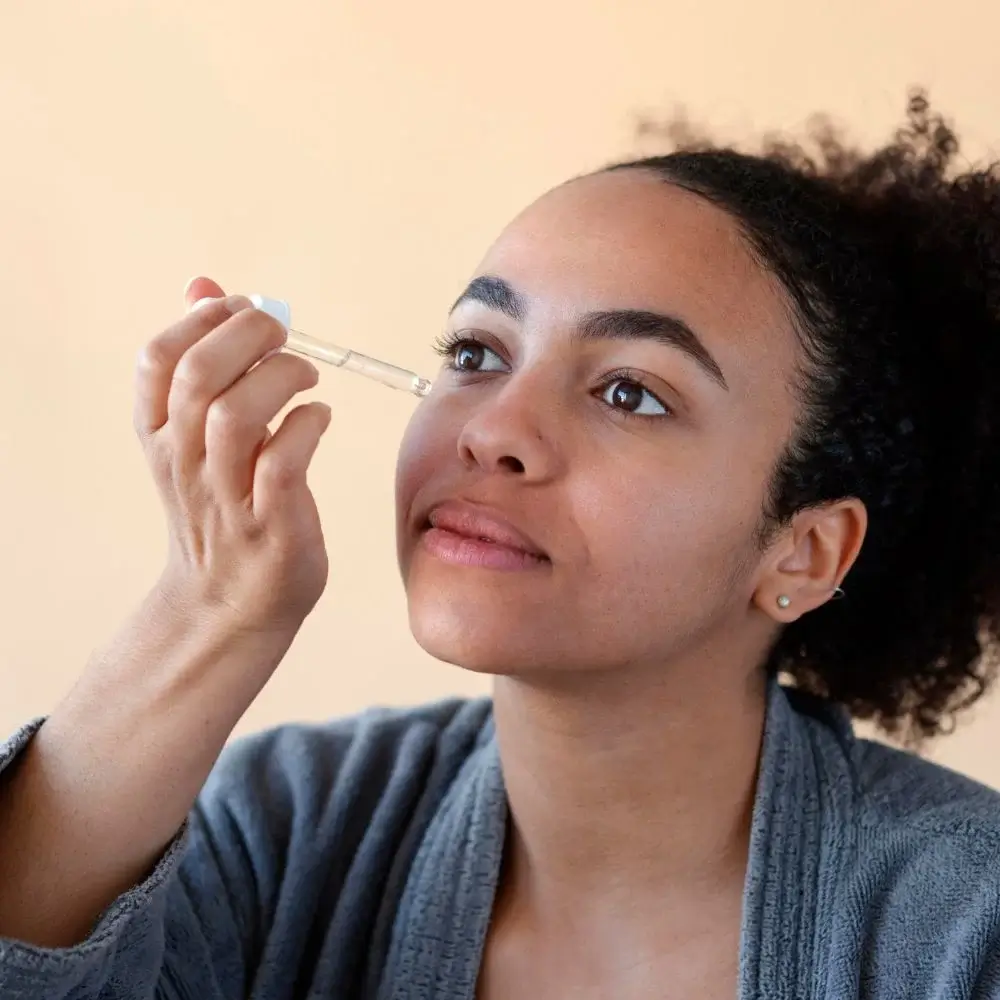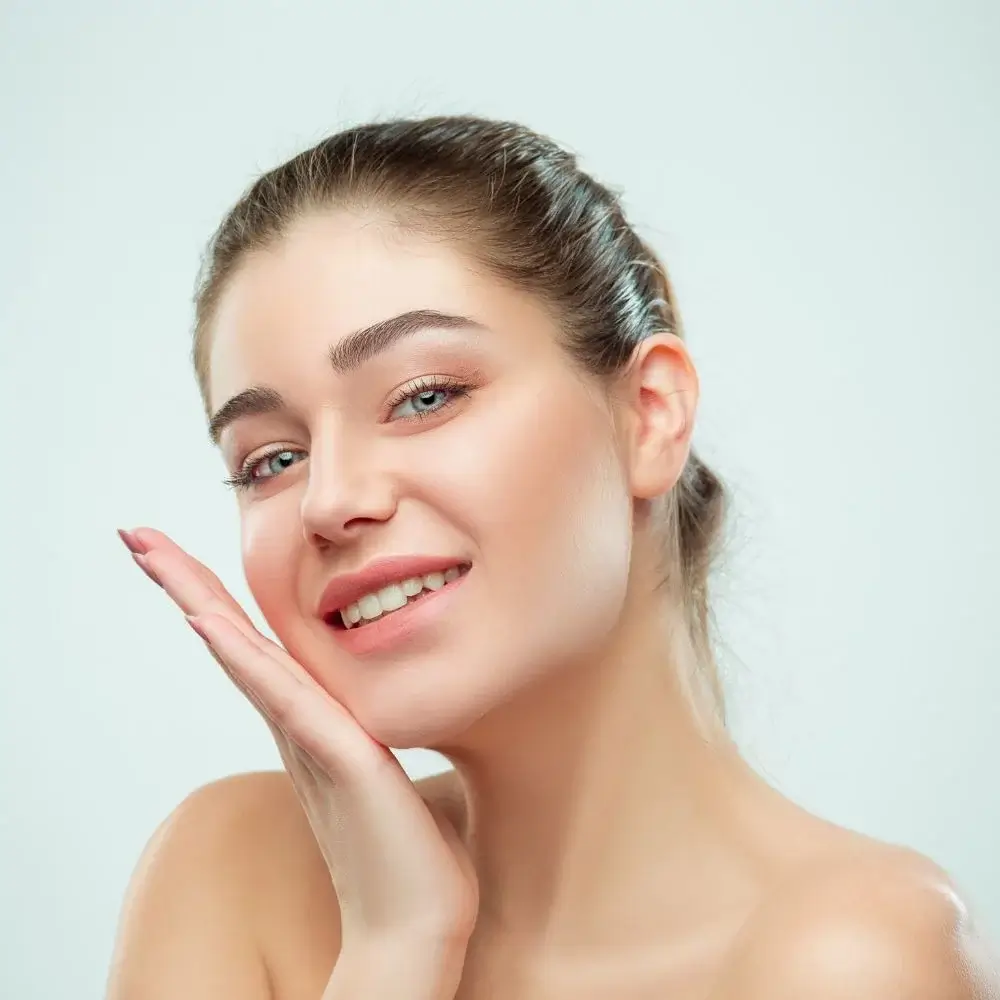 When should I apply hyaluronic acid serum in my skincare routine?
For optimal results, apply hyaluronic acid serum after cleansing and toning but before a heavier treatment like moisturizers. It acts as a fantastic hydrating base. If you're into eye care, gently pat it around your eyes. Remember, always follow up with a combination SPF with peptides during the day to shield your skin. And hey, it's not just for your face – if you have some extra, your body will love the hydration too. Pamper your skin; it's limited time well spent!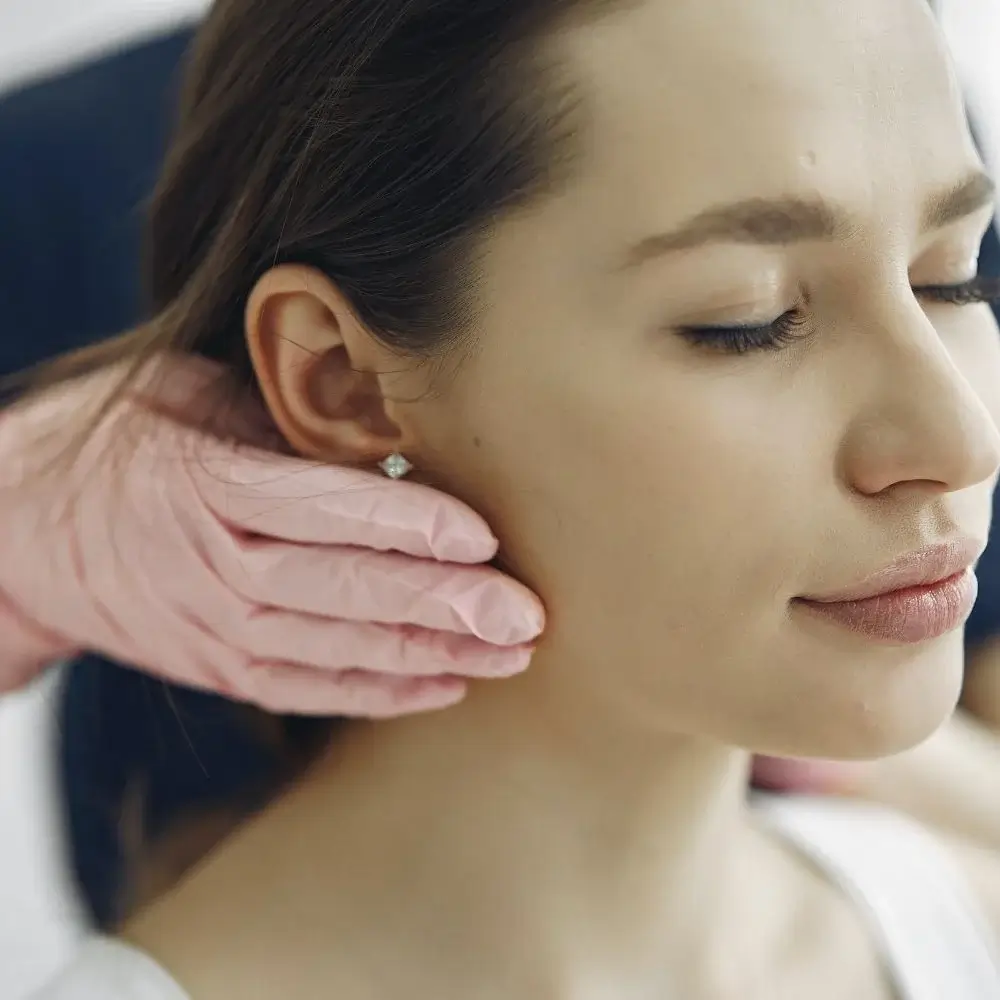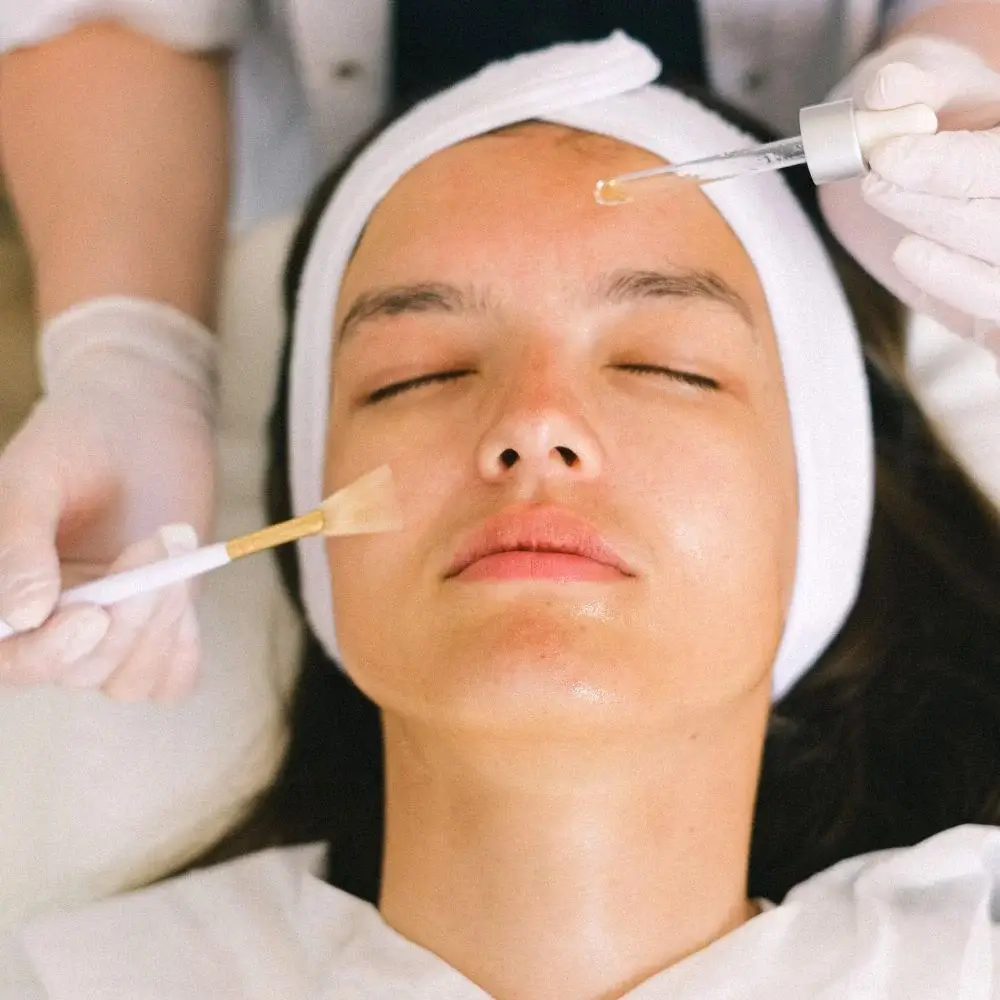 Hyaluronic Acid Serum
The best hyaluronic acid serums, like magic potions in elegant bottles, work tirelessly to replenish your skin's moisture, leaving it plump, supple, and radiant. They effortlessly glide onto your skin, sinking deep, without the heaviness of creams. These serums act as hydration heroes, rescuing your skin from the clutches of dryness and dehydration.
What makes the 3 products listed above the best? It is not just their ability to hydrate but their versatility and compatibility with different skin types and concerns. The use of these serums elevates your skincare routine to a new level, making them invaluable allies in your quest for radiant, ageless skin. Their carefully formulated ingredients and gentle nature underscore their effectiveness.
So select one from our thoughtfully selected collection today, and get ready to welcome radiant and healthier skin! And when you uncover the ideal choice, just click the provided link to swiftly complete your purchase! Always remember to adhere to the usage guidelines for the best possible outcomes.