Hair botox- a most effective and safe deep conditioning hair treatment that can turn your dull and lifeless locks into strong, voluminous, and healthy-looking hair! The treatment is highly popular among people of all ages. It helps nourish your hair from the roots, strengthens the cuticles, and adds volume to your tresses.
However, with an array of different hair botox products available in the market, picking the right one can be a tricky process because not every product can live up to the hype of restoring dull, lifeless hair or adding volume to it. Do you need the best botox hair treatment to get the perfect look and feel of healthy hair?
Don't worry; we have got you covered! We understand that finding the right product that will give you the desired results without damaging your precious hair is not easy. That's why we have compiled a list of the top 3 best botox hair treatments that can help turn your boring and limp hair into healthy-looking tresses.
All of these options are carefully formulated with a rich blend of natural ingredients to restore your hair's health and give it a natural shine. They are also designed to add moisture, increase volume, and make your locks look beautiful so you can flaunt them with confidence without ever worrying about damage or frizz.
Keep reading to learn more about our list of the top 3 best hair botox!
We have searched for the best, so you don't have to live with the rest. In order to serve you to the best of our ability and to keep our blog going, GarnesGuide may collect a share of sales or other compensation from the links on this page if you decide to buy. Each product was independently researched by our editors, and the reviews may have been edited for length and clarity.
How We Choose the Best Hair Botox:
Whether you're looking for a way to add more volume to thinning locks or simply want to add a bit of conditioning and nourishment to your hair, hair botox is worth looking into. It can give your hair more body & bounce while also helping to leave it feeling softer and smoother so you can keep your style for longer.
Hair botox also works to reduce frizz, so you don't have to worry about those pesky flyaways. But with tons of products available on the market, it's quite confusing & hard to know which one is best for your hair type.
To help you in this hair perfection journey, we have done a deep dive research and chosen the top 3 hair botox products that will leave your locks feeling sleek and revitalized. These treatments are free of harmful chemicals and are super easy to use, so you don't have to worry about spending hours in a salon chair.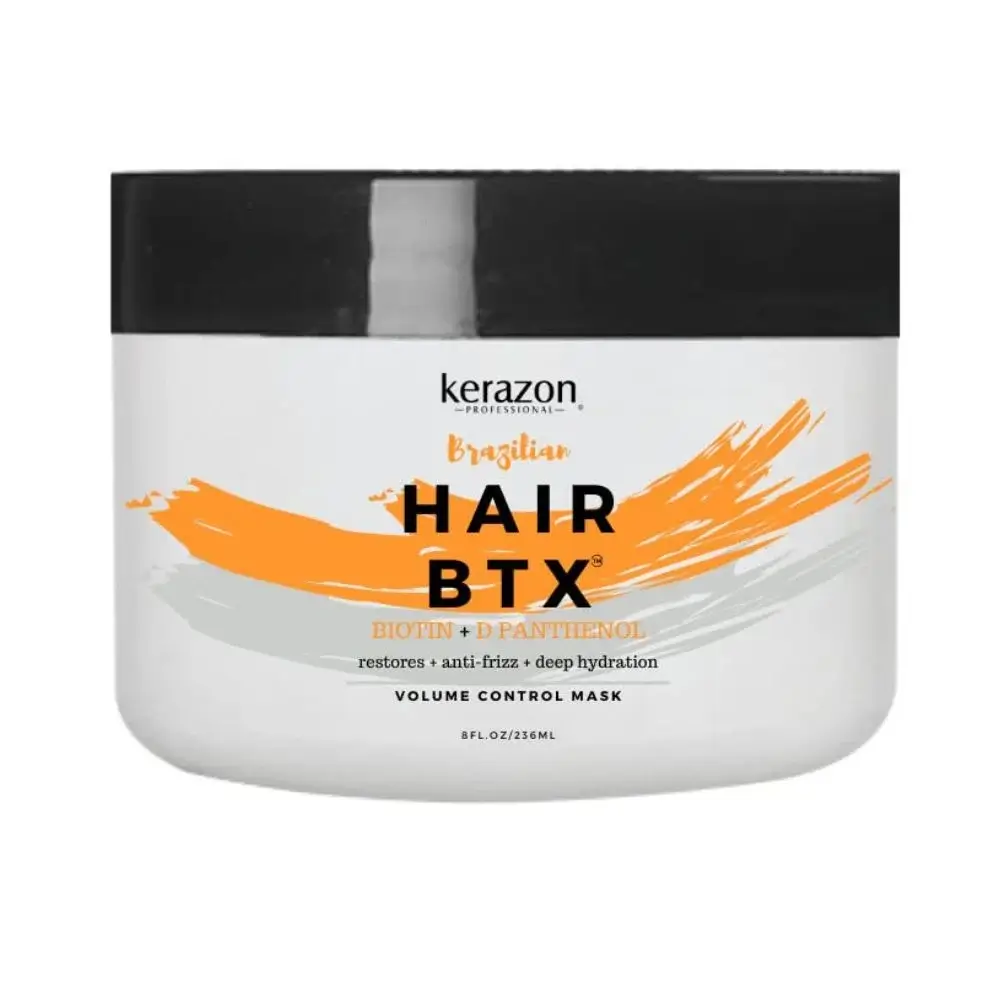 Best Hair Botox For All Hair Types
KERAZON Hair Botox Treatment
Check Price on Amazon
Why GG Loves It
The KERAZON Hair Botox Treatment is one of the most preeminent solutions for those looking to repair and hydrate their hair. This amazing product not only deals with visible frizz or smooths out roughness but also helps to repair the damaged hair from within so that it becomes healthy and strong again in the long run.
What truly sets this product apart is its rich moisturizing and nourishing properties, which are essential for maintaining hair health. It comes with a unique blend of natural ingredients, including biotin, hydrolyzed collagen, and wheat protein, that are designed to restore the structure of hair while replenishing lost mass.
Plus, it also helps protect your hair against future damage by creating a protective coating around the follicles. It can be used for all types of hair, so whether you have straight, curly, oily, dry, fine, normal, or wavy hair, KERAZON's Hair Botox Treatment provides the deep hydration and nutrition your locks crave.
What You Should Know
This hair botox treatment by KERAZON is crafted with a blend of natural ingredients selected to nourish and rejuvenate your hair and scalp. With its innovative formula, it's not only free from harmful formaldehyde (0%!) but also devoid of any toxic chemicals that could compromise the health of your precious locks.
It also contains shea butter and D-panthenol to help protect and condition your scalp & hair, respectively, making sure that you get the best of both worlds with this solution: beautiful, shiny hair that's also healthy.
Using this hair botox is so easy. Just shampoo your hair with an anti-residue shampoo, towel dry it until it's 80% damp, & then section your hair. Apply the product from roots to end in small strands (not scalp). Leave on for 20-40 minutes, based on your hair type, before rinsing out 50-70% of the product, depending on if you have dark or highlighted hair. Then blow dry and flat iron for a finished look that's super sleek & shiny!
So, if you are looking for a complete hair botox solution that will transform your hair into a silky, smooth, & shiny masterpiece, the KERAZON Hair Botox Treatment is the way to go. With this, you can revive, protect, and nourish your locks for maximum beauty with minimal effort, even if you have highlighted & colored hair.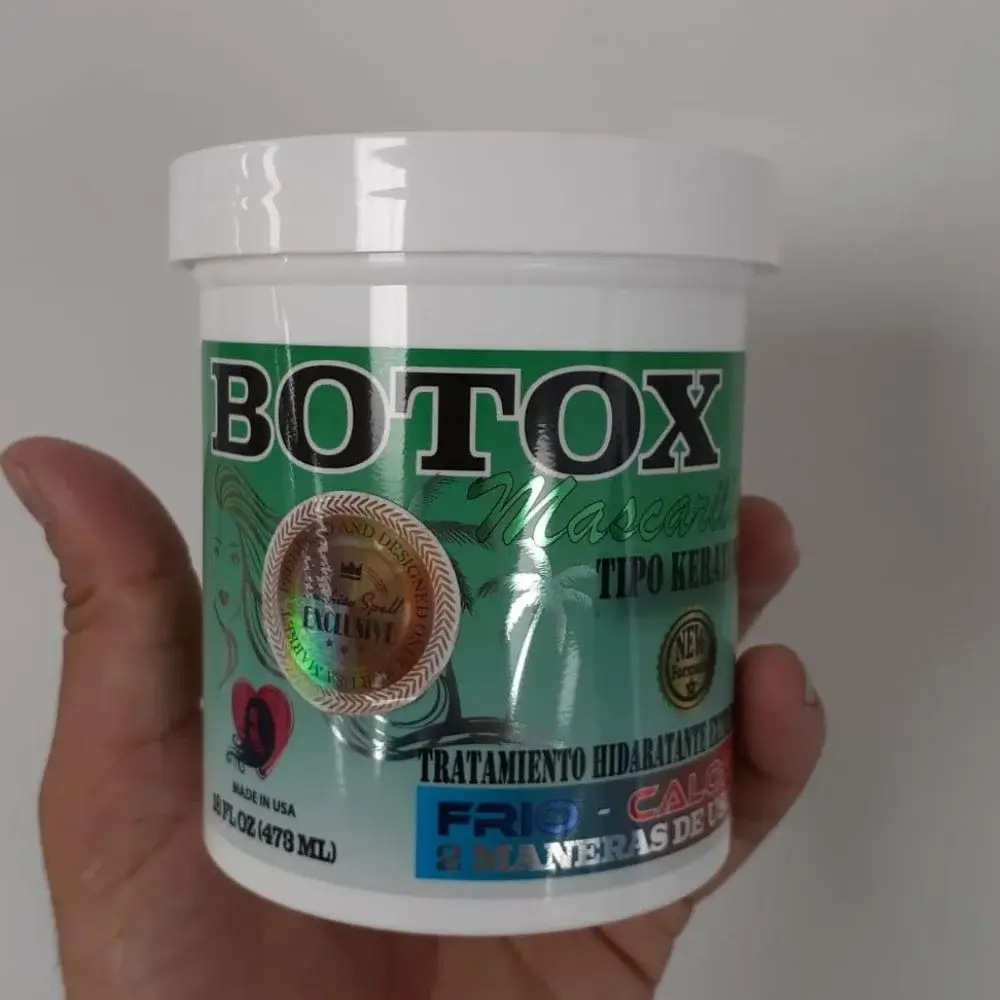 Best Hair Botox For Soft, Shiny, and Silky Hair
Kachita Spell Hair Treatment
Check Price on Amazon
Why GG Loves It
Have you been looking for an intensive hair botox treatment that will help to repair your damaged hair while leaving it feeling soft, shiny, and silky? Are you tired of dull, dry hair that is prone to frizz and breakage? If your response is yes, then you should unquestionably look no further than the Kachita Spell Hair Treatment!
This deep hydrating treatment will give you the best results by helping to rebuild damaged hair strands. It's formulated with a blend of oils and amino acids that work together to nourish your hair from root to tip. It not only repairs damaged and broken hair fibers but also strengthens your hair's natural protective layer.
This natural hair botox treatment will make your hair look smoother and provide it with the ultimate shine. Additionally, it won't weigh down your hair or make it look greasy but instead will leave you with silky, soft, strong, healthy-looking locks that are frizz-free so you can show off your beautiful tresses with confidence.
On top of that, it can be used in two ways: either via the HOT way or the COLD way. The HOT method will help open the hair cuticle to a deeper penetration of hydration whereas the COLD method will offer better protection over long-term damage. Both are easy to follow and will help you to get the optimal result.
What You Should Know
This organic, natural, creamy hair botox is made not just for one but for every type of hair. It can handle dry hair, frizzy hair, chemically treated hair, color-treated, and of course all other kinds of hair. Its antiallergic formula is also formaldehyde-free, so you can use it confidently without worrying about any harsh effects.
The best part? If you are a lady with blonde hair, then you will be especially pleased with this product, as it can help to restore and protect your hair color. It neutralizes those pesky yellowish tones from your hair that tend to develop over time in blond locks to help you achieve the perfect shade without any extra effort.
This product is made in the USA with strict quality standards, so you can be sure that you're getting only the best. So what are you waiting for? Get your hands on this hair botox and give your hair the nourishment it needs! The results will speak for themselves, and you'll be proud of the look you've been able to achieve.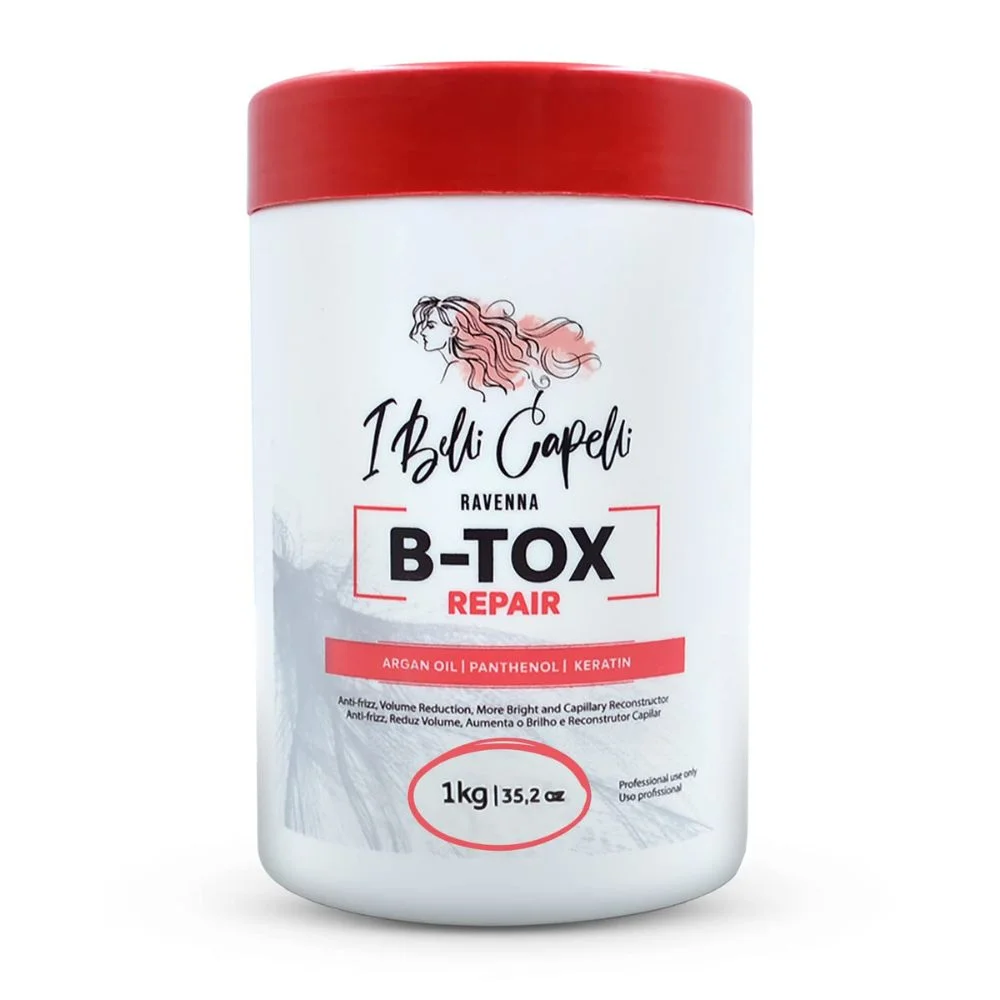 Best Hair Botox For Strengthening, Nourishing, and Hydrating
I Belli Capelli Ravenna Botox for Hair
Check Price on Amazon
Why GG Loves It
If you are looking for one of the most spectacular hair botox treatments that will not only transform your hair but also provide deep nourishment and hydration, then I Belli Capelli Ravenna Botox for Hair is the way to go. This product harnesses the power of Brazilian keratin, renowned for its incredible hydrating effects.
But that's not all about it; this hair botox treatment is also enriched with collagen, panthenol, shea butter, argan oil, and glycerin, creating a potent formula that strengthens, nourishes, and hydrates your hair. It promotes healthy growth, reduces breakage, and makes your hair softer, smoother, and more manageable.
What sets this hair botox apart from other treatments is its ability to provide long-lasting straightness to your hair. It penetrates deep into the hair fibers, reconstructing them into silky, straight strands that you've always dreamed of. With this treatment, you can say goodbye to frizz and hello to stunning, straight hair.
If you want to give your hair the ultimate treatment it deserves, the KERAZON Hair Botox Treatment is the ideal choice. It combines the power of keratin with a blend of nourishing ingredients to give you healthier, more beautiful hair so you can look your best, walk with confidence, and feel truly glamorous with no worry.
What You Should Know
Lifeless, dull hair can make any lady (no matter how strong!) feel less than perfect. To bring hair back to life, countless treatments available today will restore its vibrancy and shine. But the I Belli Capelli Ravenna Botox for Hair is a unique and revolutionary solution for safer and more effective hair botox treatment.
It's not only designed to restore healthy shine and vibrancy but also helps to reduce hair damage caused by heat styling tools and environmental factors. This treatment is also quite easy to use, and you don't need to visit a salon for it. After cleansing your hair with an anti-residue shampoo, dry 40% of your tresses.
Then, apply the I Belli Capelli Ravenna Botox Treatment on the remaining 60%. Leave it on for about 60 minutes, & then rinse off thoroughly. You'll be amazed to see the difference in your hair's texture, softness, and sheen. This revolutionary treatment is perfect for those looking to add life back into their dull tresses.
Here are Some FAQs to Help Guide you on Your Way!
Hair botox is a revolutionary new way to bring out the beauty of your hair. It helps nourish and revitalize strands for a smoother, softer feel that can make even the most unwieldy locks look silky and full of life.
But how hair botox treatment is different from regular one? Is it suitable for every hair type? Here are some of the most FAQs about hair botox that will answer all your questions so you can make the perfect decision:
How does hair Botox differ from regular Botox treatments?
Hair Botox is a treatment to repair damaged hair, reduce frizz, and improve smoothness and shine. Defiant to its name, it doesn't contain Botox (botulinum toxin) but utilizes a blend of keratin, amino acids, and vitamins for deep conditioning of the hair and to improve its texture, strength, shine, and manageability.
The major difference b/w regular Botox treatments and hair Botox lies in their purpose: while regular Botox is used to reduce wrinkles or expression lines on the face, hair Botox is used to nourish and repair hair. In reality, many keratin treatments include the chemical formaldehyde, so it's much safer and effective.
What are the benefits of hair Botox?
Hair Botox is a deep conditioning treatment that can help rejuvenate and repair hair follicles. It is a great way to add shine, & reduce frizz, split ends, and other damage caused by styling or environmental factors.
The botox treatment also helps strengthen hair strands, making them more resilient against further damage. Compared to other deep conditioners or any chemical treatment and keratin treatment, it is free from harsh chemicals and extremely gentle on the hair cuticles, so it won't cause damage or breakage.
Hair botox acts as a protective barrier between your hair and the elements, so it's perfect for those looking to protect their locks from damage caused by the sun or excessive heat styling. For more details about this trending treatment, you need to check the other submit-related articles to get more tips and tricks.
Is hair Botox suitable for all hair types?
Yes, hair Botox is suitable for all hair types. It works on any length, texture, & color of hair to help improve the overall condition and appearance. Hair Botox works by filling in gaps and smoothing out the strands of hair to help reduce frizz, breakage, and split ends. It can also help to protect color-treated hair from fading.
So, no matter if you have thicker hair, long hair length, wet hair, oily hair, or even naturally curly hair, hair Botox can help to make it look and feel healthier. Unlike any sulfate-free shampoo or hair mask that makes hair smoother, this hair treatment penetrates the hair shaft and actually rebuilds it from the inside out.
Best Hair Botox:
Hair that is soft, strong, voluminous, and full of life is the dream of many. We all desire luscious locks that make heads turn & exude confidence. However, achieving and maintaining such hair can often feel like an elusive goal. Thankfully, a game-changing solution is revolutionizing how we care for our hair – Hair Botox.
This hair treatment has been gaining popularity in recent years for its ability to transform dull, damaged hair into silky, smooth strands that are the envy of all. The top 3 options that we have listed above are all safe and excellent solutions for those looking to rejuvenate their hair and bring back its original luster.
With the help of hair botox, you can restore your hair's health & achieve that perfect mane you have always desired. So what are you waiting for? Pick any one of these options from our list today by clicking on any link here, and get ready to mesmerize the world with your glamorous tresses that have never looked better.