There's no denying that nails are a big part of our beauty routine. Whether it's a classic nude or a bold pop of color, well-manicured nails can make all the difference in your broad look. But let's face it, getting regular manicures at the salon can be expensive and time-consuming. If you're someone who loves experimenting with multiple nail designs and colors, investing in a BIAB nail starter kit is the way to go.
But wait, it's not as simple as you might think to choose the perfect starter kit. With a variety of "so-called best" options flooding the market, making the right choice can feel like searching for a needle in a haystack. Are you in search of a starter kit that truly lives up to its claims and is easy on your wallet?
Don't worry because we've got you covered! We know that when it comes to beauty products, quality & affordability are key factors. So, we've compiled this list of the top 3 BIAB nail starter kits that fit the bill.
Each kit listed below comes with a variety of shades and tools that will change the whole plot of your nail game. From classic nudes to vibrant pops of color, these nail starter kits offer infinite possibilities to transform your nail game into a work of art, all in the comfort of your own home with no extra expenses.
Keep reading to learn more about our list of the top 3 best BIAB nails starter kit!
We have searched for the best, so you don't have to live with the rest. In order to serve you to the best of our ability and to keep our blog going, GarnesGuide may collect a share of sales or other compensation from the links on this page if you decide to buy. Each product was independently researched by our editors, and the reviews may have been edited for length and clarity.
How We Choose the Best BIAB Nails Starter Kit:
A BIAB nail starter kit is one of the greatest ways to learn, experiment, and have a blast with your nails. From UV lamps to gorgeous gel polishes, these starter kits have all the tools to keep your nails looking fabulous. It's like having your own mini nail salon right at your fingertips to create your perfect manicure.
Whether posting a picture on social media, attending a special event, or just liking to pamper yourself, they offer you everything you require. But how do you choose the one that exceeds your expectations?
To help you in this perplexing quest, we have done a deep dive research and have selected the top 3 BIAB nail starter kits that will take your nail game to the next level. They are all truly spectacular, but each one offers its own unique features and benefits that will turn your nail art dreams into a reality.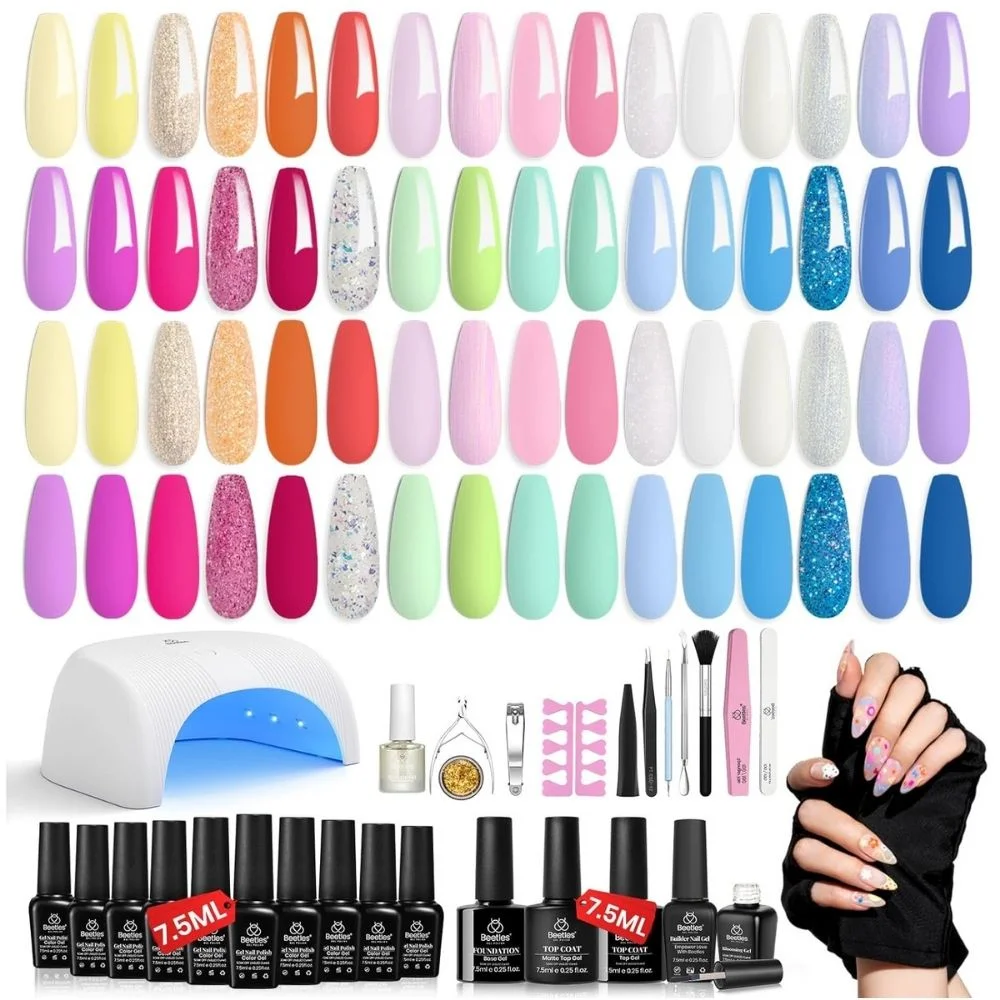 Best BIAB Nail Starter Kit For DIY Home
Beetles 52 Pcs Gel Nail Polish Kit
Check Price on Amazon
Why GG Loves It
If you have been looking for a starter kit that has everything you need for a perfect at-home manicure, then look no further than the Beetles 52 Pcs Gel Nail Polish Kit. This comprehensive kit includes all the essentials for a healthy and beautiful DIY manicure, making it the perfect gift for yourself or a loved one.
It comes with a 36W nail lamp, 32 pastel gel polishes, base and top coats (both glossy and matte), cuticle oil, blooming gel, builder nail gel, nail stickers, protective gloves, a nail cap handle, cuticle trimmer, tweezers, pusher, clipper, file, buffer, and separators. With this kit in hand, you can say goodbye to expensive salon visits and hello to gorgeous nails in the comfort of your own home.
The 36W high-power nail dryer is an essential component of this kit, providing salon-quality curing for all types of UV/LED gel polishes. It features 18 lamp beads for all-round curing, ensuring even coverage and a quick-drying process. Plus, with 32 32 gorgeous colors, you can create any look for any event.
What You Should Know
One of the best things about this kit is that it promotes a healthier approach to manicures. The Beetles gel polish is made with non-toxic ingredients, making it safer for you and the environment. It boasts a long-lasting formula that is chip-resistant & maintains its shine for up to 21 days without any touch-ups.
This kit is also equipped with anti-UV gloves that effectively reduce skin damage and protect your hands while using the nail lamp. It's an ideal present for any beauty lover in your life, whether it's for a special occasion like Valentine's Day, Women's Day, Birthday, or just to show them how much you care.
If you aspire to have salon-quality nails without leaving the house, the Beetles 52 Pcs Gel Nail Polish Kit is just what you need. It is the ultimate choice for achieving professional results in the comfort of your own home without burning your hand, pocket, or conscience that comes with using harsh chemicals.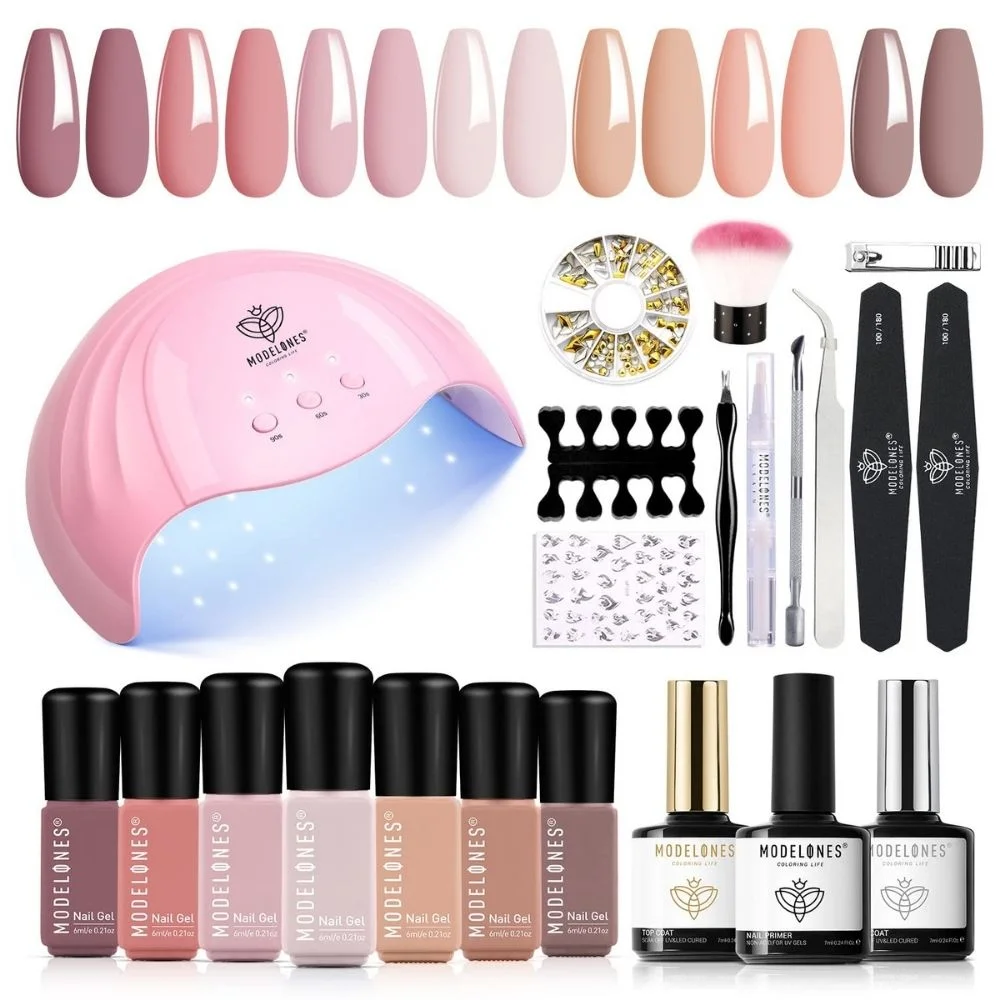 Best BIAB Nail Starter Kit For Salon-like Nail Art
GNK Modelones Gel Nail Manicure Kit
Check Price on Amazon
Why GG Loves It
While a salon is one of the most dazzling places to get pampered and beautified, it can be quite pricey and time-consuming. But with GNK Modelones Gel Nail Manicure Kit, you can achieve salon-like nail art without putting too much strain on your wallet or schedule from the comfort of your own sweet home.
This 22-piece gel nail polish kit comes with everything you need to create stunning and professional-looking nails. It includes 7 shades of versatile nude soak-off gel polish, a powerful 48W LED nail dryer lamp, bond primer, no wipe base & glossy top coat, and various nail art decoration and accessories kits.
The nail dryer lamp is a standout in this kit, with its 3-timer mode and quick-dry feature. It can easily cure base coat, gel nail polish, top coat, and other nail gels in just 30 seconds to 2 minutes, saving you more than 50% of the time compared to traditional UV lamps. It has a long lifespan of over 50,000 hours, so you can enjoy salon-quality nails for a very long time without worrying about the lamp breaking down.
What You Should Know
The aspect that sets GNK Modelones Gel Nail Kit apart from other nail kits is its strict quality control, ensuring that you'll enjoy an easy, quick, and even nail art experience every time. The gel polishes are made of non-toxic ingredients, so it's safe to use even for beginners who are not used to applying nail polishes.
The gel polish is also long-lasting and scratch-resistant, so you won't have to worry about chipping or peeling for at least two weeks, even with everyday activities. The 7 universally flattering nude shades give you plenty of options to mix and match, creating endless possibilities for stylish nail art designs.
The best part? This kit has a low odor & is cruelty-free. You can have your nails done without exposing yourself to harsh chemicals and, at the same time, supporting a brand that values animal welfare. The gel polishes are also extracted from natural sources, making them safe and gentle on your nail bed and skin.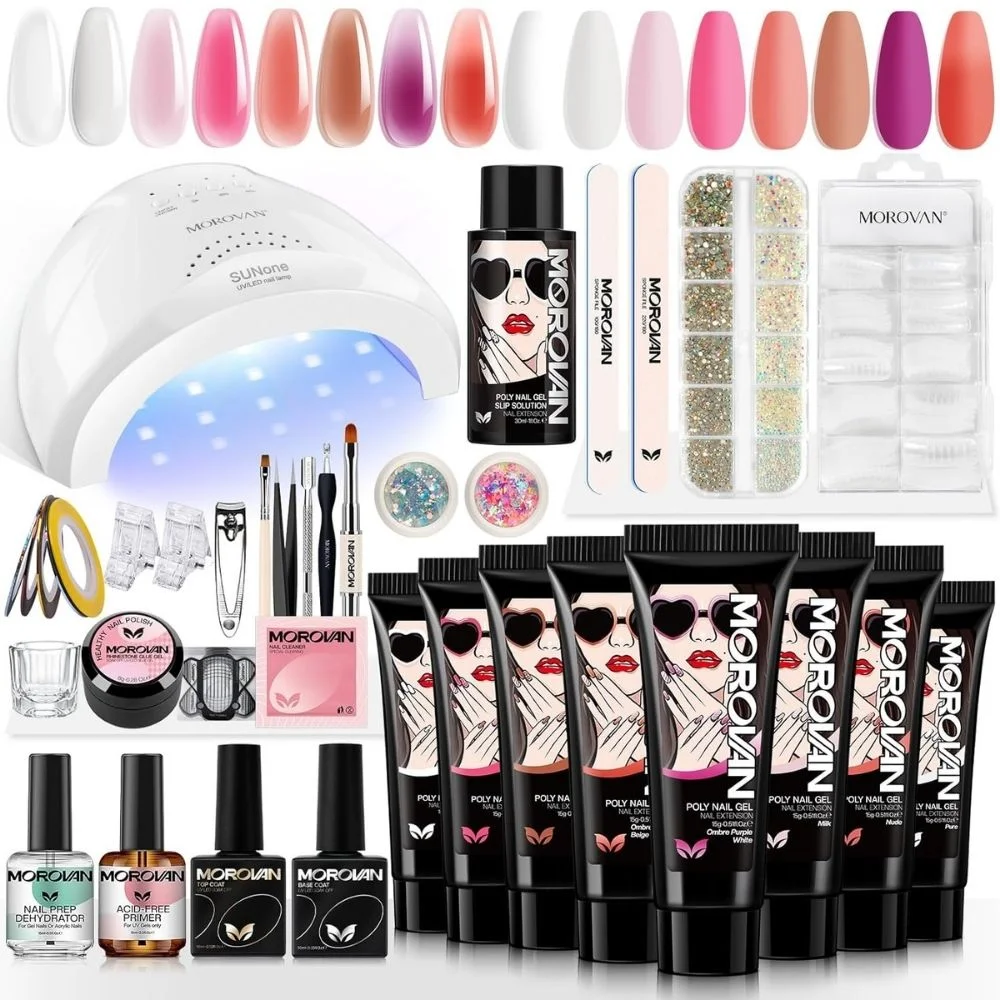 Best BIAB Nail Starter Kit For Both Beginners and Professionals
Morovan Poly Gel Nail Kit
Check Price on Amazon
Why GG Loves It
This comprehensive Starter Kit from Morovan includes a wide range of nail art tools that will transform your nail art skills from basic to advanced, allowing you to create various stunning designs. With a curated selection of popular poly gel nail colors, including white, pink, milk, nude, brown, and two captivating gradient shades, this kit is perfect for everyday wear as well as special occasions.
The complete poly gel nail kit starter kit comes with all the essential nail tools you need, including a 48W LED Lamp, base coat, top coat, 6 pure color poly gels, 2 temperature-changing color poly gels, and other basic nail art supplies. Whether you're a beginner or a nail enthusiast, this kit has everything you need to create strong, flexible, and lightweight nail extensions that will make you the focal point.
So, no matter if you are heading to your office or going for a night out with friends, the Morovan Poly Gel Nail Kit will never let you down. Simply put, this kit offers the perfect balance between durability and flexibility, ensuring long-lasting results without causing any damage to your natural nails or cuticles.
What You Should Know
This poly gel nail kit is an all-one starter kit that is designed to let you have a salon-quality manicure without spending hundreds of dollars at a nail salon. The only thing that makes this kit a breathtaking deal is that it can last not just for 20 days but also up to 1 month or even longer with proper application.
Additionally, the poly gel formula is odorless, non-toxic, and safe for your nails. Unlike other traditional acrylics or hard gels that require strong chemicals to adhere to your natural nails, poly gel uses a unique formula that requires minimal buffing and filing before application to ensure a damage-free experience.
If you want to prevent poly gel from sticking to your brush or other nail tools during application, you can dip the brush in a bit of slip solution. This will help the poly gel pick up smoothly and form easily on dual forms. So get this kit today and start creating your own beautiful nail art designs at home with no worry.
Here are Some FAQs to Help Guide you on Your Way!
Putting on nail polish has always been a fun and creative way to express oneself. From bold and bright colors to glittery and shimmery finishes, our nails are like miniature canvases waiting to be adorned with our unique touch. You can opt for a classic French tip or just go for a solid color - the options are infinite!
But what kinds of stuff do BIAB nail starter kits have? Is this kit beginner-friendly? Here are some FAQs that will answer all of your questions so you can start your BIAB nail journey without any complications:
What is included in a BIAB nails starter kit?
A BIAB nail starter kit typically includes builder gel to add strength to natural nails, a UV lamp for curing, a top coat for a glossy finish, tools like a nail drill, file, and cuticle care items. It offers everything you need to ready your nails for a refilled and polished look, including oil to dehydrate for prepping the nails.
How does a BIAB nails starter kit differ from traditional nail polish?
A BIAB nail starter kit differs from traditional nail polish as it typically includes a base coat, color polish, and top coat all in one formula. This eliminates the need for multiple products and steps in the nail polishing process. In addition, BIAB (Builder In A Bottle) nail starter kits are designed to be long-lasting, durable, and chip-resistant. It adds strength to the natural nail and is perfect for filling gaps in cuticles.
Is it easy to use a BIAB nails starter kit at home?
Using a BIAB nail starter kit at home can be straightforward. Apply gel polish in a specific thin layer, shape the nails, and cure them under an LED lamp. Following brand-specific tips and using alcohol for cleaning makes it a user-friendly process for achieving salon-worthy colour, longevity, and glossiness.
Best BIAB Nails Starter Kits:
In this social media era, where DIY beauty hacks and tutorials are all over the internet, it's no surprise that at-home nail care has become a popular trend. With the rise of gel manicures and nail design art, keeping up with salon visits can be time-consuming & costly, which can be real deal-breakers for some.
But worry not, ladies; the top three BIAB nail starter kits that we have shared above are all spectacular options for those looking for perfect, long-lasting nails without salon trips. They are easy to use, budget-friendly, and come with all the necessary tools that you need to create ideal salon-worthy nails at home.
So what are you waiting for? Grab one of the above-featured kits from our list today and unleash your inner nail artist. No matter if you're a newbie who never painted her nails or an expert looking to perfect your at-home manicure game, they are sure to make your nail care routine a lot more fun and efficient.