4C hair is one of the most beautiful, unique hair types that showcases the incredible diversity and natural beauty of hair textures. This hair type is characterized by its tight, coiled curls that form the shape of the letter "z." It's known for its density and volume, making it a standout in terms of texture and visual impact.
But it's not as easy to manage and style as other hair types. 4C hair is more prone to tangles, breakage, shrinkage, and dryness. This means that proper care and maintenance are essential if you want to keep your 4C hair healthy and beautiful. And shampoo is the most crucial foundational step in that care routine.
However, with an array of brands & options that fill the whole market just like a vast forest, finding the right shampoo for your 4C hair can be a daunting task because not all shampoos can deliver optimal levels of cleansing and conditioning for your 4C texture. Do you need the best shampoo for your precious 4c hair?
Don't worry; we have got you covered! We know that finding the perfect shampoo that will nourish and enhance your 4C hair can be overwhelming, so we've taken the guesswork out of the equation and put together a carefully curated list of the top 3 best shampoos specifically designed with 4C hair in mind.
All these shampoos are made with natural ingredients that will help nourish and moisturize your 4C hair while also providing a deep clean without stripping away the natural oils. Plus, they are sulfate, paraben, and silicone-free so that you can rest assured knowing your hair is getting only the best care possible.
Keep reading to learn more about our list of the top 3 best shampoos for 4c hair!
We have searched for the best, so you don't have to live with the rest. In order to serve you to the best of our ability and to keep our blog going, GarnesGuide may collect a share of sales or other compensation from the links on this page if you decide to buy. Each product was independently researched by our editors, and the reviews may have been edited for length and clarity.
How We Choose the Best Shampoo For 4C Hair:
A shampoo is good for 4C hair; however, the truth is, not all shampoos are created equal when it comes to embracing those magnificent tight "z" coils. Some can be harsh, drying out your strands, while others can leave buildup and clogged pores that can suffocate your scalp and cause unnecessary breakage & damage.
To help you in this labyrinth of haircare choices, we've done an extensive search and picked out the top 3 best shampoos for 4C hair that will cleanse, moisturize and make your hair soft, luscious, and full of life!
Each of these products is designed to protect and nourish without stripping away the natural oils found in 4C strands. They also contain lightweight ingredients to prevent your strands from being weighed down and will leave them bouncy, shiny, and easy to manage so you can show off your curls with full confidence.
Whether you're seeking a shampoo that tames unruliness, a potion that enhances your Z curl pattern, or simply a product that treats your hair with the tenderness it deserves, these options have got you covered.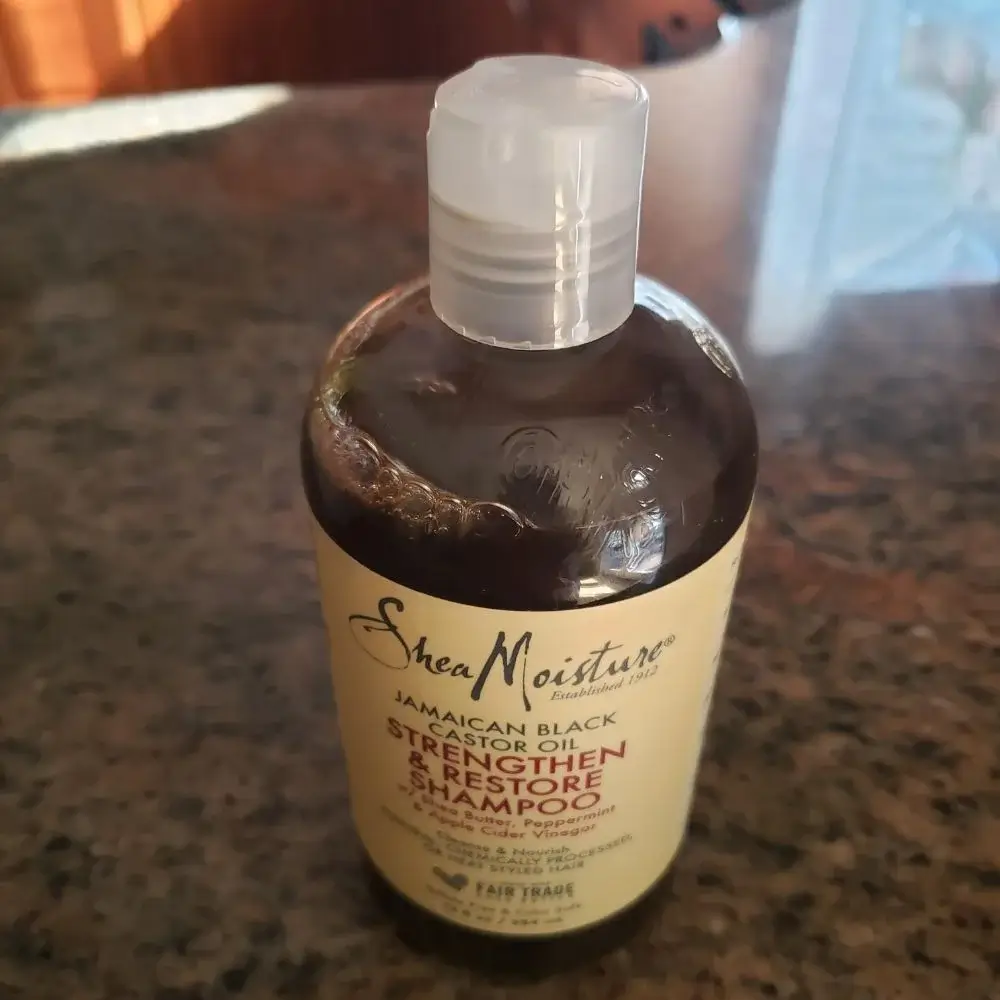 Best Shampoo For Damaged Hair
Sheamoisture Strengthen and Restore Shampoo
Check Price on Amazon
Why GG Loves It
Like all curly hair types, 4C hair is naturally dry, which, unfortunately, makes it more prone to damage. The culprit behind this seemingly simple yet all-too-common problem is often a lack of proper moisturization. Without the essential dose of moisture, your gorgeous "Z" pattern coils may face a myriad of challenges.
The Sheamoisture Strengthen and Restore Shampoo is the one and only sulfate-free clarifying shampoo that is formulated to cleanse, nourish, and revitalize 4C kinky coils. This shampoo is a game-changer for those with 4C hair, as it understands the unique needs of your hair type and addresses them head-on.
This hair repair shampoo is made with 100% Pure Jamaican Black Castor Oil that not only cleanses your hair but also provides a nourishing & revitalizing experience. It's like a spa day for your hair right in your shower! It can remove product buildup while promoting proper moisture balance, retention, & hair growth.
For those who regularly put their hair through the wringer – coloring, straightening, perming, or heat styling – this sulfate-free clarifying shampoo is your ultimate ally. It's not just a remedy; it's a preventive measure to ensure that your kinky, curly hair remains resilient and strong even in the face of regular styling stress.
With its 100% natural castor oil, it not only promotes healthy hair growth, & prevents hair breakage or split ends but also strengthens the hair shaft and restores your natural curl pattern. With this, you can finally free yourself from the tyranny of hair damage and enjoy your 4C curls without worrying about anything.
What You Should Know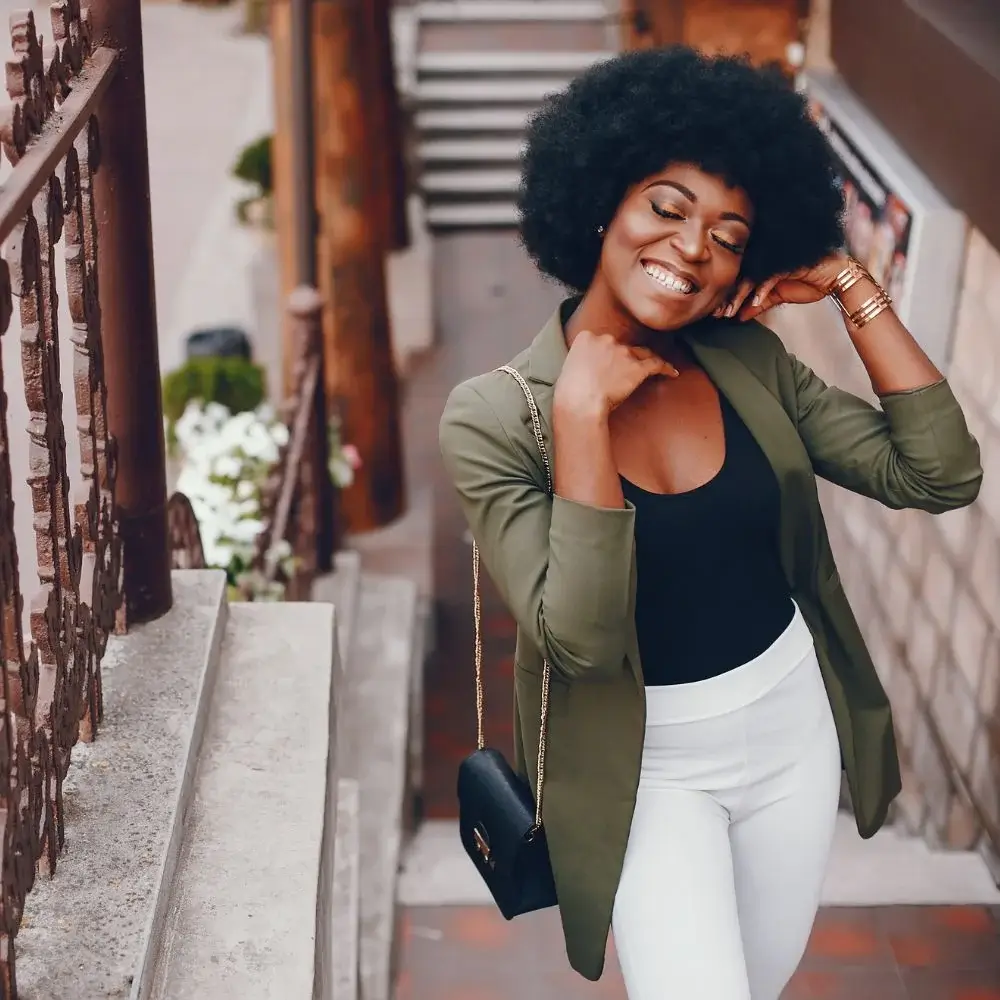 The aspect that makes SheaMoisture the most famous and unique brand is its commitment to bringing authentic, natural beauty products to its customers. Not only are their products free of sulfates, parabens, and phthalates, but they are also free from synthetic fragrances, colorants, and especially animal products!
This commitment to cruelty-free formulations is a testament to their ethos of ethical & sustainable beauty. And when it comes to this particular shampoo, rest assured that it upholds the brand's high standards and delivers exceptional results, leaving your hair feeling nourished, healthy, & beautifully fragrant with no guilt!
Including castor oil, it also contains other natural ingredients like pure shea butter, peppermint oil, aloe vera juice, rice protein, etc.! These natural humectants provide deep moisturization, improve curl definition and lock in moisture for an extra burst of hydration, giving you a head full of healthy and bouncy curls.
But this shea butter shampoo is not just about nourishing your hair; it's also about treating your senses. With the delightful scent of lavender, your hair and mind will also be immersed in a soothing experience. So why wait? Pick it today and show off your super beautiful 4C curls without the fear of damage or split ends!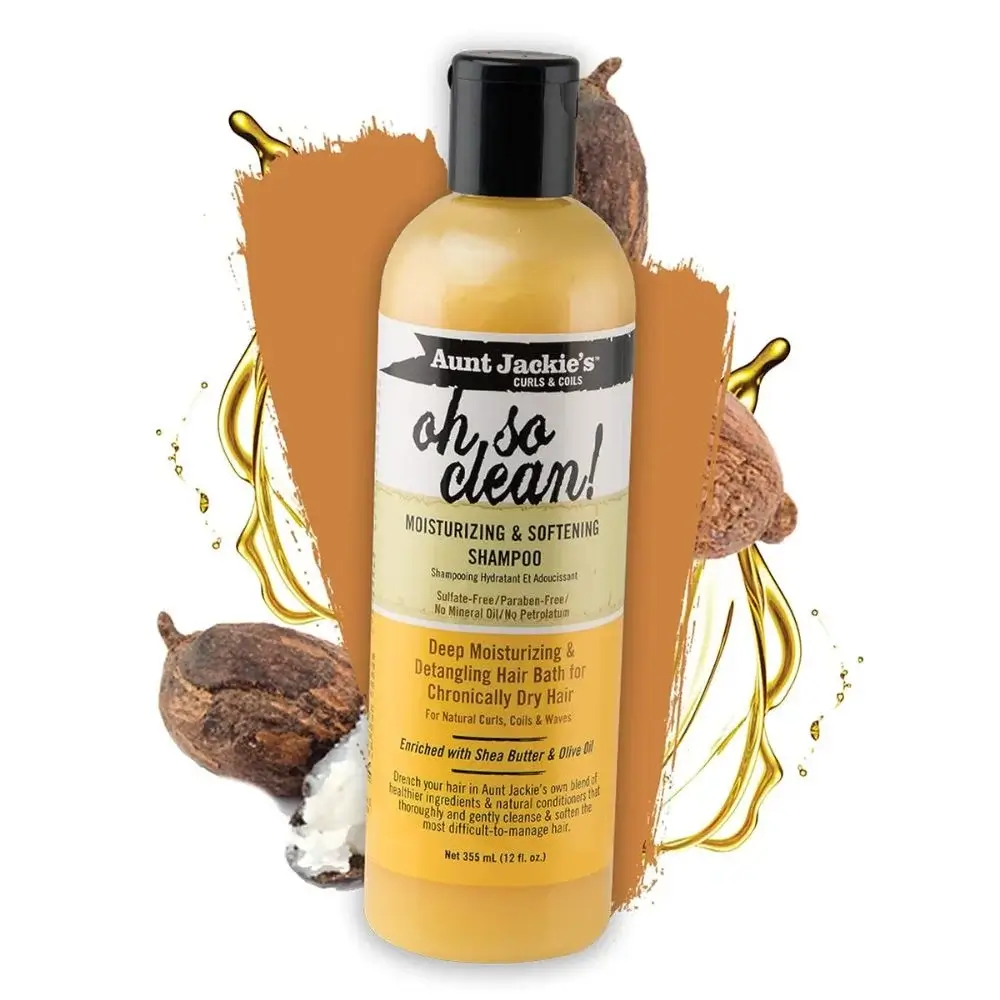 Best Shampoo For Natural Curls, Coils, and Waves
Aunt Jackie's Curls and Coils Oh So Clean Deep Moisturizing and Softening Hair Shampoo
Check Price on Amazon
Why GG Loves It
Are you looking for a moisturizing shampoo that's specifically designed to clean and soften your natural curls, coils, or waves? Do you always end up with tangled strands after washing your 4c hair? If so, then you need Aunt Jackie's Curls and Coils Oh So Clean Deep Moisturizing and Softening Hair Shampoo!
This shampoo is a blend of healthier ingredients and natural conditioners that will thoroughly and gently cleanse your hair without stripping away its essential oils. For most difficult-to-manage hair, it's like giving them a spa day and a reset button in a bottle to help you achieve your desired style without much trouble.
It has a unique blend of natural conditioning agents that soften and protect the hair from damage while eliminating tangles, knots, & frizz. It's also rich in shea butter to nourish your curls with intense moisture as it works to improve manageability and hair elasticity so you can rock your natural hairstyle with confidence.
With regular use, you can give your 4c natural hair the love and care it deserves. This shampoo is a game-changer that can help enhance the natural beauty of your curls and coils without compromising their health.
What You Should Know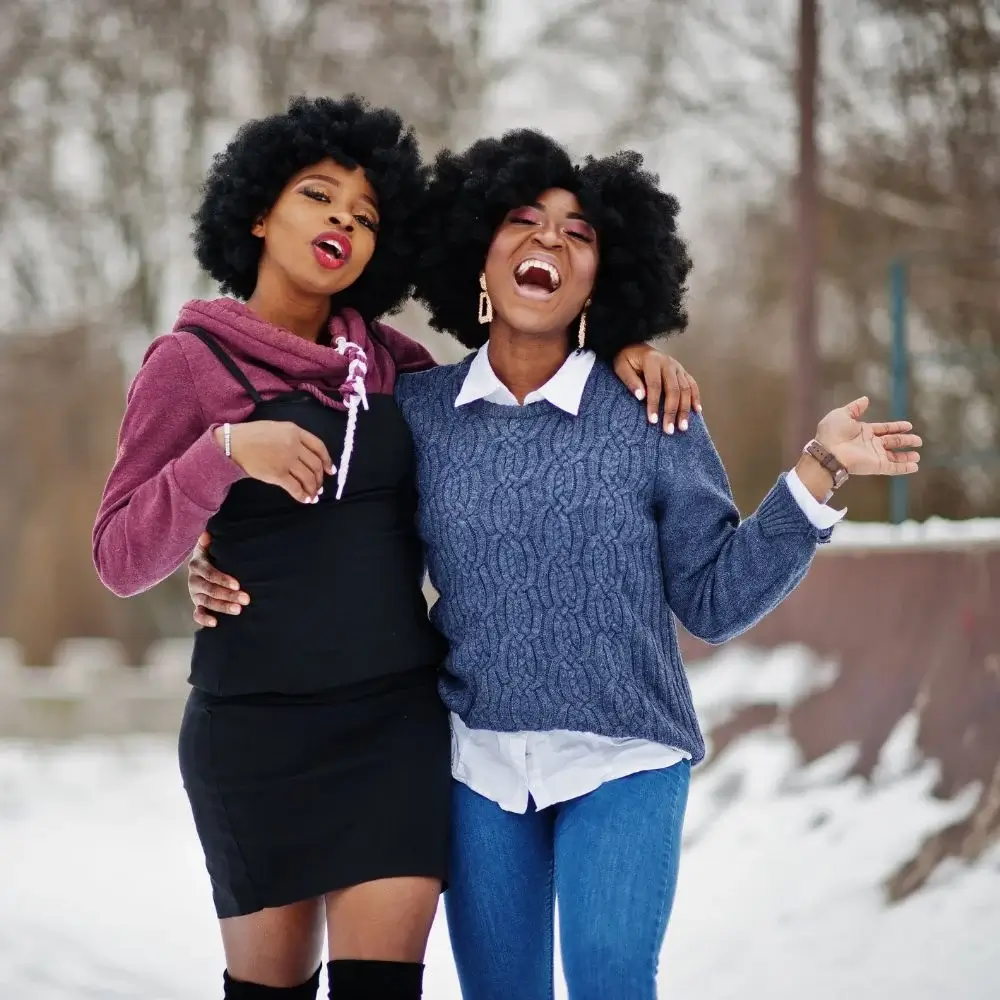 Aunt Jackie's Curls and Coils Oh So Clean Deep Moisturizing and Softening Hair Shampoo is also infused with coconut oil & extra virgin olive oil, which further contribute to its moisturizing & nourishing properties.
Coconut oil is renowned for its ability to penetrate the hair shaft, providing deep hydration & strengthening from within. This means that your natural 4c hair & coils receive the holistic care they need to thrive while olive oil is packed with fatty acids & vitamin E that help to replenish lost moisture for healthy hair growth.
The best part; this shampoo is suitable for all hair types, no matter if you have brittle hair, dry hair, wavy hair, textured hair, or other type; it works for all and provides an extremely softening and hydrating effect.
Like any other best detangling shampoo or hydrating shampoo, this ideal product is also free from sulfate, petroleum, and mineral oil (which can be quite harmful to 4c hair type), so you don't have to worry about any potential damage like hair breakage, dryness or itchiness that can occur due to these harsh chemicals.
So if you truly want to nurture and embrace your natural curls, coils, and waves, Aunt Jackie's Curls and Coils Oh So Clean Deep Softening Shampoo is your ultimate ally. This shampoo is not just an essential part of your natural hair care routine, but it's the best shampoo for 4C hair that gives you results like no other.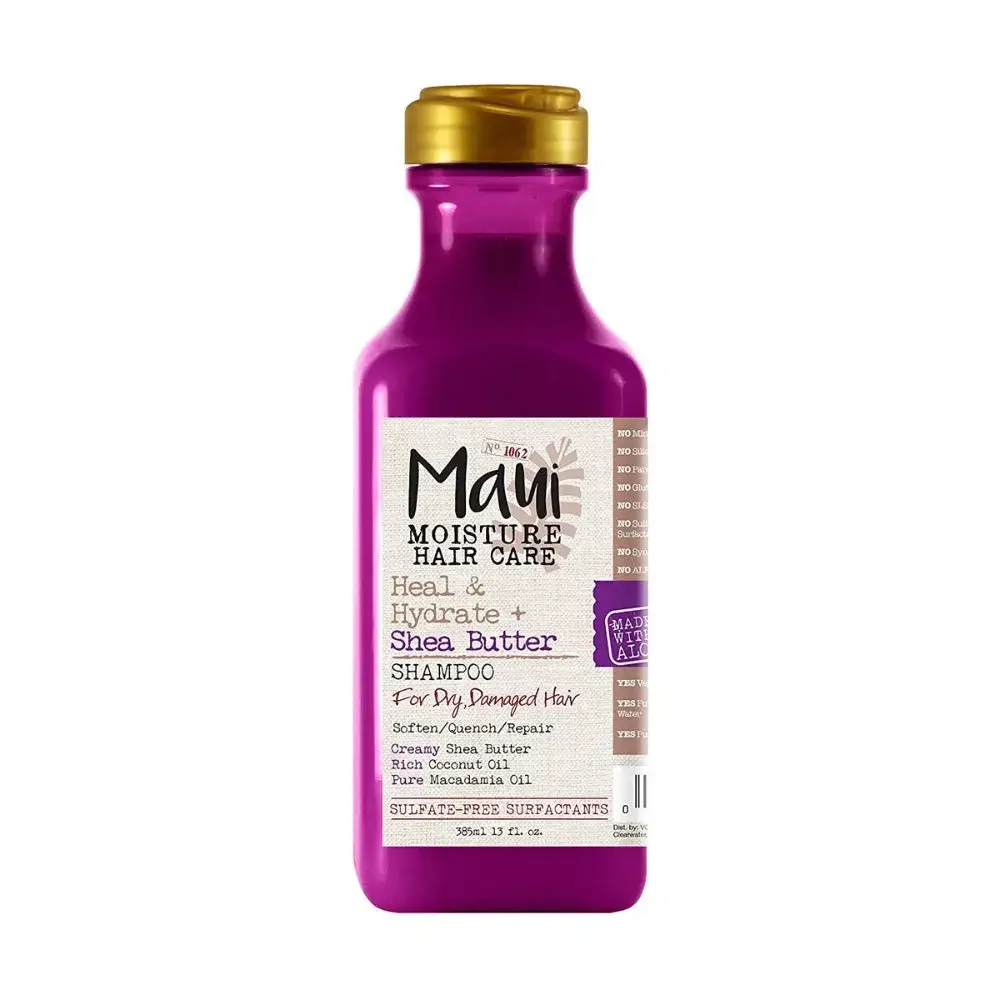 Best Shampoo For Repair & Deeply Moisturize Tight Curly Hair
Maui Moisture Heal & Hydrate + Shea Butter Shampoo
Check Price on Amazon
Why GG Loves It
Need a shampoo that gently cleanses and deeply hydrates your tight curls? Are you tired of spending time and money on hair care products that don't really work? If so, then you will be excited to know that Maui Moisture Heal & Hydrate + Shea Butter Shampoo is an ideal solution for you to try and get the dream result.
We all know that 4c hair can be extremely fragile and hard to manage because of the tight "z" shaped curls. It can easily become dry and brittle, making it difficult to keep curls moisturized. However, with this sulfate-free shampoo, you can restore your hair's natural moisture balance without losing its body & shine.
It contains super powerful natural ingredients such as shea butter, coconut oil, and macadamia oils that help to nourish, heal and protect your hair follicles from breakage. The formulation is also designed to help reduce frizz & tangles to enhance the overall health and look of your 4c hair, so you feel your absolute best.
Another great benefit of this shampoo is that it helps to promote healthy growth while strengthening each hair strand. It also works to improve blood circulation in the scalp for deeper nourishment and hydration from the root. The best thing; it is also free from nasty ingredients like sulfate, silicone, paraben, and others!
This 13-fluid-ounce bottle of Maui Moisture Heal & Hydrate plus Shea Butter Shampoo not only quenches and nourishes dry, damaged hair for soft, healthy-looking curls but also contains a delightful blend of tropical Island scents that help to invigorate and make you feel like you are in a paradise of luscious hair!
What You Should Know
The rich blend of this restorative shampoo by Maui Moisture contains 100% aloe vera(1st ingredient) along with the above-cited ingredients that have been only selected to provide the best care for your tight curls.
Aloe vera, renowned for its exceptional benefits, is a true gem for 4c hair. Its incredible properties not only help reduce tangles and soften the strands but also impart a radiant shine and enviable body to your hair. Incorporating it into your hair care routine will leave your locks feeling nourished, revitalized, and full of life.
But most importantly, if you are a person who values vernal hair care, then you must know that this vegan shampoo is proudly cruelty-free. Maui Moisture is a brand that is committed to being ethical, and this shampoo is no exception. Its ingredients have been ethically sourced with love & admiration for our planet.
And to top it all off, it is safe for color-treated hair too! This means you can now enjoy a deep cleanse without having to worry about bleeding or fading of your beautiful, colorful mane. Its gentle formula will help maintain the vibrancy of your hair color while still delivering the much-needed moisture and repair.
For optimal results, it is highly recommended to incorporate the complete Heal & Hydrate + Shea Butter collection into your daily moisture routine. This luxurious collection, formulated with nourishing ingredients, works synergistically to deeply hydrate & nourish your 4c hair, making it soft, manageable, and shiny.
Here are Some FAQs to Help Guide you on Your Way!
A shampoo that is designed explicitly for 4C hair (aka black, kinky, or coarse hair) is not just a bottle on the shelf – it's a tailored masterpiece that understands your hair's unique needs. This shampoo goes beyond the ordinary, offering a transformative experience that resonates with the essence of your distinct coils.
But what exactly is 4c hair type? Can a shampoo for 4C hair really help with moisture retention? However, without knowing these essential details, you'll never be capable of getting the most out of your shampoo.
So to help you on your journey, here are some of the most frequently asked questions (FAQs) about 4C hair types and shampoo that will ensure you're making the most suitable choices for your 4c hair care routine:
What is 4C hair, and what makes it unique?
4C hair is a tight, coily natural hair texture usually characterized by dense and kinky curls, springy coils, and zig-zag patterns. It has a lower amount of curl pattern definition than 3C or 4B hair textures, and it is the most fragile texture out of all hair types that require special care and attention. Here is what makes 4C hair unique:
1. It is fluffy if properly hydrated and moisturized.
2. It is prone to dryness, so it requires consistent deep conditioning and moisture-rich products.
3. Its tight curls are prone to breakage, so extra attention must be placed on detangling the hair gently.
4. 4C hair tends to shrink when wet, which can make styling difficult as the curls will become almost invisible.
5. It can be used to create a variety of styles, from braid-outs and twist-outs to Afros and dreadlocks.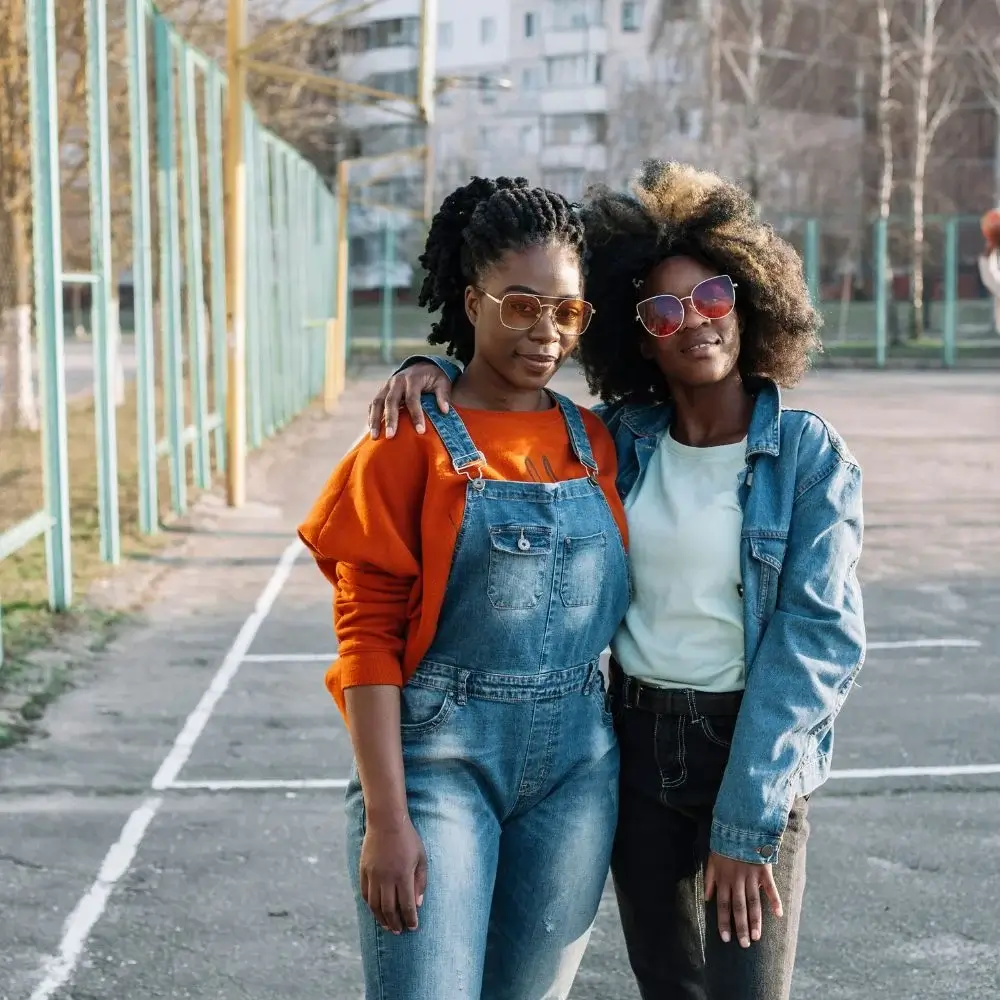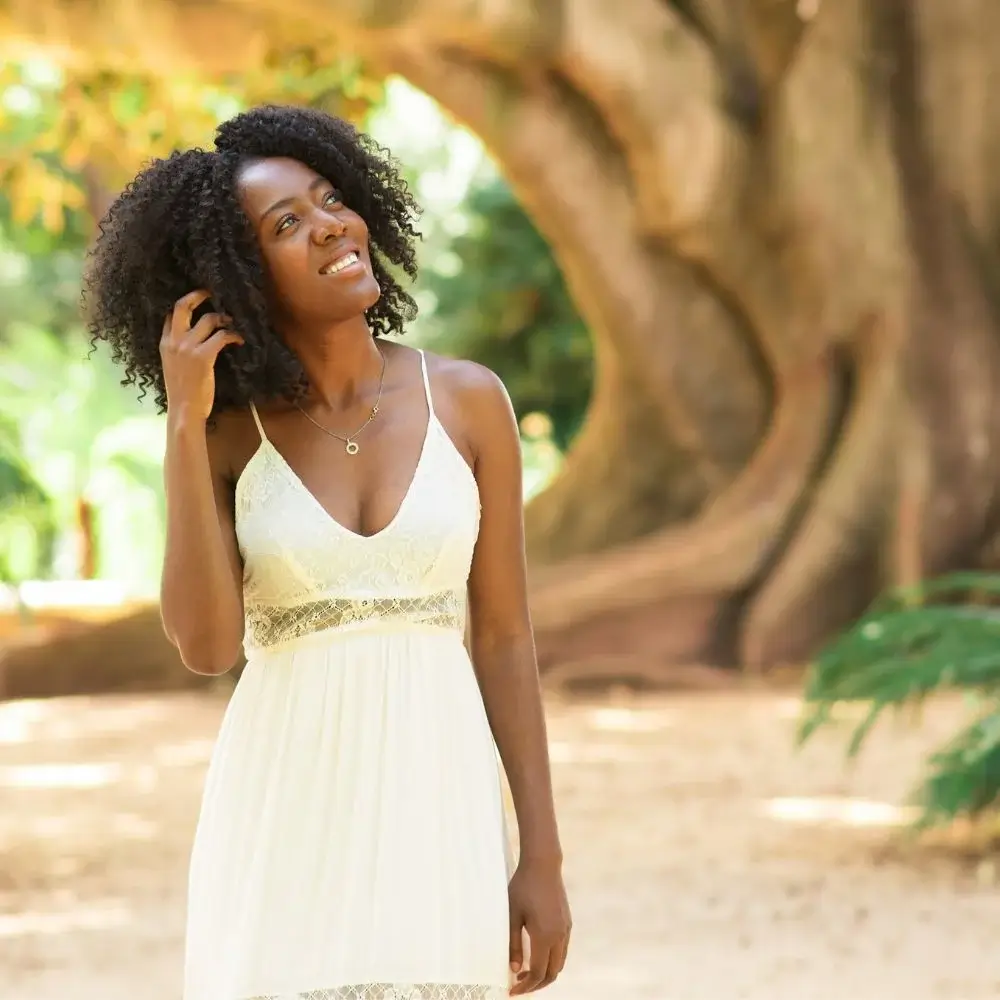 How often should I shampoo my 4C hair?
Proper hair care is so important for 4C hair, as it needs more moisture and nourishment than any other type of curl pattern. The frequency with which you should shampoo your curls depends on a few things: the amount of product you use, how oily your scalp gets, and whether or not you cover up your hair at night.
If you're using a lot of products, you may want to shampoo your hair every 2-3 days. If you don't use much product or find that your scalp gets oily quickly, you can shampoo 4c natural hair every one or two weeks.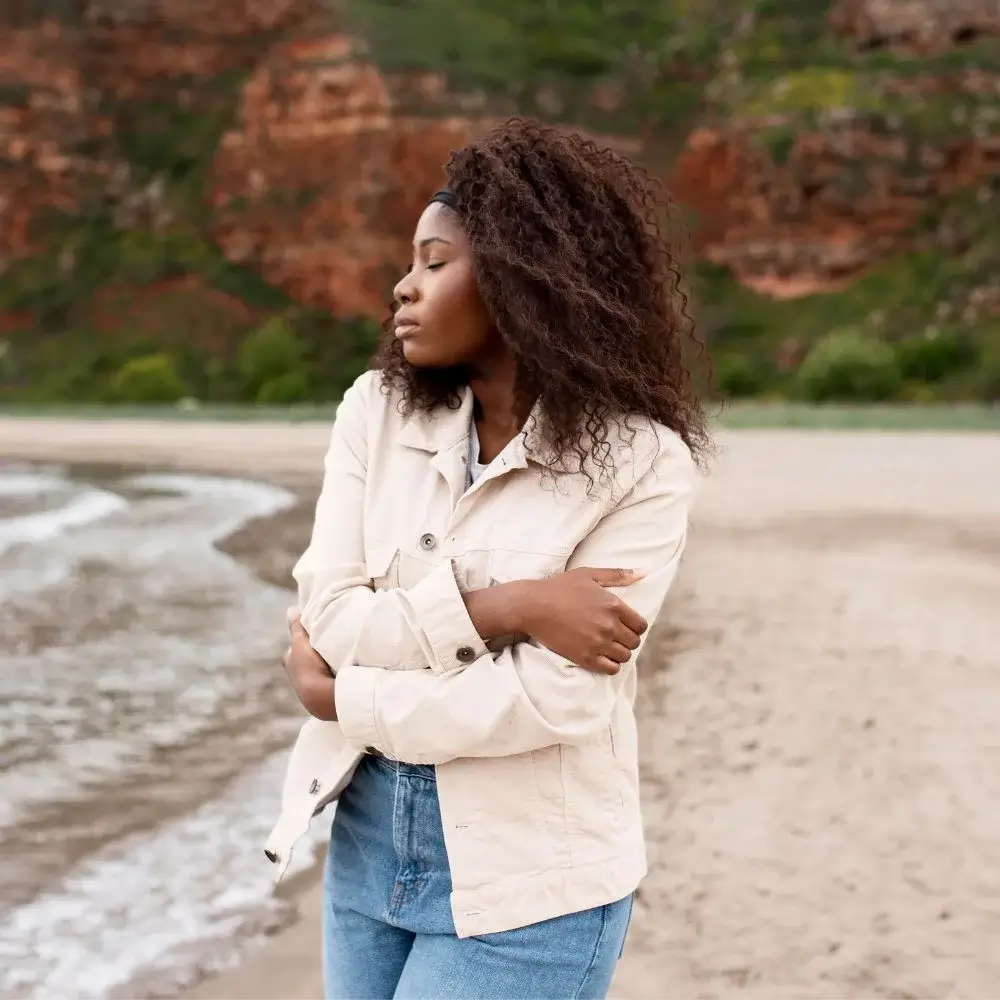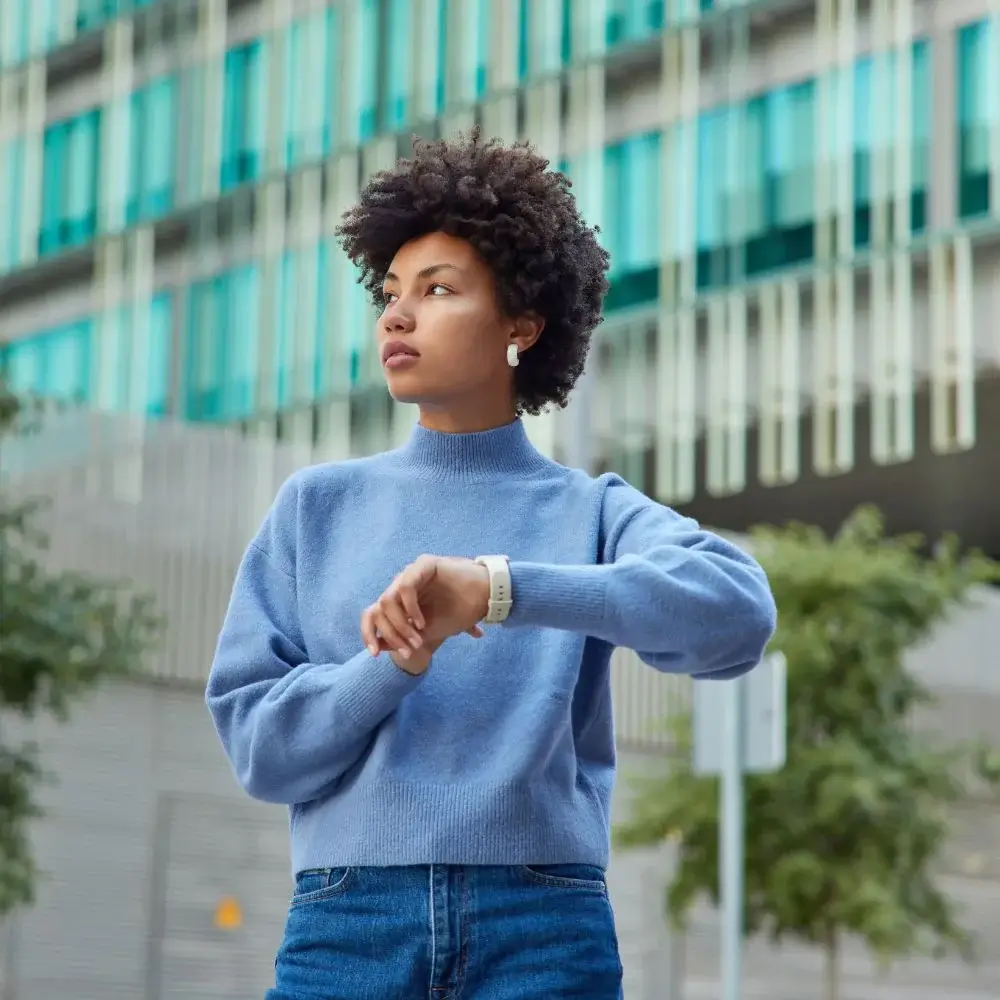 Can a shampoo for 4C hair help with moisture retention?
Yes, using a shampoo designed specifically for 4C hair can help with moisture retention. These special shampoos are designed to cleanse the scalp without stripping away natural oils and moisture, which is important for hydrated curls. Additionally, many of these shampoos contain natural ingredients, such as:
1. Shea butter
2. Jojoba oil, Argan oil, Coconut oil, or Avocado oil
3. Aloe vera
These powerful organic ingredients help nourish the scalp and hair, restoring moisture to dry 4C curls. Additionally, look for mineral oil & sulfate-free shampoo formulas that are gentle on your scalp and hair.
This type of shampoo is less likely to strip away valuable moisture, helping keep curls hydrated and healthy. You can also use clarifying shampoos to remove excess build-up, such as oils and creams.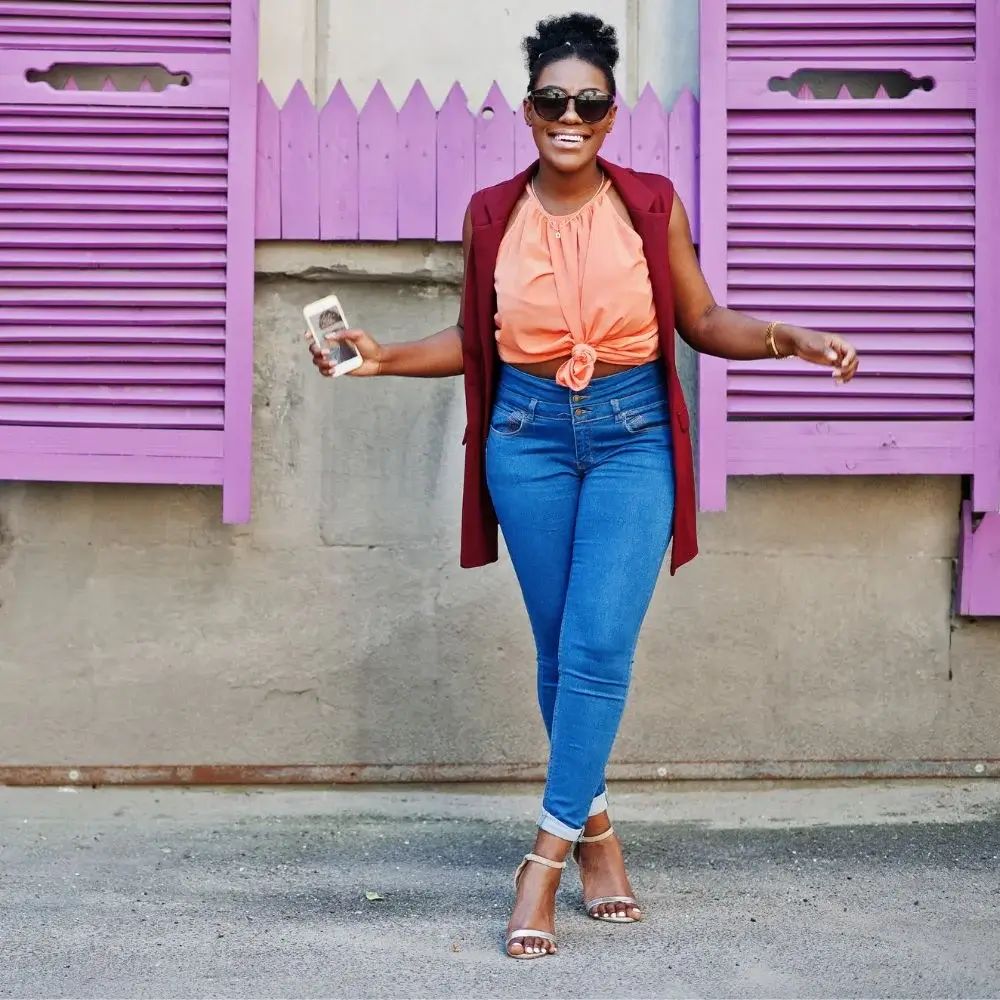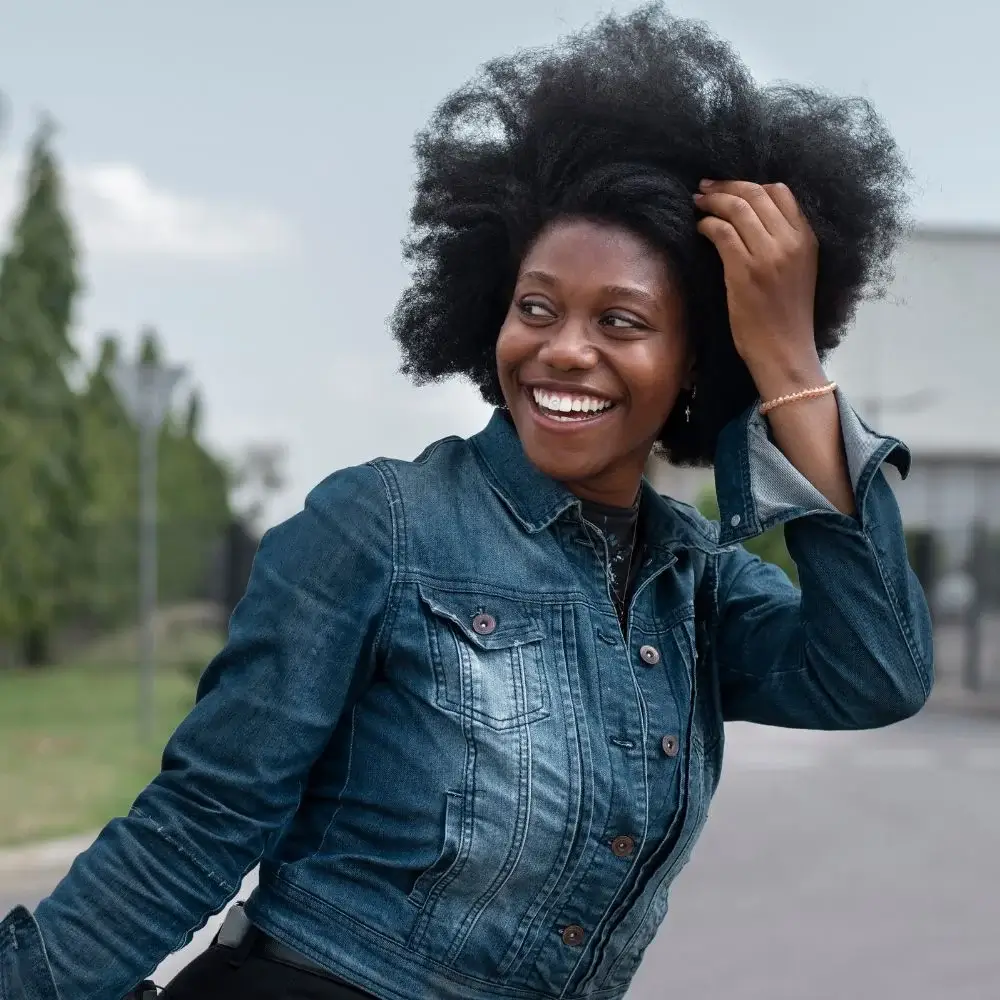 Will using a shampoo for 4C hair help reduce breakage and shedding?
The answer to this question is yes! Shampoos that are particularly formulated for 4C hair types are very beneficial in helping to reduce breakage & shedding. They help lock in moisture while removing scalp dirt, oil, and product build-up. This helps keep the hair nourished and hydrated and strengthens each strand.
It's also important to look for ingredients such as natural oils like coconut oil, jojoba oil, castor oil, tea tree oil, or argan oil, as well as she butter to help soften and define the kinks and natural coils. This shampoo promotes hair growth, improves scalp health, and helps reduce shedding to maintain strong, healthy hair.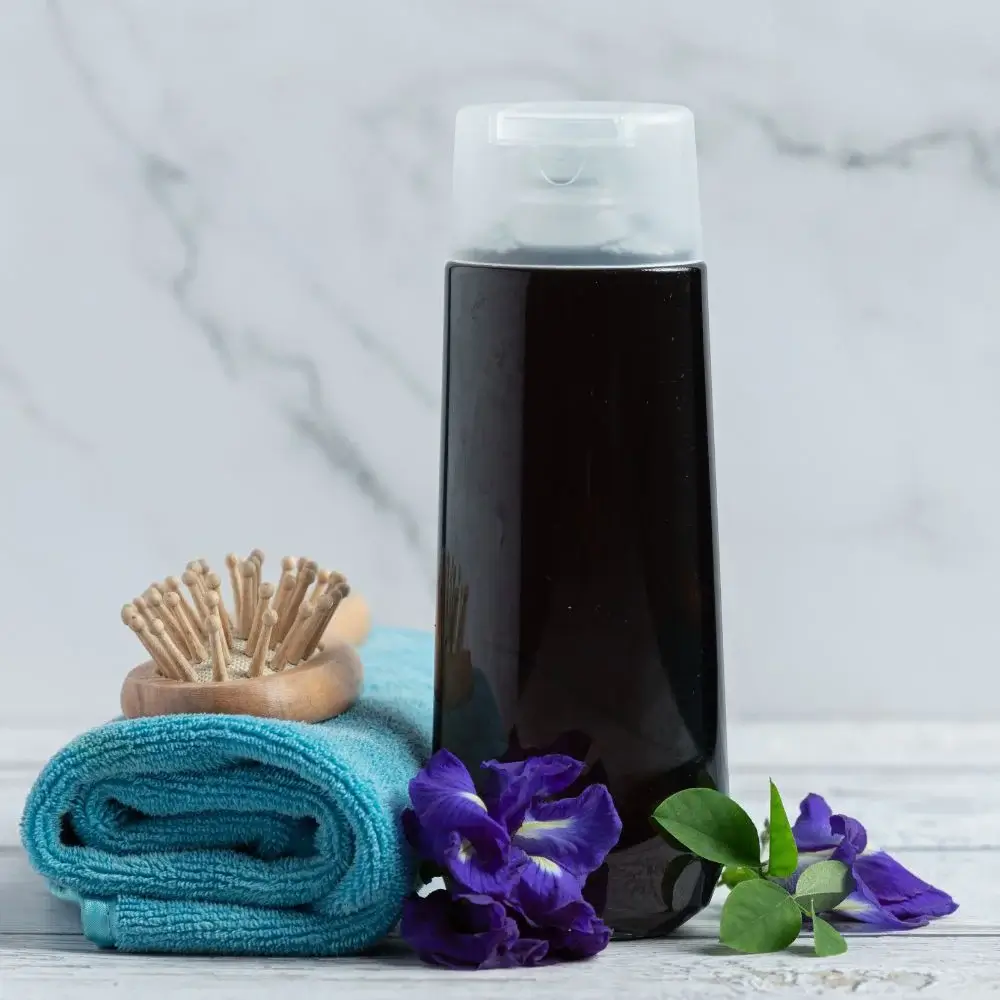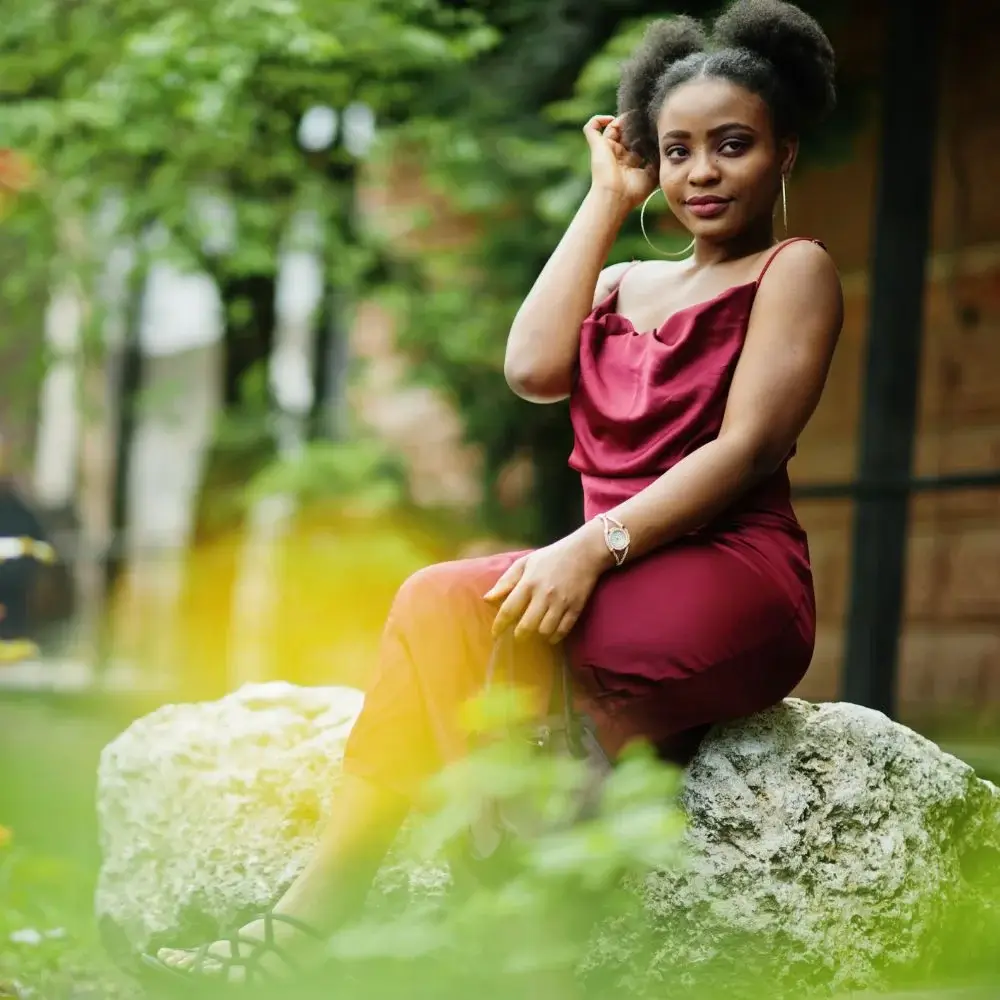 Top 3 Best Shampoos For 4C Hair:
A common misconception people often have is that coarse hair ( tight, "Z" pattern coils) means rough, hard, and straw-like hair. It's time to set the record straight – while 4C hair might lean towards being more prone to dryness, shrinkage, and breakage, it doesn't mean that achieving soft locks is an illogical dream!
Just like any other hair type, with the right approach, such as using a sulfate-free shampoo, you can make your 4C curls fluffy, bouncy, and full of life. The top 3 shampoos that we have listed above are all about embracing and enhancing your 4C hair's natural beauty so you can fully express yourself and your curls.
You don't have to worry about anything when using any of these shampoos, as they are designed explicitly with 4C-friendly ingredients and formulas to tackle all common problems like frizz, dryness, over-porosity, etc. They are also super affordable, so you won't have to break the bank to achieve the hair of your dreams.
So what are you waiting for, people (blessed with 4C hair type), toward a softer, healthier hair journey? Pick anyone from our list today and get ready to be amazed by the nourishment and results you will experience!