Everyone loves a soft, healthy scalp, and taking good care of it can help you enjoy healthier and more manageable hair. It is the most crucial part of having good hair, considering it is where the roots of the strands grow. Right oils can help you maintain a healthy scalp by nourishing and strengthening your hair follicles.
But with so many options and types of scalp oil available, it can be hard to decide which one is the best for your scalp, and picking the wrong one can negatively impact your hair because not all oil is made equal. Are you struggling to find the best oil for your scalp? Dont worry; we have got you covered.
We know the importance of a healthy scalp and have made it our mission to help you find the best oil for your needs. We've compiled a list of the top 3 best oils for scalp health. Whether your scalp requires nourishing, strengthening, or moisturizing, these oils will meet your needs.
Click on this link to learn more about the top 4 best oils for the scalp!
We have searched for the best, so you don't have to live with the rest. In order to serve you to the best of our ability and to keep our blog going, GarnesGuide may collect a share of sales or other compensation from the links on this page if you decide to buy. Each product was independently researched by our editors, and the reviews may have been edited for length and clarity.
How We Choose The Best Oil For Scalp:
You may have heard that you should use a specific oil on your scalp to promote hair growth, but which one is the best? It can be hard to know which is the best for your scalp health.
Some hair oils are better for treating dry scalps, while others are more effective at fighting against dandruff. But which is adequate for promoting thicker hair and a healthy scalp?
To help you, we have done deep-dive research and gathered the top three best hair oil for the scalp. All these oils are safe and have been proven effective in stimulating your locks' growth and scalp health.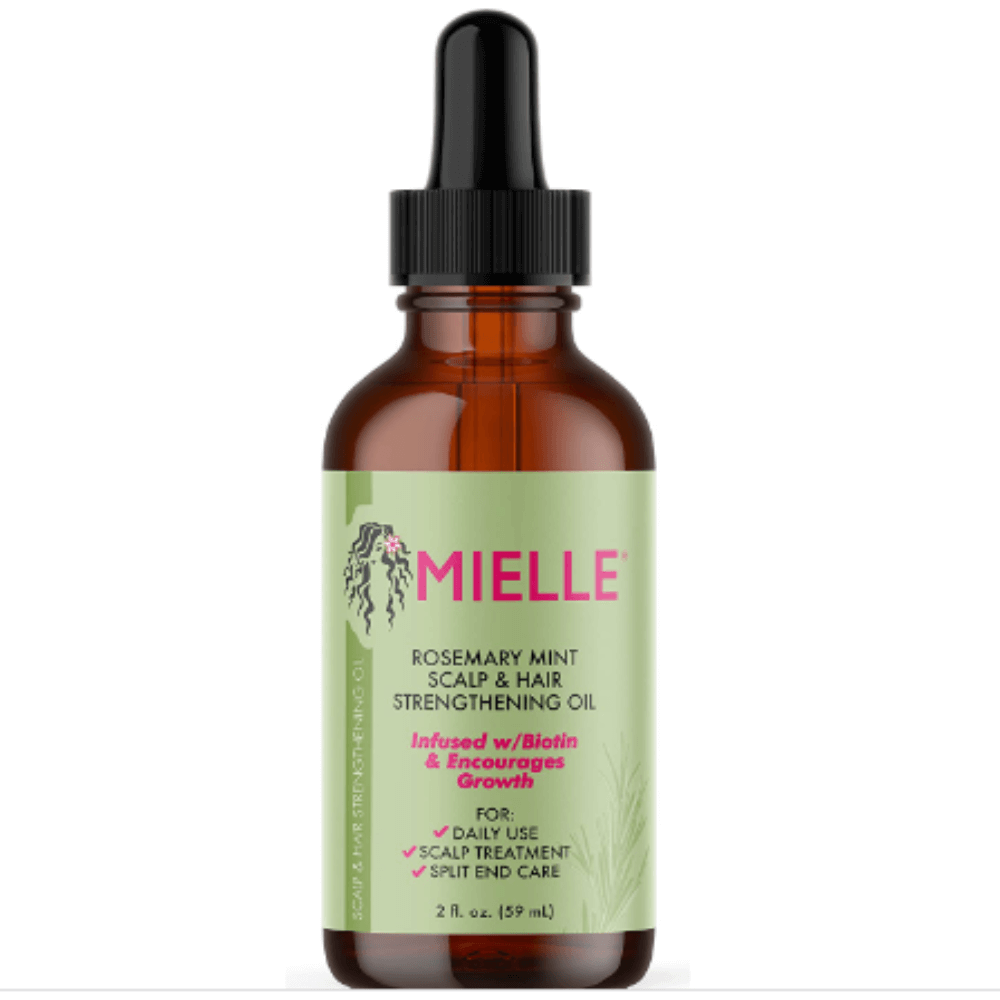 Best Oil For Strengthening, Nourishing, and Hair Growth
Mielle Organics Rosemary Mint Scalp & Hair Strengthening Oil
Check Price on Amazon
Why GG Loves It
A healthy scalp is a key to healthy hair growth because your scalp is the foundation for your hair follicles. The rosemary mint scalp hair oil contains 30 essential oils like castor oil, jojoba oil, rosemary essential oil, coconut oil, and menthol to promote a healthy scalp and hair shaft.
This scalp oil also helps soothe the dry scalp while providing much-needed moisture. This rosemary oil-containing scalp treatment is also perfect for those who have flaky skin or dry hair. Combining these ingredients can detox the scalp and help stimulate circulation for faster hair growth.
In simple words, this hair oil meets all scalp concerns, regardless of dryness, itching, sensitivity, or taming frizz. This oil will lock in moisture and replenish the natural oils that often deplete due to over-washing and styling. With this, you can easily get stronger hair.
It doesn't contain Moroccan oil or sunflower oil, but it is far better than any other hair serum or hair oil. You can also use it for damp hair because it includes argan oil, tea tree oil, and olive oil, which are proven to treat split ends. You can use it on wet or dry hair as you require.
What You Should Know
With 30 essential oils like almond oil, jojoba oil, argan oil, castor oil, coconut oil, olive oil, and vitamin e, this scalp oil also contains nourishing ingredients like nettle extract and horsetail extract. These all work together to soothe your scalp, reduce inflammation, and promote strong and healthy hair growth.
The lightweight oils in this blend are easily absorbed into the skin due to their small molecular size, so you won't have to worry about excess oil weighing down your hair. You can also use this hair oil as a pre-wash treatment or as a hot oil treatment to deeply nourish and strengthen the strands.
When applying a scalp massage with this hair oil, apply only just a few drops because this powerful blend is very concentrated, and a little goes a long way. With regular use, you will notice thicker hair growth, and your strands will be filled with amazing shine.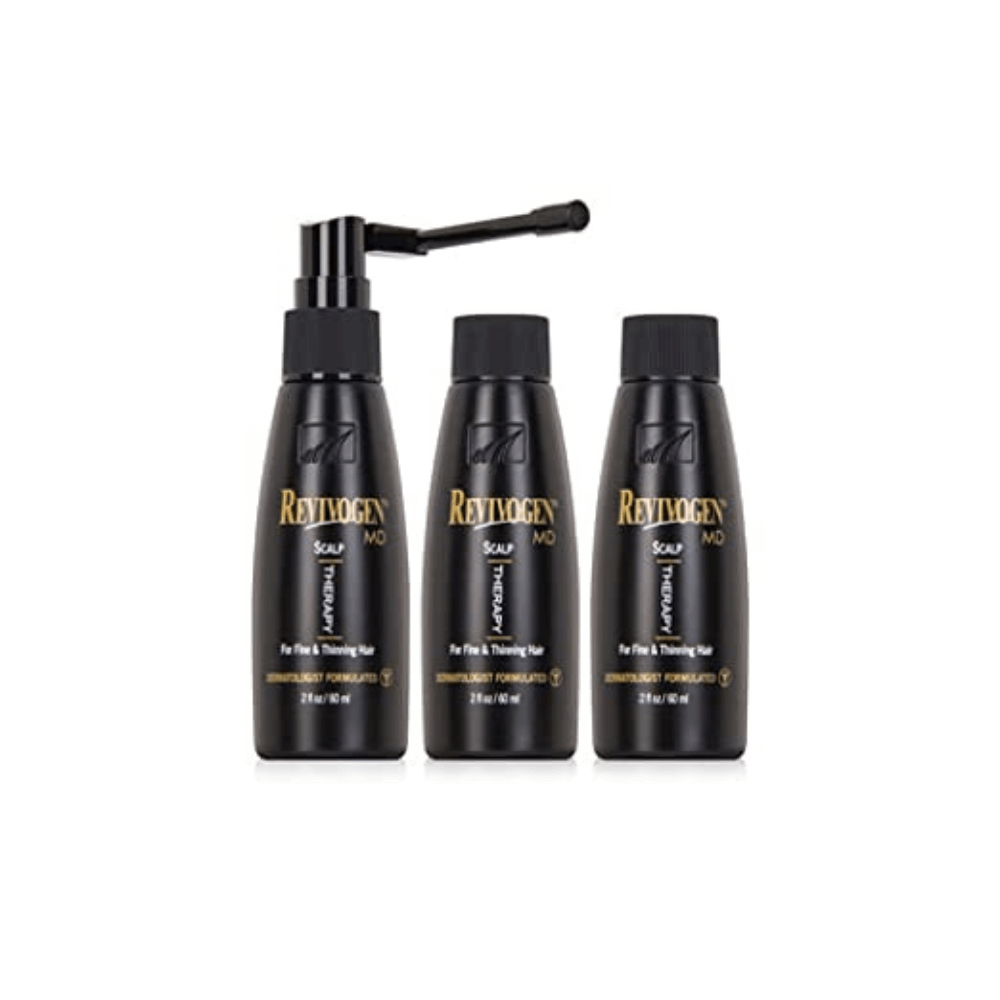 Best Oil For Promoting Thicker, Fuller & Healthy Hair
Revivogen MD Scalp Therapy
Check Price on Amazon
Why GG Loves It
If you are searching for a scalp oil developed for those experiencing hair loss, then this hair serum is the best choice. It contains powerful ingredients that are proven to be effective in promoting thicker and fuller hair growth and treating damaged hair.
Its powerful blend of fatty acids blocks the 5AR enzyme, which is responsible for converting testosterone into DHT, a major contributor to hair loss. Compared to other scalp oils, you only need a few drops of this liquid gold to get rid of thinning hair or frizzy hair.
It also contains caffeine, grape seed extract that stimulates the hair follicle growth phase, and saw palmetto extract that blocks DHT from the hair follicles. With this, you can easily promote your hair growth on dry and damaged hair.
Overall, it is an amazing scalp therapy treatment that will provide visible results in no time! It is safe to use for both men and women, and most of its ingredients have been used orally for the last 50 years. Give it a try today to get healthy hair growth.
What You Should Know
There are many best scalp oils on the market, but some contain Minoxidil, a medication used for hair regrowth. But for some, it can use side effects that can lead to further hair fall or split ends. But not with Revivogen MD Scalp Therapy Thinning Hair Solution.
This hair oil does not contain Minoxidil or other harmful ingredients, making it a safe option for all skin types or hair. Like other scalp oils, it can also use to combat dryness. It keeps the scalp hydrated and can easily promote hair health and reduce fallout.
The price of this product is comparable to other best hair oils on the market, making it an affordable option for those looking to regrow their hair. With regular use, you should start seeing results within three months and expect full results after 12 months.
Best Oil For Irritated or Dry Scalp
Head and Shoulders Scalp Elixir Treatment
Check Price on Amazon
Why GG Loves It
If you are looking for a product to soothe and nourish your scalp, then the Head & Shoulders Royal Oils Instant Soothe Scalp Elixir Treatment is for you. The best scalp oil active ingredient is zinc pyrithione (ZPT) which reduces oxidative stress on the scalp to promote healthier hair and scalp.
This oil is also great for protective styles as it helps to condition, moisturize and add shine without weighing hair down. Its lightweight formula makes it easy to use before or after styling making it the perfect pre-wash scalp treatment.
From a light tingle on contact to an invigorating cooling sensation, this lightweight oil will give your scalp the relief it needs. It helps to soothe and restore balance while adding strength and thickness to hair shafts. You can also use it on all hair types, like frizzy or dry hair.
It also contains hydrogenated castor oil, which helps to purify and shield your oily scalp. Not only will this carrier oil leave your hair looking healthy and vibrant, but it's also free of sulfates, parabens, dyes, and silicones.
What You Should Know
Many hair oils can cause hair loss or an itchy scalp because they don't contain the natural ingredients that your scalp needs. That's why you need Head and Shoulders Royal Oils Instant Soothe Scalp Elixir Treatment because it's one of the best scalp oils.
This unique combination of fatty acids helps retain moisture and relieves dryness, itchiness, and irritation for long-lasting scalp relief with 24-hour protection. This alcohol-free formula makes this hair-strengthening oil suitable for all hair types, whether you have brittle hair or coily hair.
With its unique blend of menthol and peppermint oils, you can be sure your scalp will get the royal treatment it deserves. For extra protection & leave-in treatment, you can add head & shoulder alcohol-free shampoo to your hair care routine.
Here are Some FAQs to Help Guide you on Your Way!
A healthy scalp is essential for healthy hair, but many people don't know how to care for their scalp properly. Not only is a healthy scalp necessary for strong and healthy hair, but an unhealthy scalp can lead to hair loss.
Fortunately, some hair oils are specially designed for scalp care, but with numerous brands & options out there to choose from, it can be a bit overwhelming because not all oils are created equal.
Here are the most frequently asked questions about scalp oils that will help you achieve a healthy scalp.
What oil is best for dry scalp?
The answer to this question is a little tricky because it depends on your skin type. Some oils are better for dry scalps than others, but you might need to experiment a bit to figure out which one works best for you.
If you have a dry scalp, try using oil like jojoba oil, castor oil, argan oil, or safflower oil. These oils are light and won't weigh down your hair, and they also help to moisturize the scalp and keep it from getting dry and itchy.
Alternatively, you could use an oil that contains natural oils like coconut oil, almond oil, or olive oil. These oils are a little heavier, but they're still very effective at moisturizing the scalp and keeping it healthy.
Which oil is best for dandruff scalp?
The answer to this question is a little more complicated than one might think. It depends on your skin and hair type–whether you have dry or oily skin, for example.
People with dry skin tend to benefit from using oils like grapeseed oil, coconut oil, almond oil, or avocado oil on their scalp, while people with oily skin tend to do better with clarifying shampoos and tea tree oil.
However, it's always best to consult with your dermatologist because using the wrong carrier oil can cause hair loss, damage hair health, or an itchy scalp.
Which oil is best for oily scalp and dry hair?
Coconut oil and plant oils are both good for oily scalp and dry hair. Coconut oil is a natural moisturizer that helps to keep the scalp from becoming too oily. Coconut oils also contain lauric acid, which has antibacterial properties that help to protect the scalp from infection.
Plant oils, such as olive oil, argan oil, sesame oil, and grapeseed oil, are rich in antioxidants that help fight free radicals, which can damage the hair shaft and cause it to become dry and brittle. It can also promote hair growth while also soothing itchy, flaky skin.
So be sure to consult with a professional when using these oil blends because they can also cause hair fall. Also, ensure that you only use just a few drops on your wet hair because an increased amount of vitamin e can break.
There are a few things you can do to treat a dry scalp:
Make sure you're shampooing and conditioning your hair regularly and using a moisturizing

shampoo and conditioner

.

Try using hair oil that is made from natural ingredients and contains vitamin e.

Reduce the number of styling products you're using since they can often be drying.

Avoid scratching your scalp, which can further irritate it.
There are a lot of different reasons why people might have an itchy scalp, some of which are more serious than others. Some common causes of itchy scalp are:
Dandruff: This is the most common cause of an itchy scalp and is caused by a build-up of dead skin cells on the scalp.

Seborrheic dermatitis: A condition that causes inflammation, redness, and scaling on the skin.

Psoriasis: A condition that causes red, scaly patches on the skin.

Allergies: Allergies can cause your scalp to itch as a reaction to something you're allergic to.
Why does my scalp itch a day after washing?
It could be a number of things. You may be experiencing dryness or an allergic reaction to the shampoo or conditioner you used. It's also possible that you have a fungal infection, which is a common cause of scalp itching.
If the itching continues for an extended period, it's best to see a doctor to get a proper diagnosis. Instead of shampoo or conditioner, you can use scalp oils made with essential oils like jojoba oil, castor oil, or argan oil.
There are a few ways to moisturize your scalp. For example, you can use a moisturizing shampoo or conditioner or apply a moisturizer to your scalp.
Using a moisturizing shampoo and conditioner is a good start if you have a dry scalp. You can also try using an oil such as coconut oil or olive oil to moisturize your scalp.
Apply only a few drops of oil to your scalp and massage it for a few minutes. Then, leave it in overnight and rinse it out in the morning. Repeat this process once or twice per week until your scalp is hydrated.
A dry scalp can be caused by several things, including over-washing your hair, using harsh shampoos and conditioners, exposure to the sun and wind, and not drinking enough water.
Another common cause of dry scalp is a fungal infection called seborrheic dermatitis, characterized by redness, scaling, and itching.
If you're experiencing chronic dry scalp, it's best to see a doctor or dermatologist who can help diagnose the cause and recommend the appropriate treatment.
Top 3 Best Oil For Scalp
Everyone knows that oils can be beneficial for the scalp, but it's important to know which oils are best for your hair type. Here in this post, we have shown the top 3 best oil for the scalp.
All these scalp oils are safe and made with natural & organic ingredients that will nourish the scalp. Whether you have a dry scalp, itchy scalp, or just want to promote hair growth.
These oil blends will help you. To purchase any of these oils, make your scalp healthier, and get rid of all scalp problems, click any of these links.
Read our article about best conditioner for color treated hair here!
Read our article about best sunscreen for tattoos here!
Read our article about best makeup brush cleaner here!