Sunscreens are the most essential armor in your skincare routine, especially during the scorching days of summer. While summer is a magical gate to endless beach trips and pool parties, the sun's harsh rays are not your best friends. Sunscreens are like a shield that protects your skin from the damage caused by UVA and UVB rays, preventing premature aging, pesky dark spots, and even the risk of skin cancer.
However, when it comes to men's skincare, it's quite riddling to select the perfect formula. Men's skin is different from women's skin; it's typically thicker, oilier, and has more pores. Using the wrong sunscreen (especially on the face) can cause breakouts, clogged pores, and overall discomfort that no man wants to deal with. Do you need the face sunscreen that protects your rough & tough skin without any fuss?
Don't worry; we've got you covered! We know that finding the best sunscreen that perfectly suits men's skin can feel like surfing on a never-ending wave. That's why we've compiled this list of the top 4 best men's face sunscreens that will not only offer protection but also enhance your overall skincare routine.
All these sunscreens are enriched with skin-boosting ingredients that will keep your skin moisturized, nourished, and free from any damage caused by the sun. They are also oil-free, lightweight, and easily absorbed, so you don't have to worry about feeling greasy/sticky while enjoying your outdoor activities.
Keep reading to learn more about our list of the top 4 best mens face sunscreens!
We have searched for the best, so you don't have to live with the rest. In order to serve you to the best of our ability and to keep our blog going, GarnesGuide may collect a share of sales or other compensation from the links on this page if you decide to buy. Each product was independently researched by our editors, and the reviews may have been edited for length and clarity.
How We Choose the Best Mens Face Sunscreen:
Sun protection is imperative for everyone, but for men, it is especially crucial. Men tend to spend more time outdoors participating in activities such as sports or working in the garden, which makes them more exposed to harmful UV rays from the sun. Therefore, it is vital for men to integrate sunscreen into their daily skincare routine to ensure they are adequately protected from the effects of the sun's rays.
However, with an overabundance of sunscreen options available on the market, it can be challenging to determine which one is perfect for you. Some sunscreens are greasy and leave a white cast on the skin, while others are too heavy and can clog pores, causing breakouts. So how do you pick the suitable one?
To help you in this decision-making process, we have done a deep dive research and have selected the top 4 best mens face sunscreens that will keep your skin safe, nourished, and healthy. They provide a variety of benefits, including broad-spectrum protection, non-greasy formulas, and lightweight textures to make sure your skin stays protected from the sun without compromising on comfort and ease of use.
Best Sunscreen For All Skin Types
La Roche-Posay Anthelios Clear Skin Dry Touch Sunscreen
Check Price on Amazon
Why GG Loves It
Do you have sensitive skin that easily breaks out or becomes oily within minutes of applying sunscreen? Need something that can protect your skin from the harsh sun rays while keeping it matte & shine-free? If so, then you should look no further than La Roche-Posay Anthelios Clear Skin Dry Touch Sunscreen!
This mineral sunscreen is formulated with Cell-Ox Shield technology, a unique combination of physical and chemical filters that provides broad-spectrum protection against both UVA and UVB rays. But what exactly is Cell-Ox Shield technology, and how does it make this ideal sunscreen different from others?
Cell-Ox Shield technology is a patented formula that was developed by the experts at La Roche-Posay. It contains a powerful blend of antioxidants along with UV filters like Avobenzone and Homosalate that work together to protect your delicate skin from both the short and long-term effects of sun exposure.
The technology is designed to neutralize free radicals caused by UV rays, which can damage skin cells and lead to premature aging. Doing so not only prevents sunburn but also helps maintain a healthy and youthful complexion. It is oil-free & non-comedogenic, so it won't clog your pores or cause breakouts.
In fact, it is specifically formulated for acne-prone skin, making it suitable for all skin types - from oily to sensitive. It's also fragrance-free, so you don't have to worry about any irritating scents. So get it now and experience the best protection and anti-shine benefits that you won't find in any other sunscreen!
What You Should Know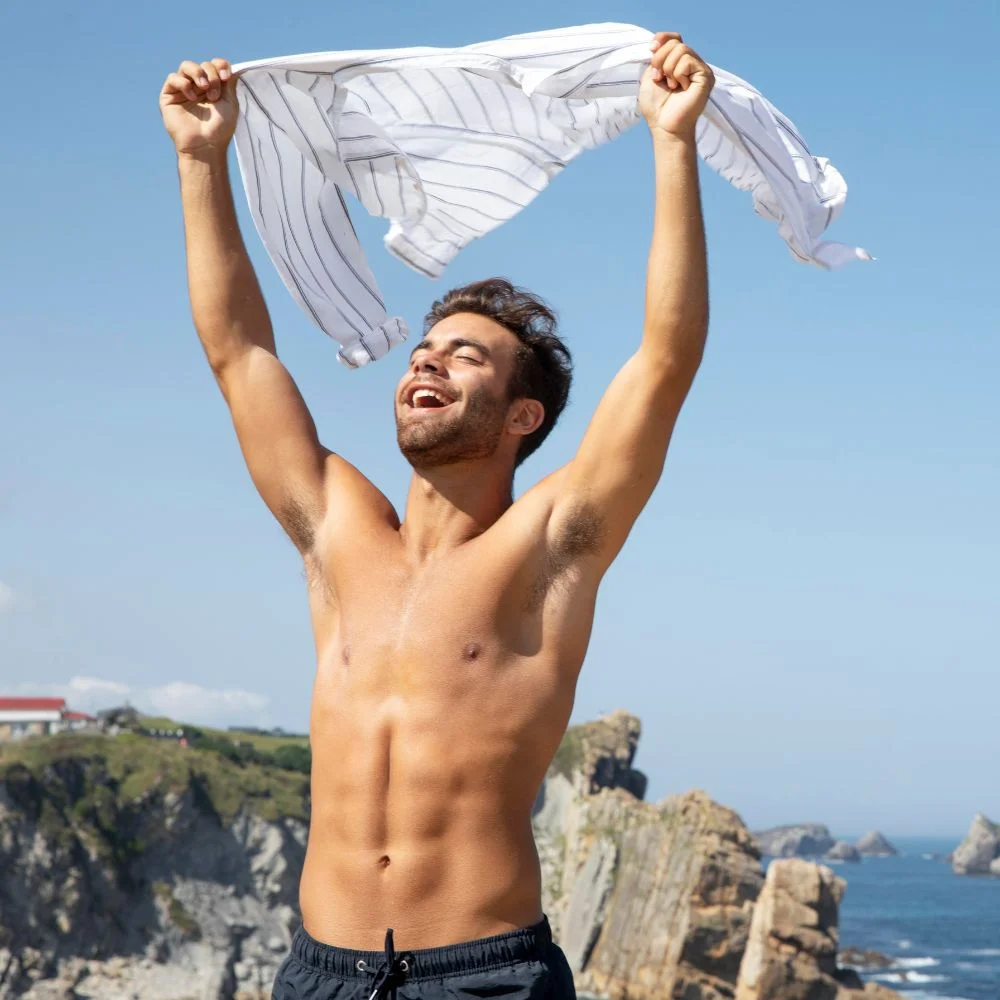 La Roche-Posay Anthelios is not just a sunscreen that you can use for protection. It's a complete skin care product that offers many other benefits as well! It is made with no chemical filters and harsh ingredients like PABA, Oxybenzone, or Octinoxate that can harm your delicate skin and the environment.
It also doesn't contain any parabens, dyes, sulfates, or silicones - which is a major plus for those with sensitive skin. This best sunscreen for men also includes perlite + silica complex that not only helps absorb excess oil but also controls shine that can make you look greasy and oily on hot summer days.
It has a lightweight and non-greasy formula, making it easy to apply and wear all day long without feeling heavy/sticky. You can use it every day, and it's ideal for all kinds of outdoor activities - whether you're playing sports, going to the beach, running errands, or simply enjoying a day out in the sun.
You should wear sunscreen every single day, according to experts, and this unique mineral sunscreen will provide everything you need to keep your skin healthy, glowing, and well-protected. With this, you can truly enjoy the outdoors without worrying about sunburns or other sun-induced skin damage problems.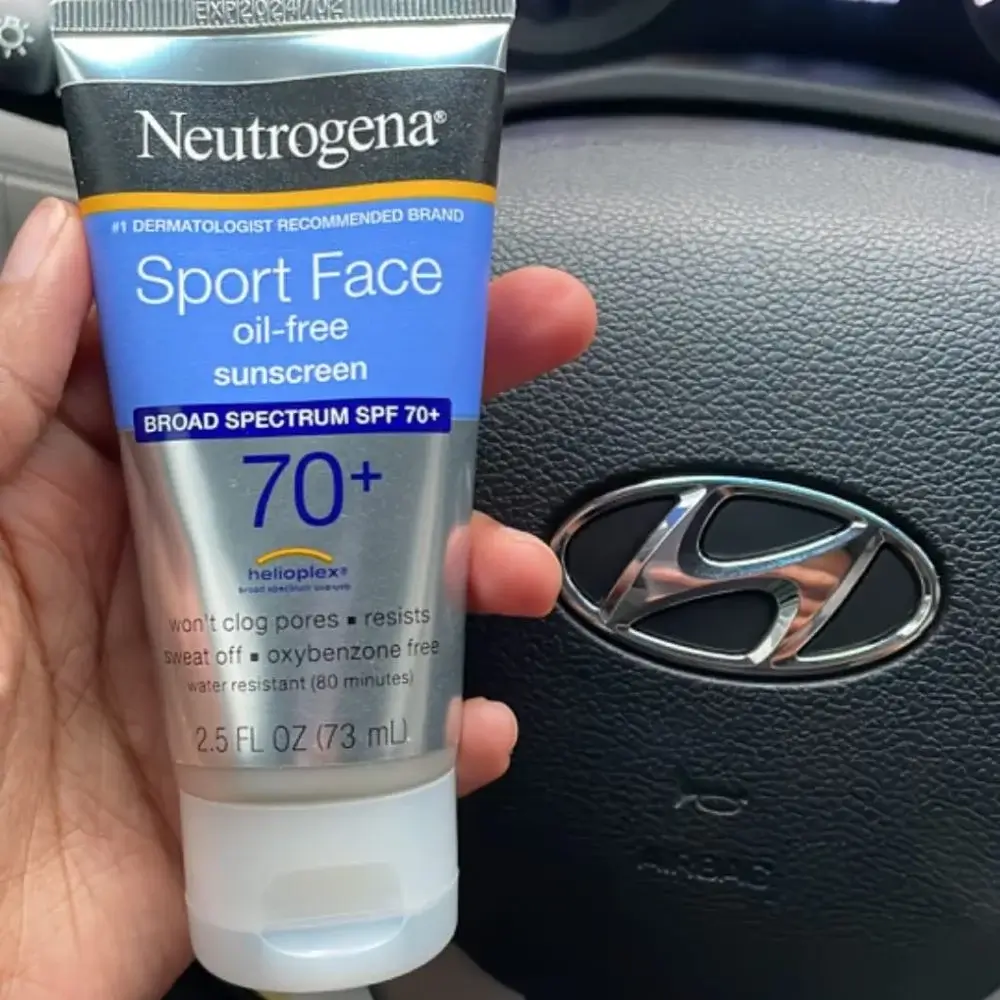 Best Sunscreen For Vigorous Outdoor Activity
Neutrogena Sport Face Sunscreen SPF 70+
Check Price on Amazon
Why GG Loves It
Do you lead an active lifestyle? Do you love playing sports or engaging in outdoor activities like hiking, biking, or surfing? If so, then you know the importance of protecting your skin from the sun's harmful rays. While regular sunscreen may do the trick for daily use, when it comes to active outdoor activities, you need something more heavy-duty that can keep up with your ever-moving and sweating body.
That's where Neutrogena Sport Face Sunscreen SPF 70+ comes in. The first thing you'll notice about this sunscreen is its high broad-spectrum SPF 70+. This means that it protects against both UVA and UVB rays, which are the leading culprits behind skin deterioration and aging due to sun exposure.
But what really sets this sunscreen apart is its unique Helioplex technology. This advanced sunscreen technology provides superior protection against both UVA and UVB rays, making it the perfect choice for all kinds of outdoor activities where you'll be exposed to the sun for an extended period of time.
The Helioplex technology also helps prevent premature aging and skin damage caused by the sun, so you can enjoy your active lifestyle without worrying about the negative effects of exposure on your skin. It helps prevent sunburn, which can not only be uncomfortable but also increase your risk of skin cancer.
It is also oil-free, and its new formula is free from oxybenzone, a controversial chemical often found in sunscreens. Instead, it uses avobenzone as its active ingredient, which is known to be gentler on the skin and less likely to cause irritation or allergic reactions. Grab it now and beat the sun with confidence.
What You Should Know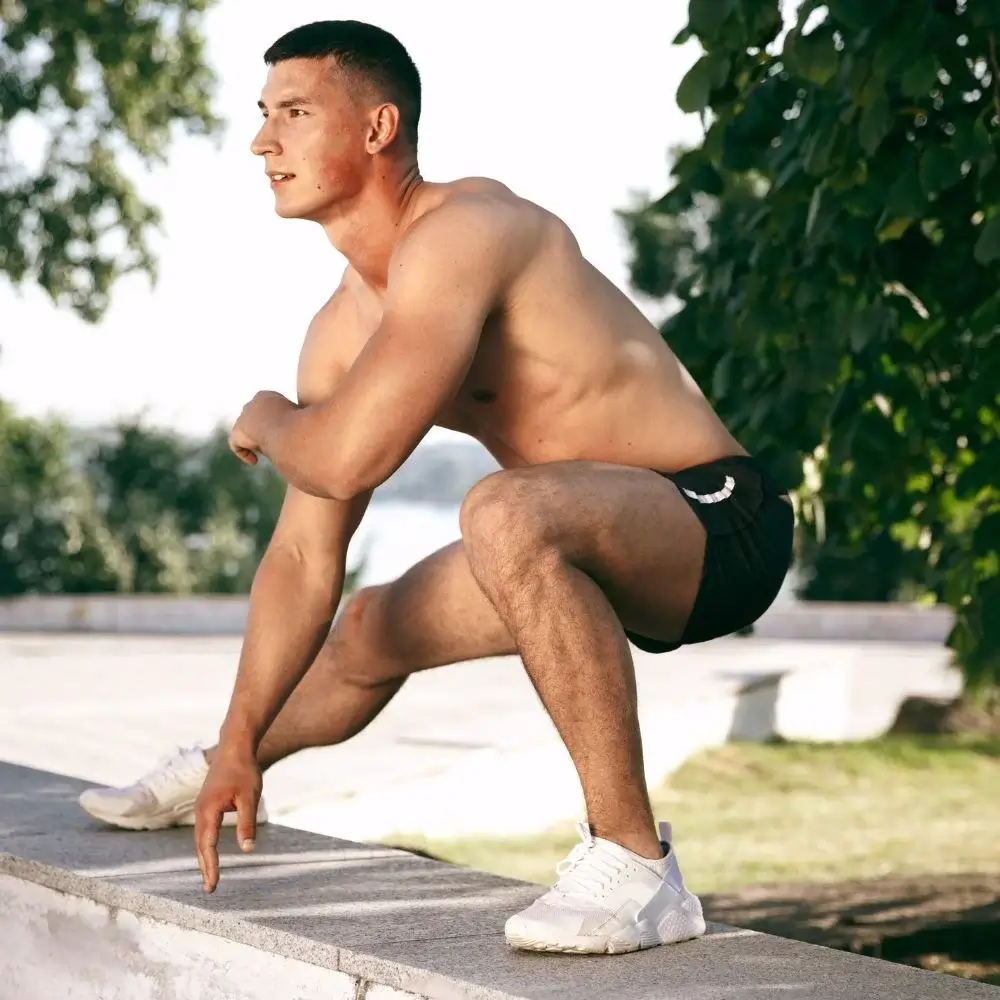 No matter if you are a man who loves surging through the waves on a surfboard or one who enjoys long runs under the sun, this sport sunscreen from Neutrogena is like a protective armor for your skin. Its light & non-greasy formula makes it perfect for men who hate feeling weighed down by heavy products.
This facial sunscreen features an electrolyte complex to help nourish & restore skin balance, which is vital after sweating and being exposed to the sun. It is also non-comedogenic, meaning it won't clog your pores and lead to breakouts. This is important for men who are prone to acne or have oily skin.
Perhaps the most impressive feature of this sunscreen is its water and sweat resistance. With an 80-minute protection time, you can be sure that it will stay put even during intense physical activities. This makes it ideal for men who are always on the go and don't have time to constantly reapply sunscreen.
This sport face lotion sunscreen also offers a light scent that isn't overpowering, making it suitable for men who prefer a more subtle fragrance. It absorbs quickly into the skin without leaving any pesky white residue or sticky feeling behind, so you can apply it and go about your day without any hassle.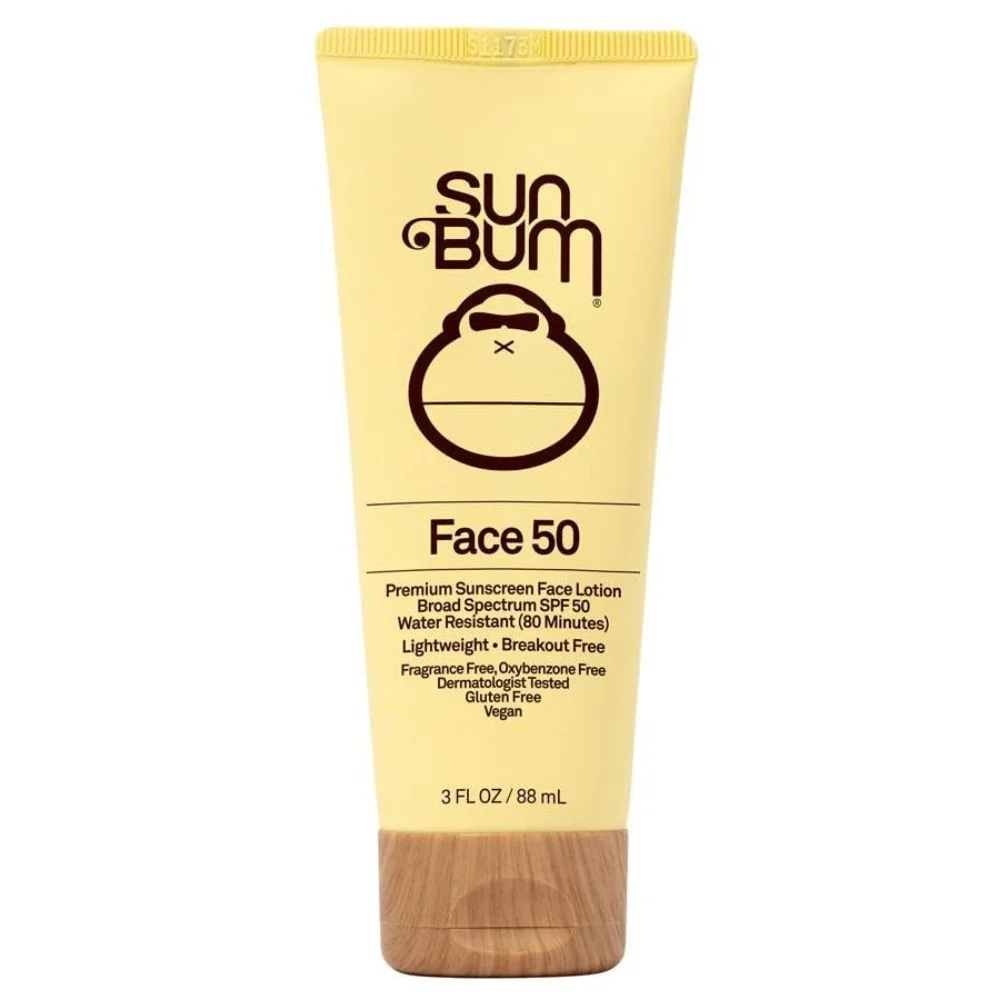 Best Sunscreen For Men To Keep Your Face Protected
Sun Bum Original SPF 50 Sunscreen Face Lotion
Check Price on Amazon
Why GG Loves It
Sun Bum is one of the most popular and highly recommended brands when it comes to sun protection. They understand that summer is all about having fun in the sun, but they also know how important it is to protect your skin. That's why they created their Original SPF 50 Moisturizing Sunscreen Face Lotion.
If you are a man who lives and loves in the sun, then this sunscreen is definitely for you. It offers SPF (Sun Protection Factor) 50, providing you with maximum protection against both UVA and UVB rays. The SPF 50 rating means that it blocks out about 98% of UVA/UVB rays to keep your skin safe and healthy.
This sunscreen lotion SPF 50 contains 3 active ingredients: 3% avobenzone, 10% homosalate, and 5% octisalate. These ingredients work together to provide broad-spectrum protection against both UVA and UVB rays. Avobenzone is a well-known sunscreen ingredient that is known for its ability to absorb and protect against UVA rays, which are responsible for premature aging, skin damage, and cancer.
Homosalate helps to protect against both UVA and UVB rays, while octisalate primarily absorbs UVB rays. Together, these ingredients work to provide you with the ultimate protection against harmful sun rays. This non-greasy sunscreen is also fragrance-free, so you don't have to worry about strong smells.
Whether you are heading to the beach, playing a round of golf, or simply running errands outdoors, this SPF 50 sunscreen is perfect for everyday use. With this water-resistant sunscreen, you can enjoy your favorite great outdoor activities without worrying about constantly reapplying sunscreen to your face.
What You Should Know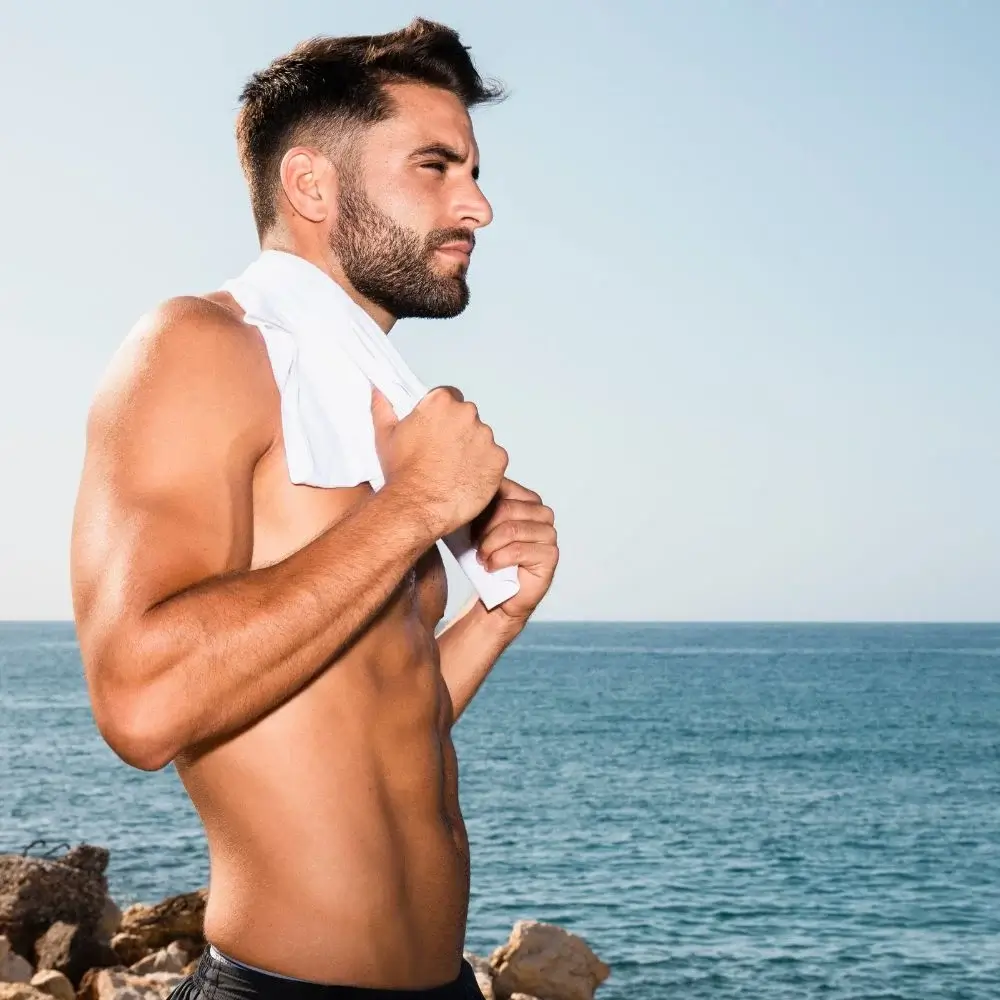 This daily facial sunscreen SPF 50 is made with all skin types in mind to help protect and nourish your skin. It is oil-free, so it won't clog your pores or leave a greasy residue on your face. This makes it perfect for those with oily or acne-prone skin who may avoid using sunscreen due to fear of breakouts.
It is also suitable for sensitive skin as it is free from parabens and other harsh chemicals that can irritate the skin. Additionally, it contains antioxidants such as Vitamin E to help fight against free radicals that can damage your skin. Vitamin E also helps to nourish and hydrate your skin, leaving it feeling silky soft.
Compared to other best sunscreens for men out there, this SPF 50 broad-spectrum sunscreen is made with cruelty-free ingredients. So you can apply it with confidence without feeling guilty about potential harm to animals. It is reef-friendly, meaning it doesn't contain any ingredients that can harm marine life.
To use this SPF 50 water-resistant sunscreen, squeeze a generous amount onto your fingers and apply it to all areas of the skin that will be exposed to the sun. For optimal protection, be sure to apply it after 80 minutes of swimming or sweating. And don't forget to reapply every 2 hours for maximum protection.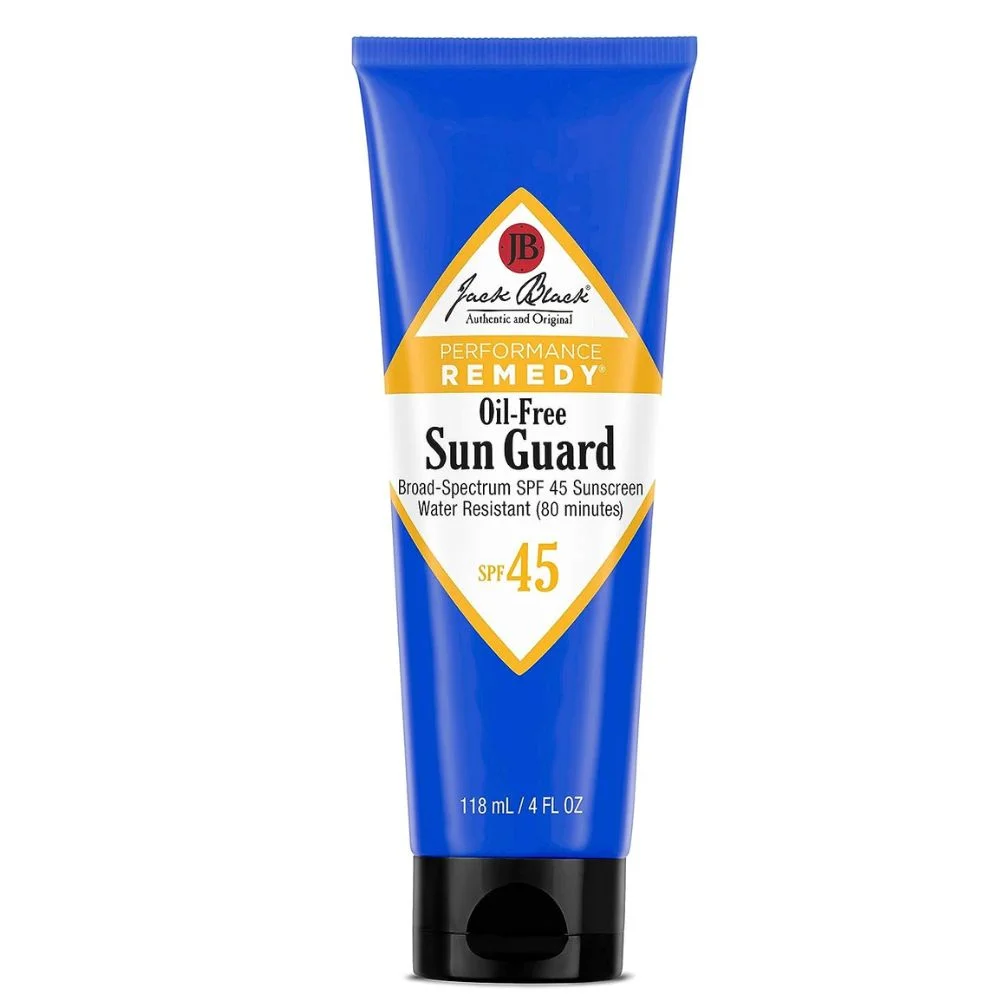 Best Sunscreen For Superior Broad-Spectrum UVA/UVB Protection
Jack Black, Oil-Free Sun Guard SPF 45 Sunscreen
Check Price on Amazon
Why GG Loves It
Do you need the best sunscreen for men that you can use on both face and body? Have you been tired of using chemical sunscreens that leave your skin feeling greasy and heavy? If so, then you will be happy to know that Jack Black, Oil-Free Sun Guard SPF 45 Sunscreen is the perfect solution for you.
With its superior broad-spectrum UVA/UVB protection, this sunscreen has been specially designed for men's skin. It not only protects your skin from harsh UV rays but also keeps it moisturized & nourished. Its lightweight and oil-free formula ensures that your skin stays matte without any greasy residue.
It contains ingredients like vitamin E, zinc oxide, octisalate, & octinoxate that work together to provide your skin maximum protection from sunburn, premature aging, and other damaging effects of the sun. Vitamin E is a potent antioxidant that helps neutralize free radicals, while zinc oxide and octinoxate are known for their UVB protection. Octisalate is a great UVA filter that helps to prevent skin damage.
Moreover, this sunscreen is fragrance-free, which makes it ideal for those with sensitive skin. It also does not clog pores, making it perfect for acne-prone skin. Its lightweight formula is quickly absorbed into the skin without leaving any white cast or sticky residue that can ruin your skin, clothes, and mood.
The best part? No matter your skin type, Jack Black Face & Body Sunscreen is perfect for all. Whether you have dry skin, oily skin, normal skin, or combination skin, this sunscreen will work wonders for your skin. Its nourishing formula provides long-lasting hydration without making your facial skin feel heavy.
What You Should Know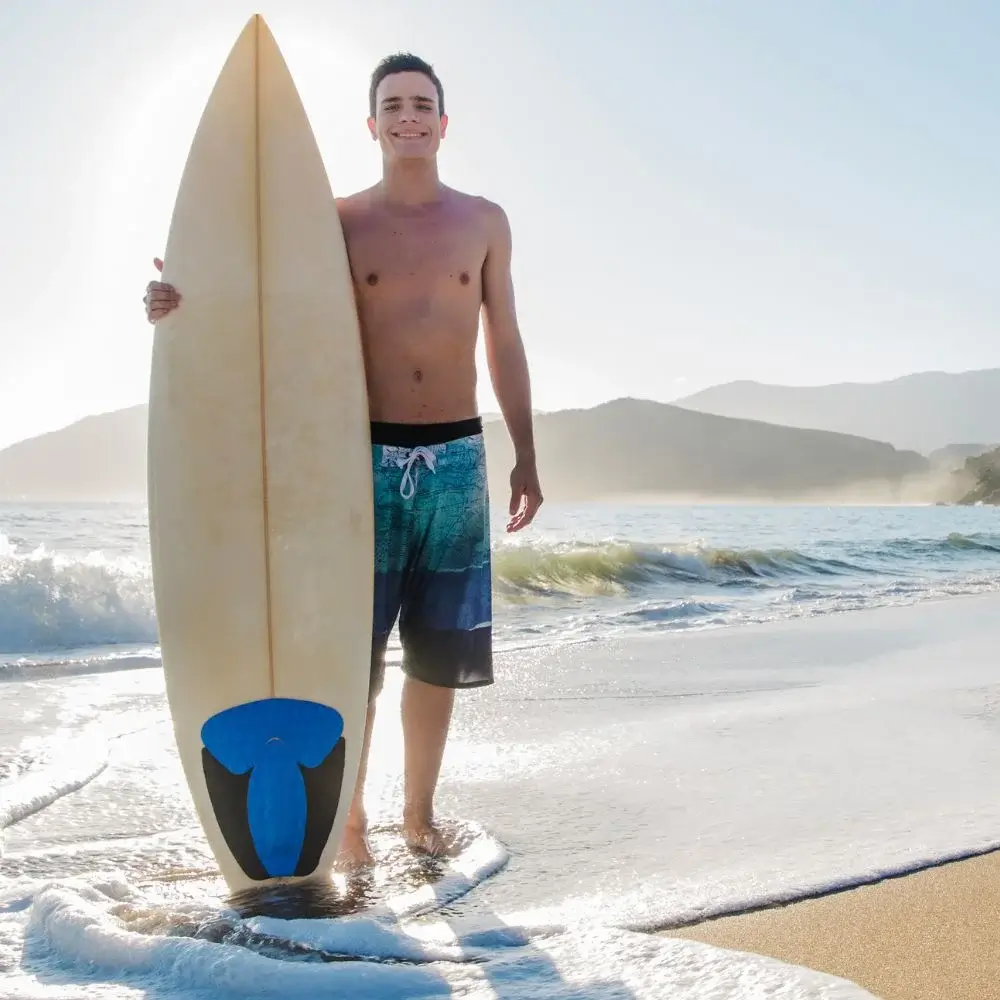 The special feature that makes Jack Black Oil-Free Sun Guard SPF 45 Sunscreen a real game-changer is its extreme endurance and resistance to water and sweat. It's the perfect sunscreen for athletes, sports enthusiasts, and beach lovers who love spending long hours under the sun doing what they love.
No matter how intense your outdoor activity is, this sunscreen will stay on your skin without running or dripping into your eyes. This mineral zinc oxide sunscreen is formulated for extreme conditions and is perfect for anyone who loves to push their limits, whether it's during a marathon or surfing competition.
Apart from its ground-breaking endurance, this sunscreen is also free from animal cruelty. From the day Jack Black was founded, the brand made a commitment to creating safe and effective products that do not harm our planet or its creatures. It's a part of their DNA to never even hurt any wild living creature.
Simply put, if you want to ditch all those bad facial sunscreens that promise the starry sky and deliver nothing but greasy, heavy, pore-clogging residue, Jack Black Oil-Free Sun Guard SPF 45 Sunscreen is the right choice. This vegan sunscreen will change your perception of sun protection as you know it.
Here are Some FAQs to Help Guide you on Your Way!
Whether you are a seasoned beachgoer, an outdoor enthusiast, or just someone who enjoys spending time in the sun, you have probably heard of sunscreen. It is a staple product for many people when it comes to protecting their skin from the harmful rays of the sun to prevent sunburns or premature aging.
But are men's and women's face sunscreens the same? Can beard mens use face sunscreens? Sadly, without knowing these details, many men end up with skin that is oilier or drier than they would like.
To aid you in your search for the perfect face sunscreen, here are some frequently asked questions that can help guide you on your journey so you can achieve healthy, glowing skin without any added hassles:
Is there a difference between men's and women's face sunscreens?
There are significant differences between men's and women's face sunscreens. Sunscreens that are marketed towards ladies have light, silky textures, and they often contain additional skincare ingredients to cater to a woman's skin needs, such as hydration, anti-aging properties, or makeup priming benefits.
On the other hand, men's face sunscreens are typically formulated to provide effective sun protection without feeling greasy or leaving a residue. They tend to have a more matte finish and may contain ingredients such as menthol or vitamin E for a refreshing sensation or calming effect on razor burn.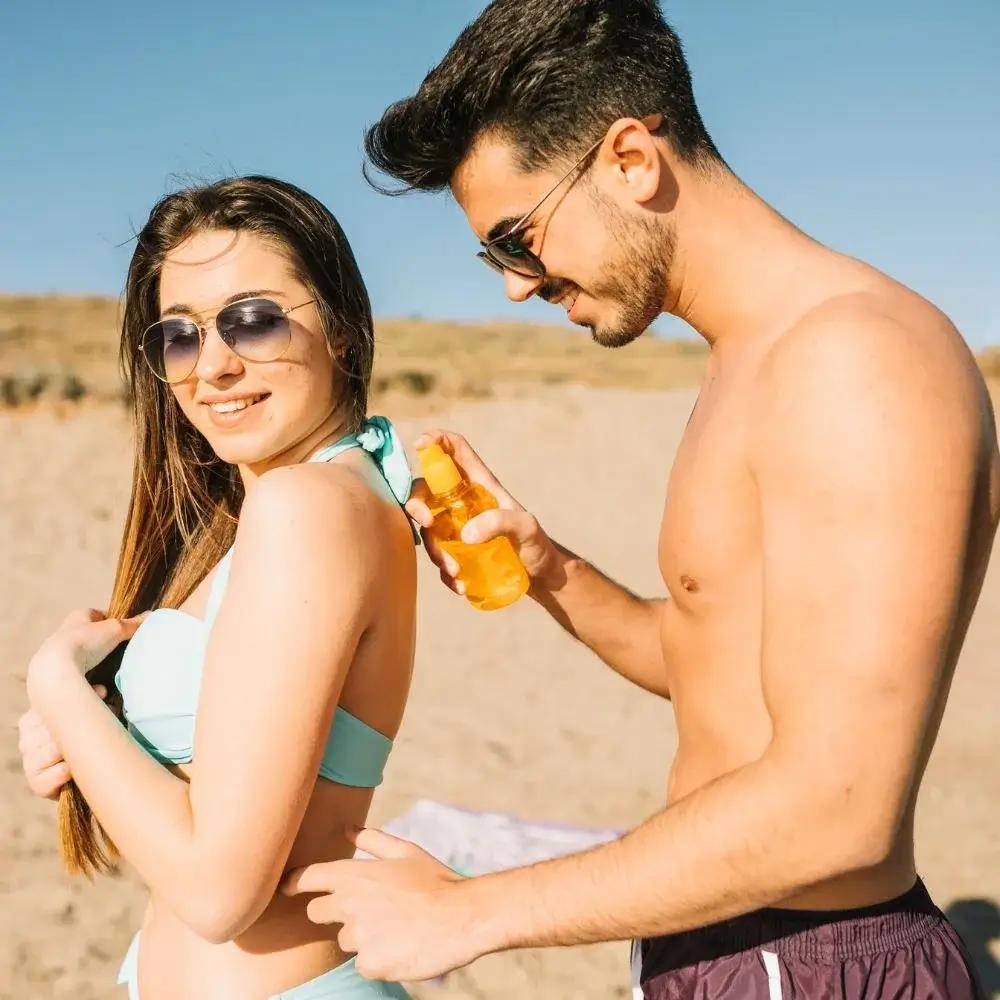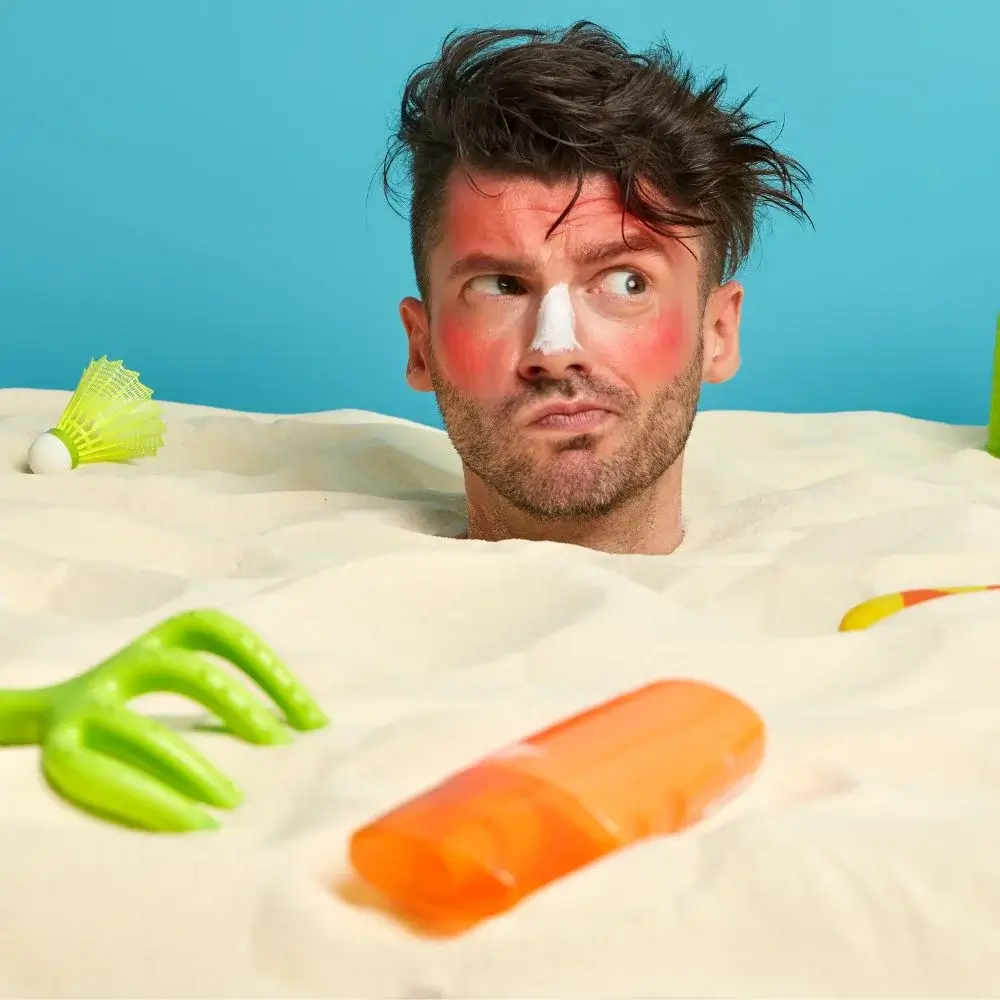 Can men with beards use face sunscreen effectively?
Yes, without a doubt! Men with beards can definitely use face sunscreen effectively. In fact, it is highly recommended for them to do so. Having a beard is not just a fashion statement; it also serves as a great natural protective barrier for the skin against harmful UVA and UVB rays that can cause sun damage.
However, this does not mean that men with beards do not need to use sunscreen at all. In fact, the areas of the face that are not covered by a beard still need protection. So whether you choose mineral sunscreens or chemical sunscreens, make sure they offer great broad-spectrum protection from rays.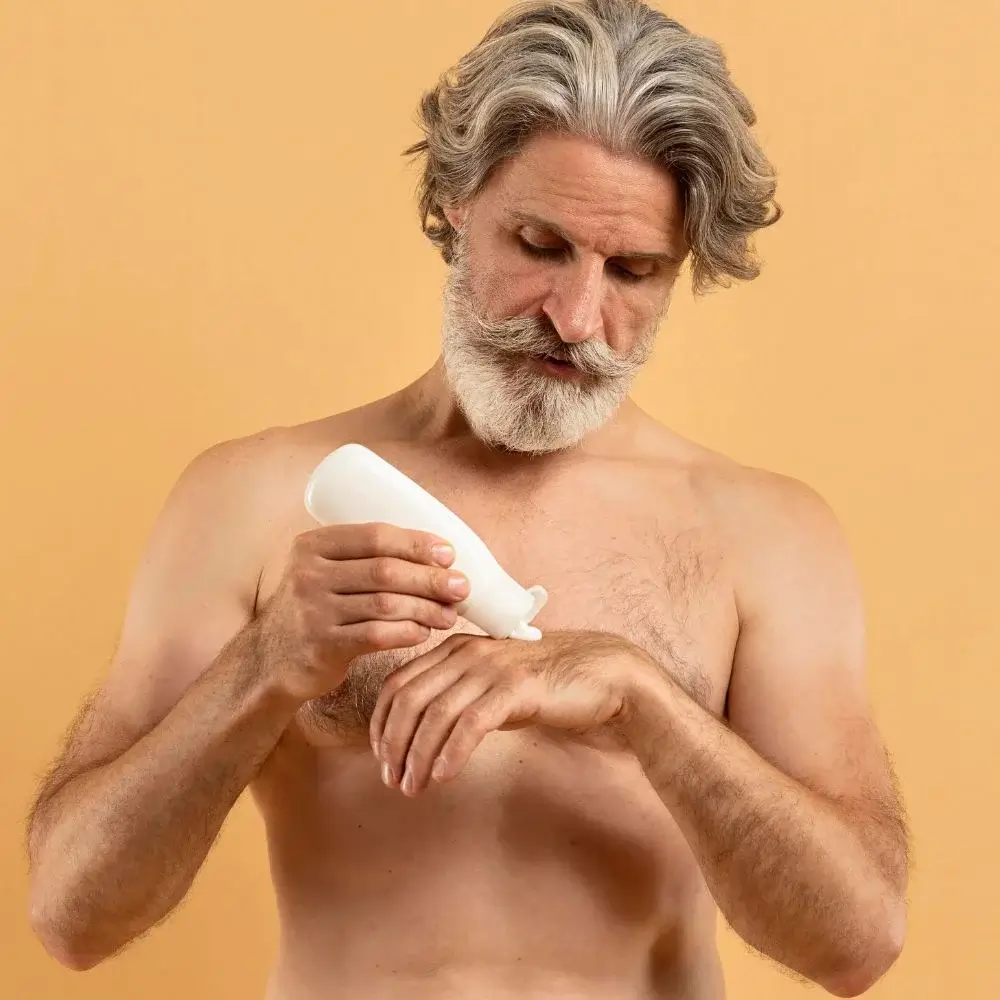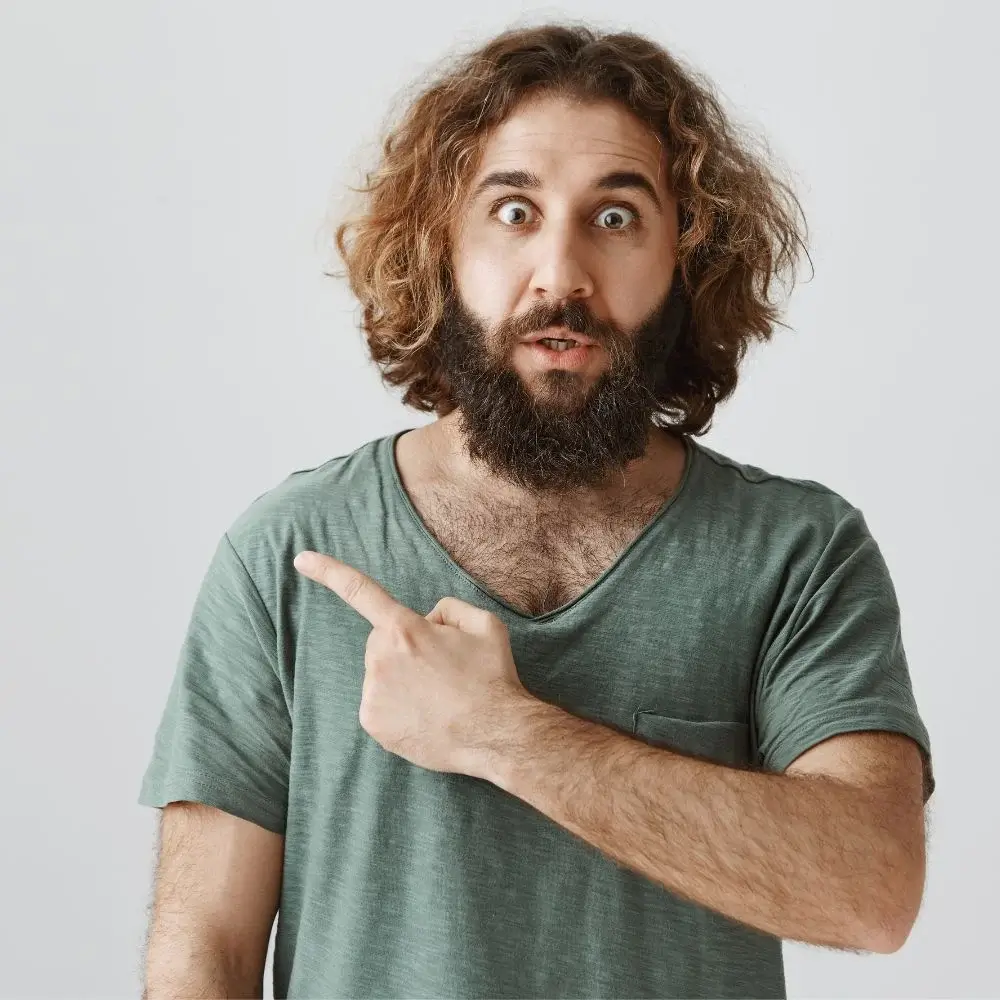 What SPF level should men aim for in a face sunscreen?
The SPF (Sun Protection Factor) level is an important factor to consider when choosing a face sunscreen. The optimal SPF level for men can vary based on their skin type, activities, and level of sun exposure. While it may seem like a higher SPF means more protection, this is not always the case.
In fact, an SPF level of 30 provides adequate protection for most men. So look for sunscreen with an SPF of at least 30 and make sure to apply it generously. But what if you have fair skin or are planning on spending a lot of time outdoors? In these cases, you may consider using an SPF level of 50 or higher.
This will provide extra protection against the sun's harmful UV rays. You can use a chemical sunscreen lotion with SPF 30 or mineral sunscreen with SPF 50, like Supergoop unseen sunscreen. Also, pick a sunscreen that contains powerful ingredients like zinc oxide, hyaluronic acid, titanium dioxide, or V-E.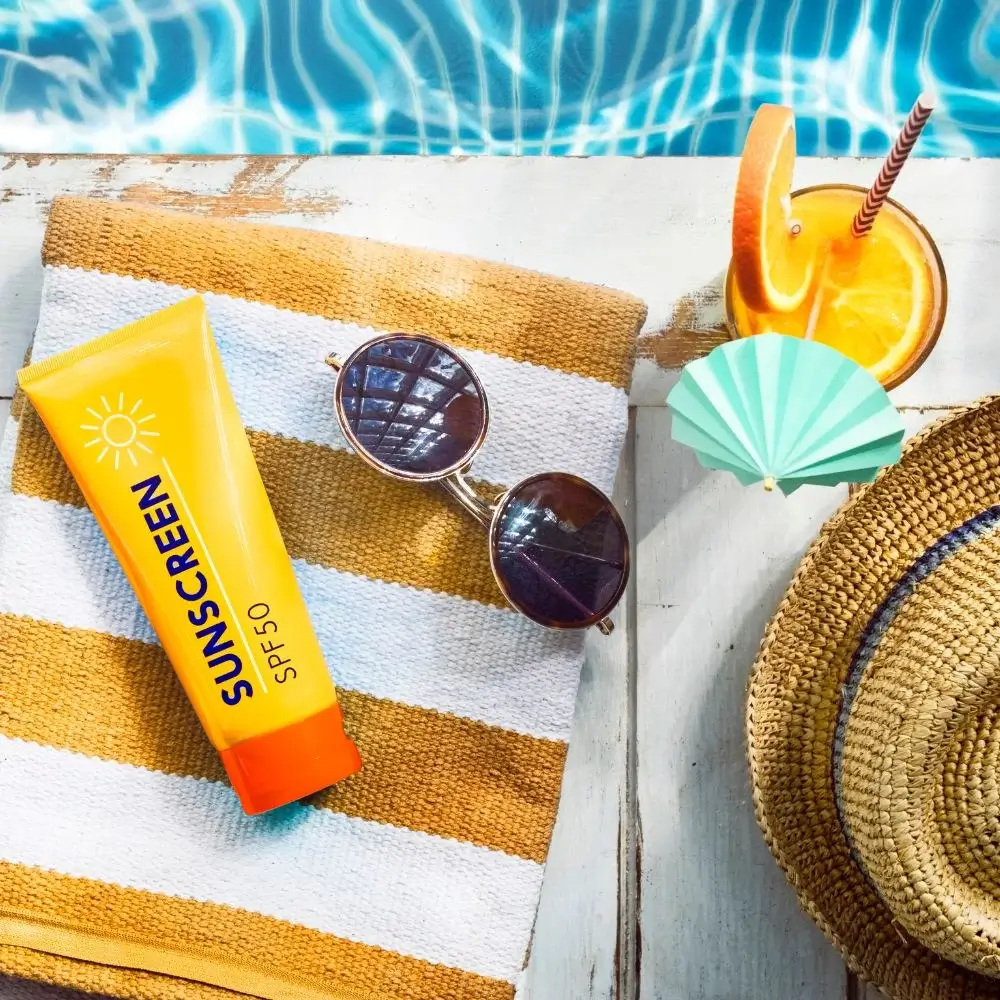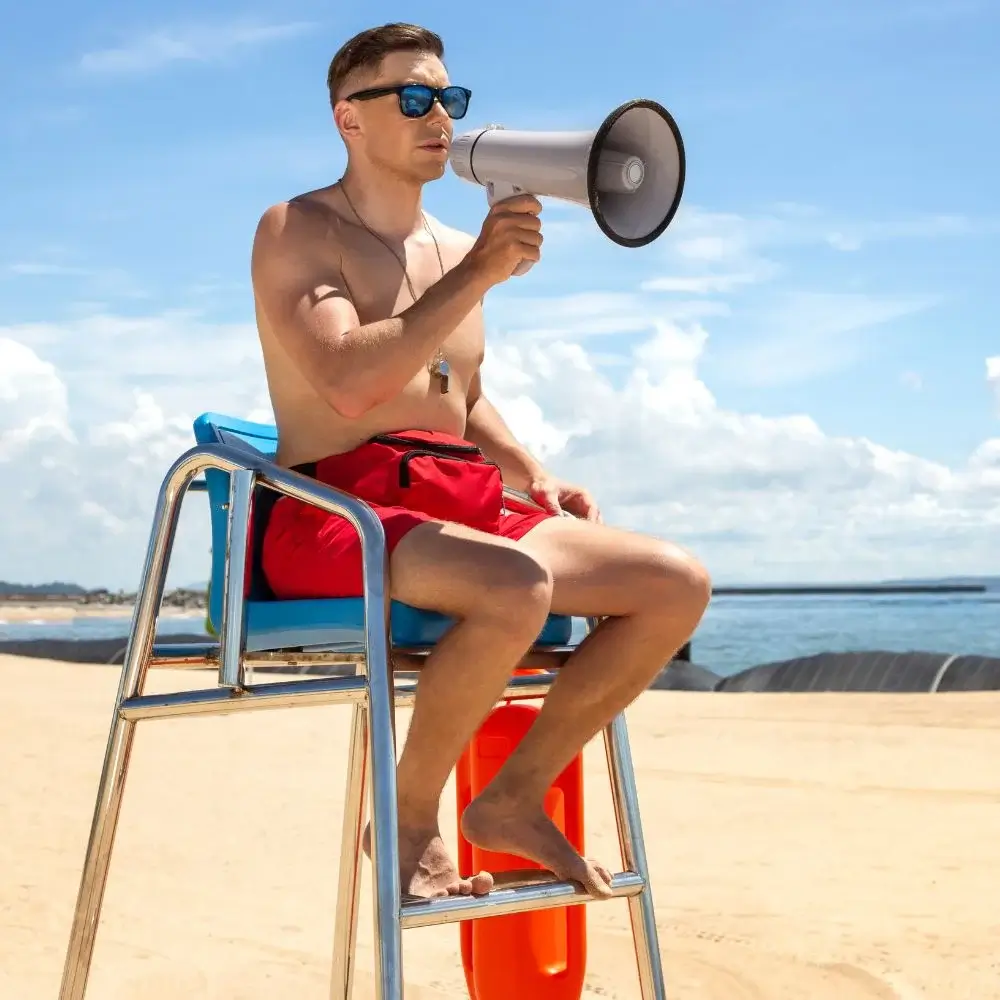 How often should men apply face sunscreen?
You should apply sunscreen every single day, even if you're not going outside. The recommended way to apply face sunscreen is every two hours while outside and once a day if you're indoors. UV exposure can happen even when you're not outdoors, through windows and doorways.
Even if your day mostly consists of sitting inside an office, you should still apply the best overall sunscreen daily. So whether you pick a spray sunscreen with SPF 30 or face and body sunscreens with SPF 50, make sure that they are suitable for all types and tones, including lighter and darker skin tones.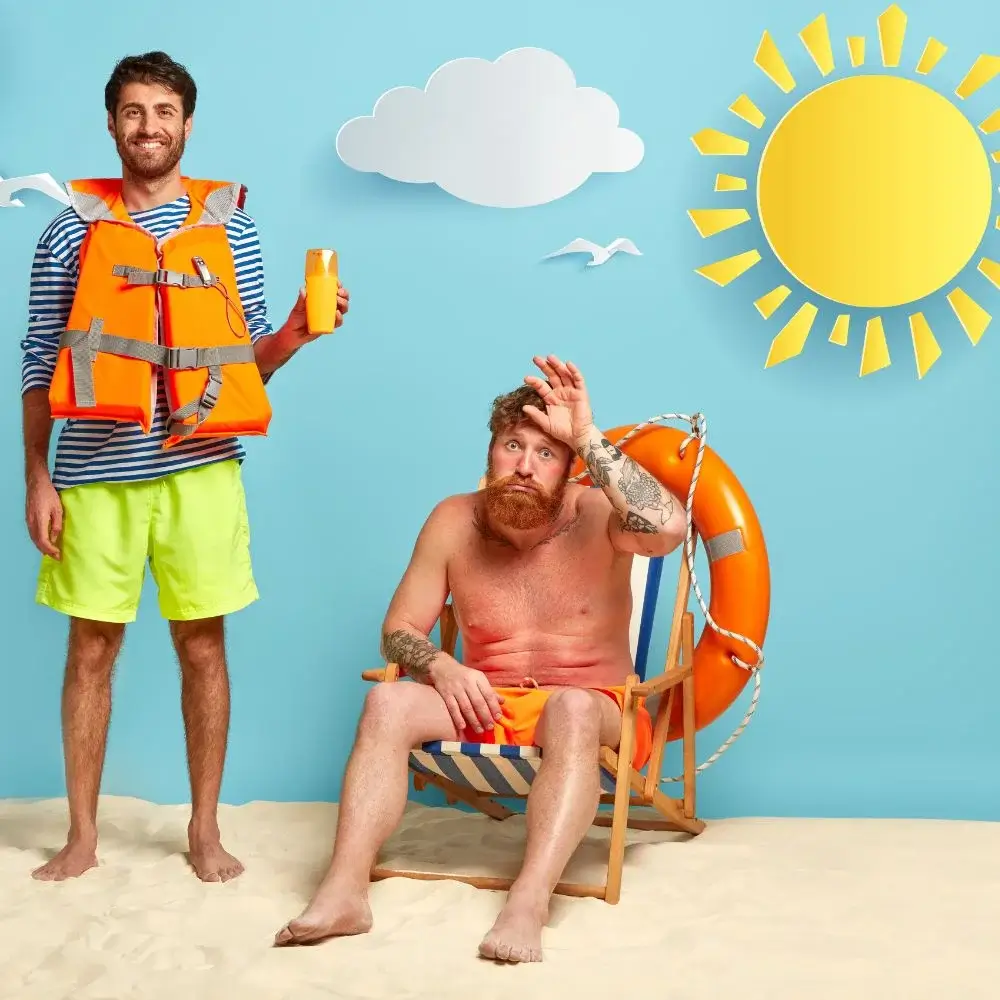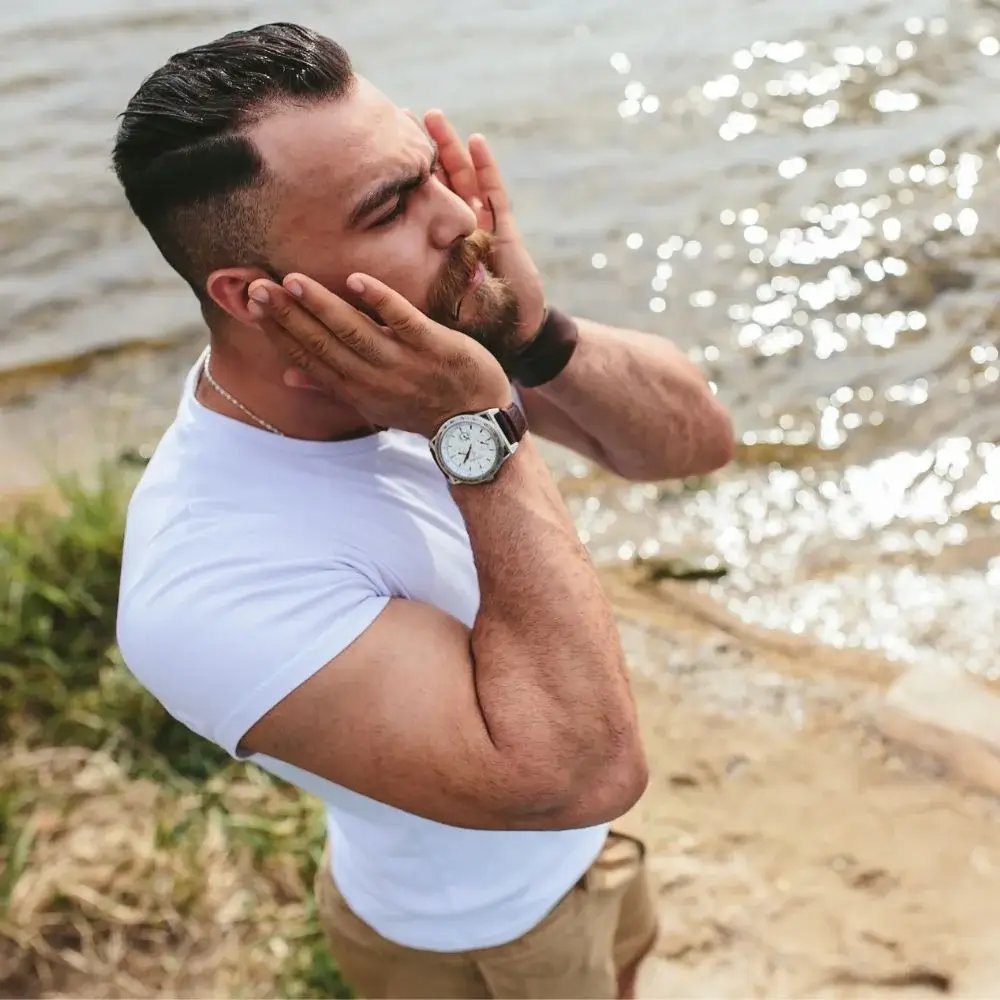 Best Mens Face Sunscreens:
Summer is a time of fun, a time to relax, and a time to enjoy the sun. While it's a great time to let loose and forget about your worries, for mens, it's an opportunity to immerse themselves in thrilling activities like catching the waves on a surfboard, indulging in beach volleyball, or simply lying down on the sand.
However, while having fun in the sun is essential for your mental health, it's crucial to take care of your skin as well. As much as men are known for their rugged looks and tough skin, they are just as prone to sunburns and other harmful effects of UV rays. That's why choosing the right sunscreen is imperative.
The top 4 best face sunscreens that we have listed above are all chosen to ensure that men can have fun in the sun without worrying about harmful UV rays. They not only offer excellent protection but are also lightweight and non-greasy, so you can enjoy your outdoor activities without feeling weighed down.
They are filled with beneficial ingredients like Vitamin E and antioxidants that not only shield your skin from the sun but also nourish and hydrate it. These sunscreens are also suitable for different skin types, so whether you have oily, dry, combination, or sensitive skin, you can find a product that works for you.
If you truly want to make the most of the summer while keeping your skin safe and healthy, investing in one of these top-notch face sunscreens is the way to go. Grab one of these sunscreens by clicking on any link here, and don't let the fear of sun damage hold you back from enjoying the great outdoors.