Human hair wigs are the most natural and preferred choice of hair replacement; it's not just a fashion piece but rather an integral part of many people's lives, particularly for ladies. Human hair wigs are made from real human hair; it feels more real to the touch, but it also requires more maintenance than synthetic wigs.
They are more susceptible to the same problems as natural hair - split ends, dryness, and lack of shine. That's why it is important to use a good leave-in conditioner on your human hair wig. However, with so many options, picking the right one can be a hair-raising adventure in itself! Do you need the best one?
Don't worry; we have got you covered! We know that it's not just about finding any old leave-in conditioner – it's about finding the crème de la crème, the top-tier potion that will transform your human hair wig into a luxurious masterpiece; that's why we have curated this list of the top 3 best leave-in conditioners for you.
All these best leave-in conditioners are made with ingredients that will breathe new life into your precious human hair wig. Whether you need a salon-quality option or one that detangles, infuses vitality, & improves shine, rest assured that these quality leave-in conditioners are your wig's secret weapon for transformation.
Keep reading to learn more about our list of the top 3 best leave-in conditioners for human hair wigs!
We have searched for the best, so you don't have to live with the rest. In order to serve you to the best of our ability and to keep our blog going, GarnesGuide may collect a share of sales or other compensation from the links on this page if you decide to buy. Each product was independently researched by our editors, and the reviews may have been edited for length and clarity.
How We Choose the Best Leave In Conditioner For Human Hair Wigs:
Leave-in conditioner is an elixir of rejuvenation for your beloved human hair wig(extensions). It's more than just a haircare product; it's like a secret weapon that will keep your wig looking and feeling as good as new.
Leave-in conditioner is a great way to provide nutrients and hydration to your real hair extensions while also adding an extra layer of protection from the elements. But let's be real; with an array of brands and options that fill the shelves, finding the perfect leave-in conditioner can be quite a confusing venture.
To help you in this hectic quest, we have done a deep dive research and have handpicked the top 3 most powerful and rejuvenating leave-in conditioners for your natural human hair wig extensions. These aren't just ordinary hair products; they are your wig's allies in the battle against dryness, damage, and dullness.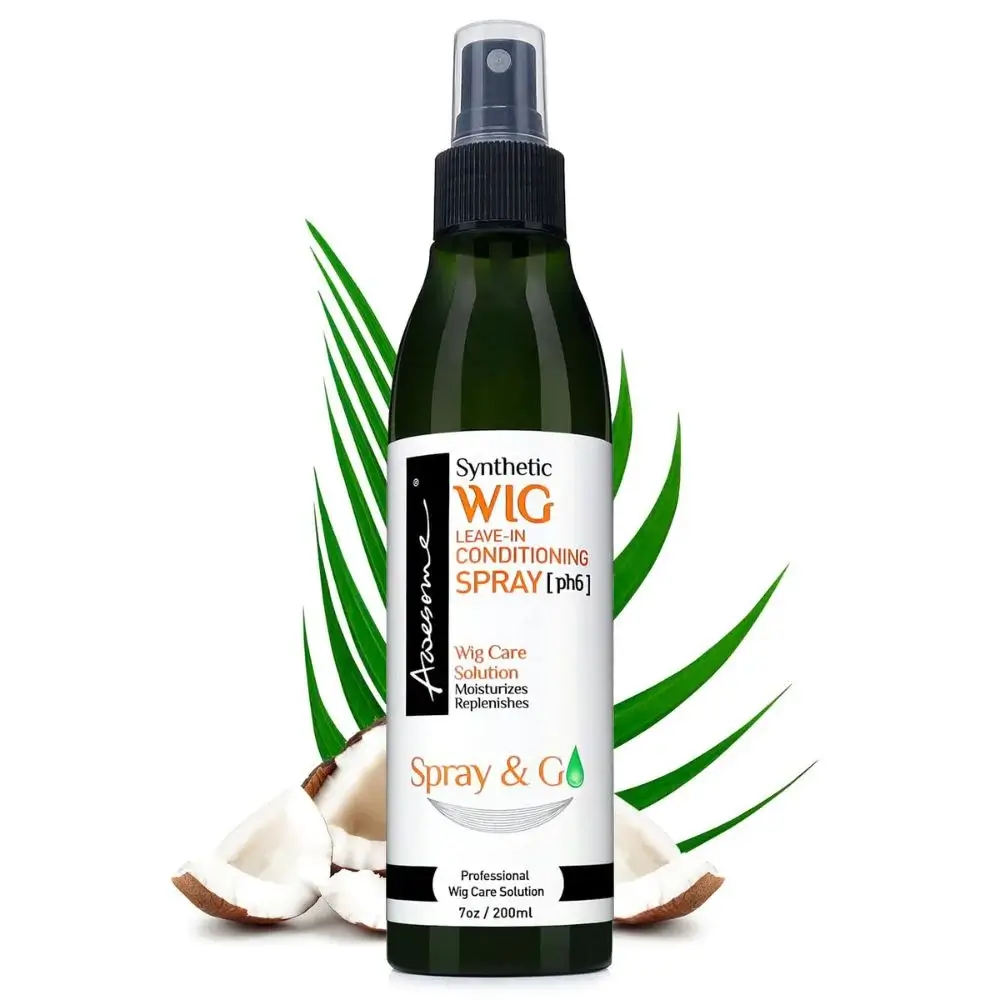 Best Leave-in Conditioner For Human Hair Wigs, Extensions, and Hairpieces
Awesome Synthetic Wig Leave-in Conditioner Spray
Check Price on Amazon
Why GG Loves It
Do you want to prolong the life of your wig? Do you need a conditioning spray that keeps your hair healthy, hydrated, moisturized, and frizz-free? If that's what you are truly looking for, then Awesome Synthetic Wig Leave-in Conditioner Spray is an absolute must-have for you to try and experience its amazing benefits.
It is only designed to keep synthetic hair, real human wigs, hair extensions, and hairpieces looking smooth, soft, and tangle-free! It can protect fragile and damaged hair against the risks of heat styling, UV rays, and intense air drying. It also works to provide effective protection from split ends, breakage, and frizz.
This conditioning spray can easily prolong the life of your wig, detangles hair, prevents dryness, and even promotes silkiness & hair elasticity to ensure your human hair wigs stay beautiful & fresh for a longer period.
Whether you're donning your wig for a special occasion or embracing it as an everyday adornment, this spray acts as a steadfast companion, ensuring that your hair remains a testament to grace & magnificence. So if you want to achieve shiny, beautiful hair that remains with you for years to come, this one is for you!
What You Should Know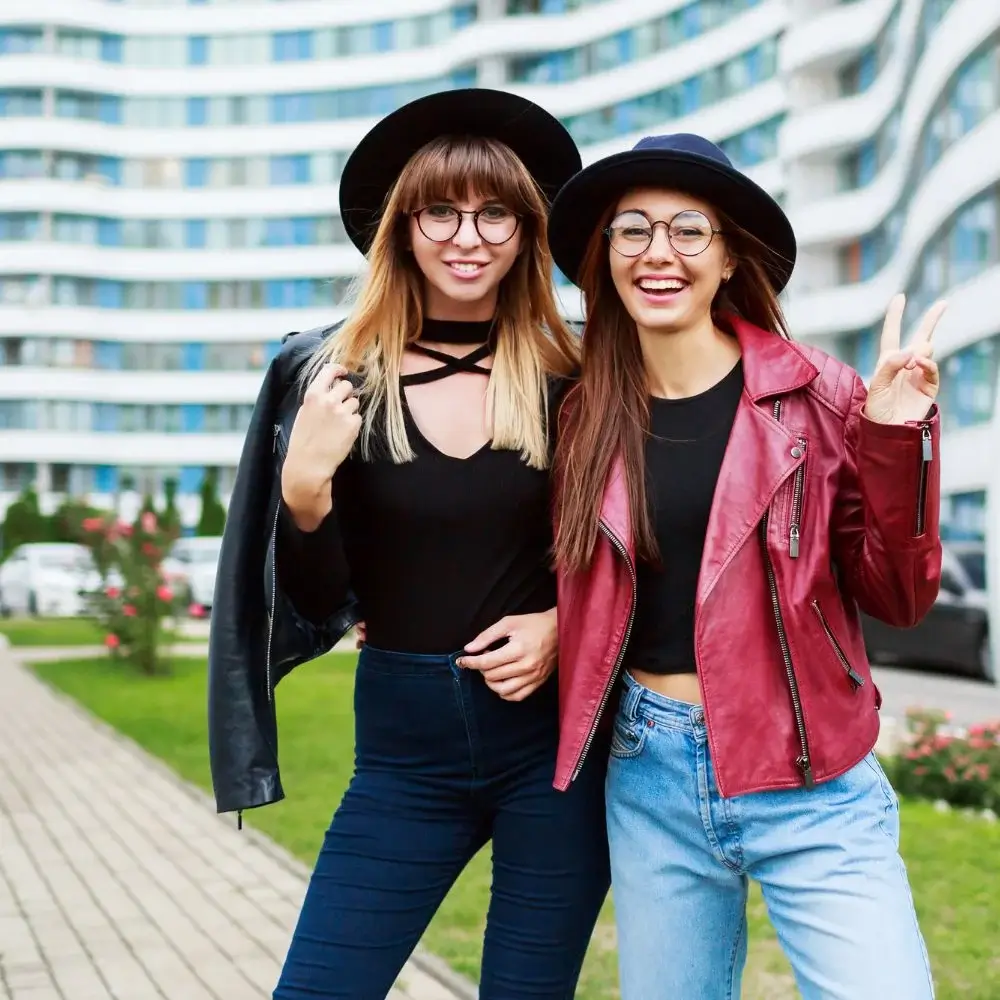 This conditioning spray is not just good for reducing frizz & static so your wig will look & feel silky smooth all day long, but it also offers a fresh feeling that will surely make you feel great. It can even promote body and volume, which makes it one of the best leave-in conditioner sprays for wigs and real hair extensions!
This professional-grade conditioning spray is blended with natural ingredients like coconut oil and has a pH6 balance, ensuring it works gently on your synthetic or human hair wigs. The inclusion of coconut oil provides nourishment and moisture, helping to prevent dryness and brittleness in your wig or hairpiece.
What sets this Awesome Synthetic Wig Detangler apart is its easy application. Simply spray it onto your wig and gently comb through. The spray dries quickly, leaving no residue and maintaining a non-greasy feel. This ensures that your wig will remain lightweight & comfy throughout the day without any sticky sensation.
The formula also contains Cetrimonium Chloride, which plays an important role in detangling your wig and preventing hair breakage. For easy combing, moisturizing, and detangling, this product is a godsend! Pick it today and experience the difference for yourself without hurting your pocket or your precious natural wigs!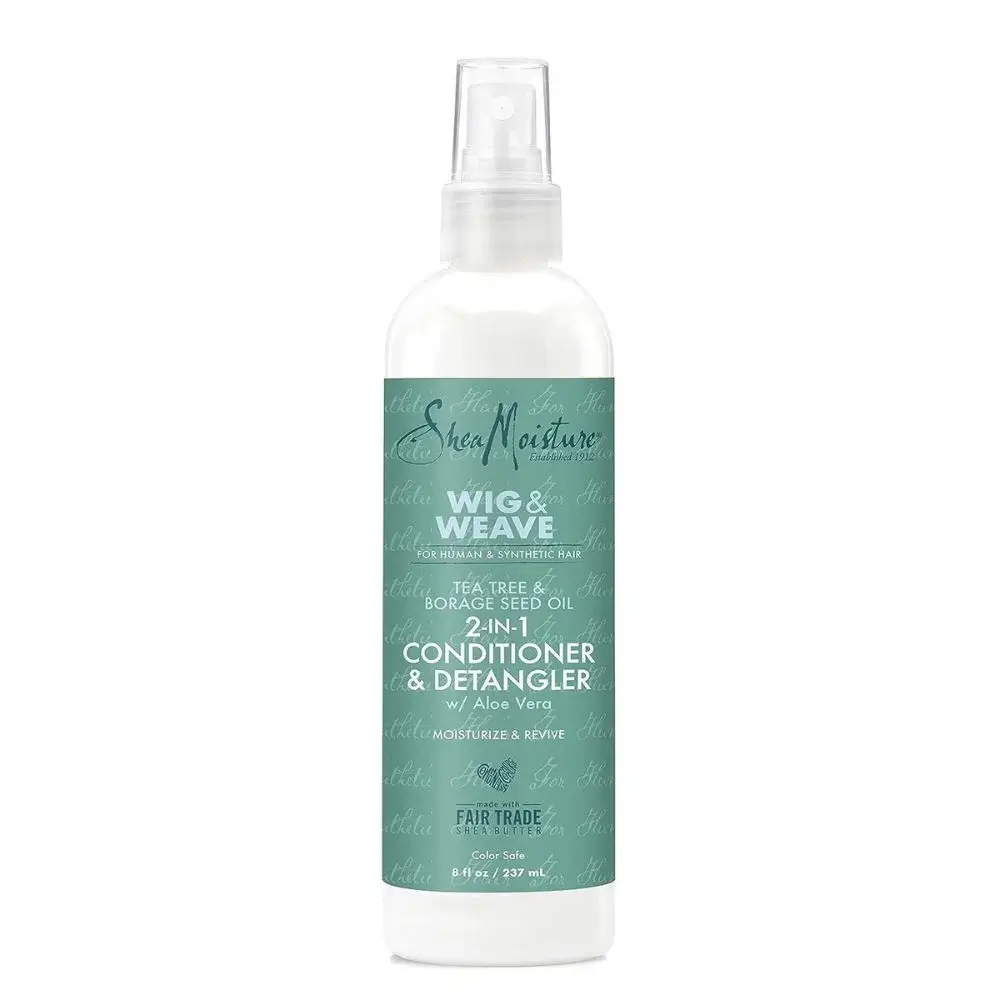 Best Leave-in Conditioner For Wig and Weave
SheaMoisture 2in1 Conditioner and Detangler Leave-In Conditioner
Check Price on Amazon
Why GG Loves It
If you are looking for an ultimate conditioning spray that will not only help to detangle your wig or weave but also keep it moisturized and add a beautiful shine, then SheaMoisture's 2in1 Conditioner and Detangler Leave-In Conditioner is the best option; it's an ideal solution for those who want to keep their wig in check.
For all women (regardless of age, race, or hairstyle), keeping their wig is one of the most important steps to looking and feeling their best. And this 2-in-1 leave-in conditioner spray by SheaMoisture is the perfect answer to achieving just that. It brings your wig or weaves back to life with its natural blend of goodness.
It contains tea tree oil and borage seed oil that will nourish your entire hair shaft leaving your human hair wig with a shiny, natural glow. It also helps to moisturize, detangle strands, reduce frizz, and fly away from daily styling. The most convenient thing; it can be sprayed directly onto your wig or weave and air-dried.
In simple words, this product can bring your wig, weave, or braid hair extensions back to life so you can enjoy the beauty and vibrancy of your hairpieces to the fullest. So what are you waiting for, ladies? Get this leave-in conditioner now and add extra moisture and shine to your wig or weave without any kind of worry!
What You Should Know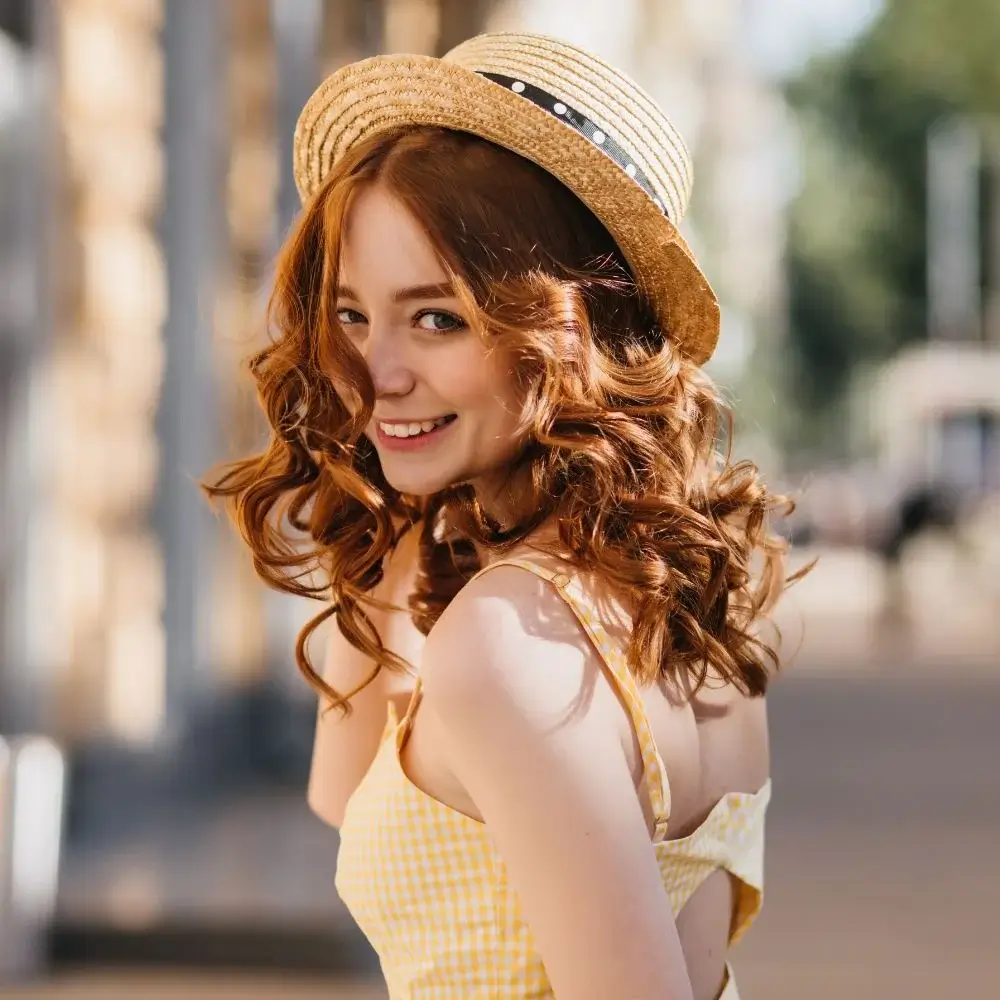 This salon-quality leave-in conditioner by SheaMoisture is also enriched with pure aloe vera that further nourishes and hydrates your hair. However, the only thing that makes this product the safest and most practical choice for those who don't want to compromise on their beliefs & values is its natural ingredients.
This conditioner is paraben-free, sulfate-free, and even cruelty-free, aligning with ethical and sustainable beauty practices. SheaMoisture's dedication to using high-quality natural ingredients ensures that your human hair wigs receive the care it deserves without exposing them to potentially harmful chemicals.
The inclusion of Acemannan adds an extra layer of nourishment, promoting healthy hair from root to tip. It can even be used to refresh dull, matted hair. It is also mineral oil or petrolatum free, so even those with sensitive skin types can enjoy its effects without worrying about any sort of skin irritation or allergies.
This product's lightweight & non-greasy formula allows for easy application, and it won't weigh down your hair. With this, you can give your wigs and weaves the love and care they need to look and feel their best.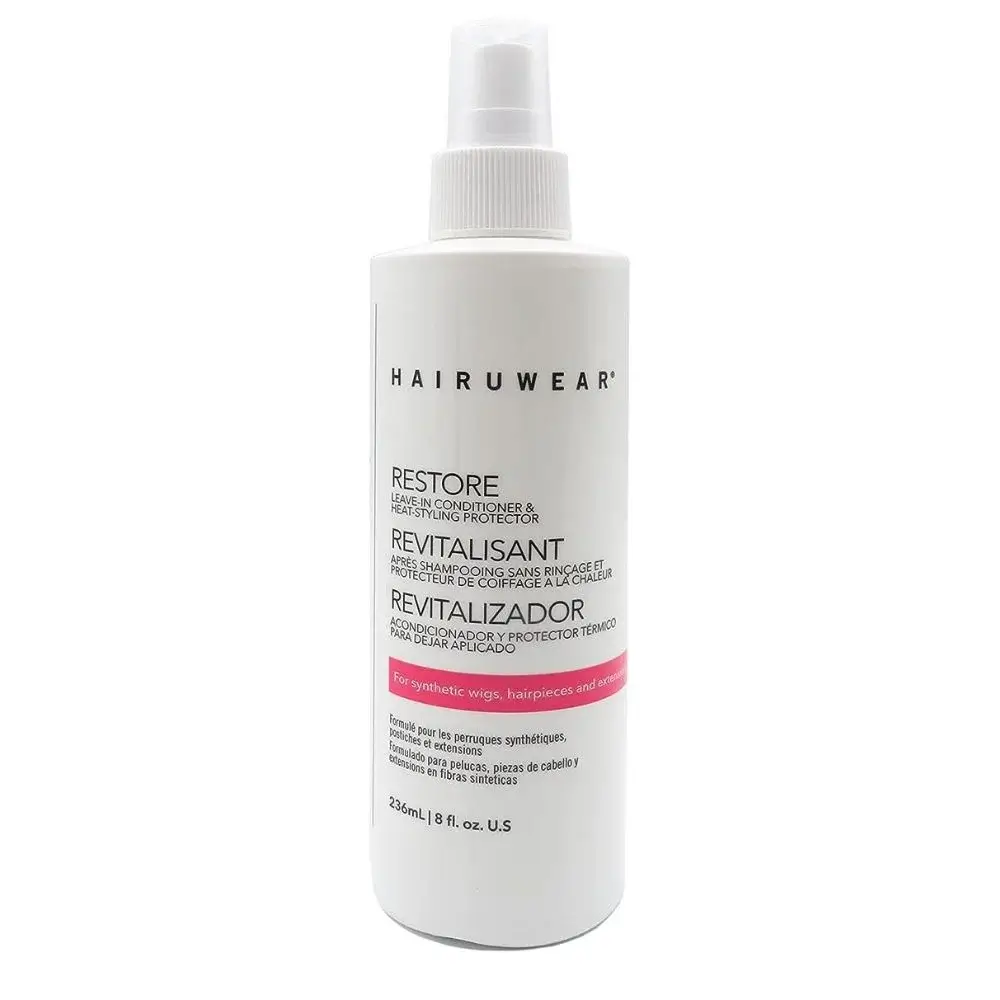 Best Leave-in Conditioner For Wigs & Hair Extensions
HairUWear"Restore" Leave in Conditioner & Heat Styler Protector
Check Price on Amazon
Why GG Loves It
Are you looking for a multipurpose leave-in conditioner to help keep your wigs and hair extensions looking shiny, tangle-free, and healthy? Are you tired of conditioners for wigs that don't actually work? If so, then you should definitely give HairUWear's "Restore" leave-in conditioner & heat styler protector a try today!
It has a dual nature; it can be your reliable detangler and your trusted protectant all in one. Whether you're dealing with synthetic fibers or human hair, this specially formulated solution is designed to cater to both.
The nourishing formula brings back the all-day softness you desire in a leave-in conditioner, ensuring your synthetic fibers stay silky and manageable. But here's the kicker – it's not just about making your wig look good; it's about preserving its quality. HairUWear's "Restore" also doubles as a heat styler protector.
This leave-in conditioner will shield your precious wigs, hairpieces, and extensions from the potential damage of heat styling, allowing you to rock your desired look without worry. So if you're tired of lackluster results from other conditioners, then this one is like a breath of fresh air that for sure won't disappoint.
What You Should Know
HairUWear is renowned for its dedication to hairpiece excellence, and "Restore" is no exception. This product stands as a testament to their commitment to providing innovative solutions for wig wearers.
Unlike other options in the market, "Restore" goes beyond traditional hair care norms by incorporating eco-friendly and cruelty-free aspects into its formulation. This leave-in conditioner does not contain any kind of animal-derived ingredients (byproducts) to ensure that it's environmentally responsible and vegan-friendly.
In a world where conscious consumer choices matter more than ever, "Restore" offers a unique blend of hair care effectiveness and ethical considerations. The best part; this leave-in conditioner is affordable.
So for those who like their hair care choices served with a side of eco-consciousness and a sprinkle of affordability, "Restore" is the superhero your human hair wigs and hair extensions have been waiting for! It's not just a leave-in conditioner; it's your partner in crime against tangles, frizz, and hair styling woes.
Here are Some FAQs to Help Guide you on Your Way!
In this world where hair extensions and wigs are becoming more and more popular, taking care of your real hair wig is a must. One of the most important things to remember is to ensure your human hair wig is well-conditioned. Leave-in conditioner is a great way to do this, as it helps to nourish the hair & keep it healthy.
But can you use a regular type of leave-in conditioner? Can this product help with detangling? Here are some of the most FAQs about leave-in conditioners for human hair wigs that will help you on your way:
Can I use regular leave-in conditioner on my human hair wig?
Yes, you can use regular leave-in conditioners on your human hair wig, but it is important to choose the right kind of product for your tresses type. Make sure the ingredients in your conditioner don't contain any harsh chemicals and are free from animal testing, as this could damage the wig's fibers. Additionally, it is important to use a UV-safe formula that won't weigh down the hair and make it look greasy.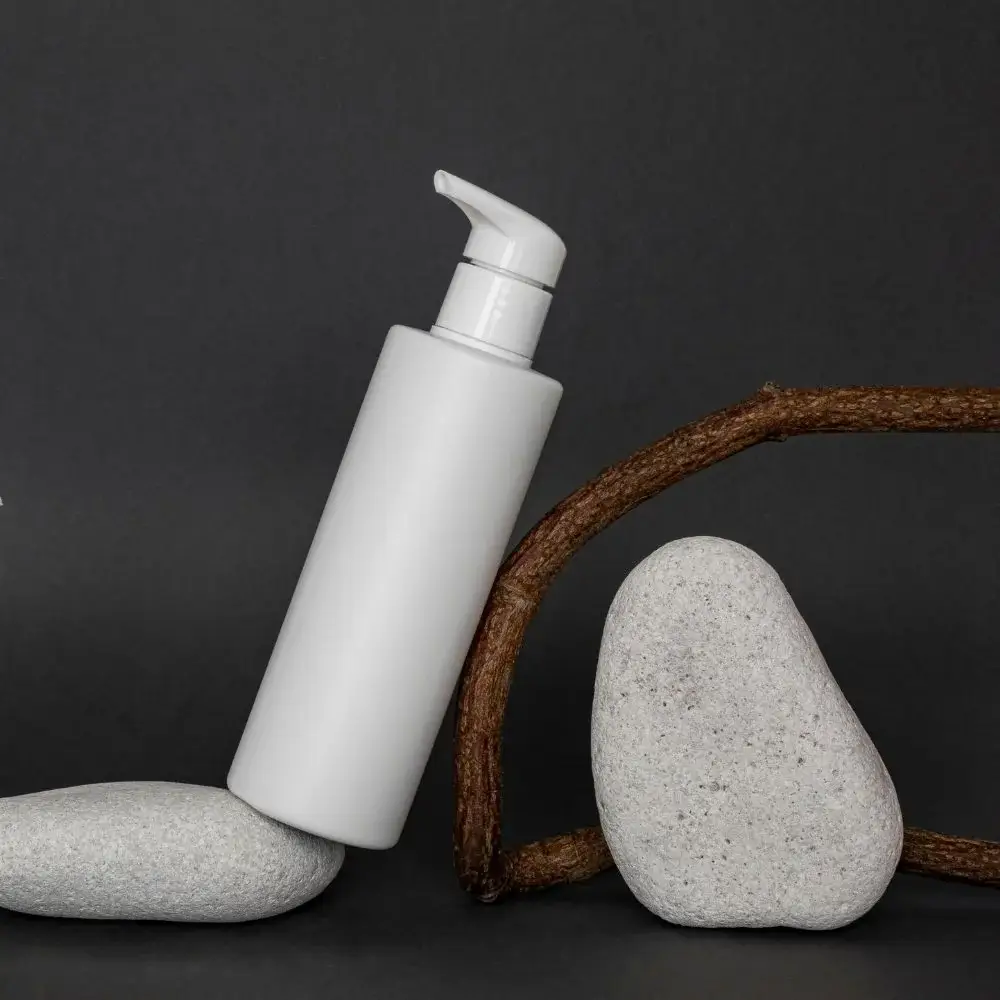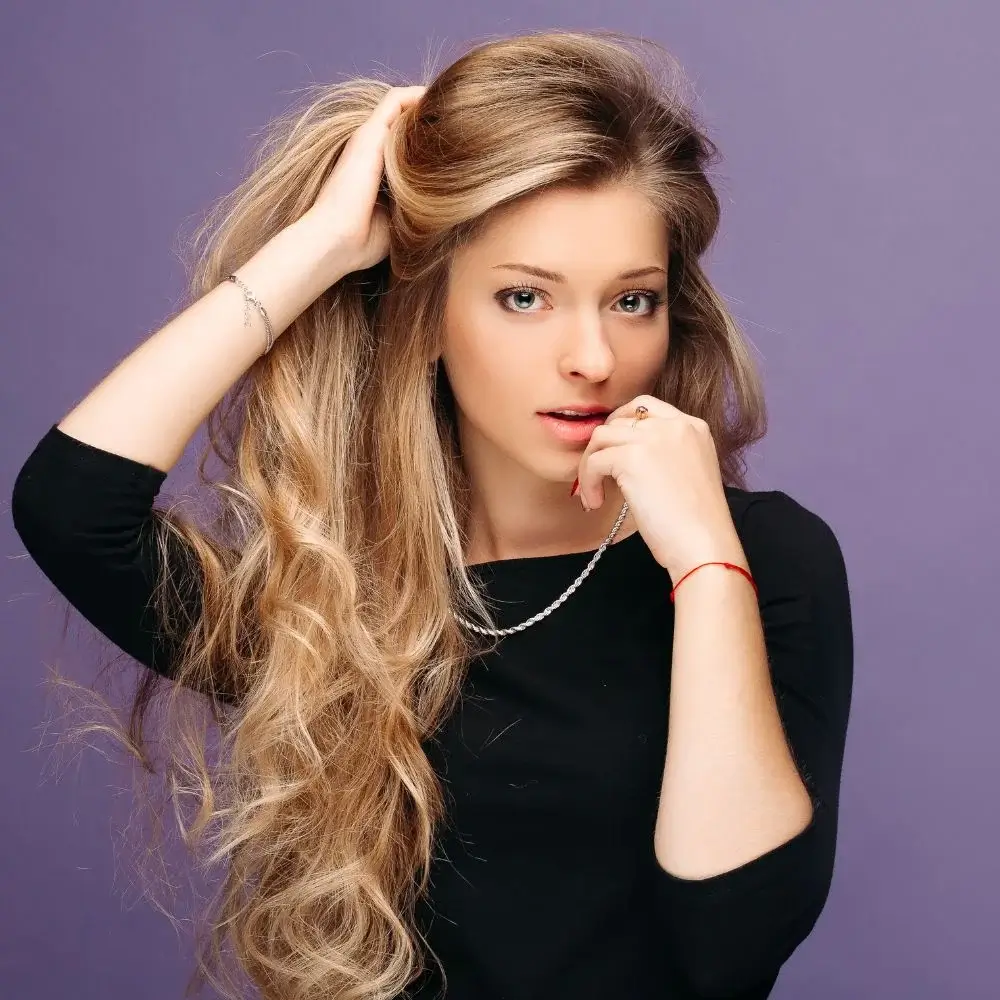 Can a leave-in conditioner help with detangling the hair of a human hair wig?
Yes, leave-in conditioners can help with detangling human hair wigs. Leave-in conditioners are designed to be applied directly to the damp hair before styling and/or brushing. They coat each individual strand of hair with a protective layer to prevent damage during styling or combing so the hair is more manageable.
The leave-in conditioner also adds moisture and helps to reduce frizz, so the wig looks softer and smoother with fewer tangles. If you want to add shine to your brittle, dry hair, then this product is best!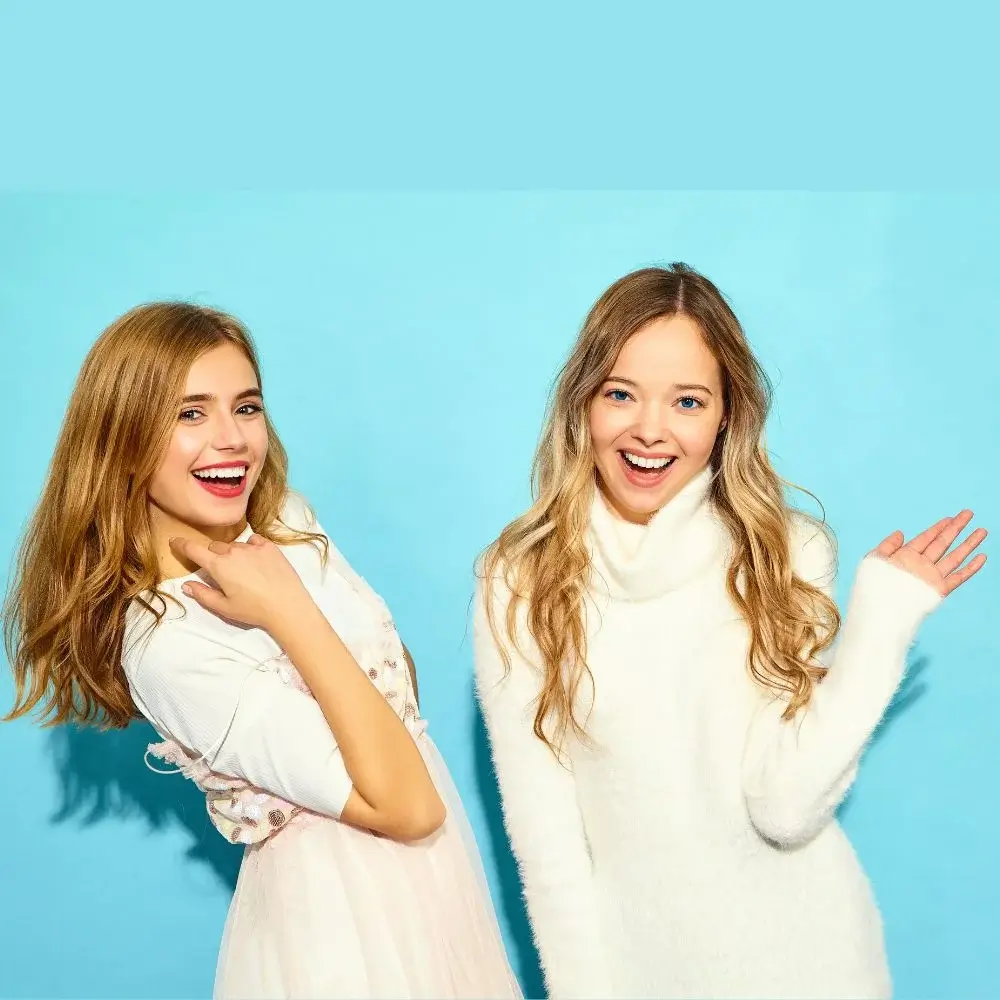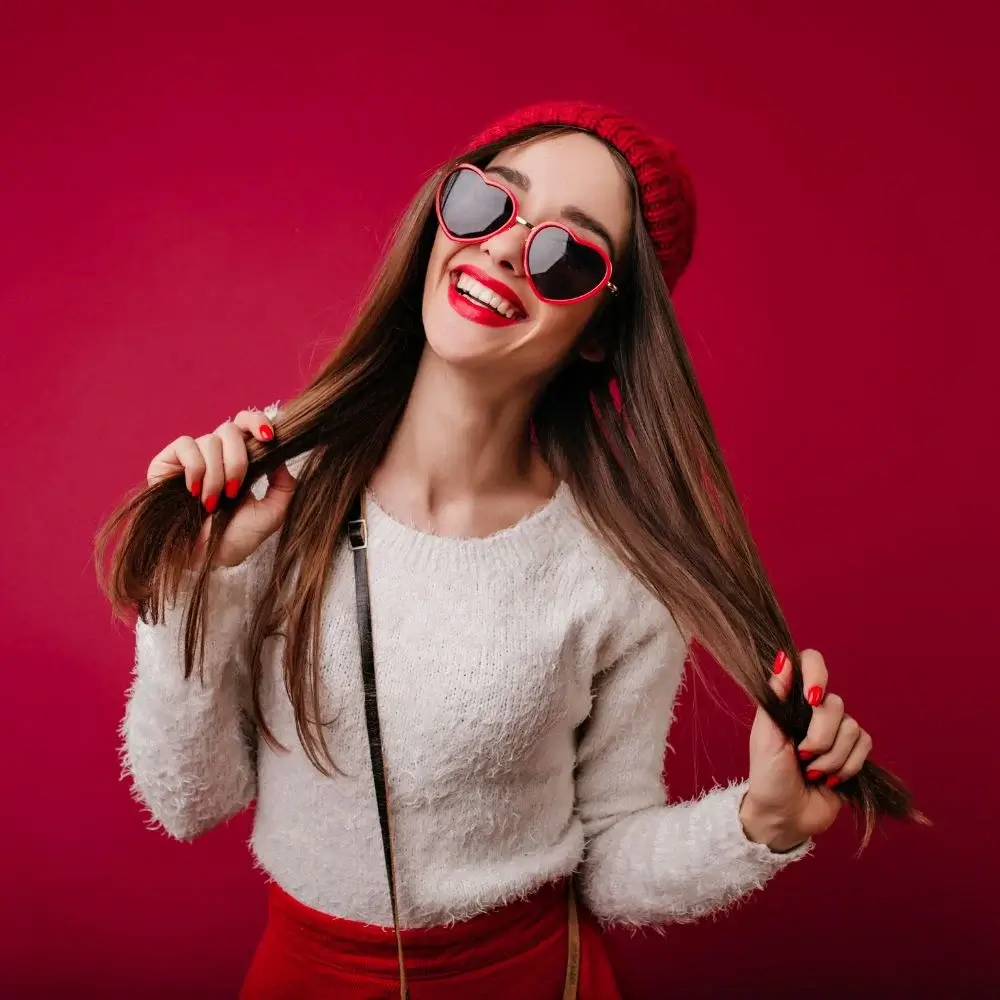 Are there specific ingredients I should look for in a leave-in conditioner for human hair wigs?
Yes, there are some key ingredients to look for when choosing a leave-in conditioner for human hair wigs. The most important thing is to make sure it is specifically designed for use on human hair wig strands.
Choose a product that contains nourishing oils such as coconut, argan, sunflower seed, or jojoba oil, which help to keep the wig strands hydrated and moisturized. Also, look for leave-in conditioners that contain natural proteins such as keratin or silk protein. Lastly, opt for a product free of harsh sulfates and parabens.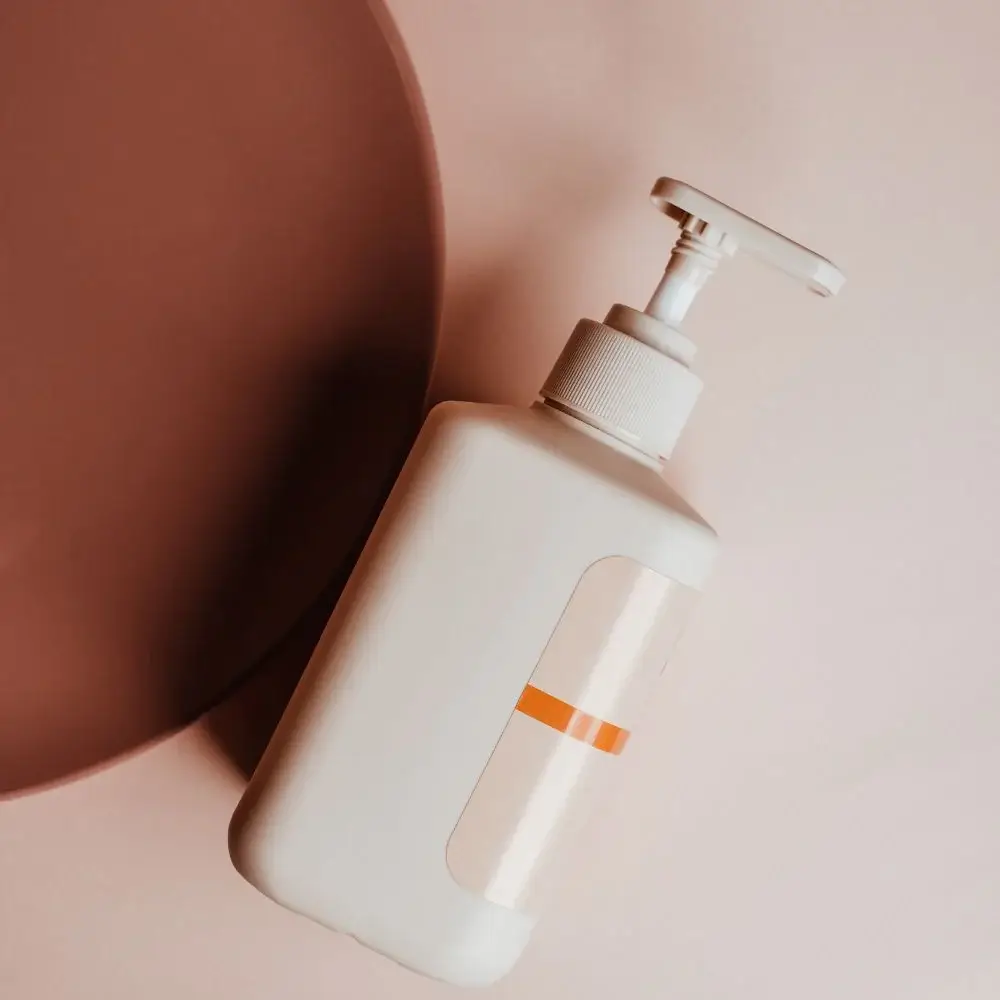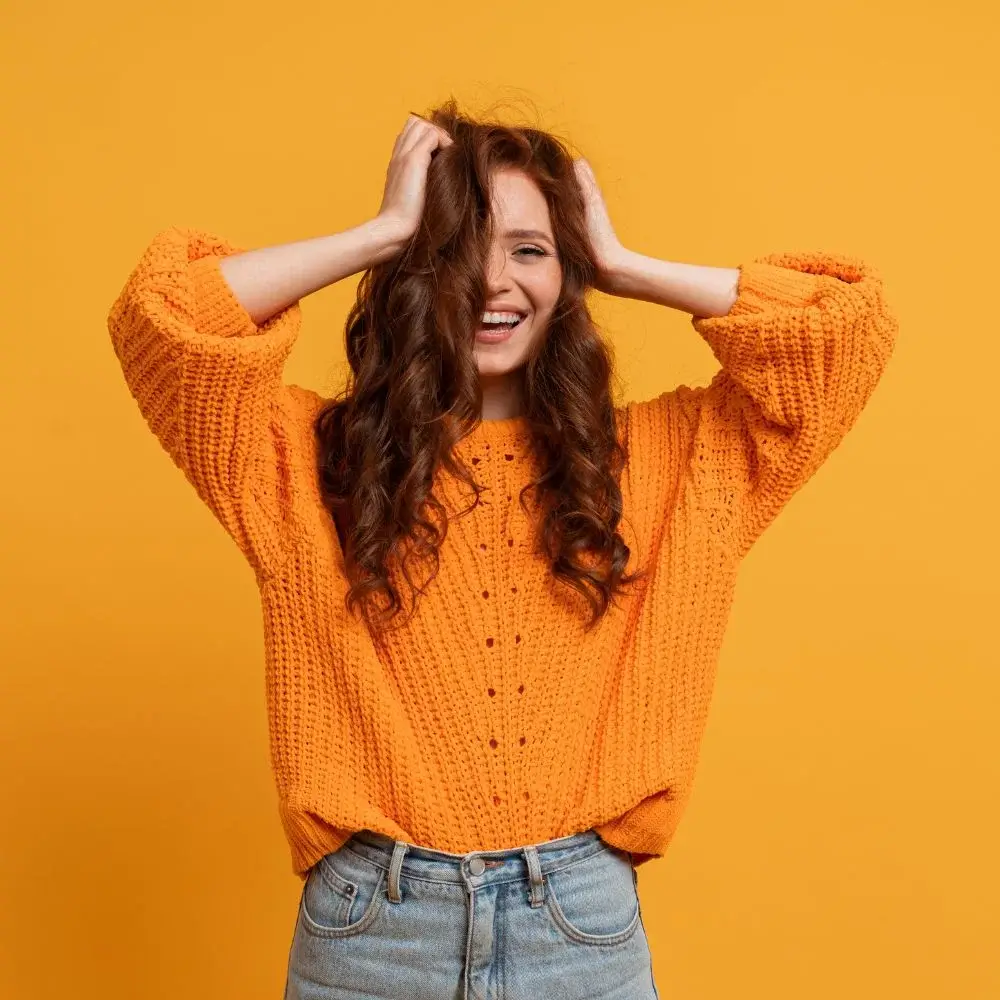 How should I apply a leave-in conditioner to my human hair wig?
Leave-in conditioners are a great way to keep your human hair wig soft, shiny, and healthy. To apply leave-in conditioner correctly to your human hair wig, follow the below-listed simple & straightforward steps:
Start by wetting the wig with lukewarm water, making sure not to soak it too much.

Squeeze out any excess moisture, then spread the leave-in conditioner over the entire wig evenly.

Use a styling foam head or your hands to comb through the hair to ensure that the product is correctly distributed and there are no tangles.

Let it sit for around five minutes, then rinse off any remaining product with cool water.

Allow your human hair wig to air dry naturally and away from direct heat sources.

Once it is completely dry, you can style your wig as desired.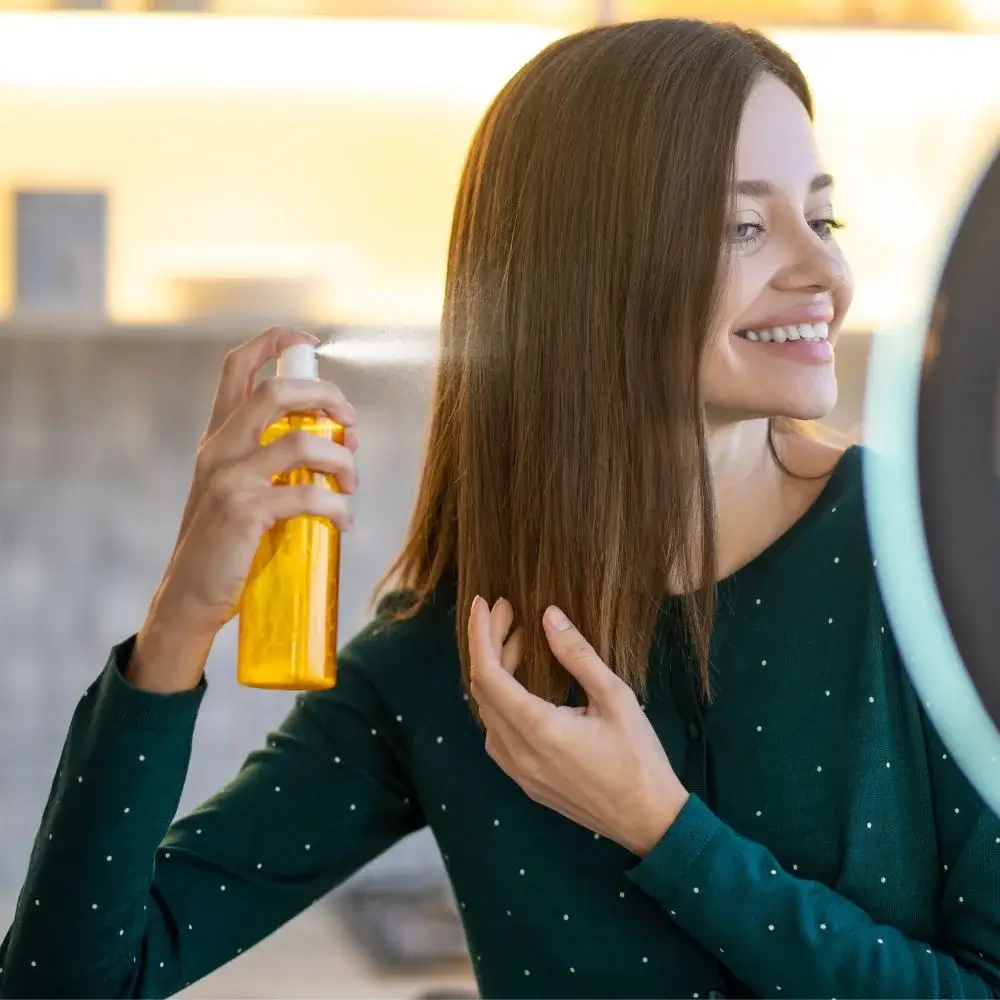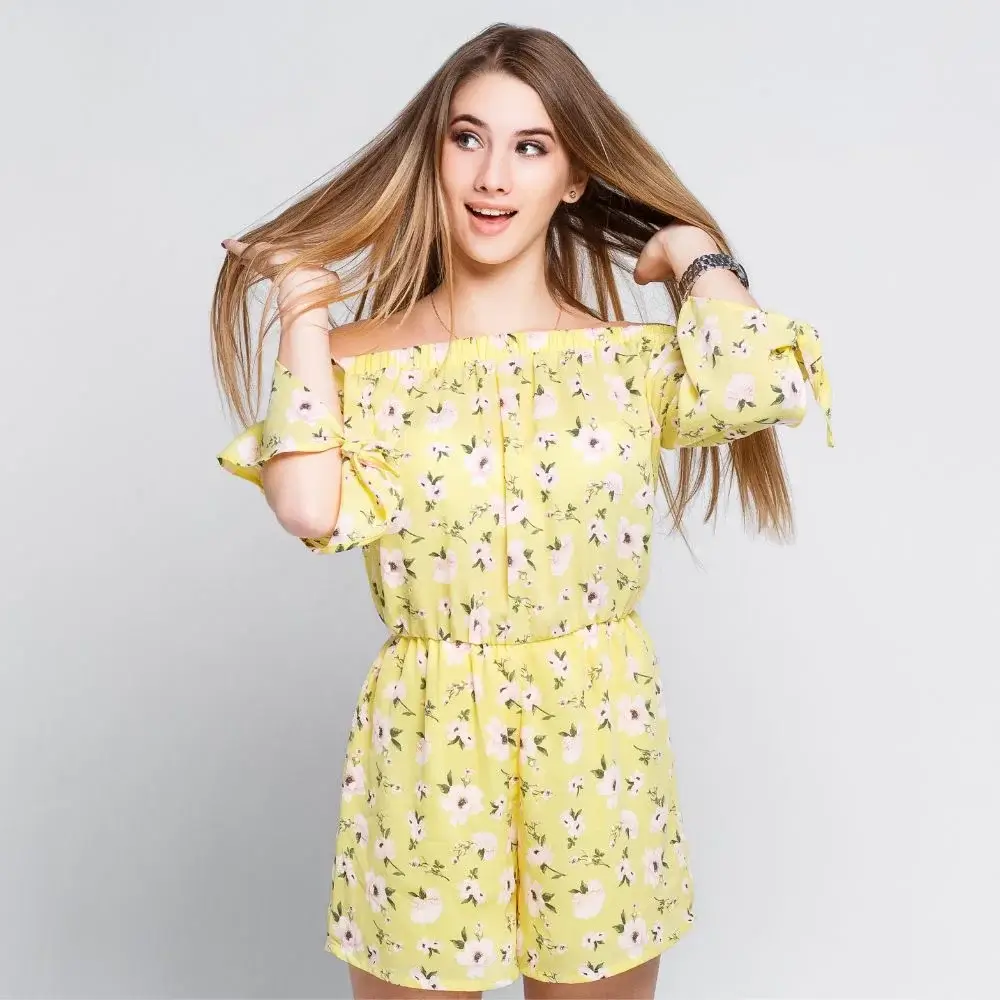 Top 3 Best Leave In Conditioners For Human Hair Wigs:
As we all know, human hair wigs are made from 100% real human hair; it is more natural to the touch. Each strand whispers stories of authenticity, giving you the freedom to flaunt your style with confidence! But just like your natural born locks, these wigs deserve some extra pampering to maintain their lustrous elegance.
The top 3 best leave-in conditioner that we have listed above are amazing products for anyone who want to keep their human hair wigs in impeccable condition without compression the natural feel of their hair.
By using one of these leave-in conditioners, you can ensure that your wig remains soft to the touch and silky smooth. And best of all, they're extremely affordable, so you can pamper your precious wig without breaking the bank! So why wait? Pick one today and unleash the true potential of your human hair wig.