We all love good lipstick that adds a pop of color and enhances our beauty, but what happens when our favorite lipstick leaves our lips dry and flaky? The struggle is real, but fear not because there is a solution: hydrating lipsticks. These lipsticks not only provide long-lasting color but also nourish and moisturize your lips, leaving them feeling soft and supple.
But with so many different brands & options in the market, choosing the right one that offer the optimum hydration and the color payoff can be a daunting task because not all lipsticks are created equal. Are you looking for the best hydrating lipstick that is creamy & nourishing?
Dont worry; we have got you covered! We know that finding the perfect lipstick that delivers the right color and hydration can be a tedious task because not all of them can deliver the desired result; that's why we have compiled this list of the top 3 best hydrating lipsticks.
All these lipsticks are crafted with ingredients that are ultra-nourishing and will help keep your lips moisturized throughout the day. Whether you prefer sheer or matte, these lipsticks will provide the perfect amount of hydration without compromising on the color payoff.
Click this link to learn more about our list of the top 3 best hydrating lipsticks!
We have searched for the best, so you don't have to live with the rest. In order to serve you to the best of our ability and to keep our blog going, GarnesGuide may collect a share of sales or other compensation from the links on this page if you decide to buy. Each product was independently researched by our editors, and the reviews may have been edited for length and clarity.
How We Choose the Best Hydrating Lipstick:
Dry, cracked lips can be an absolute nightmare, especially if you're a lipstick lover. Applying lipstick on dry lips not only looks unflattering but can also cause discomfort and pain.
That's why it's important to invest in hydrating lipstick because it can help keep your lips soft, moist, and healthy. However, with a number of different finding the right lipstick that provides the perfect balance of color, hydration, and nourishment can be a challenge.
To help you out, we have done a deep dive research and picked the top 3 best hydrating lipsticks. All these lipsticks are made with nourishing ingredients and have a long-lasting formula that will make sure your lips stay quenched, hydrated, and kissable all day long.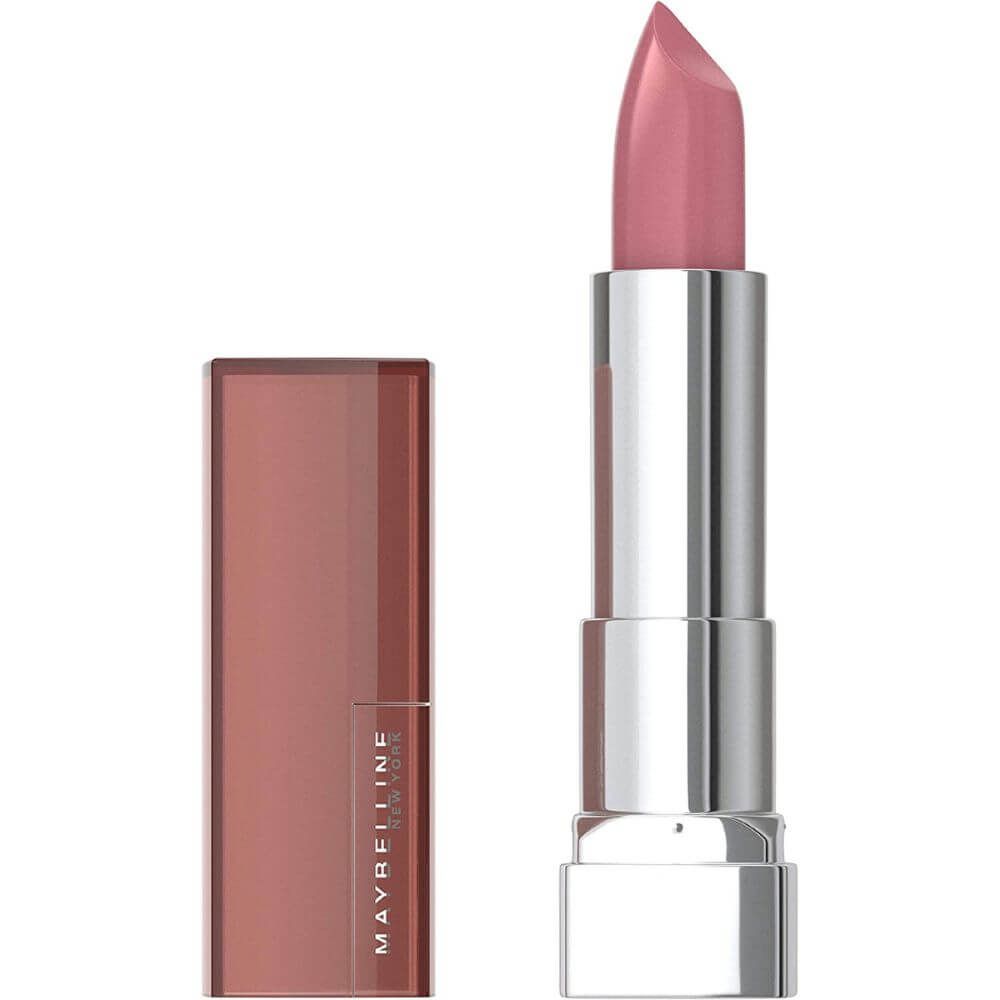 Best Hydrating Lipstick For Smooth, Supple Lips
Maybelline Color Sensational Lipstick
Check Price on Amazon
Why GG Loves It
Does your lipstick leave your lips feeling dry and chapped? Say hello to Maybelline Color Sensational Warm Me Up Lipstick, the best hydrating lipstick for supple, smooth lips!
This creamy nude pink satin finish lipstick is formulated with nourishing Shea Butter that not only hydrates your lips but also gives them a sensuous feeling and a creamy finish for a flawless look. With its highly pigmented color and smooth glide during the application, this perfect hydrating lipstick formula will take you from day to night effortlessly.
Its rich and creamy texture ensures that your lips remain conditioned and nurtured with no feathering or bleeding. You'll love the way your lips feel and look with this lipstick!
Whether you're going for a natural or bold look, Maybelline Color Sensational Warm Me Up Lipstick is perfect for any event and occasion. The color is so crisp, and the lips are so smooth that you'll be the center of attention wherever you go. And with its Shea Butter infusion, The Creams take on a new feeling from the first touch of packaging to the first swipe.
If you're looking for a lipstick that not only delivers high-quality pigmentation but also keeps your lips feeling smooth & supple, Maybelline Color Sensational Warm Me Up Lipstick is the one for you. Try it today and see how it can keep your lips feeling & looking hydrated and soft!
What You Should Know
Maybelline New York is a makeup brand that truly celebrates beauty, self-expression, and creativity. Their Color Sensational Lipstick is a must-have in every makeup bag as it features pure color pigment, making it rich, warm, and ultra-flattering. With a wide range of shades, including nude, pink, red, and plum, there is something for every skin tone and occasion.
But this lipstick isn't just about the shades; it's also about the formula. It is waterproof, making it long-lasting and perfect for any situation. Whether you're out in the rain or enjoying a night out, your lips will stay beautifully colored and hydrated.
Plus, the formula is creamy and glides on smoothly, ensuring that your lips stay moisturized and soft. Maybelline New York is known for combining technologically advanced formulations with on-trend expertise and New York City edge. This means that all of their beauty & skincare products are not only of the highest quality but also reflect the latest beauty trends.
With Maybelline Color Sensational Lipstick, you can explore your creativity and let your lips do the talking. This lipstick is just one of the many makeup products in their full line, which includes foundations, BB creams, concealers, lip gloss,  (find the best drugstore lip gloss here!) bronzers, lip balm, mascaras, brow pencils, eyeliners, and more. With Maybelline, you can achieve any look you desire.
In simple words, Maybelline New York is the number one makeup brand for every look, style, and skin tone, and with their commitment to celebrating beauty and self-expression, you can trust that this hydrating & moisturizing lipstick will exceed your expectations.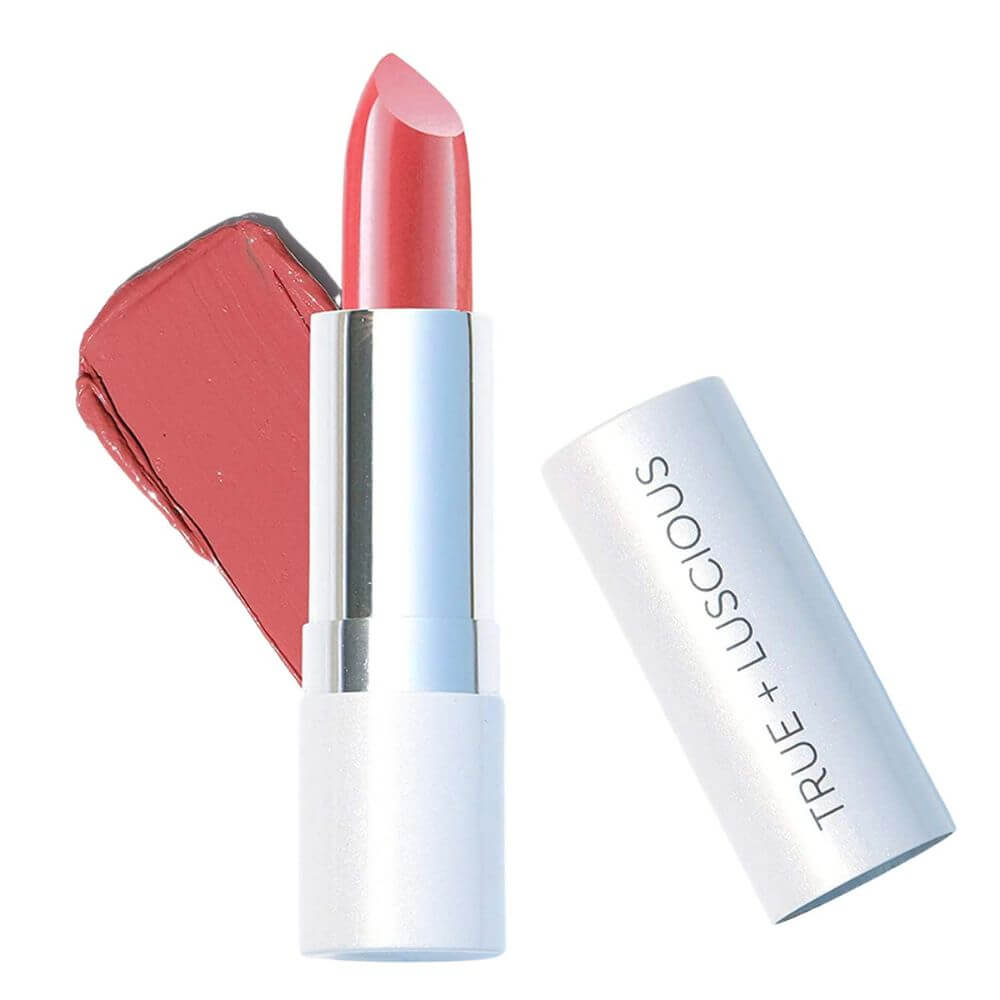 Best Hydrating Lipstick For Dry Lips
True + Luscious Super Moisture Lipstick
Check Price on Amazon
Why GG Loves It
Need lipstick that is specially designed for dry, chapped lips? Looking for something that delivers not only beautiful color but also long-lasting hydration and nourishment? Look no further than True + Luscious Super Moisture Lipstick, the best hydrating lipstick for dry lips.
This lipstick is formulated with lip-loving ingredients such as Hyaluronic Acid and organic Konjac Root powder from Japan. These ingredients work together to provide long-lasting hydration, rejuvenation, and repair for dry, chapped lips, leaving them feeling soft and supple.
The beautiful peach color with brown undertones looks stunning on all skin tones, thanks to the team of women from diverse ethnicities who developed this universally flattering shade.
The silky-satin finish adds a touch of luxury to your everyday makeup look,(find the best E Girl Makeup here!)  and the plush, streak-free application makes it easy to apply on the go. Compared to other best moisturizing lipsticks, this non-drying lipstick is also perfect for all skin types, including oily and sensitive.
Whether you're running errands, working from home, or going out for a night on the town, the True + Luscious Super Moisture Lipstick has got you covered. So why settle for a lipstick that only offers color when you can have one that also cares for your lips? Try the best hydrating lipstick for dry lips today and discover the true meaning of beauty with a purpose.
What You Should Know
As a woman, you deserve lipstick that not only looks great on your lips but also nourishes & pampers them. That's why True + Luscious Super Moisture Lipstick is the ideal choice for you.
It's not just any ordinary lipstick; it's a good clean glam that enhances your natural beauty while keeping your lips moisturized, hydrated, and healthy for a long time. This vegan and cruelty-free lipstick is formulated with natural ingredients like vitamin E, hyaluronic acid, and grape seed oil, which work together to provide intense hydration to your lips.
Unlike other lipsticks that can dry out your lips, this hydrating lipstick will leave them feeling soft, supple, and smooth. The best part? True + Luscious Super Moisture Lipstick is free from all kinds of harsh chemicals such as sulfates, phthalates, parabens, chromium, and triclosan, making it a super clean formula that's safe for your sensitive lips and the environment.
Its fully recyclable aluminum packaging also makes it an eco-friendly choice. Whether you're looking to define and contour your lips or simply add a pop of color, it has got you covered.
The tip of the lipstick allows for precise application while the smooth formula glides on effortlessly to create a perfect shape. And with its natural-looking pigments, you can achieve a beautiful, radiant look that lasts all day. So why not give this moisturizing lipstick a try?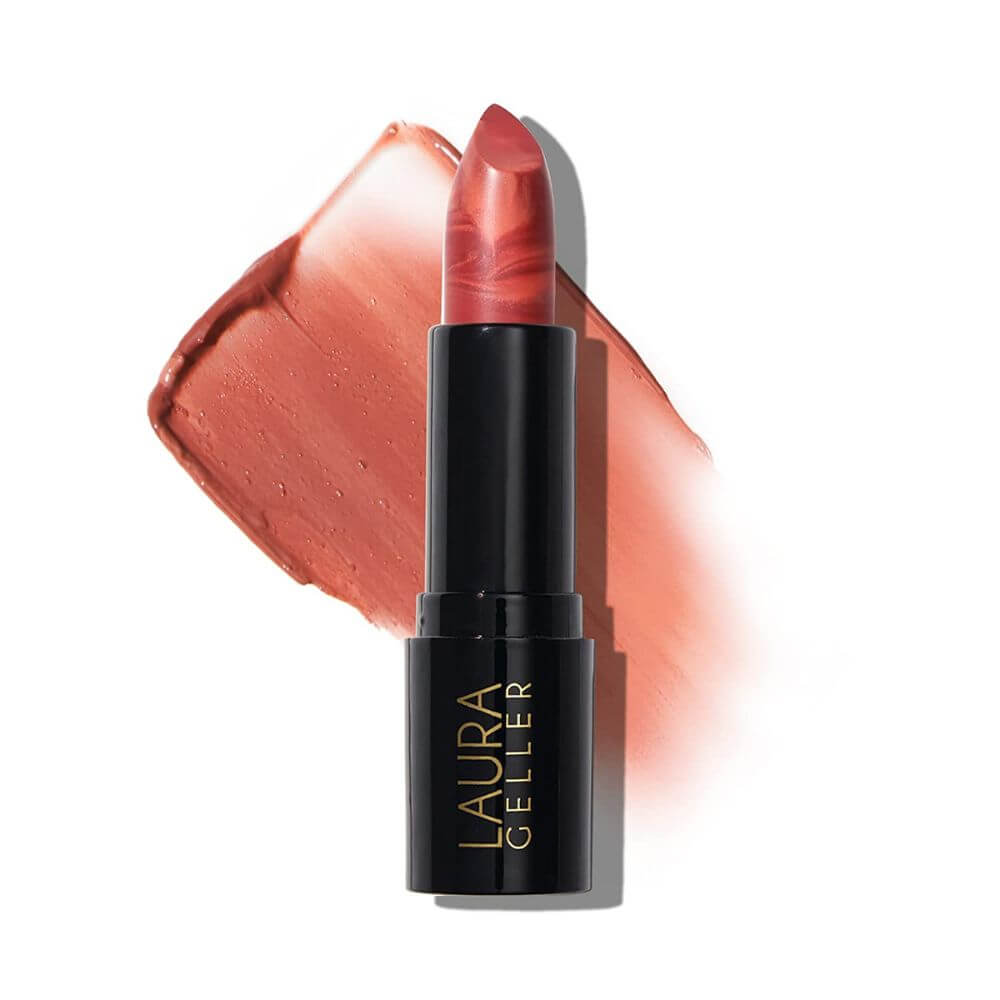 Hydrating Lipstick For All-Day Hydration
LAURA GELLER NEW YORK Italian Marble Sheer Hydrating Lightweight Lipstick
Check Price on Amazon
Why GG Loves It
Have you always worried about dry, cracked lips ruining your look? Do you wish for a long-lasting lipstick that will hydrate your lips all day long? If your answer is yes, then you need to opt for Laura Geller's New York Italian Marble Sheer Hydrating Lightweight Lipstick.
This luxurious lipstick is handmade in Italy with a safe, effective, and unique marble formula that creates beautiful dimensions and fuller-looking lips. The light neutral shade with swirls of the berry of this all-in-one hydrating lipstick creates a sheer peach that is perfect for daily wear.
The stay-put formula ensures that the lipstick won't feather or migrate, and it won't settle into fine lines. Compared to any liquid lipstick, this stick-form product this much better!
The all-day hydration provided by this lipstick is unparalleled, giving your lips a tint of color while keeping them moisturized and soft. The formula is gentle and won't cause any dryness or cracking, making it ideal for anyone who wants hydrating lipstick that delivers a flawless finish.
Overall, the Laura Geller New York Italian Marble Sheer Hydrating Lightweight Lipstick is a must-have for anyone looking for a high-quality, hydrating lipstick that delivers on both style and performance. Try it out for yourself and see the difference it can make for your lips!
What You Should Know
This lipstick is an absolute must-have for anyone looking for a comfortable and nourishing lipstick that delivers beautiful results. The Laura Geller New York Italian Marble Sheer Hydrating Lightweight Lipstick is a game-changer for those who struggle with dry or chapped lips, thanks to its incredible formula that is infused with Vitamin E and Castor Seed Oil.
It is ideal for all-day wear, as it is lightweight and won't dry out your lips like other formulas can. It's also incredibly easy to apply; simply glide it on from the center of your lips to the corners for a beautiful, even finish. For a more precise application, you can use a lip brush.
Vitamin E and Castor Oil work together to deeply hydrate and nourish your lips, leaving them feeling soft and smooth all day long. This formula is perfect for those who want a natural, sheer finish, as it provides just the right amount of color without feeling heavy or cakey.
Like other long-lasting lipsticks, this sheer lipstick does not contain fatty acid waxes, jojoba oil, or mango seed butter, but it does contain some other powerful ingredients, such as Microcystalline Wax and Almond Seed Oil that provide a luxurious, long-lasting finish.
To put that simply, the Laura Geller New York Italian Marble Sheer Hydrating Lightweight Lipstick is a fantastic & essential lipstick for anyone who wants a hydrating, comfortable, and beautiful product that will keep their lips looking and feeling their best all day long.
Here are Some FAQs to Help Guide you on Your Way!
Smooth, silky, and hydrated lips are the ultimate dream for anyone who loves to wear lipstick. Not only does a well-hydrated pout look beautiful, but it also feels comfortable and healthy.
But with so many types of lipstick on the market, it can be challenging to know which one is best for keeping your lips hydrated because not all lipsticks will provide the same result.
Here are some of the most frequently asked questions (FAQs) about hydrating lipsticks that will help guide you on your way to achieving the perfect, beautiful, hydrated pout:
How to keep lips hydrated with lipstick?
1. Choose a lipstick formula that contains ingredients like shea butter, hyaluronic acid, jojoba oil, grapeseed oil, chamomilla flower oil, or vitamin E to help keep your lips moisturized.
2. Exfoliate your lips regularly to remove any dry or flaky skin. You can use a gentle lip scrub or a soft toothbrush to exfoliate your lips gently.
3. Apply a lip balm or lip primer before applying lipstick to create a smooth, hydrated base for your lipstick.
3. Blot your lips after applying lipstick to remove any excess product and prevent it from drying out your lips.
4. Avoid licking your lips, as this can dry them out even further. Instead, drink plenty of water to keep your body and lips hydrated.
5. Choose a long-wearing lipstick formula that won't require constant reapplication, which can further dry out your lips.
6. Remove your lipstick before going to bed to allow your lips to breathe and regenerate overnight.
7. Apply a hydrating lip mask or treatment once a week to give your lips an extra boost of moisture.
What is hydrating lipstick?
Hydrating lipstick is a type of lipstick that contains moisturizing ingredients to help prevent dryness and chapping of the lips, which can be caused by various environmental factors.
These lipsticks often include ingredients such as shea butter, vitamin E, and hyaluronic acid, which provide hydration and nourishment to the lips while also providing color and coverage.
Hydrating lipsticks are ideal for those with dry or sensitive lips and for those who want to maintain soft, smooth lips while wearing lipstick.
Is matte lipstick hydrating?
Matte lipsticks are formulated to provide a velvety, matte finish without drying out the lips. However, they are not necessarily hydrating. While some brands may incorporate moisturizing ingredients such as natural oils, cocoa butter, or shea butter into their formulas, matte lipsticks tend to have a more matte finish that can sometimes feel dry on the lips.
It is still important to keep your lips moisturized by using a lip balm or treatment before applying any lipstick, whether you are using soft matte lipstick or other traditional lipsticks.
Top 3 Best Hydrating Lipsticks:
Lipsticks have been a part of women's makeup routines for centuries, and it's no secret that they can instantly enhance any look with just a swipe of color. However, many women struggle with finding the perfect lipstick that looks not only great but also provides much-needed hydration to their lips. Dry and chapped lips can be uncomfortable and unsightly, and using regular lipstick can only worsen the situation. That's where hydrating lipsticks come in!
These lipsticks provide the perfect combination of color and moisture, keeping your lips looking and feeling healthy. The top 3 best hydrating lipsticks listed above are all great options for anyone looking for a long-lasting and hydrating lipstick that won't cause any irritation.
Whether you're looking for a vibrant pop of color to brighten up your day, an everyday natural hue to wear during the day, or a long-lasting color to last through the night, one of these lipsticks will be sure to do the trick. So go ahead, give them a try to achieve those supple lips!