In this dynamic era of self-expression, hair isn't just hair; it's a canvas for creativity, a statement of identity, and a reflection of personal style. For women seeking to craft their unique narrative through their locks, a hot curling brush can be a great tool to create hairstyles that perfectly harmonize with their personalities.
However, with so many different brands & options that fill the shelves, finding the right hot curling brush can be akin to discovering a needle in a haystack because not every tool can work for every person or offer the expected results. Are you looking for a high-tech hot curling brush that is both effective and gentle?
Don't worry; we have got you covered! We know that finding the best curling iron brush that will fulfill your hair dreams can be a challenge; that's why to help you out, we have compiled this list of the top 3 best hot curling brushes that will turn your hairstyling routine from mundane and boring to super exciting & creative.
All these tools come with multiple heat settings, advanced technology, & a promise to deliver impeccable results without compromising your hair health. They are selected to cater to diverse hair types, textures, and styling preferences, ensuring that you find the perfect match that resonates with your unique style.
Keep reading to learn more about our list of the top 3 best hot curling brushes!
We have searched for the best, so you don't have to live with the rest. In order to serve you to the best of our ability and to keep our blog going, GarnesGuide may collect a share of sales or other compensation from the links on this page if you decide to buy. Each product was independently researched by our editors, and the reviews may have been edited for length and clarity.
How We Choose the Best Hot Curling Brush:
Whether you are a super modern Instagram girl who lives for the latest fashion and beauty trends, a devoted mom juggling a million tasks, or a career-focused diva making strides in the workplace, hot curling brushes are your ultimate backstage pass to hair fabulousness that will take you from 0 to 100 in minutes.
These all-in-one styling tools are a fun and easy way to give your hair the salon treatment it needs without the expensive price tag. But let's jump into the harsh reality, as not every star can be a diva, not every hot curling iron brush is made equal, some are just not worth the money, and some are way too expensive.
To help you in this quest, we have done a deep dive research and have carefully selected the top 3 best hot curling brushes that will turn your hair game from ordinary to extraordinary in just a matter of minutes.
All these state-of-the-art hot curling brushes are not just super simple to use or provide amazing curling performance, but they can also deliver salon perfection while keeping your pocket happy. Plus, they have been built with the latest technology to make sure you don't burn your hair or over-dry it while curling hair.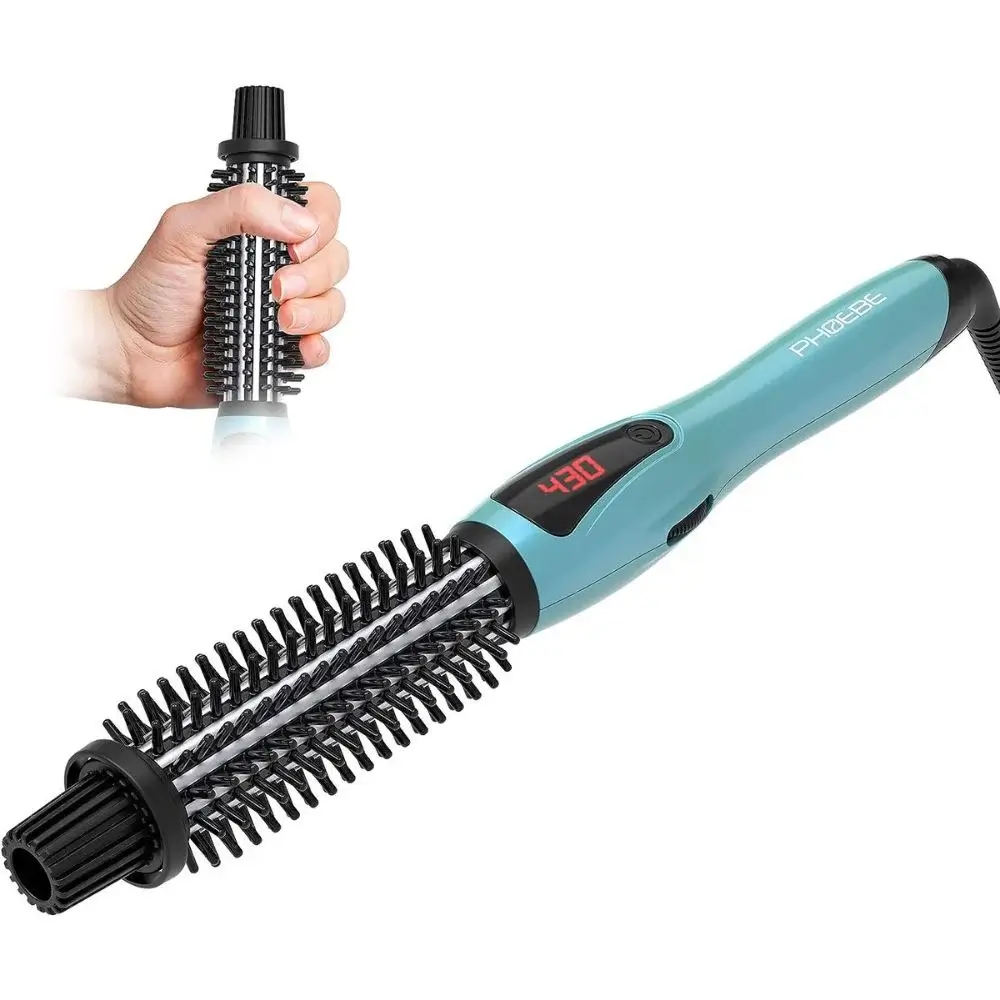 Best Hot Curling Brush For Exceptional Shine & Healthy Looking Hair
PHOEBE Curling Iron Brush
Check Price on Amazon
Why GG Loves It
Are you looking for the safest curling iron brush that will leave your hair not only fabulously styled but also gorgeously healthy? Do you need something truly breathtaking tool that will make your hair sing with shine and vitality? If so, then PHOEBE Curling Iron Brush is the most exquisite device for your hairstyling dreams!
This all-in-one styling wonder is more than just a curling iron brush; it's a promise of hair transformation that's both safe and sensational. It comes with nylon thermostable anti-scald bristles that ensure your hair styling experience is worry-free, protecting your hands, fingers, neck, and even scalp from heat & burns.
The advanced design of the bristles and long tip keeps them cool to the touch, eliminating the need for gloves. A noteworthy point: this is not a hot air brush but a unique curling iron brush. Plus, it also offers dual voltage capability, making it your best companion for hairstyling on your adventures around the world.
This remarkable curling brush iron is made with the brilliance of tourmaline and ceramic, two materials that redefine hairstyling. They work together harmoniously, ensuring that heat is evenly distributed, sparing your hair from the perils of damage. But here's where the magic truly begins – negative ion technology.
It's not just a feature; it's a game-changer. This technology takes frizz by storm, leaving your hair smoother than a silk ribbon. And that's not all – it seals in moisture, giving your hair a healthy and lustrous glow that's hard to miss. So if you need one of the best curling brush irons, then you should look no further than this.
What You Should Know
The PHOEBE hot curling brush is a versatile and innovative tool that can effortlessly transform your hair into a salon-perfect masterpiece. With its advanced features and cutting-edge technology, it allows you to create various hairstyles, from sleek and smooth to voluminous and bouncy, all in a matter of minutes.
This amazing tool offers three primary ways to enhance your hairstyle. Firstly, it effortlessly creates natural and elegant curls or beach waves. Secondly, it adds volume to the roots of your hair, straightens strands, and functions as a curling iron brush, effectively detangling locks while reducing frizz and messiness.
The best thing? It offers three adjustable heat settings, allowing you to customize the styling experience based on your hair's texture, type, condition, and length to achieve the perfect look. Plus, it heats up super-quickly in just 30 seconds, so you can style your hair in no time without waiting around to get the job done.
It also features an auto shut-off that activates for extra peace of mind after one hour. This tool is made for all hair types, so no matter if you have thick hair, wavy hair, short hair, or thin and fine hair, this all-in-one curling iron brush can work its magic on your locks without damaging them as other curling irons would.
With its multiple temperature settings, dual voltage capability, nylon thermostable bristles, and innovative design, the PHOEBE Curling Iron Brush is truly a game-changer in the world of hairstyling. Whether you're aiming for straight hair, playful tighter curls, or voluminous waves, this versatile tool has you covered.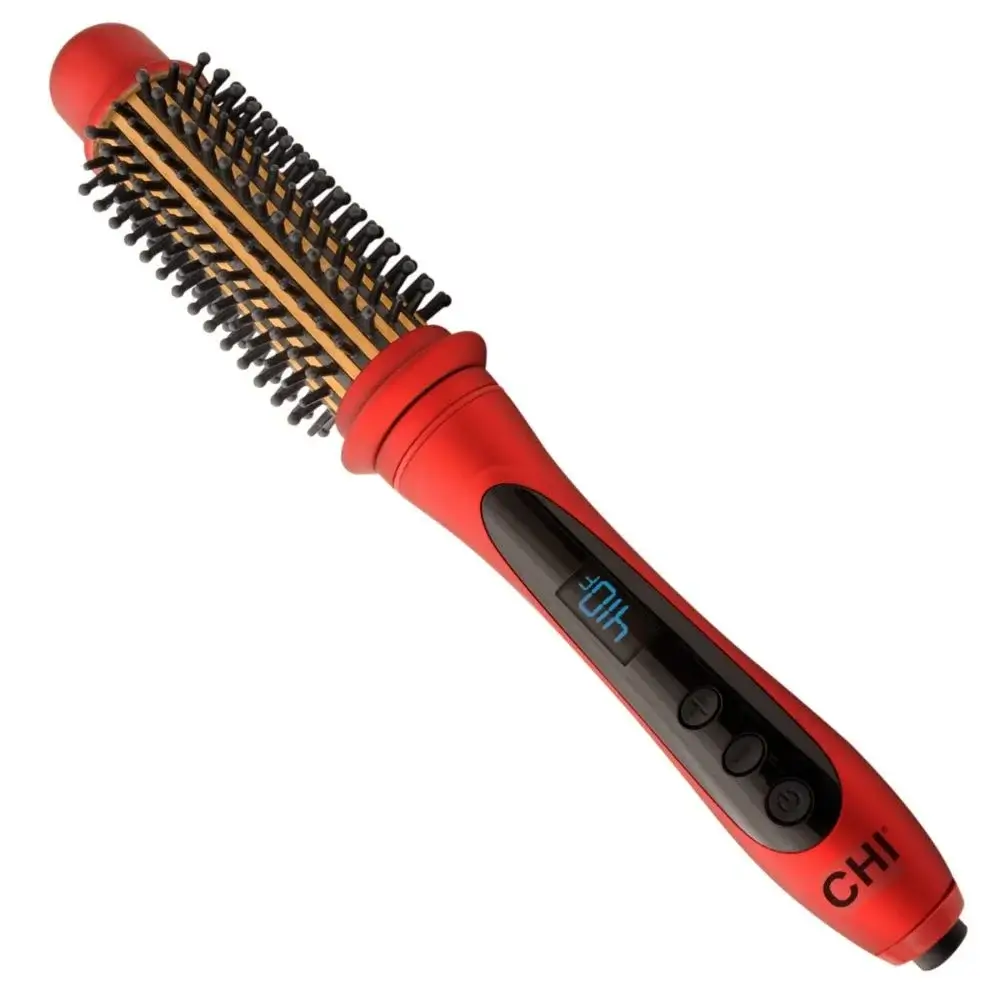 Best Hot Curling Brush For Every Hair Type
CHI Tourmaline Ceramic Heated Round Brush, 1.25
Check Price on Amazon
Why GG Loves It
Do you want to amp up your hair game with a hot curling brush that's like a magic wand for all hair types? Have you been tired of using hot air brushes that promise the moon but deliver a hair mess? Well, it's time to turn your hairstyling woes into "whoa" moments because the CHI Tourmaline Ceramic Heated Round Brush, in all its 1.25-inch glory, is here to rescue your locks and take your hair game to whole new heights!
This round shape curling iron brush uses innovative technology that combines Tourmaline Ceramic with even heat distribution to produce an exceptionally high amount of negative ions and Far Infrared heat.
This helps reduce static electricity, making hair smoother and seals the cuticle by reducing styling damage while locking in moisture. As a result, you get silky hair with unparalleled shine! The CHI Round Curling Iron Brush has a maximum temperature of 410°F (210°C) and employs an auto temperature lock of 15 seconds.
This feature allows the brush to maintain a consistent temperature for maximum performance and delivers results with no hair mess. Plus, its cool tip makes it easy and safe to handle while styling your precious hair.
It also features an anti-slip design that ensures that the brush does not slip out of your hand while styling. The most astounding thing; this hot air brush is suitable for all hair types, so no matter if you have fine hair, thin hair, thicker hair, or even dry hair, this hot brush work perfectly without leaving your hair frizzy or dry.
What You Should Know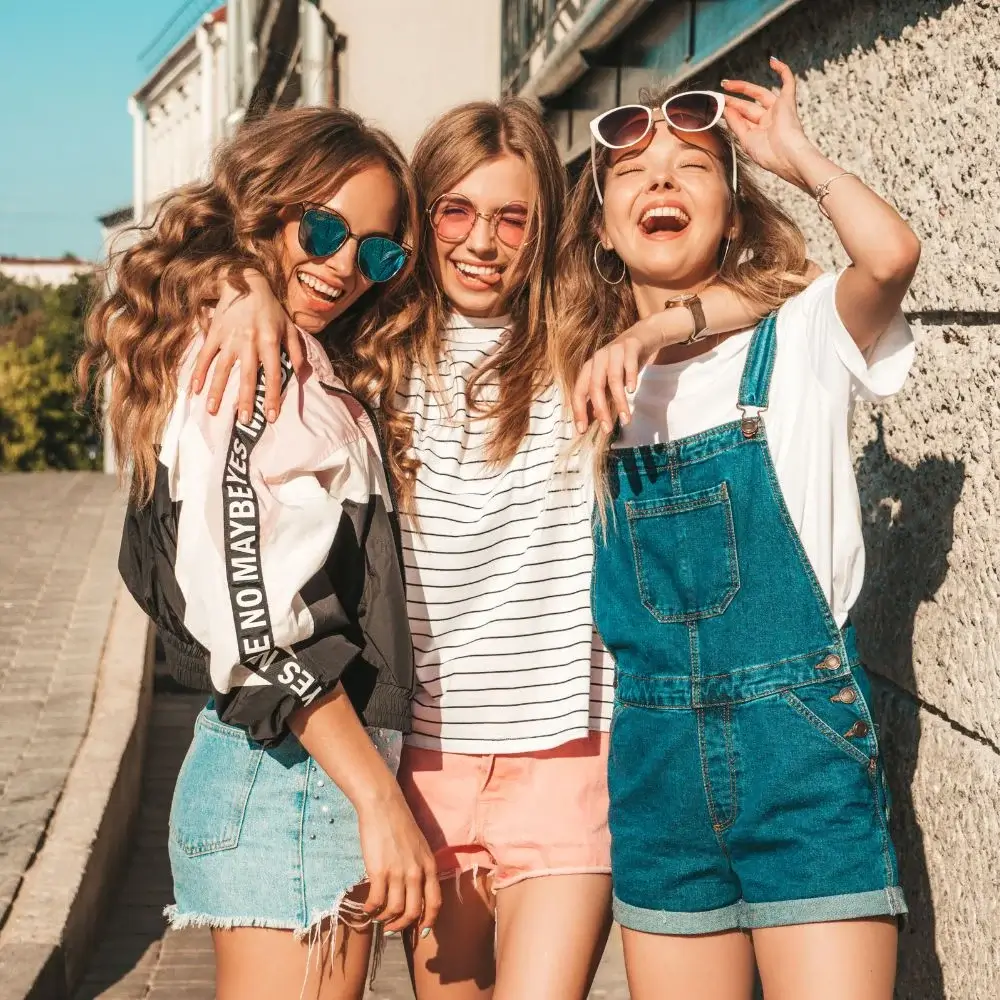 CHI Texture Fire Ruby Red Tourmaline Ceramic 1-inch Curling Iron is a real gem for those who want to take their styling to the next level. This high-tech brush not just curls and waves but also smoothens the hair.
It is designed with a precise ceramic heater that helps reduce heat exposure to keep your hair healthy and full of bounce. It can also add volume and texture to your hair, giving it a dynamic and vibrant appearance. The 1-inch barrel is super stunning for creating versatile styles, from classic curls to modern beach waves.
But the most heart-blowing feature of this curling brush iron is its super fast heating time; in just 30 seconds, it's ready to transform your hair into a masterpiece. It is perfect for everyday use (especially for traveling) as it offers (AC 110-240V) which allows you to use it anywhere in the world without any worry.
This round hot air brush comes with a 6.5ft. (2m) Swivel Cord that ensures easy maneuverability while styling, making your experience hassle-free and enjoyable. On top of that, it includes a 1-hour auto-shutoff feature that helps you to stay worry-free from possible misuse that often occurs in busy households.
So what are you waiting for, super precious angels? Get your hands on one of CHI Texture Fire Ruby Red Tourmaline Ceramic 1-inch Curling Iron and be ready to have a salon-worthy hairstyle every day in no time.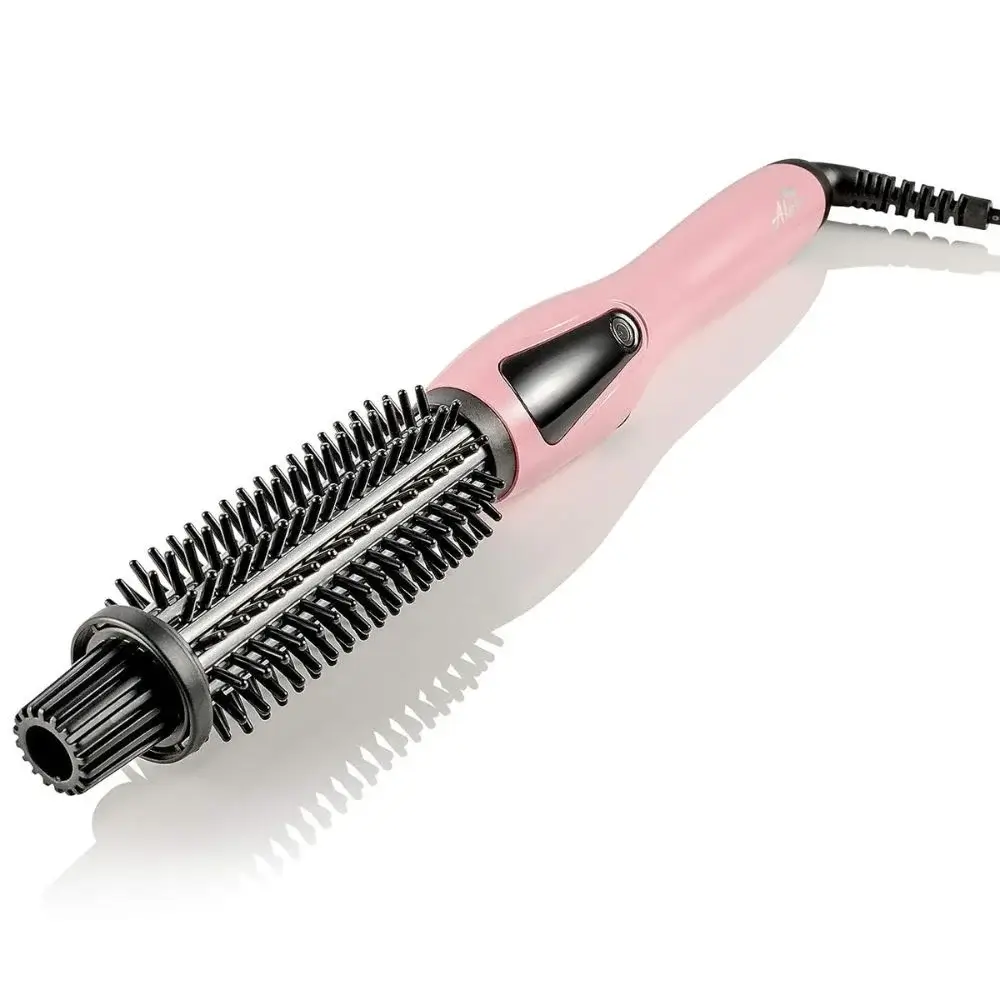 Best Hot Curling Brush For All Women
Alure Heated Styling/Curling Iron Brush
Check Price on Amazon
Why GG Loves It
Do you change your hairstyle just like the weather? Are you the queen of versatility, switching between sleek straight locks, bouncy curls, and everything in between? If that's what you are looking for, then the Alure Curling Iron Brush is an absolute must-have for you to try and explore your hair styling options.
This nifty 3-in-1 curling iron brush not only helps you achieve your desired hairstyle but also provides distinctive ionic conditioning that leaves your hair looking shiny & healthy. It uses an advanced fusion of anti-frizz ions and precise temperature control to give you head-turning results that last all day long.
Unlike other curling brush irons that result in burnt fingers and scalded scalps, this curling iron brush by Alure is designed to be extra safe with unique nylon bristles and a cool-touch handle that remains at a safe 120F even when the barrel hits a maximum temperature of 430F so no need to worry about any burns.
This 1-inch curling iron brush is not just a single tool but a multi-functional tool as it can be used as a curler, straightening brush, & also as a normal comb. The variable temperature of 265F to 430F safely & precisely styles all hair types, so it doesn't matter if you have fine hair, wavy, or natural hair - it works for everyone!
However, the most amazing feature of the Alure Heated Styling/Curling Iron Brush doesn't stop at just safety and versatility – it extends to its incredible speed as well. With the added benefit of an extra-fast 30-second heat-up time, you'll find yourself effortlessly styling your hair in a fraction of the time you're used to.
What You Should Know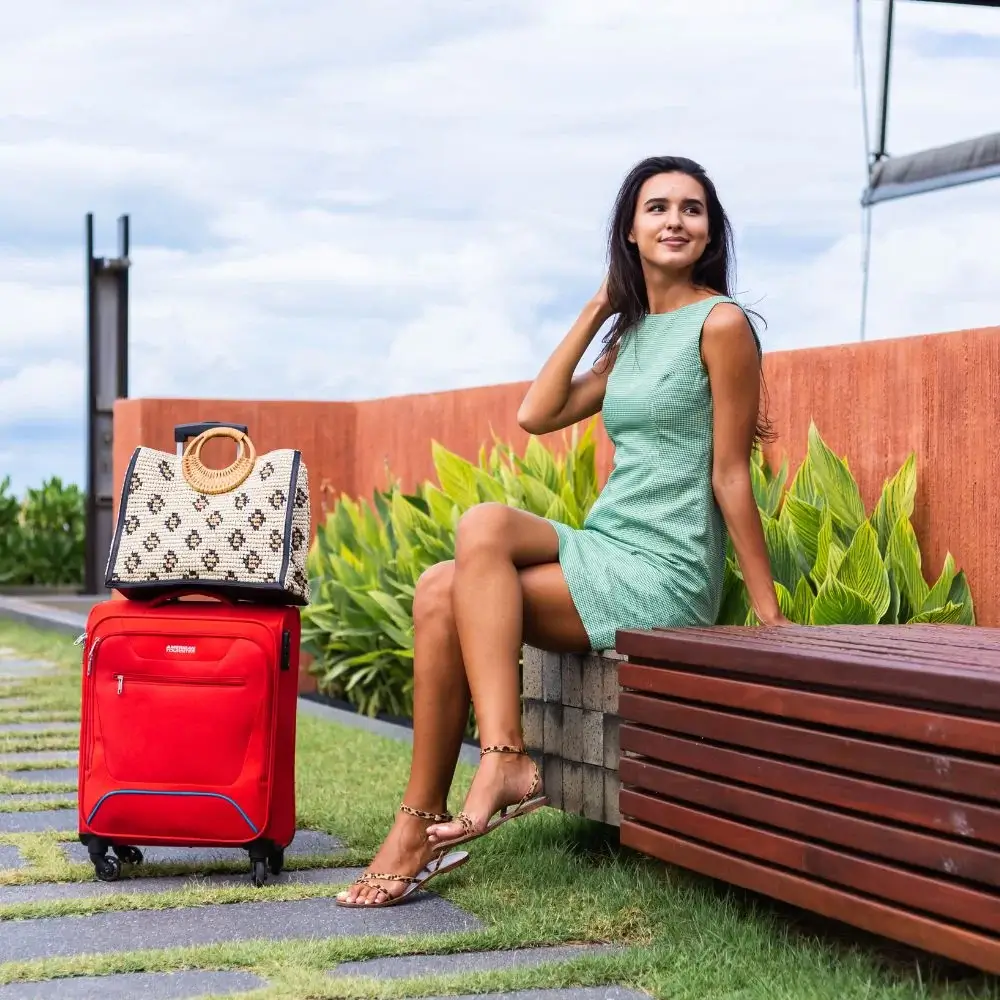 If you love traveling worldwide and want to maintain your fabulous hair no matter where your adventures take you, then this curling iron brush is your ultimate travel companion. Its dual-voltage feature(100-240V) ensures that you can take it with you to any corner of the globe without worrying about power compatibility.
Whether you're exploring the bustling streets of Paris, relaxing on a beach in Bali, or enjoying the beauty of Tokyo City, your hair can always be on-point and ready to impress. The ceramic-coated barrel of this super stunning curling iron brush is not just about creating beautiful curls; it's also a powerful ally against frizz.
The release of negative ions, along with the even heat distribution, helps to seal the hair's cuticle, taming frizz and leaving your locks smoother and shinier. The result? Bouncy, lustrous curls that can withstand a day filled with activities, whether you're sightseeing, attending meetings, or simply enjoying your vacation.
The simplicity of use adds to the charm of this tool. Adjusting the temperature to your liking is a breeze with the intuitive control knob and LED display. The 60-minute auto shut-off feature ensures your safety and conserves energy, while the 3-second temp lock provides added convenience for uninterrupted styling.
The long 8.2-foot cord with a 360-degree swivel joint guarantees that you can move around freely while styling without getting tangled up in cords. Plus, the dual-voltage capability means you can effortlessly switch b/w various countries' electrical systems without needing an additional adapter to check voltage.
Here are Some FAQs to Help Guide you on Your Way!
Curling iron brushes are the most popular tool for styling hair. It works to smooth out the tangles, add volume and shine, and create beautiful curls that last throughout the day. By using the right curling iron brush, you can give your hair just the right amount of lift and curl without damaging it with too much heat.
But how does it really work? Is this tool suitable for every hair type? How quickly can it heat up? However, without understanding the science and the art behind it, you might find yourself in a bit of a hair tangle.
To help you navigate the fascinating world of hot curling brushes, here are some of the frequently asked questions that will answer all of your questions so that you can get to styling your hair with confidence:
What is a hot curling brush, and how does it work?
A hot curling brush is a hair styling tool used to create soft curls & waves in your hair. The tool is designed with a heat-activated coating that helps evenly distribute heat and offers better heat retention when in use.
This type of curling iron brush is excellent for blow-drying because it can help you achieve the perfect hairstyle without having to worry about overusing the hot tool or damaging your hair. Here's how it works:
1. It has a round or cylindrical barrel with bristles.
2. It also has an adjustable heat setting that you can set to your desired temperature.
3. Once you have set the temp, wrap a section of your hair around the barrel and hold it in place for a few secs.
4. The heat from the brush will cause the section of hair to curl up as you pull it away from your head.
5. Repeat this process until all sections of hair are curled.
6. Finish with hair-protecting spray to hold the curls in place.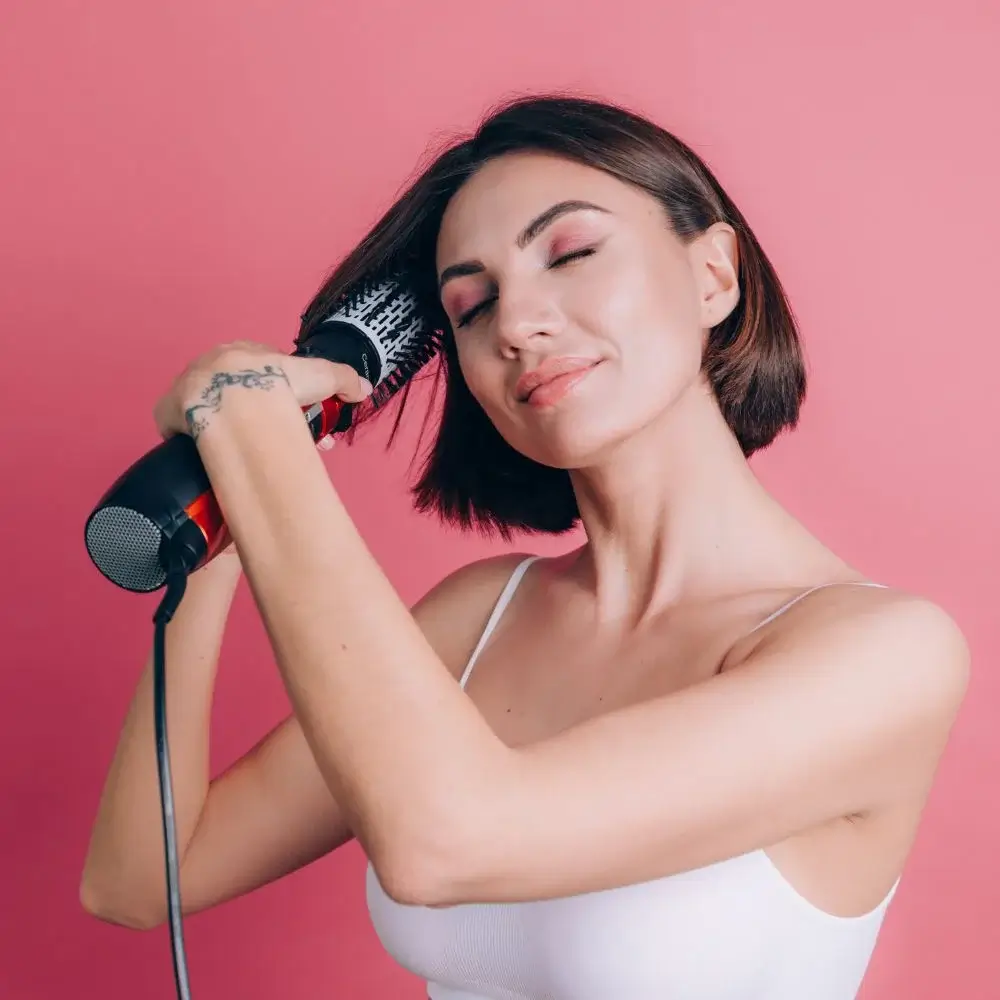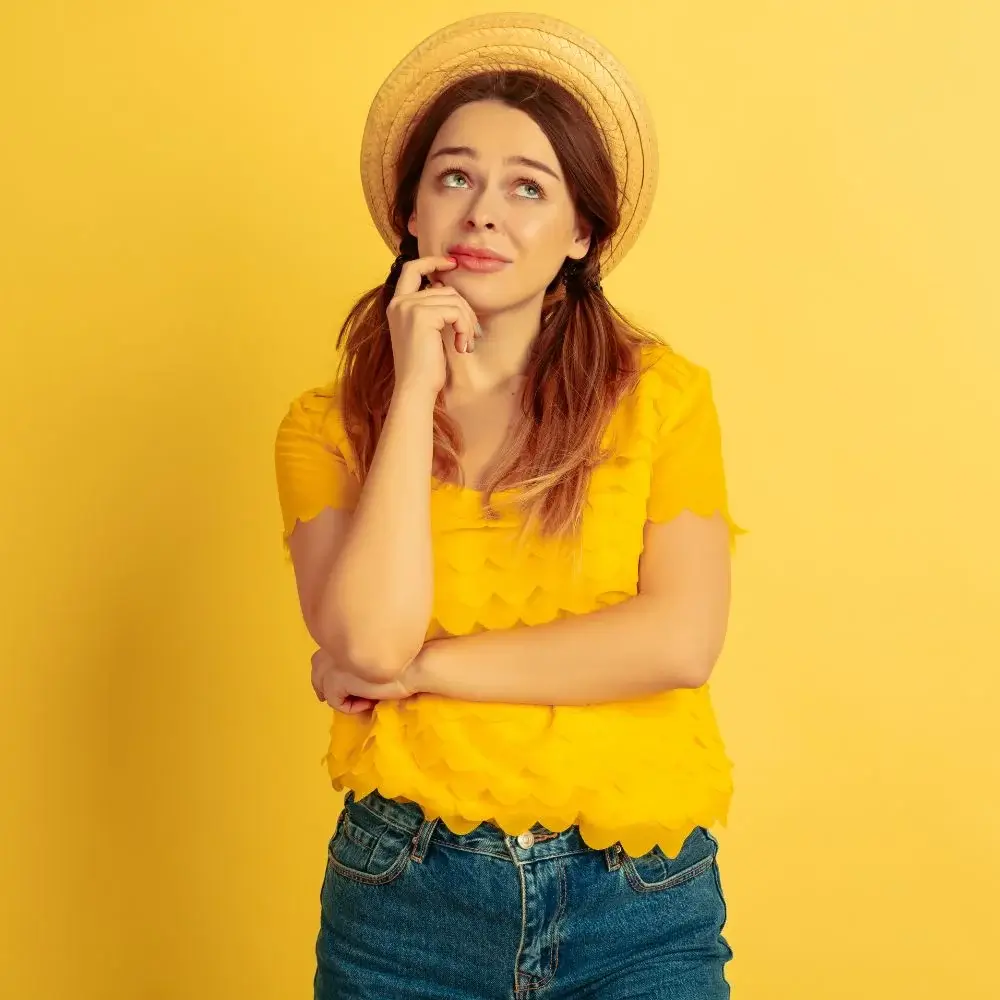 Can a hot curling brush be used on all hair types?
Yes! A hot curling brush can be used on all types of hair, from thick to fine, straight to curly. It's important to understand your own hair type and any specific needs you may have before using a curling brush.
Then, determine the best temperature setting for your hair type so that you don't overheat or damage it. In short, whether you have thicker hair, dry hair, shorter hair, coarse hair, damaged hair, damp hair, and long or thick hair, a curling iron brush with a tourmaline ceramic barrel or ionic technology can work wonders.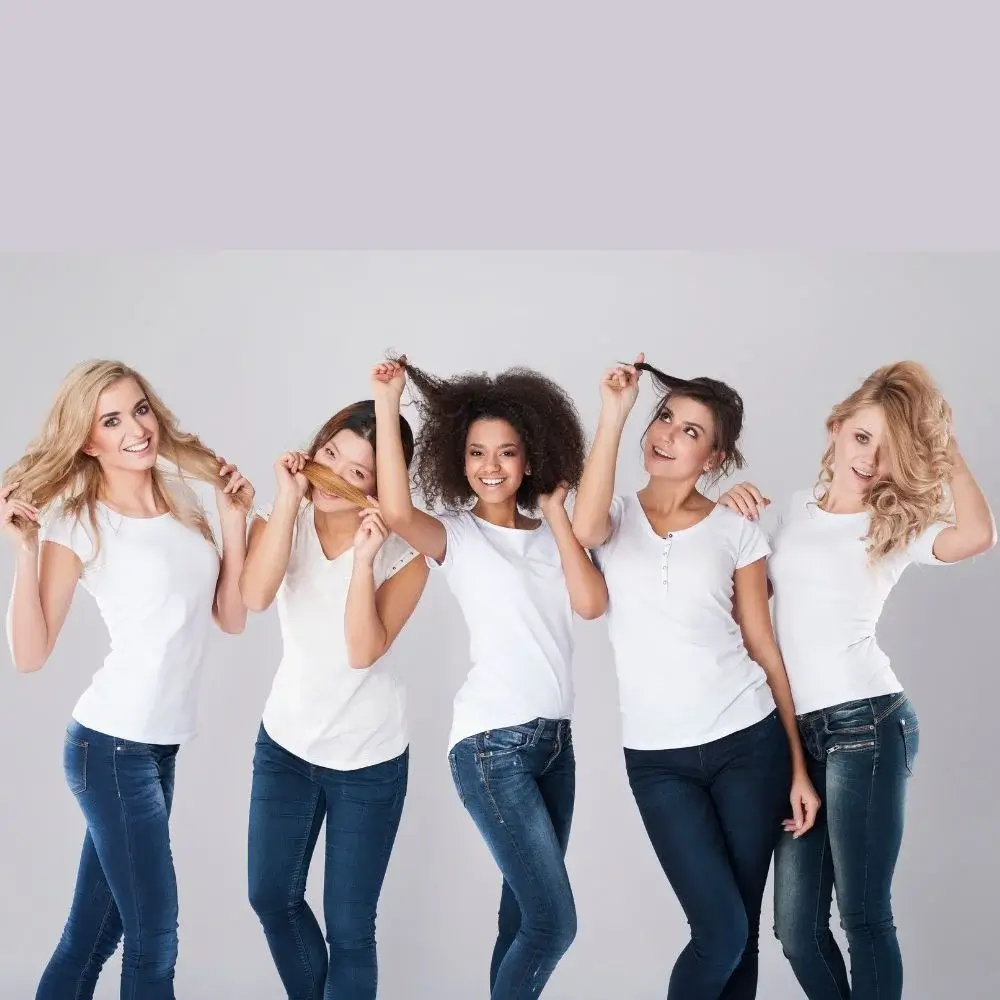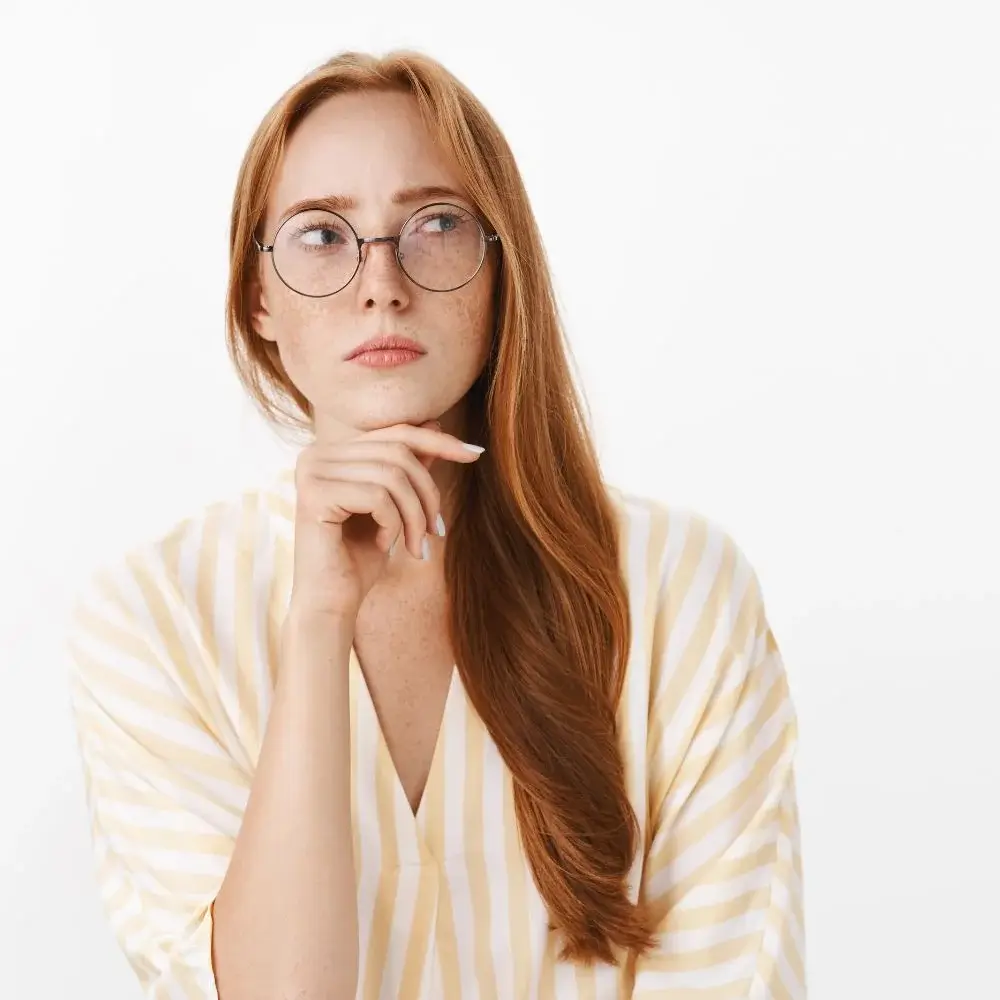 How long does it take for a hot curling brush to heat up?
A hot curling brush typically takes between three to five minutes to heat up. This is because it needs enough time for the ceramic barrel and bristles to reach an optimal temperature without becoming too hot for your hair. However, many high-end curling brushes take only 1 minute to 30 seconds to heat up.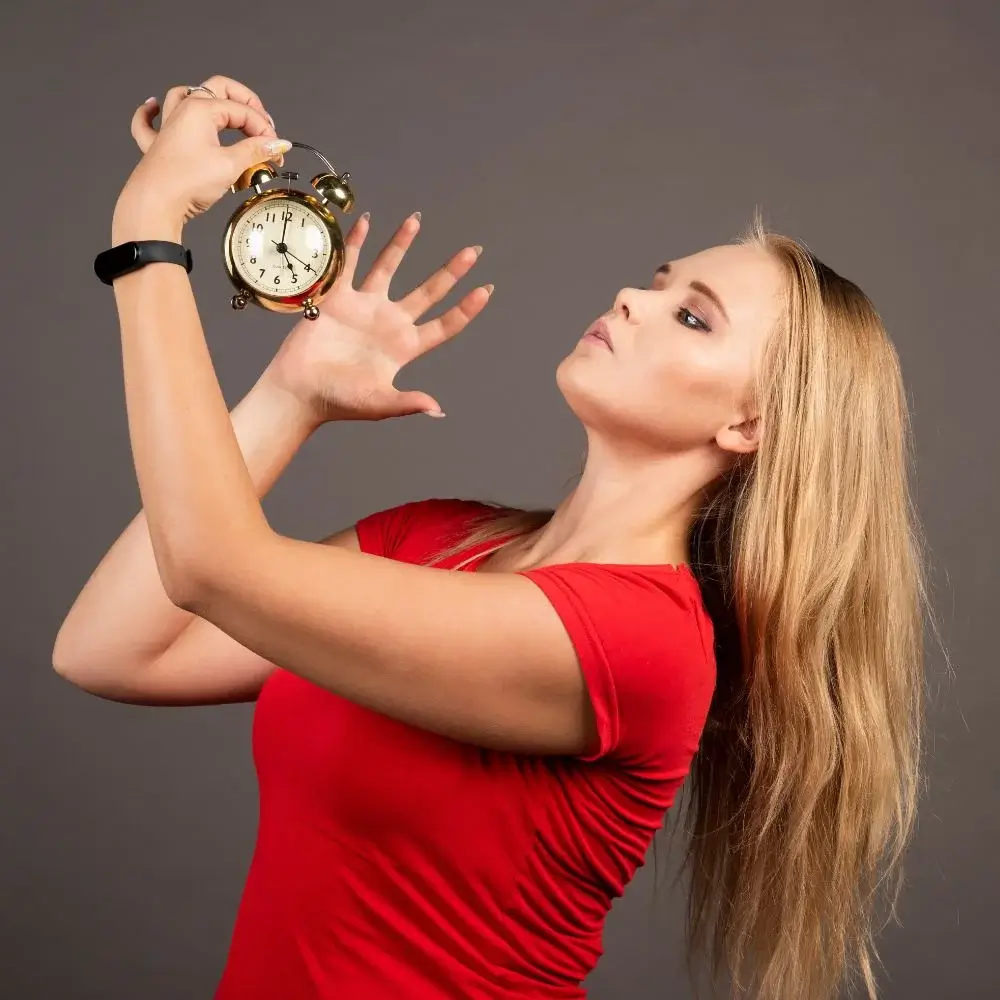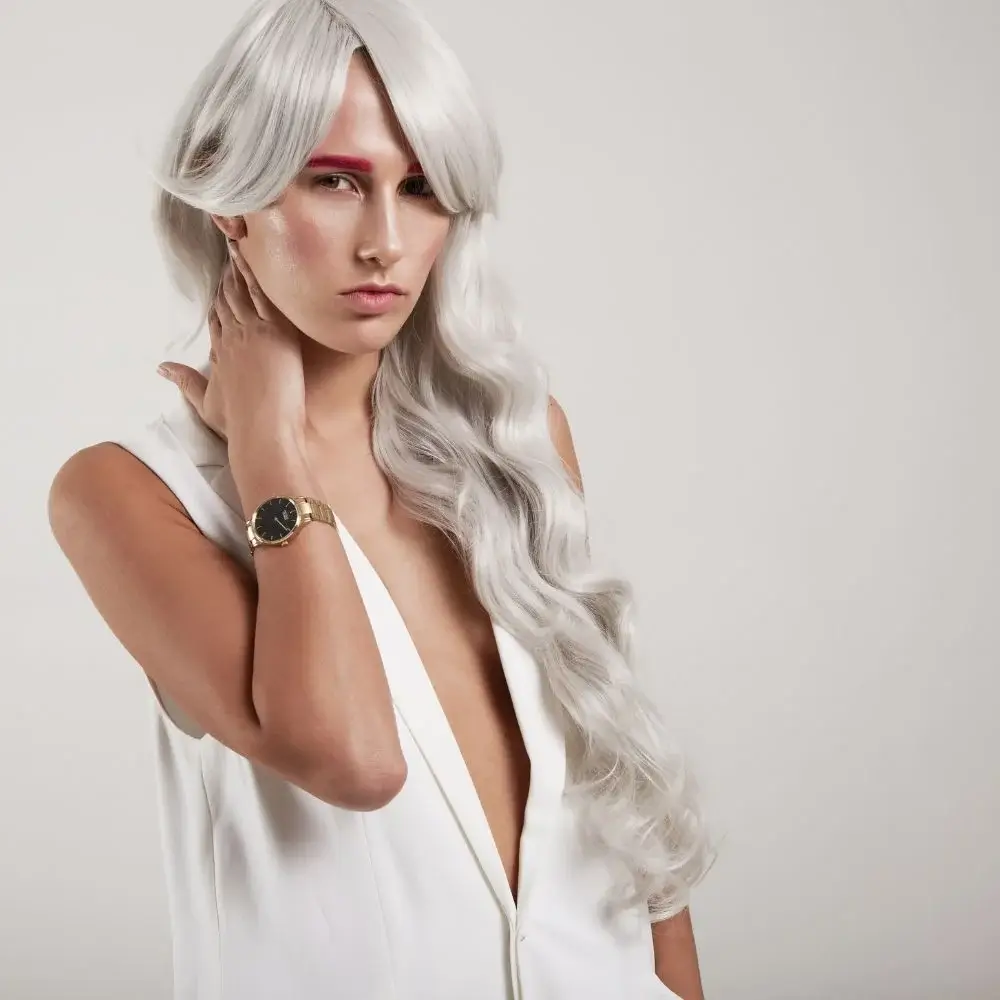 Is it safe to use a hot curling brush on dry or wet hair?
Will a hot curling brush damage your dry or wet hair thinking this question? The answer to this question is simple; no, you cannot use a hot curling brush on both dry or wet hair because this type of styling tool is specially designed to provide the ultimate protection for your hair, not drying power like a regular blow dryer.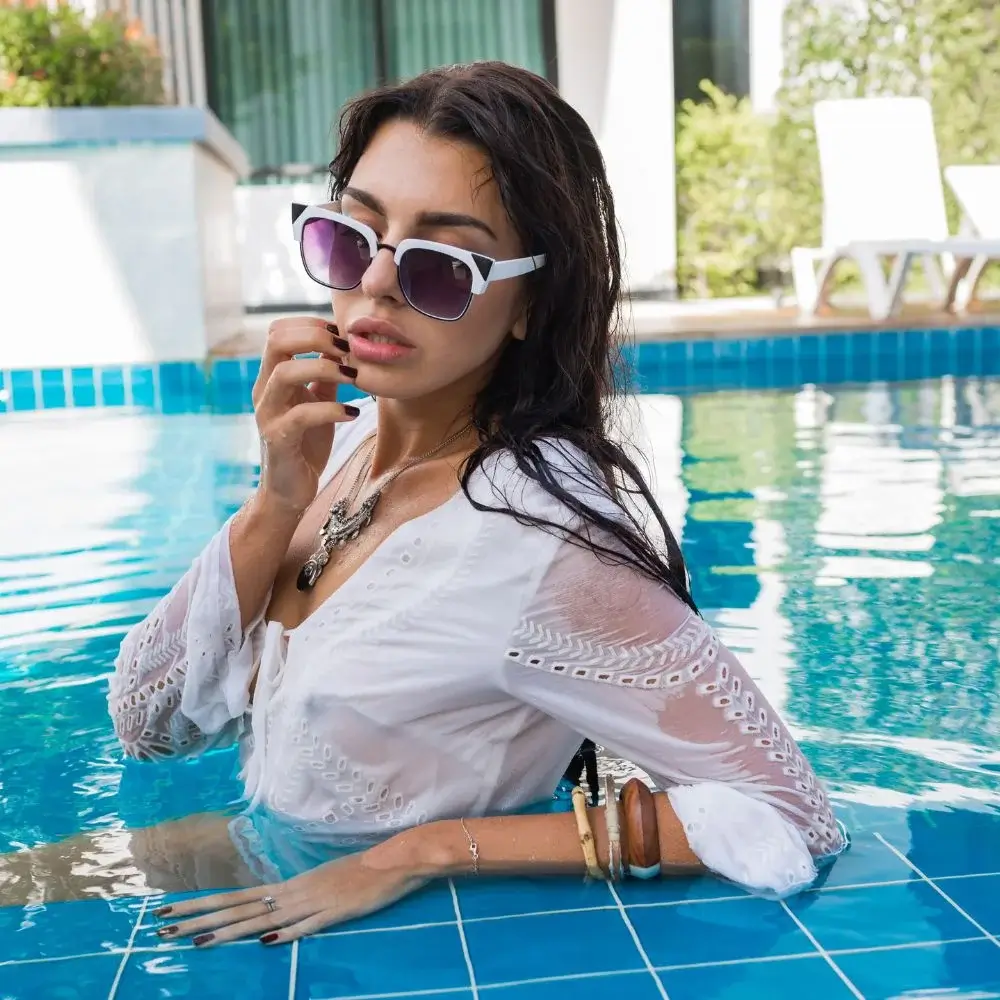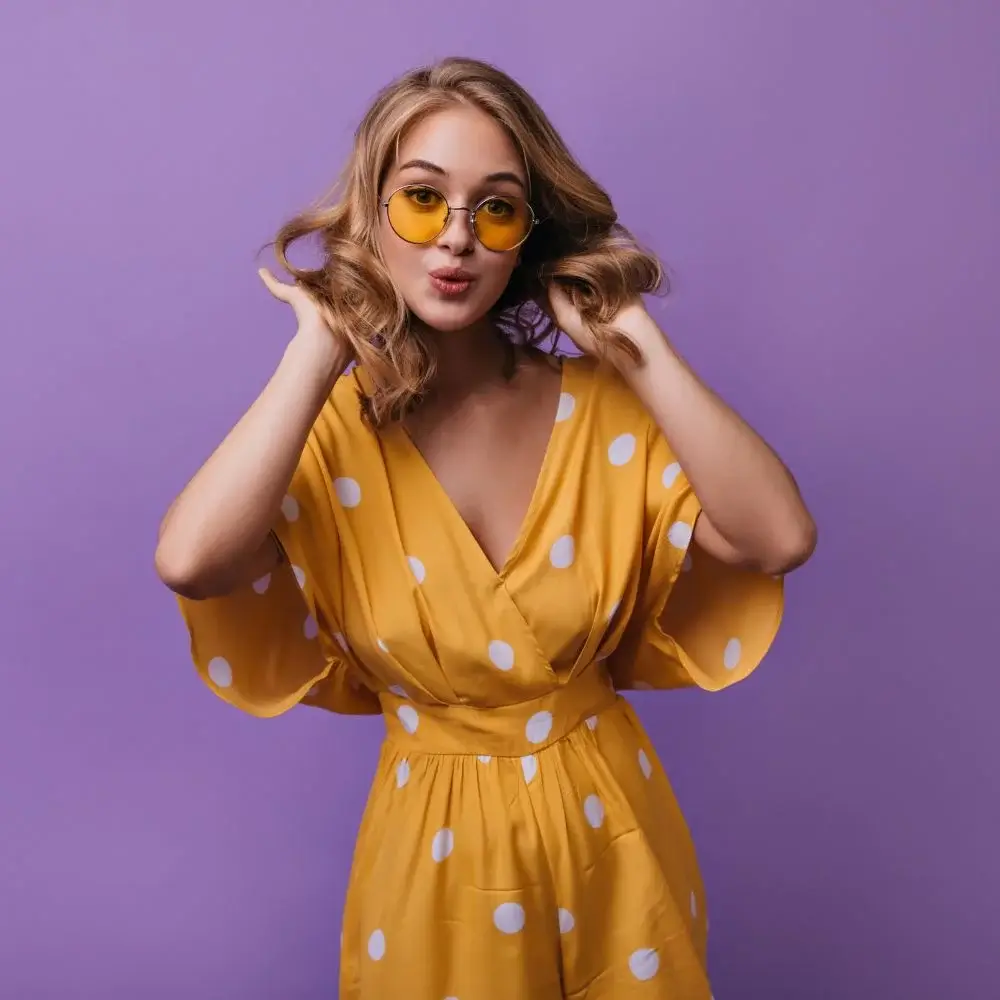 Top 3 Best Hot Curling Brushes:
For women (regardless of age, background, or interests) looking to unleash their inner hairstylists and transform their locks into stunning works of art, the journey starts with the right tools. Among the myriad of hair care products, one tool stands out as an essential in every chic woman's arsenal: a hot curling brush.
This ingenious device combines the power of a hairbrush with the magic of heat styling, allowing you to curate your own signature style with confidence and finesse so you can look and feel your absolute best.
Whether you're looking for a subtle and natural beach wave, voluminous ringlets, or even romantic-style curls, hot curling brush irons make it easy to create your desired hairstyle without any kind of fuss or mess.
The top 3 best hot curling brushes that we have listed above are all about giving you that salon-quality makeover from the comfort of your own home. With these tools, you're the artist, the sculptor, the magician that brings your hairstyle vision to life without breaking a sweat or taking time-consuming trips to the salon.
Whether you're an on-the-go professional who needs a tool that can keep up with your busy schedule, an adventurous traveler seeking a versatile and travel-friendly styling companion, or someone who simply loves experimenting with different hairstyles, these spectacular hot curling brushes have got you covered.