Eyelash extensions are the most imperative and creative way to achieve a mesmerizing gaze, even if you weren't naturally blessed with long fluttery lashes. But lashes that aren't well cared for can lose their luster and, even worse, fall off faster than they would otherwise. If you are a woman who desires longer, fuller lashes, then using an eyelash extension shampoo is an easy way to keep your extensions looking their best.
However, with so many different brands and options that fill the whole market just like a sea of choices, finding the perfect eyelash extension shampoo can feel like navigating a labyrinth because not every shampoo can take you to the treasure of lush, lasting lashes. Need the best eyelash extension shampoo?
Don't worry; we have got you covered! We know that choosing the right shampoo that aligns with your desire for vibrant lashes can be a challenge; that's why we have compiled a list of the top 3 best shampoos that are only tailored for your precious lash extensions so you can achieve your dream lashes with ease.
All these shampoos for eyelash extensions are crafted with super-safe ingredients and are from all kinds of harsh chemicals to ensure that your precious lashes are treated with the utmost care. Plus, they all also come with an applicator brush that helps you get the best possible cleanse for your eyelash extensions!
Keep reading to learn more about our list of the top 3 best eyelash extension shampoos!
We have searched for the best, so you don't have to live with the rest. In order to serve you to the best of our ability and to keep our blog going, GarnesGuide may collect a share of sales or other compensation from the links on this page if you decide to buy. Each product was independently researched by our editors, and the reviews may have been edited for length and clarity.
How We Choose the Best Eyelash Extension Shampoo:
A lash extension shampoo is more than just a way to clean your precious lashes. It's an essential part of your lash care routine that helps keep them looking their best. The right kind of shampoo will help remove dirt, oils, and other debris from your lashes while still being gentle enough to protect and nourish them.
When used regularly, it can make a huge difference in the appearance and health of your lashes; however, it's not as easy as you think to find an impeccable one that fits the bill. So with an overwhelming of options and brands flooding the market, how exactly do we separate the best shampoos from the rest of the pack?
To help you in this quest for the perfect lash-loving shampoo, we have done a deep dive research and have picked the top 3 lash extension shampoos that will make your lashes swoon. They are all gentle, effective, and designed only for lash extensions so that you can keep your lashes looking their best for weeks on end.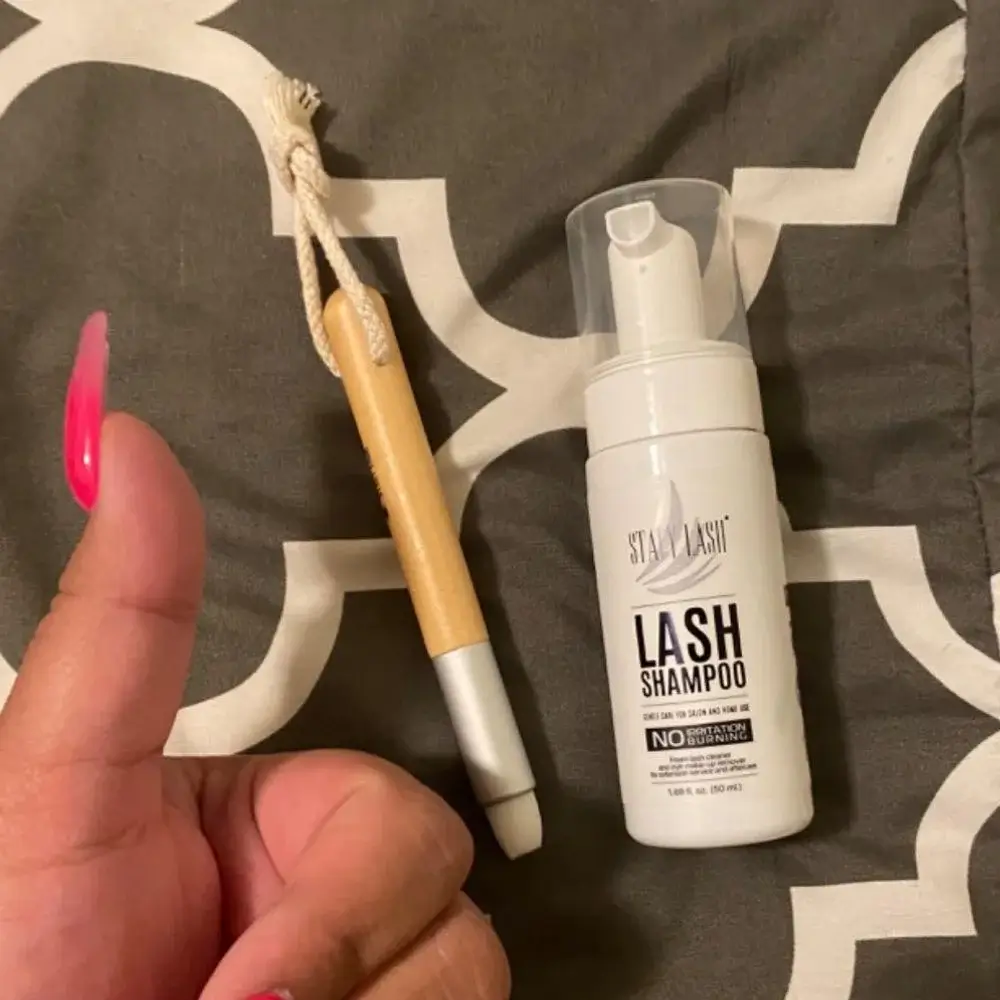 Best Eyelash Extension Shampoo For Extensions & Natural Lashes
STACY LASH BIG Eyelash Extension Shampoo (6.76 fl. oz / 200ml)
Check Price on Amazon
Why GG Loves It
Are you looking for a shampoo that won't strip off your gorgeous and expensive eyelash extensions? Do you need something super safe for your natural lashes too? If your retort is yes, which is, of course, then don't worry because STACY LASH has got you covered with their exceptional Eyelash Extension Shampoo.
This shampoo is designed to gently and effectively cleanse both extensions & natural lashes. Its oil-free formula ensures thorough cleansing without compromising the bond of your extensions, thus prolonging their life. It can remove sebum, dust, and makeup traces that can build up and weaken your lash bond.
What sets this shampoo apart is its commitment to safety and quality. The mild formula guarantees a non-irritating and burning-free experience. It's free from potentially harmful components like gluten, parabens, phthalates, sulfates, and color additives. This makes it suitable for even the most sensitive eyes and skin.
This bottle of shampoo comes in a generous 6.76 fl. oz (200ml) size which means you'll have an ample supply for multiple uses. So no matter if you're a lash extension enthusiast or just prefer going au naturel, this shampoo is your key to beautiful, long-lasting eyelashes that you'll love flaunting without any worry.
What You Should Know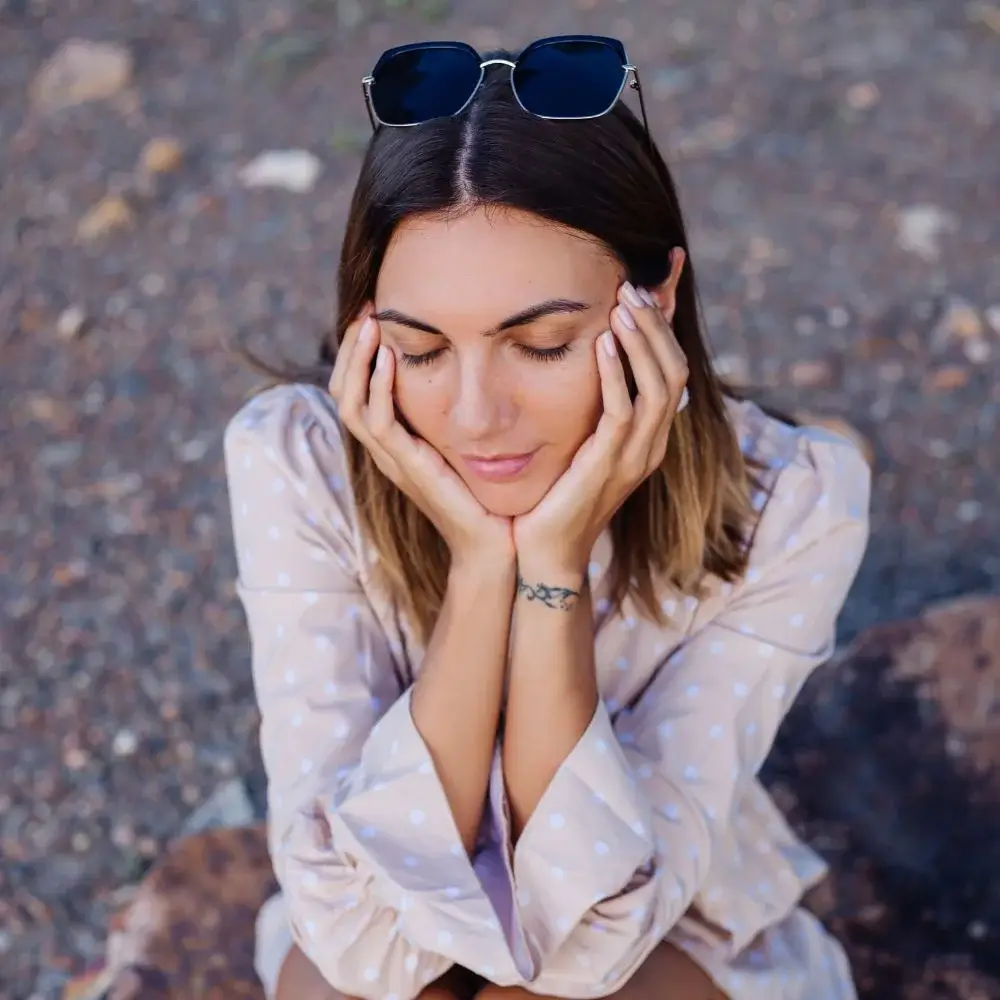 STACY LASH eyelash extension shampoo is not just about cleansing; it's a true testament to the brand's dedication to quality, safety, & ethical values. With a commitment to being oil-free, vegan, and cruelty-free, this shampoo resonates with those who seek effective beauty care without compromising their principles.
The most breathtaking thing is that this eyelid-foaming lash cleanser is designed for both home and salon use. If you are using it at home, all you need to do is pump the foaming cleanser onto a clean mascara wand and gently cleanse your lashes, effectively removing any mascara, makeup residue, or oil build-up.
And for salon use, lash artists can harness the benefits of the high-quality formula during sessions to enhance the attachment between extensions and natural lashes, resulting in longer-lasting lash sets. This dual functionality showcases the versatility and thoughtfulness behind STACY LASH's beauty products.
Plus, this sensitive skin-friendly eyelash extension cleanser is also free of fake fragrances; it's odorless, so you can enjoy a clean, refreshing experience without any unwanted scents lingering around. It also comes with a super soft brush which makes the cleansing process even easier and gentler on your sensitive eyes.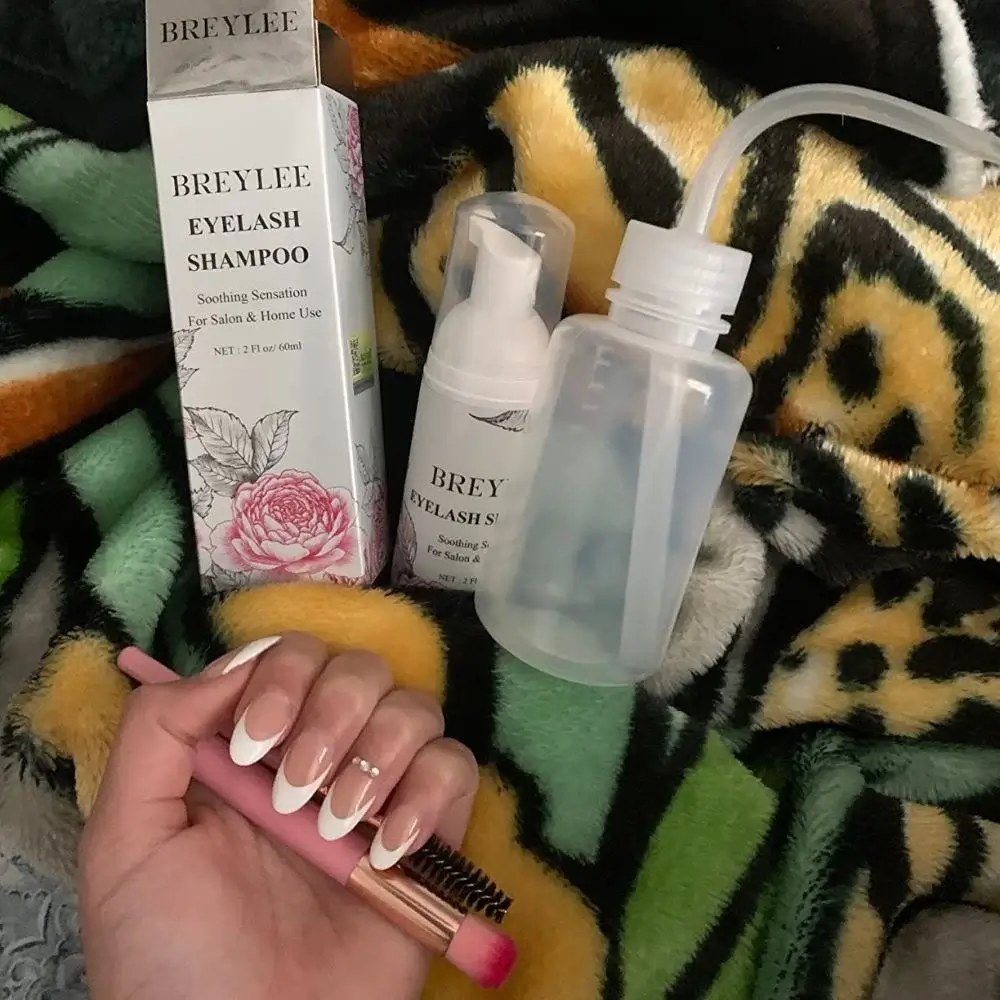 Best Lash Extension Shampoo For Deep Cleaning & Nourishing
Check Price on Amazon
Why GG Loves It
If you are looking for the best eyelash extension cleanser that comes with everything you need to care for your extensions, then the BREYLEE Lash Shampoo is a top-notch choice. This package includes a mascara wand, a soft cleaning brush, and a rinse bottle, a complete solution for all your eyelash extension needs.
The aspect that makes this eyelash shampoo one of the best eyelash extension cleansers is its dual nature; it not just offers effective cleansing, but it also offers nourishment for your eyelashes. This potent formula removes impurities while providing essential nutrients to ensure that real lashes remain strong and healthy.
The inclusion of a mascara wand and soft cleaning brush makes the application process smooth. The rinse bottle further enhances your cleansing routine, allowing you to achieve thorough cleaning with no hassle.
The best part; this specially formulated eyelash cleanser can also be used both at home and in the salon. This means you can maintain your stunning lash extensions with professional-level care wherever you are. So pick this one of the best eyelash extension cleansers now and take your extension game to new heights.
What You Should Know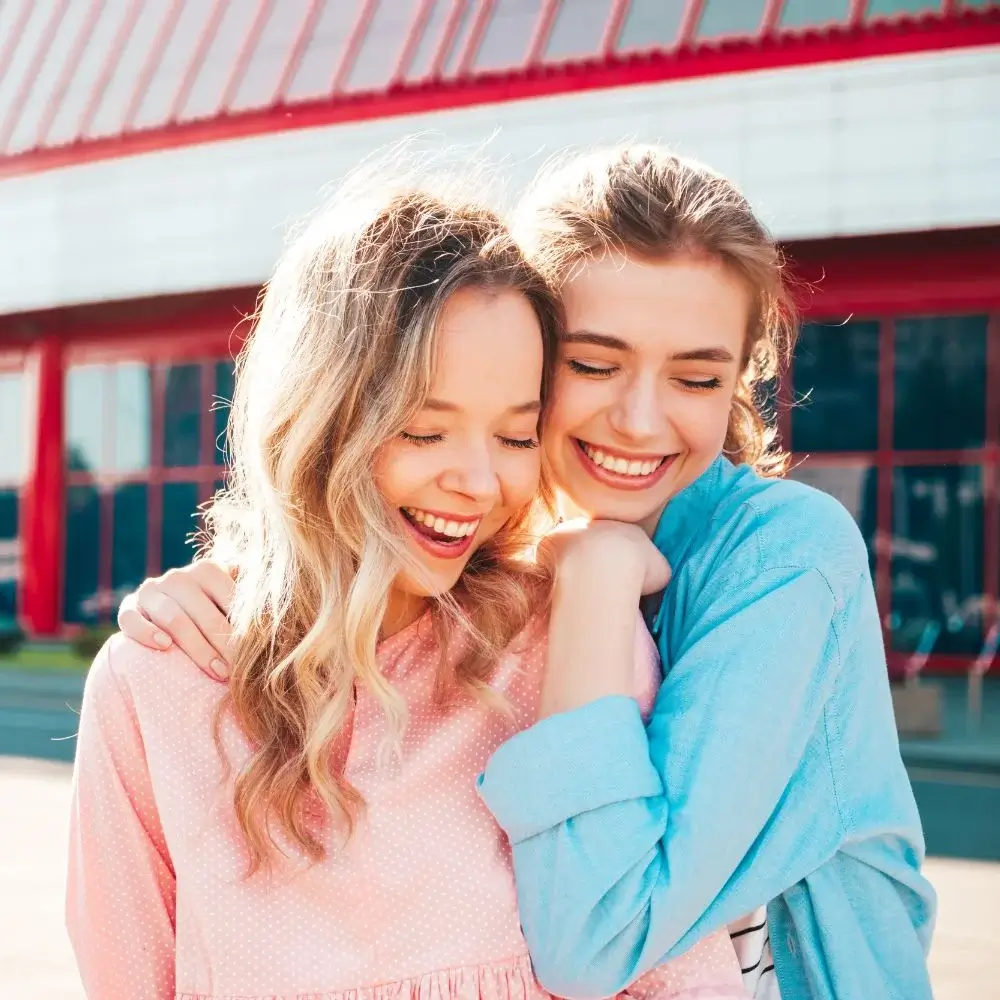 BREYLEE Lash Shampoo is a real game-changing solution for any woman who always wants her lashes to be on point. This eyelash shampoo is made with a mild formula, suitable for all skin, including oily, normal, combination, and dry, especially for those with sensitive eyes, as it contains harmful chemicals or irritants.
This oil-free gentle cleanser is sulfate-free and paraben free, so you can indulge in lash care without any worries. And on top of that, it is also 100% vegan and cruelty-free, which means for those who cherish both beauty & ethical choices, this professional lash shampoo is like a dream come true that ticks all the boxes.
Its precisely designed bottle makes it easy to control and operate with one hand. Plus, the design of its head is anti-slip, which can be used over 1000 times without damaging the press. With its 150ml capacity, you don't have to tilt the bottle anymore to clean up residual foam, thanks to the inner tube installation.
However, the most satisfying feature of this product is that it's backed by a 100% satisfaction guarantee, so you can use it with confidence and peace of mind knowing that you are not throwing your money away.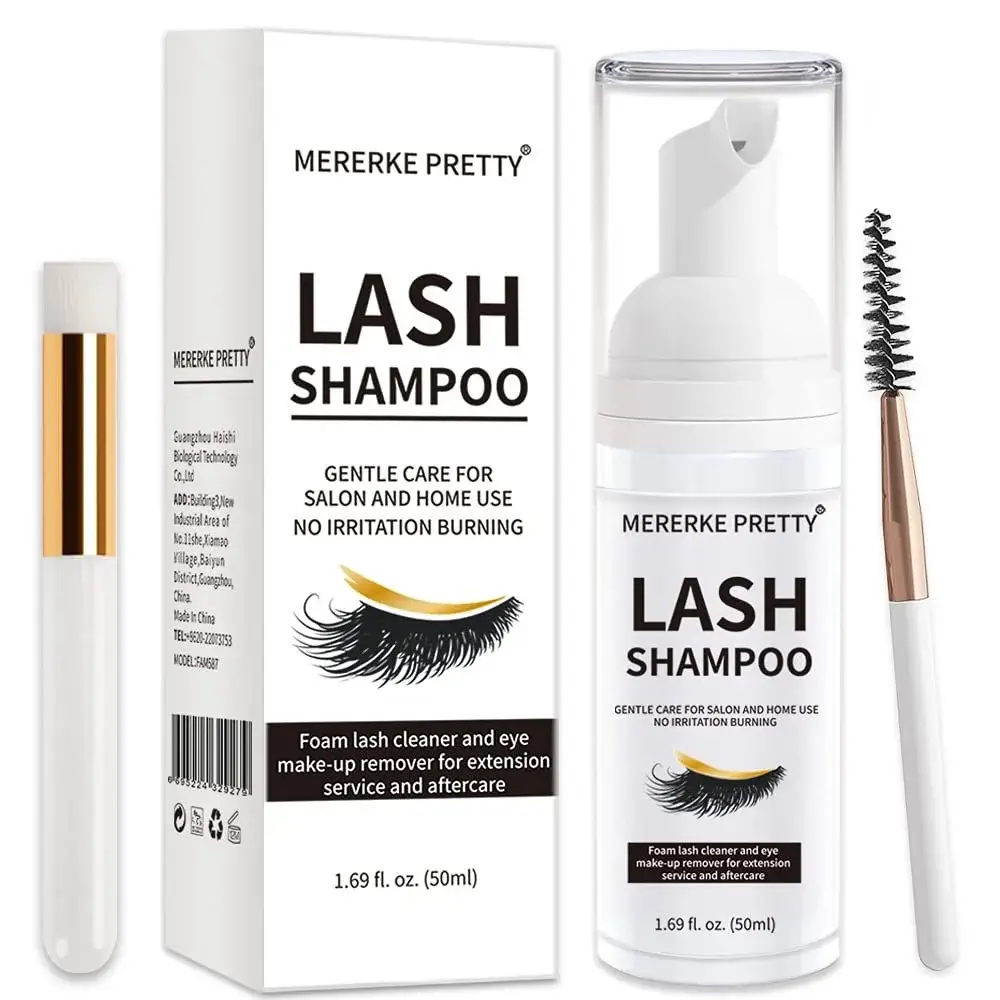 Best Lash Extension Shampoo For Extensions
Mererke_Pretty Eyelash Extension Shampoo
Check Price on Amazon
Why GG Loves It
Mererke_Pretty LASH SHAMPOO is one of the most effective & paramount options for those who want to keep their lashes perfectly cleansed, hydrated, and moisturized no matter what life throws at them. It has a very gentle, lightweight, and oil-free formula that can elevate your lash care routine to whole new heights.
This premium lash shampoo by Mererke_Pretty provides a comprehensive solution for maintaining eyelash extensions while keeping them in optimal condition. With a 50ml foaming lash shampoo and a cleansing brush included in the kit, you have everything you need to ensure your lashes are clean and well-nourished.
What makes it stand out is its commitment to natural & safe ingredients. It avoids commonly used additives like ethylene oxide, sulfate, and trimethylglycine, ensuring a gentle yet effective cleansing experience. This product reflects the brand's dedication to producing high-quality, safe, and reliable beauty care products.
Whether you're a makeup enthusiast or a professional lash artist, the Mererke_Pretty Shampoo is a must-have in your beauty regimen, offering a superior way to care for your extensions & maintain their longevity and beauty. This foam cleanser can be used daily to thoroughly clean eyelash extensions at home or in salons without having to worry about the viable damage that other eyelash extension cleansers can do.
What You Should Know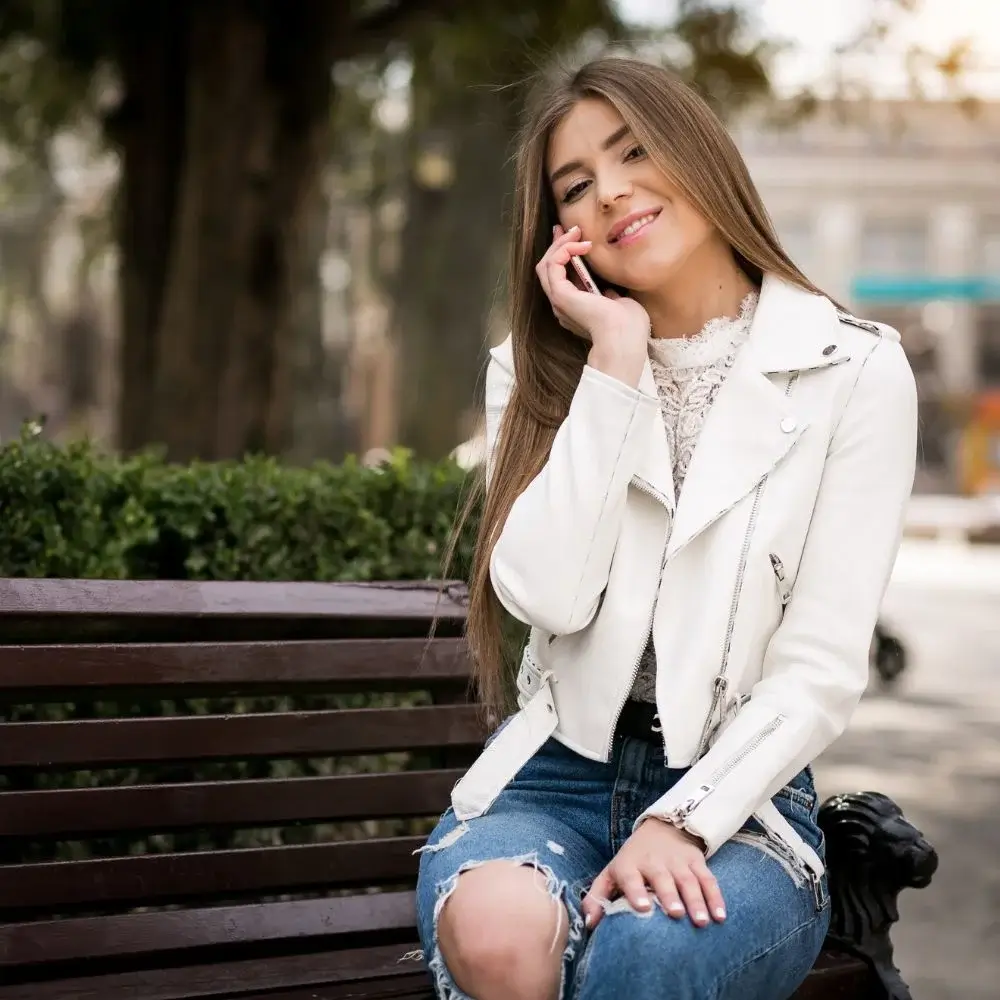 This shampoo by Mererke_Pretty is not just formulated with naturally derived ingredients and can remove dirt, oil, and cosmetics residue for deep cleaning, but it's way more than that. For achieving that great mascara look, it's your ultimate secret weapon. It effectively dissolves makeup in the eye area and washes lash to care after extensions to ensure beautiful and long-lasting results that speak for themselves.
Its unique sensitive formula is also color-safe and hypoallergenic, making it a standout choice for those with delicate eyes and skin. You can bid farewell to irritation or redness, as this no-burning sensation shampoo is all about gentle care that brings out the best in your lashes so you can look your absolute best.
Mererke_Pretty is a popular brand that brings a wealth of experience to the table. With 4 years of expertise as a professional skin care product supplier, they've earned the trust and loyalty of countless girls seeking top-notch skincare solutions, and this best eyelash extension cleanser is an example of that testament.
And the most pleasing part; it's so affordable that you don't have to break the bank to enjoy the benefits of premium lash care. So get your hands on this magical potion and unleash the true potential of your lashes.
Here are Some FAQs to Help Guide you on Your Way!
A shampoo that is specifically formulated for extensions is one of the most helpful products for taking care of your hair. This shampoo can help extend the life of your extensions while also giving you the hydration and nourishment that your natural hair needs so that it stays healthy, strong, and vibrant for a long time.
But can one use a regular shampoo instead of a specialized one? However, without knowing the basics, you might be left wondering. Here are some FAQs that will help you make the best decision for your lashes:
What is eyelash extension shampoo, and why is it needed?
Eyelash extension shampoo is a special cleaning product designed specifically for lash extension wearers. You can use them to deep clean your eyelash extensions and remove any built-up dirt, oil, & bacteria before a new set of lashes is applied. This helps to ensure that the extensions stay on longer/look natural.
Additionally, using the best eyelash extension cleansers regularly can help prevent infections since they keep your lashes free from bacteria. It's important to use an appropriate eyelash cleanser for removing makeup from your lash line. So look for a foaming cleanser that is oil-free, sulfate-free, and paraben-free.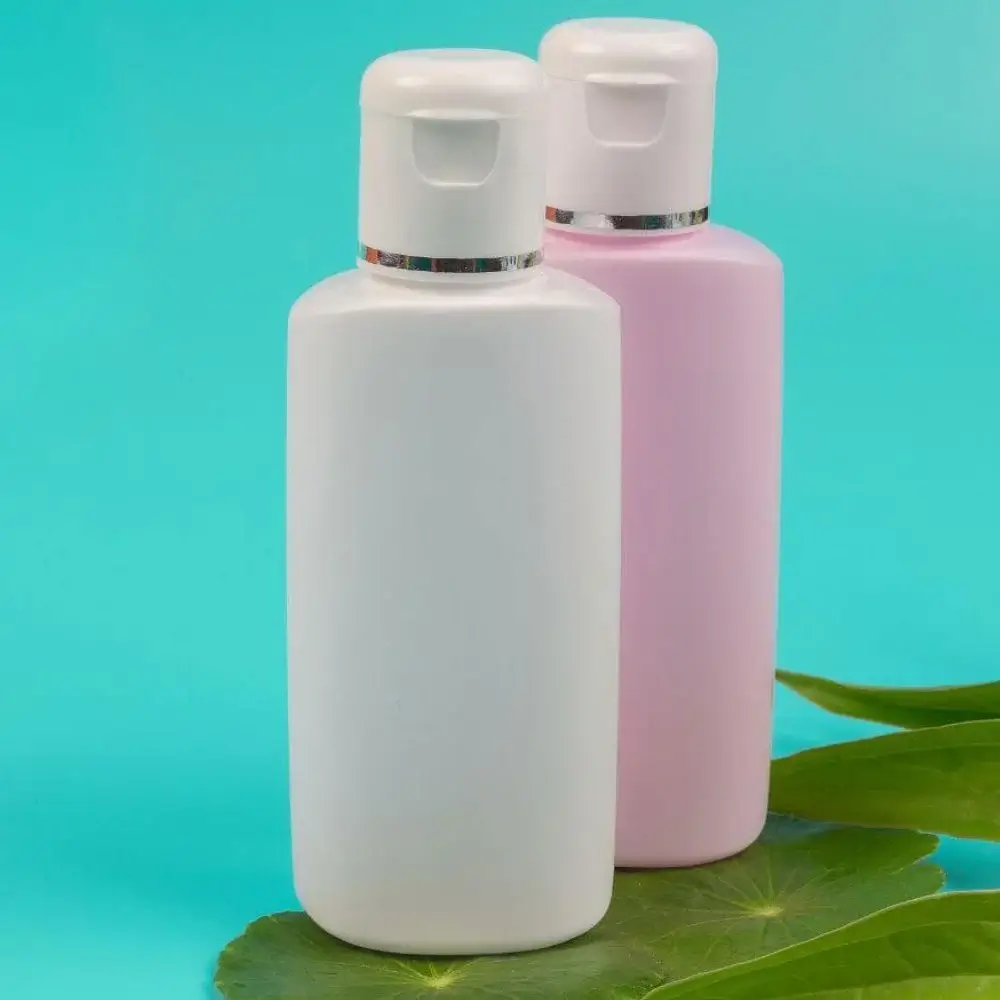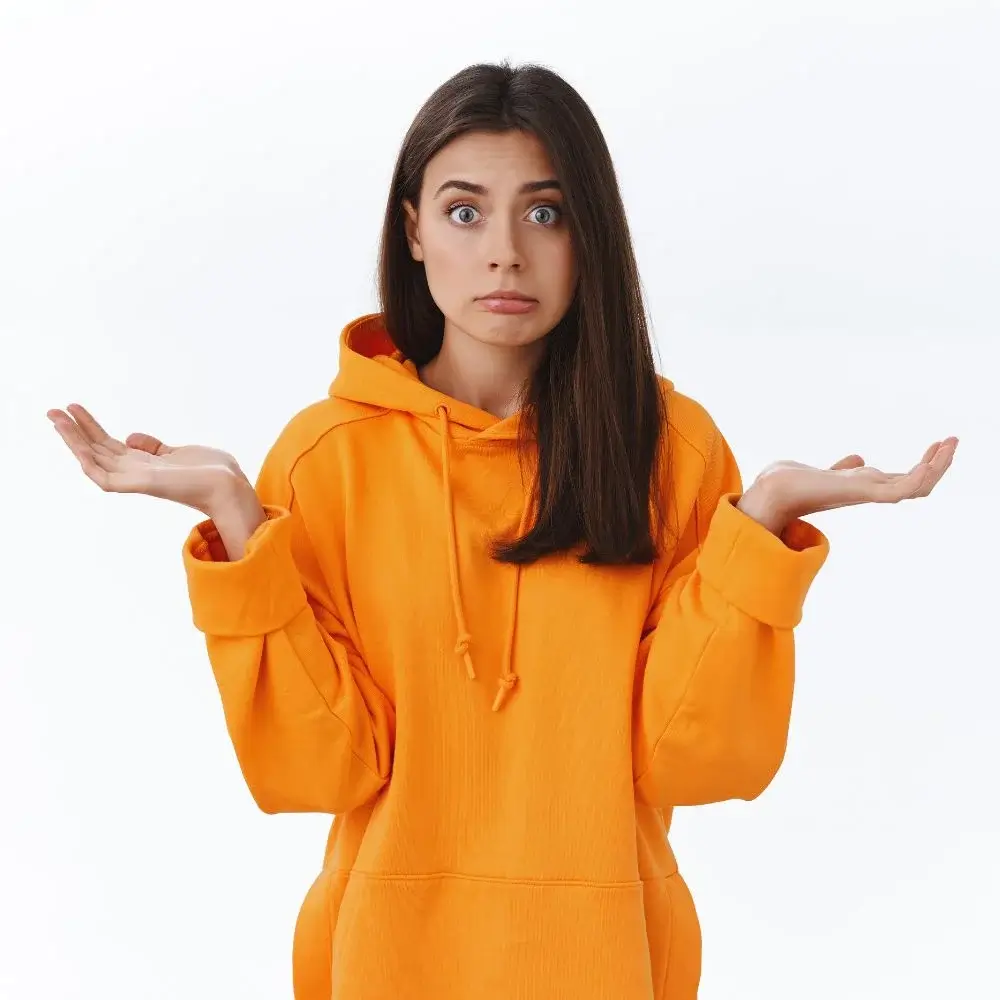 Can I use regular shampoo to clean my eyelash extensions?
No, regular shampoo will not be suitable for cleaning your eyelash extensions. It is important to use a special solution that has been specially formulated for this purpose, while there are some best eyelash extension cleansers that can be used daily to thoroughly clean eyelash extensions but with proper care.
Here are some tips to keep your eyelash extensions clean and looking great:
1. Use a dedicated lash extension cleanser once every two days or as needed.
2. Gently rub away any makeup residue with cotton swabs dipped in the cleanser solution.
3. Avoid contact with water during the first 24 hours after application of the extensions.
4. After that, keep water away from your lashes as much as possible.
5. Avoid using oil-based products near the eyes, such as mascara and eye makeup remover.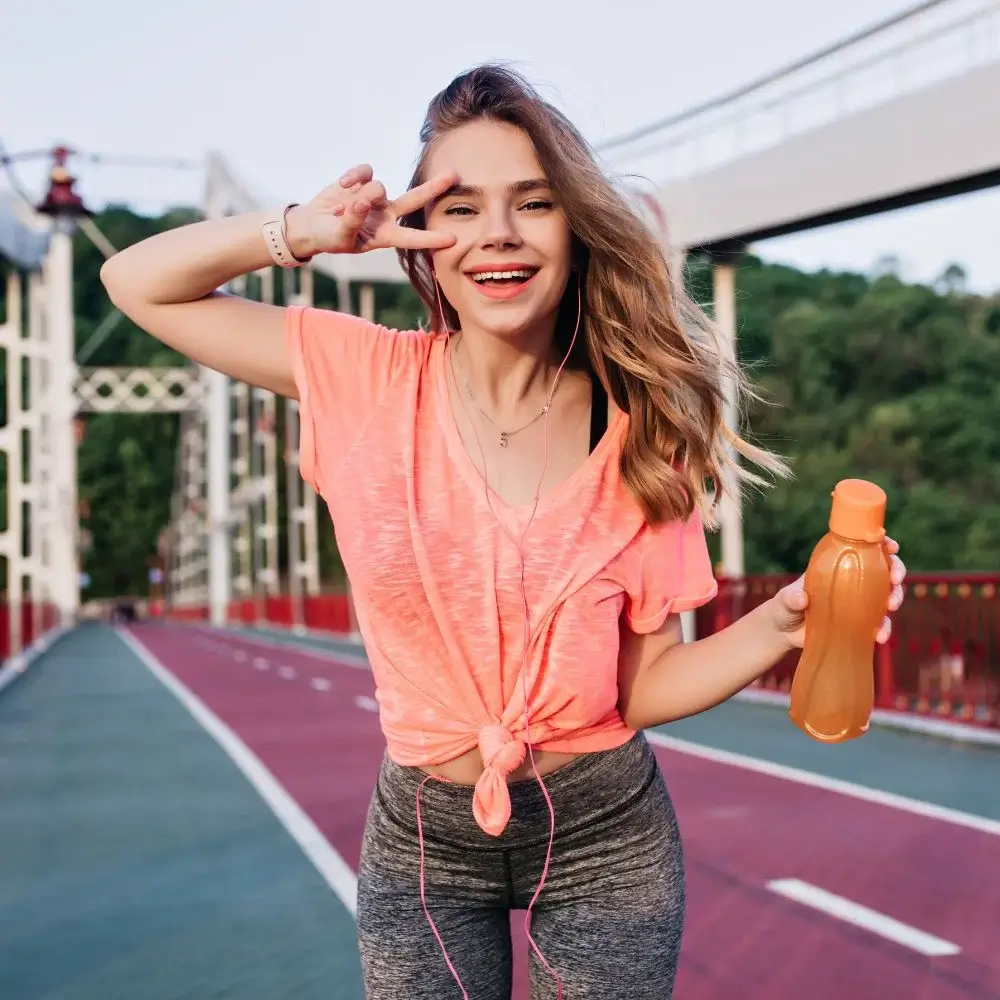 Will using eyelash extension shampoo affect the longevity of my lash extensions?
The answer is no! Using eyelash extension shampoo will not affect the longevity of your lash extensions. In fact, using a gentle eyelash extension cleanser designed specifically for lash extensions can actually help them last longer because it keeps them clean and free from oil and dirt buildup that can cause breakage.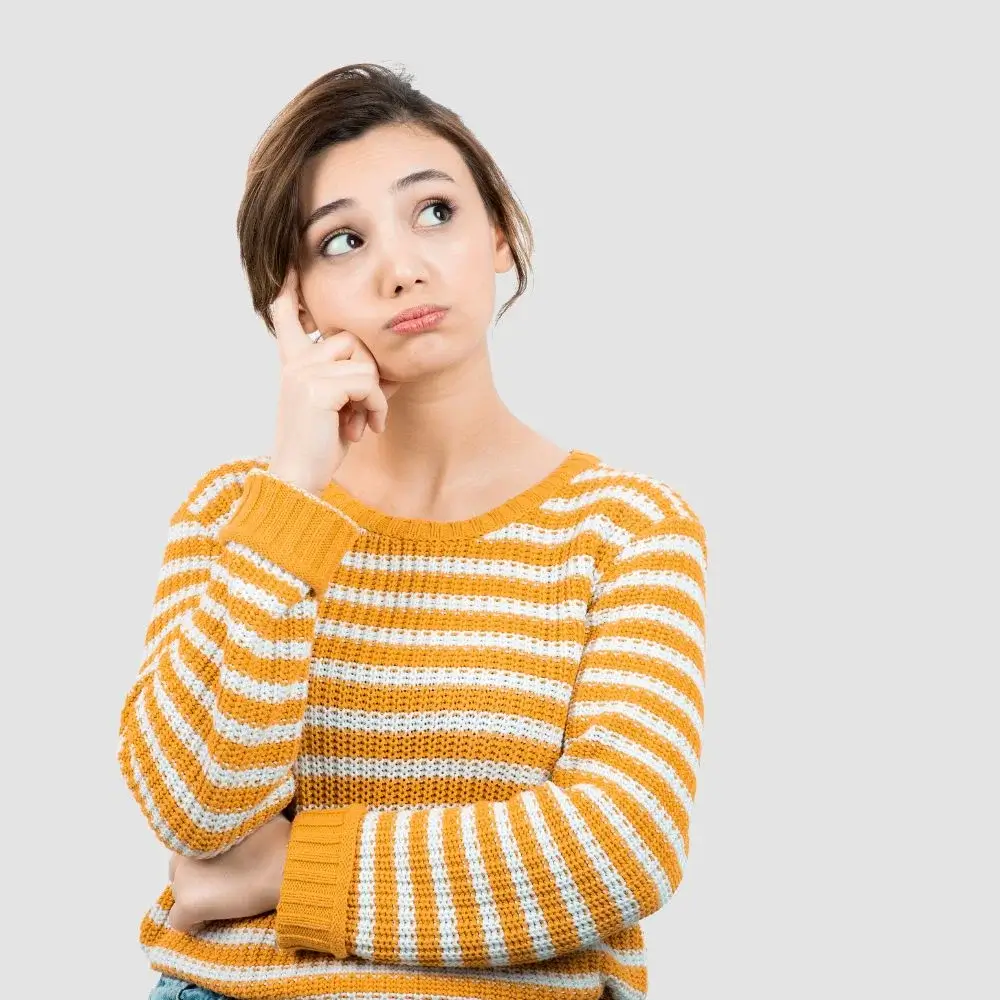 How should I properly apply eyelash extension shampoo to cleanse my lashes?
If you're looking for the best way to cleanse your eyelash extensions, then using eyelash extension shampoo is the perfect solution. Here's what you need to do:
1. Start by wetting your lashes with warm water and a gentle cleanser, such as baby shampoo or lash-safe cleanser.
2. Take some eyelash extension shampoo in your hands and gently massage it into your lashes.
3. Make sure to cover all the lashes, focusing particularly on the roots of each lash.
4. Rinse off with warm water until all of the product has been washed away.
5. Gently pat dry with a soft towel or cloth.
6. Apply a nourishing lash serum to help keep your lashes healthy and hydrated.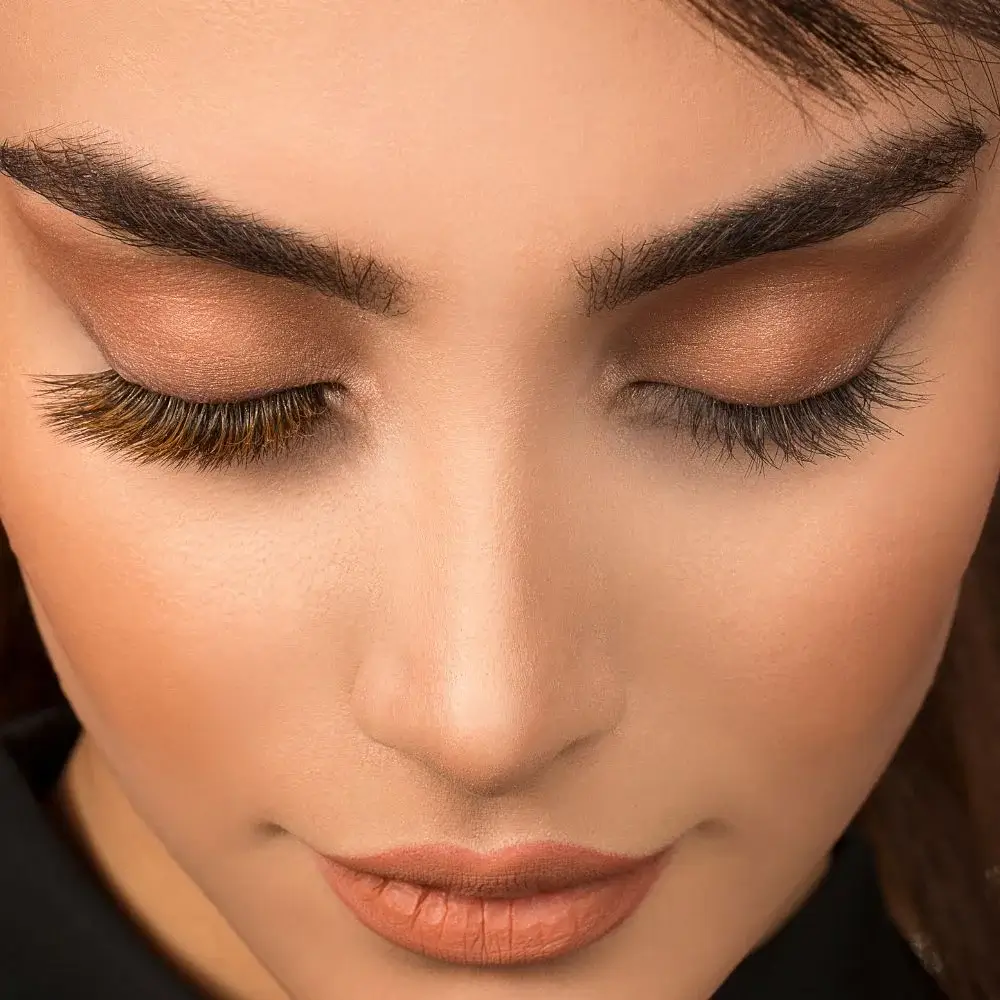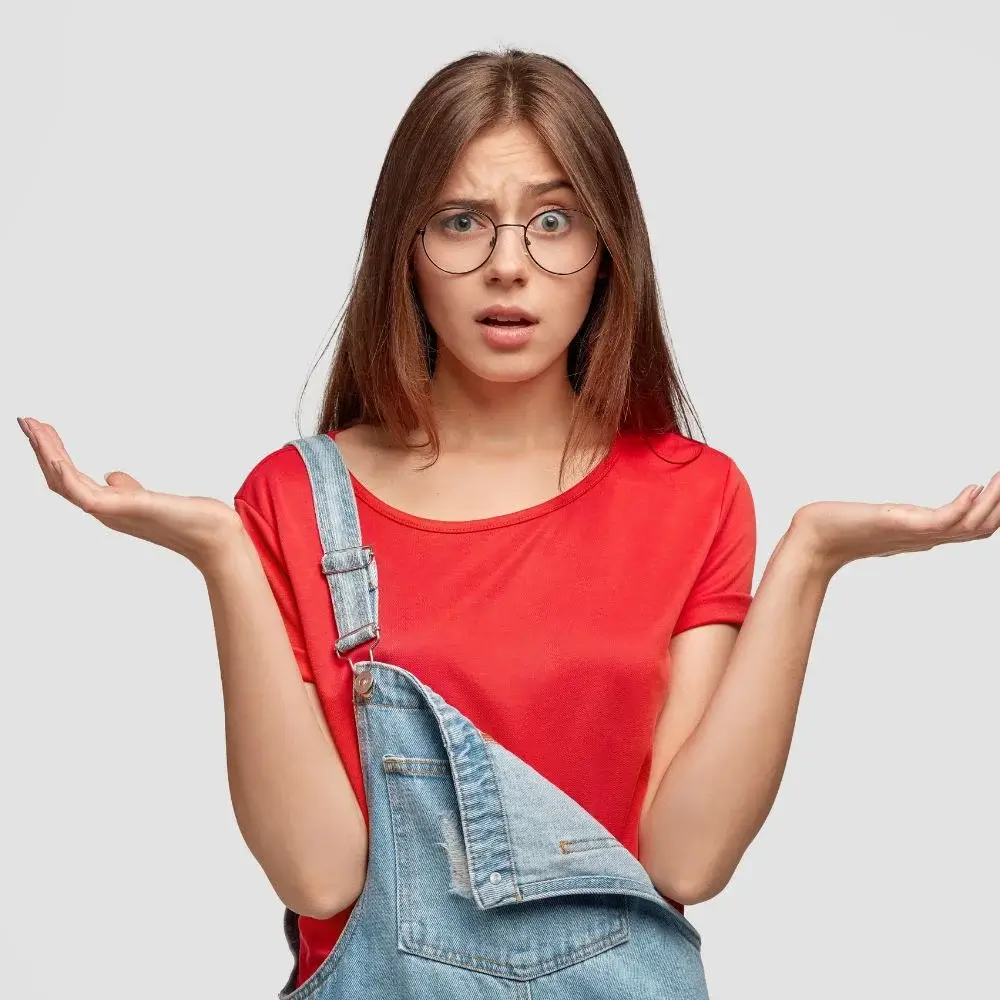 Top 3 Best Eyelash Extension Shampoos:
In this wonderful world of beauty and self-expression, eyelash extensions truly stand out as an ultra-glam way to make your eyes sparkle and shine. They're like the fairy godmothers of makeup, transforming your look with just a few fluttery strokes. And using the right shampoo can help keep them looking their finest.
The top 3 best shampoos that we have mentioned above are all top-notch solutions for those who want to keep their lash extensions super reinvigorated & fabulous without damaging them in the cleaning process.
They are all free from nasty chemicals that could potentially harm your delicate extensions. Instead, they're packed with gentle but effective ingredients that will help you achieve that perfect, clean, & beautiful look.
Whether you are looking for a paraben-free lash extension cleanser or a sulfate-free gentle formula that pampers your extensions - these are the three best shampoos you should invest in. So why wait? Pick anyone one of these shampoos from our list & give your lash extensions the royal treatment they deserve!