When it comes to makeup, mascara is undoubtedly one of the most beloved and essential products for many. Whether you're going for a dramatic, smoky eye look or adding a bit of definition to your lashes, it can help you achieve the perfect amount of drama & glamour.
But with so many brands on the market ranging from drugstore to high-end, it can be difficult to figure out the right cruelty-free mascara for your individual needs because not all mascaras are created equal. Looking for the best cruelty-free mascara that is both vegan and non-toxic?
Dont worry; we have got you covered! We know that finding the right cruelty-free mascara that is also good for your lashes and the environment can be tricky because not all of them can be trusted; that's why we have compiled this list of the top 3 best cruelty-free mascaras!
All these products are crafted with love and are specifically designed to volumize, lengthen, and lift your lashes without containing any harsh chemicals. Plus, they are all vegan and cruelty-free, so you can rest assured knowing that you're doing your part to help save animals!
Click this link to learn more about our list of the top 3 best cruelty-free mascaras!
We have searched for the best, so you don't have to live with the rest. In order to serve you to the best of our ability and to keep our blog going, GarnesGuide may collect a share of sales or other compensation from the links on this page if you decide to buy. Each product was independently researched by our editors, and the reviews may have been edited for length and clarity.
How We Choose the Best Cruelty Free Mascara:
As society becomes increasingly aware of the impact of their consumer choices on the environment and animal welfare, there has been a noticeable shift in the demand for ethically produced products. This trend is reflected in the growing popularity of cruelty-free products, including mascara, as people seek to align their values with their purchasing habits.
Mascara is an essential part of every makeup routine, but finding the best one that is both effective and cruelty-free can be a challenge because not all manufacturers offer this option.
To help you out, we have done a deep dive research and carefully picked the top 3 best cruelty-free mascaras that will give you beautiful, long, voluminous lashes without harming animals or the environment so you can feel confident and guilt-free about your purchase.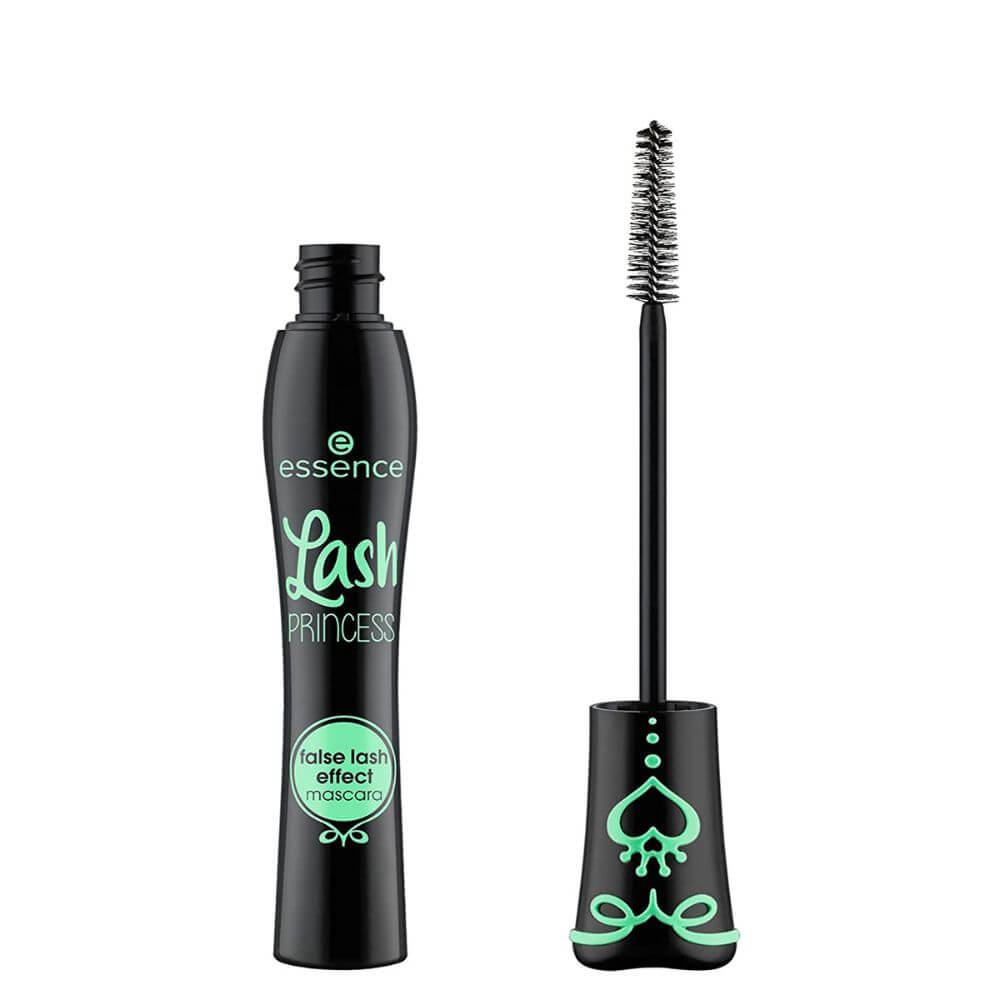 Best Cruelty-Free Mascara For a False Lash Effect
essence | Lash Princess False Lash Effect Mascara
Check Price on Amazon
Why GG Loves It
Do you need the best volumizing mascara that will give you the dramatic false lash effect look with an extra long-lasting finish? Looking for something that is cruelty-free and ethically sourced? If so, then the essence | Lash Princess False Lash Effect Mascara is what you need!
This ultimate & innovative volumizing formula is specially designed to sculpt your lashes & give them length and instant volume for a dramatic false lashes effect so that you can rock a look of beautiful, thicker lashes! The conic shape fiber brush separates and defines individual lashes without any globs or clumps, delivering maximum impact with minimal effort.
With its long-lasting finish that won't flake, fade or wear off throughout the day, you can go about your day feeling confident and beautiful, which means that you don't have to worry about having to reapply or touch up your mascara throughout the day as it holds up against the elements.
The thing that makes this mascara the perfect choice for all-day wear is its certification and recognition by PETA as a cruelty-free brand. With this assurance, you can have peace of mind knowing that the makeup you wear is ethically sourced and aligns with your values.
It's not just about the quality of the product but also the ethical standards upheld by the brand, which makes it an excellent choice for conscious consumers who want to make a positive impact on the world. So why not give it a try to achieve dramatic volume lashes?
What You Should Know
essence cosmetic is one of the most popular and renowned brands that have been in the beauty industry for many years now. Their Lash Princess False Eyelash Effect Mascara is specially formulated to give a dramatic, long-lasting false lash effect without clumping!
This mascara has become a cult favorite among makeup enthusiasts as it offers the desired length, thickness & definition to the lashes while ensuring that they remain soft and fluttery.
This vegan mascara is not only free from animal-derived ingredients but is also free from parabens, fragrances & oils. This makes it suitable for those with sensitive eyes and skin types. So whether you have dry, combination, normal, or oily skin, this mascara works perfectly!
The formula of this mascara is lightweight & water-resistant, making it an ideal choice for humid days. It is also extremely easy to remove without leaving any residue behind. One of the most impressive aspects of this mascara is that it doesn't clump, unlike many other mascaras!
You can easily add more coats for extra length without worrying about it getting too thick or looking clumpy. Plus, it lasts a long time, so you won't have to worry about constantly repurchasing. This vegan, waterproof mascara is also ideal for those who wear contact lenses or glasses.
It doesn't flake off, or smudge, so your contacts and glasses will stay clean and clear throughout the day. Despite its affordable price, this mascara is a game-changer and will leave you wondering why you have ever spent so much on expensive mascaras in the past.
If you're on the hunt for certified cruelty-free mascara that will provide you with naturally fuller-looking beautiful lashes, then this vegan, cruelty-free mascara is an excellent solution!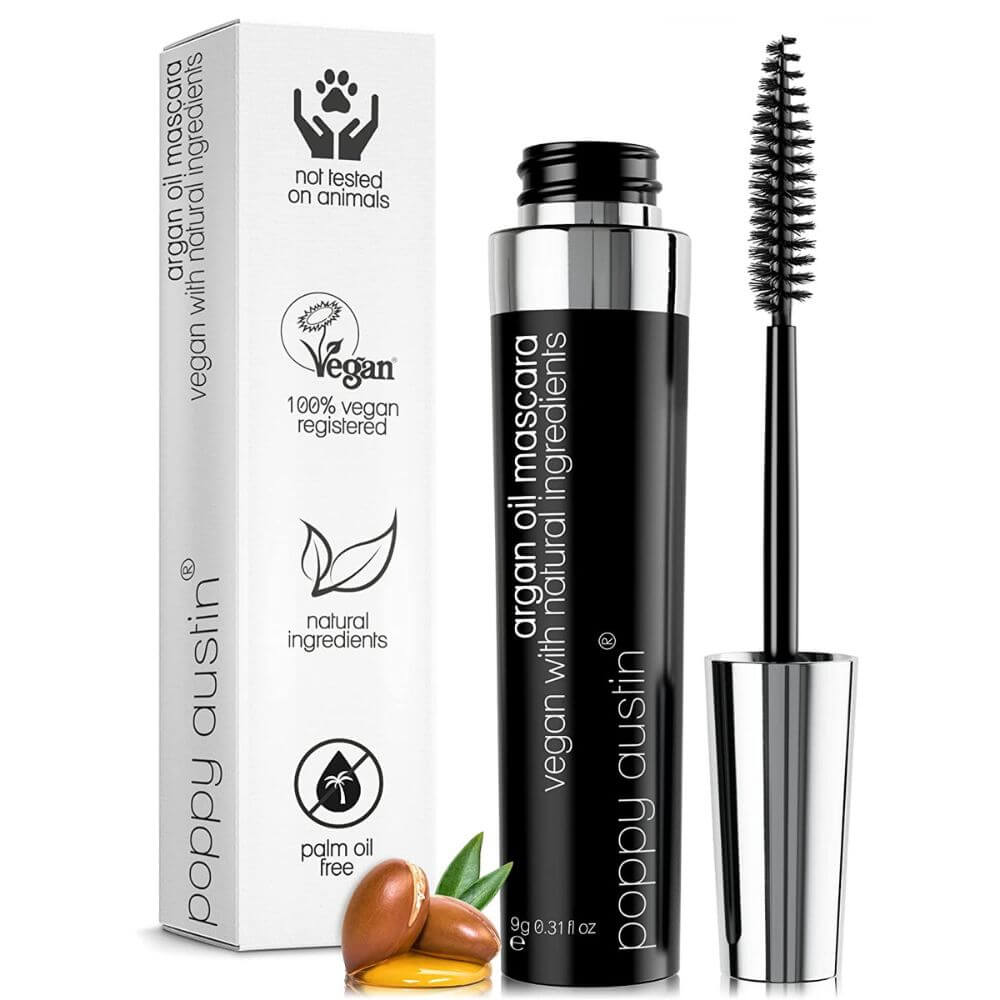 Best Cruelty-Free Mascara For Thickening and Lengthening
Poppy Austin Mascara 9g - Lash Mascara
Check Price on Amazon
Why GG Loves It
Are you looking for the best cruelty-free beauty mascara that is only crafted with natural ingredients but also helps thicken and lengthen your lashes? Tired of clumpy, smudged mascara that doesn't last? If so, then it's time to try Poppy Austin Mascara 9g - Lash Mascara!
This all-in-one mascara is an essential addition to any organic makeup kit, as it not only enhances the beauty of your eyes but also strengthens and nourishes your lashes.
Poppy Austin Mascara is the ultimate solution for anyone who wishes to achieve long-lasting lifts and curls for their lashes. This innovative cruelty-free drugstore mascara can keep your lashes looking flawless for up to 24 hours, ensuring that you stay looking fabulous all day long.
This flake-resistant and smudge-proof mascara is also perfect for those with sensitive eyes, making it gentle and safe to use. The full-bristle applicator ensures that the mascara glides through your lashes effortlessly, defining and separating each lash for a stunning finish.
This clean mascara by Poppy Austin is not only a great cosmetic product but also a socially conscious one. It is crafted with cruelty-free and vegan ingredients, which means that no animals were harmed in the process of its production. Like better than sex mascara, this best vegan mascara is also hypoallergenic, so you don't need to worry about any allergic reaction!
With Poppy Austin Clump Free Mascara, you can enjoy beautifully long, natural lashes with dramatic volume that steal the show without worrying about itchy and watery eyes. This mascara is designed to care for your lashes, promoting lash growth and thickness.
So, if you're looking for a mascara that not only enhances your beauty but also strengthens and nourishes your lashes, then this heart & award-winning mascara is the best solution!
What You Should Know
The market is filled with countless mascara formulas, all promising to give you sweeping lashes that will make you feel like a Hollywood star. But have you ever stopped to think about what's in your mascara? Many popular cruelty-free brands contain harsh chemicals that can damage your bare lashes and even cause irritation to your sensitive eyes.
That's why Poppy Austin has created a lash-extending mascara that is not only vegan but also packed with lash-loving ingredients. Their Argan Oil Vegan Mascara is a game-changer.
This waterproof formula is perfect for all-day wear and beyond, delivering the essential nutrients your lashes crave. It contains the highest concentration of all-natural vitamins and fatty acids, which help to revitalize your lashes from root to tip. Isn't it amazing about this?
Poppy Austin is a small, family-run business based in Somerset, England. Their offices are located in The Organic Garden, a beautiful area that they are lucky enough to call home.
At the core of their philosophy is a commitment to using only the finest, most ethically sourced skincare products. They handpick natural ingredients known for their healing powers and whip them up into their signature blend to create their cruelty-free beauty products.
Their Argan Oil Mascara has quickly become a cult favorite, recommended in over 500 beauty best buy tables, and featured in Marie Claire, Cosmopolitan, and Women's Health, to name a few. And with its luxury crisp white gift box and authentic branding, it's the perfect addition to your makeup collection! So why wait? Give it a try to achieve healthier-looking lashes easily!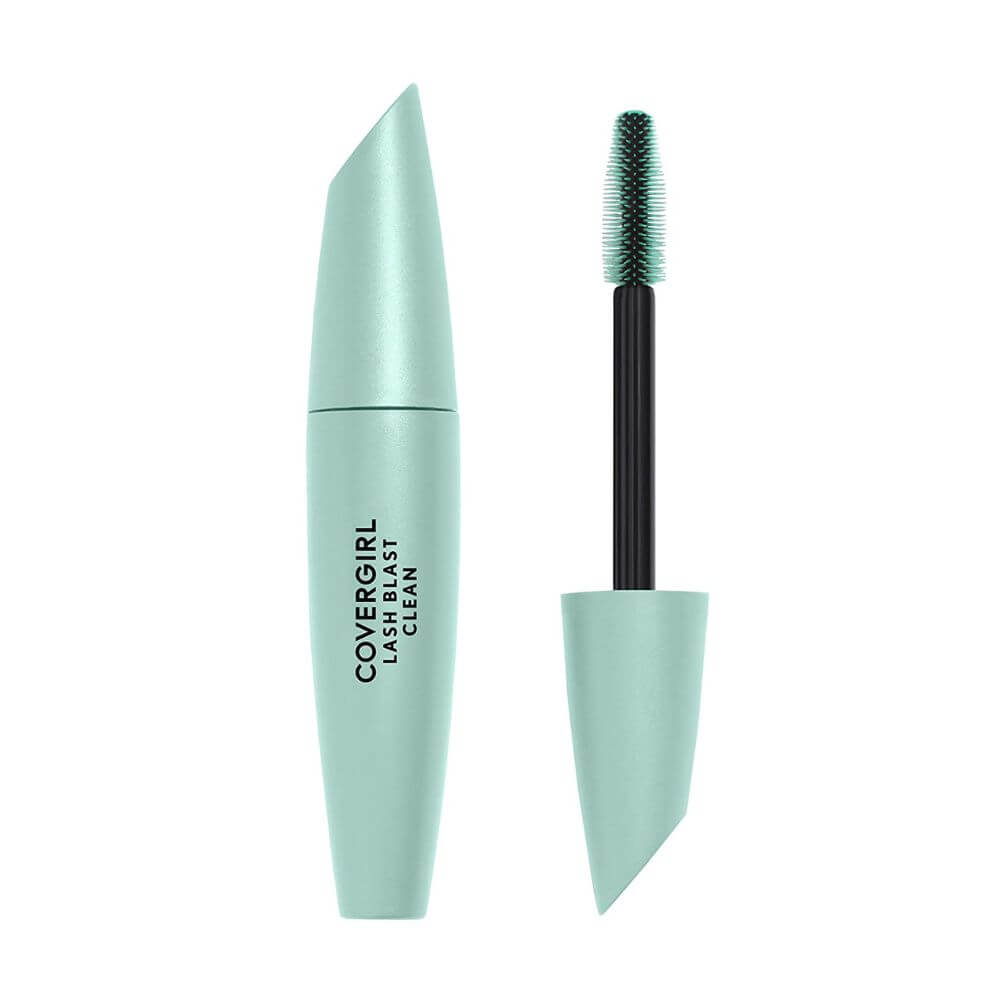 Best Cruelty-Free Mascara For Longer, Fuller Lashes
COVERGIRL Lash Blast Clean Volume Mascara
Check Price on Amazon
Why GG Loves It
Have you been on the hunt for a mascara that can provide you with longer, fuller lashes while also being kind to animals? If so, look no further than COVERGIRL Lash Blast Clean Mascara.
This cruelty-free mascara has been certified by Leaping Bunny, which means that it's free from all kinds of animal products, so you can feel comfortable when wearing it. Not only that, but its packaging is also eco-friendly, made from 80% recycled paper from well-managed forests.
With this vegan mascara, you can achieve 10x the volume of your bare lashes, thanks to its expertly designed brush applicator that separates and defines each lash. And with no smudging or clumping, your long-lasting, beautiful lashes will stay put all day long.
So whether you're getting ready for a night out or just looking to enhance your everyday look, COVERGIRL Lash Blast Clean Volume Mascara is the perfect choice for you. Try it today and acquire the lashes of your dreams without compromising your values and love for animals!
What You Should Know
This defining & volumizing mascara by COVERGIRL is constructed with the most innovative vegan formula that's infused with argan and marula oils. This means that you can achieve those voluminous, thick lashes without the worry of harsh chemicals like parabens, sulfates, talc, or mineral oil. And who doesn't love a product that loves lashes just as much as you do?
To get the best out of this, start at the base of your lashes and gently wiggle the brush from side to side, working your way up to the tips. This technique will help to lift and shape your lashes. And if you're feeling a little extra, you can layer it up for a more dramatic look.
But here's a pro tip for you lash lovers out there. If you want to take your lash game to the next level, use an eyelash primer before applying COVERGIRL Lash Blast Clean Volume Mascara. Wait for 30 secs to dry before applying the mascara for that extra dramatic thickness.
So what are you waiting for? Go ahead & bat those beautiful lashes with confidence, knowing that you're using a product that's not only good for you but also good for the environment.
Here are Some FAQs to Help Guide you on Your Way!
For many people, mascara is an essential part of their daily makeup routine. It can add volume, length, and definition to your lashes, making your eyes appear brighter and more awake.
However, with the growing concern over animal welfare, many beauty enthusiasts are now looking for cruelty-free options when it comes to their mascara. But can they be cruelty-free?
Here are some most frequently asked questions about cruelty-free mascara that will help you on your way so that you can make an informed decision about the product that's right for you:
Can mascara be cruelty-free?
Yes. There are many cruelty-free mascaras from a variety of different brands that don't test their products on animals. If you're looking for a cruelty-free option, be sure to look for mascaras with labels such as "cruelty-free," "not tested on animals," or with the bunny logo.
Is Mac cruelty-free?
Yes, M·A·C is a cruelty-free brand and is committed to ending animal testing. They do not test any of their products or ingredients on animals or allow others to test on their behalf.
What is cruelty-free mascara?
Cruelty-free mascara is a mascara that has been produced without any animal testing. It means that the ingredient and product formulas have not been tested on animals in any way during the development or manufacture of the product to ensure that it is safe for human use.
How to use cruelty-free mascara?
To use cruelty-free mascara, start by curling your eyelashes with an eyelash curler. Next, apply the mascara in a zigzag motion, starting from the base of your lashes and moving toward the tips.
Allow it to dry before applying a second coat if desired. To remove, use a gentle makeup remover or warm water and a washcloth. Avoid rubbing your eyes, which can cause irritation.
Top 3 Best Cruelty-Free Mascaras:
Mascara is a unique masterpiece in the world of makeup. It has the power to transform your ordinary, bored look in just a few strokes, giving you the bold, defined lashes that you desire.
However, as much as we love our mascara, it's important to consider the impact that our choices have on the world around us. Many products contain animal ingredients, which can be cruel and unnecessary. Luckily, there are plenty of cruelty-free mascara options available on the market today, allowing you to enhance your beauty without sacrificing your values.
The top 3 best cruelty-free mascaras listed above are all outstanding options for those looking to make a conscious choice when it comes to their makeup. Each one offers different benefits and results, allowing you to choose the one that best suits your needs, preferences, and budget.
With any one of these top 3 great mascara options, you can look amazing without supporting animal cruelty, giving you the perfect way to enhance your beauty with a clear conscience. So grab your favorite cruelty-free mascara and get ready to unleash your beautiful, bold side!