Clean, smooth, and flawless skin is a dream that has been sought after since time immemorial. But what about the harmful chemicals that many traditional beauty products contain? As more and more people become aware of the potential dangers associated with these chemicals, there has been a growing demand for clean beauty products, and one such is clean concealer.
Clean concealers are made of natural ingredients that provide coverage without compromising the health and safety of your skin. But with the massive amount of products on the market, it can be challenging to find the right one. Are you looking for the best clean, natural concealer?
Dont worry; we have got you covered! We know that finding the best natural concealer that provides full coverage without clogging pores or risking the health of your skin is no easy feat that's why we have compiled this list of the top 3 best clean concealers that you can trust.
All these concealers are made with pure, natural ingredients that are not only safe and healthy for your skin but also provide coverage without caking up and leaving a heavy, unnatural look. Plus, these natural concealers are also lightweight, breathable, and won't clog your pores.
Click this link to learn more about our list of the top 3 best clean concealers!
We have searched for the best, so you don't have to live with the rest. In order to serve you to the best of our ability and to keep our blog going, GarnesGuide may collect a share of sales or other compensation from the links on this page if you decide to buy. Each product was independently researched by our editors, and the reviews may have been edited for length and clarity.
How We Choose the Best Clean Concealer:
In today's beauty industry, there is a growing awareness of the importance of clean beauty products that are safe for both skin & environment. Concealer is a crucial part of many people's makeup routine, as it helps to conceal blemishes, dark circles, and other imperfections.
However, with the plethora of beauty brands and products available in the market, it can be challenging to find a clean concealer that provides the coverage and finish that you desire.
To help you, we have done a deep dive research and picked the top 3 clean concealers that will give you the desired coverage, long-lasting finish, and natural look that you need. All these best clean, natural concealers are cruelty-free, vegan, and made with non-toxic ingredients.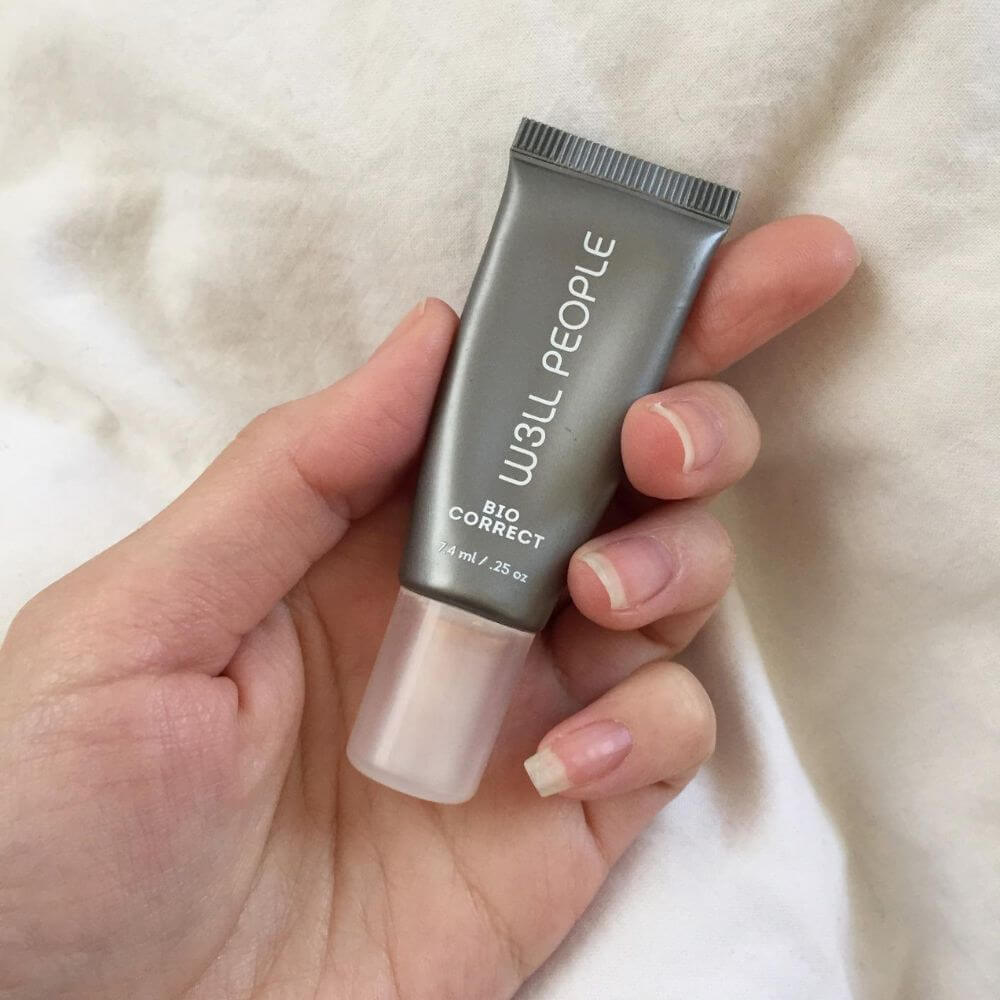 Best Clean Concealer For BanishING Any Skin Imperfections or Blemishes
WELL PEOPLE - Full-Coverage Bio Correct Concealer
Check Price on Amazon
Why GG Loves It
Does your blemish-prone skin need some extra love? Need a clean, non-toxic beauty (Fair) option that can help reduce the appearance of blemishes or skin imperfections? If your answer is yes, then WELL PEOPLE's Full-Coverage Bio Correct Concealer should be your go-to.
This power-packed natural wonder is not your ordinary concealer. Its ultra-light, mousse-like texture effortlessly blends onto your skin, providing serious coverage without the extra effort.
Plus, it sets like a dream, so you won't have to worry about creasing or budging throughout the day. Not only does it banish imperfections and blemishes, but it also depuffs, brightens, and improves skin texture. It's like having a concealer and skincare treatment at once!
And the best part about this creamy texture concealer? It's non-toxic, vegan, and free of synthetic fragrances and parabens, so you can feel good about putting it on your skin.
So, if you want to achieve flawless-looking skin without compromising your health and safety, WELL PEOPLE's Full-Coverage Bio Correct Concealer is definitely worth checking out.
What You Should Know
WELL, People Bio Concealer is an immaculate and versatile makeup product that delivers full coverage while offering multiple skin benefits. The creamy formula is lightweight, making it easy to blend and apply, providing an airbrushed finish that looks and feels natural.
This innovative concealer offers a generous selection of 20 shades so you can find the best color for your skin tone. The amazing part? This best natural concealer is perfect for all skin types, so no matter if you have dry skin, oily skin, or sensitive skin, it works for you!
Not only does this product blend flawlessly into any complexion, but its nourishing formula – with ingredients like Pomegranate Oil, Olive Oil, Sunflower Seed Oil & Castor Seed Oil - helps rejuvenate the look & feel of your skin for lasting hydration and an overall healthy complexion!
The Bio Correct Concealer is a one-step skincare and makeup product that corrects and perfects your skin, making it ideal for everyday wear. Whether you have dark circles, blemishes, redness, or other imperfections, this concealer has got you covered. It's perfect for those who want to achieve a flawless finish without sacrificing their skin's health.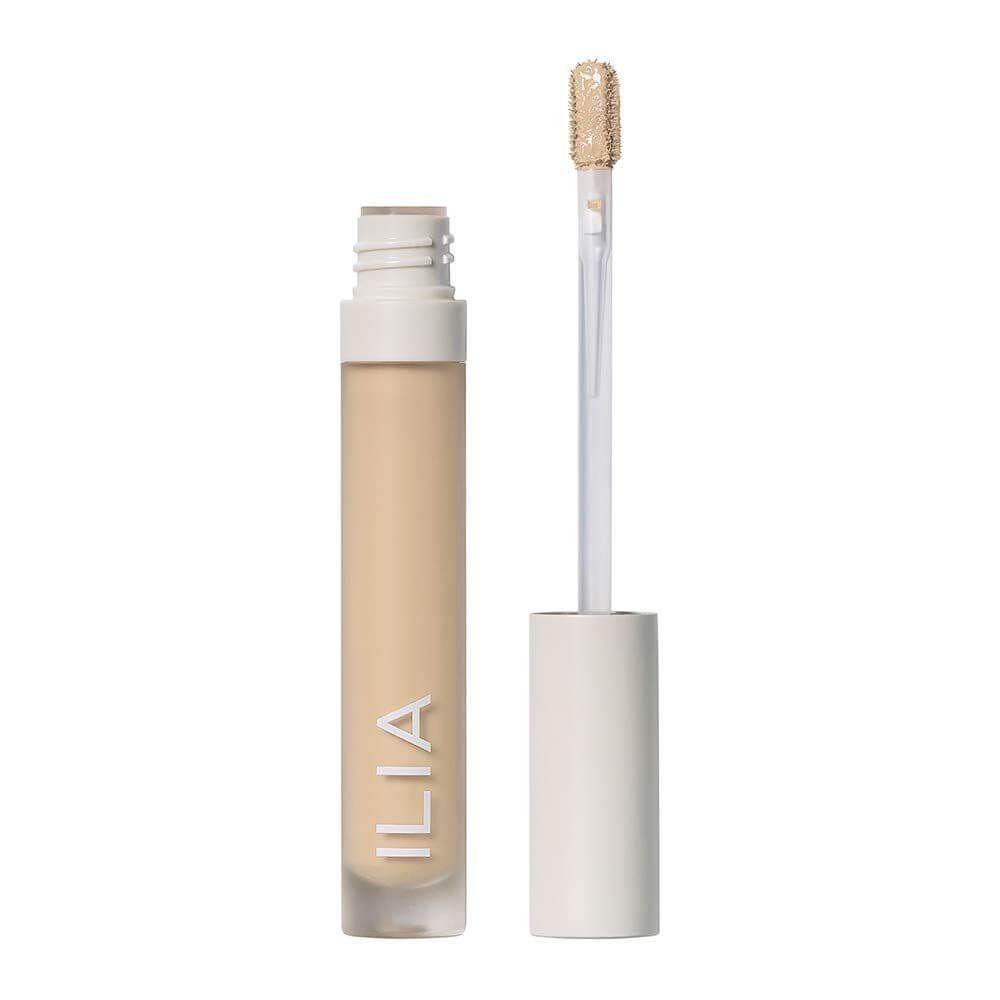 Best Clean Concealer For Oily, Combination, Dry, Sensitive Skin
ILIA - True Skin Serum Concealer
Check Price on Amazon
Why GG Loves It
Does your concealer routine leave you feeling weighed down and unhappy with the appearance of your skin? If so, then you need to opt for the ILIA True Skin Serum Concealer, the ultimate clean beauty solution for your skin. This multi-tasking concealer not only provides flawless coverage but also delivers skincare benefits to give you a radiant complexion.
The True Skin Serum Concealer is a medium-coverage formula that blends effortlessly into the skin with a creamy, creaseless stretch. It is perfect for all skin types, including combination, acne-prone, dry, sensitive, and oily skin, making it a versatile choice for everyone.
The featherweight texture of the concealer allows it to melt seamlessly into the skin, providing a flawless and natural-looking finish. What's more, it is formulated with nourishing ingredients that work to improve the texture and appearance of your skin over time.
It contains plant-based squalane, which hydrates and nourishes the skin, and aloe leaf extract, which soothes and calms inflammation. The concealer also includes caffeine, which reduces puffiness and dark circles, making it an ideal choice for those early mornings or late nights.
If you want a clean, medium-coverage concealer that delivers skincare benefits and feels weightless on your skin, look no further than the ILIA True Skin Serum Concealer. It's a game-changer for anyone looking for a flawless complexion without sacrificing their skin's health.
What You Should Know
This clean, vegan, and cruelty-free concealer is the ultimate must-have for anyone looking for a flawless and radiant complexion. The ILIA True Skin Concealer is a game-changer, boasting a unique formula that features stabilized Vitamin C, Mastic, and Albizia Julibrissin Bark Extract.
These powerful ingredients work together to enhance the skin over time, promoting a smoother, more even complexion while also protecting against environmental damage.
The shade Chicory SC1 is perfect for those with light, warm undertones, providing a seamless match for a natural look. The clean quality of this concealer is unparalleled, as it is both silicone-free and oil-free, making it safe for even the most sensitive skin types!
Plus, its fragrance-free and non-comedogenic formula ensures that it won't clog pores or irritate sensitive skin. Applying the True Skin Serum Concealer is a breeze.
Apply three dots of concealer below the eye and gently blend it out using your ring finger or the Complexion Brush. For an extra brightening effect, you will need to go one shade lighter.
And if you need more coverage, don't worry – the formula is buildable. Just set the first layer with a sheer dusting of the Soft Focus Finishing Powder and reapply as needed.
Overall, the ILIA True Skin Serum Concealer is a must-have for anyone looking for a clean, effective, and versatile concealer that not only provides coverage but also enhances the skin over time. So why wait? Try it today and experience the difference for yourself!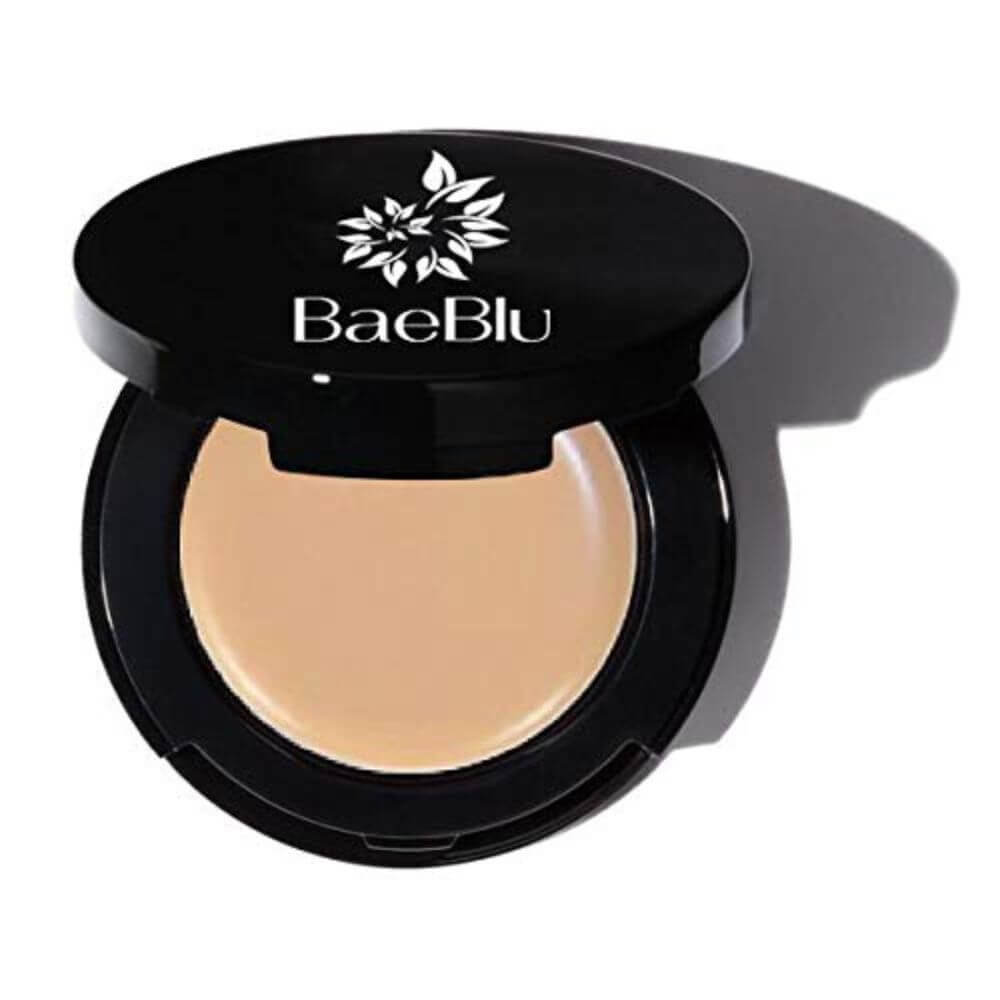 Best Clean Concealer For Dark Circles, Pimples, Scars & Uneven Skin Tone
Check Price on Amazon
Why GG Loves It
Are you tired of looking for clean makeup that actually lives up to its promises? It can be frustrating when you're trying to make conscious choices for your health and the environment but can't find a product that delivers. That's where BaeBlu comes in.
Their organic concealer is the real deal, with a balanced, non-greasy formula that's great for all skin types. This clean, natural concealer is made without any of the bad stuff like harsh chemicals, parabens, or pore-clogging ingredients. You can trust that this concealer is truly vegan and organic and will provide full coverage without compromising your values.
Not only does BaeBlu's concealer cover imperfections like dark circles, pimples, scars, and uneven skin tone, but it also comes in a range of shades to help you create the illusion of flawless skin. And because it's long-wearing, you can trust that your coverage will last all day.
What really sets BaeBlu apart is its commitment to ethical practices. They're a cruelty-free brand that's dedicated to superior performance, so you can feel good about the products you're putting on your skin. So why settle for anything less? Upgrade your makeup game with BaeBlu's organic concealer, and experience the power of clean beauty that's made with love.
With BaeBlu, you can trust that your makeup is 100% natural, non-toxic, and ethically sourced. Enjoy a luxurious beauty experience without sacrificing your health or the environment. So go ahead--put your best face forward and join the clean beauty revolution with BaeBlu!
What You Should Know
The market is flooded with concealers, and there is no doubt that there are some best natural concealers that can cover dark circles, dark spots, as well as blemishes. However, finding a clean concealer that can do all that and also cater to fine lines is a task. But worry not because BaeBlu Organic Concealer is also designed to help you achieve that flawless, airbrushed look.
What makes this creamy concealer stand out is its natural and organic creamy formula that is gentle on the skin. It is free from all kinds of harsh chemicals & ingredients, which makes it safe for every type of skin, including acne-prone skin, oily, dry skin, and sensitive skin.
This full-coverage formula is done not contain ingredients like jojoba oil, shea butter, hyaluronic acid, or jojoba seed oil, but instead, it's packed with organic ingredients such as a unique combination of plant-based oils, encapsulated Vitamin E, and natural botanicals which have been proven to provide the ultimate in skin protection, nourishment, and hydration.
All of these ingredients work together harmoniously to give your skin the best possible defense against environmental aggressors while deeply moisturizing and restoring your complexion. So what are you waiting for, ladies? Pick this clean, neat concealer right now and create a beautiful, flawless look that radiates your inner self with confidence, boldness & allure!
Here are Some FAQs to Help Guide you on Your Way!
For those looking to make an impact with their beauty routine, clean beauty products are the way of the future. Concealer is a must-have for those who want to attain a perfect complexion.
However, without the right knowledge, using concealer can have less than desirable outcomes. Here are some of the most frequently asked questions (FAQs) surrounding this magical makeup tool that will help you on your way so you can be sure to master the art of concealing:
Can I use concealer without foundation?
Yes! Concealer can be used on its own to target specific areas of your face. It's great for on-the-go touchups and helps to hide small blemishes, such as dark circles, age spots, and redness.
Concealer can also be used to highlight areas of your face and give it a natural glow. But make sure the concealer you choose is clean and made with organic ingredients such as rosehip seed oil, organic green tea, organic coconut oil, grape seed oil, cocoa seed butter, and vitamin e.
How do you make concealer look natural?
To make concealer look natural, follow these steps:
1. Choose a shade that matches your skin tone.
2. Start with a small amount of product and build up coverage if necessary.
3. Apply the best natural concealer in thin layers using a brush, sponge, or your fingertips.
4. Blend the edges of the concealer into your skin for a seamless finish.
5. Set the concealer with a translucent powder to prevent creasing and increase longevity.
Follow these tips, and you'll be able to enjoy flawless skin with the perfect natural finish.
Can I use concealer everyday?
Yes, you can use concealer every day, depending on your individual preference and skin type. But make sure to use the best natural concealer that contains ingredients such as vitamin c, jojoba seed oil, castor seed oil, hyaluronic acid, tomato extract, avocado oil, or rosemary extract!
Should concealer be lighter or darker than face?
Concealer should usually be one to two shades lighter than the foundation you are wearing. This will help to brighten up areas with hyperpigmentation, dark spots, fine lines, under-eye circles, dry patches, or dark circles while avoiding a stark contrast to give you a natural finish.
Top 3 Best Clean Concealers:
Concealer is a beauty essential that many of us rely on to hide dark circles, blemishes, and other imperfections on our skin. However, with the growing concern over the use of harmful chemicals in cosmetics, more and more people are turning to clean beauty products, including clean concealers. These concealers are made without harmful chemicals, such as parabens, sulfates, and synthetic fragrances, making them a safer and healthier choice for our skin.
The top 3 best clean concealers listed above are all ideal options for those who want to conceal their imperfections without compromising their skin health. Each of these options offers excellent coverage, bendability, and staying power so you can feel confident in your look.
Whether you need a light or full-coverage concealer, one will surely work for you. With these options, you can look fabulous and feel good about the products you're using on your skin. So why not give them a try and see the difference they can make in your makeup routine?