Hair sprays play an integral role in our beauty routines by providing that extra touch of perfection to our hairstyles. Whether you're aiming for a sleek and polished look or a tousled and textured style, a quality hair spray can help you achieve the desired hold, volume, and shine that will last throughout the day.
However, when it comes to hair spray that is free from alcohol, it can feel like counting the number of grains in a sandpit because not all sprays are alcohol-free, and those that are might not deliver the desired results. Are you looking for a natural, non-alcohol hair spray that will hold your hair & nourish it?
Don't worry; we've got you covered! We know that finding the right spray that is alcohol-free is not only a challenge but also a daunting task, which is why we've compiled this list of the top 3 best alcohol-free hair sprays that provide you with a strong yet natural hold without compromising on your hair's health.
All these best alcohol-free hairsprays on our list are made with organic ingredients that help to nourish, strengthen, and protect your hair while keeping it in place so you can look and feel your best every day!
Keep reading to learn more about our list of the top 3 best alcohol-free hair sprays!
We have searched for the best, so you don't have to live with the rest. In order to serve you to the best of our ability and to keep our blog going, GarnesGuide may collect a share of sales or other compensation from the links on this page if you decide to buy. Each product was independently researched by our editors, and the reviews may have been edited for length and clarity.
How We Choose the Best Alcohol-Free Hair Spray:
Lifeless, unruly tresses can be a frustrating and confidence-draining experience. We've all been there, struggling to achieve that perfect hairstyle, only to have it fall flat, frizz up, or lose its hold within hours.
While using a hair spray may seem like a no-brainer solution, many conventional aerosol sprays contain alcohol, which can strip away your hair's natural oils and moisture, leaving it dry and damaged. So, from a plethora of options, how do you select the best one that lives up to its promise of being alcohol-free?
To help you in this hectic quest, we've done extensive research and have chosen the top 3 best alcohol-free hair sprays that deliver on their claims without damaging your sweet locks. Whether you're looking for a flexible hold, a stronghold, or something that adds shine, these best options have got you covered.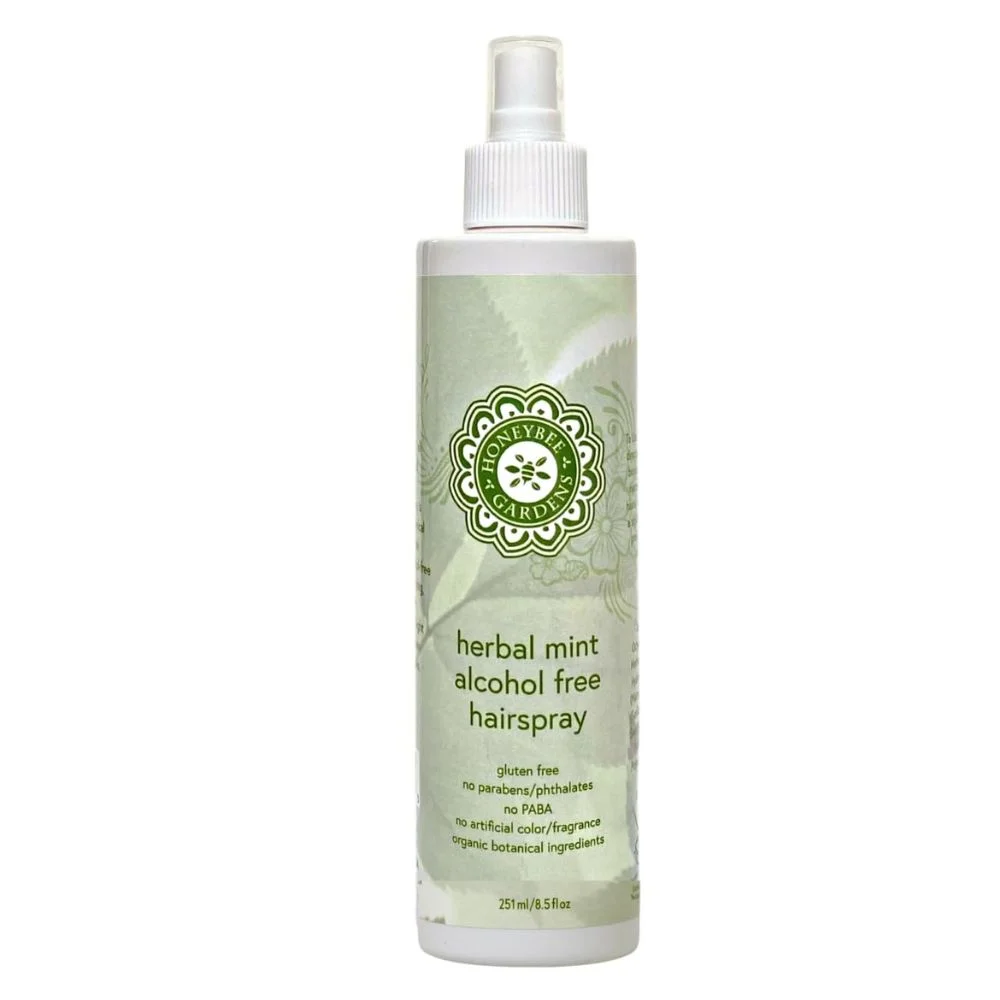 Best Alcohol-Free Hair Spray For Flexible Hold
Honeybee Gardens Herbal Mint Alcohol-Free Hair Spray
Check Price on Amazon
Why GG Loves It
If you need a natural spray that is enriched with organic botanical ingredients to nourish your hair and increase shine, Honeybee Gardens Herbal Mint Alcohol-Free Hair Spray is a perfect choice. This alcohol-free formula provides a strong but natural-looking hold without drying out or damaging your tresses.
This alcohol-free hairspray is formulated with glycerin, hydrolyzed soy protein, chamomilla flower, grape seed extract, and orange peel oil. These ingredients work together to keep your hair looking healthy, shiny, and hydrated. The herbal mint scent adds a refreshing touch to this flexible hold hairspray.
The 8 fluid ounces of product in each bottle make it a perfect size to take with you on the go for touch-ups throughout the day. With its powerful natural ingredients and non-drying formula, this spray is a great choice for anyone who wants to keep their hair looking & feeling its best without any kind of worry.
What You Should Know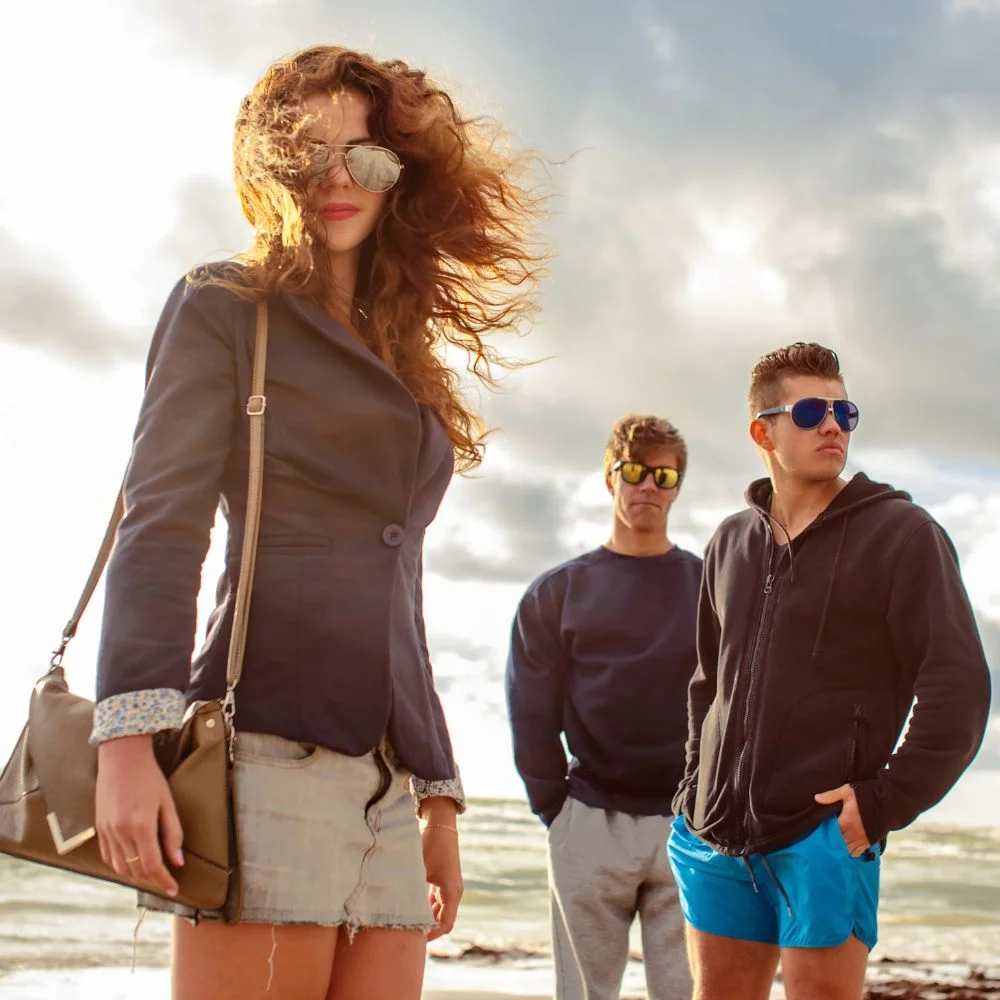 This alcohol-free hairspray from Honeybee Gardens is a versatile and gentle product that is perfect for all types of hair and genders. It is free of harsh chemicals, parabens, and synthetic fragrances, making it safe for everyday use so you can keep your precious hair looking great without causing any damage.
Whether you are a woman who loves to play with different hairstyles or a man who wants to maintain a sleek and polished look, this hairspray is the ideal choice for you. From fine hair to dry hair, this spray will work its magic and provide you with a super strong hold that lasts all day long, no matter what.
It comes in a non-aerosol fine mist spray bottle, which ensures easy and even application. This means you can easily spritz and style your hair without worrying about any messy or chunky residue. Plus, it is also gluten-free, vegan, and cruelty-free, making it a guilt-free choice for the conscious consumer.
Best Alcohol-Free Hair Spray For Chemically Treated Hair
Pantene Pro-V Level 2 Lightweight Finish Alcohol-Free Hairspray
Check Price on Amazon
Why GG Loves It
Chemically treated hair needs extra care and protection to maintain its health and shine. That's where Pantene Pro-V Level 2 Lightweight Finish Alcohol-Free Hairspray comes in. This hair spray is specially made for chemically treated hair, providing a level 2 hold while also nourishing and moisturizing the hair.
One of the key features that sets this hair spray apart from others is its alcohol-free formula. Unlike many other deep conditioning hair sprays, which contain ethanol that can dry out and damage the hair, this hairspray uses an alcohol-free formula to provide a truly healthier option for your hair desires.
With Pantene Pro-V Level 2 Lightweight Finish Alcohol-Free Hairspray, you can have peace of mind knowing that you are using a product that not only enhances the style and hold of your hair but also cares for its overall health and vitality so that you can confidently rock any hairstyle, anytime, anywhere.
What You Should Know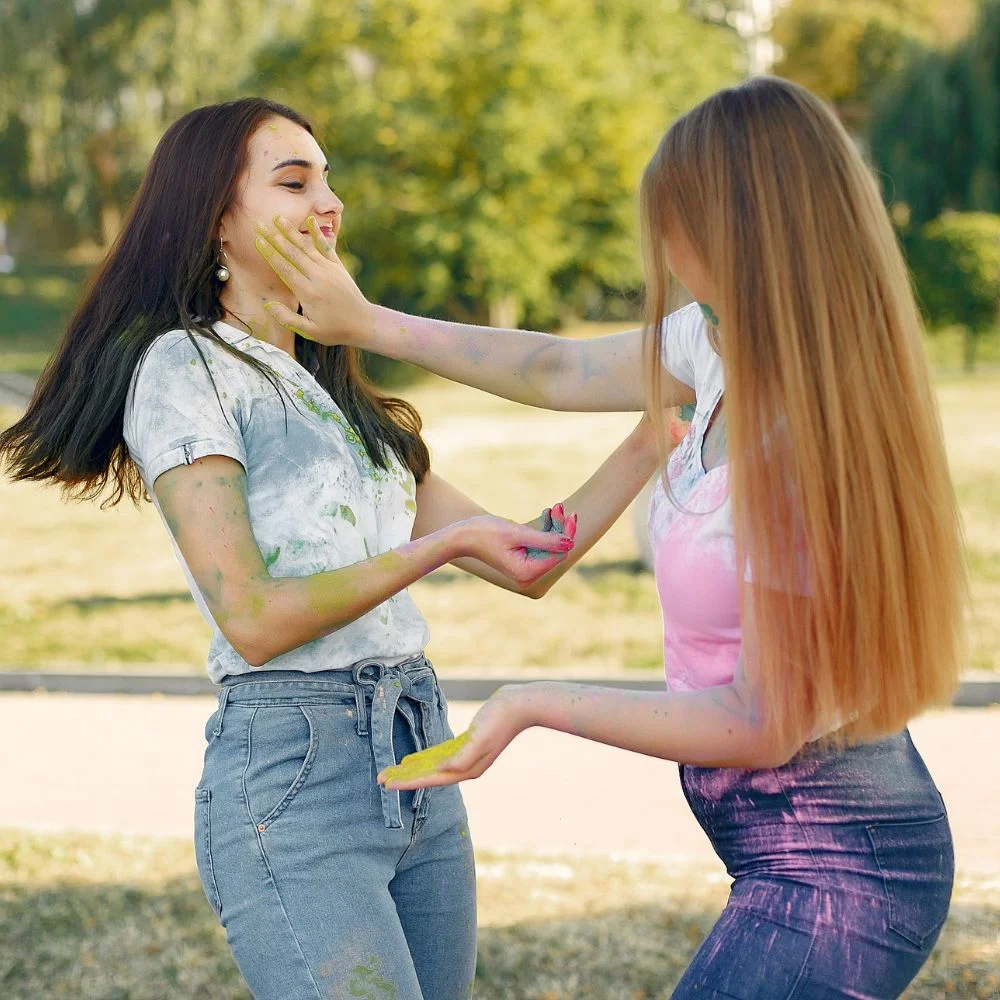 One of the outstanding features of this hair spray is its ultra-lightweight formula. This means that not only will it add volume and hold to your hair, but it also won't weigh it down or leave any sticky residue.
This versatile spray is not just suitable for all chemical-treated hair but for every hair type; whether you have dry hair, fine hair, wet hair, brittle hair, wavy hair, or unruly hair, this spray provides the optimal level of nourishment to keep your locks looking and feeling bouncy and full of life that speaks for itself.
If you want to maximize the effects of Pantene Alcohol-Free Hairspray, you can incorporate it with your favorite Pantene shampoo & conditioner. This fusion will give you the ultimate haircare routine, providing your hair with all the essential nutrients and hydration it needs to stay healthy, strong, and vibrant.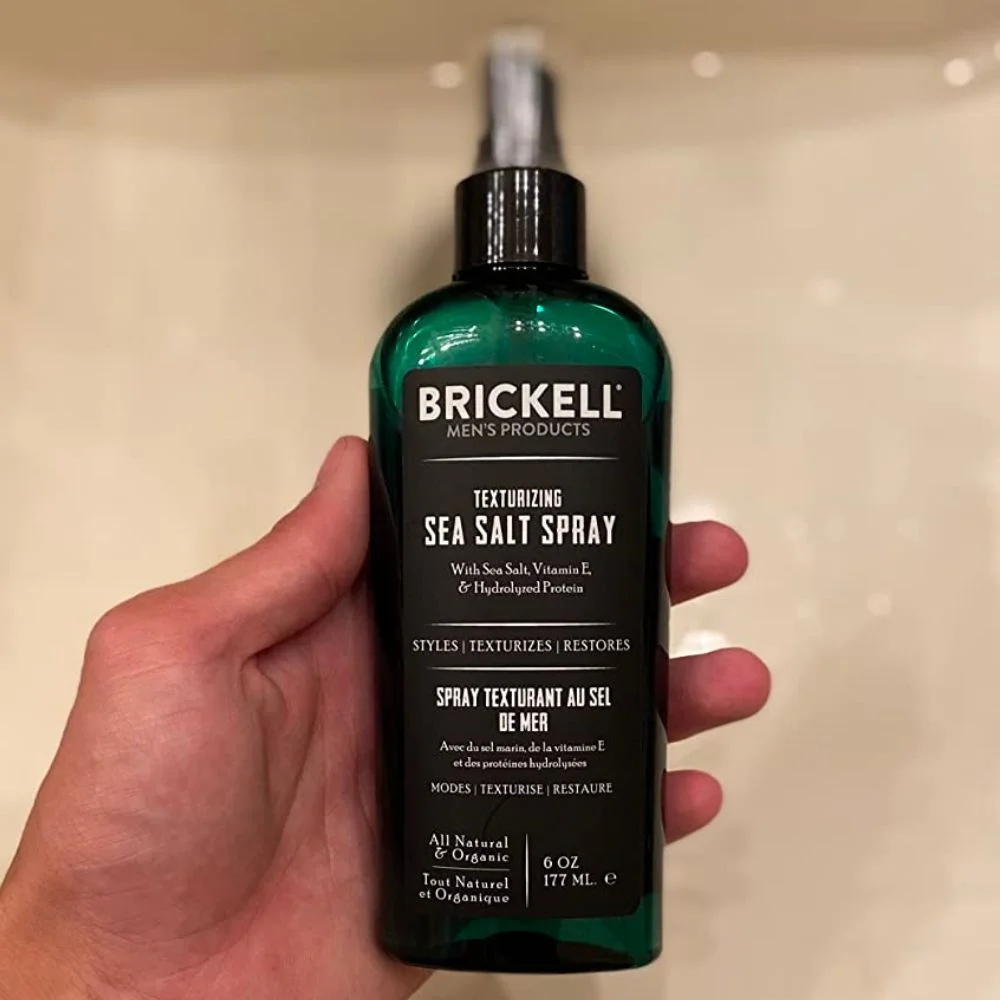 Best Alcohol-Free Hair Spray For Men of Any Age
Brickell Men's Texturizing Sea Salt Spray (6 Ounce)
Check Price on Amazon
Why GG Loves It
Do you need a hair spray that supports hair strength, length & overall hair health so you can style your hair with confidence? Are you tired of harsh sprays that leave your locks stiff, dry, or damaged? Look no further! Brickell Men's Spray is a game changer for men looking to achieve the perfect "beach hair" look.
This refreshing sea salt spray by Brickell Men's is specifically designed for men of any age. Whether you're in your 20s, 30s, 40s, or 50s, this product is perfect for you. It lifts and volumizes hair, enhances natural curls and waves, and creates a natural beach hair look that's both effortless and stylish.
This matte finish hair spray is also free of alcohol, making it gentle on the scalp and perfect for daily use. It gives such a beautiful, soft, touchable hold and maximum volume that lasts all day. It comes in a 6-ounce bottle that provides enough product for multiple uses with a compact & travel-friendly design.
What You Should Know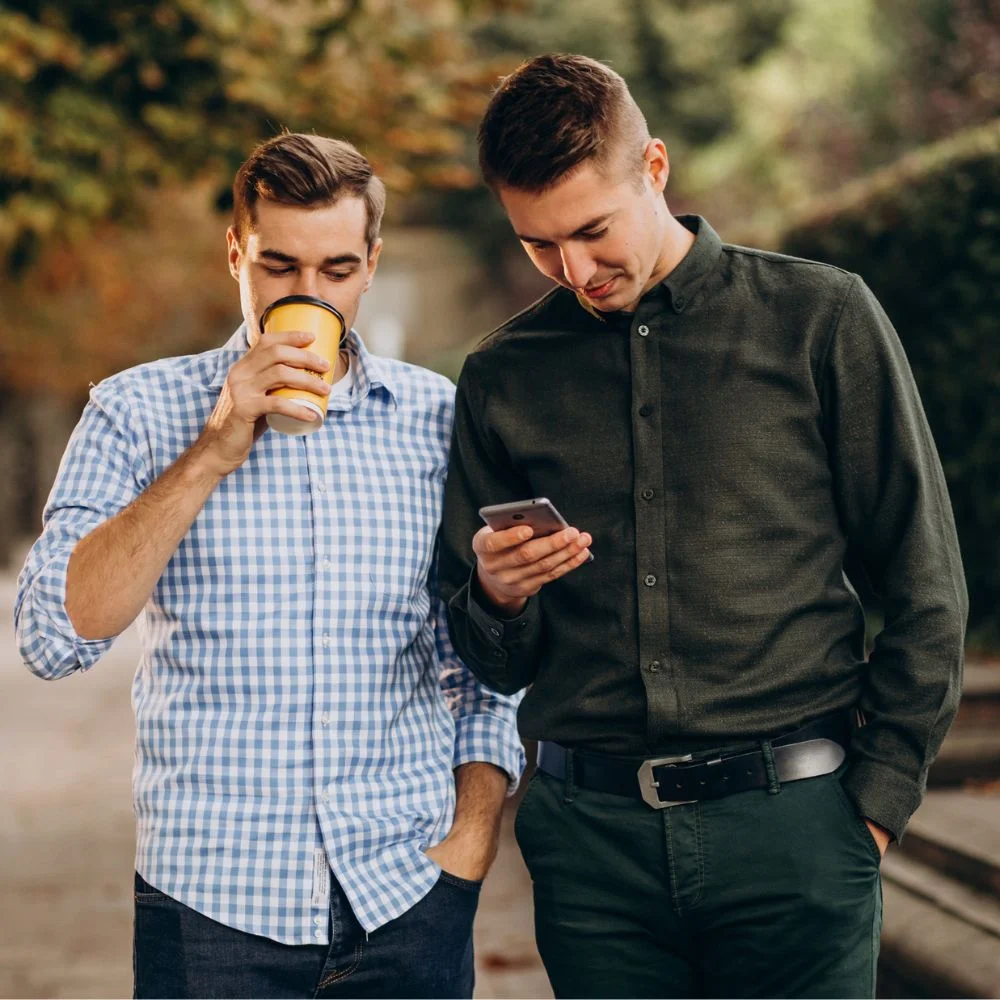 If you are a man, you know that proper hair care is essential. Brickell Men's sea salt spray offers a natural solution to styling your hair without harsh chemicals that can damage it over time. It contains key ingredients like sea salt, Vitamin E, and hydrolyzed proteins to nourish and strengthen your hair.
Sea salt is known for its ability to add texture and volume to hair, giving that desirable beachy look. Vitamin E helps to protect the scalp from environmental damage and maintain healthy hair growth. Hydrolyzed proteins help to repair damaged hair strands and promote overall hair health.
This spray is suitable for all hair types and lengths, so don't be afraid to give it a try. It's also perfect for men with thin or fine hair, as it adds volume and texture without weighing down the hair. Plus, the matte finish gives a natural, effortless look that is best for any event, from the office to a night out with pals.
Here are Some FAQs to Help Guide you on Your Way!
A hair spray made with an alcohol-free formula is the most recent innovation in hair styling. This unique beauty product can be a game-changer for people who struggle with very dry, damaged, and frizzy hair.
But why choose an alcohol-free hairspray? Is it suitable for every hair type? Here are some FAQs about the best alcohol-free hairspray that will answer all your questions and help guide you on your journey:
Why choose alcohol-free hair spray over traditional options?
Is alcohol bad for hair in hairspray? If you are looking for a quick answer, the answer is a resounding yes. Traditional hair sprays are notorious for their high alcohol content, which can cause scalp irritation and dry out your locks. The drying nature of alcohol can lead to brittle, damaged hair over time.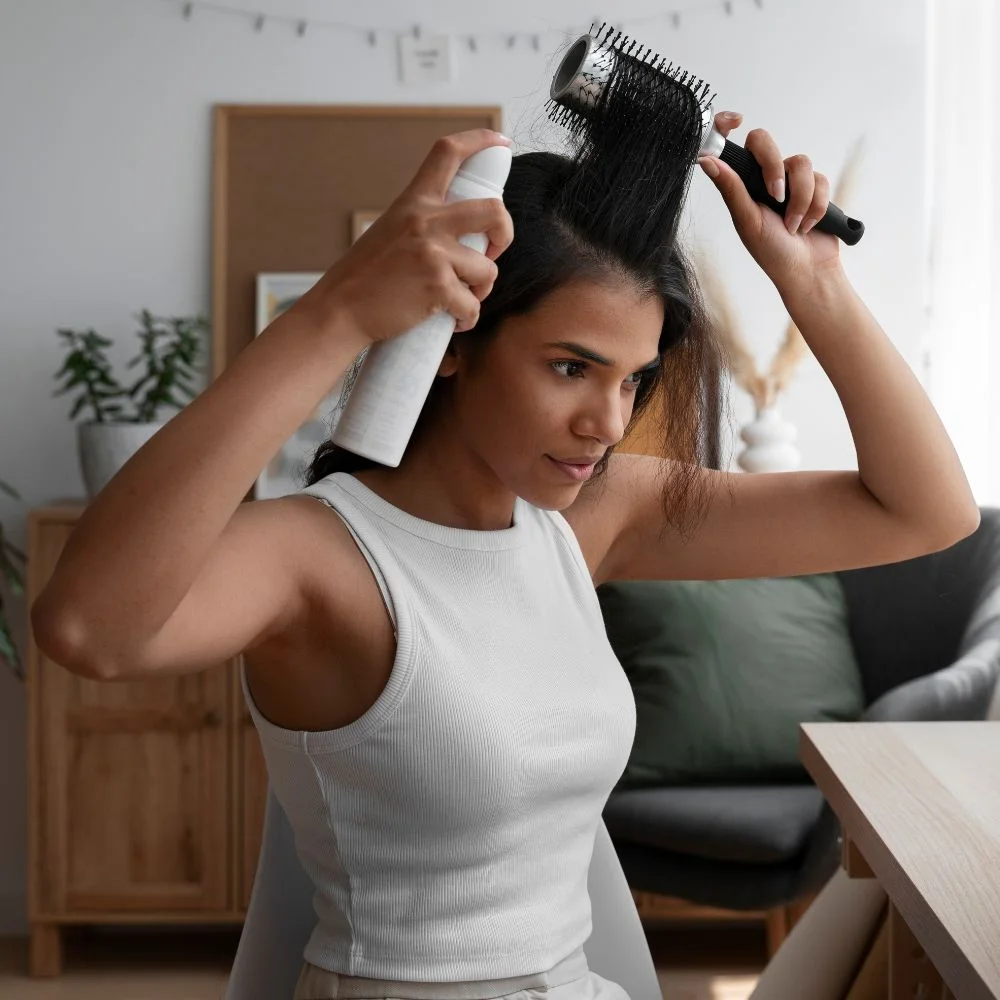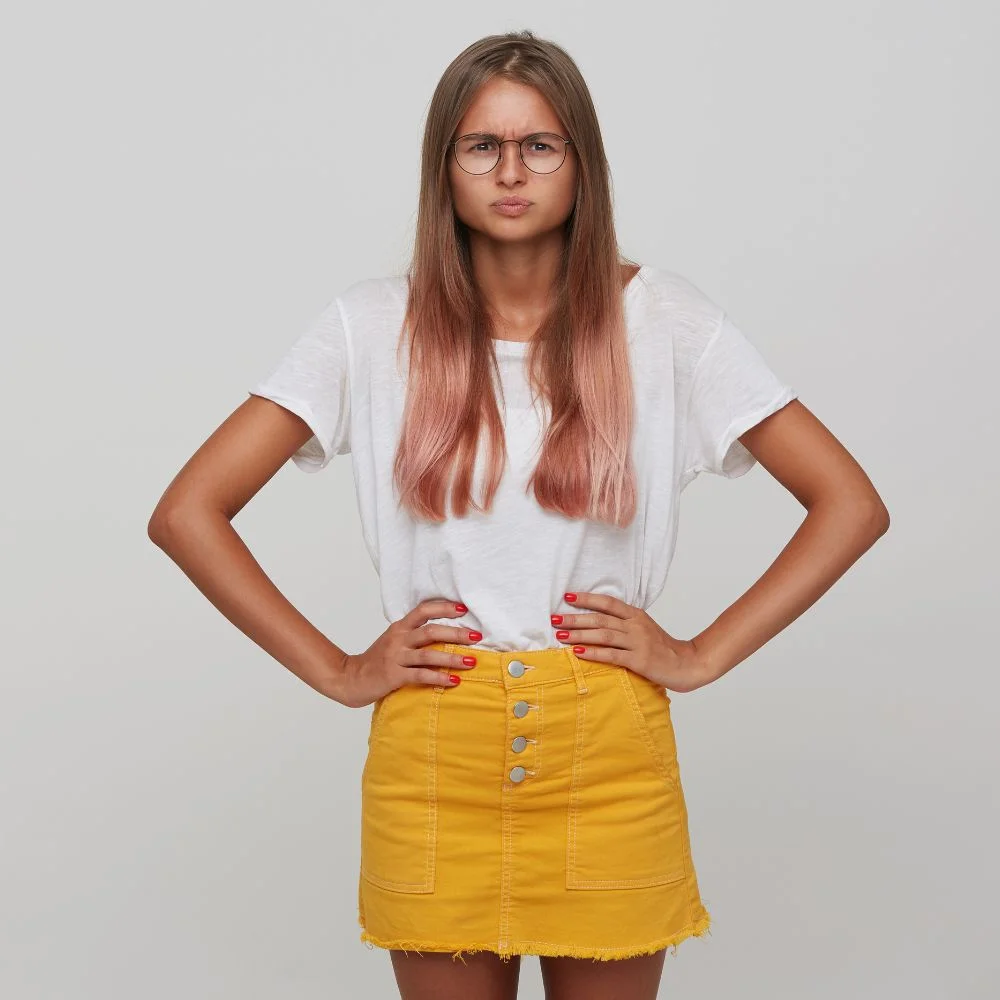 Can alcohol-free hair spray still provide a strong hold?
Yes, absolutely! You may be used to thinking that only alcohol-based hair spray can provide the strong hold you need. However, this is a common misconception. With advancements in beauty technology, there are now alcohol-free options on the market that offer just as much control and hold without drying out your hair.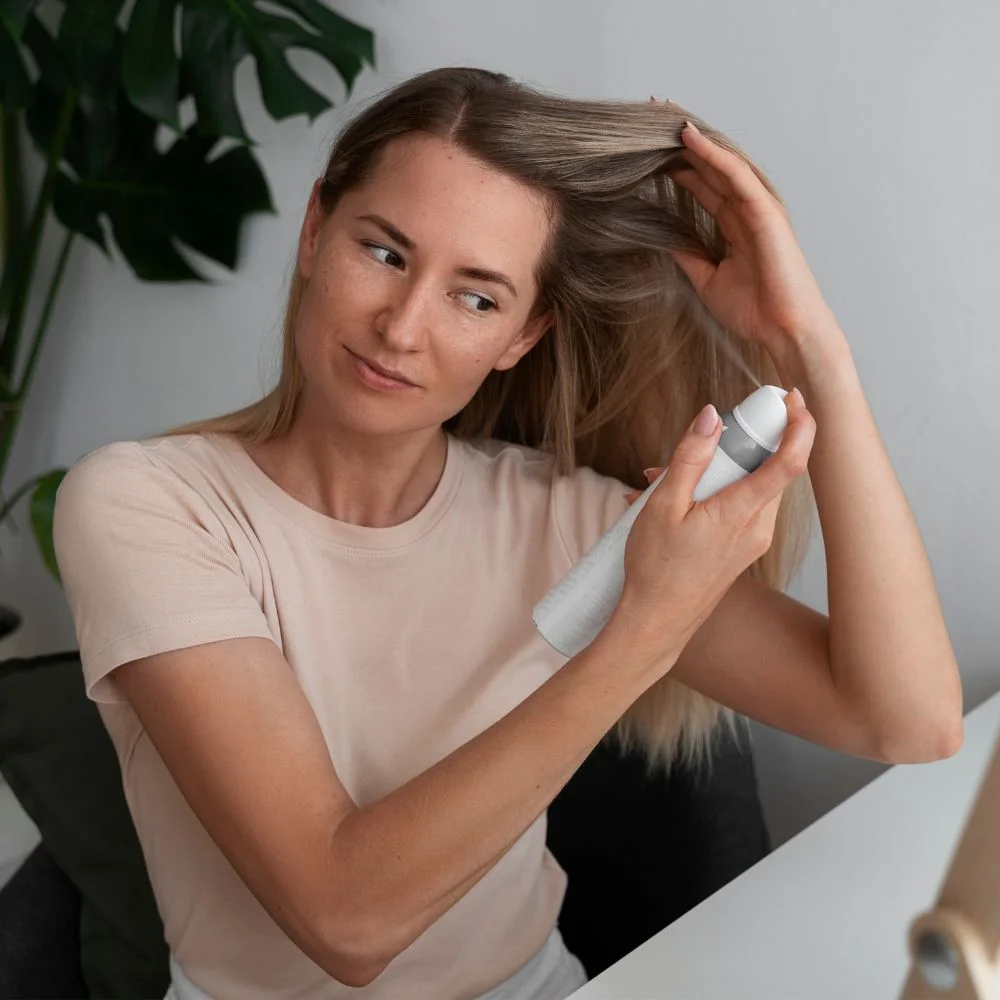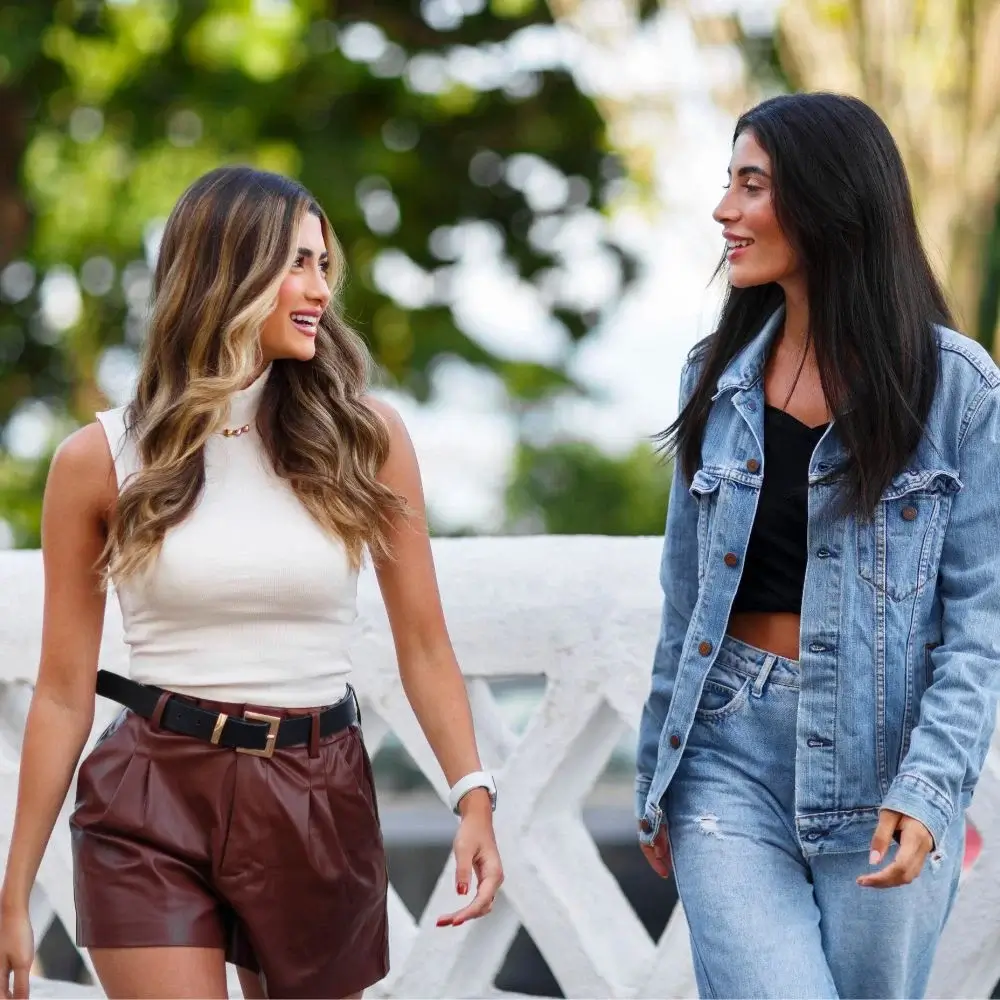 Is alcohol-free hair spray suitable for all hair types?
This answer depends on the specific product and its ingredients. But in general, the best alcohol-free hairsprays are safe for all hair types. Alcohol-free hairsprays are specifically designed to be gentler and less harsh on the hair compared to traditional hairsprays that contain alcohol. Therefore, they are suitable for all hair types and offer natural shine, extra firm hold, and smoothness without any damage.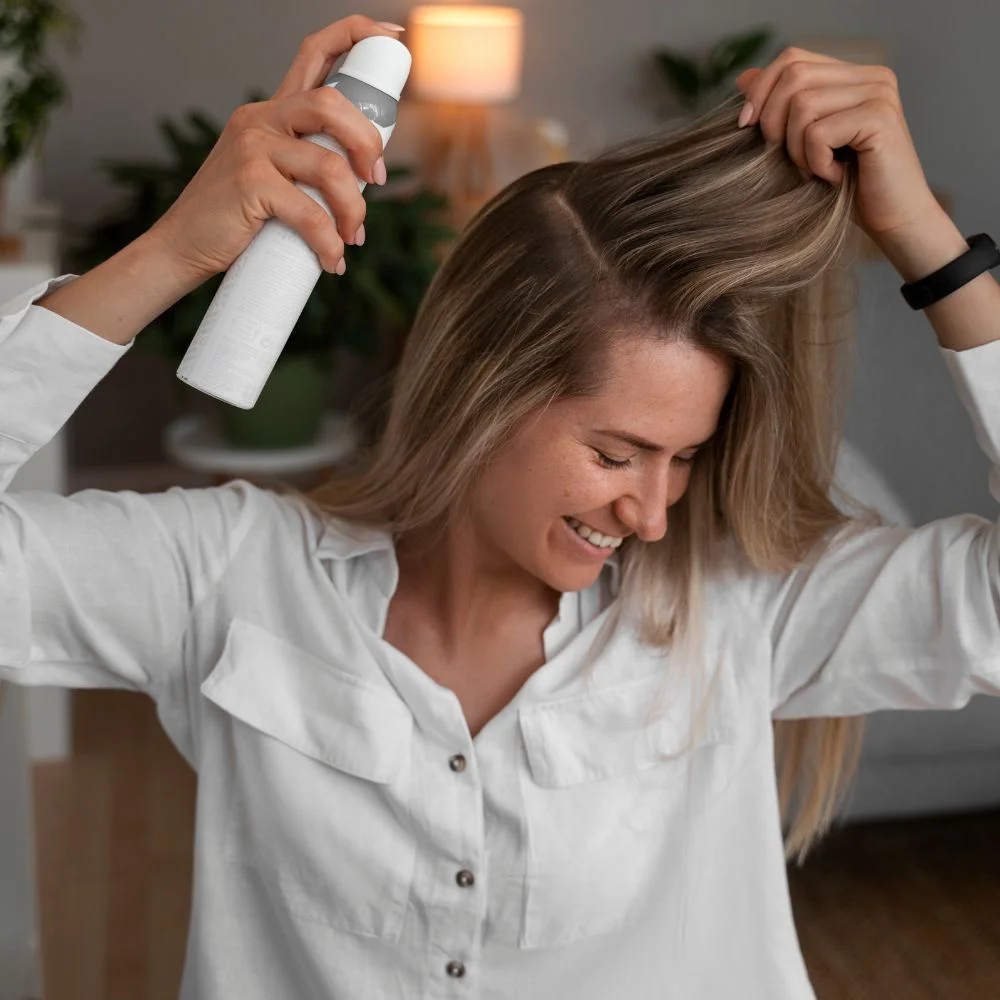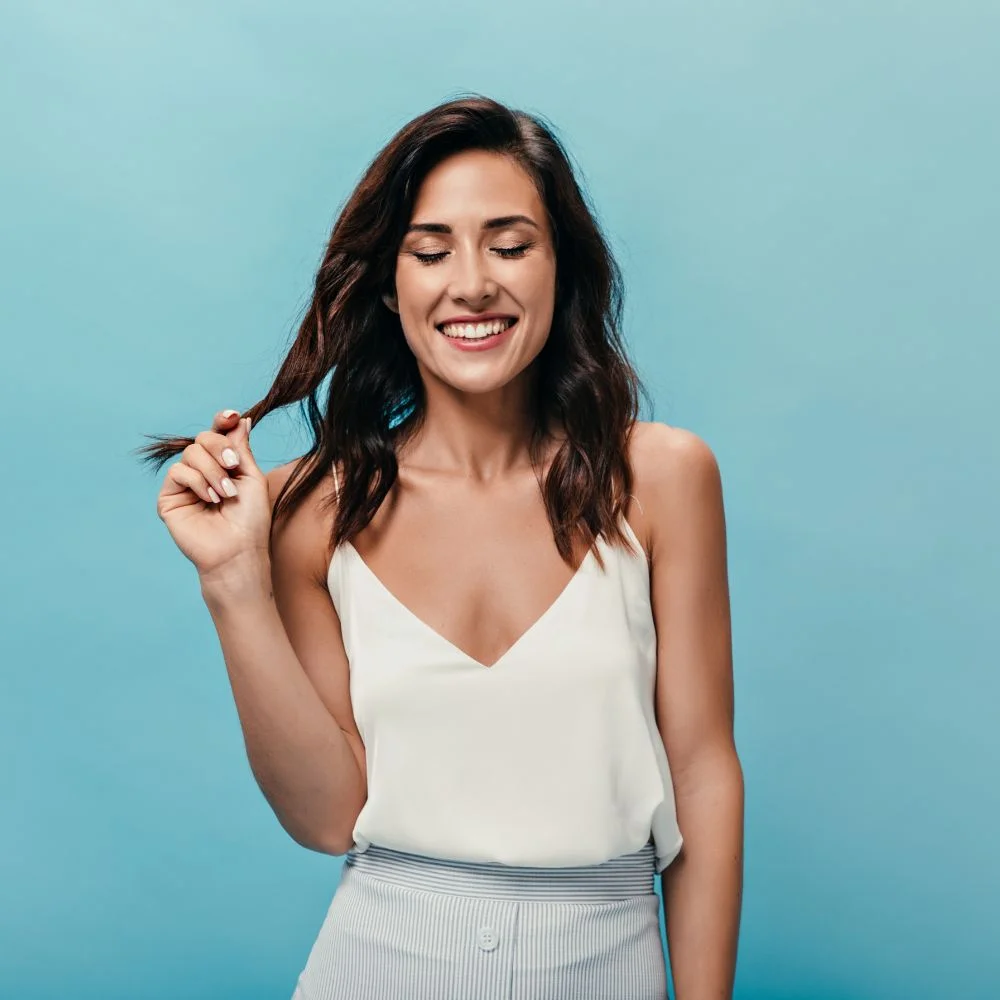 Best Alcohol-Free Hair Sprays:
Hair sprays are the silent warriors of our daily beauty arsenal, faithfully holding our tresses in place and adding that much-desired volume and shine. But beneath their glossy exterior, many harbor a damaging secret: alcohol. It can strip our hair of its natural moisture, leaving it dry, brittle, and prone to breakage.
However, the top 3 hair sprays that we have listed above are a million miles away from this harsh reality. They are all alcohol-free and filled with safe and nourishing ingredients that work with your hair, not against it. All of them have their own unique benefits that make them suitable for different hair types.
Whether you are going for the perfect beachy waves, a sleek and stylish updo, or simply want to keep those flyaways at bay, these best alcohol-free hairsprays will exceed all of your expectations. So why wait? Pick any one of these hair spray now, and get ready to have healthy, gorgeous hair with every spritz!